How to Make Your Own Easy Abstract Watercolor Art
Learn how to use easy abstract watercolor art using Viviva Colorsheets. This easy project is perfect for beginners and is a great way to learn about how watercolor paint mixes and spreads.
If you're looking for more easy art projects, you might also like this easy DIY foil art.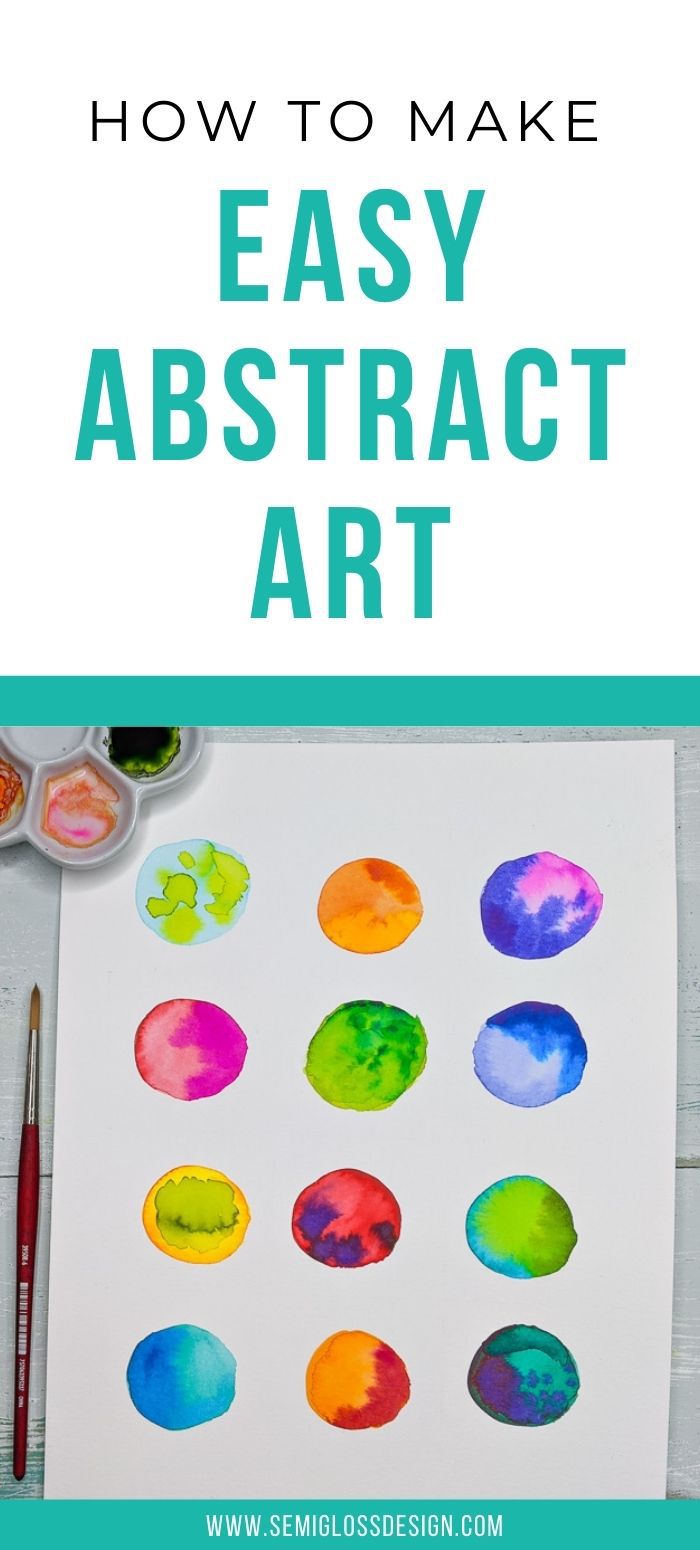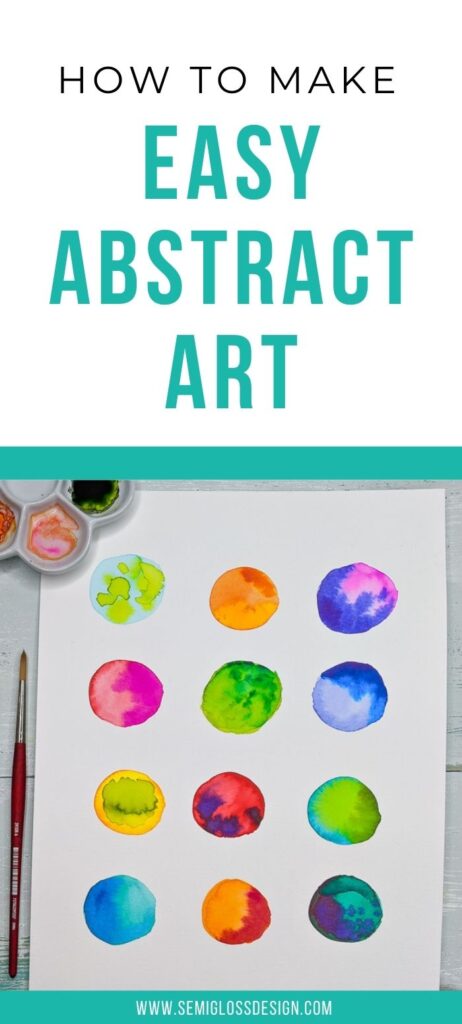 This post contains affiliate links. By purchasing an item through an affiliate link, I earn a small commission at no extra cost to you. As an Amazon Associate I earn from qualifying purchases.
Viviva Colorsheets recently reached out to me to see if I wanted to try out their amazing watercolor sheets. I was so excited to try them because I've seen them on so many of my favorite YouTube channels.
I don't talk about it a lot on this blog, but I spend a crazy amount of time painting in my art studio. Watercolor paints are one of my favorite mediums and I've even created a whole other blog about art.
Although I have a lot of practice using watercolor paint, I believe that art is possible for everyone even if you've never picked up a paintbrush and know nothing about color theory.
I created this project with beginners in mind. This abstract watercolor art requires no drawing skills or previous knowledge about watercolor paint.
All About Viviva Colorsheets
Viviva Colorsheets provided me with this paint for review. All opinions are my own.
Viviva colorsheets is a small booklet of watercolor on paper sheets. The whole thing is a little larger than a credit card.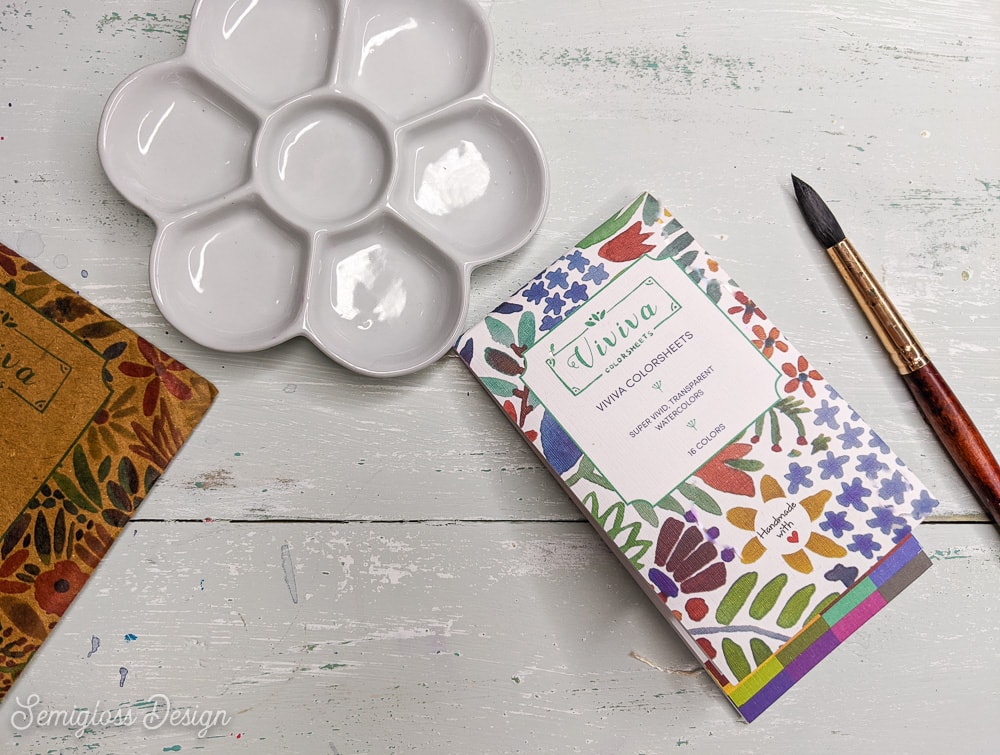 There are 16 colors included in the booklet: crimson, deep pink, vermillion, dusk orange, chrome yellow, gold ocher, burnt umber, burnt sienna, light green, sap green, viridian, peacock blue, Persian blue, violet, magenta, and slate black.
The paint colors are actually dye-based, so some of the paint sheets are different colors than they appear (similar to how indigo dye turns neon green before it turns blue when you shibori dye.)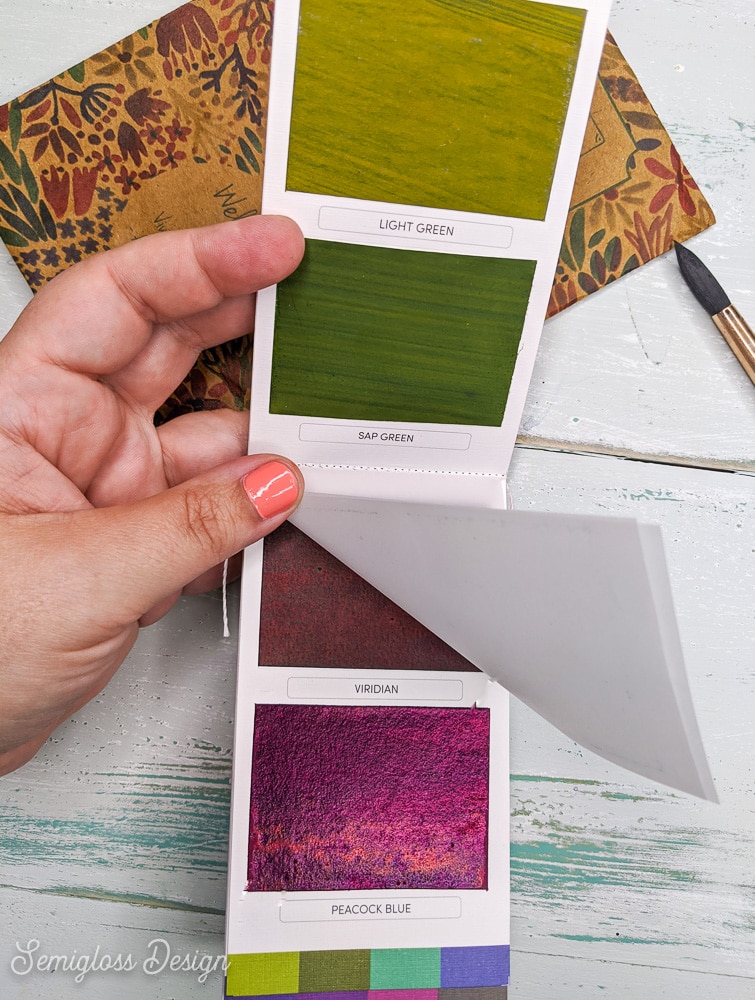 These colorsheets are perfect for:
Traveling. The small size makes them very portable and lightweight for traveling and even Plein Aire painting (painting outside.)
People with small spaces. Not everyone has room for a whole art studio, so these small watercolor paints are perfect for someone with less space to dedicate to art supplies.
Beginners. These watercolors are vibrant and easy to use so they are great for beginners.
Color Lovers. These paints contain so much pigment and the colors are so bright!
The only downside to these watercolor sheets is that there is no pigment or lightfastness information, which is important if you sell your art.
Tips for Using Watercolor Sheets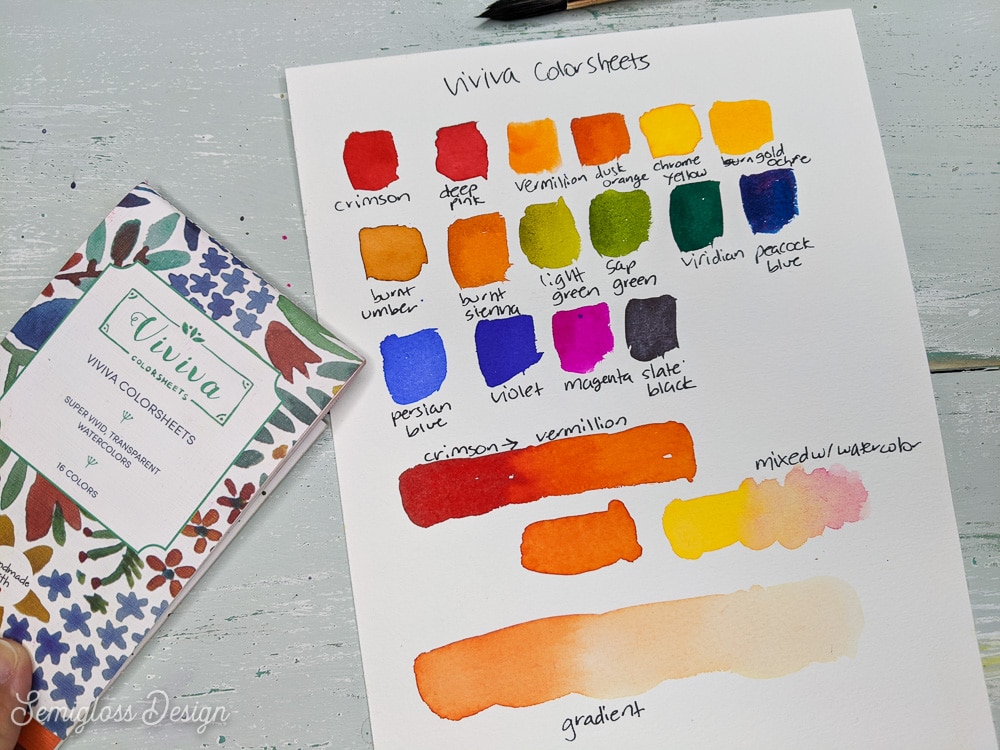 Because these paints are so pigmented, they need to be diluted with water. I highly recommend using them with a palette. I prefer ceramic palettes, but plastic ones work as well (they will probably stain though.)
Add more water to a color to get a pastel version. Less water will give you a more saturated color.
Make sure you clean your brushes well between colors. The paint really sticks to the bristles and I found that I needed to rinse the brush a lot more than with regular watercolor paint.
Colors can be mixed to create more colors. For best results, mix colors that are next to each other on the color wheel.
If you want a muted color, mix a small amount of the complementary color to it. Complementary colors are red and green, yellow and purple, and blue and orange.
These colors can also be mixed with standard watercolor paint if desired. The results are pretty cool.
If the colors dry in a palette, they can easily be rewet and used again.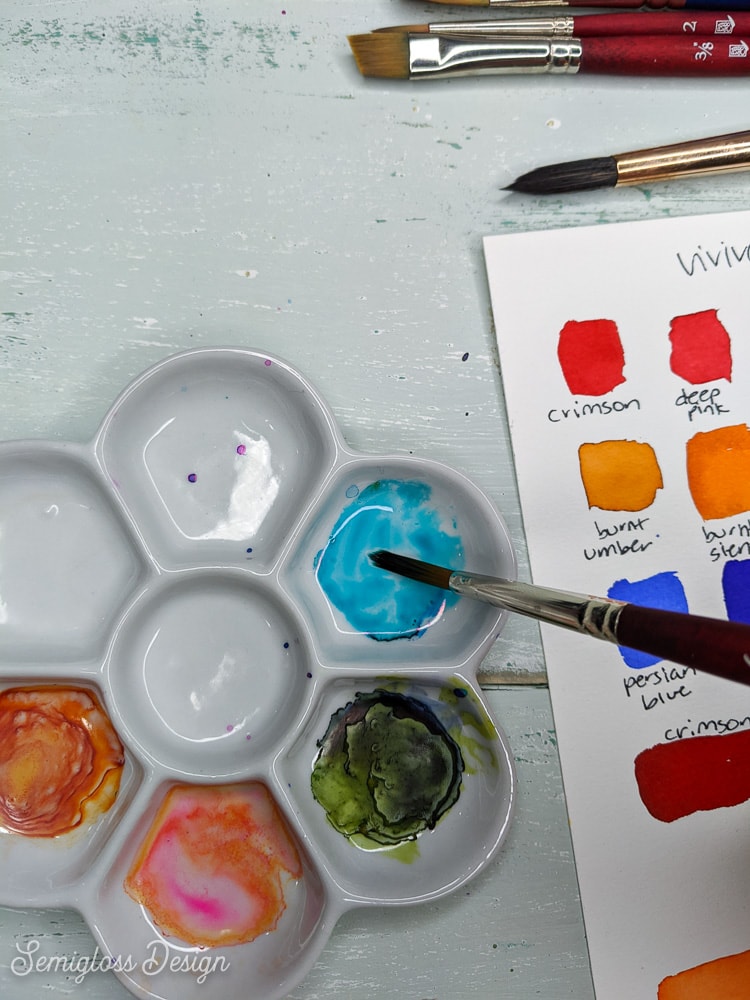 How to Make Easy Abstract Watercolor Art
This method is really fun and allows you to see how watercolor reacts to other colors.
Supplies Needed:
Water
Paper Towel or Kitchen Towel
Palette for mixing ( I love this ceramic palette)
Use a pencil to grid off your paper. Since my paper will be framed, I used the mat as the starting point and then marked it off to create a grid of squares. Make sure you use a light pencil mark as you go.
Once your grid is drawn, use a kneaded eraser to lighten as much pencil graphite as possible. You should just barely see the grid. (If graphite gets wet, it becomes permanent.)
Paint a circle in the center of a square.
Use a brush to drop in dots of another color. Colors that are adjacent on the color wheel typically look the best.)
Keep adding more circles. You can try painting one side of the circle with another color and see how it reacts.
Fill the entire page with watercolor circles.
Let the paint dry completely.
Completely erase the pencil grid. I like this eraser for removing pencil marks completely, but a standard eraser should work fine.
Frame the art as desired.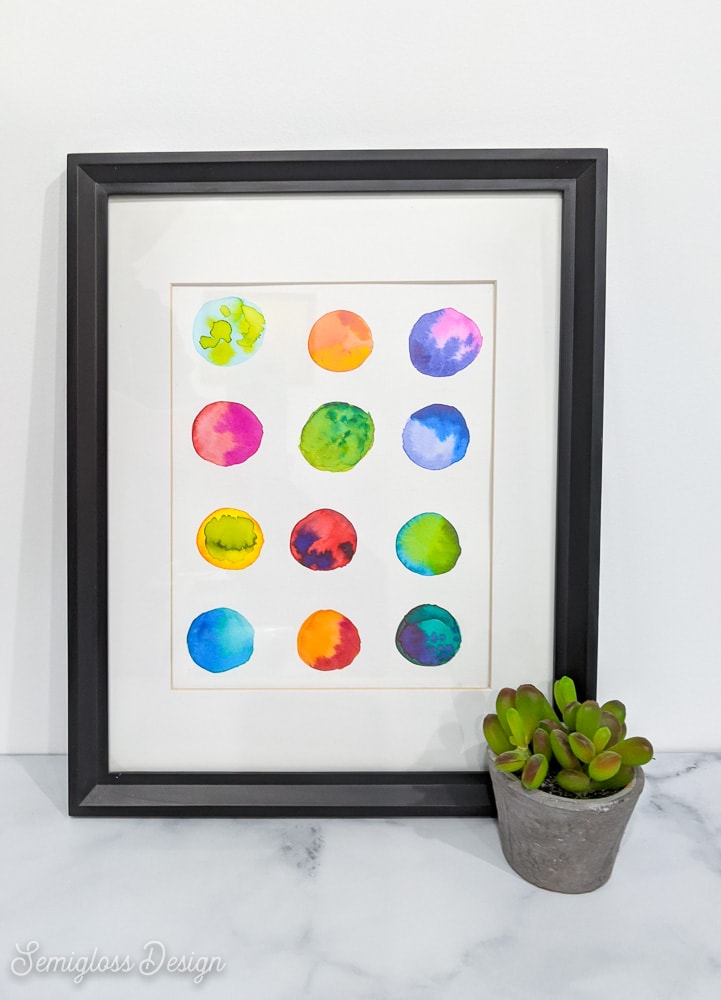 Other Variations for Abstract Art
Try painting circles with clean water and then dropping the color in to see what happens.
Experiment with different brush marks like lines or shapes. Wet paint will bleed when used on wet paint, so keep that in mind.
Use colors in the same family for a monochromatic look.
Paint other shapes besides circles.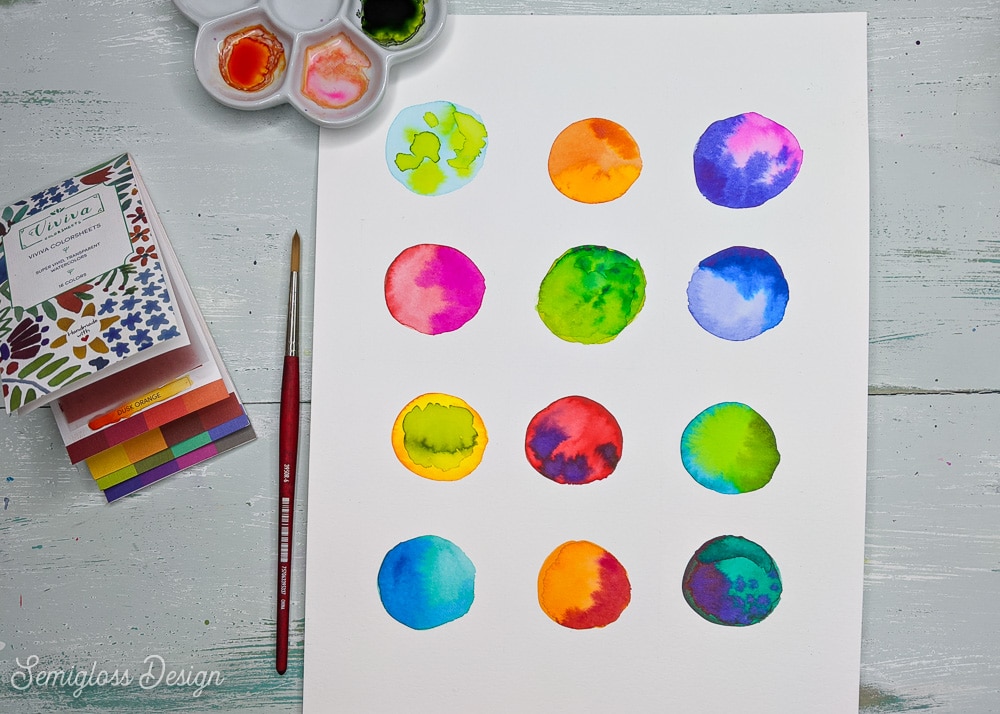 I love how bright and vibrant this art turned out!
You might also like:
Pin for Later!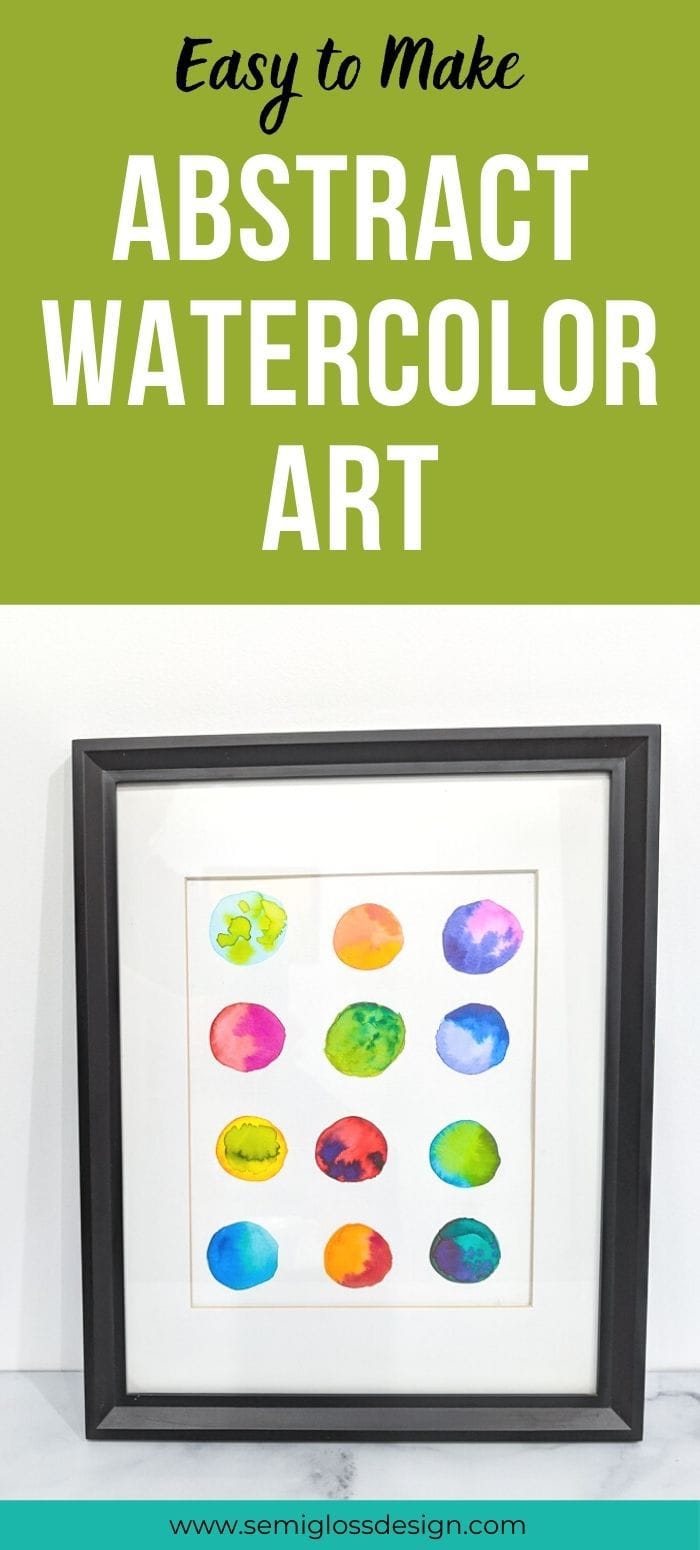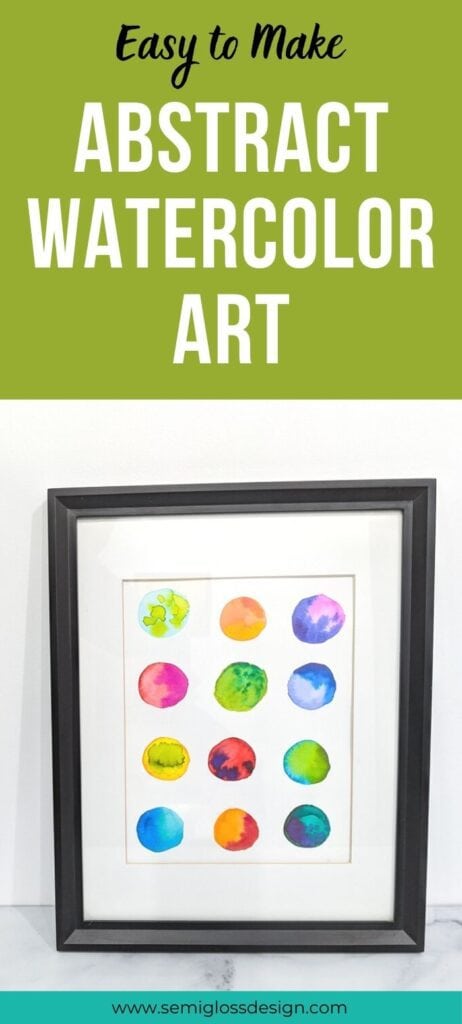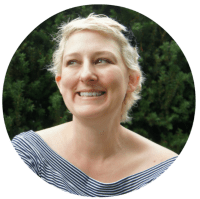 Emy is a vintage obsessed mama of 2 DIYer who loves sharing affordable solutions for common home problems. You don't need a giant budget to create a lovely home. Read more…