DIY Sunflower Wreath for Fall
Learn how to make a DIY sunflower wreath for fall.
I don't know about you, but I'm clinging to summer with everything I have. It's September, but it's still in the 90s here, so sunflowers feel more appropriate than orange leaves and pumpkins.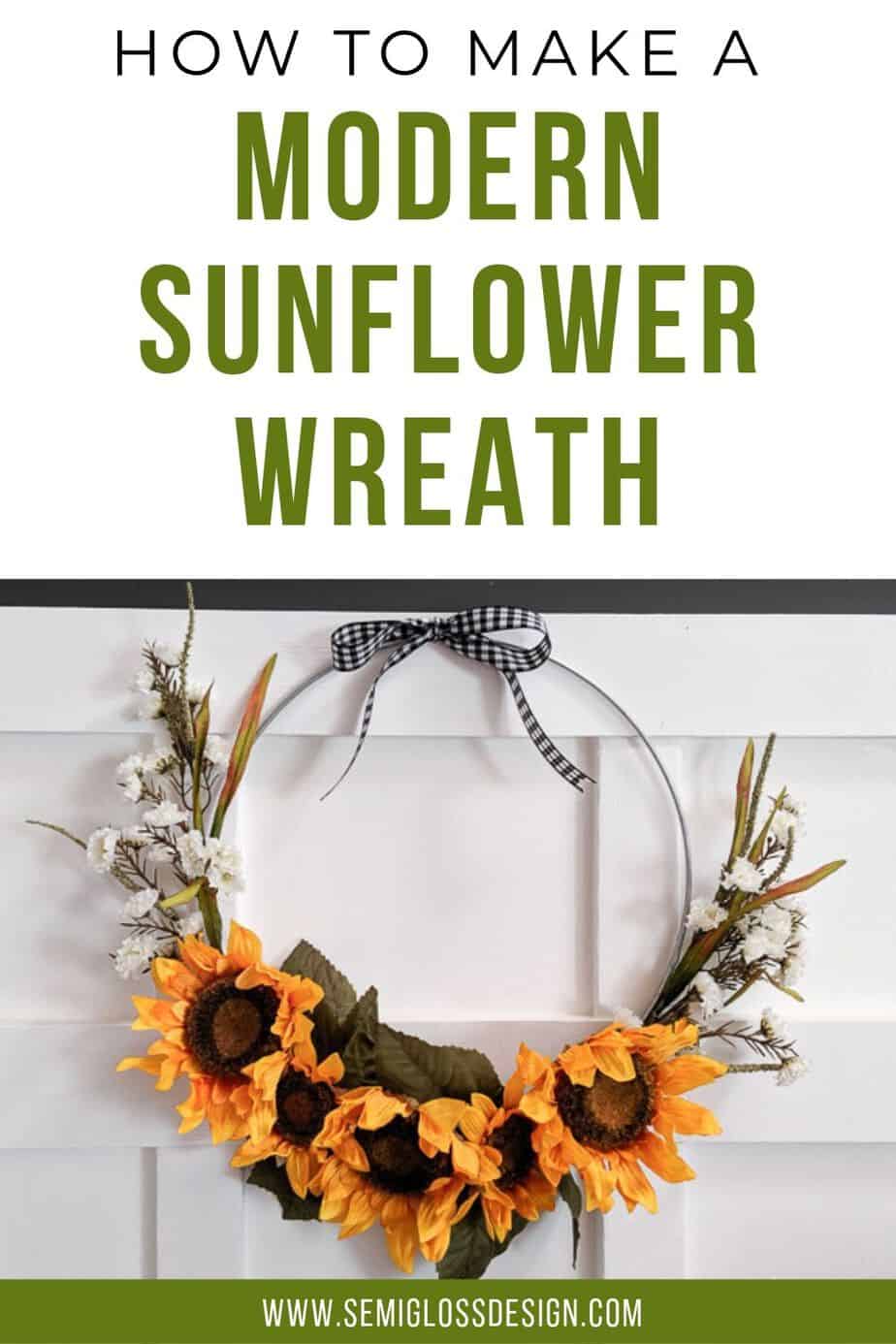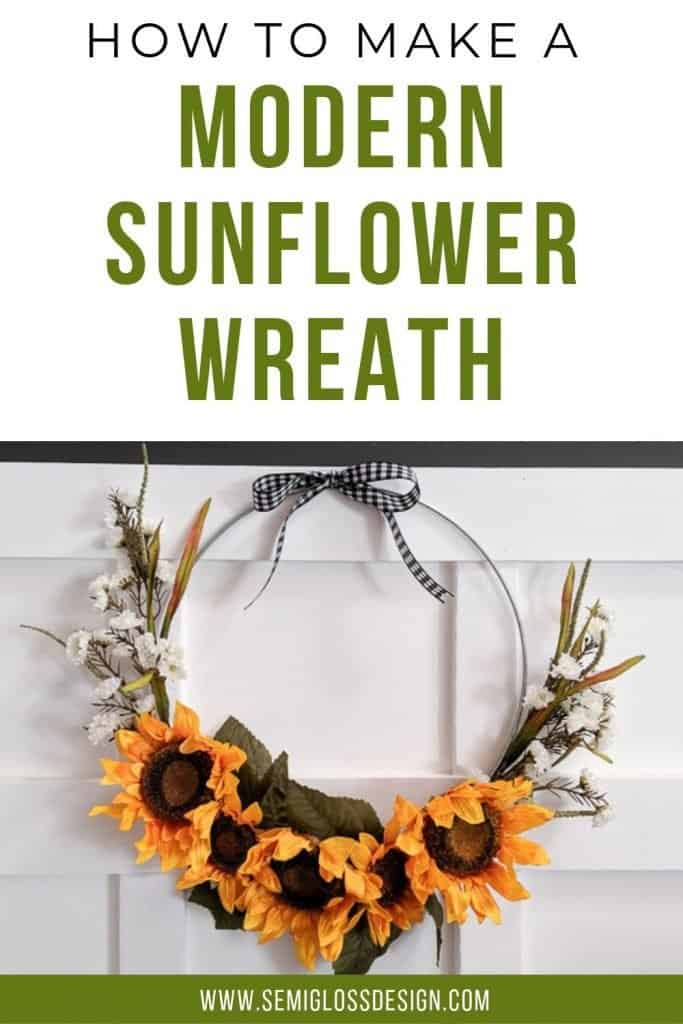 This post contains affiliate links. By purchasing an item through an affiliate link, I earn a small commission at no extra cost to you. As an Amazon Associate I earn from qualifying purchases.
Most of our sunflowers have been stolen by squirrels but they're still in bloom. Did you know that squirrels steal the entire flower? Our squirrels seem to be much smarter than average.
Next year, I plan on planting them everywhere because I love them so much. It will be a squirrel buffet, I guess, but it will be gorgeous until they figure that out!
Until then, a modern wreath with fake sunflowers is giving me all the fall feels. Is there anything better than fall crafting (even though I love summer with all my heart)?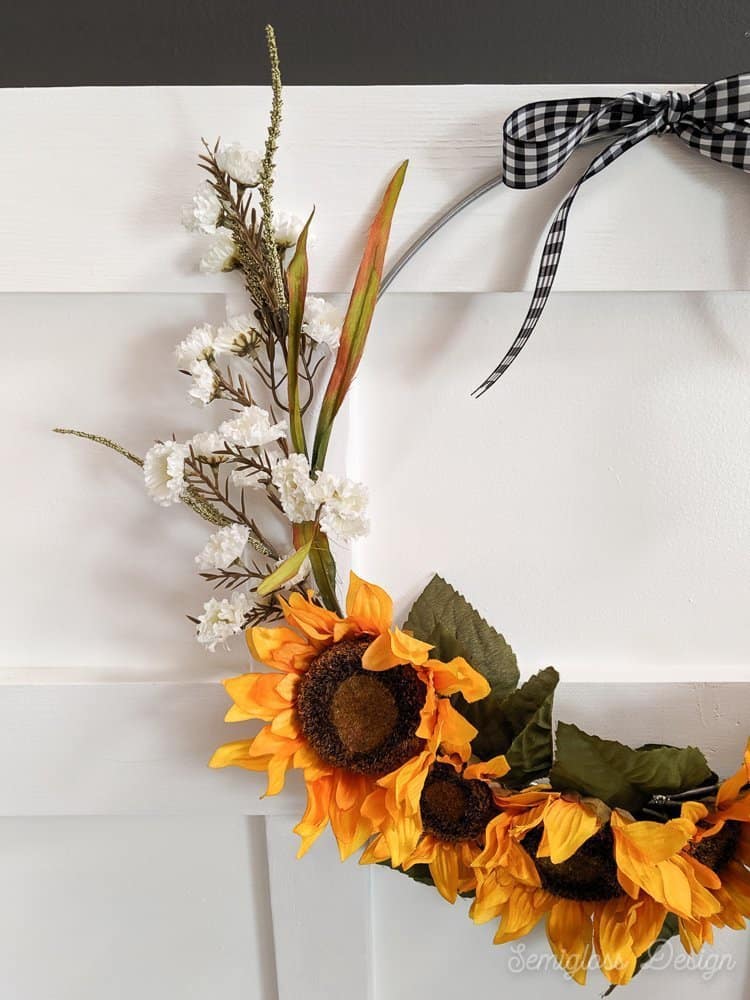 How to Make a DIY Sunflower Wreath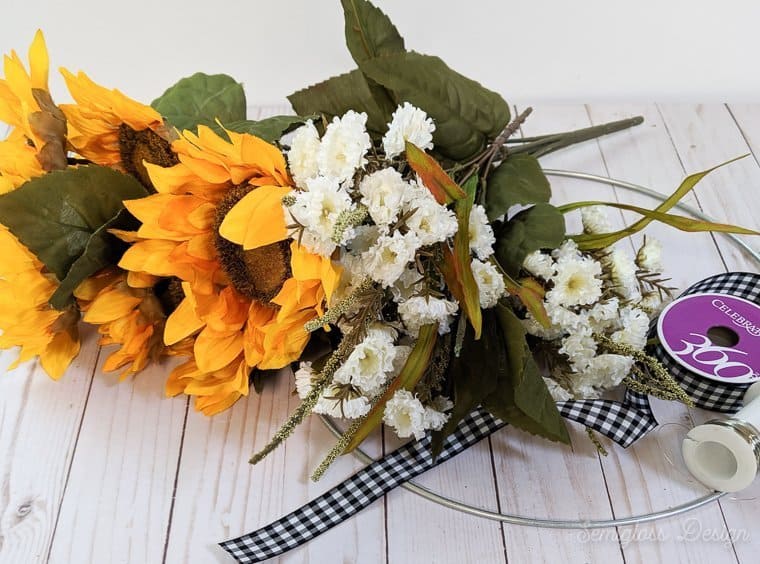 Tips for Making a Modern Fall Wreath
Faux florals have wires in the stems, so you can make the flowers face in the direction you want.
Some floral sprigs will need more wire than others. For instance, the sunflowers had much thicker stems, so they needed more wire to secure them to the metal wreath ring.
If you have trouble securing the flowers with wire, you can add a bit of hot glue to keep the flowers in place.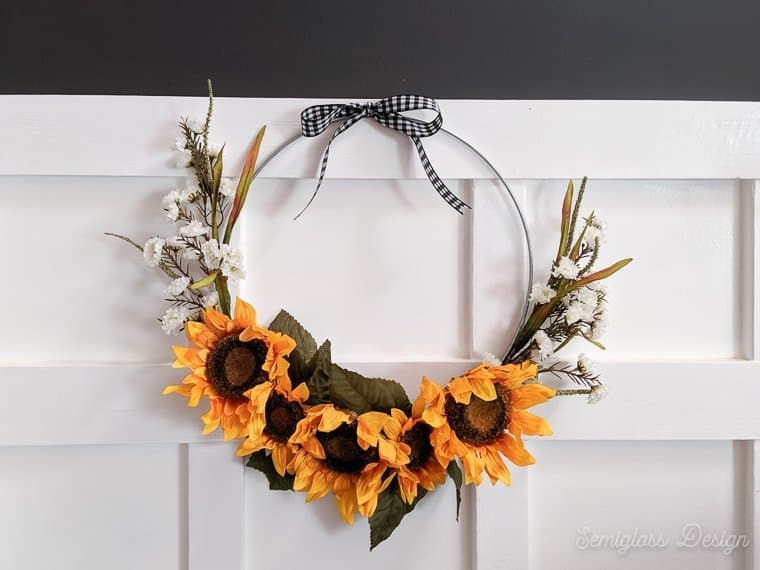 You can use any light gauge of wire. I just used what I had on hand. Keep in mind that smaller numbers mean the wire is thicker and will be harder to bend.
You can make your wreath symmetrical or asymmetrical by adding more to one side or displaying it on an angle.
Yield: 1
DIY Sunflower Wreath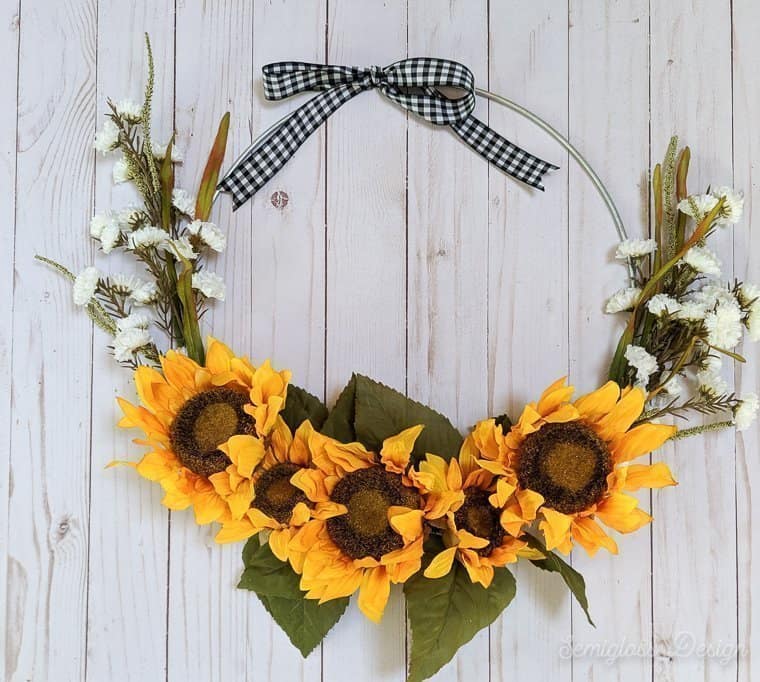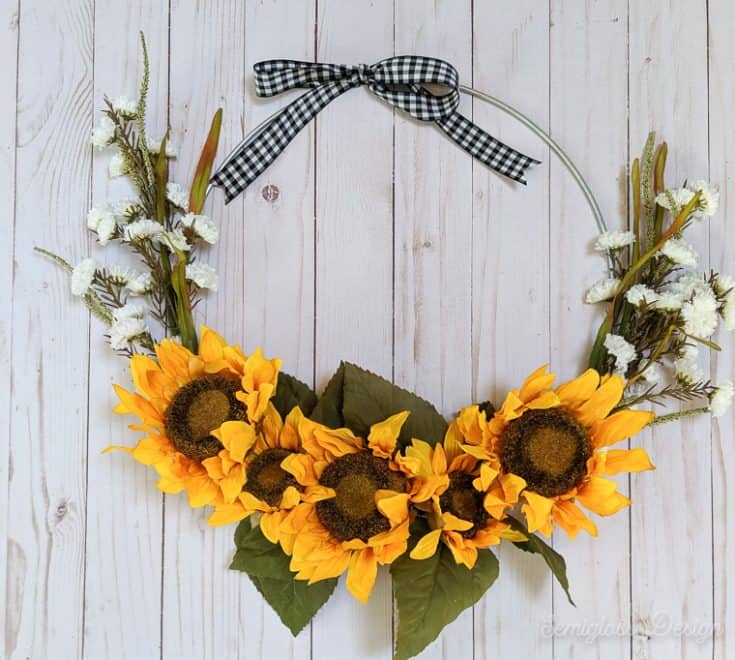 This modern DIY sunflower wreath is perfect for early fall when it feels too soon for orange leaves and pumpkins.
Materials
Fake sunflowers
Small floral sprig or foliage
Metal wreath ring
Wire
Gingham ribbon
Tools
Wire cutters
Hot glue gun (optional)
Instructions
Use wire cutters to cut floral stems from each bouquet.
Figure out your layout for your sunflower wreath. It can be symmetrical or asymmetrical.
Use wire to attach each floral sprig to the metal ring. Start with the smaller flowers first.
Use as much wire as you need to secure each sprig to the ring.
Continue placing flowers onto the ring until it's as full as you want.
Add leaves in spare spots. The leaves can be removed from the stem. Put wire through the hole in the center to secure it where you want it on the wreath.
As you work, be sure to cover previous wires with flowers.
For the sunflowers, you can bend the stems to make them face the direction that you want.
Add a ribbon to the top and hang.
Notes
If needed, secure sunflowers with hot glue to make them stay in place.
Some flowers need more wire to keep them secure. The sunflowers have thicker stems, so they required more wire.
All of the flowers have metal wires in the stems, so you can bend them to the shape you want.
Recommended Products
As an Amazon Associate and member of other affiliate programs, I earn from qualifying purchases.
You might also like:
Pin for Later!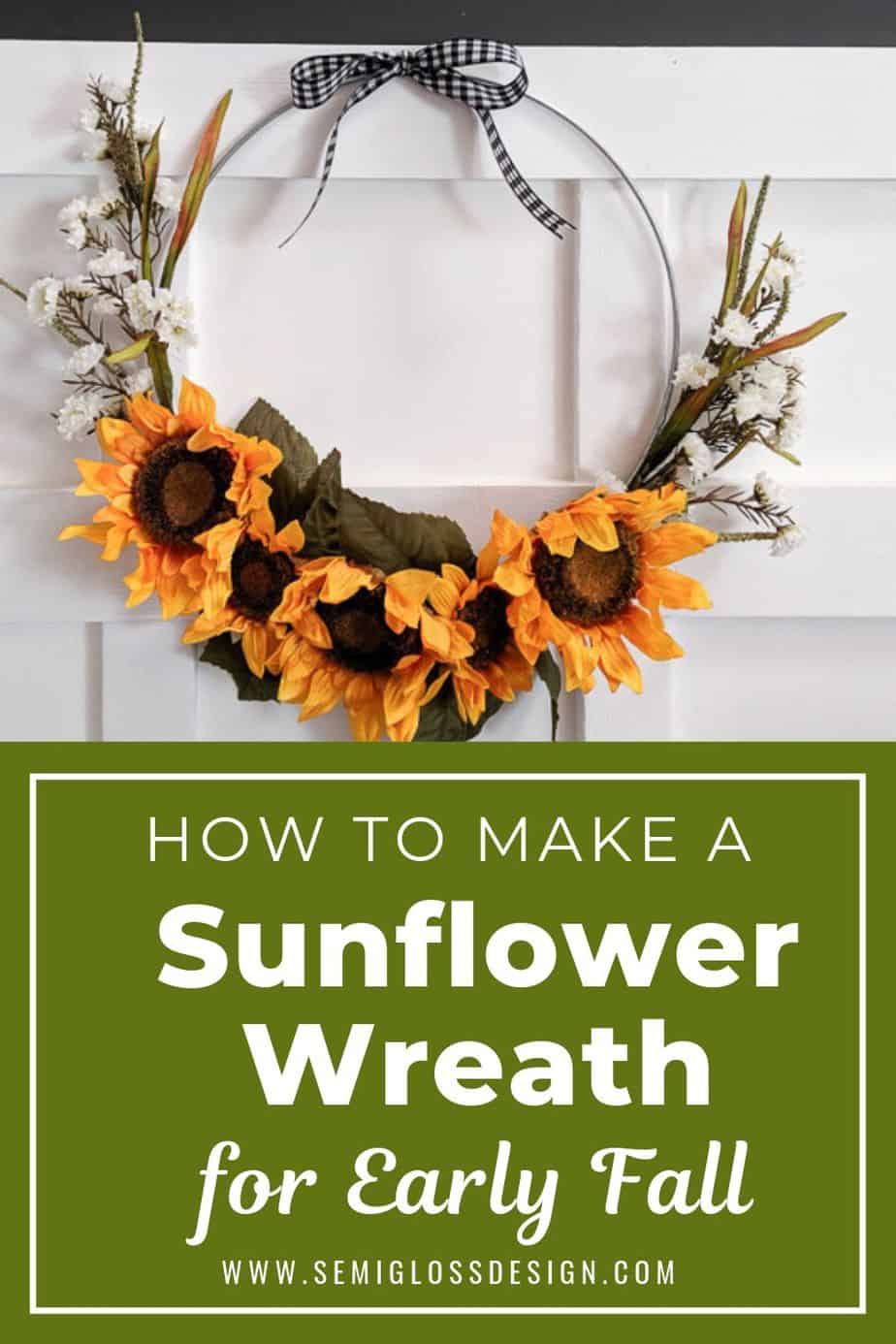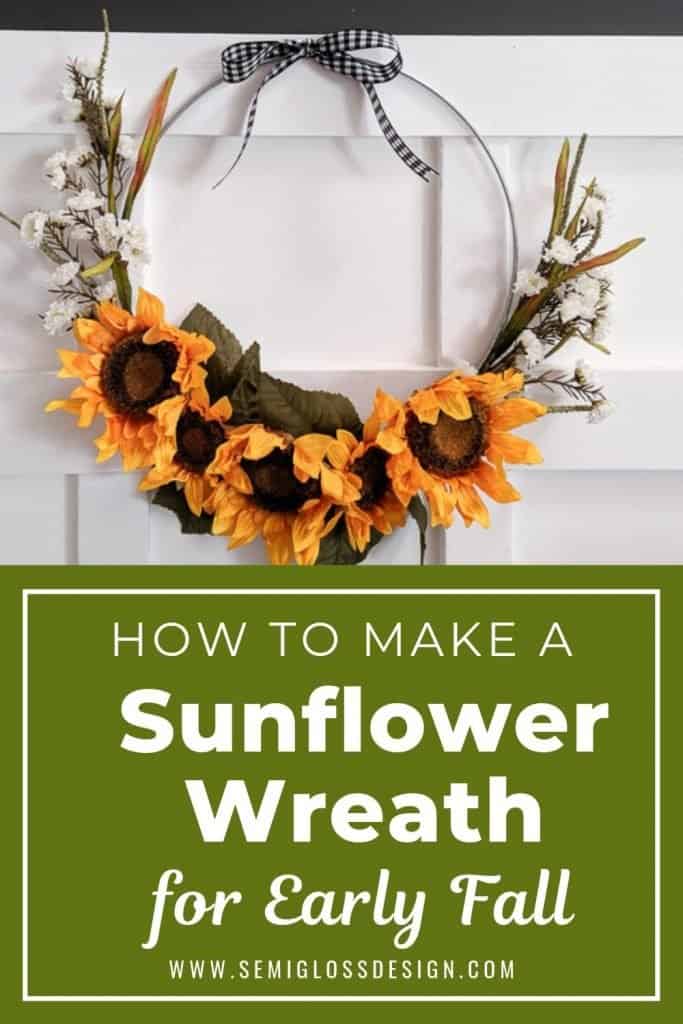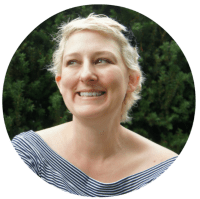 Emy is a vintage obsessed mama of 2 DIYer who loves sharing affordable solutions for common home problems. You don't need a giant budget to create a lovely home. Read more…