Fall Maintenance Checklist to Print
This Fall maintenance checklist is a great way to prepare your home for colder weather. Download and print the checklist.
You might also be interested in this cleaning checklist.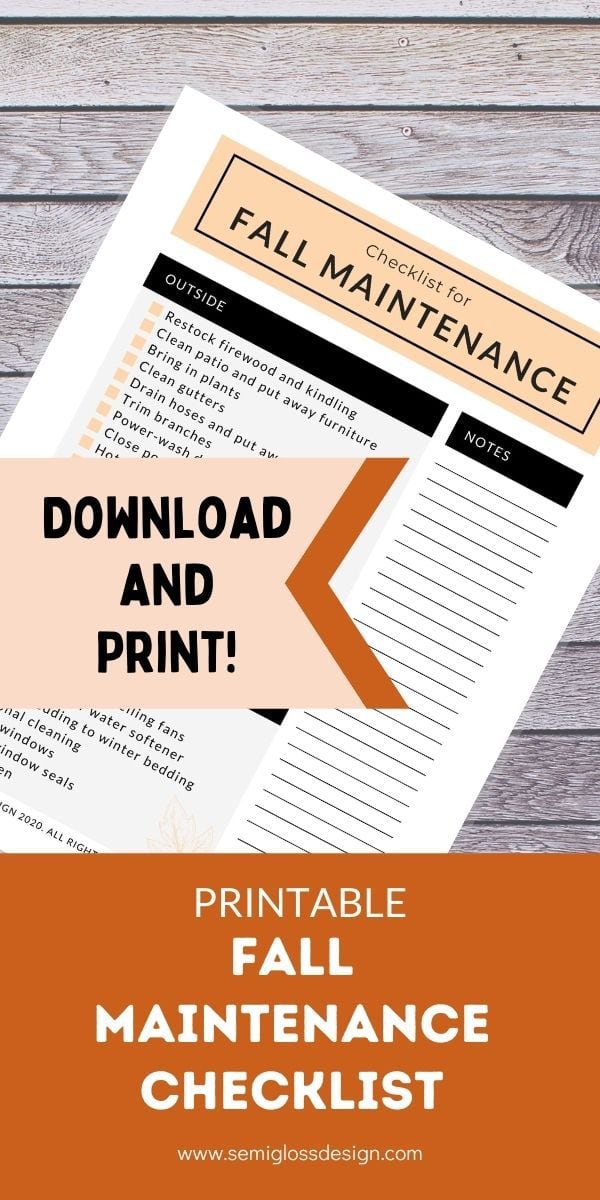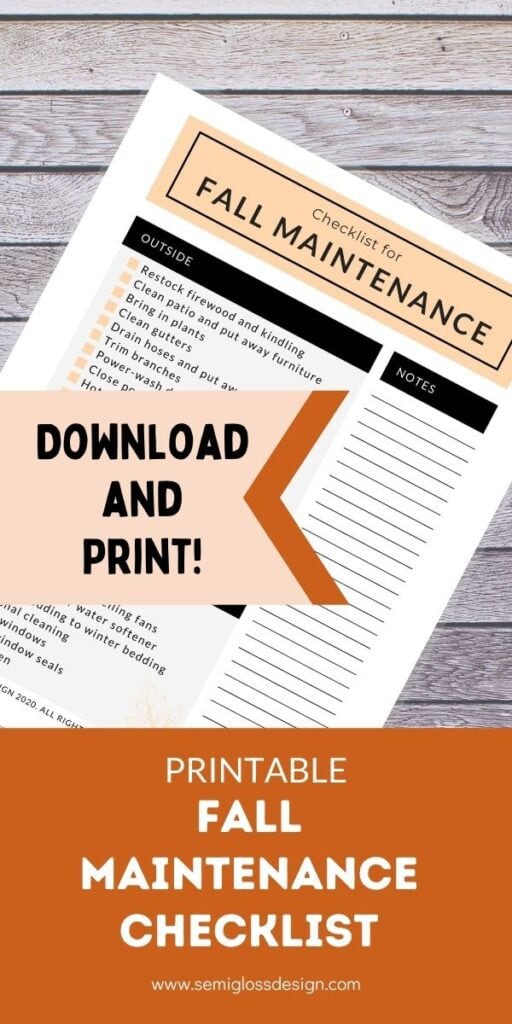 This post contains affiliate links. By purchasing an item through an affiliate link, I earn a small commission at no extra cost to you. As an Amazon Associate I earn from qualifying purchases.
I've tried to make this checklist as robust as possible. Skip over the tasks that don't apply to your home. And if I've missed something important, leave me a comment and let me know!
Fall Maintenance Checklist
Outside Tasks
Restock Firewood and Kindling. Whether you buy firewood or cut your own, it's a good time to see if you have enough wood for the winter. Don't forget to add kindling sticks for getting the fire started.
Clean Patio and Put Away Furniture. This is a good time to clean your deck. Be sure to remove all the leaves from the surface. Patio furniture should be put away or covered. These covers are amazing!
Bring in Plants. Plants that have been brought outside for warmer weather need to be returned inside. It's also a good time to fertilize them and give them a good watering. It's also a good time to repot them if they need it.
Clean Gutters. Falling leaves clog gutters and can cause drainage problems, so it's important to keep them clean. We like to use this attachment for our blower to make it easier.
Drain Hoses and Put Away. At the end of the Fall, be sure to drain hoses and put them away. They can cause ice dams in the winter and possibly damage your pipes inside your house. Be sure to insulate the faucets.
Trim Branches. Trim branches that brush against the house or could fall and cause damage.
Power-wash Deck and Siding. After the summer of humidity, fall is a great time to clean away mildew from decks and siding.
Close Pool. In early fall, we close our pool to avoid leaves from falling in the water. I have a whole post on closing an above ground pool.
Hot Tub Maintenance. Perform any hot tub maintenance that needs to be done. I'll have more details on this process in a post soon.
Fertilize Yard. Get the yard ready for spring now with some fertilizer.
Check Weatherstripping. Make sure that all doors and windows are properly sealed to prevent drafts.
Restock Salt and Check Snow Shovels. If you live in a snowy or icy region, buy salt for walkways now. (It sells out before that first snow.) This is also a good time to check your snow shovels and replace them if they were damaged last winter.
Clean Out Garage. Whether you park in your garage or not, now is a good time to clean out your garage so that you can easily access tools and other garage items if needed.
Service Lawnmower and Weedeater. After you mow the grass for the last time, be sure to service the lawnmower, weedeater, and any other equipment that you use.
Inside Tasks
Clean Fireplace. Remove any ashes and soot from the fireplace.
Change HVAC Filter. Make sure that your indoor air quality is top-notch with a new HVAC filter. This is also a good time to have your HVAC serviced.
Clean and Reverse Ceiling Fans. Changing the direction of your ceiling fan can push warm air down and pull the cold air up.
Restock Salt for Water Softener. Make sure that you have enough salt in your water softener. It's hard to carry 50 lb bags of salt through the snow, so it's good to do it now.
Change Bedding to Winter Bedding. Switch to warmer winter bedding to keep warm at night. We love flannel sheets and a heavy comforter.
Seasonal Cleaning. It's nice to start the winter with a clean house. See my whole house cleaning list here.
Clean Windows. Let more light into your house with clean windows.
Clean Window Seals. Our window seals get so dirty in the summer, so I like to clean them in the winter.
Clean Oven. Whether you have a self-cleaning oven or use chemicals, do it while you can open the windows.
Printable Fall Maintenance Checklist PDF
All downloads are for personal use only. Please do not redistribute or sell files.
Click to download this Fall maintenance checklist.
Want checklists for every season? I have them for sale in my shop!
You might also like:
Pin for Later!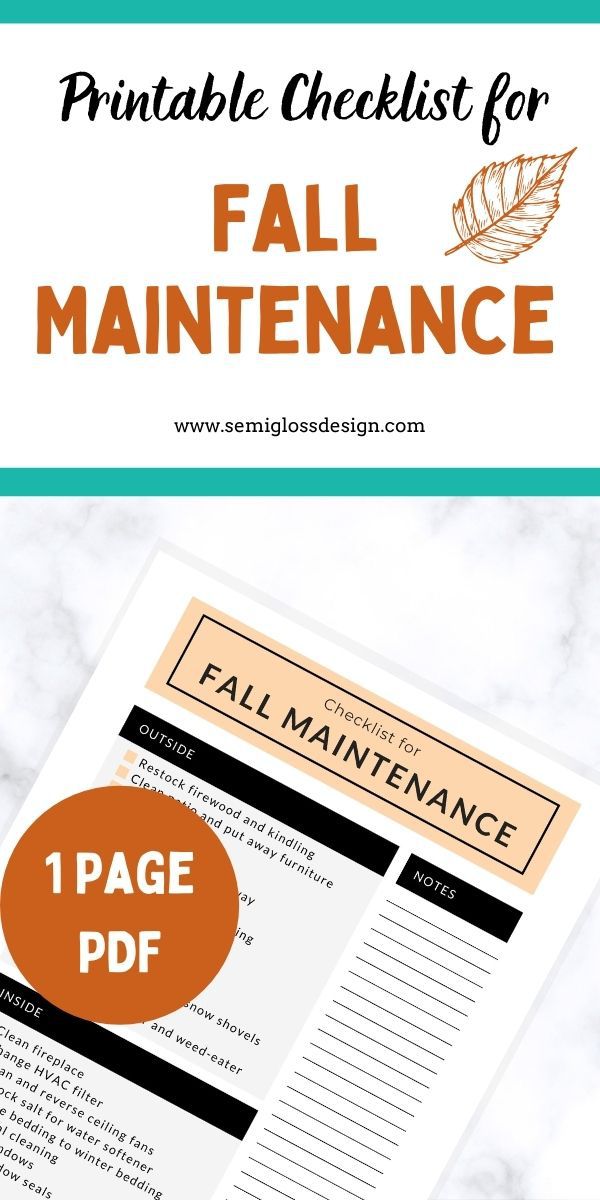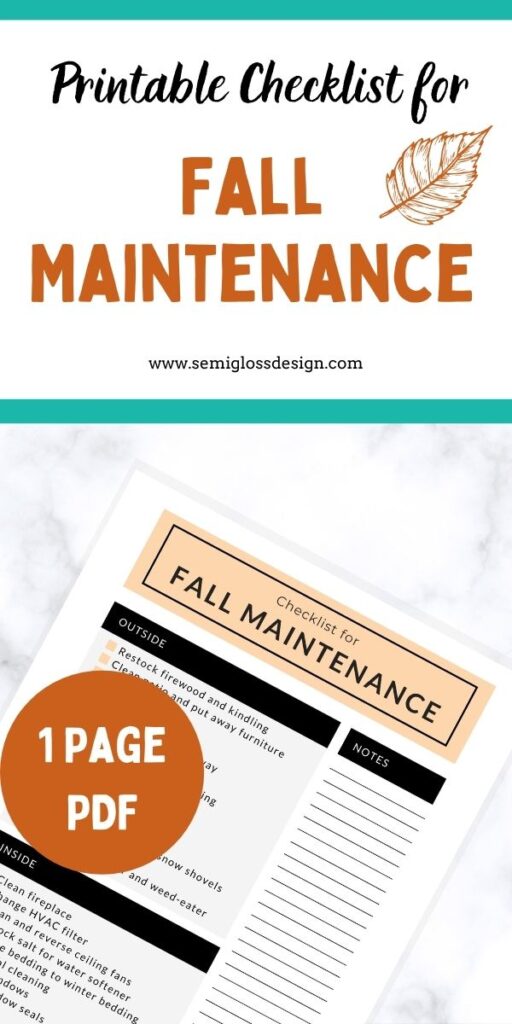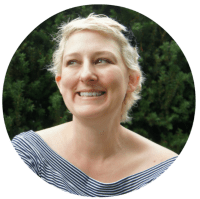 Emy is a vintage obsessed mama of 2 DIYer who loves sharing affordable solutions for common home problems. You don't need a giant budget to create a lovely home. Read more…