The Best Tools for Painting Walls
Paint is the easiest and most affordable way to update a space. The best tools for painting walls will make the job so much easier.
Painting walls is one of my favorite ways to begin a room makeover. Changing your wall color is an easy way to make a space feel fresh and clean without a major renovation.
This post contains affiliate links. By purchasing an item through an affiliate link, I earn a small commission at no extra cost to you. As an Amazon Associate I earn from qualifying purchases.
I have painted a lot of walls in my life. In the past few months, I've painted more walls than most people paint in their lifetime.
Luckily, I really like painting.
The Best Tools for Painting Walls
Here are some of my favorite painting tools.
Prep Work Tools for Painting
Prep work is crucial to a good paint job. I always start painting by doing all the prep work that is necessary to get a perfect paint job.
Click to read an in-depth post on how to paint walls.
Spackle
Spackle is used for small nail holes and can also be used to fill where trim meets (such as the corner of a door frame.)
I prefer lightweight spackle that is pink and dries to white when it dries. This makes it so easy to see when it's dry enough to sand smooth.
I also find that spackle produces very little dust compared to joint compound, which should be used for larger jobs.
Caulk
Caulk is used to make trim seamless against the wall. It's also great for filling cracks.
I like paintable caulk because it's easy to use and easy to clean up.
You will also need a caulk gun. I've used cheap ones and expensive ones and I don't notice a difference.
Be sure to paint it once it's dry because the caulk will collect dust like crazy. It also discolors after a while.
Primer
Primer is used on walls for 2 different reasons.
Repairs. If you've done repairs, you need to prime them first to seal it. Unprimed spackle or joint compound will absorb the paint differently and look streaky.
Changing paint colors. It can also be used when you're drastically changing the wall color. If you're painting over a dark color with a light color, painting a coat of primer will allow you to use less paint. Since primer is cheaper than paint, this is a good thing.
For most repairs and priming dark colors, I prefer this primer. It's cheap enough to use on large walls, doesn't smell horrible, and is water-based for easy clean-up.
Due to rising costs, I experimented with a new-to-me product for changing paint colors. This primer is specifically made for hiding dark colors. It worked as well as my favorite primer, but it's much cheaper.
If you're painting a red wall white, you might want to get your primer tinted gray. Gray will cover the paint better and it will be easier to paint the wall white.
Microfiber Cloth
A dust-free environment is necessary for a good paint job. A microfiber cloth picks dust up and holds it, unlike most dusters that just knock it into the air.
Best of all: you probably already own a million of these.
Be sure to get ledges like the tops of doors and windows. They hold a lot more dust than you realize.
Drop Cloth
Drop cloths protect your floor from drips.
I prefer canvas drop cloths because they don't stick to your feet. They also last forever and can be washed.
(My dog loves when I break out a drop cloth. We keep joking that we're going to make her a dog bed with one because she loves them so much.)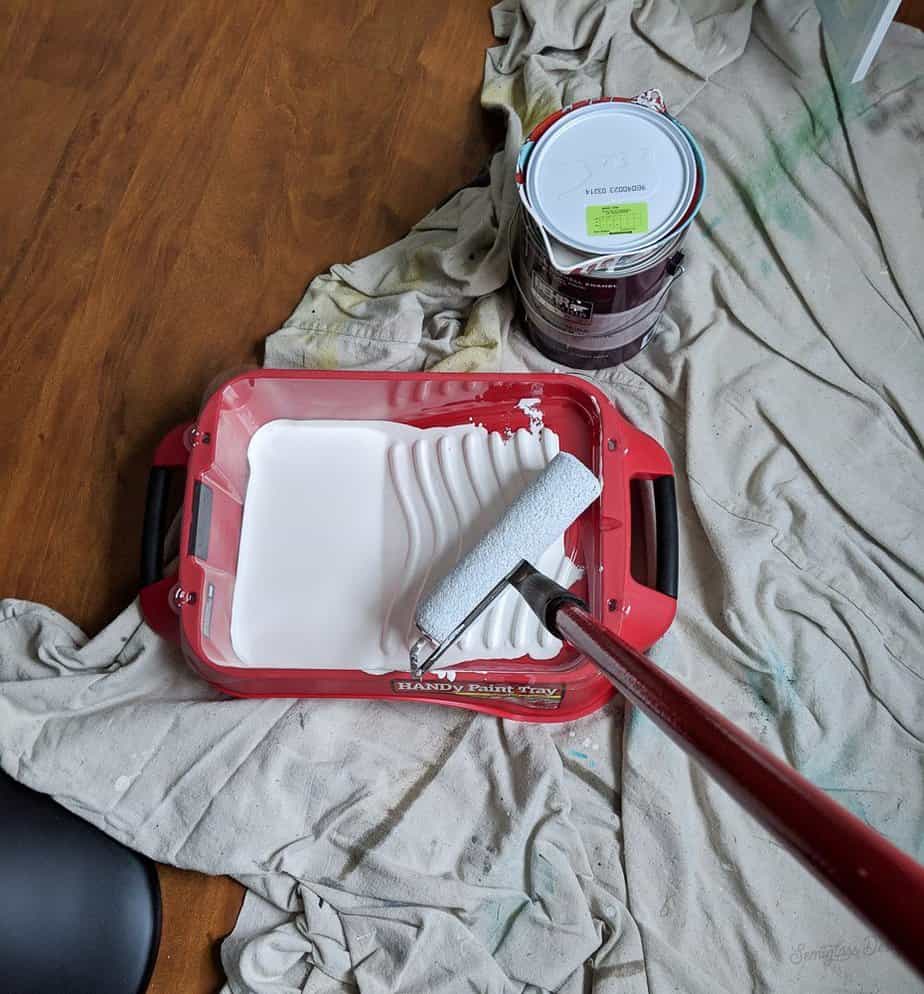 It's nice to have several in a few different sizes. If you only buy one, a 9×12 is probably the best size. It's large enough to cover most of a room, but it's small enough that it can be folded when you need a smaller one.
Before I invested in canvas drop cloths, I avoided them because I thought paint would leak through to the floor, but I've never found that to be the case. In fact, plastic is far messier and susceptible to rips.
(Note: Plastic is great if you're using a sprayer, but be careful because it can be slippery.)
Tape
Tape is used to mask off areas that you don't want to get paint on. For the most part, I prefer cutting in or using a razor blade to remove paint from glass.
Some instances require tape though. I love this tape. The delicate version is nice for places that you've already painted or surfaces that you're worried about ruining.
The 1.41″ size is wide enough to avoid painting over the edge.
Be sure to press the tape firmly to ensure there are no gaps.
Remove tape while it's wet or it can tear and rip the seam of your paint.
If you forget and are having trouble, you can score the line with a utility knife.
Painting Tools for Painting Walls
Like most things, investing in good tools will make your job less frustrating.
Good Quality Paint
Buy the best paint that you can afford. You will use less paint and save money in the end. It will also drip less.
I love Sherwin Williams paint, but I don't have a store that's close to me. Instead, I buy the HGTV for Sherwin Williams paint at Lowes. I like the Showcase line.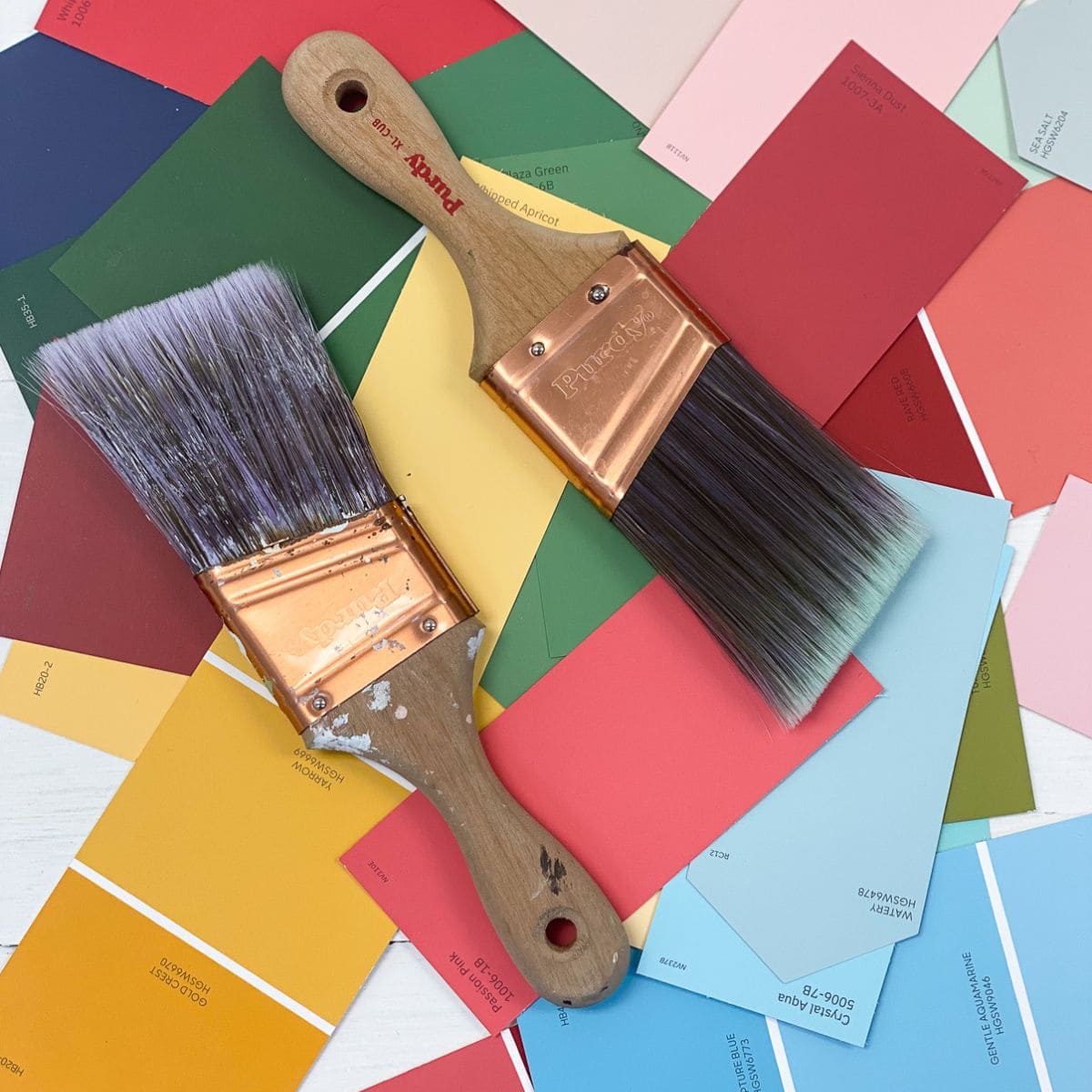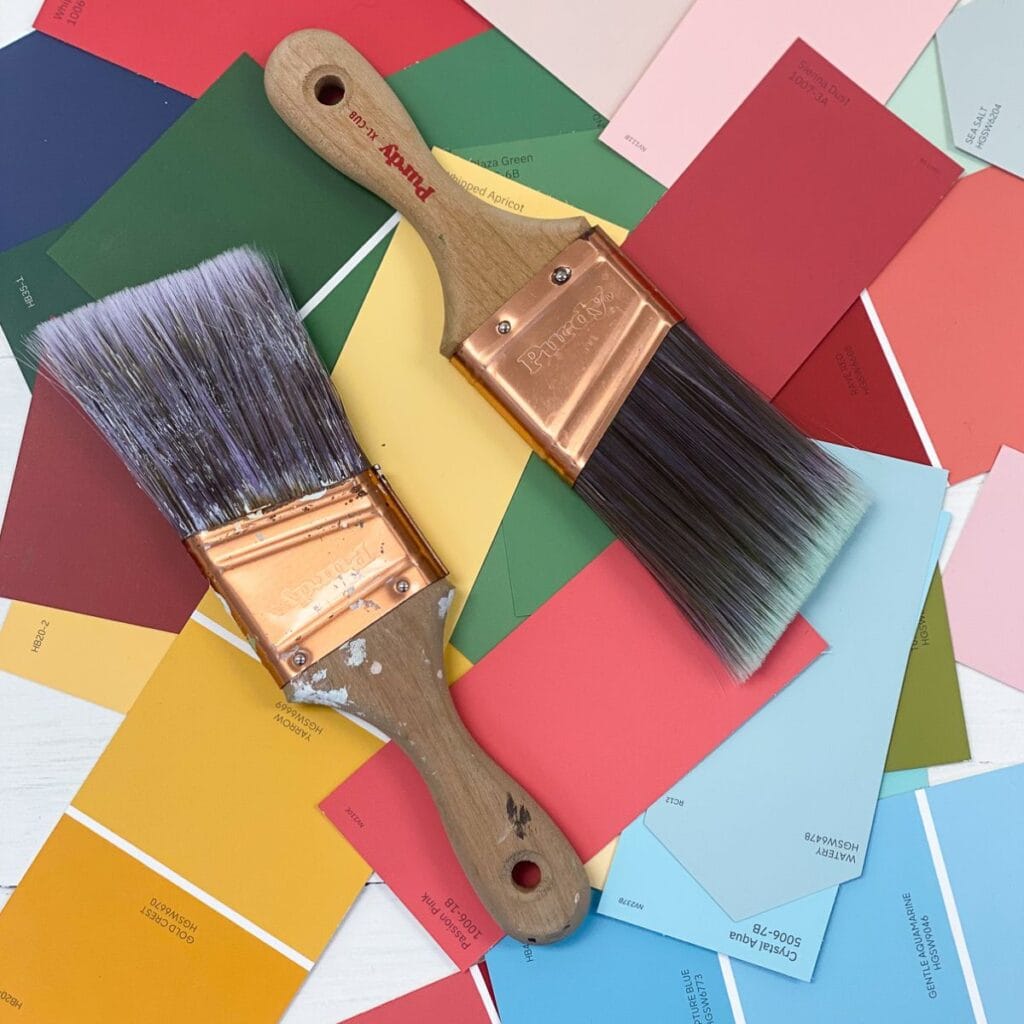 This paint is perfect. It's thick and doesn't drip everywhere. The coverage is so good that I often find myself buying too much paint for a room.
I also like buying these sample stickers before I pick a paint color. It's a great way to see a large version of a paint chip without buying a million sample pots.
One more paint recommendation is Clare. This is a mail-order paint company and they also have large paint sample stickers. I have a review on Clare Paint here.
I love this company because they have a limited selection of colors instead of a million. This is great when I'm having trouble making decisions. The paint is really great quality.
Wing It is the perfect pale pink, by the way. It's warm without feeling like a nursery color. My bedroom in the last house was this color and I'm dying to use it somewhere in our new home.
Roller Frame
This roller frame is nice and sturdy. I don't like to spend a lot on rollers because I tend to ruin them a lot.
Don't be like me. Remove the roller pad as soon as you're done using it.
Roller Cover
Cheap roller covers will leave lint all over your walls. They can leave bumps as well.
I like these roller covers because the finish is so smooth and perfectly lint-free.
Smooth walls need 3/8″ nap roller covers. If you have textured walls, use 1/2″ nap rollers. For really textured walls, 3/4″ works great.
If you have the wrong nap size, it's not a huge deal. But textured walls are a little harder to paint and it really does make it easier.
Roller Pole
Roller poles allow you to paint areas that are higher than you can reach, like the tops of walls or ceilings.
This is one area where I think it's okay to skimp. We have an extension roller pole that extends and some cheap ones. I prefer the cheap ones because my expensive one unscrews itself all the time.
There are times when you need an extended pole though, so it might be time for me to find a new one.
Paint Brush
I could write poetry about my favorite paintbrush.
It's perfect for painting trim, as well as cutting in! (I like it for applying polycrylic on furniture as well!)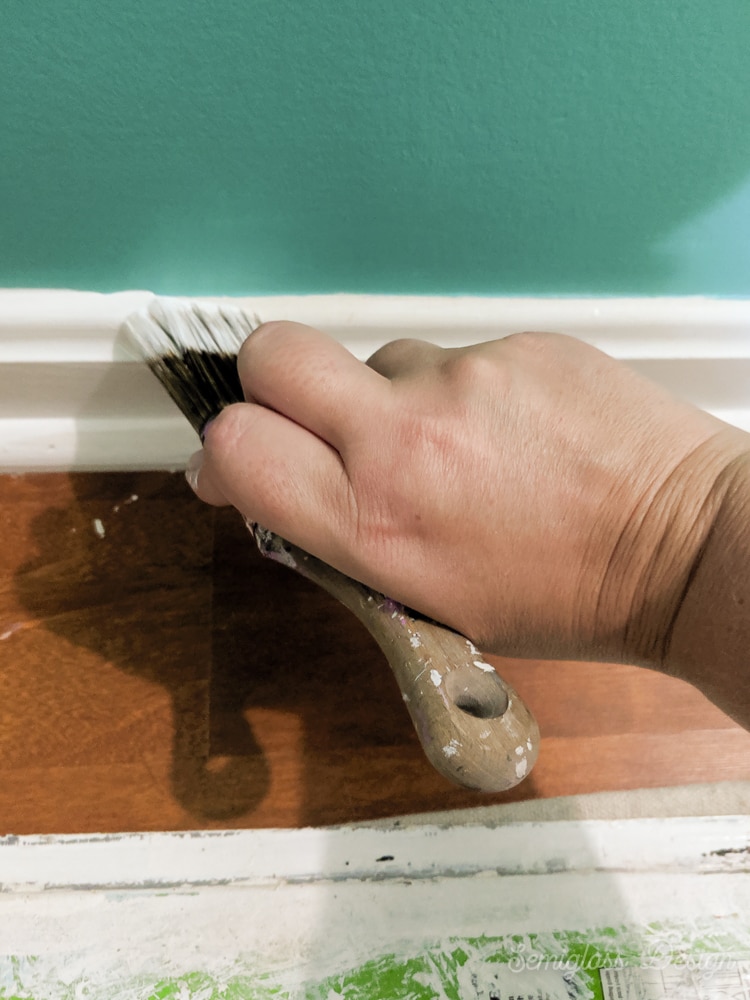 The short handle fits nicely in my hand and allows me to paint in tight spaces. The angled bristles make cutting-in effortless.
Paint Pail
Before I bought a paint pail, I used disposable plastic cups and was constantly worried that I would accidentally drink paint. The disposable cups never held enough paint.
Then I bought a paint pail and my life changed. It has a handle, which makes it easier to hold. Plus it feels a little safer to carry up ladders.
It holds a quart of paint, so fewer refills are necessary!
But best of all is the magnet on the side that holds the paintbrush when not in use!
There are disposable liners available, but they're not totally necessary. Latex paint peels right off the plastic surface.
Paint Can Pourer
I've had this paint can pourer for years and it's a necessity for me. It makes pouring paint way less messy!
This is the only one I'll try. Other brands don't quite fit right. Some of the newer weird paint cans don't work with this pourer, but I really try to stick to the same brands, so I normally don't have a problem.
Roller Tray
This is another tool that is life-changing. I used to just use the metal trays and I hated them. The legs always got bent and the tray was too narrow.
Then I got this roller tray! It's super sturdy and it has plenty of space. It holds an entire gallon of paint, so there's no need to stop and pour paint a million times.
I love that I can carry it from room to room without it feeling flimsy.
There's also a little slot for the roller handle that keeps it in place. Like the handy cup, it also has a magnet to hold paintbrushes.
There are disposable liners available. But they're not necessary. Since the tray is plastic, latex paint peels right off.
Ladder
Unless you're really tall or your ceilings are really low, you will need a step ladder for cutting in.
I bought this ladder and it's great. This ladder is lightweight so even a wimp like me can move it around. It works well in small spaces, but it also works well for high ceilings.
Plastic Baggies and Plastic Wrap
You probably already have these in your kitchen. I love plastic baggies to keep my paintbrush fresh until I clean it.
I use gallon-sized baggies or plastic wrap for roller covers. Be sure to remove them from the roller frame before storing it or the cover will stick to the frame and be impossible to remove.
Paint Trim Guard
A paint trim guard is used to keep paint from getting on other surfaces.
It can be used to protect trim, but I love it for use on the bottoms of doors. It also works great to protect the carpet when painting trim.
Paintbrush Comb
Use a paintbrush comb for cleaning your paintbrushes.
This tool makes it way easier to remove paint and helps my paintbrushes last way longer.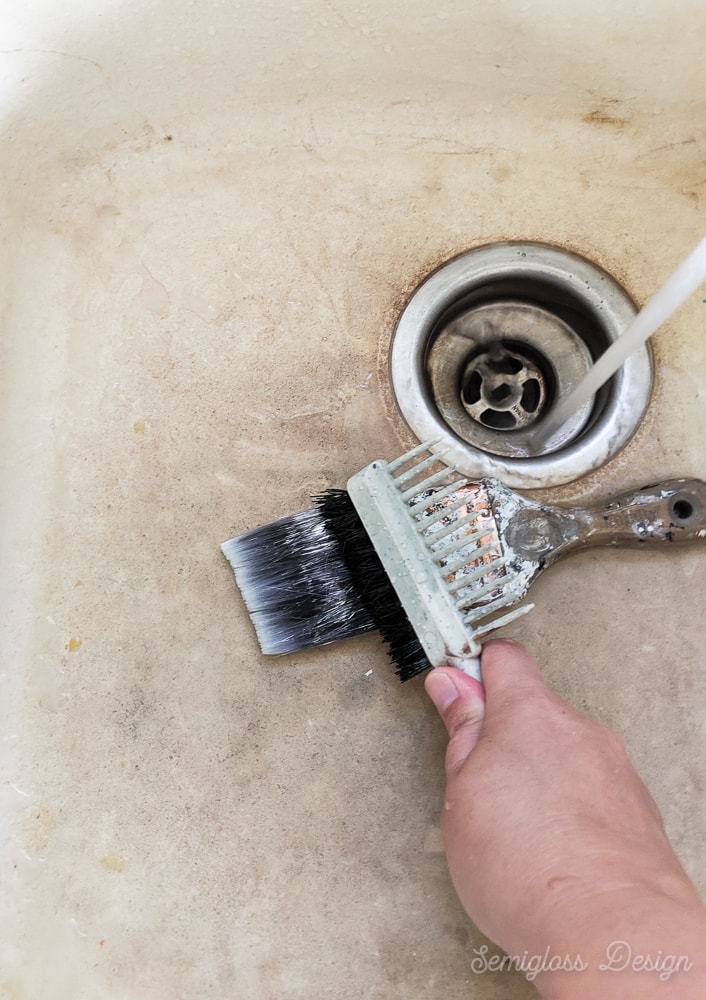 What's your favorite painting tool?
You might also like:
Pin for Later!