The Best Paint Brush for Trim and Baseboards
Read more about the best paintbrush for trim. A good brush for trim can make your paint job so much easier and faster!
I would love to meet someone who loves painting trim. Although I love painting walls, painting trim is right up there with painting ceilings for me. It's necessary, but not fun.
Over the years, I've learned that a good paintbrush is worth its weight in gold when painting.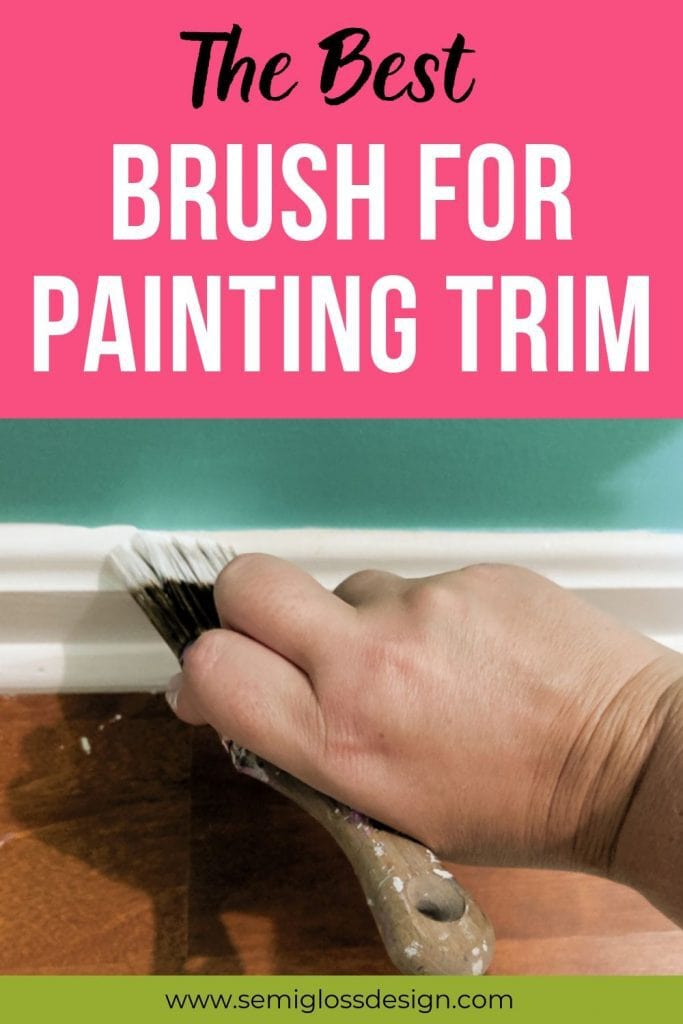 This post contains affiliate links. By purchasing an item through an affiliate link, I earn a small commission at no extra cost to you. As an Amazon Associate I earn from qualifying purchases.
The Best Paint Brush for Trim
Quality paintbrushes are much easier to clean and last a lot longer than cheap brushes. They allow you to paint without brush strokes. In fact, a good quality paintbrush almost does the work for you!
I love this paintbrush for painting trim. I own about 4 of them because they're my favorite paintbrush for latex paint. They're great for cutting in paint as well!
Features of the Perfect Brush for Trim
A Short Handle
The short handle means that I can get into tight spaces. It also means that it fits nicely in my hand, which gives me more control.
Did you know that artists use long paintbrushes to get less control when painting? It gives them more of a painterly look.
Angled Bristles
The angled bristles allow you to glide the paint across the woodwork and get good coverage on smaller details of trim.
The angled bristles also allow you to make perfect lines when cutting in against the wall.
Flexible Bristles
The bristles are nice and flexible, which also allows better paint control. They can get into tight spots and work well for the corner where the baseboard meets the shoe-molding.
If your brush is too stiff, you will have trouble getting into tight spaces.
The Perfect Width: 2″
I prefer a 2″ paint brush because it's small enough to fit into paint cups or quarts of paints, but not too small to get decent coverage.
A paintbrush that is too wide will make it easier to make mistakes and get paint on the wall. Go for a smaller width, unless you live in a home with very thick molding. (Lucky you!)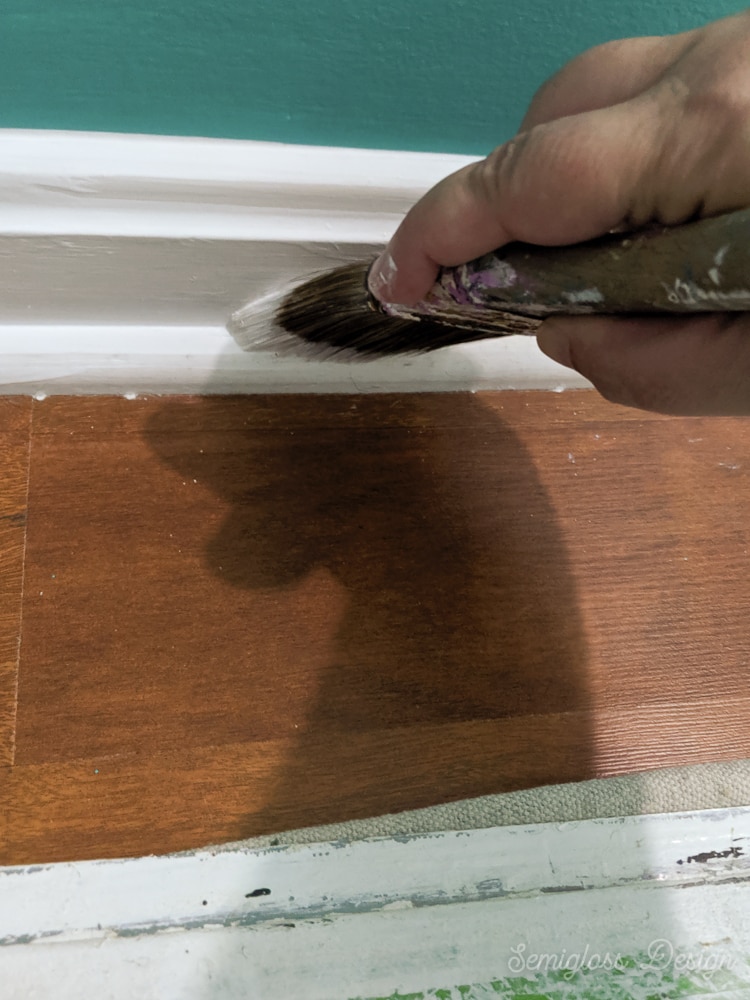 Painting Trim Against Carpet (or Flooring)
When painting baseboards, you can use painters tape, but it's not idea against carpet. Personally, I hate using tape because it's such a mess.
Instead, I prefer to use a straight edge tool. Hold it at an angle while painting and move it to the next section as you go. Way less mess than tape!
Use light coats of paint to avoid paint leaking.
Painting Trim and Molding FAQ's
What paint is used for trim?
Semigloss paint is the best paint for trim because it dries harder and is easier to clean. Trim gets touched and scuffed more that walls, so it's important to use a good quality paint on them.
Semigloss paint requires multiple coats for full coverage, but you'll only notice it if you're changing the color. Typically 1-2 coats will work for touching up trim and baseboards.
You can also use enamel paint for a hard-wearing paint. I prefer water-based enamel paints for easy clean up.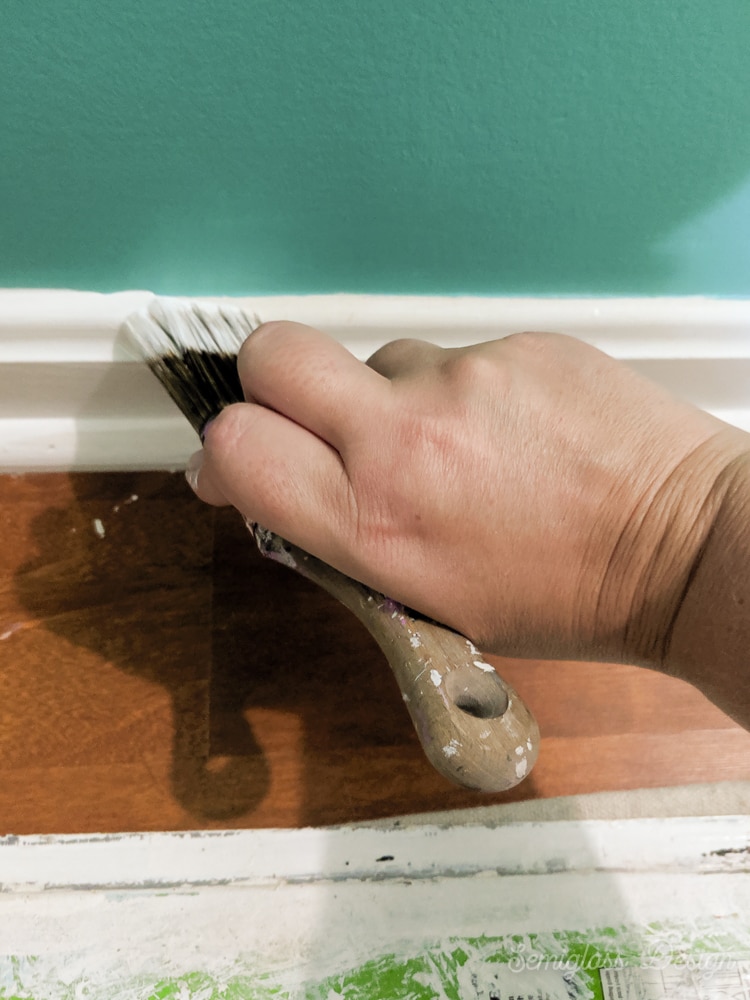 How do you prepare trim for painting?
If your trim is in decent shape and just needs a touch up, clean it well before painting. I use a microfiber cloth to remove any dust or dog hair. If it's dirty, a damp cloth works well for cleaning the trim.
If the trim is damaged, it might need more prep work. Cracks can be filled with paintable caulk. Scratches can be lightly sanded before painting.
Do you need to prime trim before painting?
I only prime trim if it I'm drastically changing the color (wood to white – tutorial for furniture but applies to trim too) or if the trim is badly damaged. Be sure to sand the damage and use wood filler to repair the damage first.
Primer can also be used when painting over a glossy paint.
How do you clean trim before painting?
Before painting trim, I always start by vacuuming the trim with the wand attachment on my vacuum. This removes a lot of the dust and dog hair. Then I use a microfiber cloth to remove the rest of the dust.
If you're painting door or window trim, be sure to get the top ledges. They accumulate a ton of dust!
If the trim is really dirty, it can be washed using a damp cloth or paint wipes.
Be sure to let the trim dry before painting.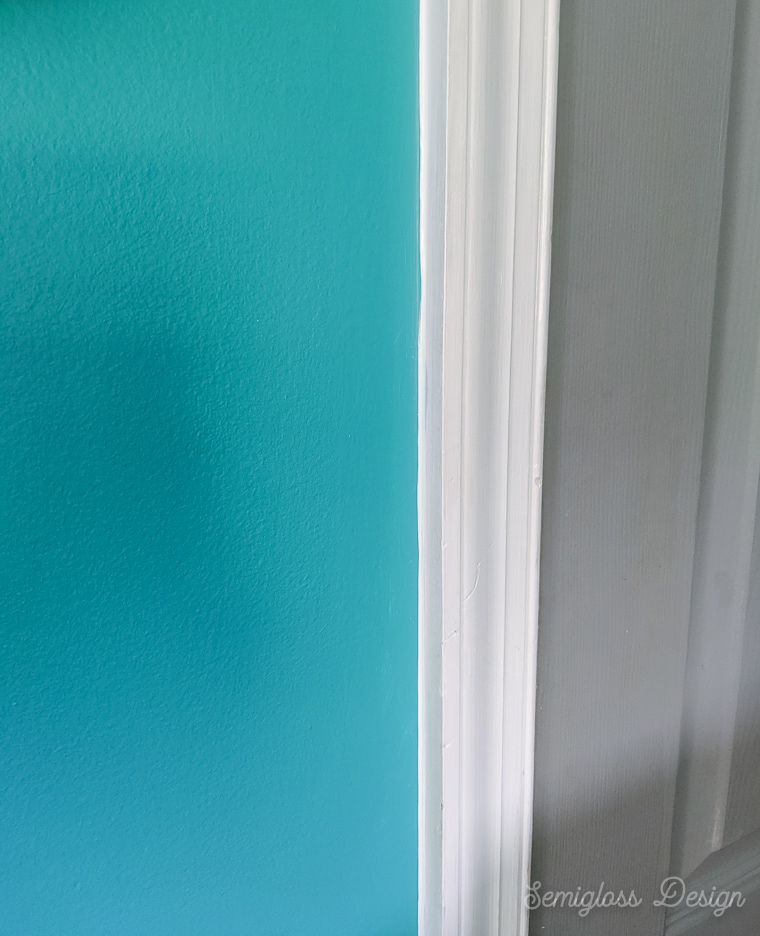 Should you paint trim or walls first?
In an ideal world, I prefer to paint trim before painting walls. This allows me to apply paint a little more sloppy because I can cover the paint when I cut in with a brush.
However, I find that I constantly make the mistake of thinking the trim is fine, but a new coat of paint always makes the trim look shabby.
You can either tape off the walls or perfect cutting in on trim. Expect to have some touch ups.
My Favorite Paint Brush for Trim
This angled brush is my absolute favorite for painting trim and walls. I have 4 of these brushes and I'll never go back to a cheap brush. This brush makes painting trim so much easier and saves me so much time.
I might never learn to love painting trim, but I'm glad that I found a way to make it easier.
You might also like:
Pin for Later!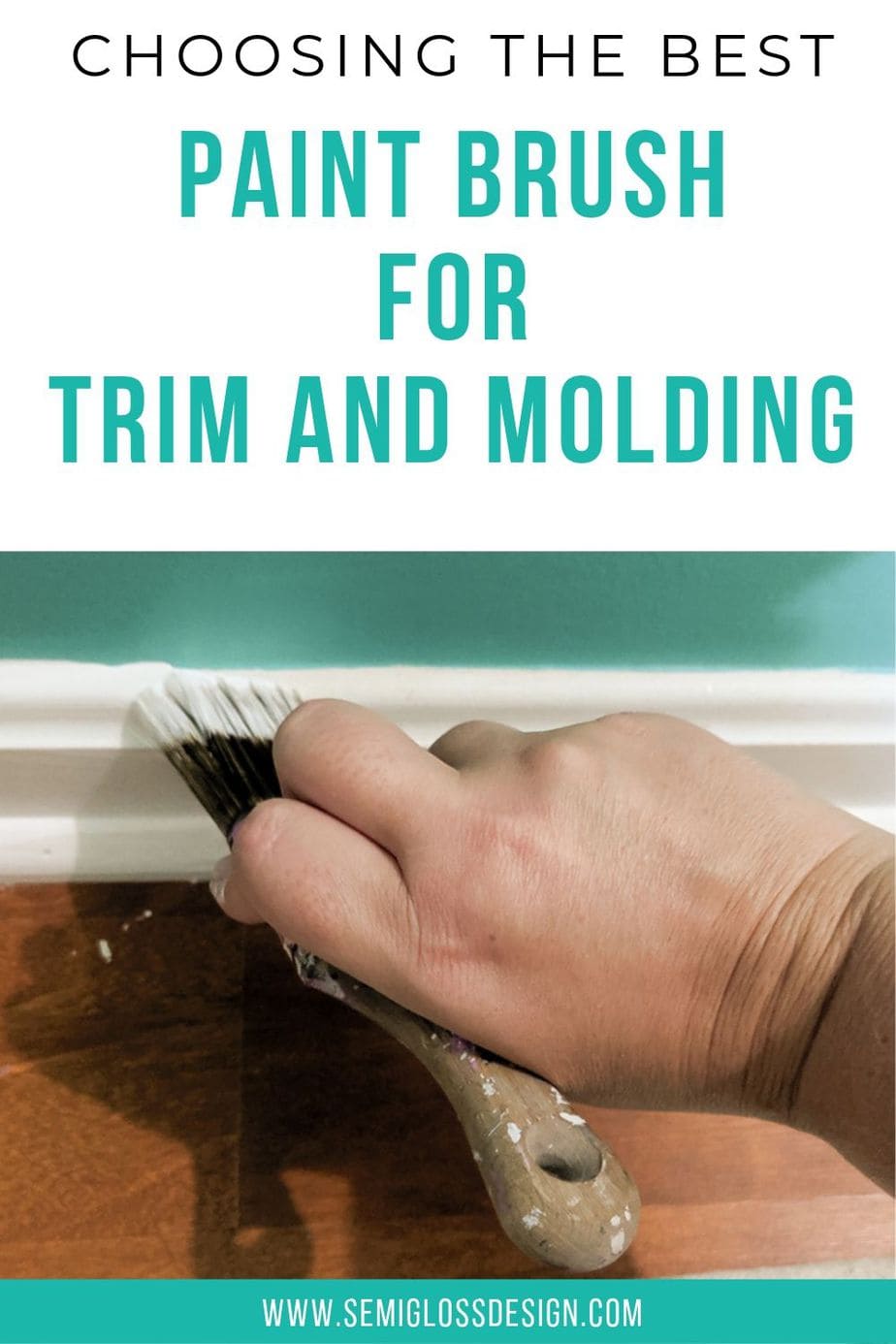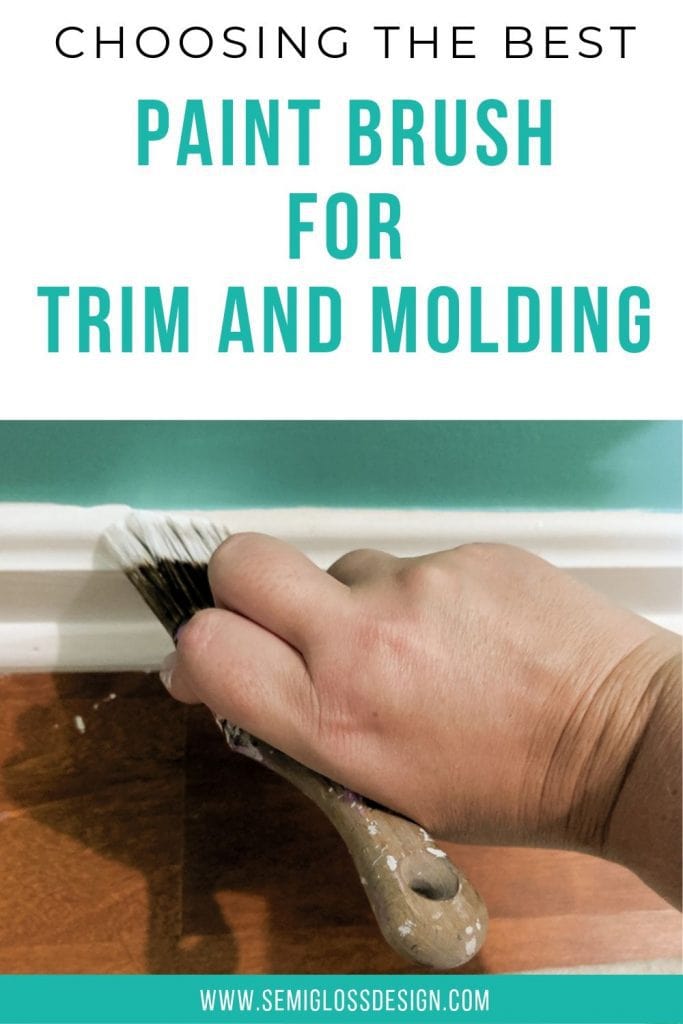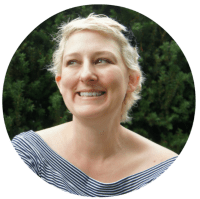 Emy is a vintage obsessed mama of 2 DIYer who loves sharing affordable solutions for common home problems. You don't need a giant budget to create a lovely home. Read more…