How to Decorate a Gray Bedroom
Get easy ideas to decorate a gray bedroom. Sometimes it's not possible to paint your gray walls. Here's how to work around them.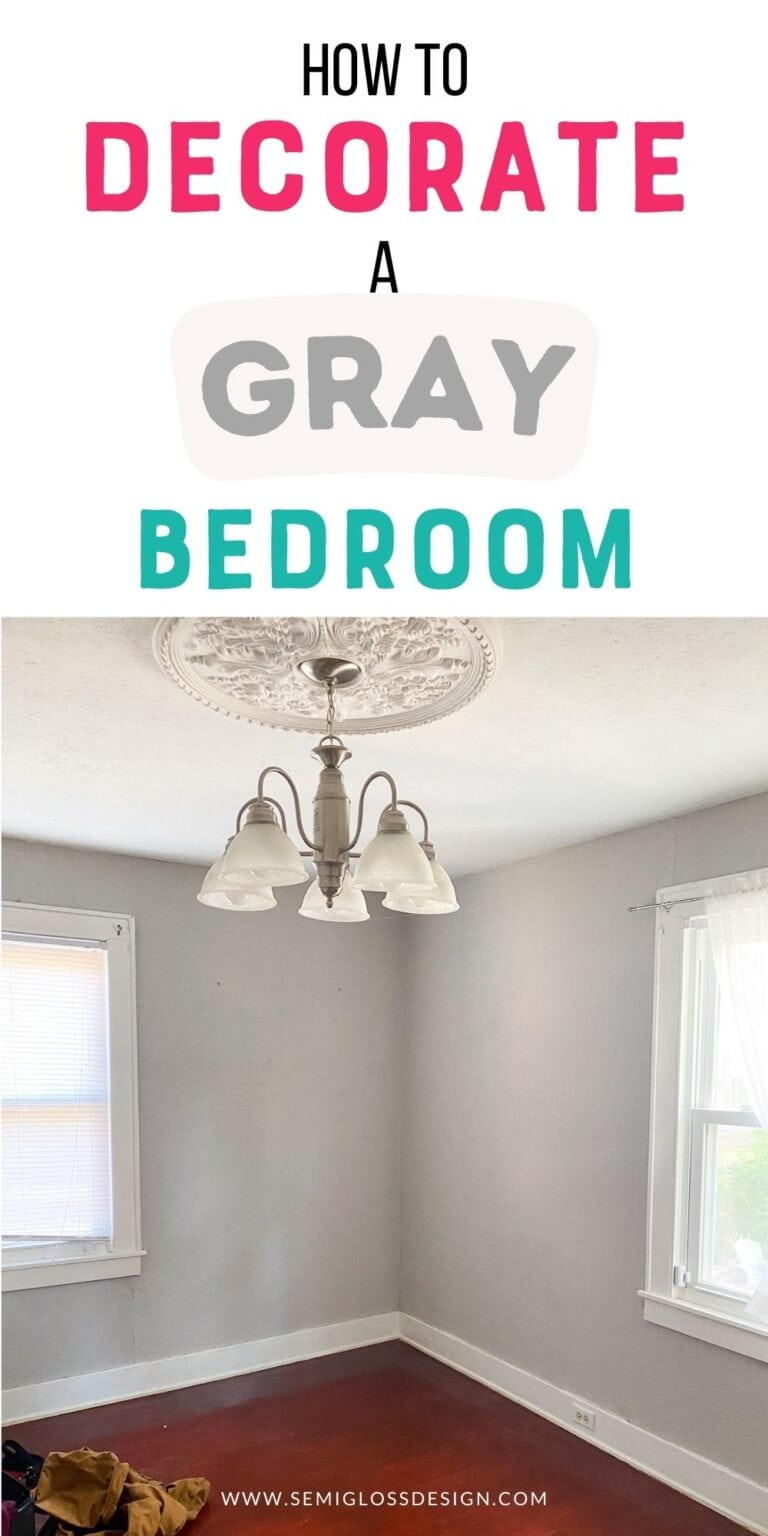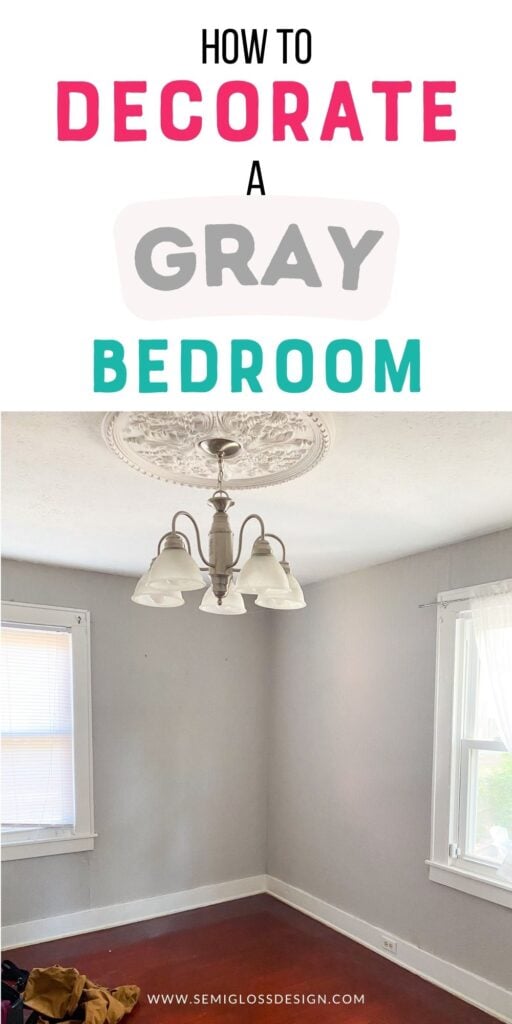 This post contains affiliate links. By purchasing an item through an affiliate link, I earn a small commission at no extra cost to you. As an Amazon Associate I earn from qualifying purchases.
Gray walls are a reality for a lot of people. Most apartments and homes have walls that are painted gray. And while gray is neutral, it's probably not always the easiest to work with.
If you're reading this post, it's probably because gray is not the color you would have chosen. Or maybe you chose it, but still aren't sure how to decorate with it.
If you're in a rental, you might not be able to paint. Maybe you just don't want to put the work into painting or picking a new paint color. Whatever your reason is, I have some ideas for how to work with the gray.
Currently, my bedroom has gray walls. Like the rest of my home, it's covered in painted wallpaper that needs to be removed.
Each room takes me approximately 40 hours to remove the wallpaper, clean the walls, repair 100 years of holes, prime, and paint. So yeah, I'm not looking forward to that or being without a bedroom for a week (or more.)
It's paintable textured wallpaper so I could paint over it, but I think the "future me" will hate the "today me" so I won't do that to myself. (It's hard to see that it's wallpaper in the photos.)
My gray walls are not particularly offensive. It's not a color I would have chosen, but it's not horrible either.
In our last home, my last bedroom was painted pink and I loved it so much. (I somehow managed to never photograph it.) It was so cozy and comforting. I would love for this bedroom to feel a little more cozy.
Before any room makeover, I assess my needs and wants, so I'm going to walk you through that process first.
By the way, I sell a printable room makeover guide that is helpful if you're not sure where to start with your room makeover.
My Bedroom Needs
Here's how the room looked when we bought the house.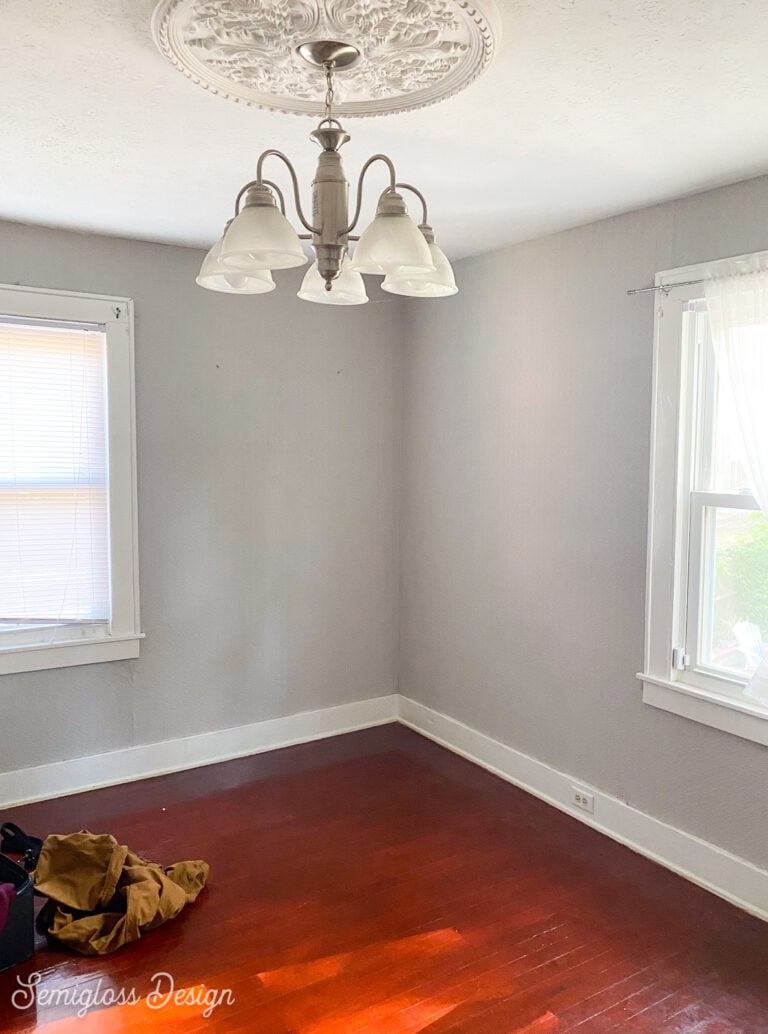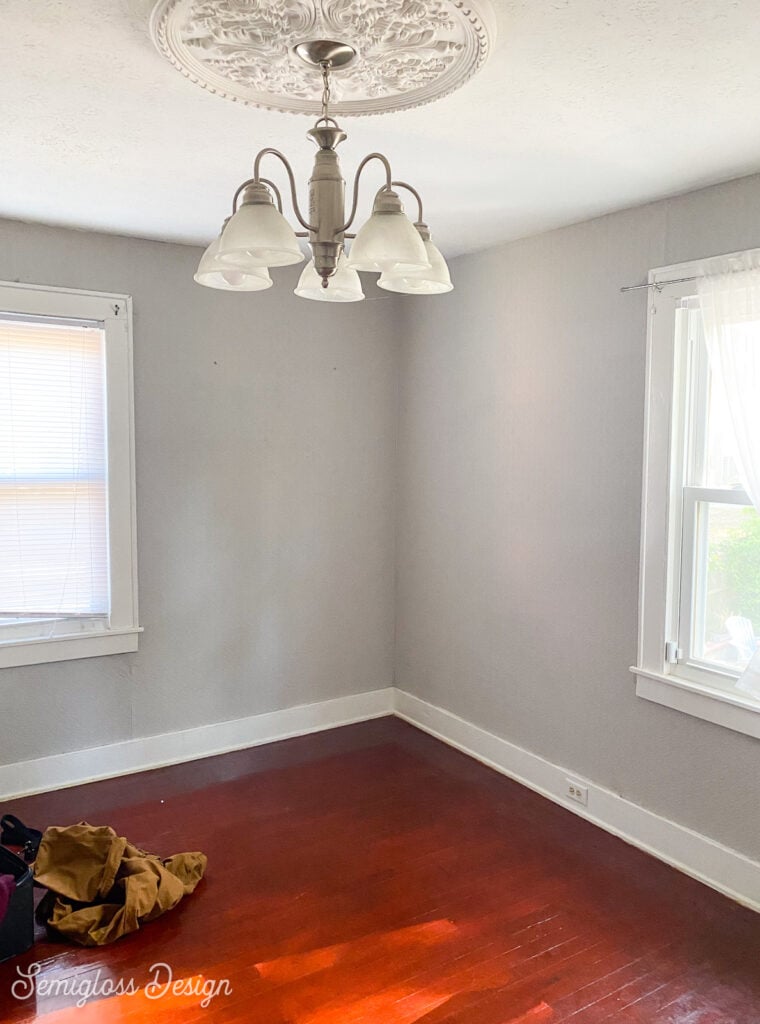 This is how it looks currently. It's not huge, but it's not tiny either. We moved in, put things down, and haven't really done anything since then.
Here's what I would like to change.
New bedding. I like the bedding I have, but it's not the best quality. It's also pretty thin and I get cold easily. I have a different quilt that I plan on using. Since it's plain, I want to add more patterned bedding into the mix.
Makeup area. My bathroom is teensy tiny and there's no room for my makeup. My last bathroom was about the size of this bedroom so it's a huge change. I need an area to put on my makeup and sit and get ready. I also need storage space for it. I'm thinking about buying this wall-mounted station.
Curtains. Currently, we have mismatched window coverings (and I use that term loosely). There's a street light right outside the window and it is way too bright at night. I have a hard time sleeping already and this makes it worse. I have these curtains from my last house that I need to hang.
A rug. We have hardwood floors throughout the house and they're old and creaky. A rug will warm up the space and absorb noise.
Nighstands. I'm pretty over these DIY nightstands. I would love to find something with drawers since this house lacks storage. I'm looking for secondhand, but I might just buy these nightstands.
More vintage. This house is old and I need more vintage stuff. It makes a room feel more homey.
A different ceiling light. This light is way too big for this room. It makes the ceiling feel lower. I have no clue what I want yet.
Headboard. I don't love this headboard anymore, but it's not in the budget to replace the bed, so I'm looking at slipcovering it somehow.
The layout. We will be shifting the layout a bit to make more room for my makeup area. Currently, the off-center window over the bed drives me crazy. The other window will still be off-center, but not as severe.
Paint trim and doors? I'm not sure if I will do this or not. And no clue about the color. Eventually, I want to paint this room a dark green or blue, so I need to keep that in mind. The white doors look weird with the gray color though.
How to Decorate a Gray Bedroom
When dealing with a design element that you hate, there are a couple of ways to deal with it.
You can embrace it and make it look purposeful. In the case of gray walls, you could decorate using gray and maybe a pop of color.
You can add neutrals to warm up the space. This feels like a good compromise, but you might not love neutrals. However, it's also easy to lean a little too "farmhouse modern." If that's your vibe, boy are you in the wrong place.
You can cover it up. Walls are a bit harder to cover, but it can be done with curtains and lots of art.
You can ignore it and distract from the gray walls with bold decor.
My own approach usually combines the ideas for covering it up and adding bold decor. My room definitely needs more warm elements to combat the cool gray walls.
Mood Boards for Gray Bedrooms
These mood boards contain both budget items and splurge items. They're meant to inspire, not promote mindless consumerism. I have a very real budget and will be reusing items that I already own.
Some images are meant to represent items that I bought at other stores. (There are technology limitations that dictate which items I can add to these images.)
The paint color is also representative of the color in my room. I don't know the actual color, just that it's a pale, cool gray color.
Click on the items for more information.
Add Neutrals
I'm not a neutral girl, but I love this plan. The warm wood tones, browns, and textures really warm up the space and make the gray look intentional.
The plants are fake, but they provide the illusion of life. If you can keep plants alive, I love keeping them in the bedroom because they purify the air.
Add Pastels
This plan is based on one that I made over 20 years ago and can't keep out of my head. It features teal, pink, light green, and ticking.
Even without the neutral textures, this plan has a lot of warmth.
Add Pop of Color
This plan features mostly gray elements with a pop of mustard. Mustard is a warm color and almost a complementary color to a cool-toned gray, so it works well.
This plan is probably my least favorite because it feels a little too decorated. It could really use another color added and a ton of personal touches.
Add Color
I really love this plan. It feels very decorated too, but it's more interesting because there are more colors.
Add Pattern
This plan features a ton of patterns. I'm currently obsessed with all things that are block-printed, so there's a lot of that happening in this plan.
The tablecloth represents fabric to slipcover the headboard, which is really what I plan on doing.
My Plan for My Gray Bedroom
My plan for my bedroom is very similar to the patterned mood board above, but I've included more solids because I already own some of these items.
I'm sure the actual room will end up looking pretty different because I'm working with a limited budget and I want to thrift and DIY items where possible.
Tips for Decorating a Room with Gray Walls
Gray is hard to work with because it's a cool color. When you use too much gray, it can feel sterile and boring (especially if you're a color lover, like me.)
Here are my biggest tips for decorating a gray room.
Add Warm Colors and Textures
It's really important to warm up the gray walls with cozy textures and colors.
Wood and natural textures like rattan, wicker, and seagrass help make a space feel cozier.
Textures like velvet, knit, and even faux fur also help a room feel warm.
Avoid adding too many shiny objects or too many silver or cool-toned accessories. Black and brass metals feel warmer than silver and chrome.
Add colors that make you feel warm. I believe that color is subjective.
To me, aqua and green feel like warm colors because they remind me of the ocean and the Florida scenery. However, green and aqua are cool colors.
The same for most pastels. For some reason, they all feel really warm to me.
Technically, red, orange, and yellow are warm colors though. However, if you hate those colors, you don't have to use them. Look for warm textures and fabrics instead.
Add More Color
If it feels too flat, add another color. In the example above with the pop of color, the design feels a little flat because it only has one color added.
Including another color would help make this design feel more interesting.
I especially love adding a color that doesn't quite "go." It adds tension to the space that is often missing.
Add Plants
If it feels lifeless, add plants.
Fake plants are fine, but there are plants that can live with low levels of light and watering. I like snake plants and pothos the best.
Add Something Vintage and Quirky
Vintage is always the answer to make a boring room interesting.
Add something weird. It will make you laugh and add personality to your room.
You might also like:
Pin for Later!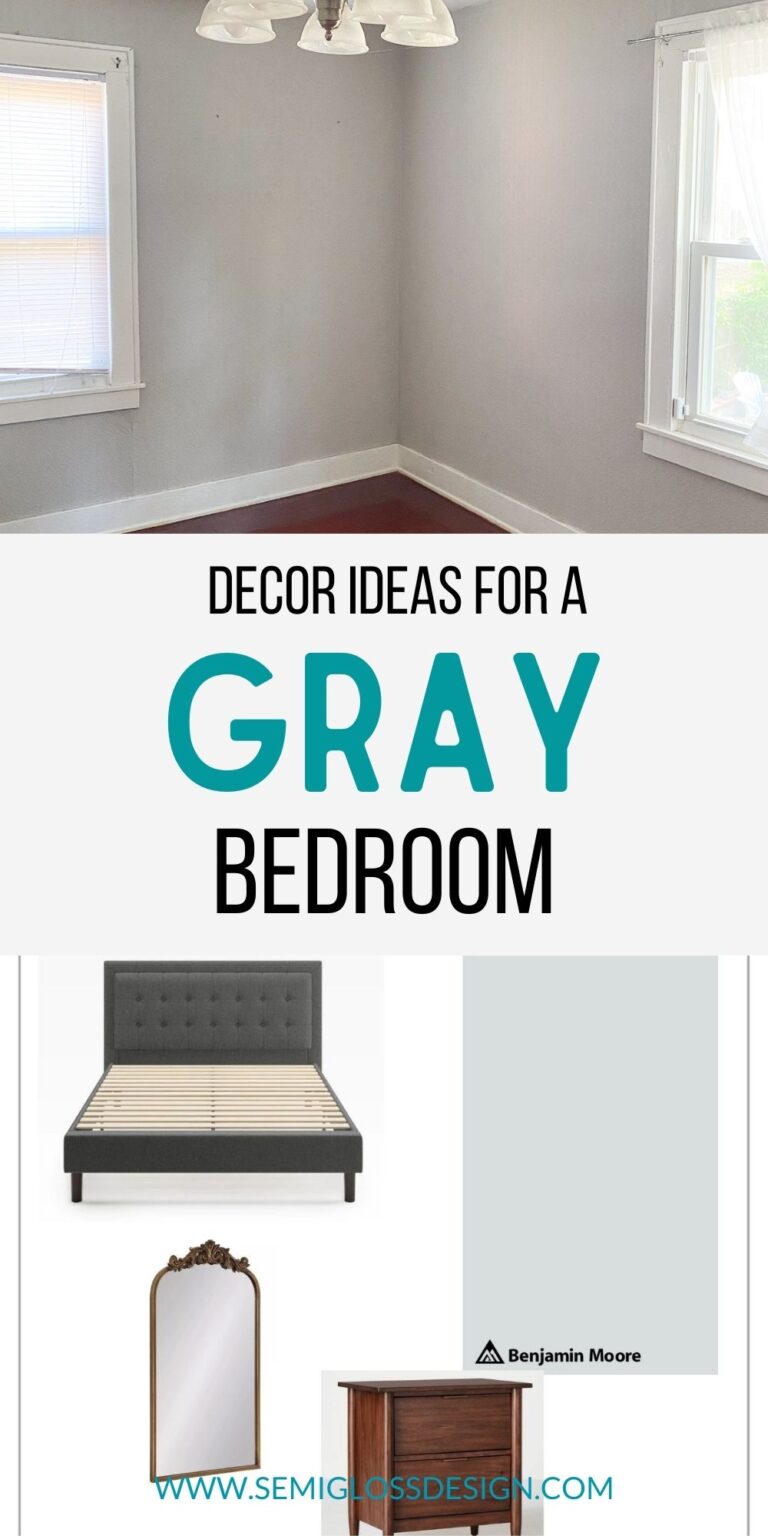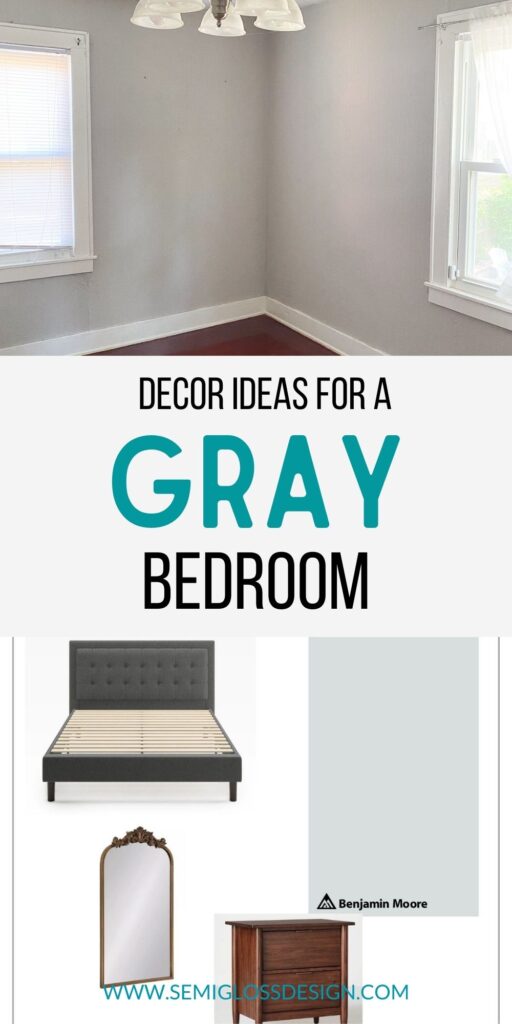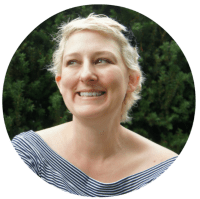 Emy is a vintage obsessed mama of 2 DIYer who loves sharing affordable solutions for common home problems. You don't need a giant budget to create a lovely home. Read more…