Free Printable Whole House Cleaning Checklist
Download a free printable whole house cleaning checklist to make your spring cleaning easier. You might also be interested in a KonMari checklist to help you declutter your home.
When I was young, I hated spring cleaning. But when I moved out, I started to love the process. The older I get, the more I like it.
I used to look up these complicated checklists from Martha Stewart with things like clean my silver. Um…. I'd rather spend my time on stuff that actually counts and I can see. My silver is kept in a box and I never use it or even look at it!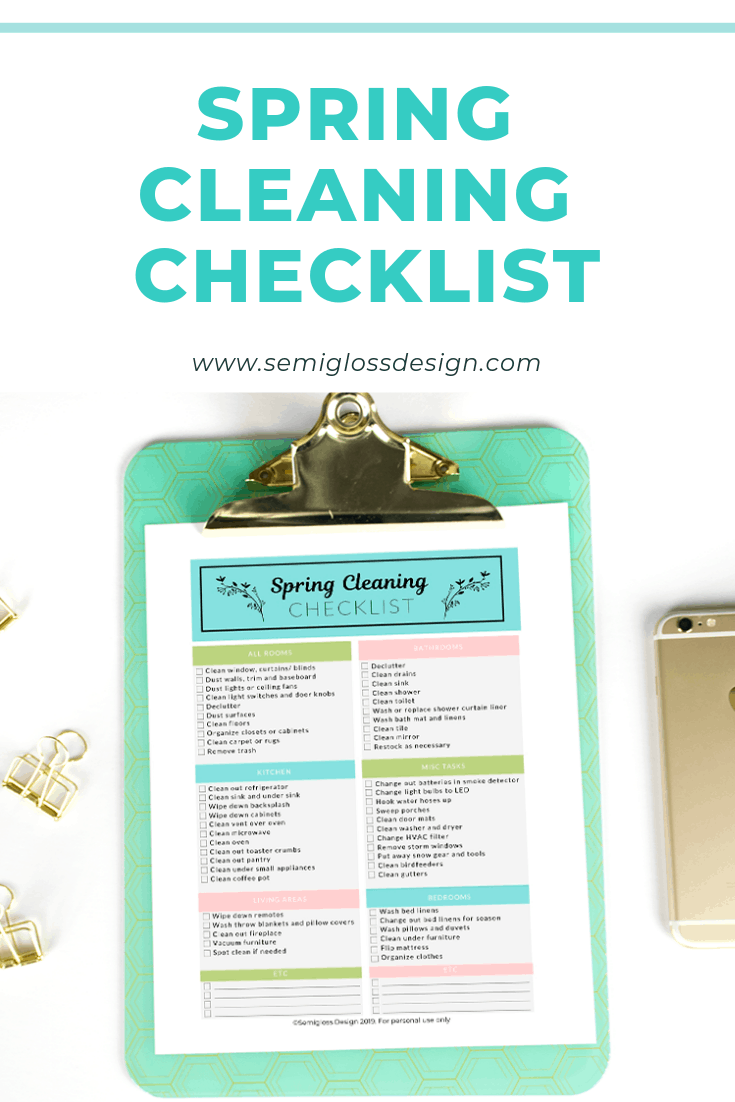 This cleaning checklist is more practical and includes stuff that matters. Like baseboards. I've also included some practical tasks for spring, plus room to add your own items, since all homes are different.
For instance, we have a pond that needs to be cleaned every spring, but not everyone has a pond. Same for opening the pool or closing the pool.
You might want to add maintenance items on there as well, like filling your water softener if you have one, or rotating your compost.
You might like this fall maintenance checklist or spring maintenance checklist.
Whole House Cleaning Checklist
This post contains affiliate links. By purchasing an item through an affiliate link, I earn a small commission at no extra cost to you.
The cleaning checklist download link is at the bottom of this post.
My Favorite Cleaning Products
If you're going to spend time cleaning, you might as well make it as pleasant as possible by using good products. Although I like natural products, I'm not super vigilant about using them because this house just isn't right for them (hard water sucks.) And I use full out chemicals on my toilet. I'm not sorry.
Here's some of my favorite products, with some cleaning tips thrown in.
This vacuum has been a game changer since getting a dog. I have to vacuum about twice a week to keep on top of it, so it's important that my vacuum is lightweight and easy to use. I love the bagless canister because we would be going through a million bags with as much as I vacuum.
It works great on hardwoods, tile and carpet. It even comes apart to be smaller so you can use it on the stairs. I use the wand constantly to clean the baseboards and hard to reach spots. It kind of makes vacuuming enjoyable. Who am I?
I feel like I'm constantly talking about microfiber cloths. They work great for dusting because they hold the dust and dog hair. I use them when painting a room, floors or baseboards.
Folex Instant Carpet Spot Remover
I like this spray for cleaning carpet and upholstery. Hubby gets a bit spill-sy with the wine, if you know what I'm saying and this stuff even cleans red wine out of carpet (or the couch.)

It's great for stains and white linens. But did you know that it's also amazing on solid surface sinks that have lost their luster. I have a 20 year old white, solid surface sink and let's just say those things don't age well. OxiClean is the only thing I have found that works on it. Just fill it with hot water and a scoop of oxi-clean and let it sit for an hour.
I love this gentle scrubbing powder for the bathroom sink and tub. It won't damage your sink, but it works well.
Vinegar
I use water and vinegar for cleaning a lot. It's great to mop with because it doesn't damage anything. I also like to clean greasy cabinets with it. We don't fry a lot of foods, so it's perfect for the grease that does accumulate.
We have hard water and the stains are awful. I use this stone to scrub away the residue. The noise is awful, so I put on headphones and music. It even works on toilet stains from hard water.
Baking Soda
My kitchen island is honed marble, which stains and etches easily. Lemon juice is my nemesis. Luckily, it's easy to remove the marks by making a paste of water and baking soda. Let it sit for a few hours and then rinse it off.
I have an unfinished wood table and countertop in my home. To keep it looking nice, I use Howard Feed-N-Wax. Just rub it on, let it sit and soak in for 15 minutes, then wipe away the excess. This stuff is magical. It moisturizes the wood, but it also disguises any scratches.
Hard water means dingy whites. Adding a bit of this to the washer makes my white towels white again.
Method Cleaning Products
These cleaners are natural, but even more importantly, they smell amazing. You have to clean anyways, so you might as well make it pleasant. Besides, there's something about these products that make cleaning feel like a treat.
Here's my favorites:
This wood cleaner works so great on laminate floors. It removes the awful streaks from mopping. Just squirt it on and mop. The almond smell is amazing.
I love cleaning with this spray. It's even gentle enough to use on painted furniture or cabinets. I use this spray to clean most things in my home. The grapefruit smells amazing!
This one also smells amazing.
I use the laundry soap as well. I was hesitant because the bottle looks so small, but it's concentrated, so it lasts forever. And once again, the smell is amazing and doesn't bother my sensitive skin.
Download The Whole House Cleaning Checklist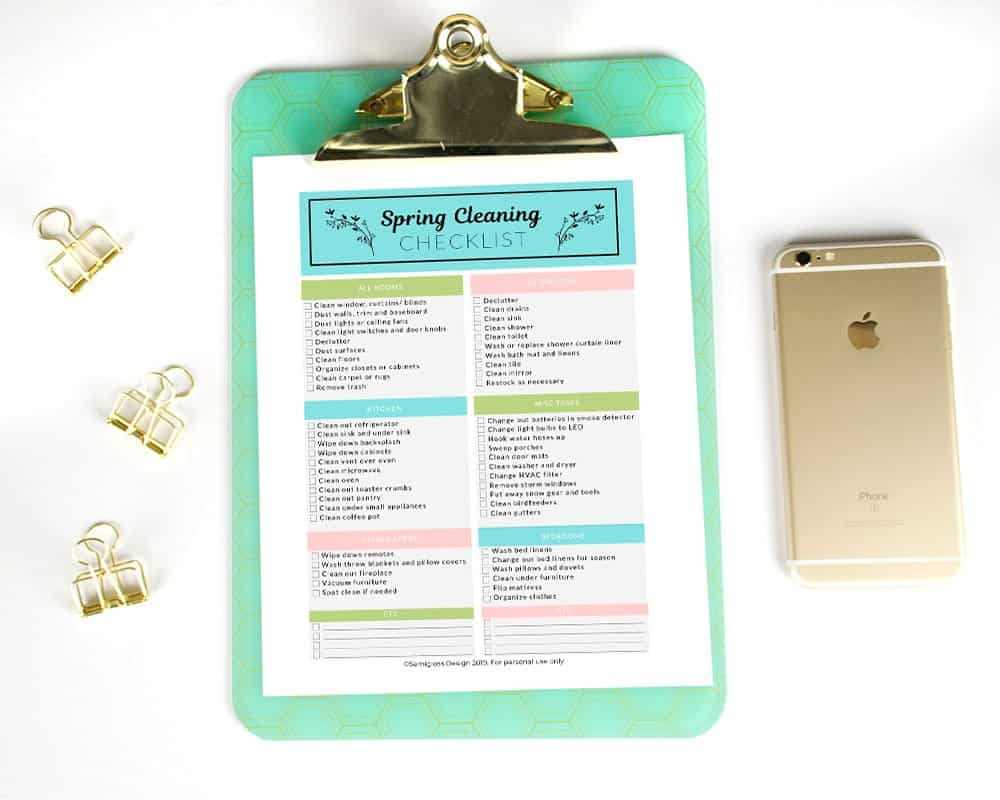 Click the download button to get your printable spring cleaning checklist. It's a 1 page PDF.
You might also like:
Pin for Later!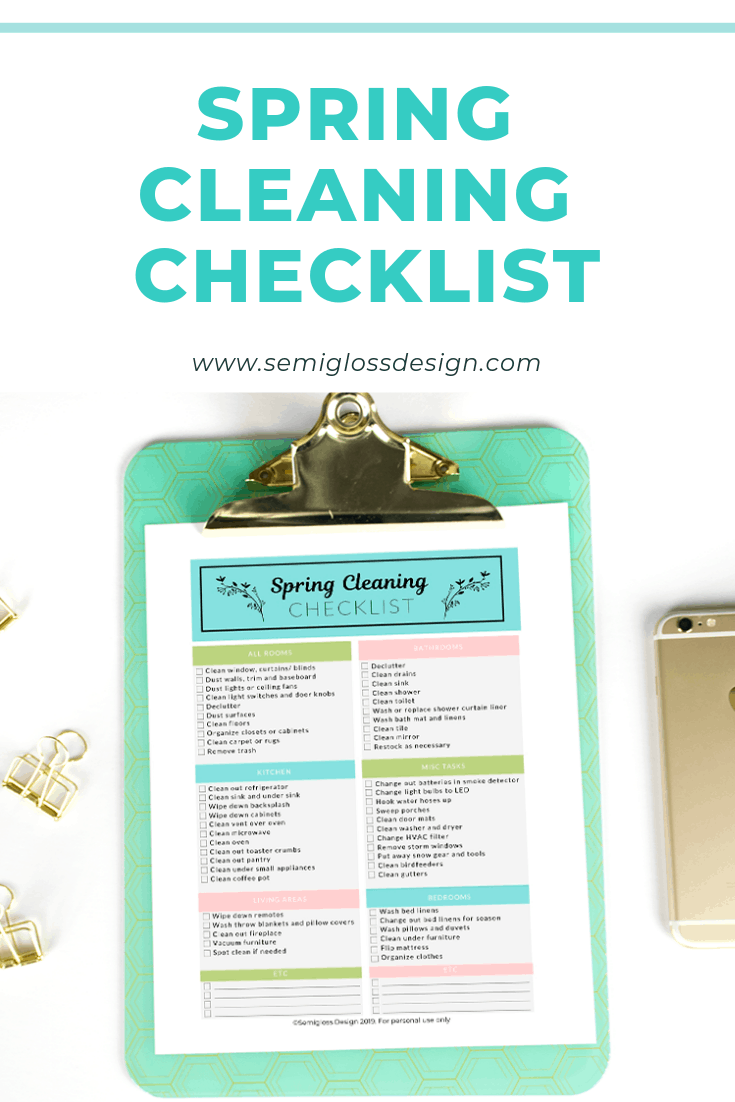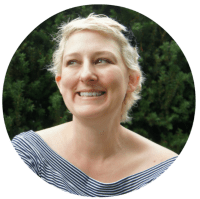 Emy is a vintage obsessed mama of 2 DIYer who loves sharing affordable solutions for common home problems. You don't need a giant budget to create a lovely home. Read more…