The Best Way to Refinish a Table Top
Learn how to refinish a table top.
Stain is one of my favorite ways to give furniture a new look. For instance, this driftwood stain completely changed the look of this table! When I bought this console table, I knew that it had potential, but it turned out even better than I hoped.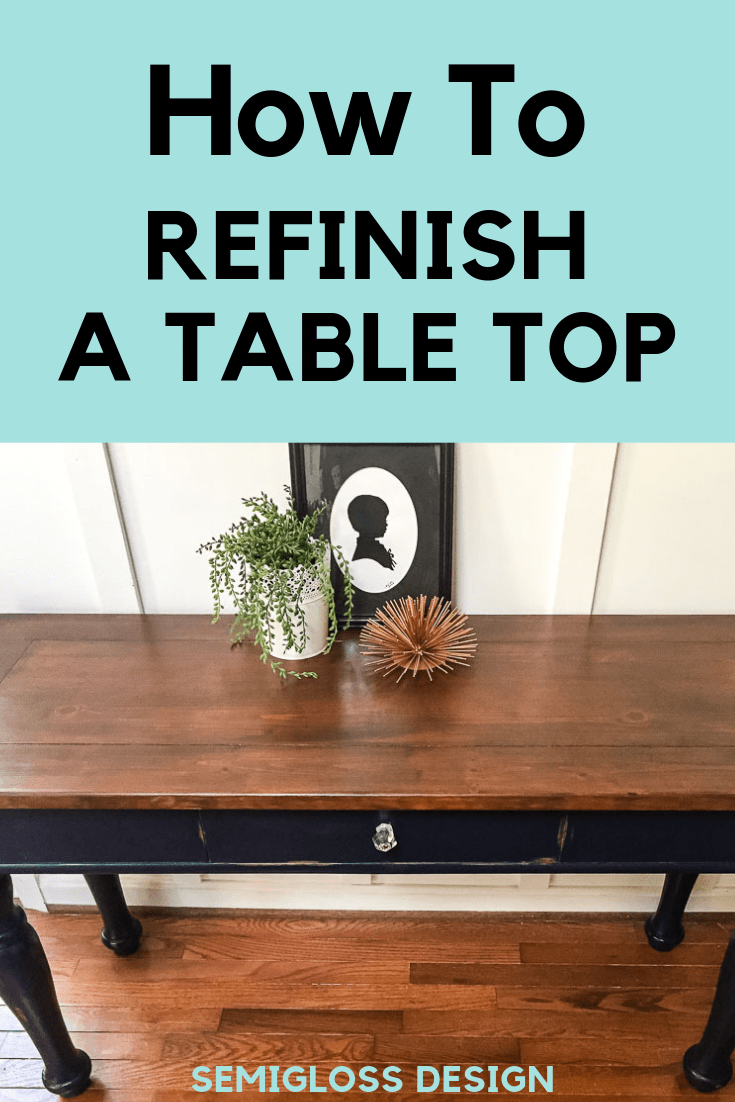 Here's the before shot of the table.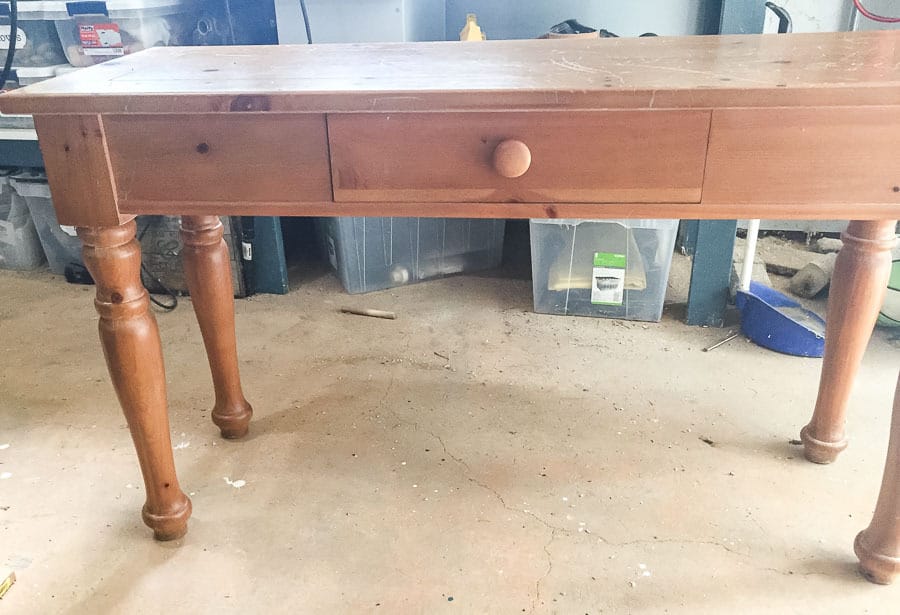 The table top had seen better days and had large gouges in it. Originally, I had plans to paint the whole thing, but when I started sanding, the gouges smoothed out so nicely that I decided the refinish the top instead.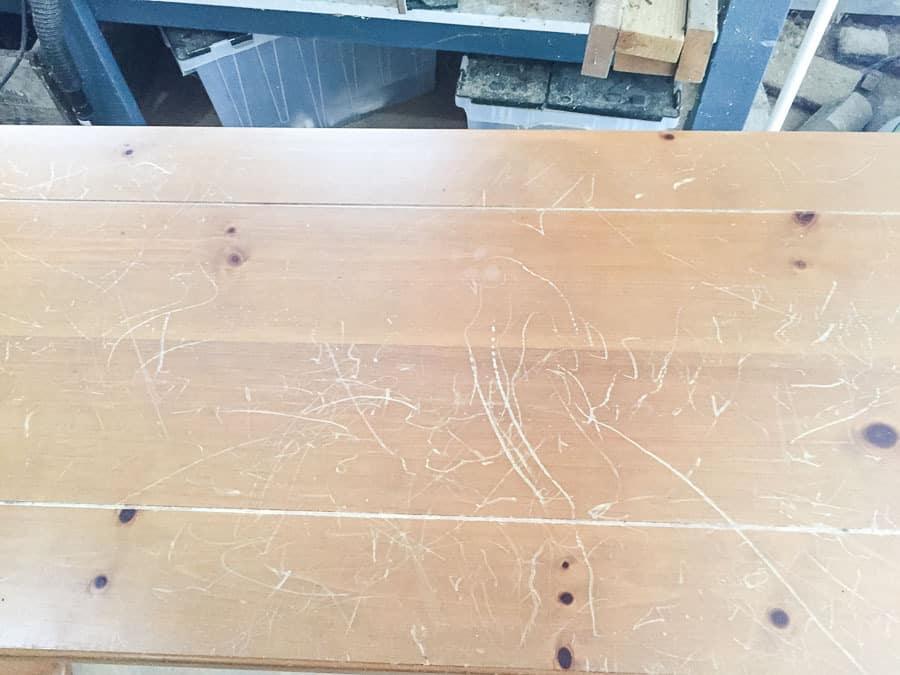 How to Re-stain a Table Top
Supplies Needed
This post contains affiliate links. By purchasing an item through an affiliate link, I earn a small commission at no extra cost to you.
Sanding isn't dangerous, but it can be messy. Wear a mask and eye protection if dust bothers you. Wear gloves if your table top if large. Gloves help protect your hands from getting sore.
Removing the Old Stain from the Table Top
If you're removing old stain, step away from the stripper. Sanding the table top is much easier (and less messy) than using stripper. A good sander will strip the finish in no time at all. I highly recommend the Dewalt sander. It's powerful and can eat right through old paint and stain. Plus, the dust catcher actually works, so this sander makes less mess than other sanders.
You might also like this post on how to strip paint from furniture.
Start sanding with 80 grit sand paper. I find it goes faster if I put a little extra pressure on one side. Pay more attention to the areas with gouges. Try to smooth them out with the sander.
A large table top can feel intimidating, so I break the areas up into smaller sections and work from there.
Don't forget about the sides. The edges on this table are softly rounded, which are really easy to sand. For more detailed edges, you'll want to use a dremel.
Once your entire piece is sanded, go back and sand the table top with 120 grit. Rub your hand over the wood and feel for any rough spots. Rough spots take the stain differently and won't feel as nice.
Sand the entire top once more with 220 grit sand paper. Your table should feel silky smooth when you finish it. It's kind of a pain to sand it 3 times, but your table top will look and feel much prettier with the extra prep work.
Applying the New Stain
After sanding, clean the entire table. Start by brushing the visible dust off and then clean the table with a wet rag to remove any lingering dust.
Once the table is dry, you can apply the gel stain. As you're brushing it on, use the brush to distribute the gel stain to other parts of the wood. Use long strokes to minimize the stopping and starting points. You're basically painting the gel stain on, so avoid large pools of the stain. If needed, use a dry brush to remove excess stain.
Apply stain in this manner to the entire table. Don't forget the sides!
Let it dry for a day and apply another coat if desired. With this gel stain, the first coat is pretty translucent. The 2nd coat goes on more opaque, but it really makes the color rich. Let dry for another day.
*If you want to use oil based stain, use a foam brush to apply a wood conditioner to the wood first. Stain must be applied within an hour of this step. After about 15 minutes, apply the stain with a foam brush. Remove any excess with a clean, lint free rag. Let dry for a day and reapply if necessary.
Applying the Top Coat
When the stain is dry, brush on a thin coat of polycrylic. I like polycrylic because it's water based and easier to clean up. It doesn't yellow over light surfaces. But most importantly, it's one of the few top coats that can be used in high humidity and not turn into a big goopy mess. If your polycrylic is turning into a goopy mess, it has gotten too thick. It's probably time for a new can. (Buy smaller cans for this reason.)
After the first coat is dry, lightly sand the surface by hand with 400 grit sand paper. Even after all of that sanding, the top coat stage tends to bring up the grain of the wood. Lightly sanding it will knock it back down and ensure that your top coat is silky smooth.
Apply another coat.
If it's a high use surface like a dining room table, apply 1-2 more coats after this. Sand between coats if needed.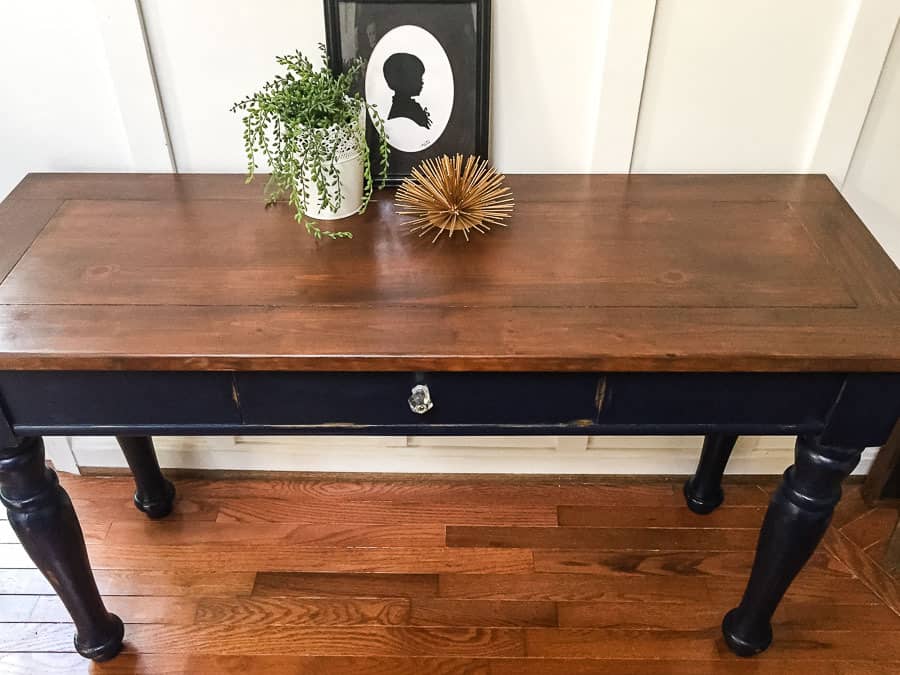 The body of this table is painted in Country Chic Peacoat, which is the perfect navy blue. It's a dark navy. Want to learn how I distressed this console table?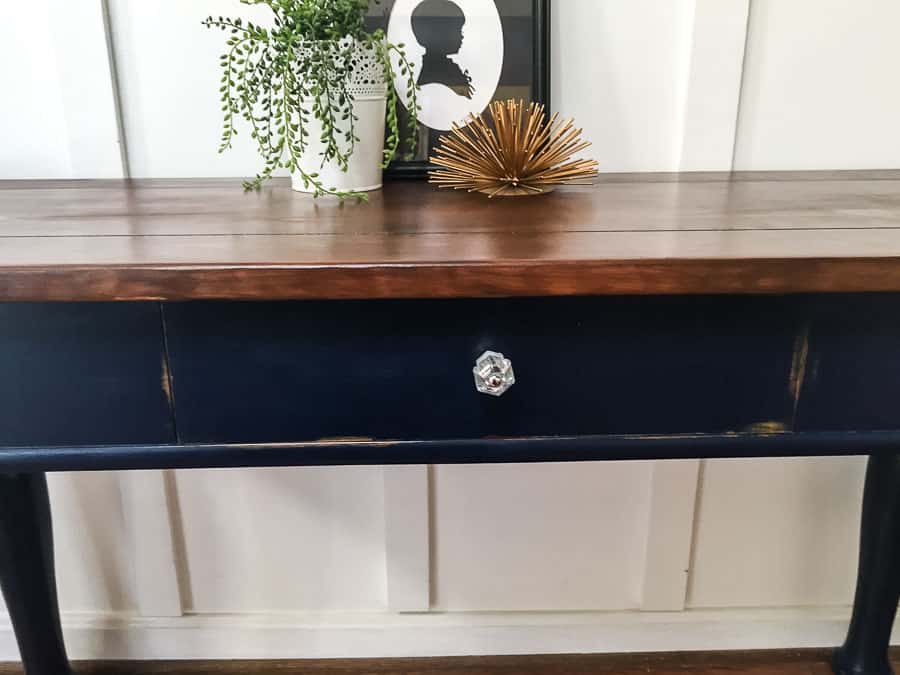 I love how the stain looks with the navy paint.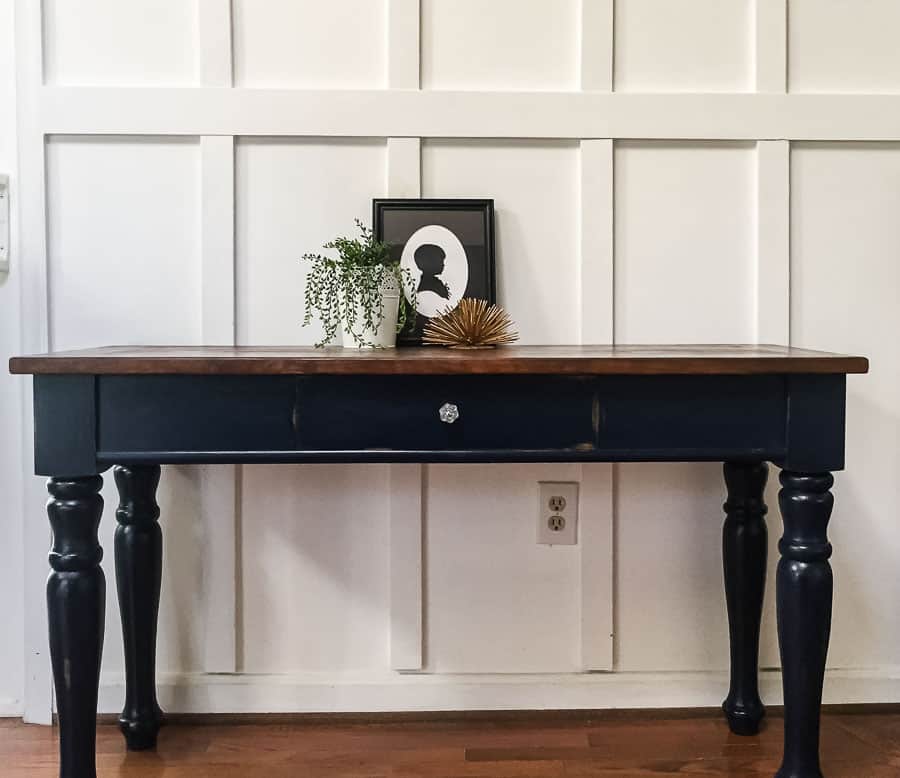 Now you know how to refinish a table top!
You might also like:
Pin for Later!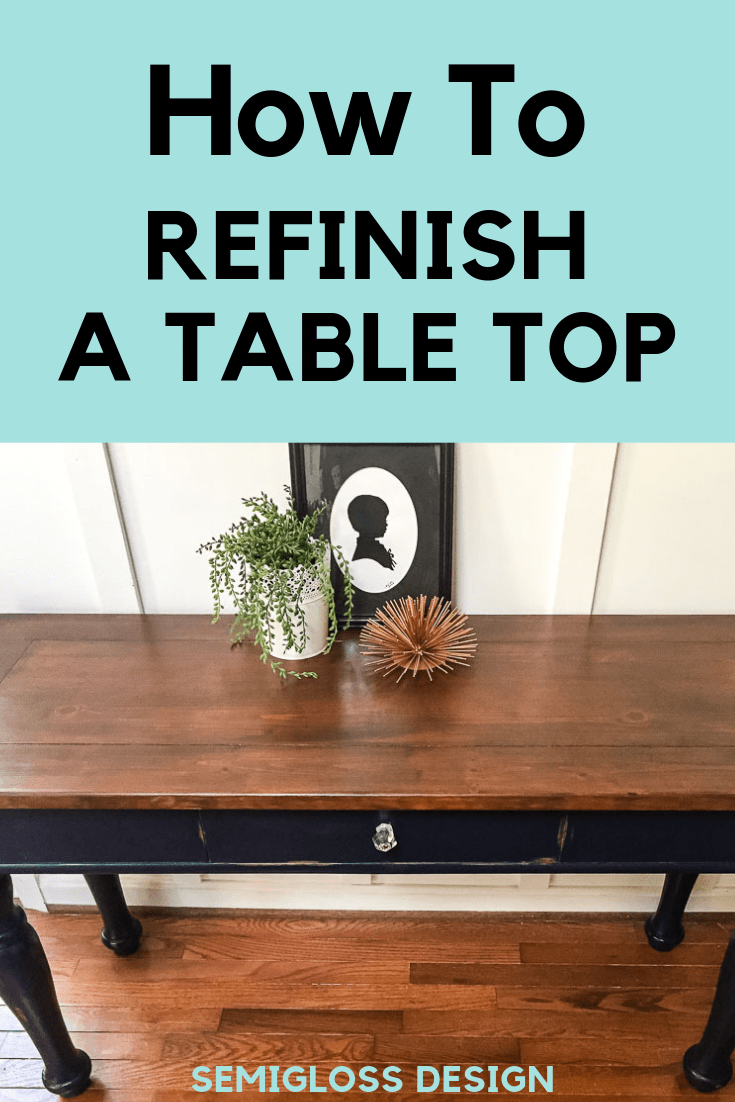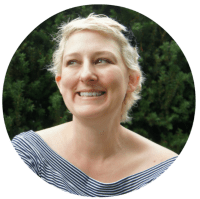 Emy is a vintage obsessed mama of 2 DIYer who loves sharing affordable solutions for common home problems. You don't need a giant budget to create a lovely home. Read more…