An Unsponsored Happy Planner Review
I've never met a planner that I didn't like. I'm always on the search for the elusive perfect planner, so I find it really hard to walk by them in a store without at least looking through them.
My quest for the perfect planner might be over because I recently ran across the Big Happy Planner by Me And My Big Ideas.
After setting it up for the new year, I decided to write a Happy Planner review with what I like about it and what I don't like, plus how I'm going to fix those things to make it work for me.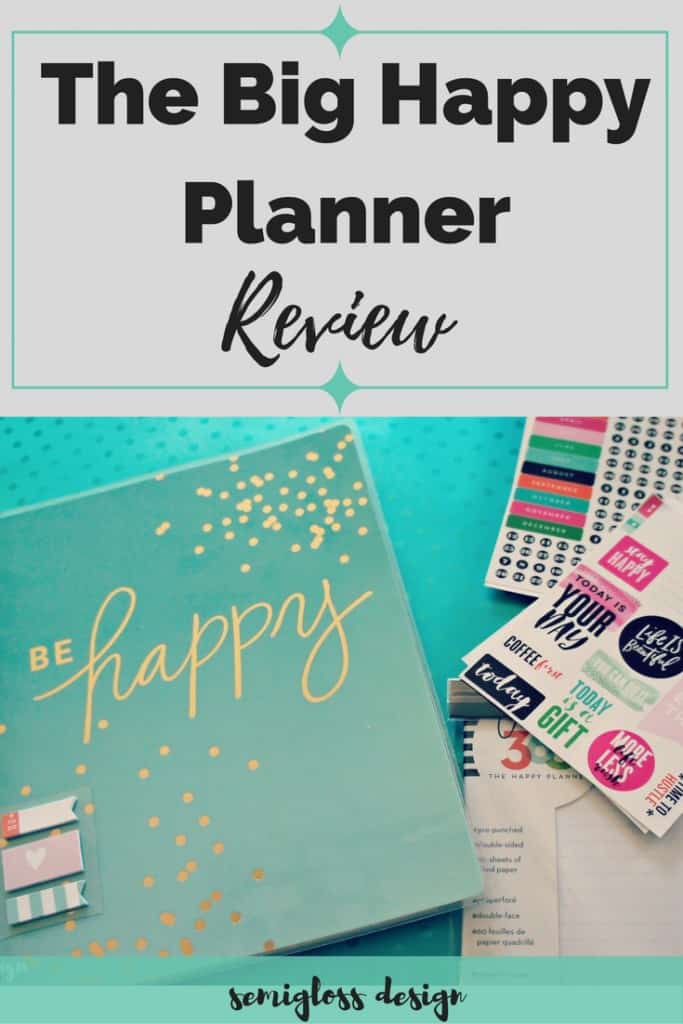 This post contains affiliate links. By purchasing an item through an affiliate link, I earn a small commission at no extra cost to you.
About the Happy Planner
The Happy Planner is a colorful disc-bound planner that is built to be customized. It comes in a lot of fun patterns and color palettes, plus there are so many fun accessories for it.
Since it's disc-bound, you can add inserts and even printables if you buy the disc hole punch.
Happy Planner Sizes
The Happy Planner is available in 3 different sizes.
Mini – (5.125″ x 7.5″) This is a perfect size to carry with your in a purse.
Classic – (7.75″ x 9.75″) The classic size is still small enough to be portable, but has plenty of space for writing.
Big – (9″ x 11.25″) The Big Happy Planner is closer to the size of notebook paper. There is plenty of space to write and add stickers. I prefer to leave mine on my desk.
Accessories
There are so many fun accessories available for the Happy Planner. Plus there are so many 3rd party accessories on Etsy.
You might be interested in learning how to make your own planner stickers.
Happy Planner Review
I bought the Create 365 Planner Box Kit , which comes with a large 12-month undated planner, 5 sheets of stickers, 1 pocket folder, 3 sticky notepads, and a pen. I also bought this add-in note paper separately.
The planner is disc-bound, which allows you to add extra papers, envelopes, and other things to the planner.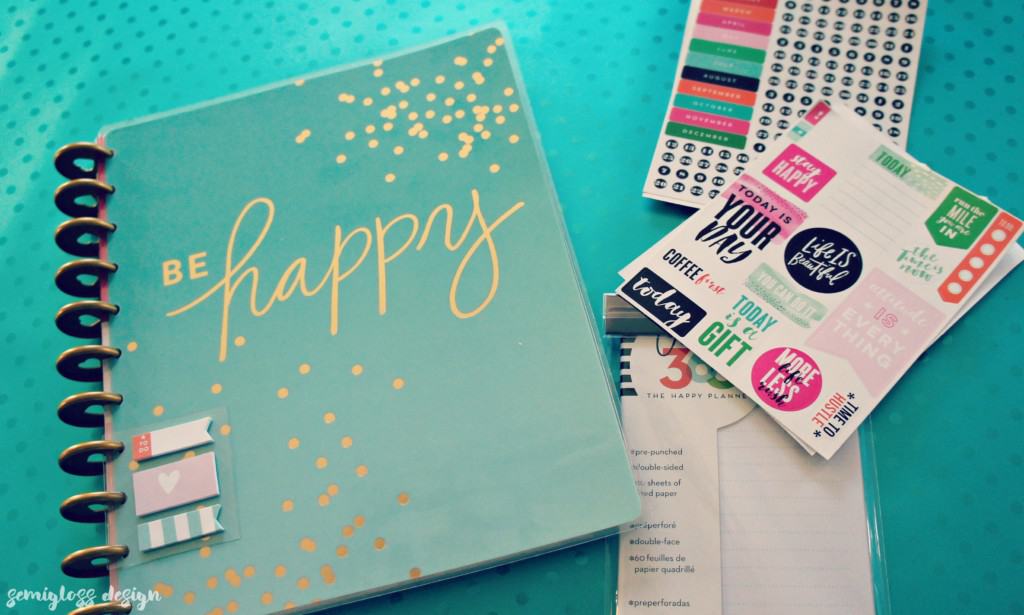 Happy Planner Review: Overall Thoughts
Looks: The outside of the planner is pretty. I love that there are so many amazing designs to choose from. Aqua is my favorite color, but to honest, I could do without it saying "Be happy".
Ultimately, it doesn't really matter because my planner stays open 95% of the time. The planner is cute and I really like the bright, happy colors.
How I can fix this.
I can either not worry about it because as I said, it stays open most of the time.
I can make my own cover.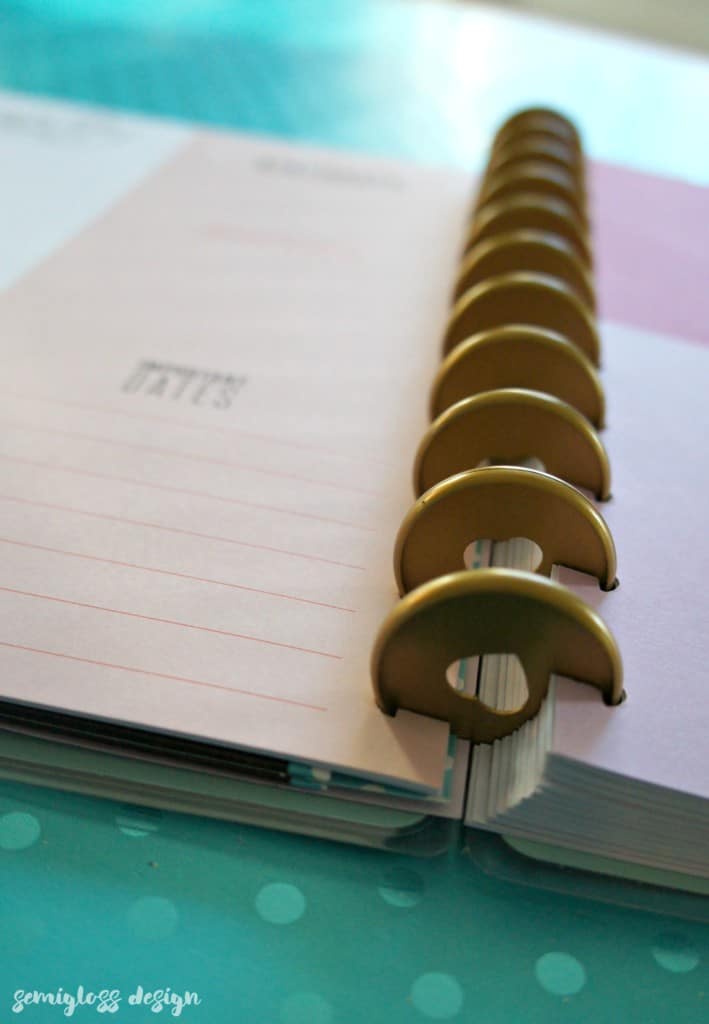 Structure. The discs that hold it together are cool. I like that I can add more paper. Bigger discs are available to purchase if you add too many papers. The holes are shaped a bit weird, but they make punches. I've also seen tutorials for using a regular hole punch and scissors.
Size. I bought the largest size. My planner stays at home, so a large planner is okay for me. I like to have plenty of space to write. There are several other sizes as well.
Organization. The tabs that separate each month make it easy to find what you need quickly. I will probably add extra tabs to add in more categories for stuff like blog post ideas and project ideas. The pocket folder that came with this kit seems handy. Pockets are always good.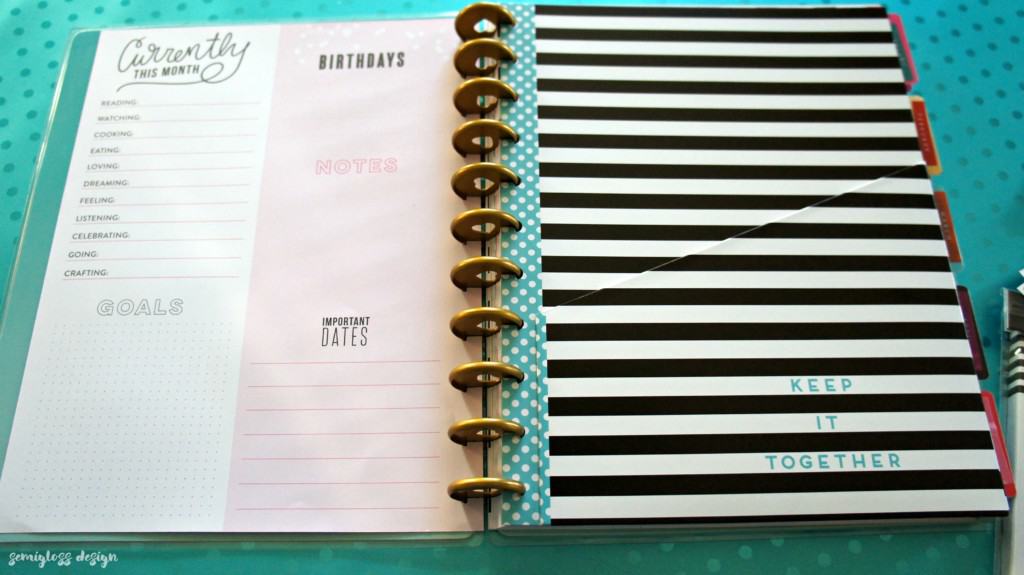 Happy Planner Review: What I Don't Like
Stickers. My kit came with a lot of stickers. Some are really cool.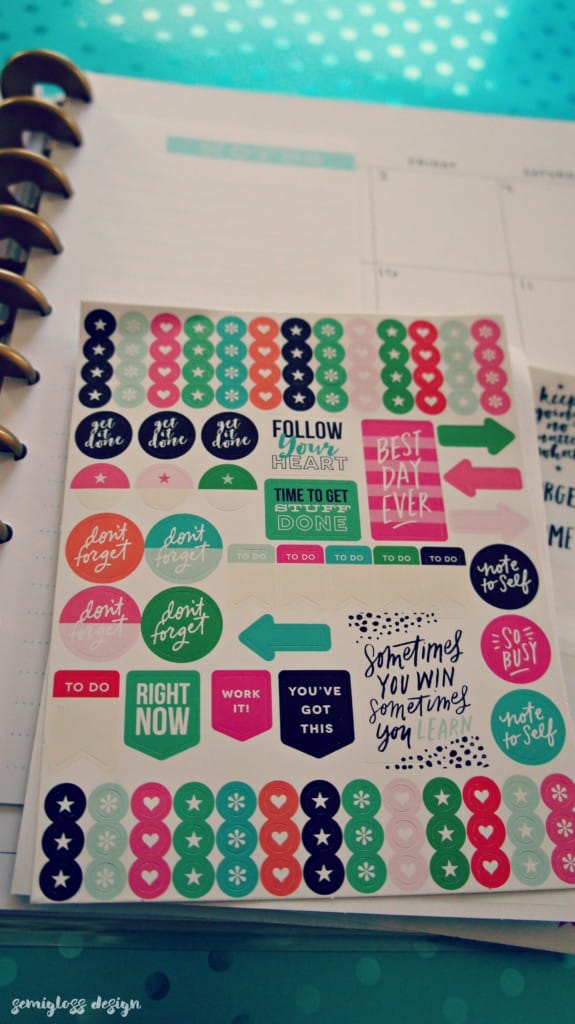 Others, I could do without. I prefer my planner to be functional. The decorations are fun but probably won't get used much.
I would have liked birthday and holiday stickers, more list-type stickers, and ones that can be written on.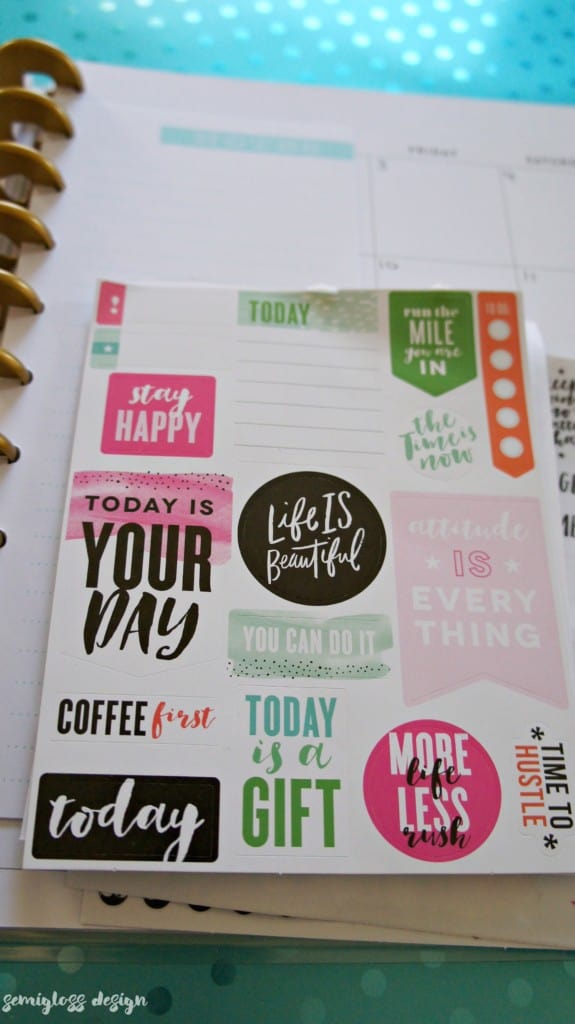 Also, if you have time for a sticker that says "so busy", you're probably not that busy…
How I can fix this: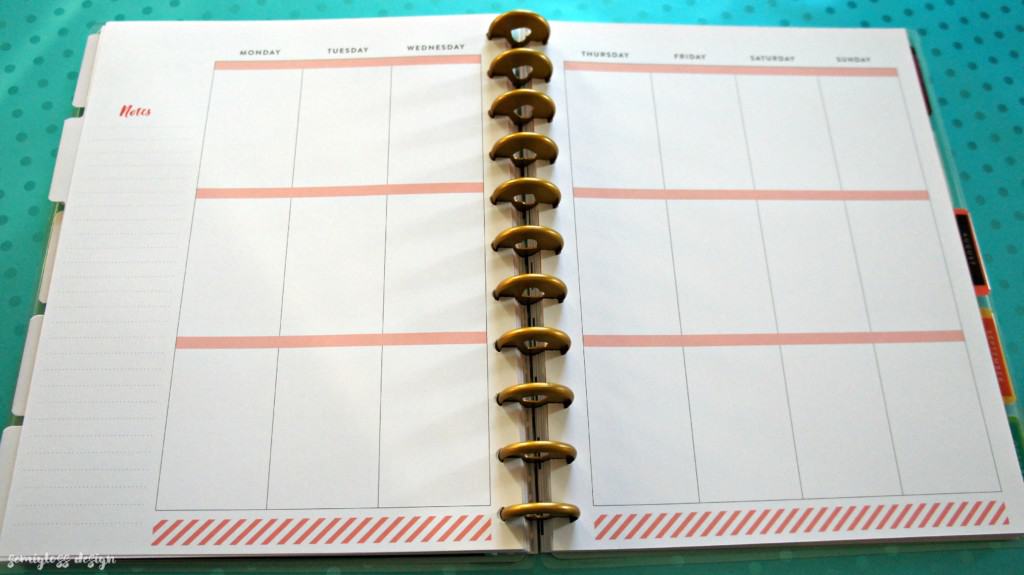 Un-dated calendar. I HATE having to put in my own months and dates. It doesn't sound that bad until you start doing it. The kit came with stickers, but there aren't enough. Besides, applying 30 tiny stickers for each month isn't exactly fun.
(My 2018 planner is dated and I LOVE it. No more figuring out what days go where.)
However, an undated planner is nice because you can start a planner when YOU want. So if you want to start a planner in April, there are no wasted months.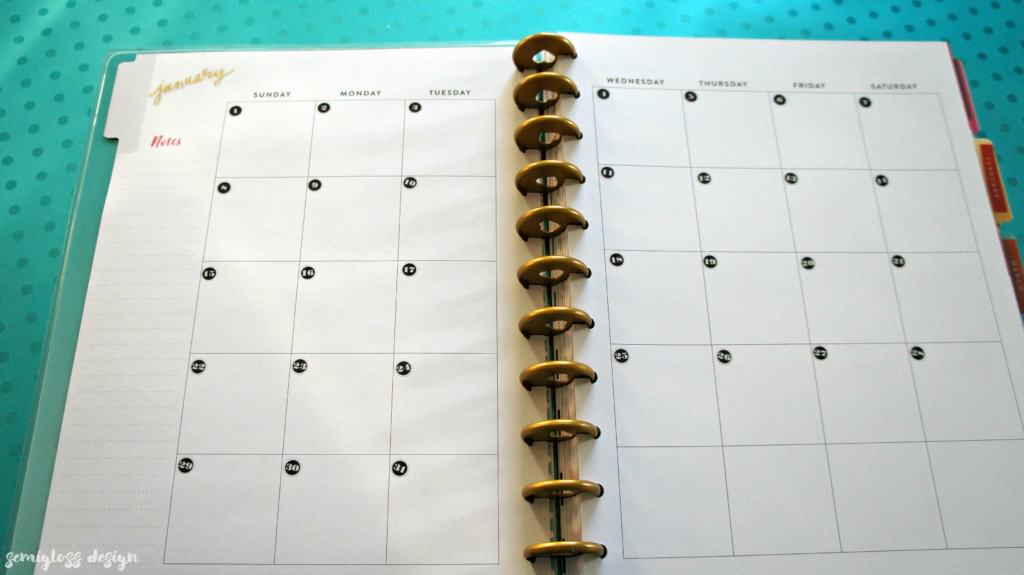 Each month has 5 pages for each week. So basically I have to write everything twice and it feels like a lot of work.
Anything that requires that much work isn't going to get done.
How I can fix this:
Suck it up and write them down. I've done it for a few months so far.
I'm working on printables to make this part easier.
Happy Planner Review: What I Like
The price. I paid $15 for a kit during a 60% off sale. Similar systems cost a lot more. There are always coupons for the craft stores where they are sold at!
The discs. I like being able to add more stuff to the planner. Plus mine are gold with hearts in the middle. So cute!
The add-ons. I bought this notepaper separately, but it really fills my need to make lists. I split mine up between the 12 months. It makes me wonder what other cools stuff I can add to it!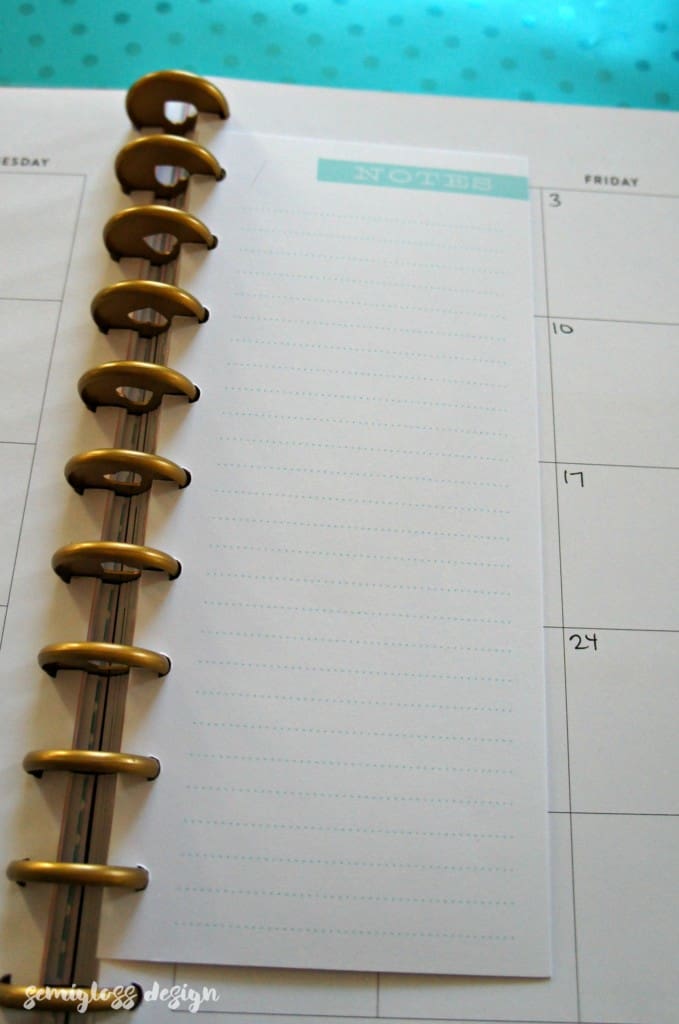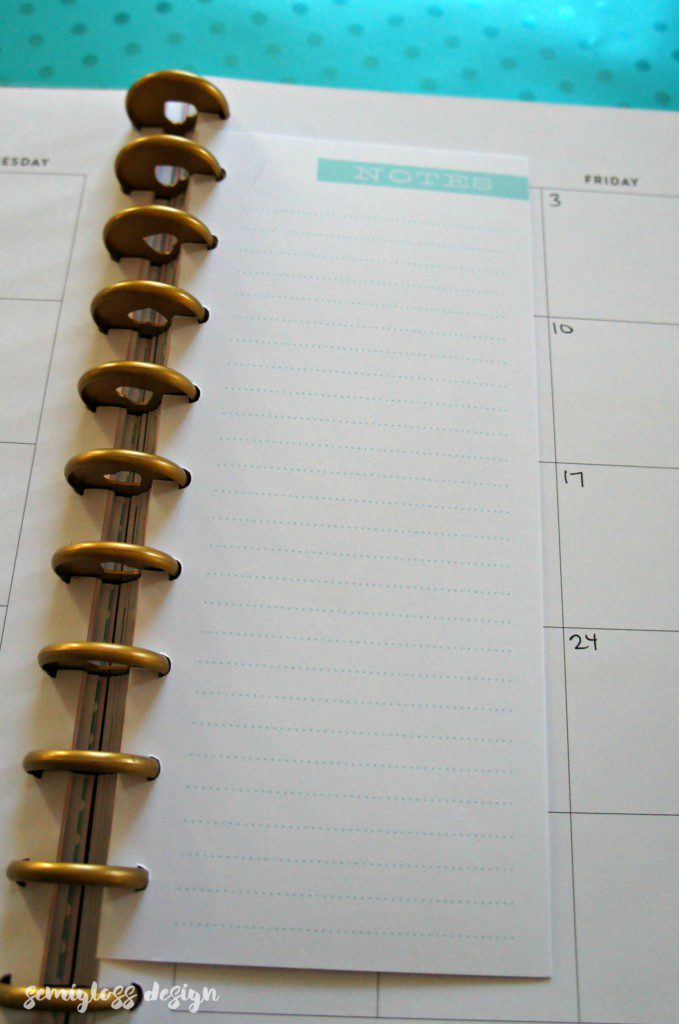 Customization. I like how easy it is to customize this planner. I prefer a ton of space to make lists and there is plenty of room in this planner.
Nothing is too structured, so I can customize it for my own needs.  It's like a blank canvas that I can fill in.
Paper Thickness. I love how thick the paper is. No matter what pen I use, no bleed-through is seen on the other side!
I'm looking forward to using my Happy Planner and maybe even incorporating some Bullet Journal concepts into it. Does anyone else love planners as much as I do?
Updated Jan 2019:
This is my 3rd year using the Happy Planner and I still love it. I make sure to buy a dated version and I've switched from the Big Happy Planner to the Classic size because it fits on my desk better.
You might also like:
Pin for Later!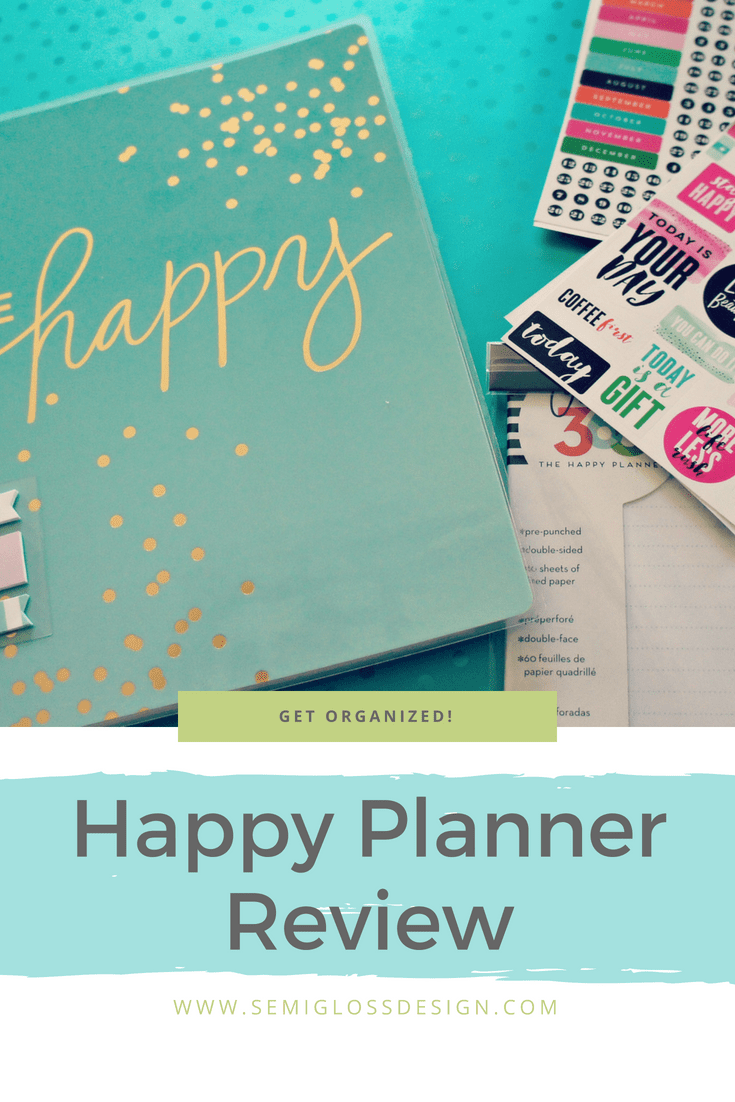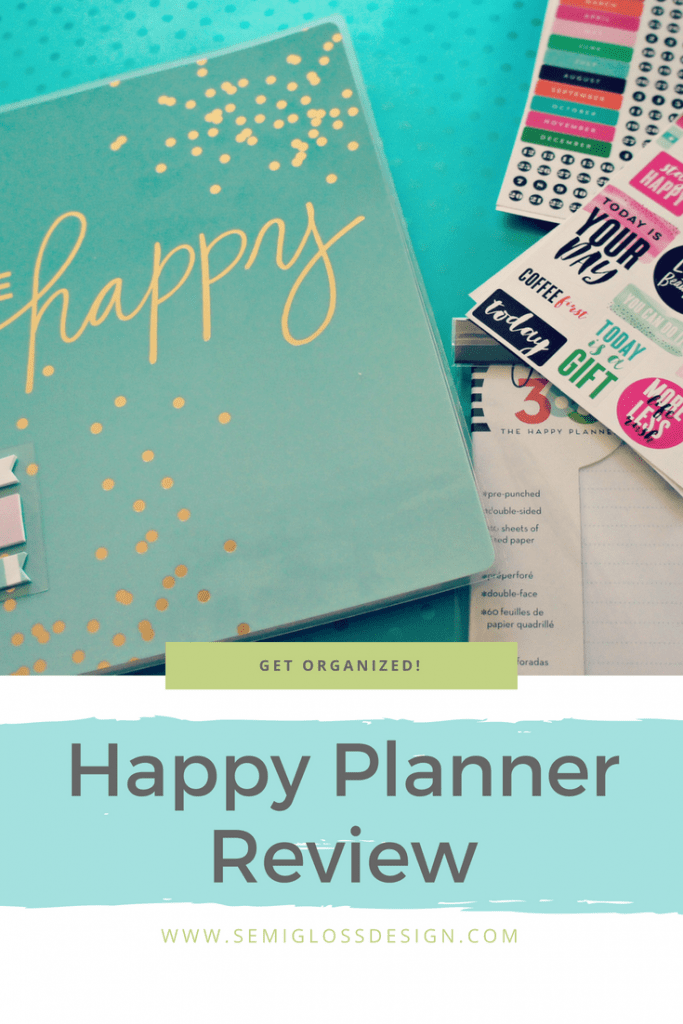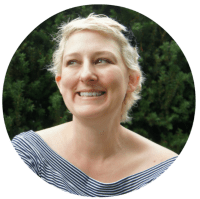 Emy is a vintage obsessed mama of 2 DIYer who loves sharing affordable solutions for common home problems. You don't need a giant budget to create a lovely home. Read more…