How to Make Alcohol Ink Ornaments
Learn how to make alcohol ink ornaments. These quick and easy ornaments have a watercolor-like texture that glows in the light.
You might also like this post on paint swirl ornaments.
This post contains affiliate links. By purchasing an item through an affiliate link, I earn a small commission at no extra cost to you. As an Amazon Associate I earn from qualifying purchases.
Tips for Making DIY Alcohol Ink Ornaments
Supplies Needed:
Canned Air (optional)
Rubbing alcohol (for clean up)
Paper cups (for draining excess ink)
Something to protect your work area
Gloves if desired
Notes about Supplies
Ornaments
Glass vs plastic. I tried both plastic and glass clear ornaments to see how they would work. The alcohol ink had an easier time sticking to the plastic ornaments.
The glass ornaments were harder to use. For my first batch, the ink wouldn't stick at all. I even cleaned the ornaments with rubbing alcohol.
I bought another batch of glass ornaments and I didn't have any problems at all. My guess is that some glass ornaments are coated with something in production.
If you're having trouble, either try plastic or try another brand of glass ornaments.
You can also try using less ink or try spraying it with the canned air to make it dry faster.
Sizing. I bought ornaments online and was shocked when I opened the box to see the crazy sizes that I had accidentally ordered.
Standard ornaments are about 100 mm or 3 inches.
The smaller glass ornaments worked better than the ornaments that I had bought in the store.
Ball Vs 2-Piece Ornaments. The other mistake I made when ordering clear ornaments was not paying attention and accidentally getting 2-piece ornaments.
These are really easy to put fun stuff inside the ornaments, but they might not be what you're looking for. (Plus the ones I bought are HUGE.)
I also had some of these tear-shaped ornaments on hand and they turned out lovely.

They are also 2-piece ornaments and I had a lot more luck with how they turned out.

I think it's because so much air reaches the ink, so it's able to dry faster.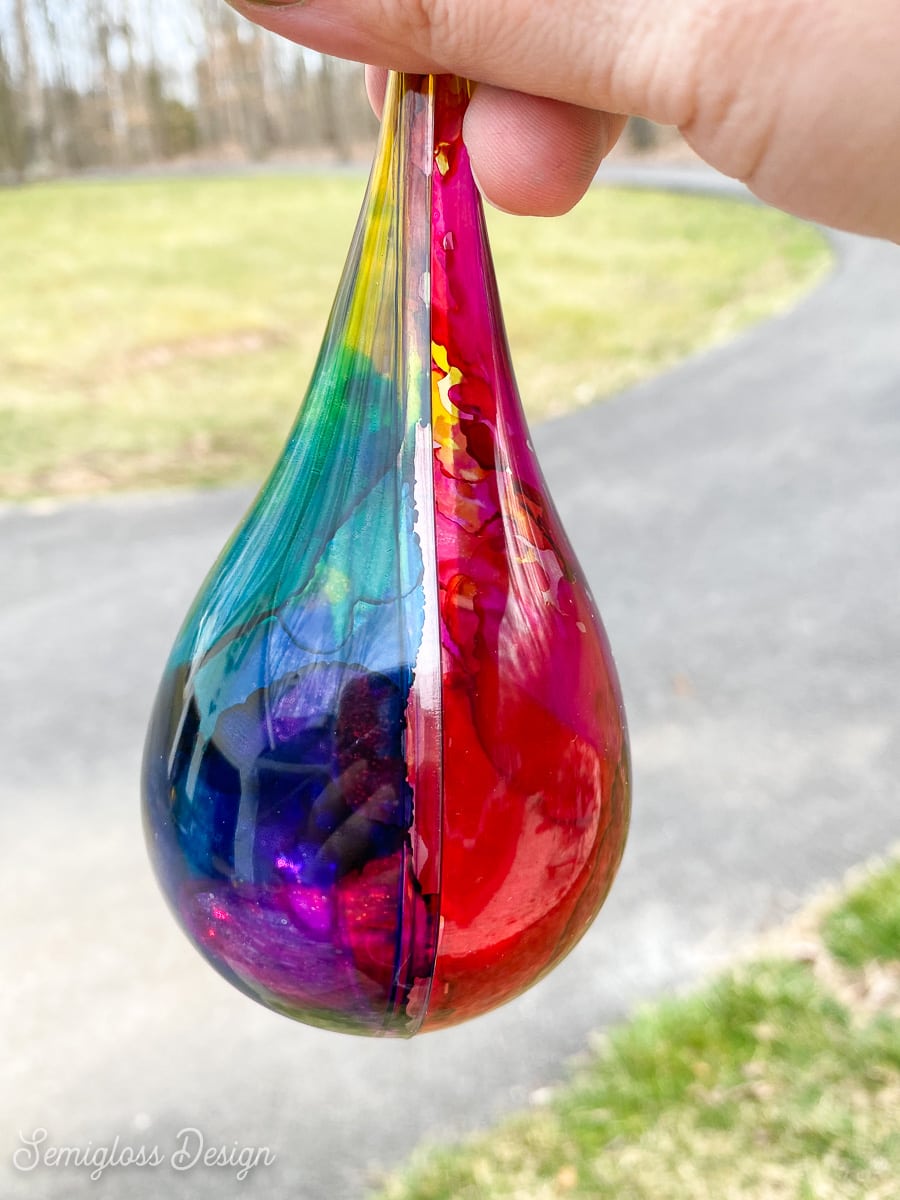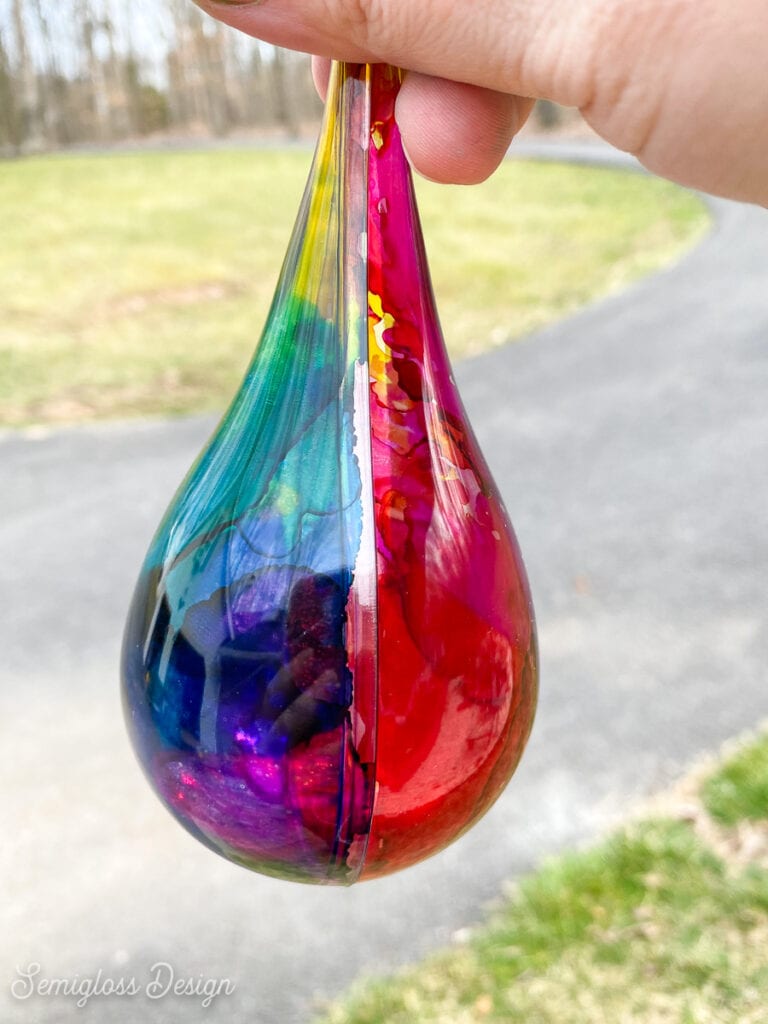 Alcohol Inks
Alcohol inks are not created equally. I had some that I bought from an art supply store and some that were more craft range.
I liked the craft range way more! The colors were more vibrant, thicker, and they just worked better.
I bought this kit with magenta, yellow, and cyan, which was perfect for creating every color of the rainbow.
By the way, alcohol ink is different than standard calligraphy ink. Since it's made with rubbing alcohol, it dries much faster. It's also more translucent.
Don't try to use standard ink.
Colors still mix when they are dry. Even when the ink had dried, they would reactivate and mix with the fresh color, so be careful of that.
Adjacent colors look best in one ornament. Remember the color wheel when working with alcohol inks.
When all 3 colors mix, they make brown or black. Not a great look for a Christmas ornament.
Alcohol ink clean-up. If you mess up, you can remove the ink with rubbing alcohol.
You can also try rescuing an ornament with some gold leaf. It made this ugly ornament better looking.
The ink stains, so you might want to wear gloves. It's a little smelly, but nothing toxic.
Sealing alcohol ink. If you use alcohol ink on the outside of the ornament, it's a good idea to seal it with a few light coats of clear polycrylic.
Let it dry between coats.
Alcohol ink may fade if exposed to light. In my spare time, I like to pretend that I'm an artist.
Alcohol ink markers like Copic are NOT lightfast, which means they will fade over time, especially if exposed to sunlight. I would assume the same to be true of this ink.
Other Easy Ornament Tutorials
I used alcohol ink on a glass pumpkin jar. Check it out!
Pin for Later!