DIY Decoupage Wood Ornaments for Christmas
Learn how to make these decoupage wood ornaments.
These decoupage ornaments are so easy to make. They're so easy to customize to your style or even to give as gifts.
Be sure to check out these other easy DIY ornament ideas.
You might also like these easy paint swirl ornaments.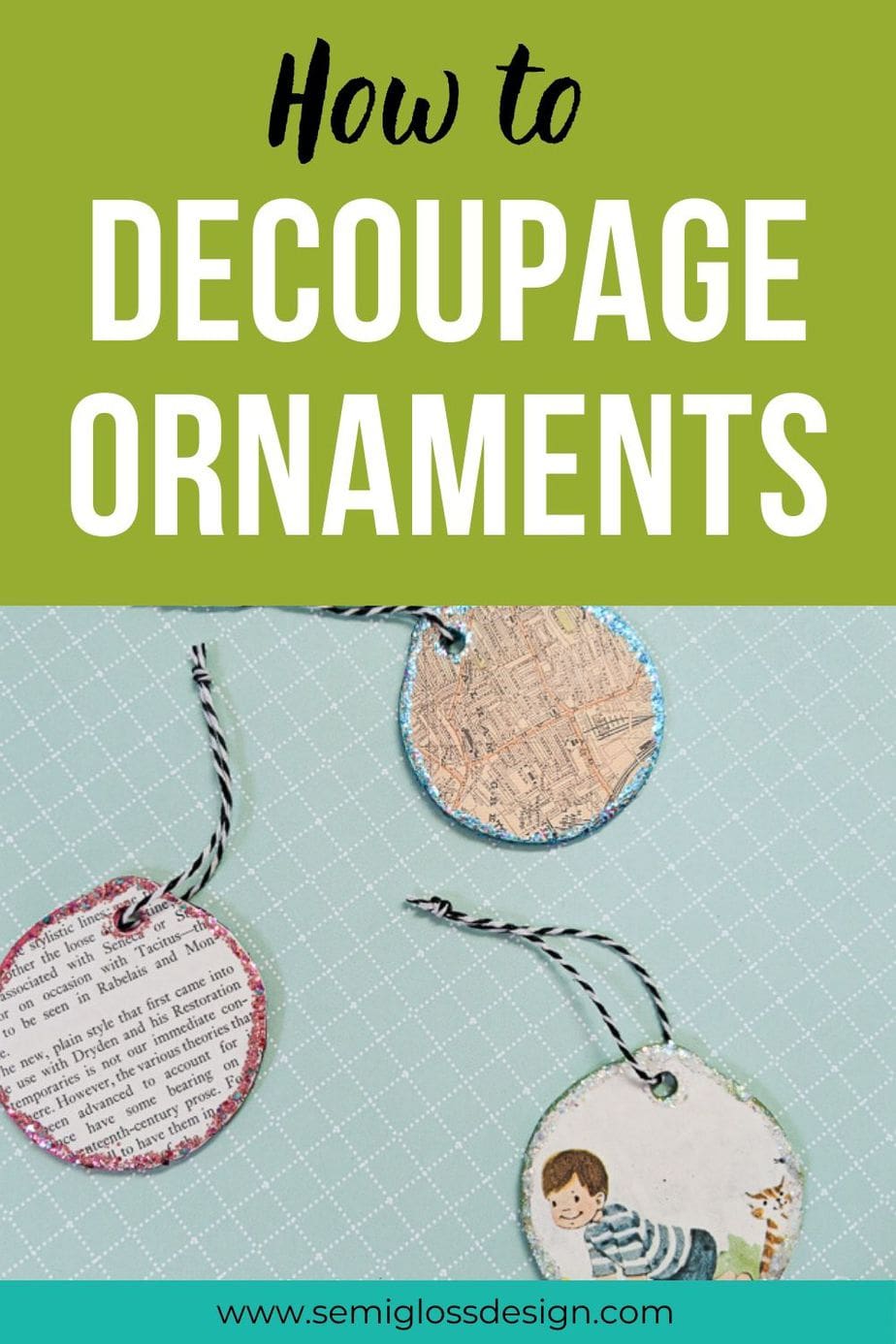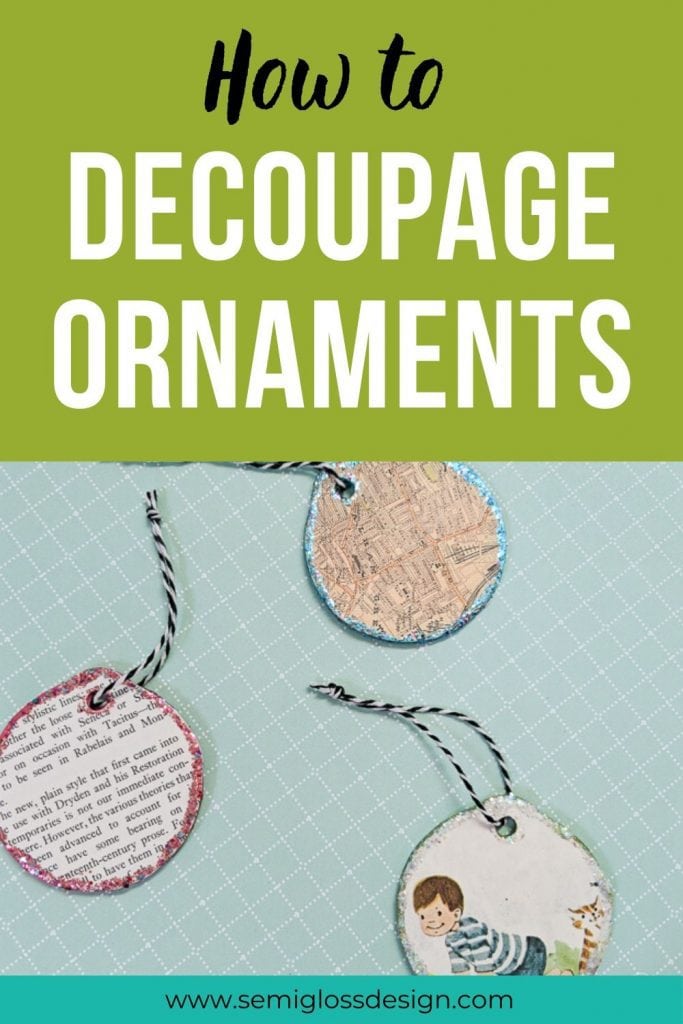 This post contains affiliate links. By purchasing an item through an affiliate link, I earn a small commission at no extra cost to you. As an Amazon Associate I earn from qualifying purchases.
Decoupage Wood Ornaments
Supplies Needed
Old books, pretty paper, or even photos
Paint Brush
Baker's twine or ribbon
Hole punch
Scissors
Paper for Decoupage Ornaments
I used old Little Golden Books for my ornaments because I love the illustrations.
You can find them for a dollar or two in thrift stores. Look for ones with cute illustrations that speak to you.
I also used map wrapping paper. It was a bit thicker and needed more glue.
The other paper I used was from an old book of prose. If you hate the thought of destroying books, you can make copies of the images instead.
Make sure that you use a laser printer or get them printed at a copy shop so that the ink doesn't run.
Other ideas for papers to use:
Photos (use photo copies for best results)
Prep Work for the Decoupage Ornaments
Create a template on scratch paper by tracing the wooden ornament blank and cutting it out.
Trace the template onto images you want, trying to place the shape in a good place to capture the image you like. Be sure to pick 2 images (one for each side.)
Dry fit the image on the wooden blank and cut away any excess bits of paper. (Your edges don't have to be exact because the glitter will cover the mistakes.)
Use a hole punch to cut a hole for the string.
Once your images are cut out, pick out coordinating paint colors for the edges.
Paint the edges, including the hole for the string.
Let it dry and paint the other side.
Decoupaging the Paper
After the paint has dried, apply a thin layer of decoupage glue to the wooden ornament. (Thicker papers need extra glue.)
Attach the image, smoothing the image as you work.
Apply extra glue under the edges if needed.
Apply a thin layer of glue to the top (while the bottom layer is still wet.)
Let it dry and repeat the steps for the back.
Click here to find out How to Fix Decoupage Mistakes.
Applying Glitter to the Edges of the Ornament
Look, I get it. Glitter is the worst. But glitter paint allows you to have shiny goodness without the mess. It's kind of life-changing…
Use a small round craft paint brush to apply glitter paint to the edges.
When using glitter paint, you really want to glob it on for full coverage. Be super generous.
If your edges are wobbly, you can use a brush to straighten the edges a bit.
Don't forget the hole for the string!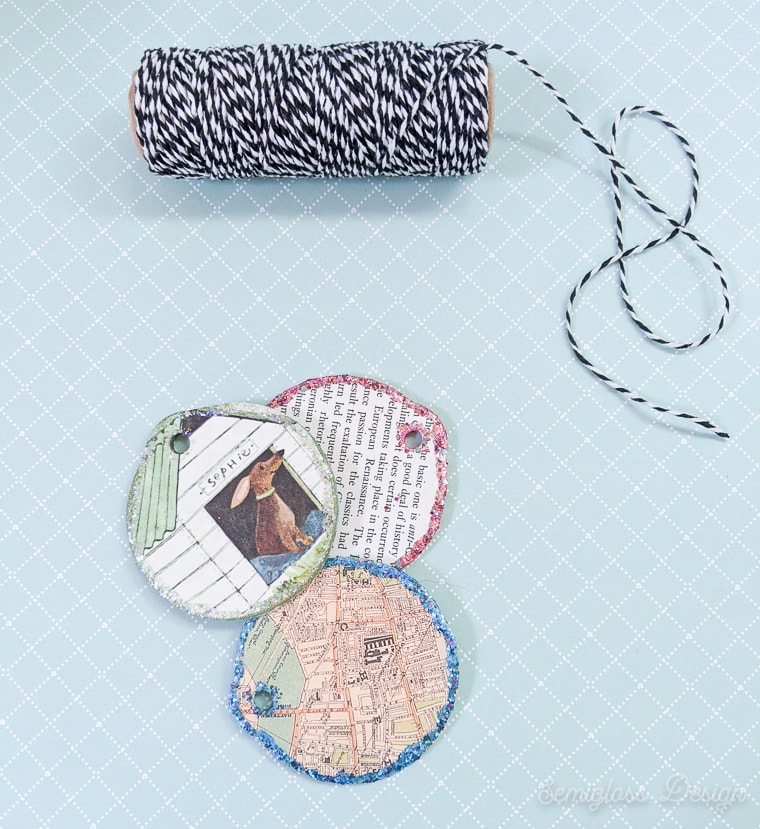 Attaching the String to the Ornament
I use simple baker's twine to tie a loop for my ornaments. I love the graphic quality of the black and white string.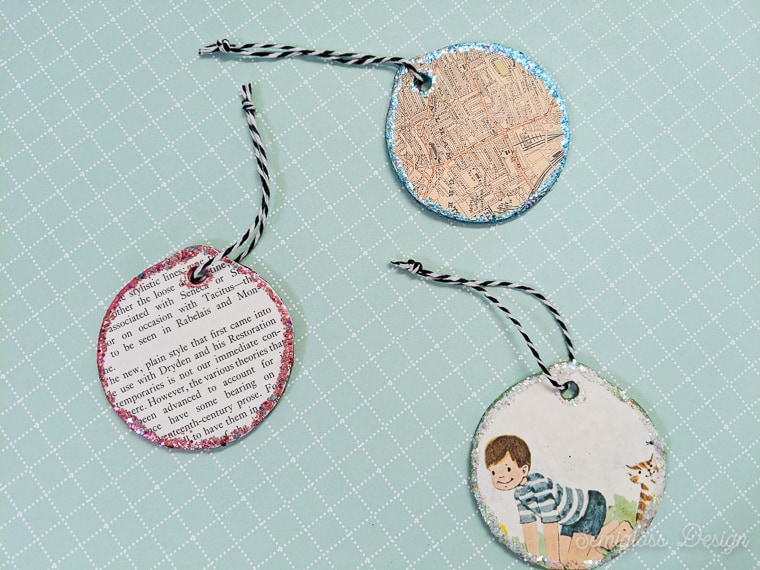 You can use twine for a rustic look or even ribbon.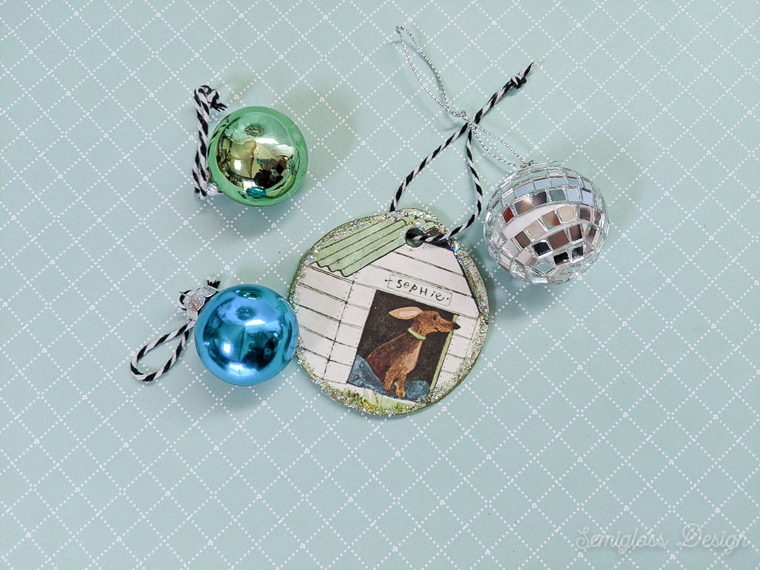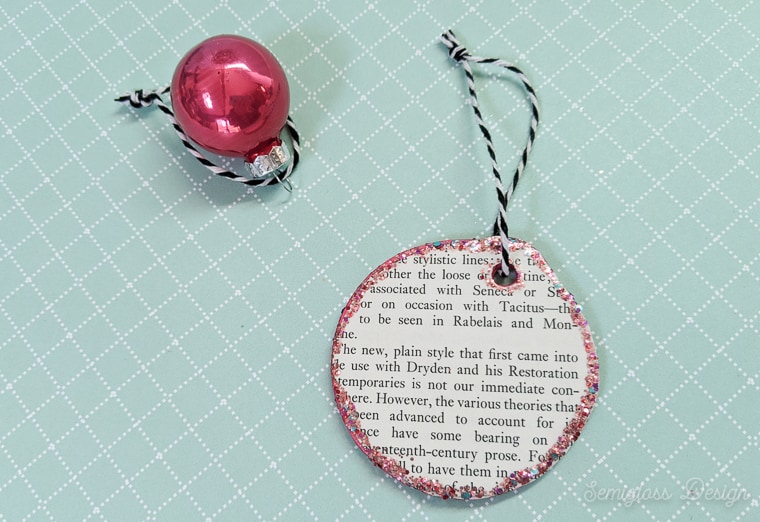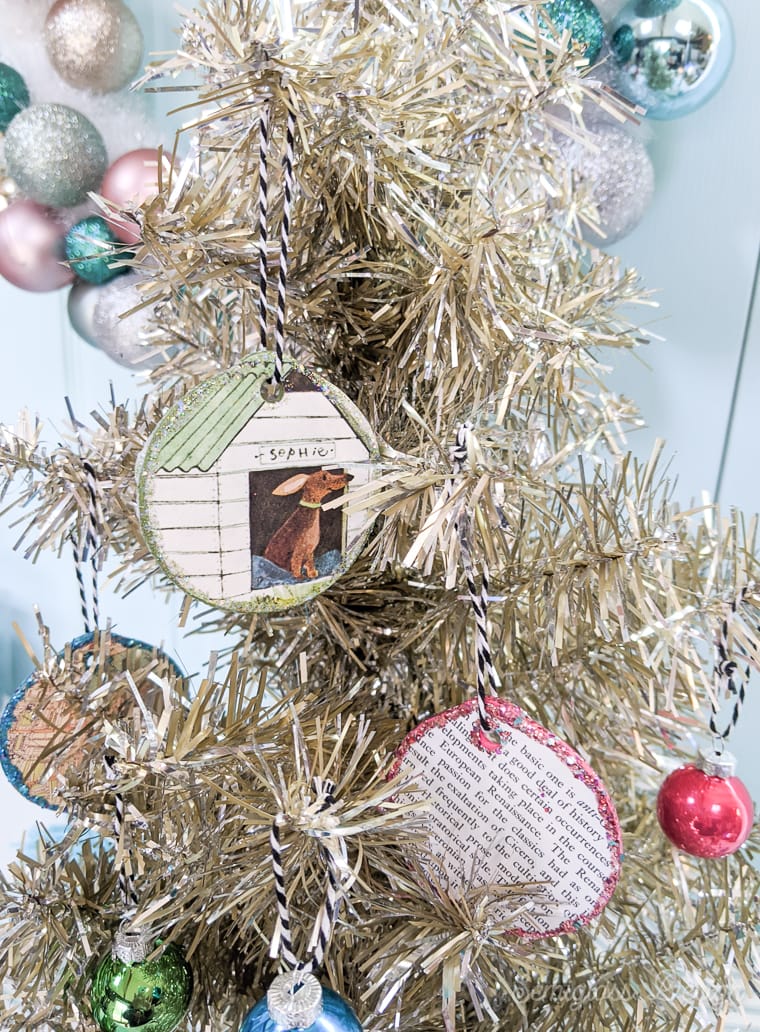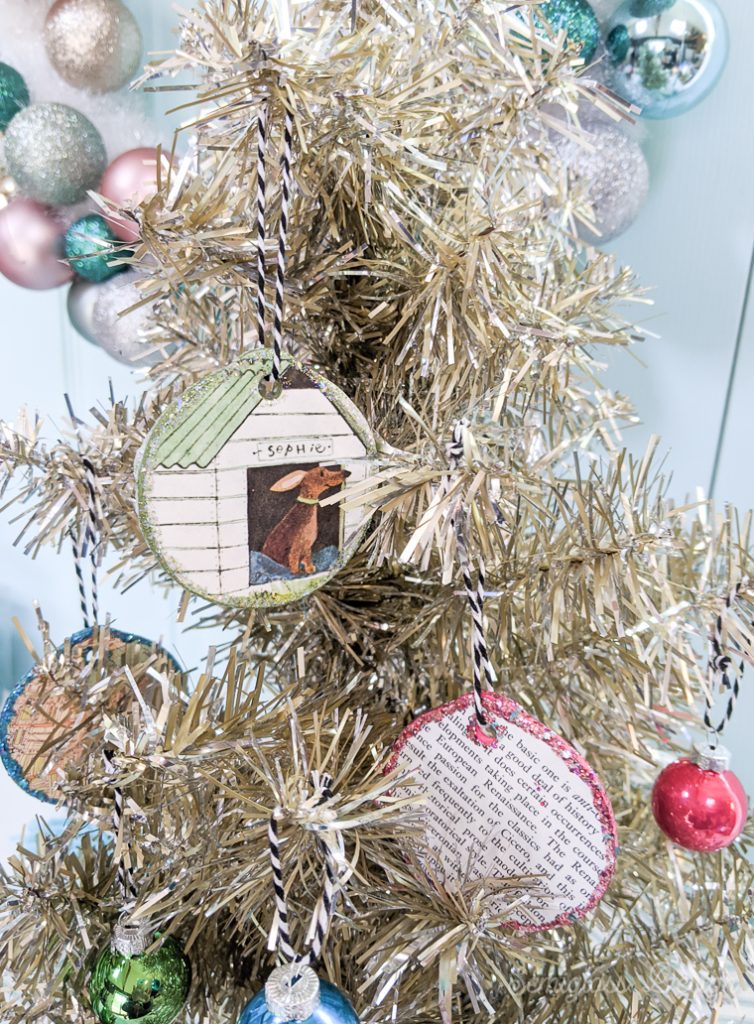 DIY Christmas Decorations
Easy to make Christmas decorations for your home.
You might also like:
Pin for Later!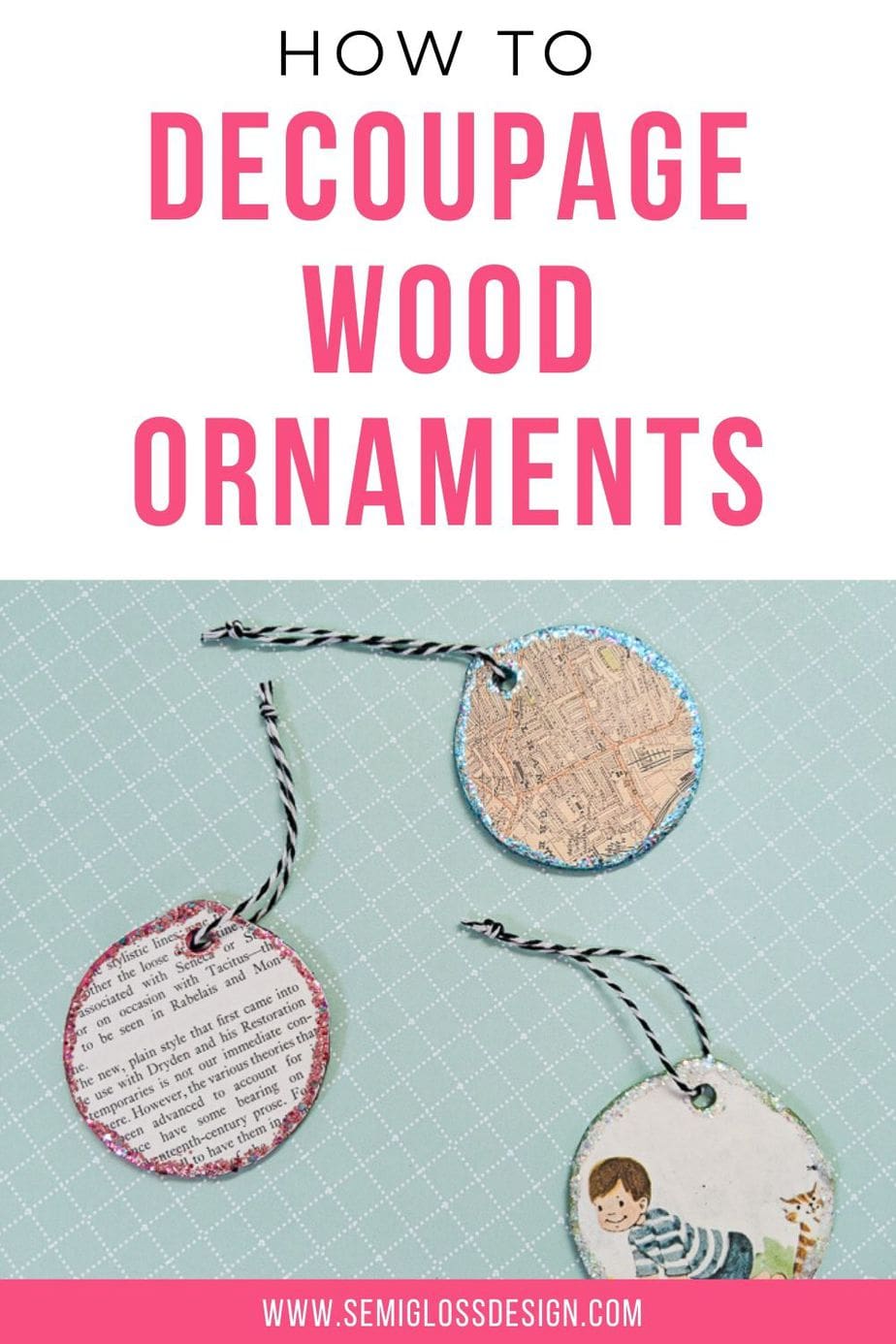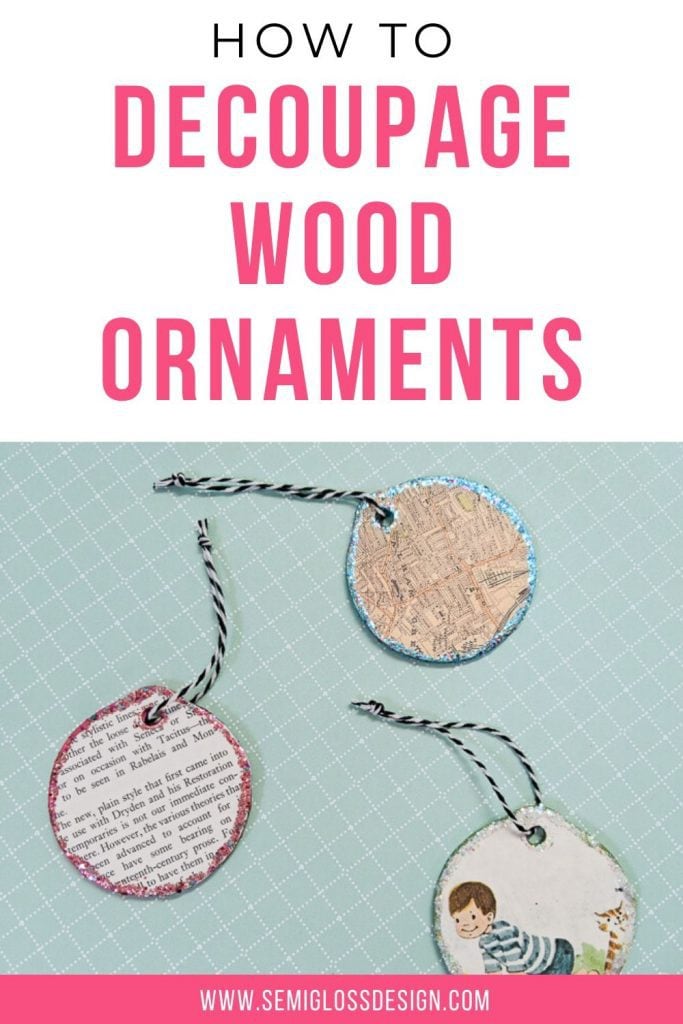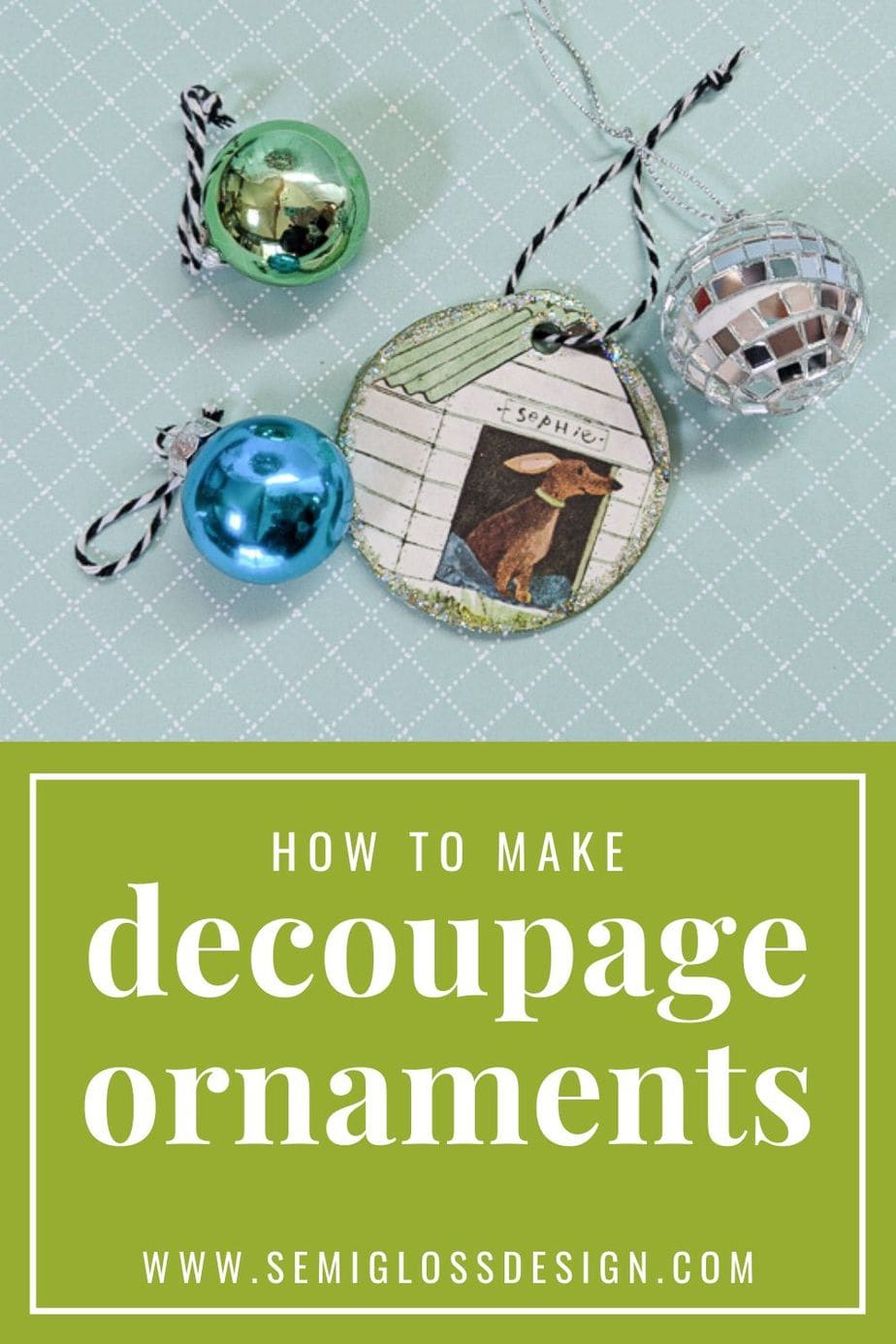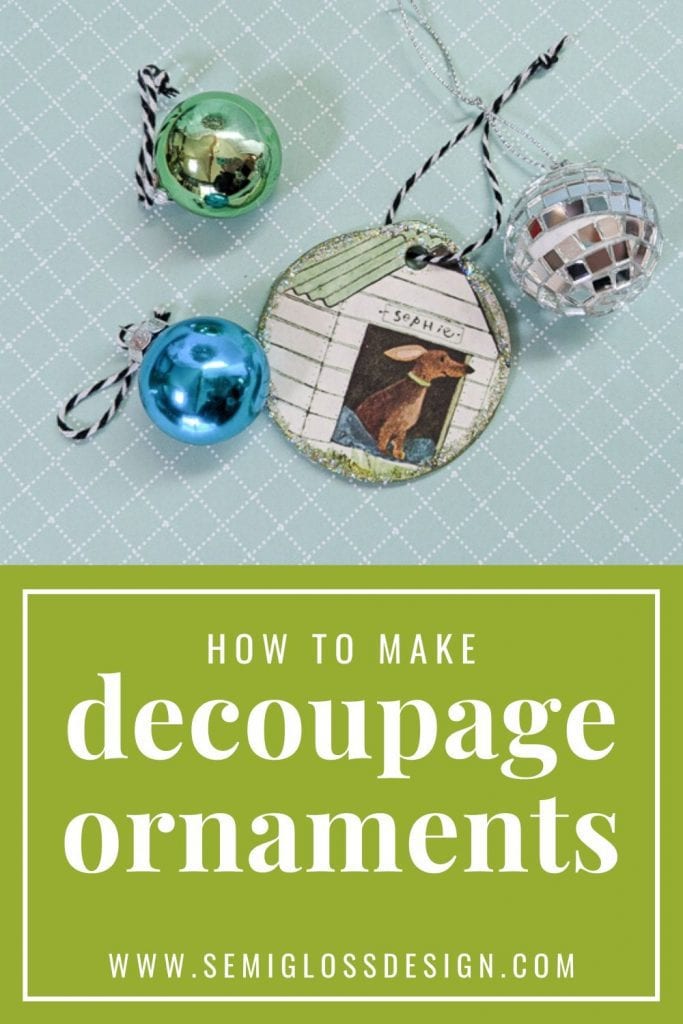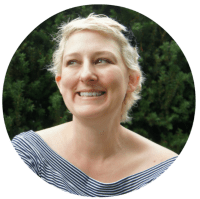 Emy is a vintage obsessed mama of 2 DIYer who loves sharing affordable solutions for common home problems. You don't need a giant budget to create a lovely home. Read more…