Fun Ways to Fill Clear Christmas Ornaments
Get easy ideas for ways to fill clear Christmas ornaments. You will love how easy these DIY ornaments are to assemble!
You might also like these other easy Christmas ornament ideas!
This post contains affiliate links. By purchasing an item through an affiliate link, I earn a small commission at no extra cost to you. As an Amazon Associate I earn from qualifying purchases.
I love using clear ornaments for making my own Christmas decor because they are so versatile.
Filling them with items is so easy and way less messy than dealing with paint, alcohol ink, or glitter!
All About Clear Christmas Ornaments
When choosing clear Christmas ornaments, you have several options to consider.
If you're looking for more information on clear ornaments, check out this post.
Plastic VS Glass
Clear glass ornaments are available in glass and plastic versions. Glass is more clear, but is breakable.
Choose what is right for your house. If you have small kids and pets, plastic is going to be the better choice.
Sizing
If you buy ornaments online, sizing can be so confusing.
The standard ornament size is 100mm or 3 inches. There are also tiny and large sizes available.
The large ornaments are better for larger items.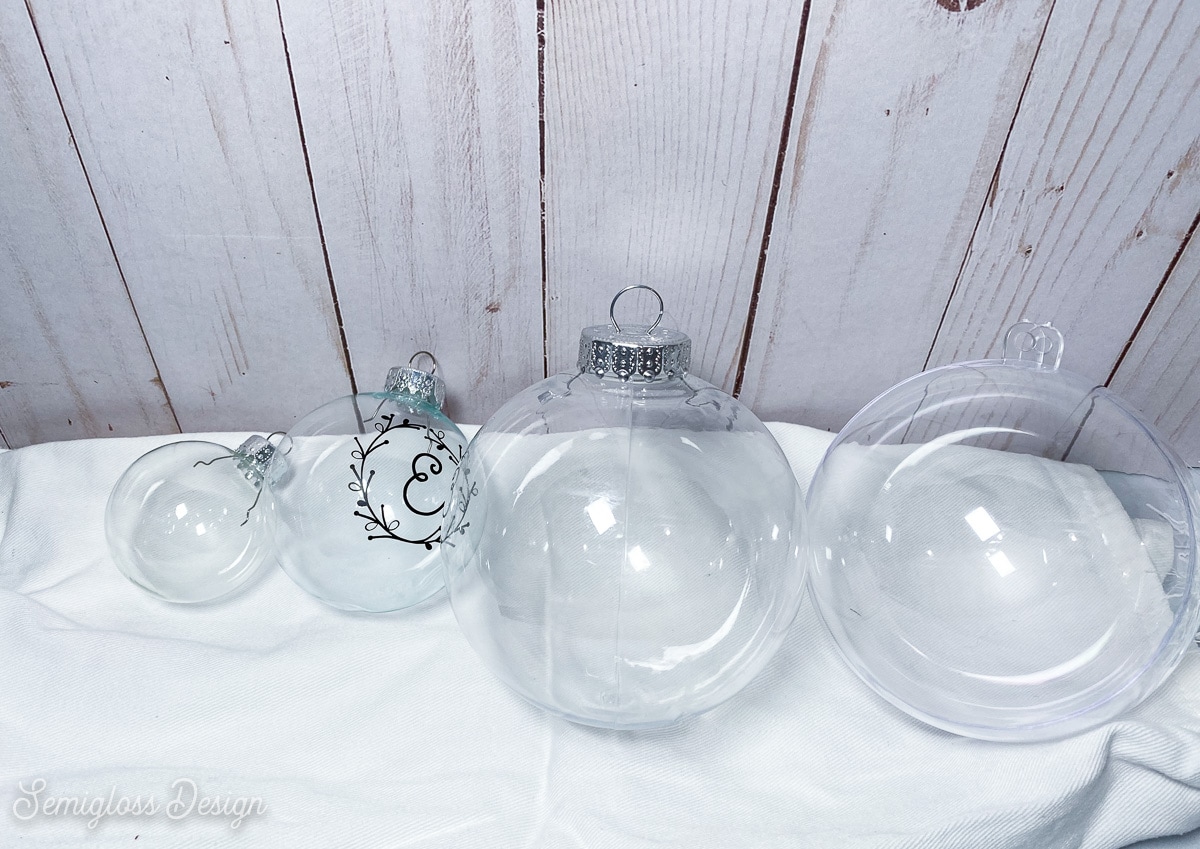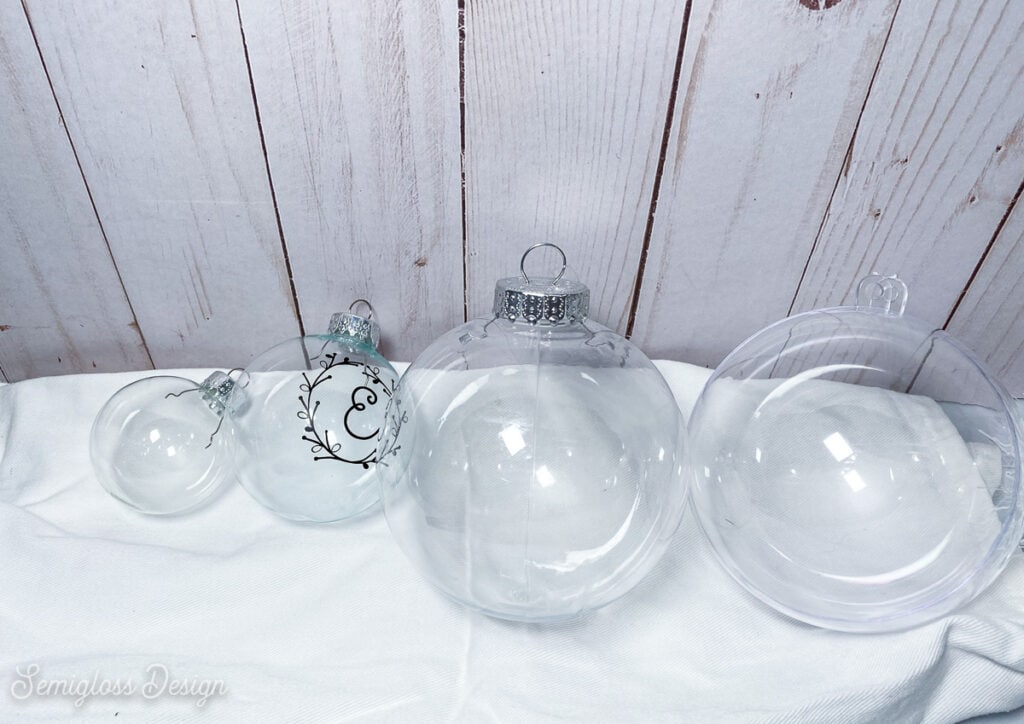 Balls Vs 2-Piece Ornaments
If you buy online, you also have the option of using standard Christmas balls or the 2-piece kind that snaps together. These are useful when using larger items.
Shapes
Clear Christmas ornaments also come in fun shapes. I love this teardrop ornament shape!
The star shape is also fun.
13 Ways to Fill Clear Christmas Ornaments
Using a funnel is the easiest way to fill clear ornaments. Just make sure that the tip of the funnel fits into the hole in the bulb and that the items can fit through it.
If you don't have a tiny funnel, you can use scrap paper!
To remove the top of the ornament, pull the hanger a bit and squeeze the wires as they come out.
Confetti
You can either use store-bought confetti or you can make your own with colored paper and a hole punch.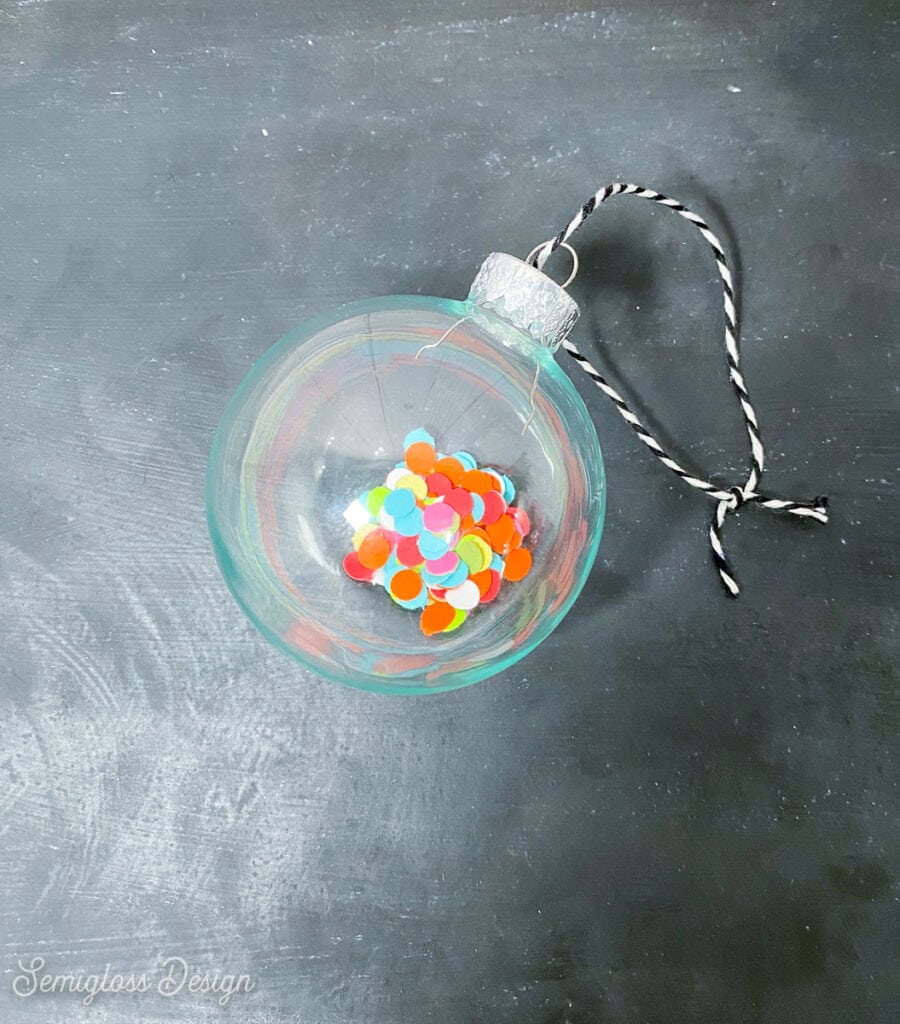 Jingle Bells
Jingle bells are a fun thing to put in ornaments. They even come in fun colors.
Tiny Buttons
These tiny buttons are so cute. Perfect for someone who loves to sew! Or just love tiny, cute things.
Seashells
I love how this seashell ornament turned out. I found these seashells in the bead section of the craft store. The ones in the fake plant section were way more expensive.
Tinsel
Cut a bit of tinsel and stick it inside a glass ball. It's so simple, but I love the bit of shine that it adds to the tree.
Ribbon
Ribbon looks so pretty inside an ornament. Look for velvet or grosgrain ribbon with a pretty texture.
Gift Wrap Ribbon
Add curls of gift wrap ribbon to the ornament. Gift wrap ribbon is cheap and comes in so many colors.
Beads
Use a funnel to add beads to the ornament. Beads come in a variety of shapes, sizes, and colors. I used colorful seed beads for my ornament.
Pom-Poms
Tiny pom-poms are the cutest! They come in a variety of colors.
Fake Snowballs
Similar to tiny pom-poms, fake snowballs are adorable. Look for them with the miniature Christmas stuff in the craft store.
Fake Plants
Using fake plants might be my favorite option! I added a fake air plant to this 2-piece teardrop ornament. Just place the fake plant inside and snap shut.
These are so pretty, I can see them being used year-round.
The link that I provided is for a set of small fake plants that are mostly succulents but includes 1 air plant.
Make sure that the fake plants that you buy are small enough to fit in your ornaments.
Dried Flowers
I found these tiny dried flowers with the resin supplies at my local craft store. Use a gentle touch when handling these and placing them inside the ornament.
Sequins
I love the look of colorful sequins in this ornament. So fun!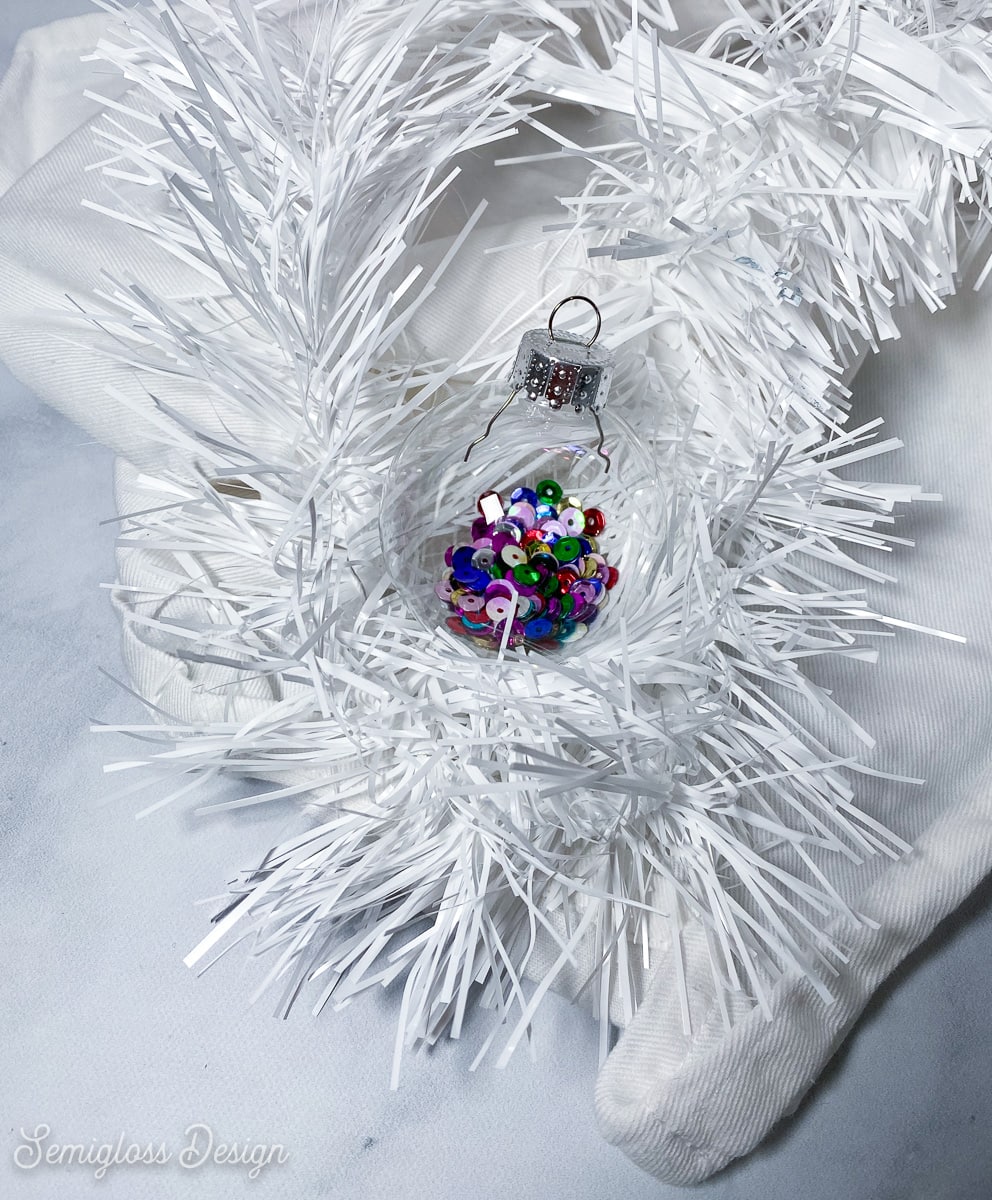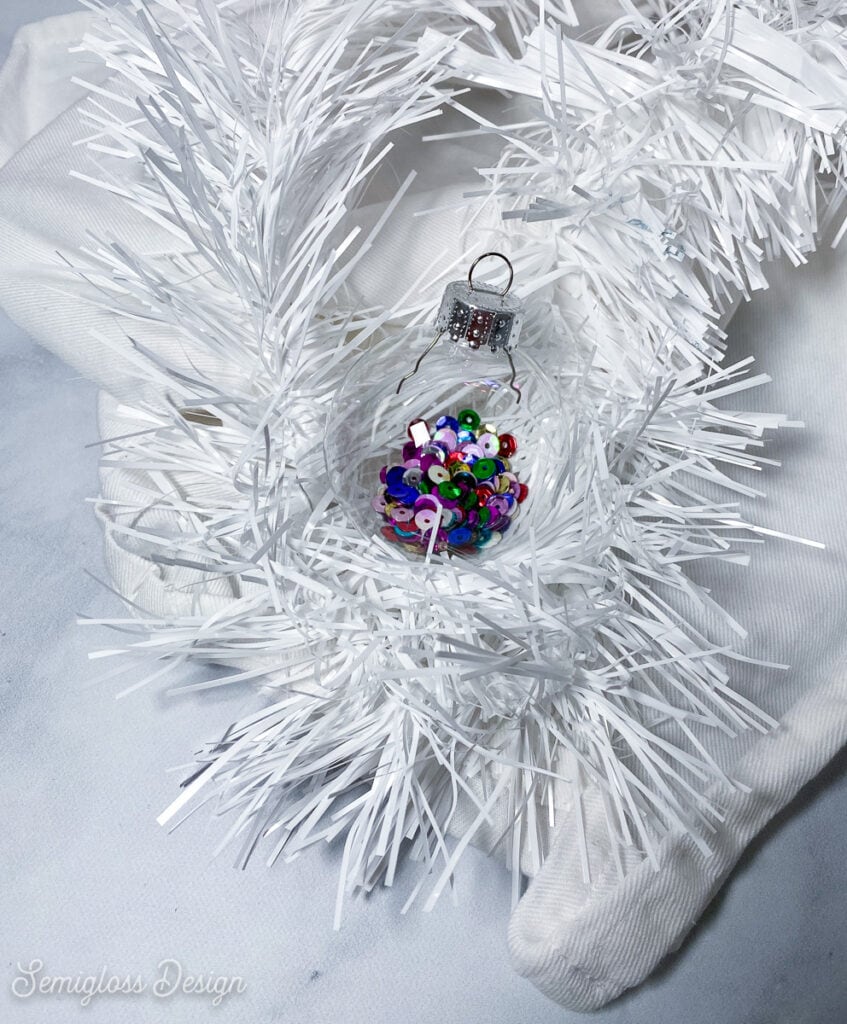 Other Ideas
Hanging the Ornaments
After making such beautiful ornaments, it seems a shame to use boring wire hooks.
Instead, I like using baker's twine or ribbon.
Other Christmas Ornament Posts
Pin for Later!