DIY Monogram Ornament for Christmas
Learn how to make a DIY monogram ornament. These Christmas ornaments are easy to make. They make great gifts for friends and families!
Be sure to check out all of my other easy DIY ornament ideas.
This post contains affiliate links. By purchasing an item through an affiliate link, I earn a small commission at no extra cost to you. As an Amazon Associate I earn from qualifying purchases.
Christmas crafting is one of my favorite things to do! Making ornaments is so fun and easy.
DIY Monogram Ornaments
Supplies Needed:
Ornament Blanks
Monogram Font*
*If you're looking for more monogram options, Cricut Access just added a fun new option to create monograms!
Notes About Supplies
Ornament Blanks
(I have an entire post on clear ornament blanks so check that out.)
I used 2 different types of ornament blanks for my DIY monogram ornaments.
Clear glass balls are really easy to find, but a bit harder to work with. Sizing can be weird, so if you buy them online, buy the 100mm size.
Feel free to use plastic ornaments if you want. Plastic can be easier to work with and doesn't break as easily.
The flat ceramic ornament shapes were much easier to work with and I think they even turned out a bit cuter!
I also just bought these flat glass ornament shapes to try out as well as these acrylic ones.
Vinyl
I used permanent vinyl for these ornaments, but removable would work fine if that's all you have. (If it's a gift, I would use permanent vinyl though.)
I did not use iron-on vinyl for this project, but it would probably work great on the flat ceramic ornaments. (I'll be testing it out soon though.)
Vinyl comes in a variety of colors and textures, so get creative.
Cricut Maker
I used my Cricut Maker to cut my vinyl, but you can use whatever cutting machine you want. Since it's just regular vinyl, you don't need anything fancy.
If you don't have a cutting machine, stickers would also work.
Monogram Fonts
For these monogram ornaments, I used fonts that I already own, but you can use classic monogram fonts too.
I used:
Other Monogram Fonts that I Like
Making the Monogram Design
Measure your ornament. If you're using ornament balls, I recommend making your design no larger than 2″ x 2″. Smaller is probably better.
You can create a circle that size or you can just use the rulers as a guide when creating your design.
These ornaments used a circle as part of the design, so I created a circle. It's about 3″ x 3″ to fit the blanks that I used.)
Duplicate the circle and slightly resize it smaller.
Align both circle to be centered.
Select both circles and use the slice tool.
Delete the black circles and keep the circle outline.
Then add the initial.
Center the letter and the circle.
The wreath design was created by uploading the design and resizing it.
Then I added an initial to the center.
Use the alignment button to center the 2 elements.
Cut the vinyl as usual. (No need to mirror or anything since it's normal vinyl and not iron-on.)
Weed the excess vinyl from the design. (I use some of the excess vinyl for another ornament to keep that in mind.)
Quick Cricut Tip:
Sometimes when you upload a design, Cricut thinks it should be another color. Even if they both look black, one might be slightly different.
If you're having trouble getting your design on one mat, change the colors of the elements to be the same color.
You might be interested in learning the basics of using a Cricut Maker.
Applying Vinyl to the Ornament
Clean the ornament with rubbing alcohol to remove any oils from your fingers.
Use transfer tape to transfer the design from the paper backing onto the ornament.
Line it up and center the design before applying it to the ornament.
Press firmly to make the vinyl stick to the ornament. (If you're using glass bulbs, be very gentle.)
Remove the transfer tape.
Use the paper backing to lightly rub the design onto the ornament.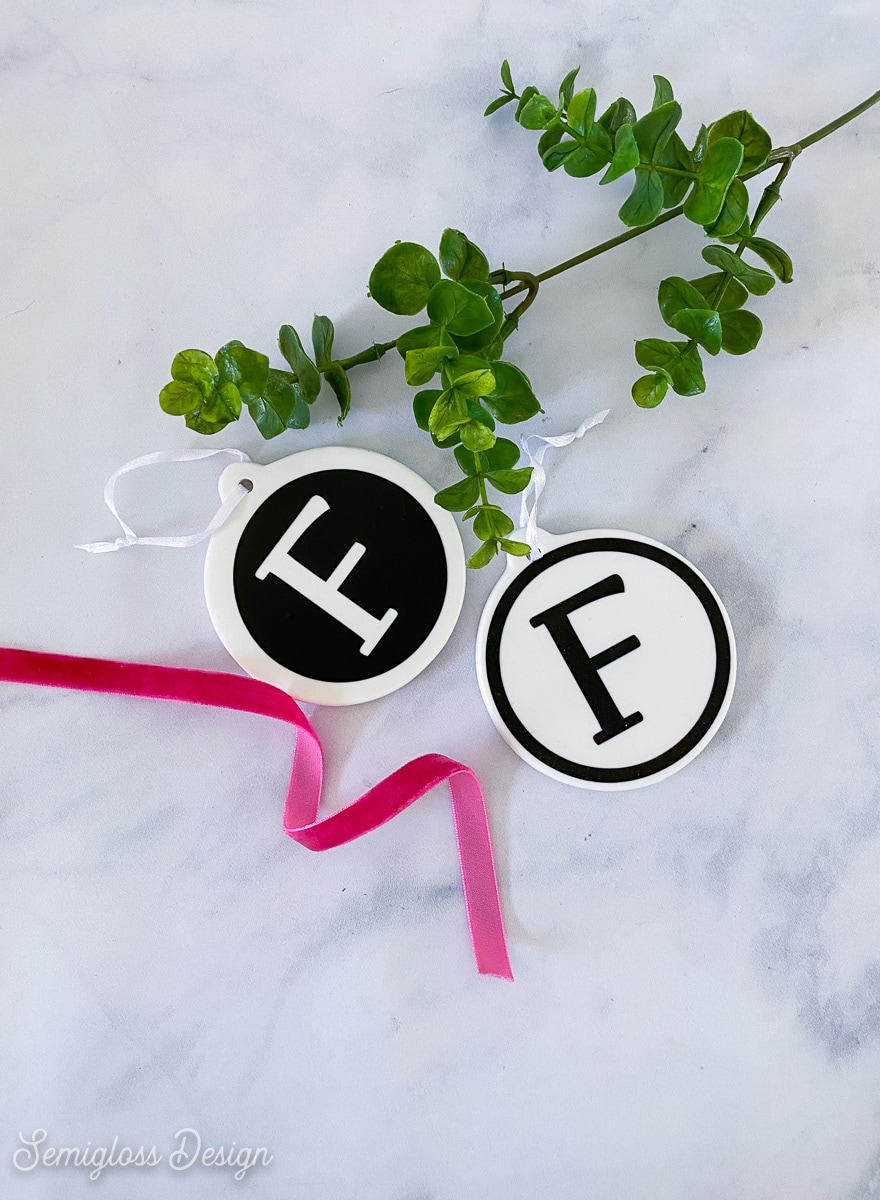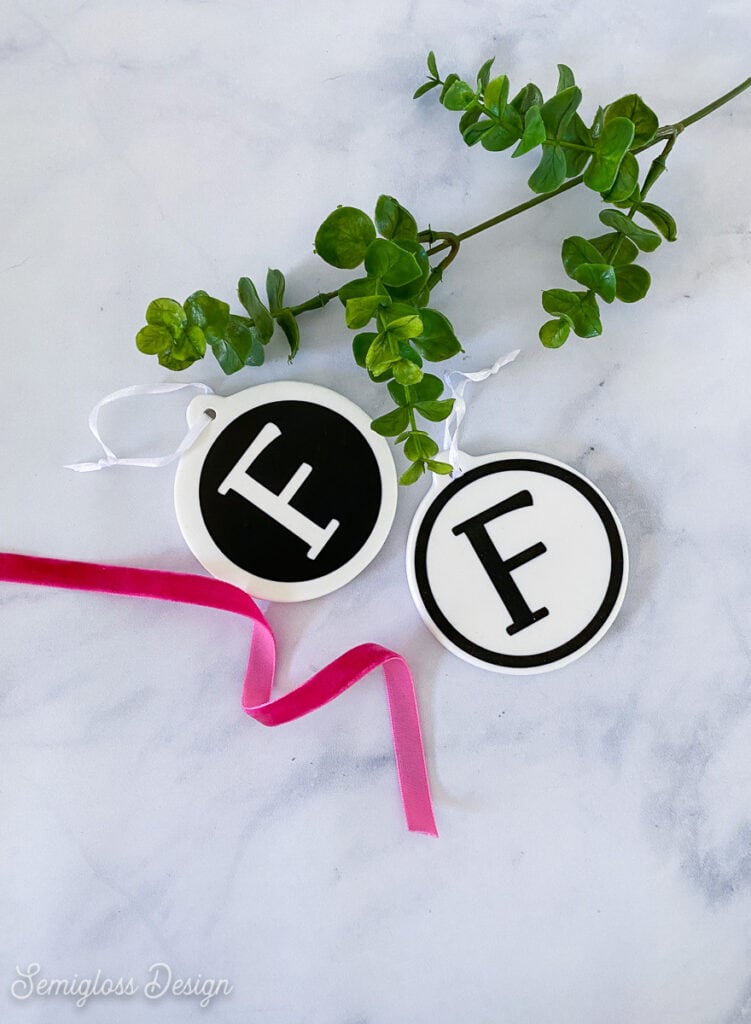 If desired, you can swap out the ribbon with something prettier.
Tips for Using Vinyl on Glass
If you're using round ornament bulbs, stick with a very simple design.
Err on the side of being too small. This ensures that the decal sticks to the "flatter" area of the bulb.
Make tiny cuts if needed to get the vinyl to stick better.
If the design is too large, it might end up with small creases.
When choosing your vinyl color, keep contrast in mind. Dark colors show up better on light surfaces (like white and clear ornaments.)
Monogram Tips
Classic monograms use this format: first name, last name, middle initial. So the monogram for my name, Emy Lou Flint, would be EFL.
For married couples, it typically goes: first name of spouse 1, last name, first name of spouse 2. So for my husband Kevin and me, it would be KFE.
If it spells something accidentally, a 3 letter monogram might not be the best idea. Maybe stick to a 1 or 2-letter monogram initial instead. (My initials are ELF, so I get it.)
You might also like:
Pin for Later!