Alternative Places to Order Craft Supplies
Learn more about alternative places to order craft supplies. With all this extra time on our hands, now is the perfect time for crafting. However, many local stores are shut down, so where should we get new craft supplies?
I've compiled a list of some of my favorite places to order from, plus a few that are new to me, but sound really cool.
You might also like this post on where to order paint.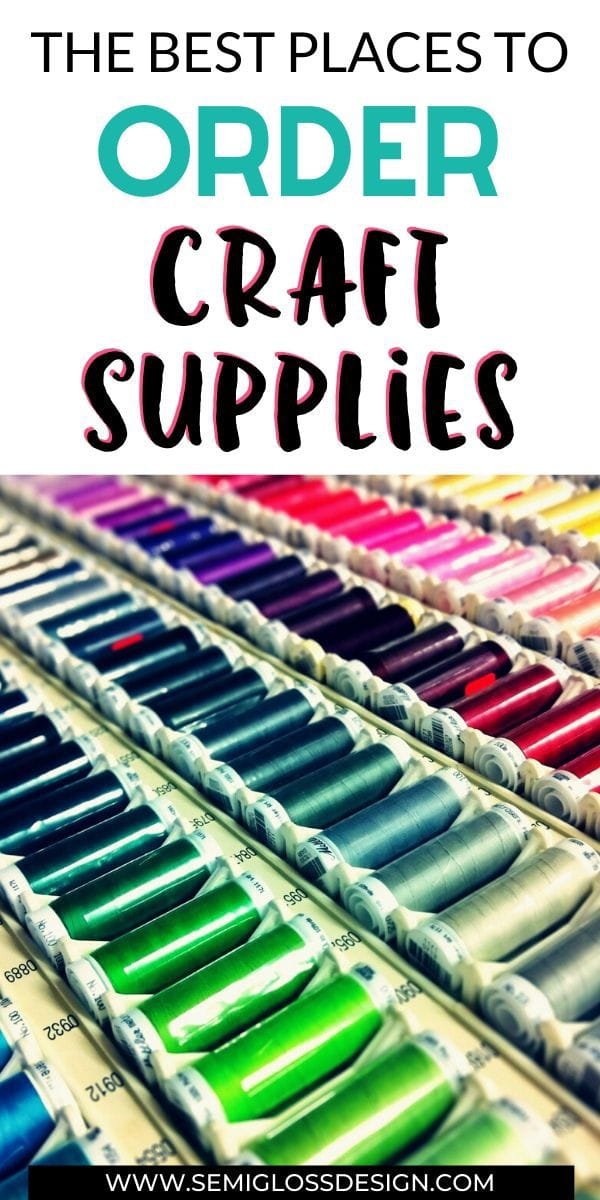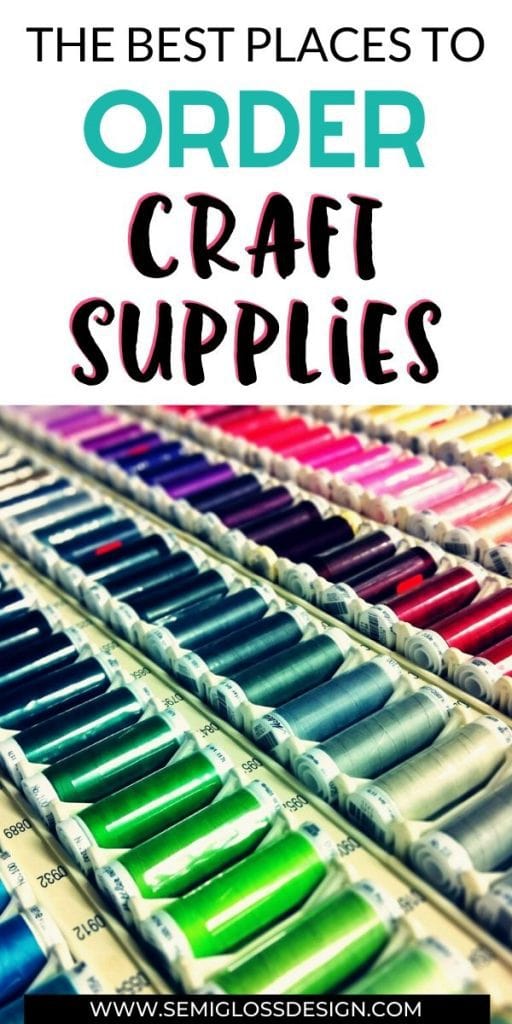 This post contains affiliate links. By purchasing an item through an affiliate link, I earn a small commission at no extra cost to you. As an Amazon Associate I earn from qualifying purchases.
A Note on Shipping
As much as I love shopping online, it's difficult to have to wait for stuff to ship. Most places are having shipping delays, so I've included that info where it's publicized. I've also included my own experience with shipping times. Patience is needed in most cases.
Places to Order Craft Supplies
General Craft Supplies
Michael's
Michael's is an obvious choice for ordering from. They carry pretty much everything except fabric.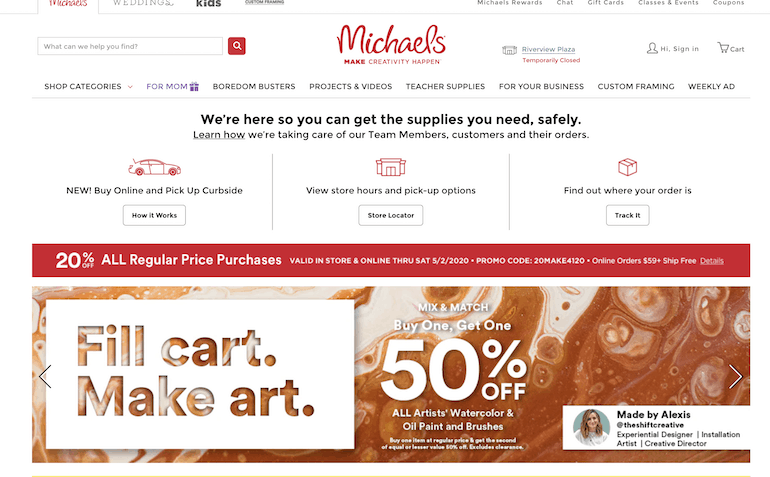 Coupons can still be used and they are still having weekly sales.
Please note: there are some items that can only be picked up curbside. Unfortunately, I'm in a state where even curbside pick up is prohibited. Make sure that your local store is selected at the top and it will tell you if it's available where you live.
I ordered cricut supplies from them this morning. I'll update this when I have more info about shipping times.
Joann
Joann is another obvious choice. They carry all the craft supplies, plus fabric and sewing supplies.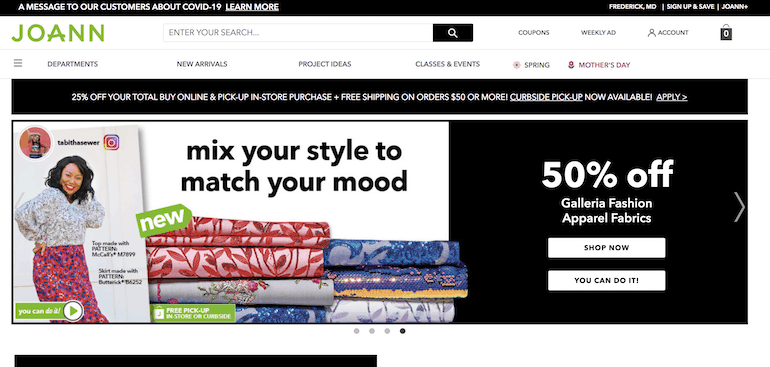 I just bought a Cricut Easy Press from them. It took less than a week for it to be shipped to me.
Create for Less
Create for Less is a lesser-known craft resource. They sell a wide variety of craft supplies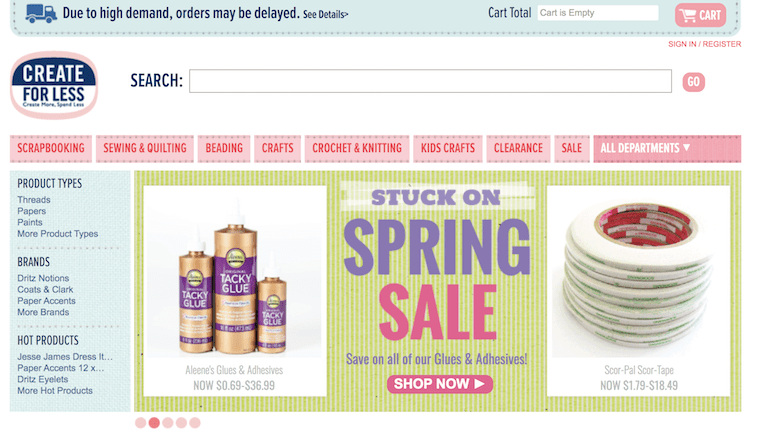 I'm really impressed with their sewing notion selection. They even have a large selection of elastic!
They carry A LOT of stuff, so use the options on the side to narrow down what you want.
Dollar Tree
Dollar Tree is a great, cheap source for basic craft supplies. Keep in mind that most items are required to be purchased in small amounts. Good thing everything is $1!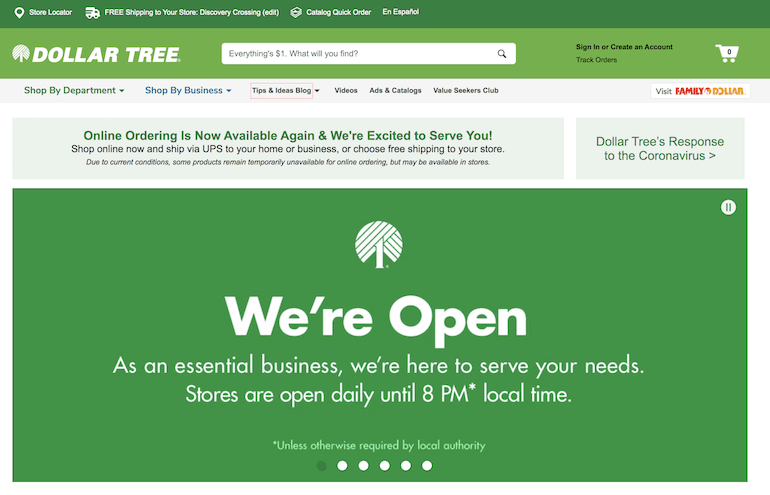 You can get sketchpads, foam brushes, or even ribbon.
Places to Order Vinyl Online
Cricut
Did you know that you can order straight from Cricut? In addition to their cutting machines, they also carry their full line of vinyl, paper, and other supplies.

I'm so excited to try out the infusible ink!
Expressions Vinyl
Expressions Vinyl carries a variety of vinyl brands including Siser, plus they carry Silhouette machines and accessories. Plus, they carry SO MANY PATTERNS!
Orders are shipping in 2-3 days currently, Mon-Fri!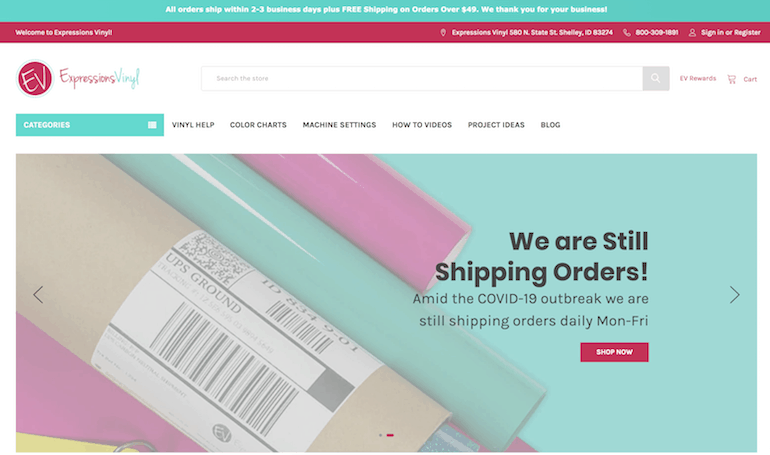 Want to learn more about how to use your Silhouette? This affordable ebook taught me everything I know! Plus, it comes with a handy settings cheat sheet that gives you perfect cuts every time!
Places to Order Fabric and Sewing Supplies
Fabric.com
Fabric.com has been one of my favorite online fabric shops forever. I used to sew a lot and I've always ordered from them. They carry home decor fabric, apparel, and quilting fabric, plus sewing notions.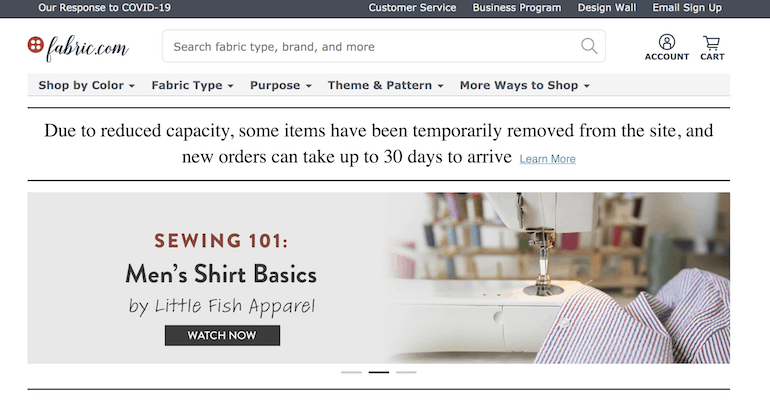 I love this floral print!
Their website is currently limited to a smaller selection, but they still have an overwhelming selection. It's easiest to search by fabric type and then brand if you know it. Orders may take up to 30 days to arrive.
Online Fabric Store
Online Fabric Store carries home decor, apparel, and "craft" fabric.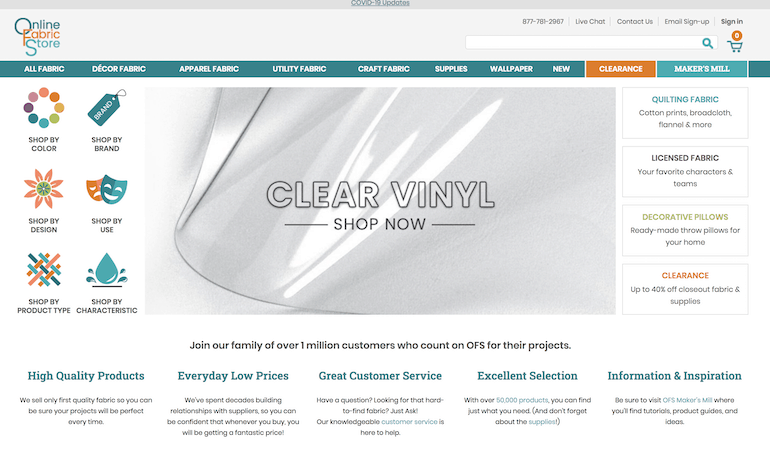 I've bought home decor fabric from them for curtains and upholstery projects. Their craft fabric section has a limited selection of cotton prints for quilting and a HUGE collection of oilcloth, which I love to sew with.
Well, love is a strong word, but oilcloth is one of my faves.
Fat Quarter Shop
As the name implies*, Fat Quarter Shop sells quilting fabric. They sell fabric by the yard, pre-cut fabric, and even pre-cut quilt kits. I LOVE how easy this website is to navigate!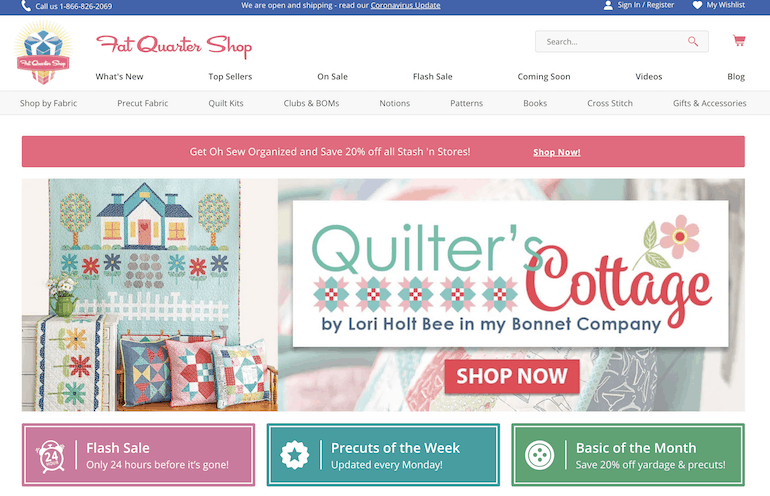 *(A fat quarter is when you cut a yard of fabric into 4 pieces. It's a good way to buy lots of patterns for quilting.)
If you're new to sewing or quilting, Fat Quarter Shop is a great place to start because they only carry quality brands. I really love Kona solids.
They are currently 7-11 days behind on shipping.
Places to Order Art Supplies Online
Blick
Blick is one of my favorite stores to visit. Luckily, their website is just as enjoyable and easy to navigate. They carry a wide range of art supplies from canvas to watercolor paints.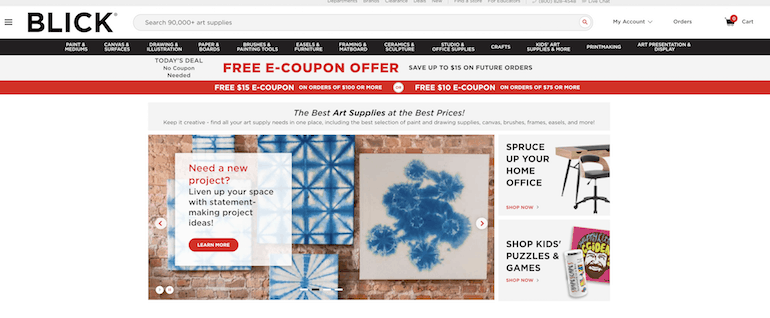 The last time I visited the store, I bought these Kuretake watercolor paints. I'm currently eyeing this easel.
Arteza
Arteza is an affordable line of art supplies. I just bought some of their watercolor paper because watercolor paper is getting harder to find online. The price was amazing and I can't wait to try it out.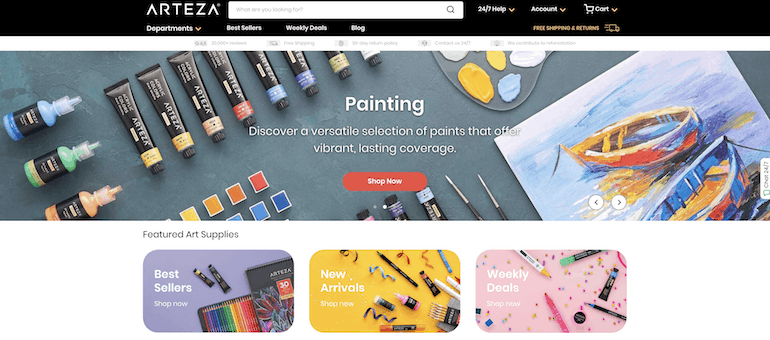 I'm really curious about the quality of their watercolor paints because they have giant packs featuring all the colors!
Online Places to Order Yarn
KnitPicks
I've been ordering from KnitPicks for years. They carry a wide variety of yarn for knitters and crocheters.
Even their acrylic yarn is lovely!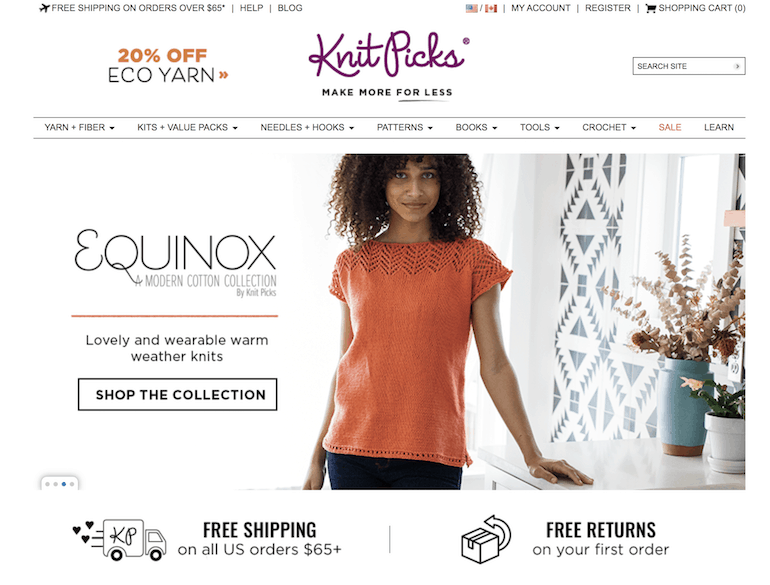 You might also like:
Pin for Later!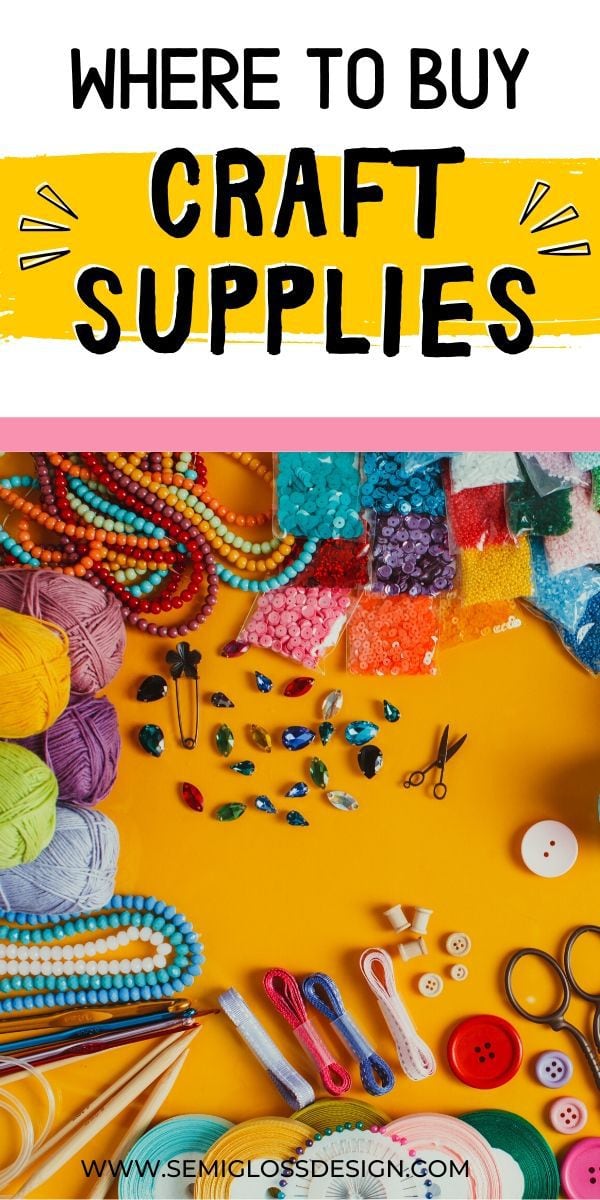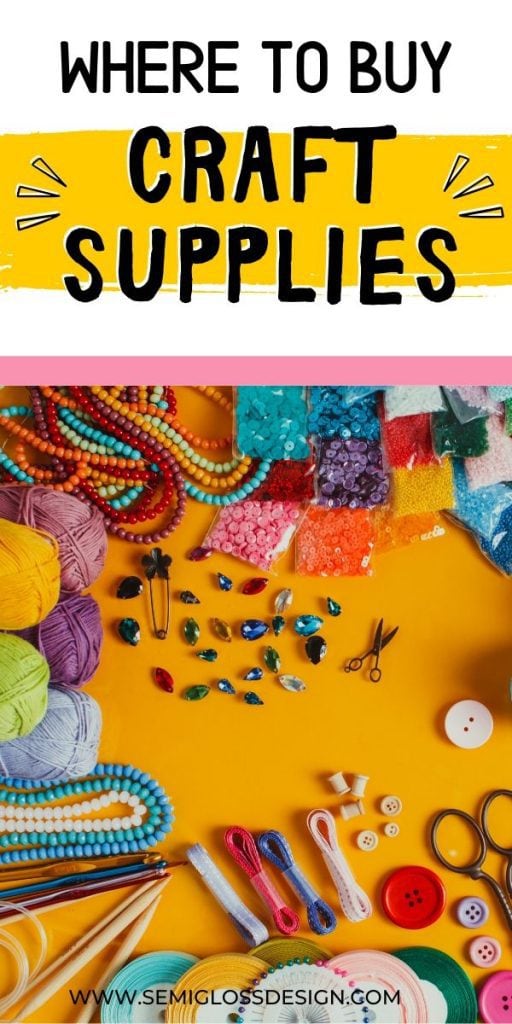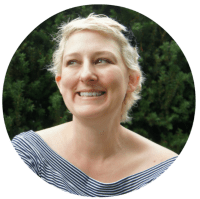 Emy is a vintage obsessed mama of 2 DIYer who loves sharing affordable solutions for common home problems. You don't need a giant budget to create a lovely home. Read more…