ORC Week 3: I painted the walls!
It's week 3 of the One Room Challenge and I am woefully behind. I'm having a minor surgery done today which will leave me incapacitated for a few days, putting me even further behind. In spite of that, I'm thrilled with the progress so far.
I've been working on my kitchen for about 3 years now, so finishing it seemed like a no brainer choice for the One Room Challenge. The One Room Challenge is hosted by Linda twice a year to motivate bloggers to finish a room in just 6 weeks. I'm a guest participant, along with over 200 others, so be sure to check it out for more inspiration.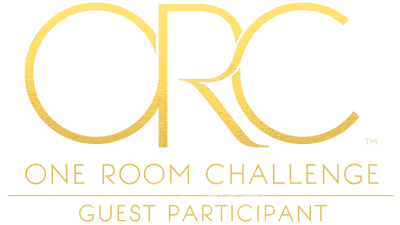 Like I said, I chose my kitchen and had some ambitious plans even though it's a mini makeover and not a full reno. If I'm going to spend 6 weeks on something, it should be the room we use the most.
Then I got sick. I'm feeling a lot better, but now I have this pesky surgery in my way. My doctor found some cysts and insists that they're too small to be the cause of my pain. I'm not convinced he's right. But also, I'm sick of being sent home with a look of pity and "I don't know" as an answer. So today I'm having a mini surgery to see if they can find what it is. Fingers crossed that they find something to tell me. I'm really hoping this procedure fixes it!
Also, many thanks to all the well wishes last week. I joked about working while high on pain meds, but trust me: I didn't do anything dangerous. Joking is my coping mechanism. But also, I just wanted to feel a semblance of normalcy and for me painting = normal. So I took pain meds and painted. And felt like myself for 4 whole hours. It was glorious.
Much of this week has consisted of me getting ready for my surgery. Since I can't drive for a few days, all of my mom errands had to be done ahead of time.
Progress
*Crappy iPhone photos ahead taken while the paint was still wet.
Over the weekend, I felt a lot better. The warm temps and sunshine really helped improve my mood. I repaired the walls, primed them and got them all painted. The side of this cabinet was also painted while I cooked dinner last night.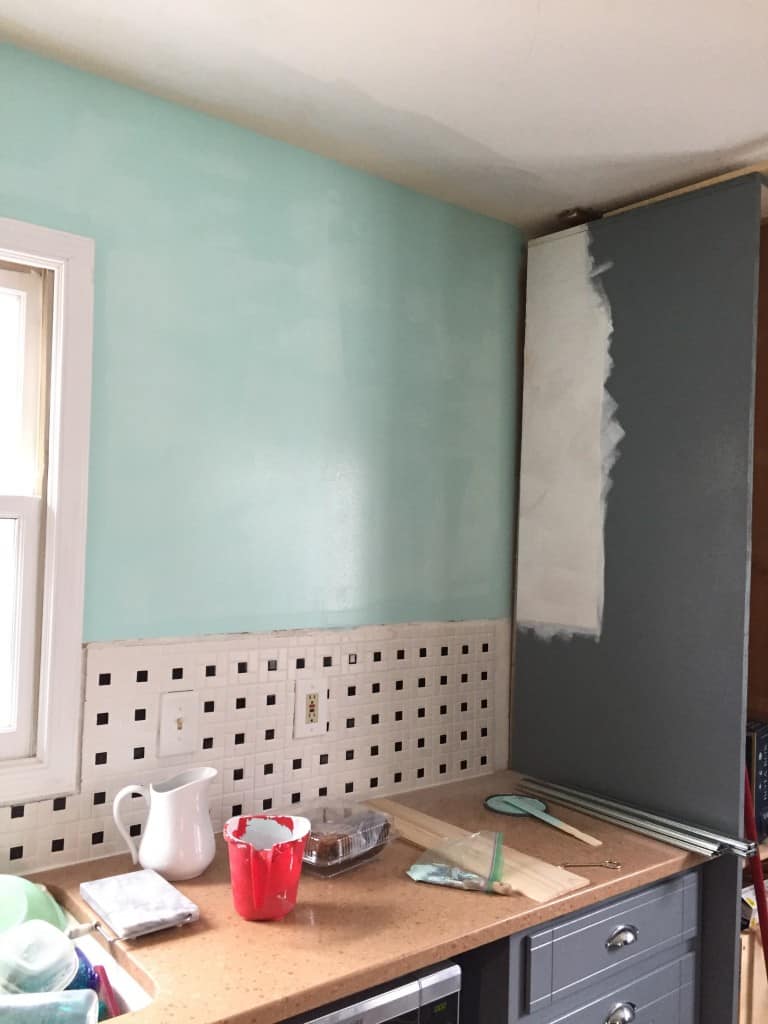 I chose a lighter version of the turquoise that is in my dining room. It's Sherwin Williams Tame Teal, which I think is an unfortunate name. It's anything but tame.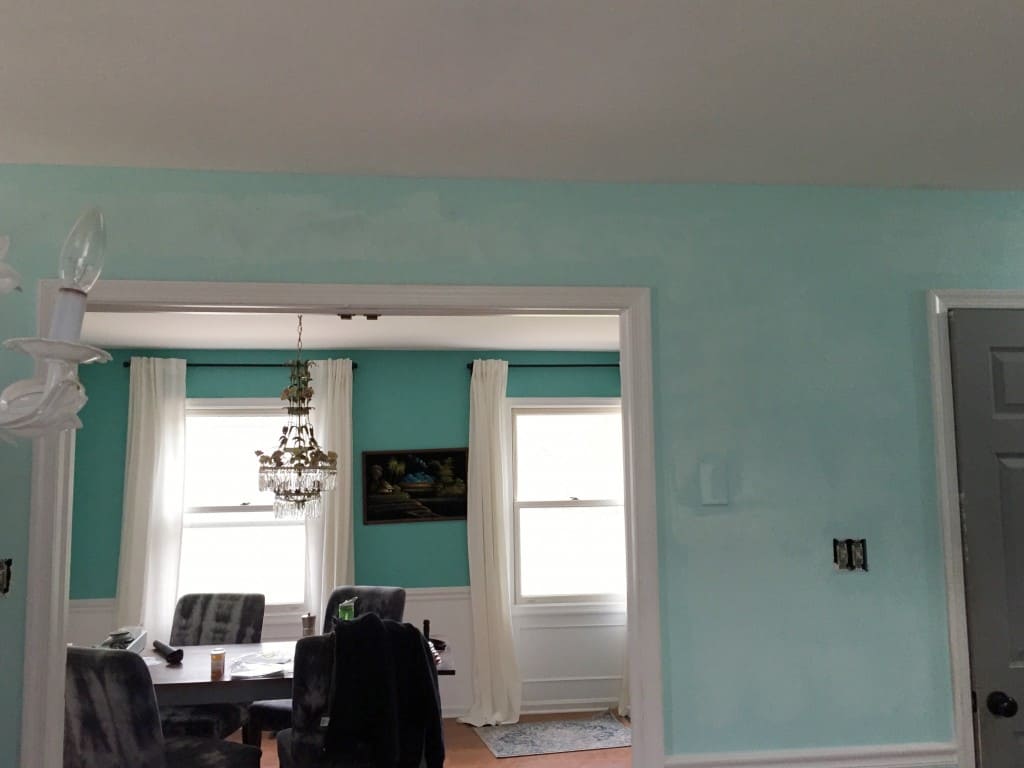 It's kind of funny, because my cabinets used to be aqua with gray walls, and now I've swapped the colors. I like it better this way because colorful walls make me happy. I've had a similar shade to this color in every home I've ever owned. It makes the kitchen feel brighter, even on dreary days.
I also painted my hallway, since the walls connect with the kitchen. One day I'll wallpaper the top part of the walls, but for now, the space feels a lot happier.
I'm coming to terms with the fact that I probably can't do every single thing I want to in here for this challenge. But it looks like we have 3 more weekends to work, so maybe it will happen.
Still to do
Fix tile. We cracked some off when we removed the cabinets. I'm also adding trim tile to the edges for a nice finish.
Touch up ceiling paint. The ceilings look bad where we removed cabinets.
Stain wood for shelves. It probably needs to be sanded too.
Hang shelves. Hardware ordered!
Finish pantry and doors. The remaining shelf is 95% built and needs to be installed.
Make stove hood cover. I've simplified the design, so I'm hoping it's quick.
Replace light above sink. We have the fixture, just have to make some modifications.
Concrete overlay on counters. So excited for this!!
Stencil walls? This might have to wait.
Roman blind? Since I changed the wall color, I need to choose a new fabric, so this might wait as well. Maybe bamboo instead?
Add art
Style and photograph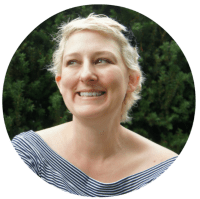 Emy is a vintage obsessed mama of 2 DIYer who loves sharing affordable solutions for common home problems. You don't need a giant budget to create a lovely home. Read more…