Colorful Patio Decor for the Summer
I'm loving the warmer weather! I don't know about you, but my family lives outside when it's warm. When a friend asked if I wanted to join an outdoor blog hop, it seemed like the perfect excuse to make add some colorful patio decor for the summer.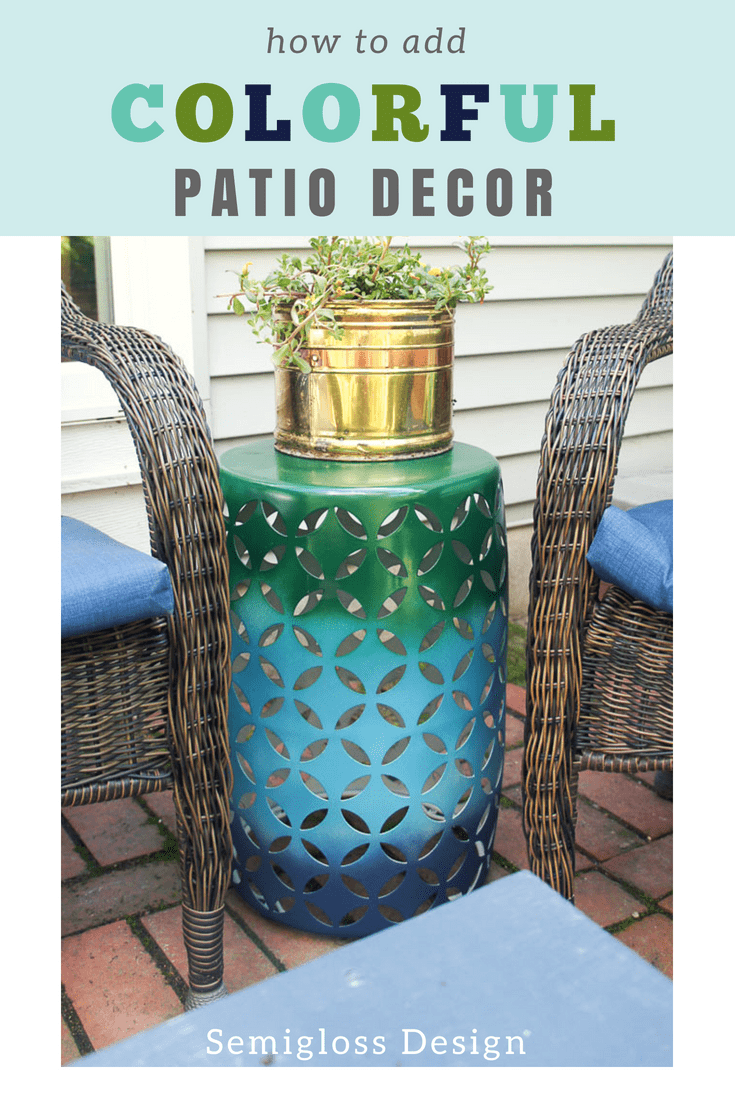 How to Add Colorful Patio Decor
This post contains affiliate links. By purchasing an item through an affiliate link, I earn a small commission at no extra cost to you.
Welcome to my home!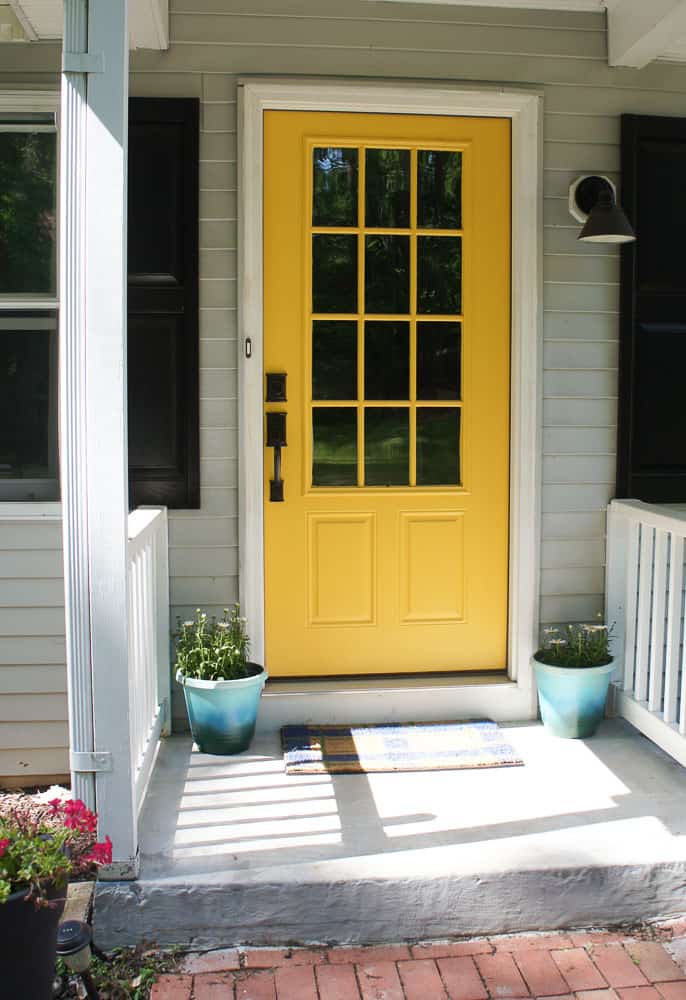 My name is Emy and I live in central Maryland. In a few weeks, we will have owned this house for 4 years! After 4 years, it finally feels like we're making progress on our home. Last fall, we changed out the front door and we love it.
Paint your door a bright color! And add colorful planters and flowers.
This yellow painted door never fails to make me smile. Painting a front door is one of the easiest ways to change the look of your home. To update our entry for warmer months, I spray painted our planters in a few different colors to achieve an ombre effect. A hand painted doormat adds more color.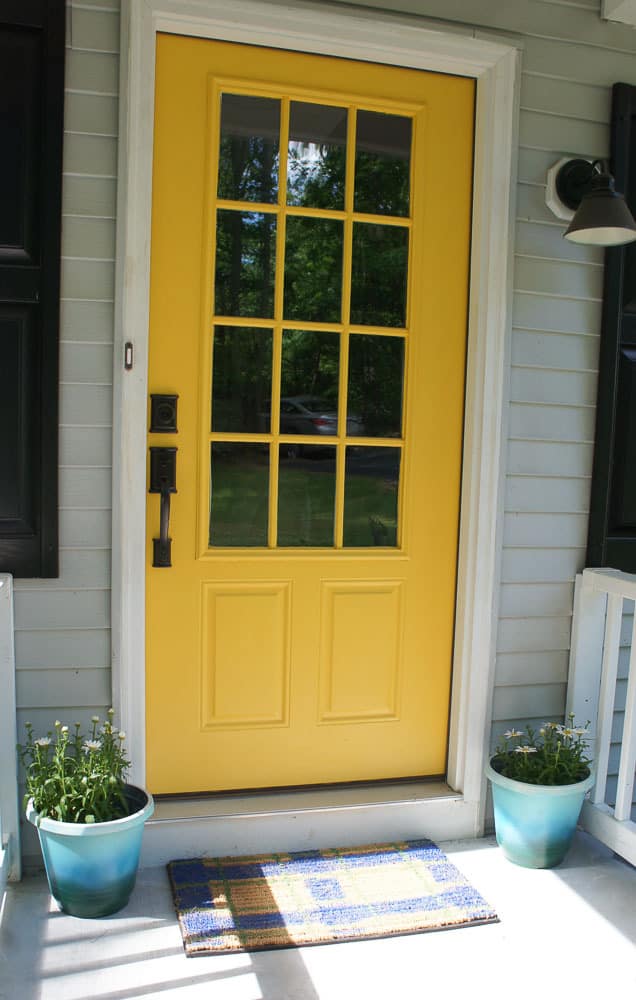 Add bright outdoor cushions.
A vintage patio table sits on our front patio space. Honestly, this piece belongs in my shop, but it got a little damaged this weekend at the Lucketts spring market that I participated in last weekend. Most of this stuff was just unloaded from my car. We love this patio table though. It's such a perfect size. Maybe it's a sign to keep it.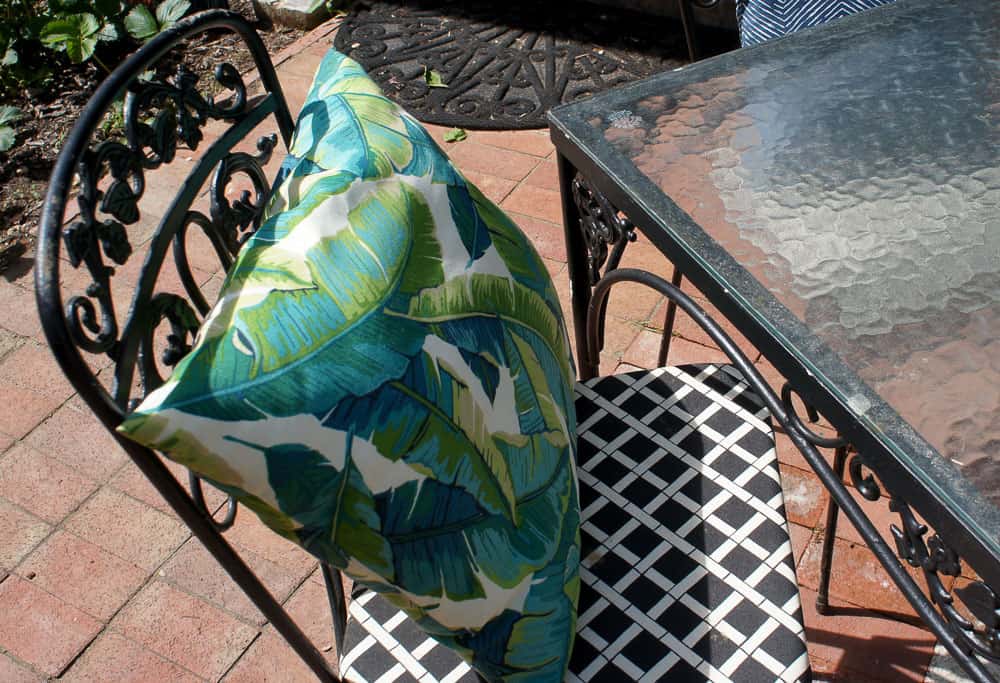 Colorful pillows add a fun touch to the neutral set.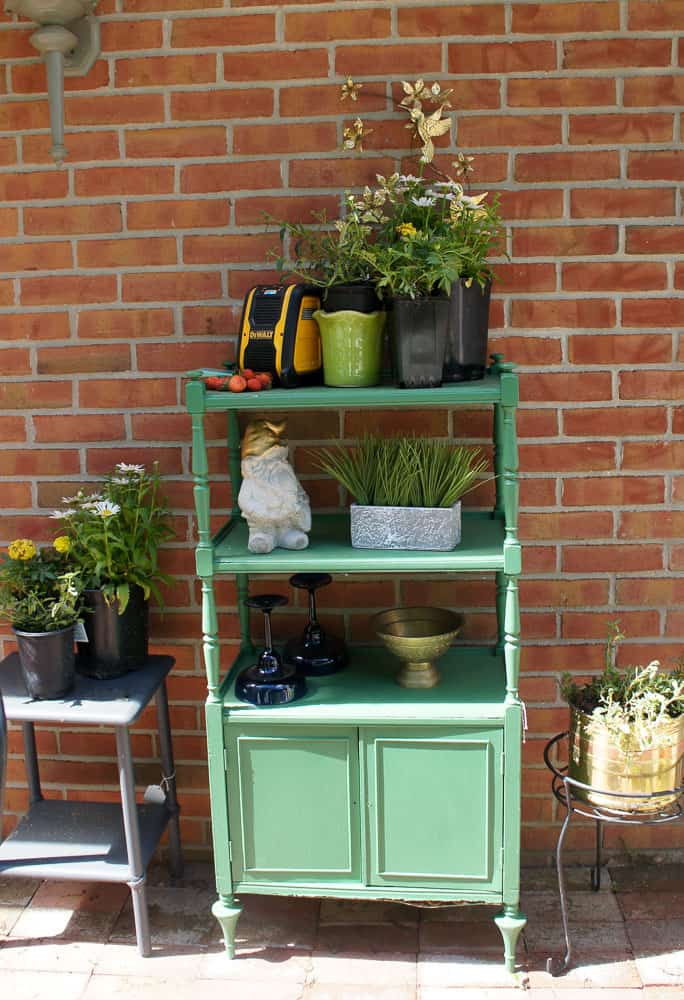 Consider painted furniture for outdoor use.
After Lucketts, we ended up with some pieces that belong to a friend (Distressed Furniture at Sweet Clover if you're interested in it). Sadly this green piece will not be staying, but it looks pretty for now! I might have to build an outdoor appropriate shelf for this space.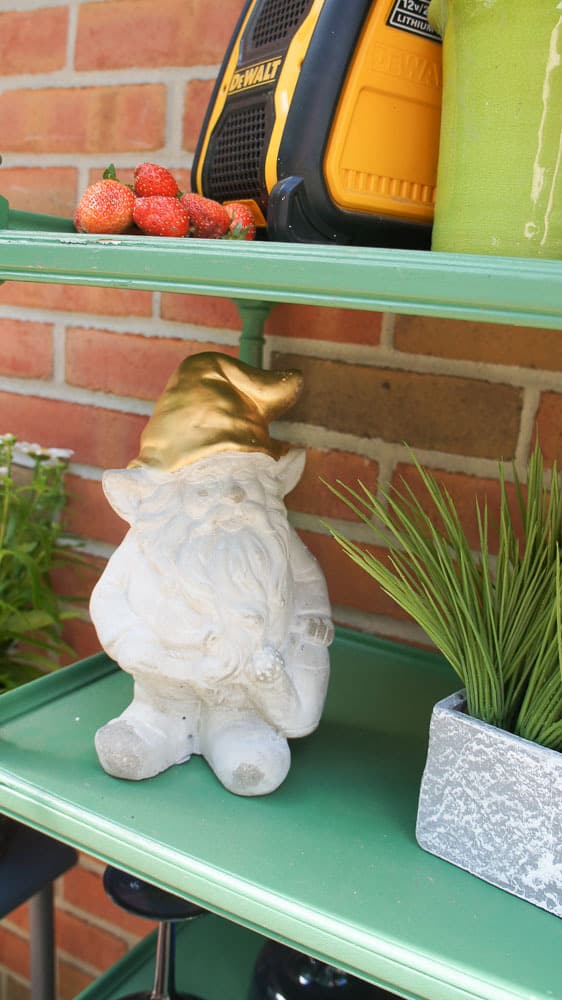 Add a collection.
This cutie pie came home with me from HomeGoods. I kind of have a thing for gnomes.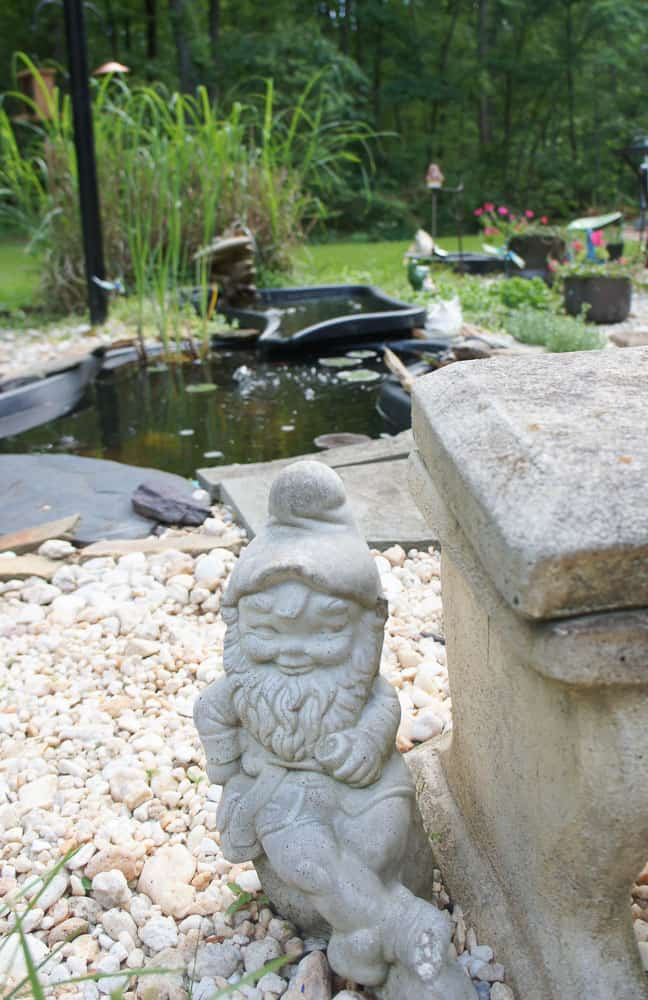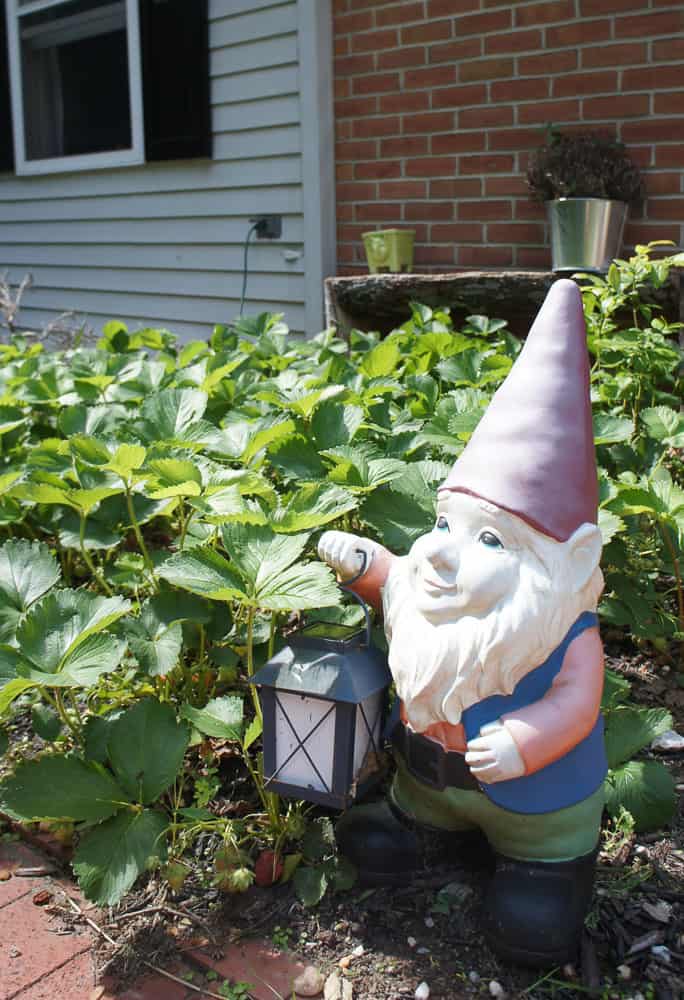 This guy needs a makeover soon.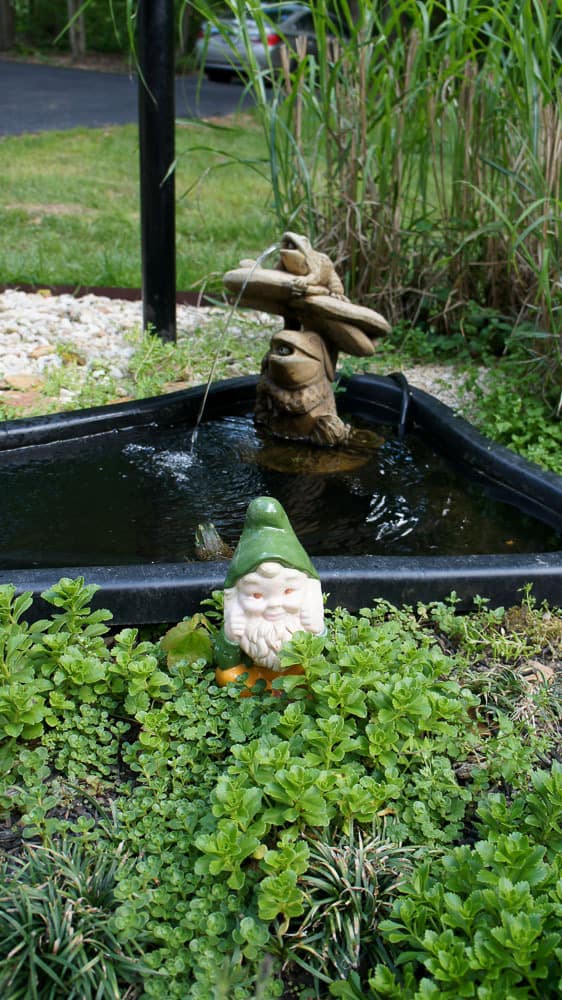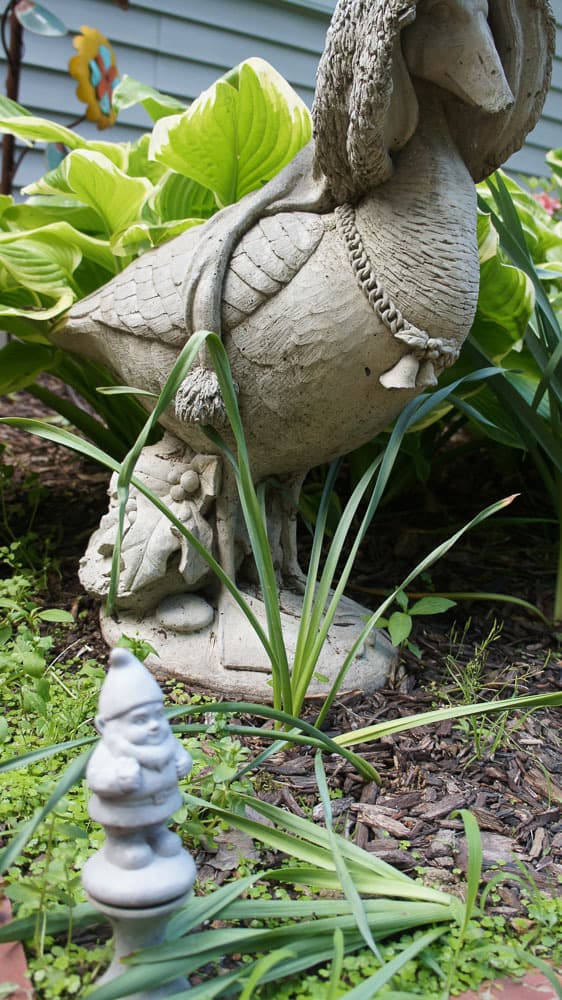 This tiny guy keeps the hose out of our flowerbed.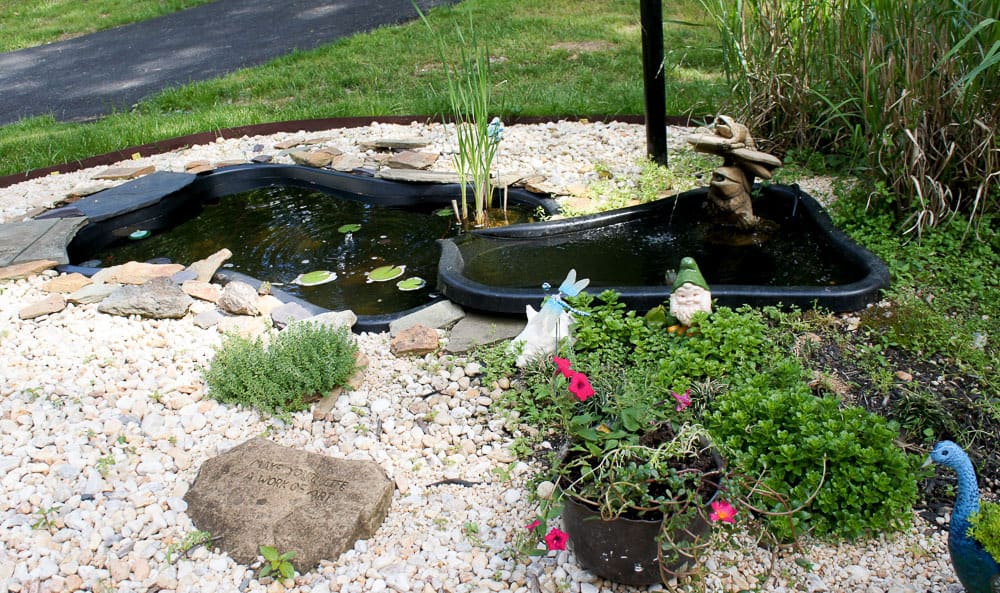 Add brightly colored flowers and interesting garden decor.
This weekend will be spent doing much needed yard work. I've added some new flowers here and there, but I have more that need to be planted. This is our front pond area and we love it. It's home to about 6 frogs, 3 goldfish and a tiny snake. But birds, chipmunks and squirrels come hang out all the time.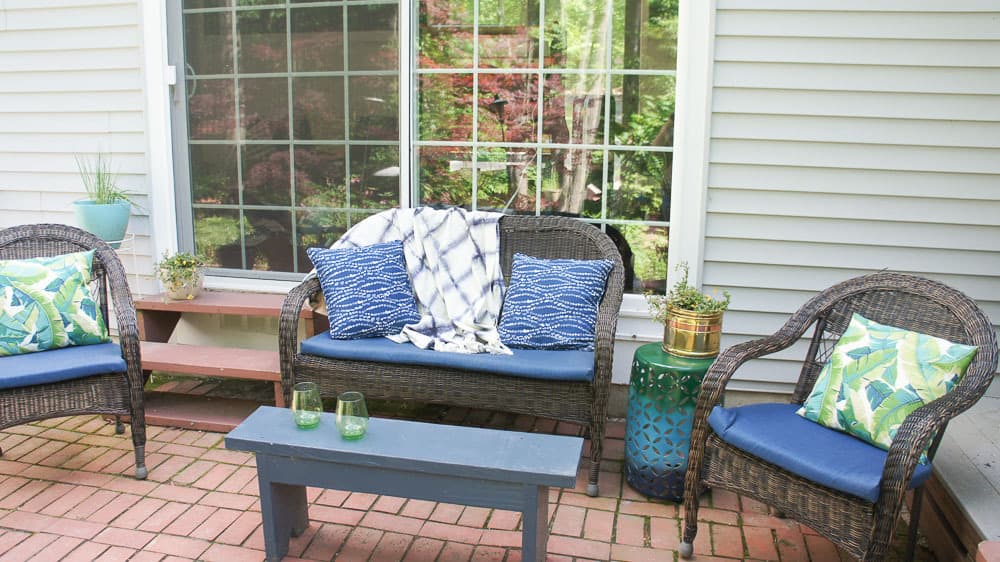 For a calmer setting, consider a tighter color palette.
Our back patio gets used almost every night at this time of year. We love having small fires in the firepit and hanging out with a glass or three of wine.
Because we use this space to unwind on weekday evenings, I like the color palette to consist of relaxing colors, like blue and green. A handmade bench makes the perfect coffee table!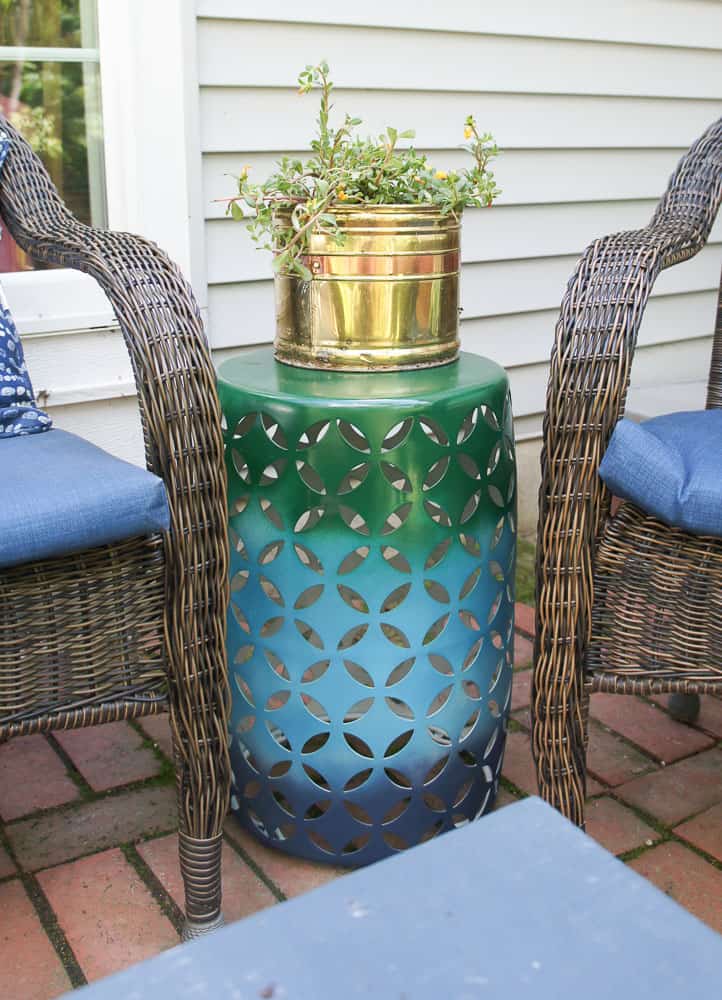 Spray paint furniture to make it match your color scheme.
What do you do when you want an inexpensive garden stool, but you can only find white? Spray paint to the rescue. This garden stool came from Lowes and I gave it a makeover with an ombre effect. It's perfect to tie the different colors together (or if you can't make up your mind what color you want.)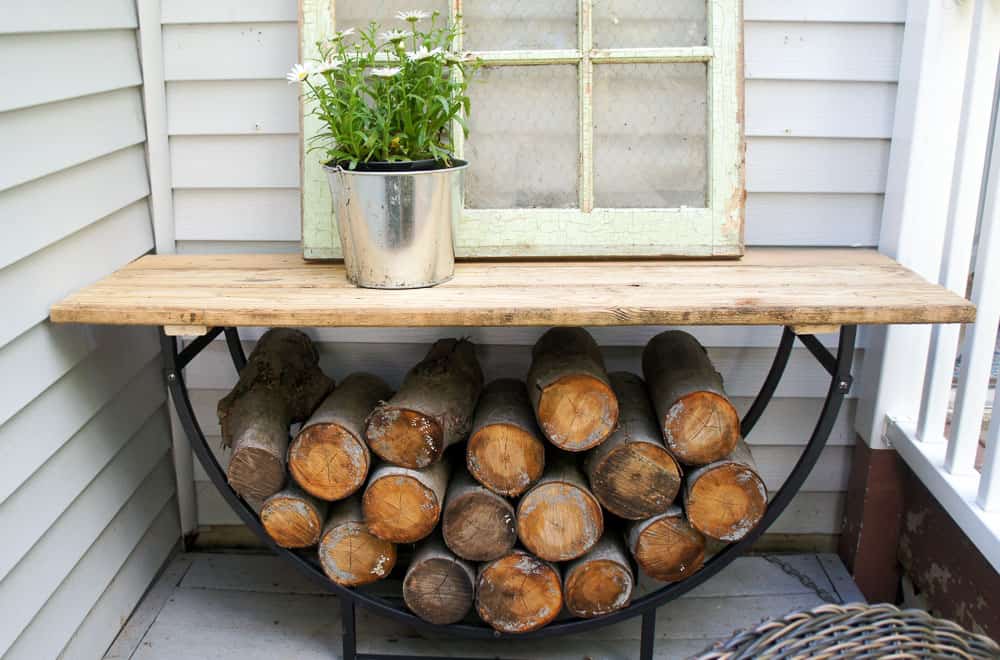 Disguise the ugly.
We have this super weird space beside the stairs to our back door. And we *might* have accidentally melted the siding by placing a grill here…. So we disguised it. A firewood holder plus wood planks equals the perfect table to sit food now. A vintage window disguises the melty siding.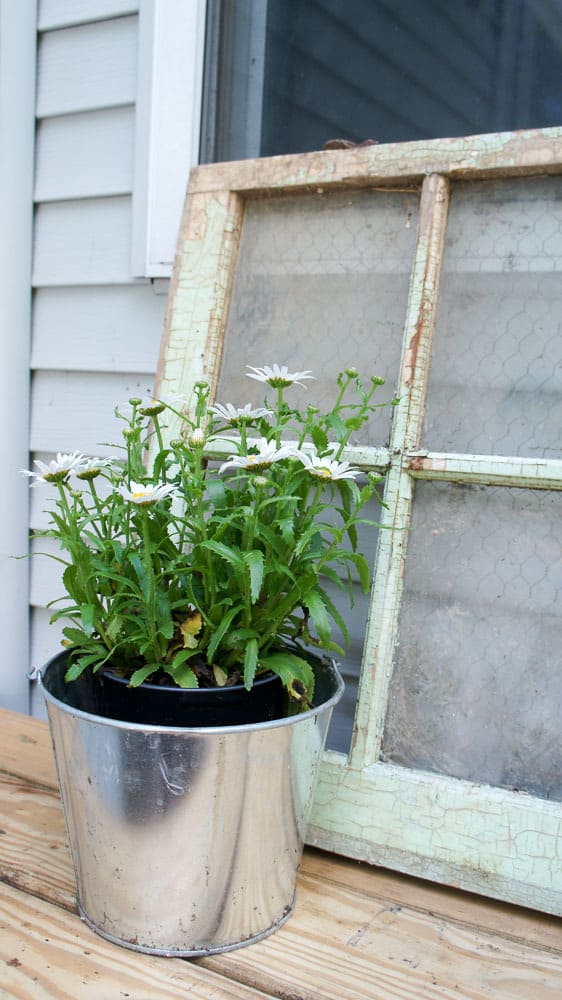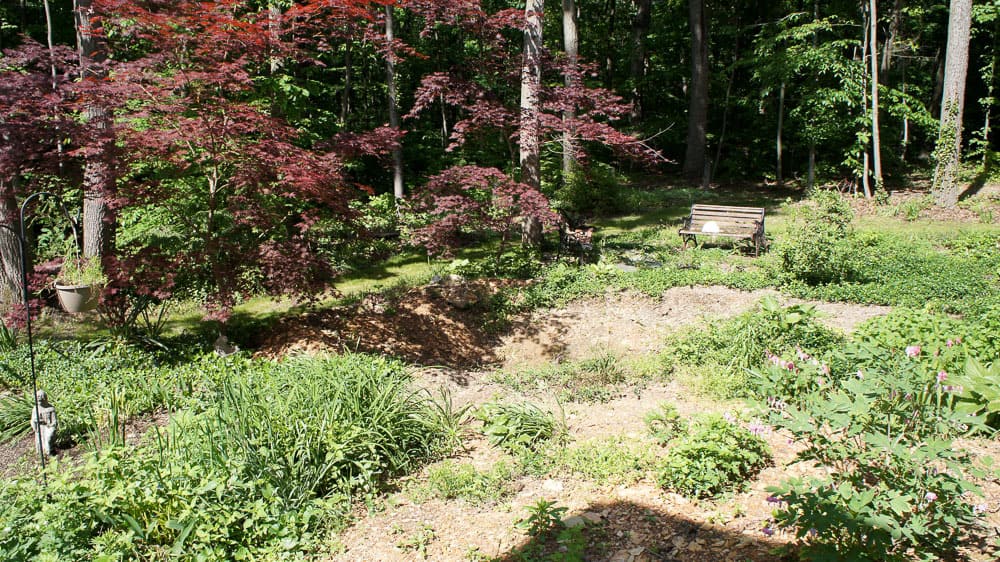 Green is a color too.
Our view has changed quite a bit since last year. We had a ton of trees removed and this area looks so different now. We still have bare spots that need plants, plus a pond that needs to be built. Let's pretend it's pretty. We have a lot of work to do still.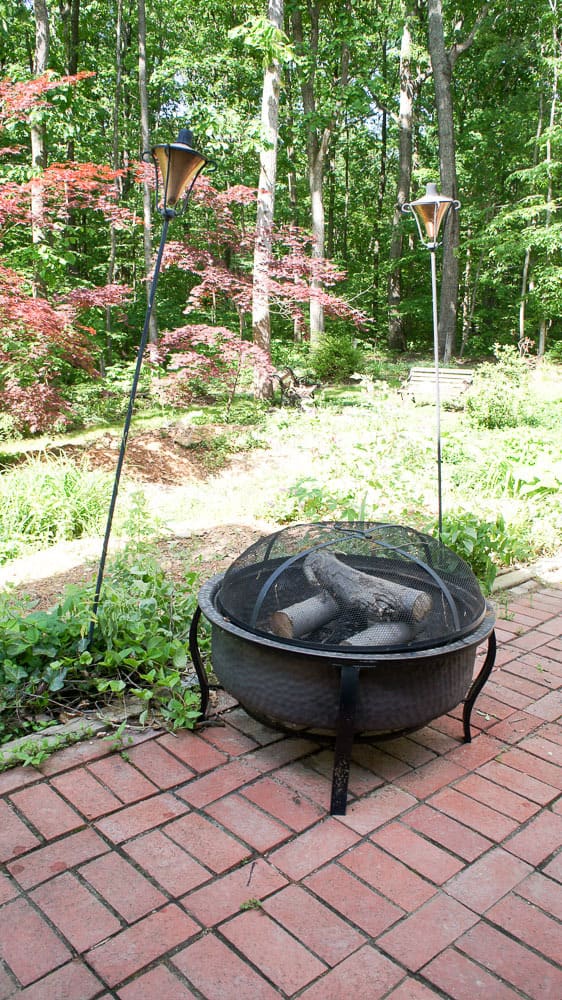 Who's ready for s'mores?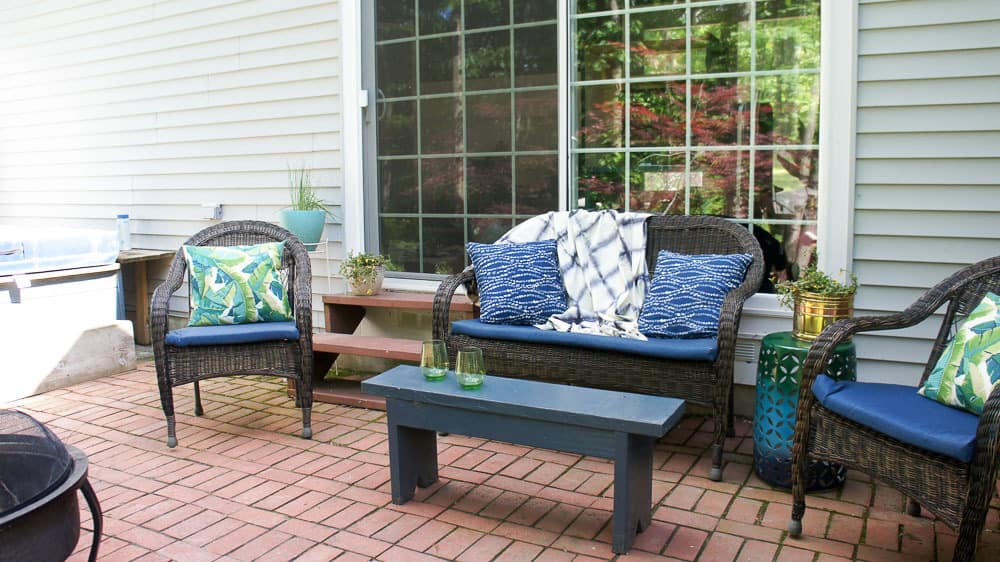 Looking for more patio decor inspiration? Check out these tours with my friends!
Summer 2018 Outdoor Blog Hop
Mommacan | Semigloss Design | The Project Pile | JenRon Designs
A Happy Home in Holland | House By The Bay Design | Eclectic Twist
Pin for Later!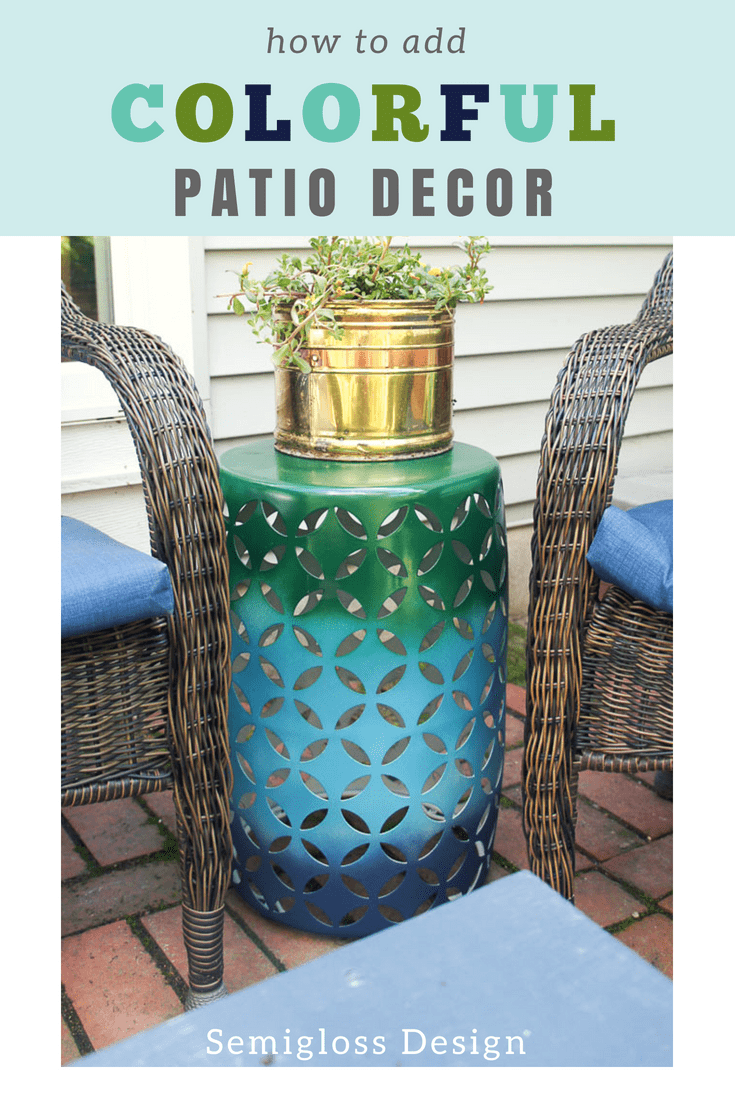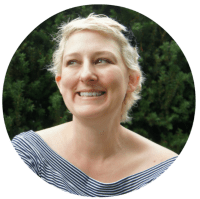 Emy is a vintage obsessed mama of 2 DIYer who loves sharing affordable solutions for common home problems. You don't need a giant budget to create a lovely home. Read more…