How to Cut Scrapbook Paper with a Cricut
Learn how to cut scrapbook paper with a Cricut. Cut paper with ease using the right settings and the best mat for the Cricut.
You might also like this post on using a Cricut Maker.
This post contains affiliate links. By purchasing an item through an affiliate link, I earn a small commission at no extra cost to you. As an Amazon Associate I earn from qualifying purchases.
Although I haven't scrapbooked in years, I love scrapbook paper. The collections of patterns are too pretty to pass up.
Scrapbook paper is perfect for projects like banners and card envelopes.
As much as I love using scrapbook paper, I had never cut it with my Cricut Maker.
Recently I went to make a project with my Cricut and I got really confused when it came time to choose the material. There are so many options!
So I looked online, but I couldn't find any updated information online about what to do. (My machine doesn't have dials…)
So I created this post for other people who are also super confused about cutting scrapbook paper with a Cricut.
What's the Difference Between Scrapbook Paper and Cardstock
Scrapbook paper is a lot thinner than cardstock. It typically comes in fun designs and colors. I like to buy scrapbook paper in books to get a ton of matching patterns at once.
I've seen scrapbook paper in 2 thicknesses. One is really thin, like printer paper. The other is a bit thicker. Some designs have glitter or foil effects as well that make the paper thicker.
Cardstock is a bit thicker. It is available in solid colors and patterns, as well as different textures like glitter and embossed cardstock.
Cardstock (as the name implies) is the thickness of greeting cards.
By the way, if you're cutting cardstock, the pack is usually labeled with the weight. Choose that option in the Cricut materials menu. Cardstock has its own section near the top of the list.
How to Cut Scrapbook Paper with a Cricut
I'm using my Cricut Maker for this tutorial, but it should be the same for any Cricut machine that uses the Design Space.
You will also need:
What Mat to Use with Scrapbook Paper
Use the LightGrip mat when cutting scrapbook paper to avoid ripping the paper.
If you only have a standard mat, it might be too sticky. You can remove some of the stickiness from the mat by rubbing a clean t-shirt or towel onto the mat.
What Blade to Use to Cut Scrapbook Paper
The Cricut Design software will tell you which blade to use, but I have only needed the fine-point blade that came with my Cricut Maker.
Thicker cardstock may need other blades.
What If the Cricut Blade is Dull?
If your blade seems dull, remove the blade from the holder on the machine.
Make a ball of foil and stab it with the blade about 20 times. This works so well!
This also cleans the blade. So if your blade seems to be ripping the paper, remove the blade and stab the foil to remove tiny paper bits.
What Settings to Use for Scrapbook Paper
When cutting scrapbook paper, use the setting for Heavy Patterned Paper.
If you happen to have really lightweight paper, use the Light Patterned Paper setting.
If your paper is super thick or has metallic or glitter elements, use the option for light or medium cardstock, depending on the thickness.
Overall, don't stress too much about choosing the exact setting. The worst that can happen is that it either won't cut all the way or it will cut a bit too much into the mat.
When the cut is finished, don't unload the mat. Use a spatula weeding tool to make sure that the paper is cut. If it's not cut all the way through, send it to cut again.
Removing Paper from the Mat
Remove the mat from the paper, not the paper from the mat. Go slowly to avoid making the paper curl up.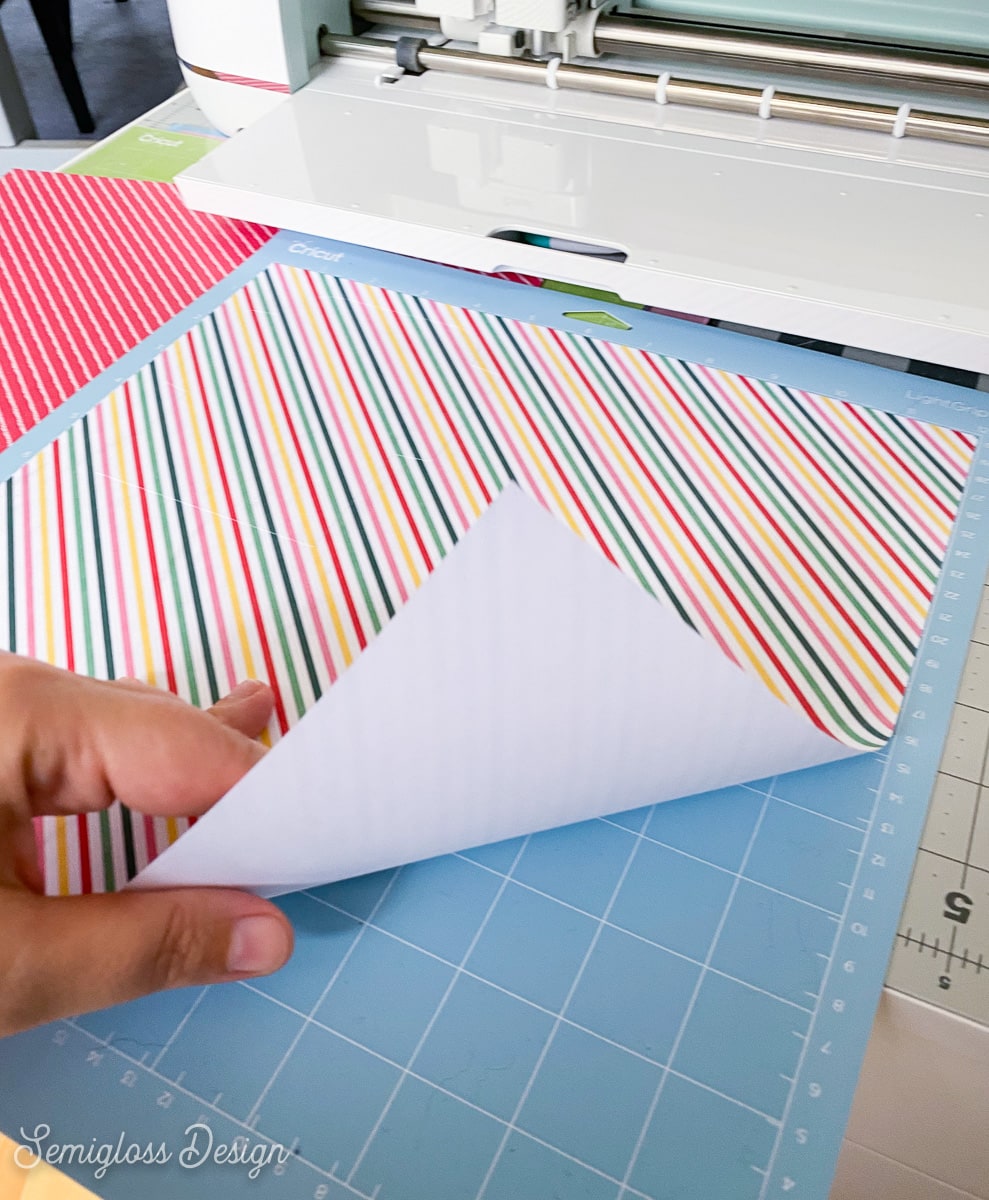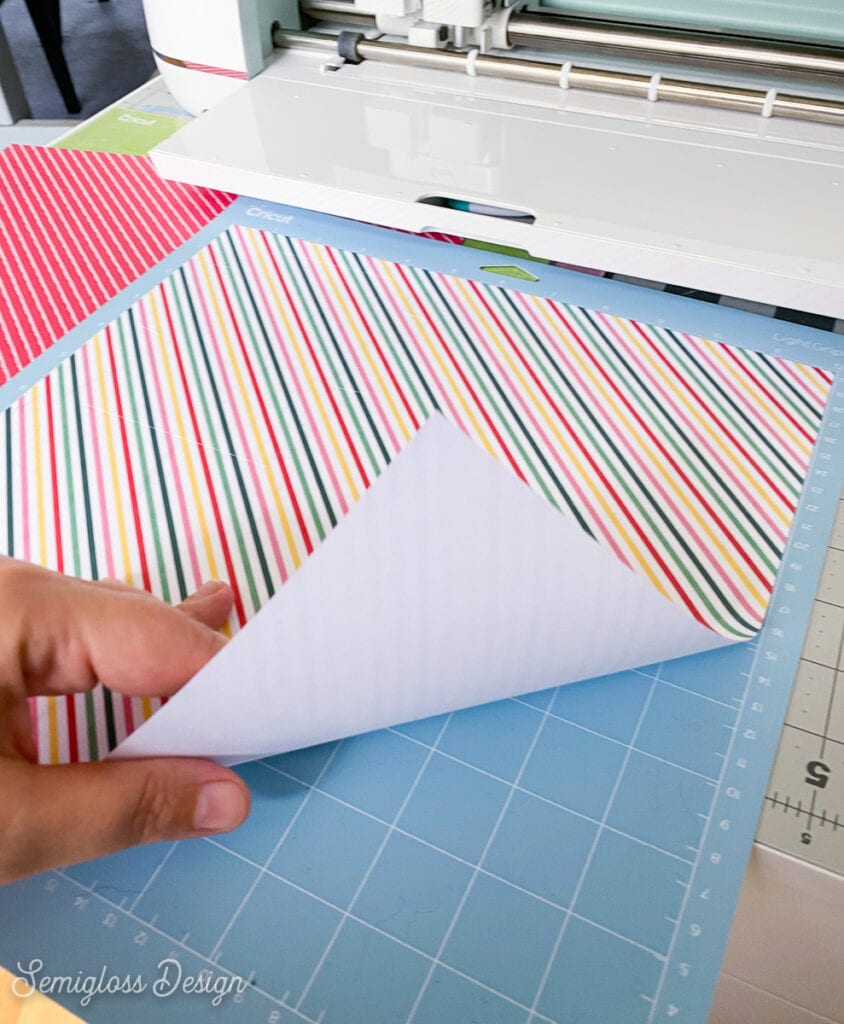 Once the excess paper is removed, slide the spatula tool under the design, gently lifting the paper as you go.
Weeding Intricate Designs
If this is your first time cutting scrapbook paper with a Cricut, you might first want to start with a simple design.
If you do use an intricate design, it will take some patience. Use the pick tool to remove tiny pieces of paper, being careful not to rip anything.
Straightening Out Curled Paper
Curled paper is not going to ruin your design. Since scrapbook paper is pretty thick, it's pretty easy to uncurl.
Most likely, you will be gluing or folding the design anyways, so it's probably not a big deal.
To fix the curled paper, curl the paper in the opposite direction.
You can also set it under a heavy book for a bit.
Make sure to place the weeded paper under a book as well. Scrap paper can be used for so many things!
You might be interested in learning how to make a gift card envelope with a Cricut.
Other Cricut Tutorials
Pin for Later!