How to Use Cricut Infusible Ink
Learn how to use Infusible Ink to create beautiful permanent designs on surfaces.
You might also like this post explaining vinyl types.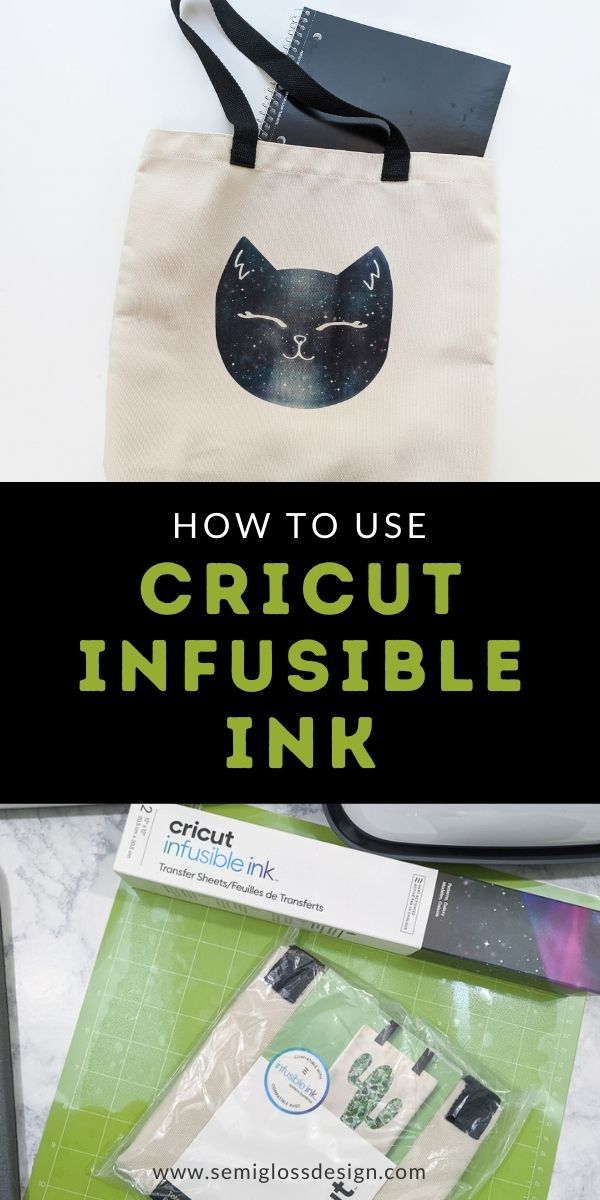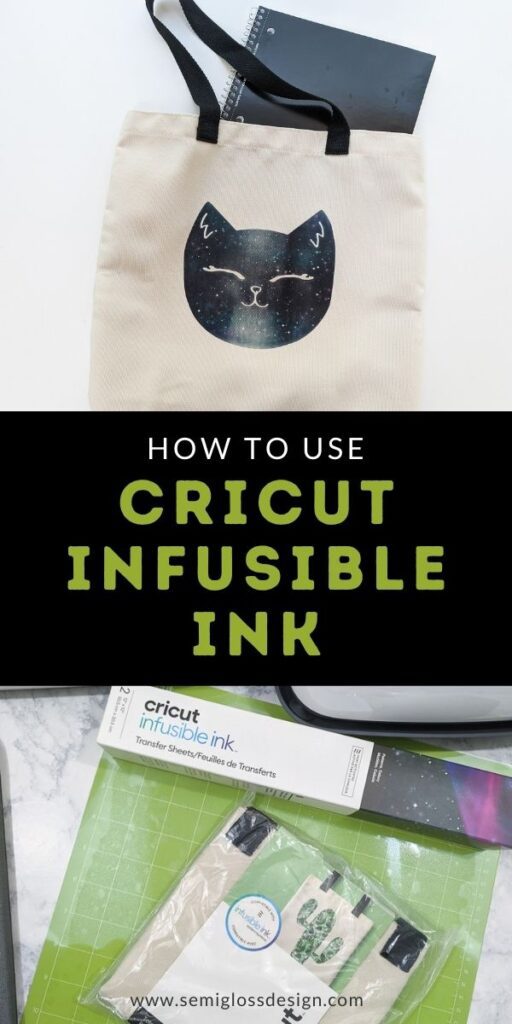 This post contains affiliate links. By purchasing an item through an affiliate link, I earn a small commission at no extra cost to you. As an Amazon Associate I earn from qualifying purchases.
All About Cricut Infusible Ink
Cricut Infusible ink is a permanent way to add a design to surfaces without cracking or peeling over time, like vinyl.
The ink gets infused into the fabric or surface resulting in a soft, pliable texture.
Infusible ink is available in solid colors and patterns. There are also infusible ink pens available.
The only downside of infusible ink is that it works best on the Cricut blanks that it was designed to work with.
Infusible Ink FAQs
What can I use infusible ink on?
Infusible ink can be used on all Cricut blanks.
These blanks include:
The mugs can be used with the Cricut mug press.
What happens if you use infusible ink on cotton?
If you use infusible ink on cotton or any other non-Cricut blank, the color may not be as bright. It still works, but the colors aren't as vibrant.
I've read that synthetic fabric work better with Infusible ink.
If you choose to use a non-Cricut blank, be sure to choose a white or light-colored blank for the best results. Ink will not show up over dark colors.
What mat do you use for infusible ink?
Use a standard mat with infusible ink sheets. The sheets have a texture similar to cardstock, so a standard mat works great.
Be sure to smooth the sheet well when applying to the mat, since the sheets are rolled up.
Read more about the differences between Cricut mats.
Do you mirror infusible ink?
Yes, you mirror infusible ink. However, the sheet should be placed color side-up onto the mat.
Can you cut infusible ink with a Silhouette?
Yes, it is possible to cut infusible ink with a Silhouette. The settings are Blade 5, Speed 4, Force 26, and 1 pass.
Want to learn more about how to use your Silhouette? This affordable ebook taught me everything I know! Plus, it comes with a handy settings cheat sheet that gives you perfect cuts every time!
How to Use Infusible Ink
Supplies Needed:
I used the galaxy pattern, which includes 2 different patterns.
You might be interested in learning how to use a Cricut Easy Press.
The cat artwork was kindly provided by my daughter, which I vectorized and turned into an SVG. If you're interested in that process, leave me a comment and I'll get that post written.
Yield: 1
How to Use Infusible Ink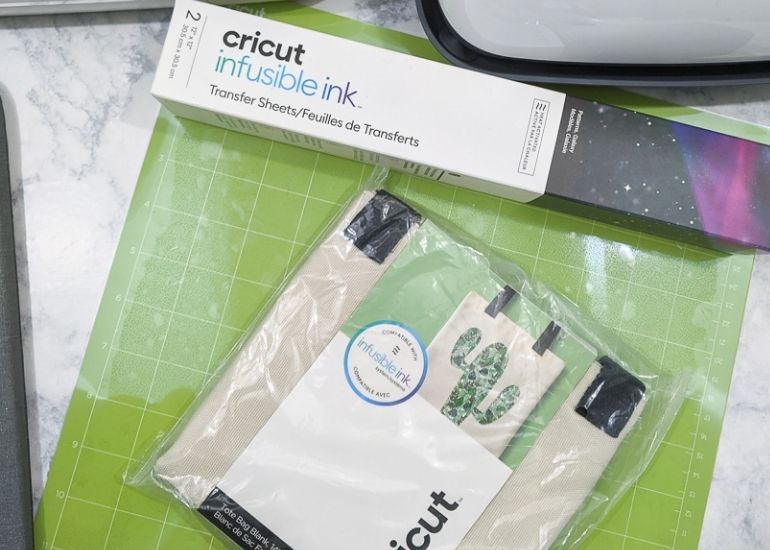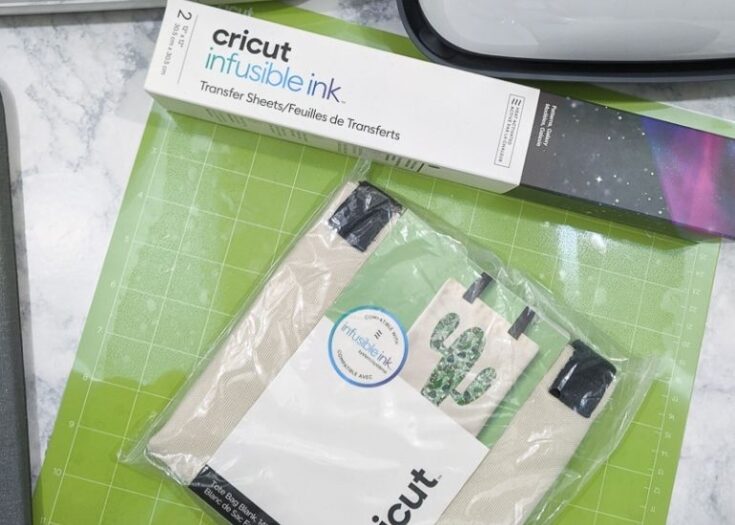 Learn how to use infusible ink. Infusible ink sheets allow you to add patterns to your designs without cracking or peeling. The ink soaks into the surface leaving a permanent design that can be easily washed.
Materials
Infusible ink
Infusible blank
Tools
Electronic cutting machine
Easy press
Easy Press mat
Weeding tools
Instructions
Create your design as usual. If it has multiple pieces, be sure to select "attach" to keep the pieces together.
Select the "Make It" button.
Be sure to mirror the image.
Select the materials option. Infusible ink is under iron-on vinyl on the menu.
Place the infusible ink sheet on the standard mat, color side up.
Cut the design.
Unload the mat.
Remove the paper from the mat. (It has the texture of cardstock and behaves like cardstock when removing the design.)
Try to leave the design on the plastic backing while weeding. (It's fine if you forget, though!)
Turn on your Easy Press and set the temperature to 385 and the timer for 40 seconds for a tote bag.
Place the blank tote bag on the Easy Press mat.
Place cardstock inside the bag to prevent ink from leaking through.
Cover it with the enclosed butcher's paper and press it for 15 seconds.
Remove the easy press.
Apply the infusible ink design to the surface, color side down.
Cover with butcher paper and press for 40 seconds.
Remove the easy press and the butcher paper.
The backing can be peeled off right away for the tote bag.
The color is so much brighter than the paper was!
Enjoy your tote bag!
Notes
Always check the Cricut heat guide for the best temperature, time, and peeling instructions.
Recommended Products
As an Amazon Associate and member of other affiliate programs, I earn from qualifying purchases.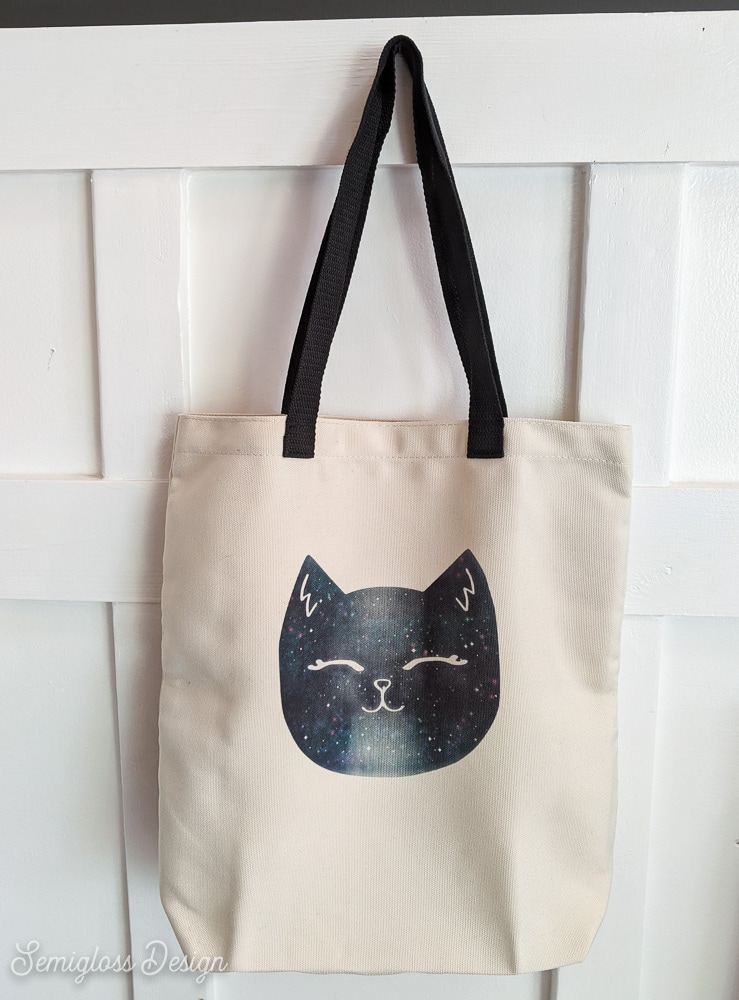 You might also like:
Pin for Later!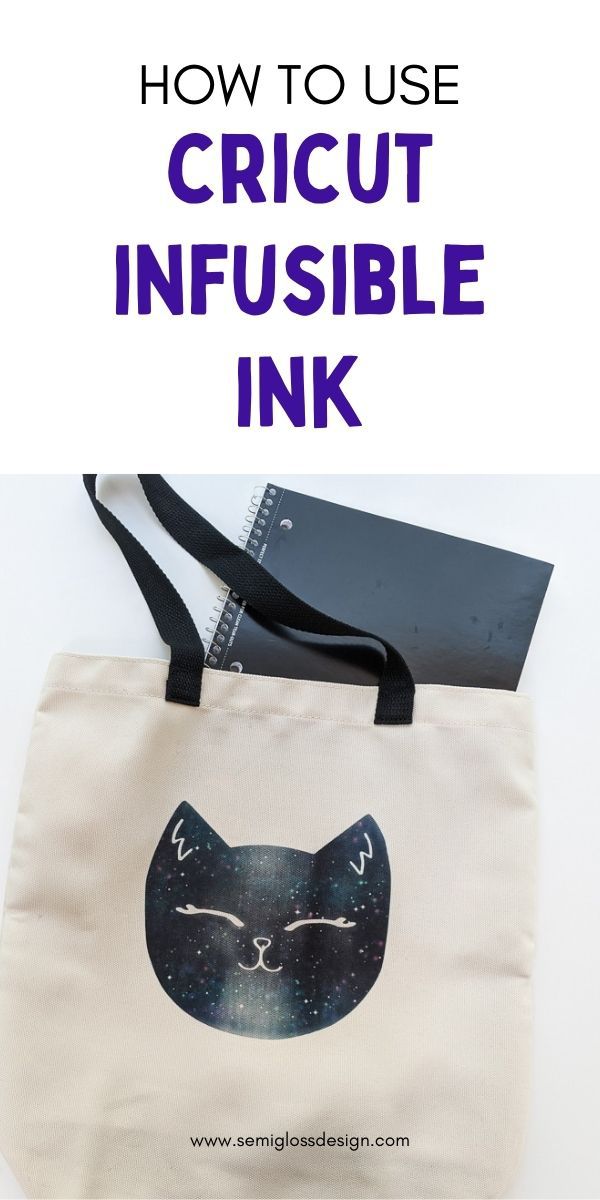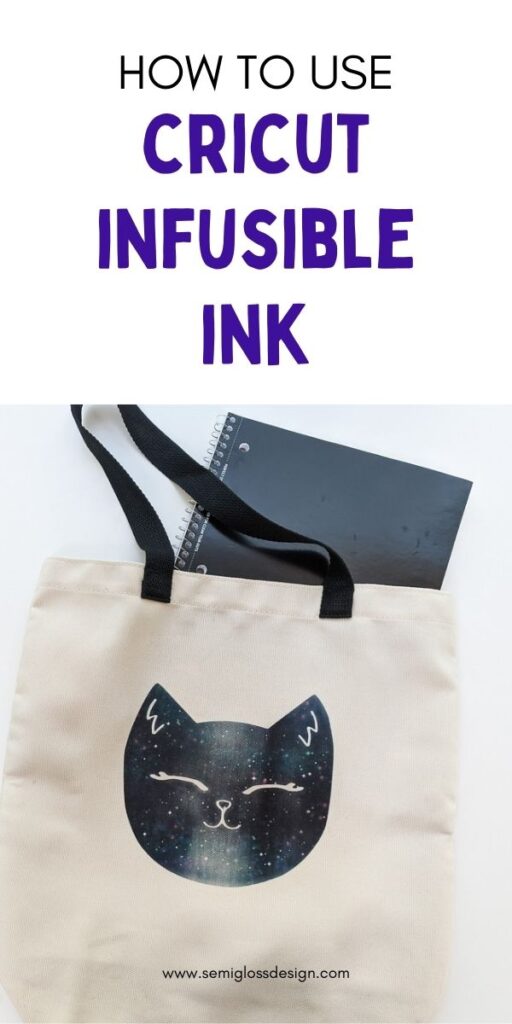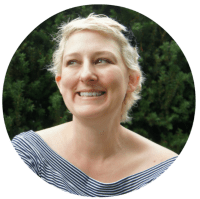 Emy is a vintage obsessed mama of 2 DIYer who loves sharing affordable solutions for common home problems. You don't need a giant budget to create a lovely home. Read more…