How to Use a Cricut Easy Press
Learn how to use a Cricut Easy Press, plus get a printable temperature cheat sheet guide. This easy to use machine makes crafting with iron-on vinyl so much faster!
You might also like this post on how to attach HTV to glass.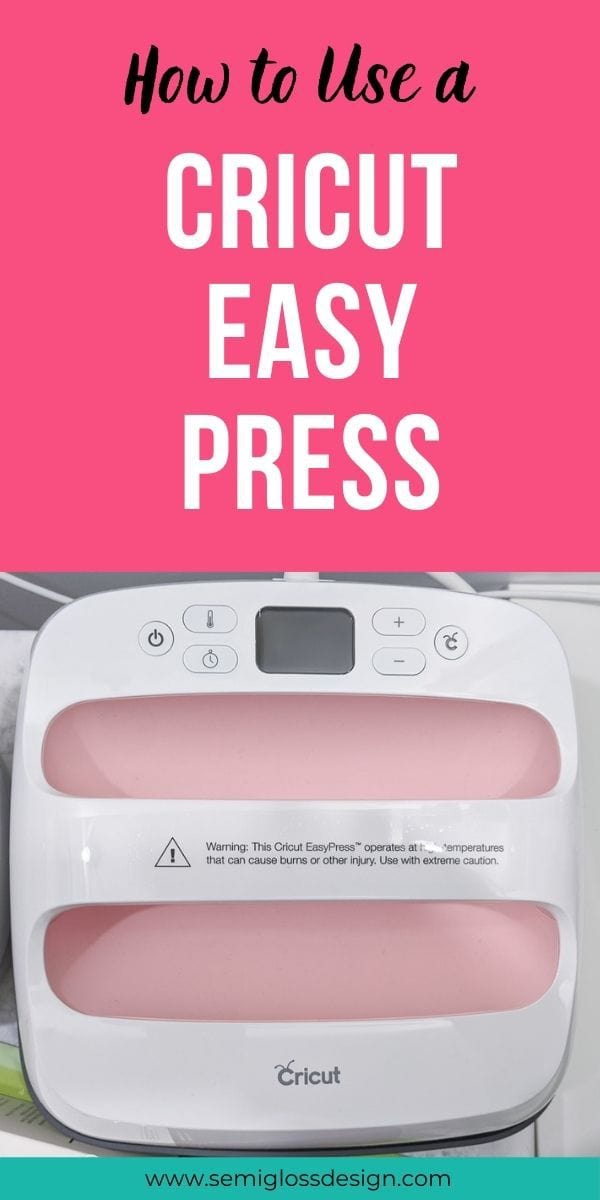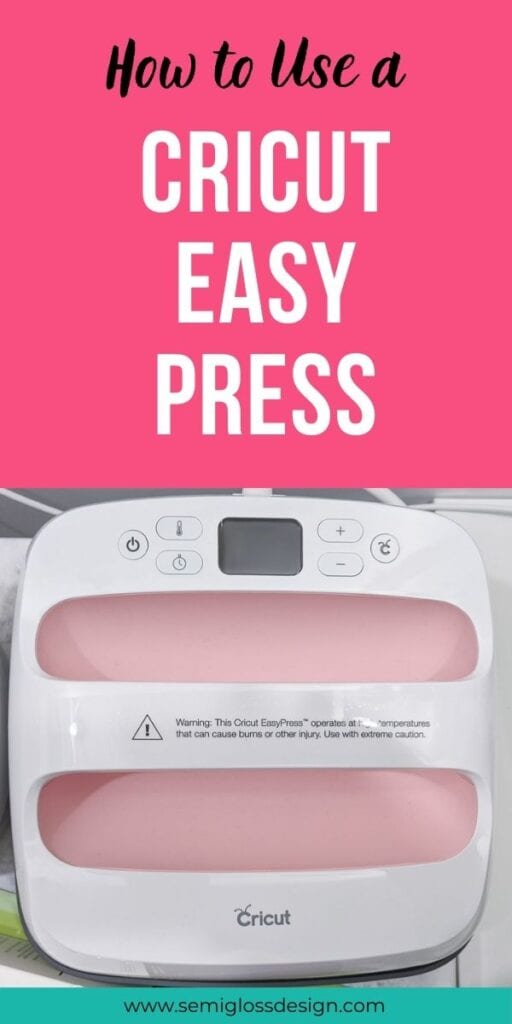 This post contains affiliate links. By purchasing an item through an affiliate link, I earn a small commission at no extra cost to you. As an Amazon Associate I earn from qualifying purchases.
I have begrudgingly learned to love my Cricut Easy Press. Don't get me wrong; it's a great product. However, I didn't appreciate buying a cutting machine that costs several hundred dollars only to be told that I needed more products.
Did you know that infusible ink only works with an Easy Press?
So I did what any good crafter does and waited for a sale to buy one. And you know what? No regrets!
Ironically, I still haven't tried Cricut infusible ink… It's on my very long list of projects to create.
You might be interested in my beginner's guide to using a Cricut Maker.
About the Cricut Easy Press
The Easy Press is an easy-to-use heat press that heats up to 400ºF. It allows you to adhere iron-on vinyl to surfaces in seconds.
If you've ever used an iron with iron-on vinyl, you know how long you have to press the vinyl to get it to stick.
The Easy Press also heats evenly, so there are no spots that need more pressing.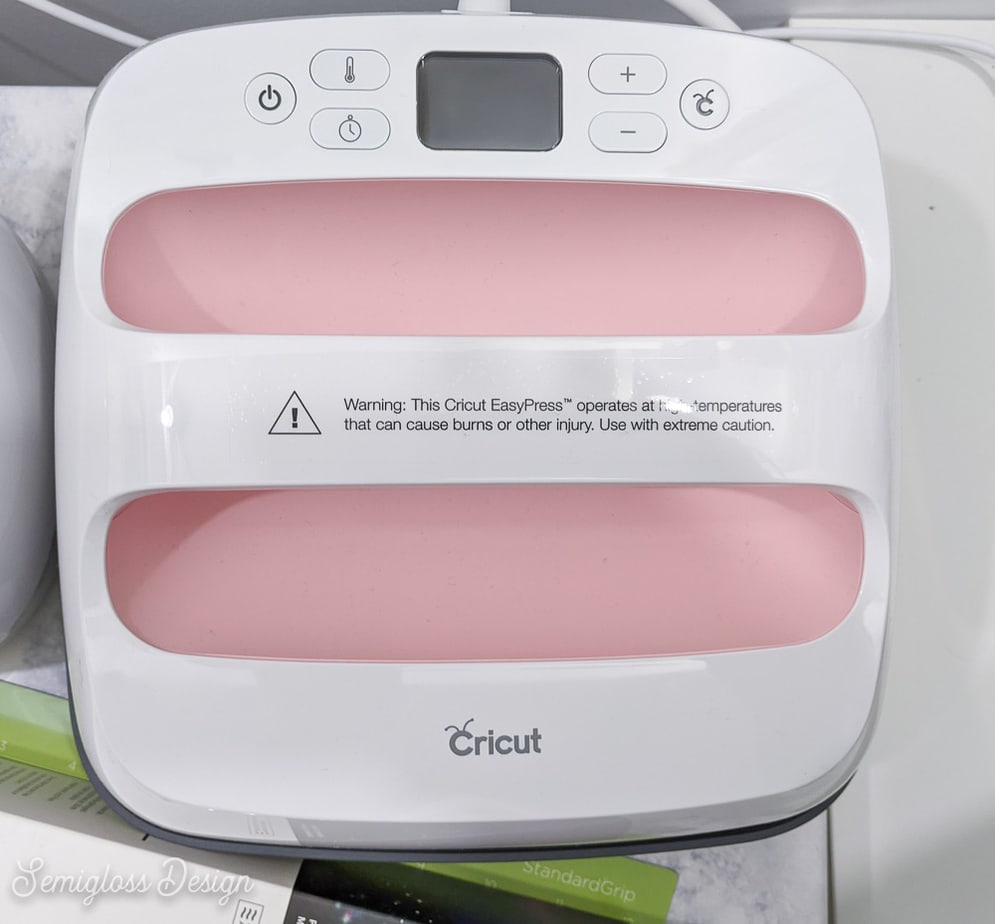 Cricut Easy Press Sizes
The Cricut Easy Press comes in 4 different sizes.
Mini – 1.92″ wide x 3.25″ tall. This small heat press is perfect for smaller items like hats, shoes, and stuffed animals. It would work great for attaching HTV to glasses, koozies, or even on leather earrings.
6″ x 7″. This smaller machine is great for baby clothes, accessories, hats, and more. (This size has been discontinued.)
9″ x 9″. This medium size machine is perfect for slightly larger designs on items like t-shirts, tote bags, aprons, pillows, and more. I bought this size because it's big enough for most of the things I make.
12″ x 10″. This large machine is perfect for larger items such as larger t-shirts, sweatshirts, banners, blankets, and more.
There's a newer version of the EasyPress now that allows you to use an app on your phone to set the temperature and time.
Easy Press Colors
The Easy Press is available in raspberry, lilac, mint, and rose.
Cricut Easy Press FAQs
What does a Cricut Easy Press do?
An Easy Press is a way to adhere iron-on vinyl to surfaces in under a minute. The Easy Press is much easier to use than a standard heat press and they are also much smaller. They are much faster than a standard iron.
Which is better: Cricut Easy Press or heat press?
It depends. If you sell products and have space in your home, it's probably worth investing in a professional heat press. If you consider yourself more of a hobbyist, an Easy Press will work just fine.
I used a heat press years ago when I worked at a shop on the beach. It was pretty intimidating to use, so I appreciate how easy the Easy Press is to use. Plus, it feels much safer!
Can I use an iron instead of an Easy Press?
If you're just using iron-on vinyl, you can use an iron instead of an Easy Press.
However, if you want to try infusible ink or if you use iron-on vinyl a lot, I would consider buying an Easy Press. It will save you so much time.
Do I really need the Cricut Easy Press?
That's a hard question to answer. Most jobs can be done with a regular iron, but it takes forever.
To me, it has become worth the money because it saves me so much time! Plus, I hate ironing.
Can you use an Easy Press with a Silhouette?
Yes, you use an Easy Press with a Silhouette since the machine works independently of a cutting machine.
Just cut your design as normal, weed, and press with an Easy Press instead of an iron.
How to Use a Cricut Easy Press
Supplies Needed: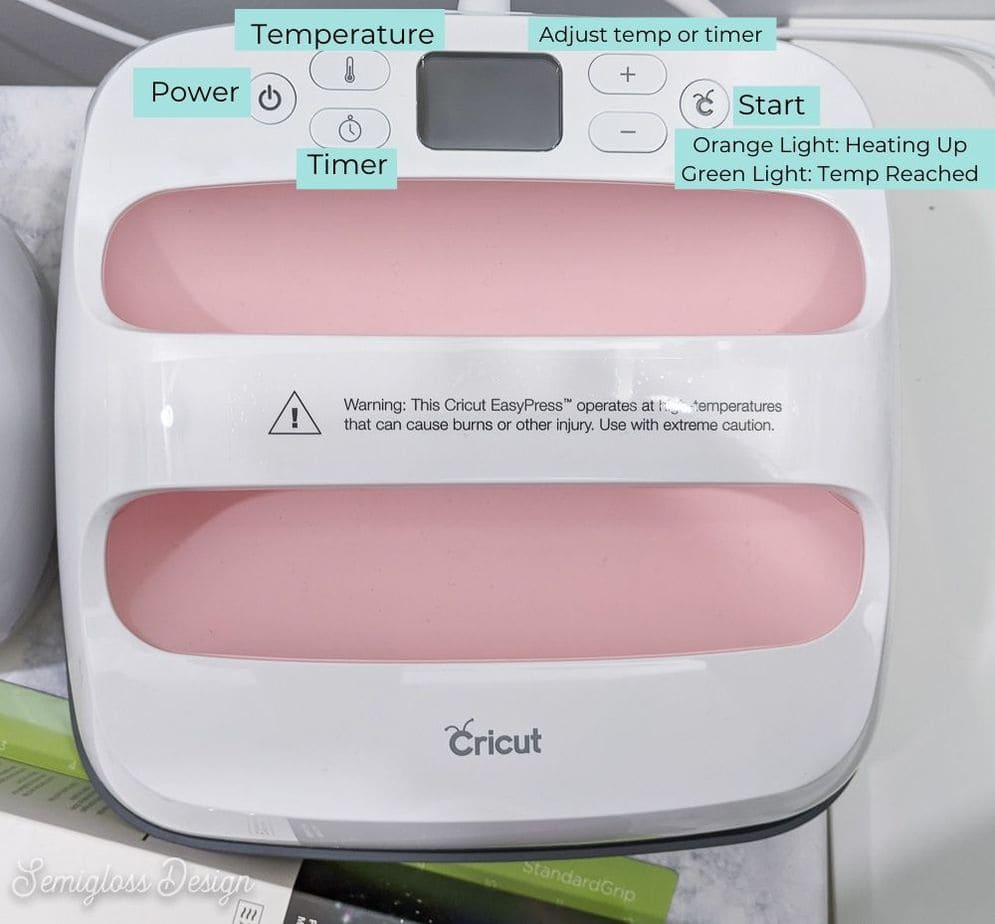 Yield: 1
How to Use a Cricut Easy Press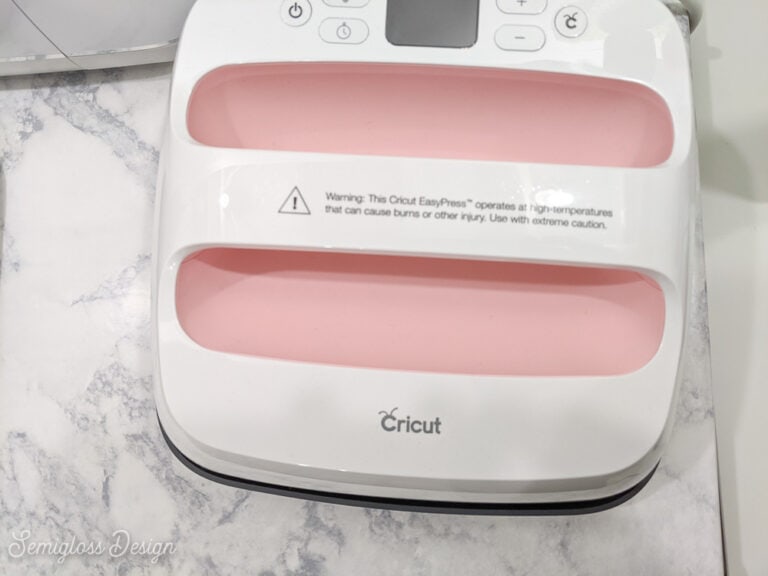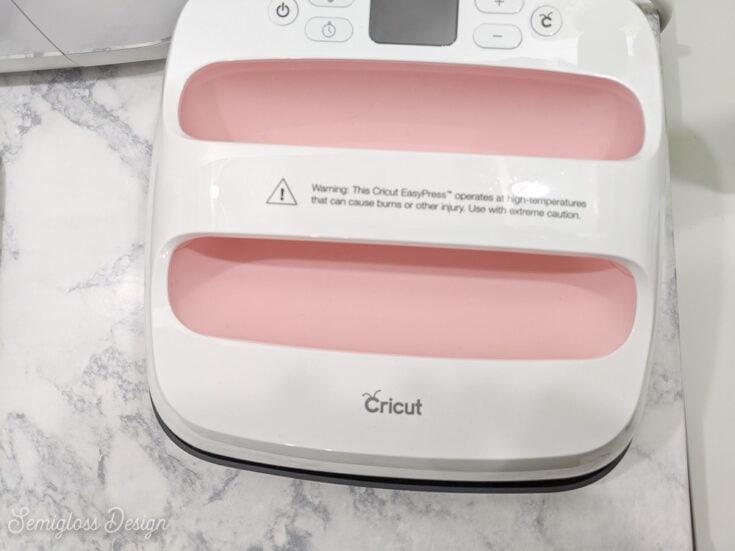 Learn how to use a Cricut Easy Press. This easy machine makes working with iron-on vinyl so much faster!
Materials
Iron-on Vinyl
Teflon Paper
Easy Press Mat
Tools
Easy Press
Cutting Machine
Weeding Tools
Instructions
Cut and weed your iron-on vinyl as usual.
Turn on the Easy Press.
Set the time and temperature depending on the vinyl type and surface.
When the Easy Press beeps, the machine is hot enough. The Cricut button will also turn green.
Place the surface on the Easy Press mat.
Press the surface for at least 5 seconds. (If your surface has creases, you can press a little longer to remove the wrinkles.)
Place the vinyl onto the surface in the desired place.
Cover the design with either a Teflon sheet or a thin towel.
Place the Easy Press on the design and hit the Cricut button.
Apply even pressure to the Easy Press.
Remove the Easy Press when it beeps.
Flip the item and press for the recommended time. (Reset the timer.)
Let the vinyl cool for the recommended time before peeling.
The Easy Press will turn off on its own after 13 minutes or you can turn it off manually.
Notes
Care instructions: Wait 24 hours before the first wash. Don't dry clean. Hang item to dry. Do not bleach. Dry at normal setting.
Cricut Easy Press Temp Guide
This temperature guide is for 100% cotton. If you need the temperature for other surfaces, this site will help you out.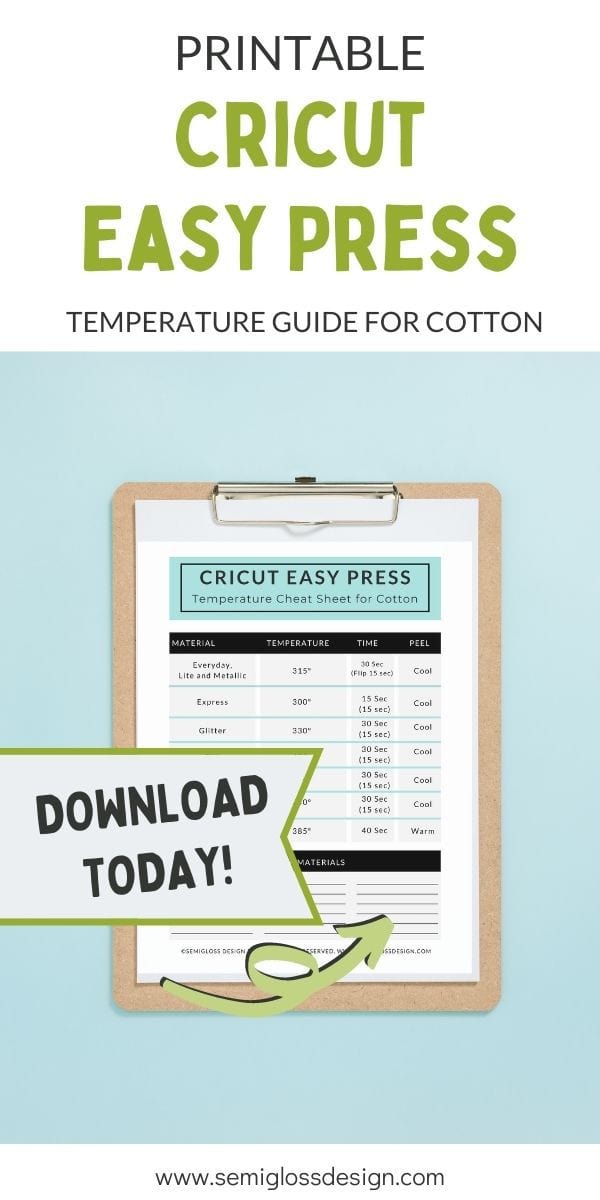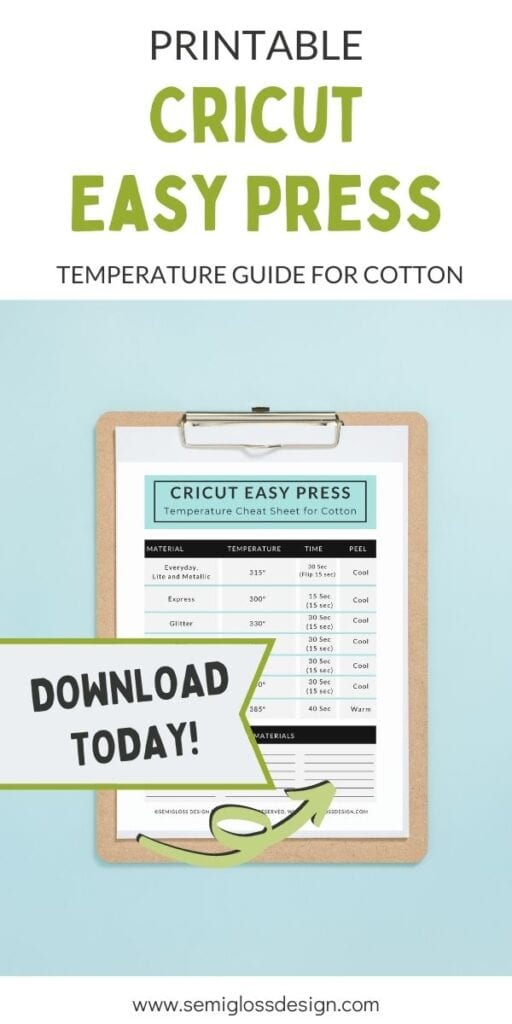 All downloads are for personal use only. Please do not redistribute or sell files.
Click here to download a Cricut Easy Press Temperature cheatsheet for cotton.
You might also like:
Pin for Later!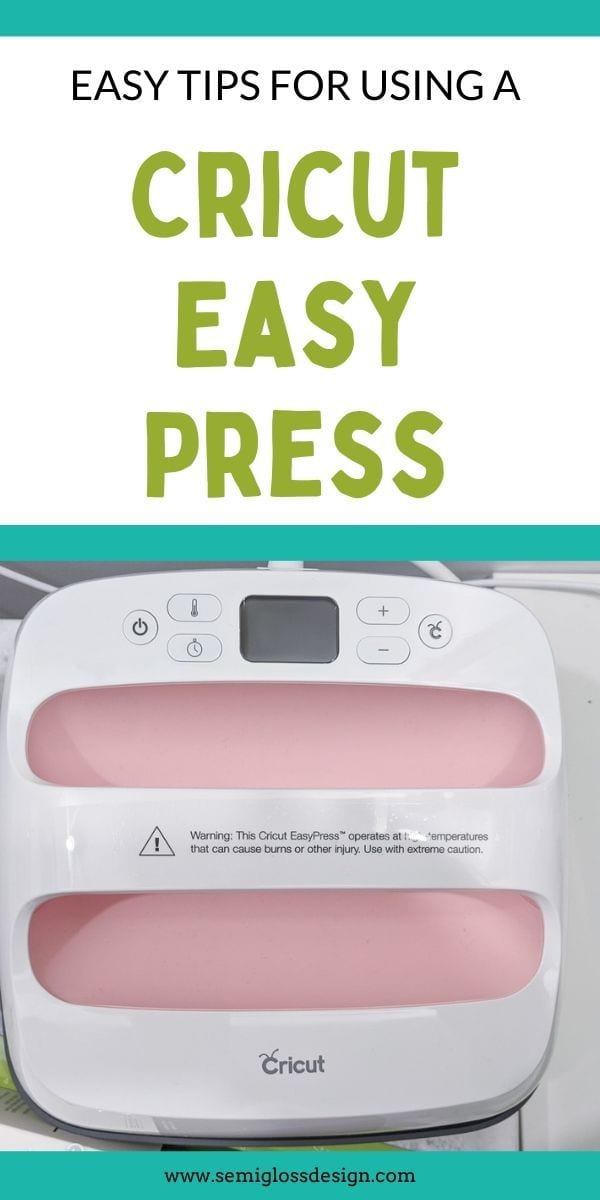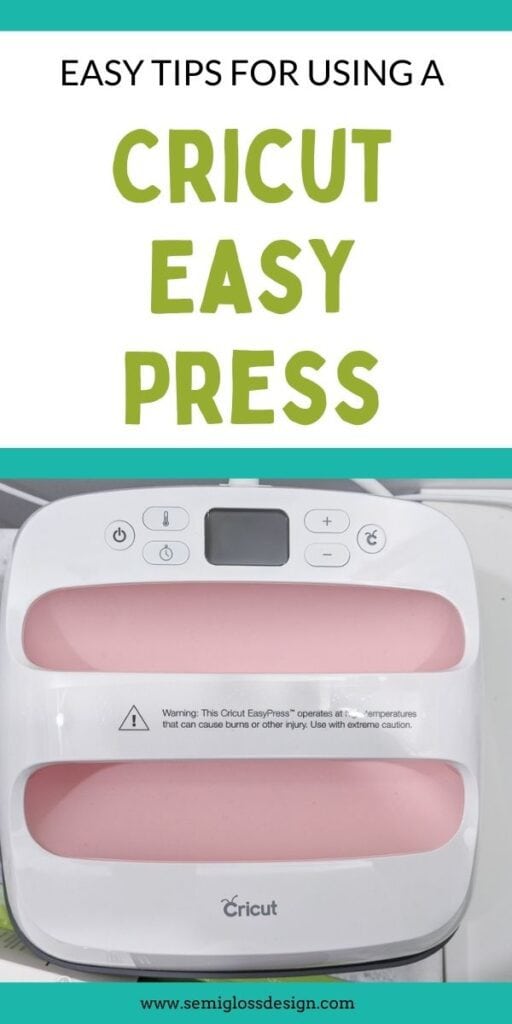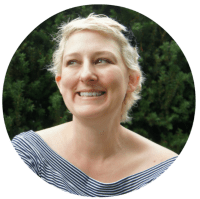 Emy is a vintage obsessed mama of 2 DIYer who loves sharing affordable solutions for common home problems. You don't need a giant budget to create a lovely home. Read more…