Cricut Maker vs Silhouette Cameo: Choosing a Cutting Machine
Wondering which electronic cutting machine to buy? Find out more in this Cricut maker vs Silhouette cameo buyer's guide. Pick the machine that is perfect for you.
You may also be interested in learning how to use heat transfer vinyl on glass.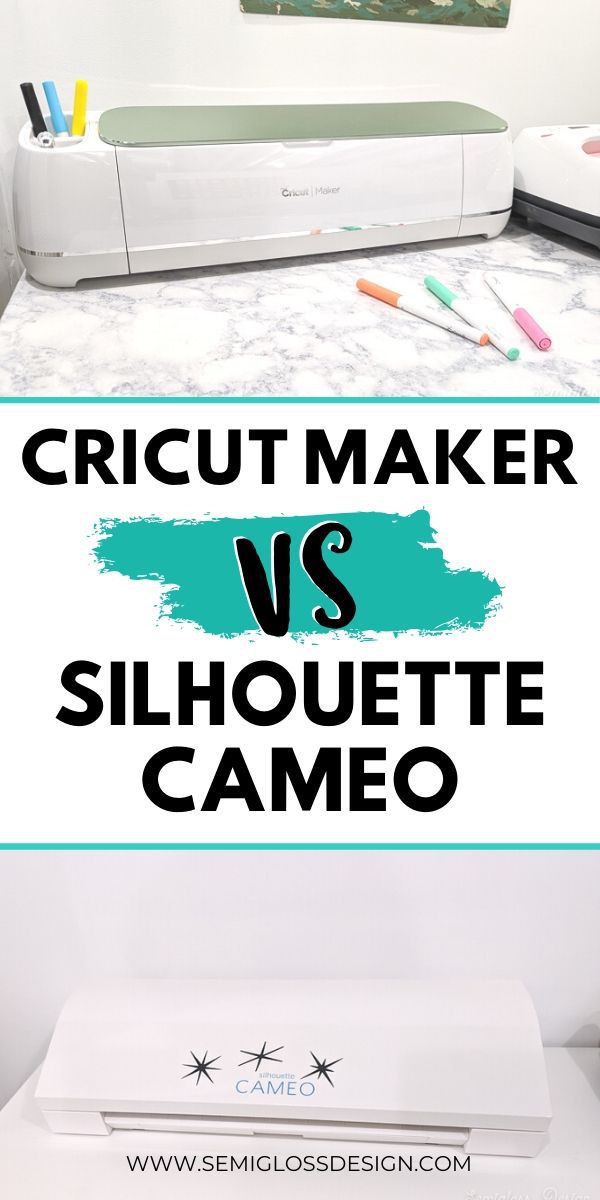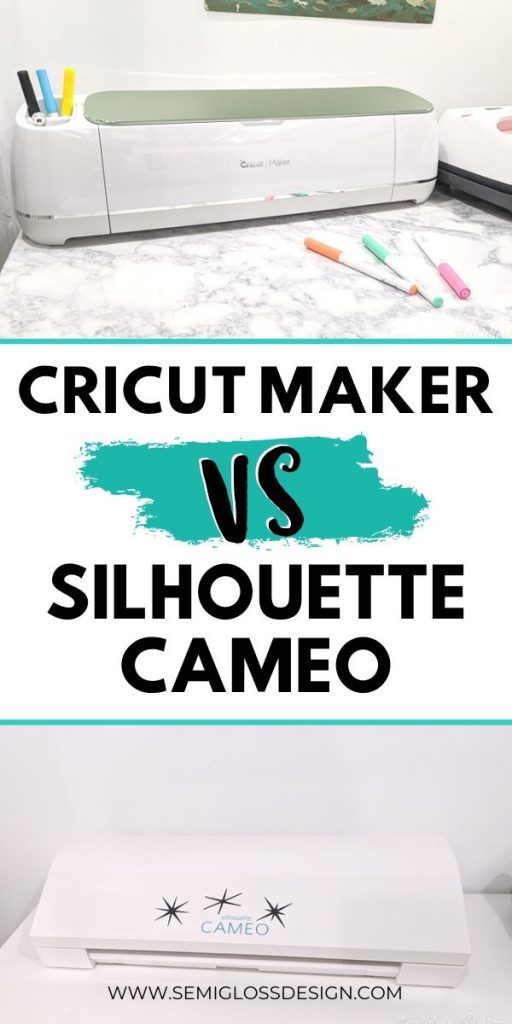 This post contains affiliate links. By purchasing an item through an affiliate link, I earn a small commission at no extra cost to you. As an Amazon Associate I earn from qualifying purchases.
I own both the Cricut Maker and the Silhouette Cameo 3 now. The Silhouette has been my best friend for about 3 years. Together, we've made so many crafts.
So why did I buy a Cricut maker? It had cutting options that I was too excited about.
After a few months of use, I love both machines for different reasons. If you're confused about which machine to buy, hopefully, this will clear up some of the confusion.
Most of the comparisons I've read have all had information that doesn't really matter. Who cares how much it weighs when it's not a portable crafting item?
These are my thoughts on how these machines WORK, which is what really matters.
The Cameo 3 is not available anymore, so I'm using my knowledge about the Cameo 3 with what I can find out about the Cameo 4. The design software is the same, as is the functionality, for the most part.
Cricut Maker VS Silhouette Cameo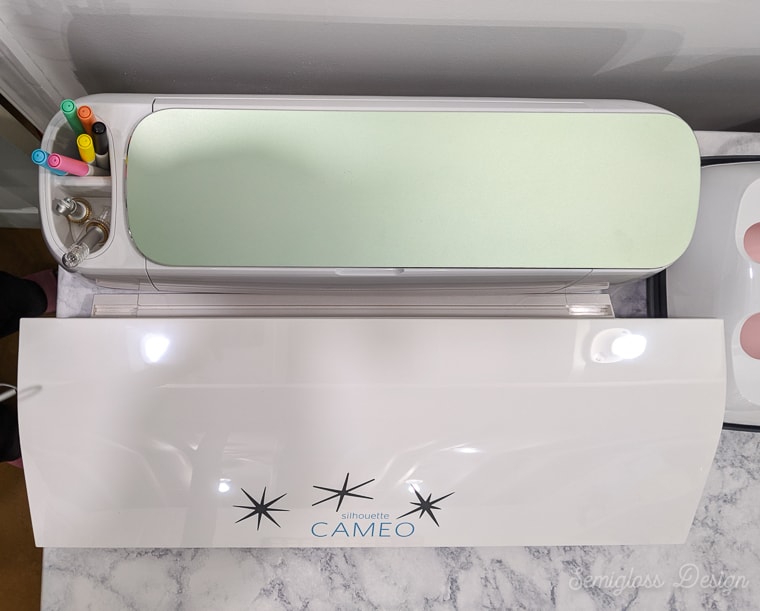 Cost
The Cricut Maker currently costs between $330 and $400, depending on sales and where you buy the machine. (Buy from Cricut)
The Silhouette Cameo 4 costs between $275 and $400 for the plus version.
What does the machine come with?
The Cricut Maker came with 2 mats (FabricGrip and LightGrip), a fine point blade, a rotary blade for fabric, a black pen in fine point, a power cord, and a USB cable. It also came with a small piece of fabric and a few pieces of cardstock to practice on.
The Silhouette Cameo 4 comes with a mat, tool adapters, an auto-blade, power cord, USB cable, and free downloads from the Silhouette store.
Both machines are Bluetooth capable, but I find the Silhouette harder to connect via Bluetooth.
Both machines require you to download the software on your computer to work with the machines. More on the software in a minute.
Color Options
Cricut Makers are mostly white with lids in the following colors: mint, champagne, blue, pink, and lilac.
The Silhouette Cameo 4 is available in pink, white, and black.
(If the color option matters a lot to you, the Cricut Explore 2 is available in about 15 different colors.)
Cutting Options
All machines cut a variety of different materials like paper, cardstock, vinyl, and iron-on vinyl (htv). Changing the blades allows you to cut un-backed fabric, and thicker materials like matboard, leather, and balsa wood for both machines.
Read more about using leather to make earrings.
The Cricut Maker can also deboss and engrave materials.
Older machines (like my Cameo 3) have a harder time cutting thicker materials like leather and acetate. Fabric can only be cut if it's backed with interfacing, so it's really only good for applique, not sewing patterns.
The Cricut Maker has more cutting force and can easily cut through items like leather, acetate, and thick cardstock.
You might be interested in learning about the difference between vinyl types.
Design Software
Both machines require their own free software for cutting designs.
To me, the design software is the main difference between the Cricut Maker and the Silhouette.
I am pretty comfortable with Adobe Illustrator, so that makes a huge difference in my opinion of the software.
Cricut Design Space
Both design software options must be downloaded, so they don't work with something like a Chromebook. However, the Cricut software is available as an app for mobile devices for both Apple and Android.
The Cricut software requires an internet connection and it requires constant updating.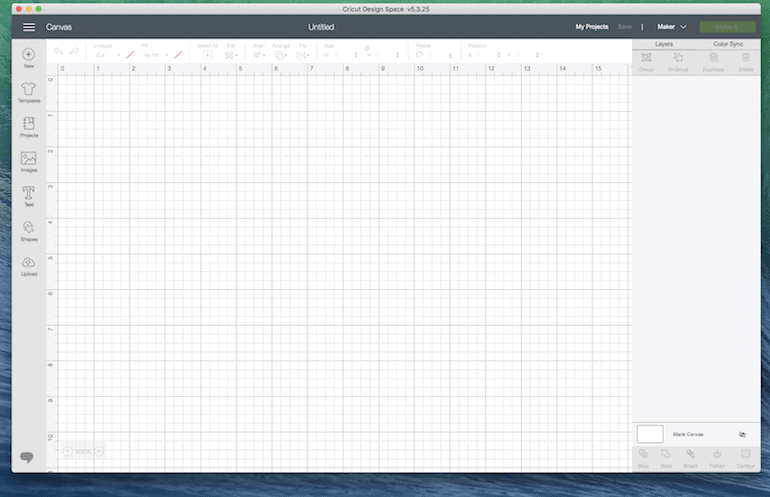 The Cricut Maker software is not very intuitive. I find it much harder to do simple things.
For instance, I wanted to make a card for my daughter and I could not figure out how to place a design in a specific spot and keep it there. It kept moving it to the corner. So I gave up and used the Silhouette instead.
Making your own designs is hard as well. It's probably great if you just buy designs or cut simple shapes. If you're new to graphic design software, you will probably love the ease of use of the Cricut Design Space software.
(I have read reviews about other people who like the Cricut Design Space a lot, but that's not my opinion.)
The Cricut Design Space allows you to use SVG, PNG, JPG, and other basic formats, so you can upload your own images.
The other thing I don't like is that the materials options are set and can't be changed. Most of the options are for Cricut brand products, which I don't own a ton of.
There are some bigger brands listed like Siser and Oracle, but if you buy vinyl from smaller companies, it can be confusing to know what to choose, as there is no generic option for just HTV.
Silhouette Studio Software
The Silhouette software on the other hand is so robust. There are options on it that I love even more than the Adobe version.
The shape-building tools are some of my favorite and work so intuitively.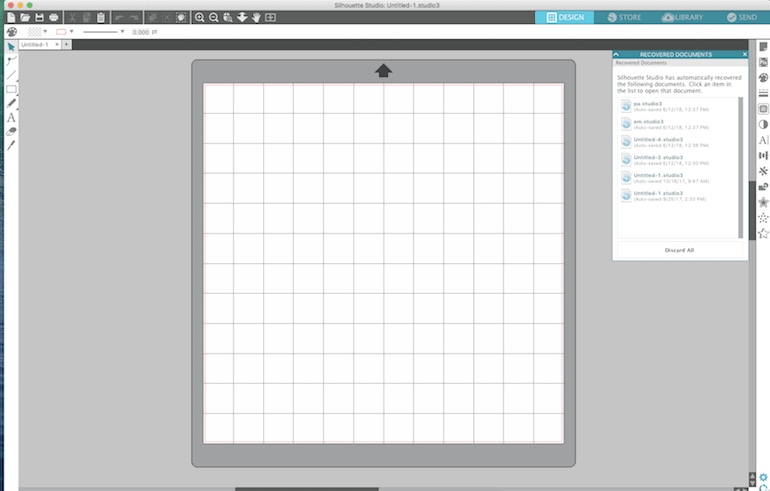 My one complaint is that the keyboard shortcut for zooming in and out doesn't work, which is frustrating.
My other complaint is that you have to upgrade to the designer edition to use different formats, like SVG, PNG, and JPGs.
(DXF files work fine with the standard edition.) However, it's a one-time fee and probably worth it if you buy a lot of designs that are SVGs.
Silhouette uses its own brand format: .studio, which you're not supposed to sell. This may be a consideration if you want to sell cut files in the future.
The materials option is completely customizable. You also have the option to save custom settings.
They also have presets for common materials, but they're more generic than by brand. I skip these and use the settings in my favorite Silhouette book instead.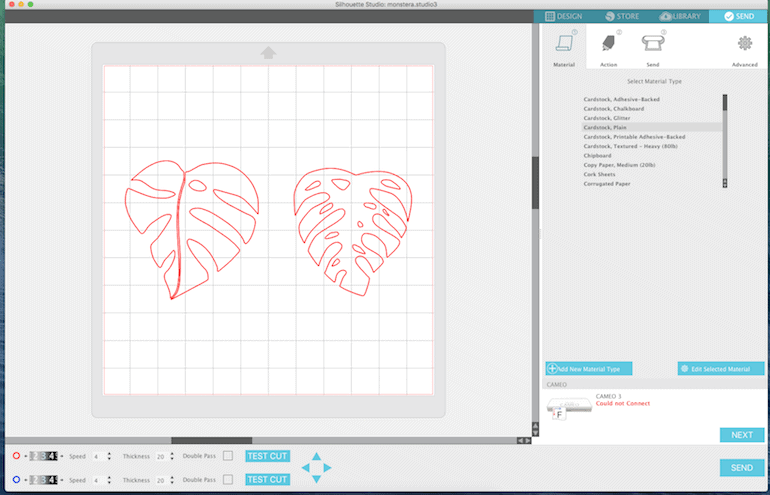 Want to learn more about how to use your Silhouette? This affordable ebook taught me everything I know! Plus, it comes with a handy settings cheat sheet that gives you perfect cuts every time!
Accessories
Both brands have a variety of accessories available.
Mats
Both brands have a variety of mats available with different levels of tackiness. They also both offer 24″ long mats for longer designs.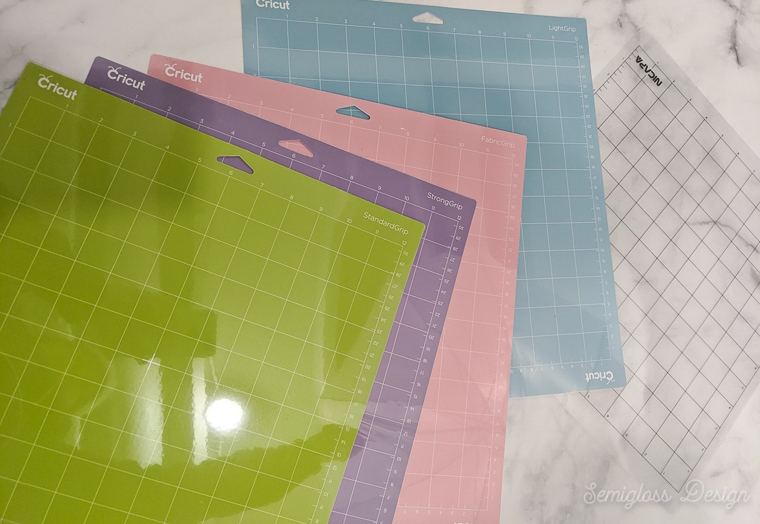 I find that the Cricut mats are a bit cheaper to buy, especially if you buy them in a bundle. For Silhouette, I've started buying an off-brand mat instead.
Blades
Cricut Maker uses a QuickSwap housing for their blades.
They currently offer a double scoring wheel tip, engraving tip, debossing tip, wavy blade, perforation blade, knife blade, and rotary blades.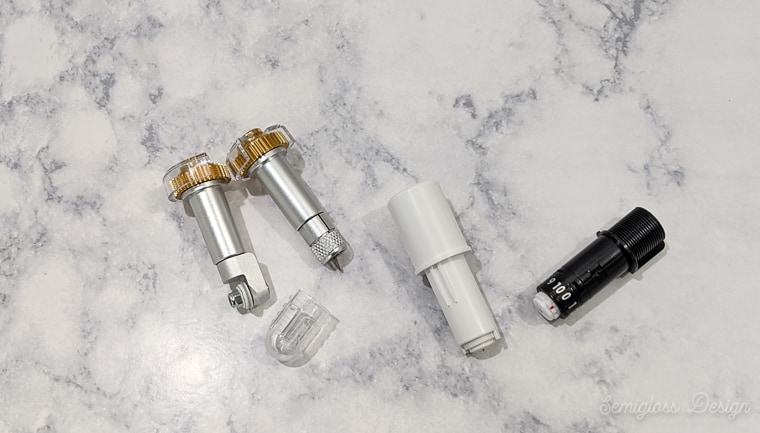 Silhouette offers an auto-blade, a regular blade, a premium blade, a deep cut blade, a 2 mm kraft blade, a 3 mm kraft blade, a rotary blade, and a punch tool.
Cricut has more user-friendly labeling for blades. You can look at those blade names and know exactly what they do. The Silhouette blade names are more confusing and I feel like I need to do research before I know what to buy.
Pens
Cricut offers pens in a variety of thicknesses, colors, and mediums such as marker vs gel pen. They also offer infusible ink pens.
Cricut pens are regular pens that can be used by hand or used with the machine.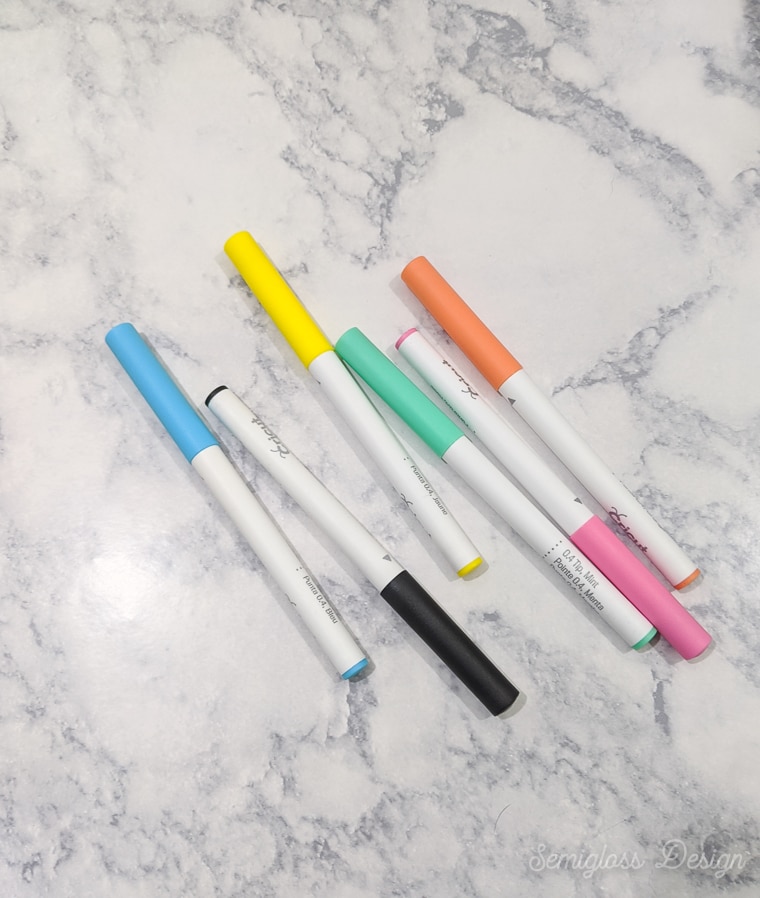 Silhouette, on the other hand, offers pens that can only be used with the machine. They have fewer colors and offerings.
They do have a pen adapter to use with regular pens though.
Vinyl
Both brands offer a variety of vinyl types and colors. However, I find Cricut brand vinyl easier to find in stores where I live.
They both offer matte, glossy, iron-on, patterned vinyl, and more. The vinyl can be used with either brand of machine.
Other Options
Cricut and Silhouette offer a few more machines and unique accessories. I have not tried most of these.
Other Cricut Machines and Specialty Products
The Cricut Explore 2 is their standard cutting machine. It comes in a variety of colors and is great for basic use, like cutting vinyl and paper.
The Cricut Easy Press is a small, user-friendly version of a heat press. (You can use this with the Silhouette.) Read more about how to use the Easy Press here.
The Cricut Joy is a small version of the Cricut. It's perfect for travel or smaller crafts.
Infusible Ink Sheets and Pens are a way to add ink to select surfaces that won't shrink with washing. It becomes part of the fabric instead of sitting on top of the fabric like vinyl does. (You can use infusible ink with a Silhouette.)
BrightPad is a light pad used to make weeding dark colors easier. (You can use this with a Silhouette or even for tracing art.)
Other Silhouette Machines and Specialty Products
The Portrait is a cutting machine that cuts up to 8″. It's a similar machine to the Cameo 3, just smaller.
The Curio machine allows you to stipple, emboss, deboss, and etch materials. (This machine was recently discontinued.)
The Alta is a 3D printer that can create small 3D designs.
The Mint is a stamp maker. I love making carving stamps, but I've been thinking about getting this machine anyways. It seems like a lot of fun.
Silhouette also carries a variety of specialty paper like temporary tattoo paper, magnet paper, window cling, and shrink plastic.
Fabric Ink is used with stencils to create designs on fabric.
My Overall Opinion of Silhouette VS Cricut
Like I said at the beginning, I love both machines for different reasons. I love the Silhouette software for creating designs and having flexibility in cutting choices.
The Cricut Maker is great for being able to cut a wider variety of materials.
Choose the Silhouette Cameo if: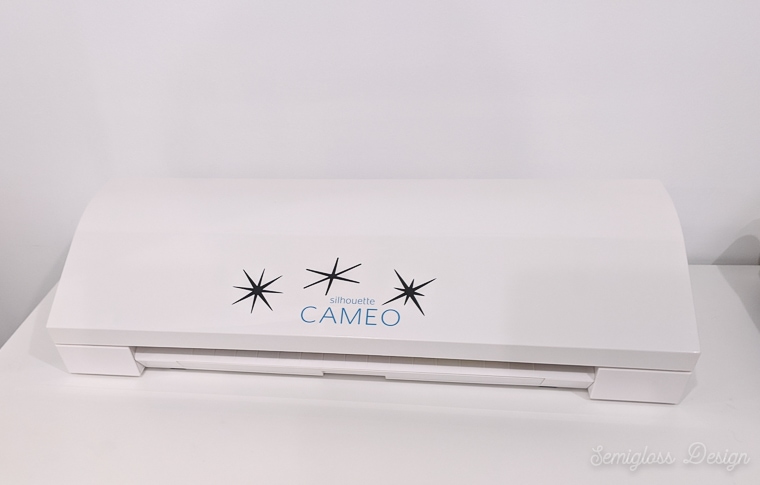 You want to use the software to create designs
You cut longer designs and want the auto feeder
You use non-standard brands for vinyl and want the freedom to use your own cut settings
Choose the Cricut Maker if: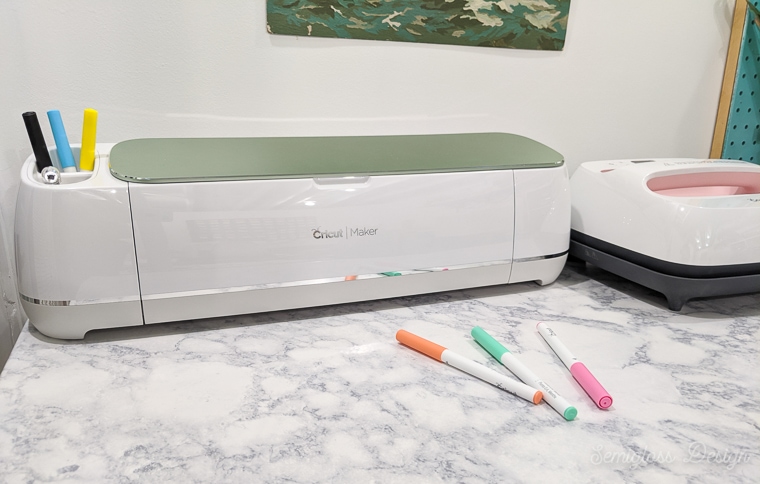 You want to be able to cut a variety of materials
You either buy designs or make them using external software like Adobe Illustrator
You want to be able to engrave and emboss without buying a 2nd machine
Buy a Silhouette Portrait or Cricut Explore 2 if:
You only want to cut basic materials like vinyl and cardstock
A pretty color for your machine is a factor
Budget is an issue and you just want a cheaper machine
You might also like:
Pin for Later!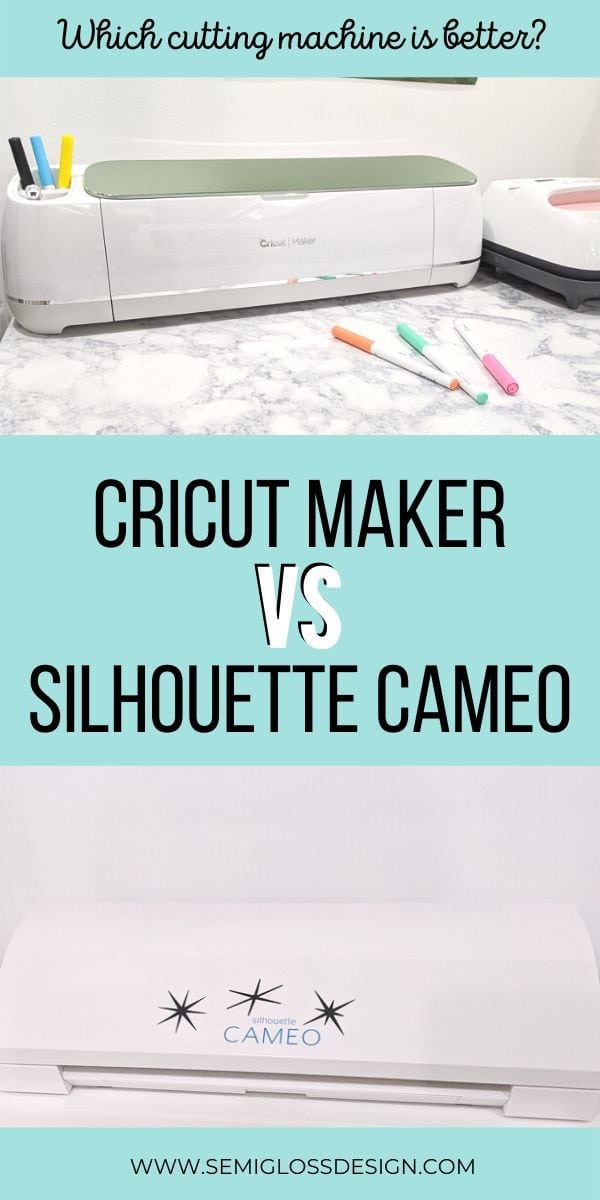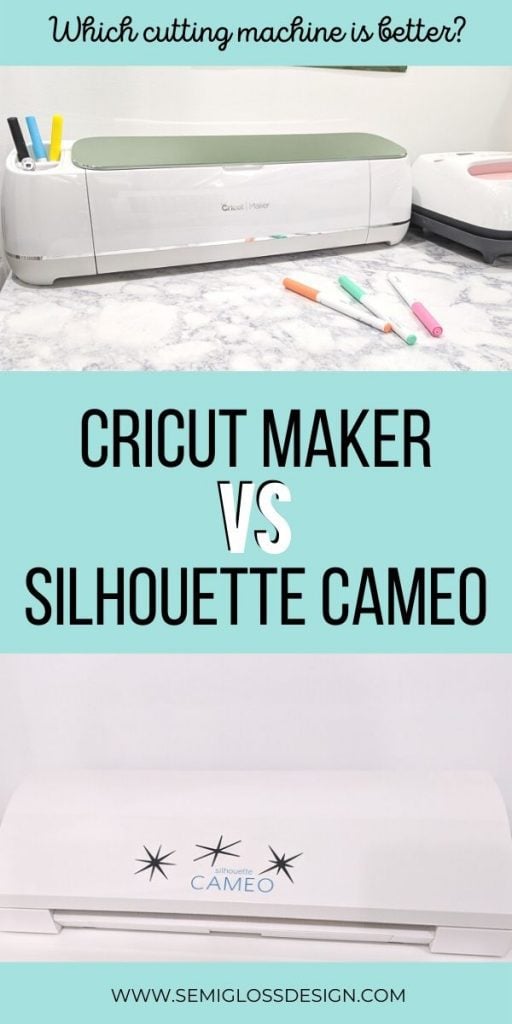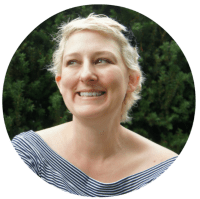 Emy is a vintage obsessed mama of 2 DIYer who loves sharing affordable solutions for common home problems. You don't need a giant budget to create a lovely home. Read more…