Cricut Smart Vinyl Vs Regular Vinyl: Smart Materials Explained
Smart vinyl vs regular vinyl? Which is better? Are you curious about the differences between smart vinyl and regular vinyl? Learn more about the new smart materials for Cricut.
You might also like this post on the different vinyl types from Cricut.
This post contains affiliate links. By purchasing an item through an affiliate link, I earn a small commission at no extra cost to you. As an Amazon Associate I earn from qualifying purchases.
Cricut recently released a new line of smart materials to use with new Cricut machines.
If you've gone shopping for vinyl recently, you've probably seen the smart vinyl and wondered about it.
What is smart vinyl?
Smart Vinyl is Cricut's newest vinyl type. Smart Vinyl works without a mat in the Cricut Maker 3, Cricut Explore 3, or the Cricut Joy.
Since you can use it without a mat, it's wider at 13″. There is also a smaller version of smart vinyl for the Cricut Joy that is 5.5″ wide.
Cricut smart vinyl is available in a variety of colors and finishes (like glitter and holographic.)
What is smart vinyl used for?
You can use smart vinyl for all of the things you use regular vinyl for.
However, you can also use it to cut longer cuts, so it's perfect for large wall decals.
I recently wrote a post about things to sell using a Cricut if you're looking for ideas for things to make!
Smart Vinyl Vs Regular Vinyl
Smart vinyl is different than regular vinyl in a few ways:
Slightly wider. It's 13″ vs. the normal 12″
Cut without a mat in the new Cricut machines (Cricut Maker 3, Cricut Explore 3, and Cricut Joy.)
Matte finish for both permanent and removable types.
Smart Vinyl vs. Premium Vinyl
Premium vinyl is the default vinyl type and can be used in every machine. Use smart vinyl without a mat in the Cricut Maker 3, Cricut Explore 3, and the Cricut Joy.
As of writing this, there are more colors and varieties of premium vinyl than smart vinyl.
Smart vinyl has a matte finish, whereas premium vinyl has both matte and glossy (depending on the permanence of the vinyl).
When working with smart vinyl, I've noticed a few differences. It's a bit more difficult to start weeding smart vinyl. It seems to be a tiny bit thicker and the paper backing is a lot thicker.
Using transfer tape with the smart vinyl is also a bit harder. Since the smart vinyl is a bit thicker, it takes more effort to attach the transfer tape to remove the backing.
Burnish it really well to get good adhesion.
Smart Vinyl Permanent vs. Removable
Smart vinyl comes in both permanent and removable options.
Use permanent vinyl on projects that you want to last for a long time. Mugs, coasters, tumblers, and signs are good examples of using permanent vinyl. It's also good for outdoor use.
Permanent vinyl is a good idea for projects that get wet, need to be cleaned, or are a gift.
Use removable vinyl on objects where you might want to remove the decals eventually. Wall decals and stencils are good examples.
You might also use them on decals that you don't want to use forever, like a temporary label on rented sports equipment.
Removable vinyl is for temporary use and can be easily removed if needed.
How do you tell if vinyl is permanent?
You can tell if your vinyl is permanent by looking at the back of the paper lining. It has a label!
Another way to tell is that as far as I can tell, Cricut permanent vinyl is glossy and the removable vinyl is matte. (Unless it's smart vinyl, which both seem to be matte.)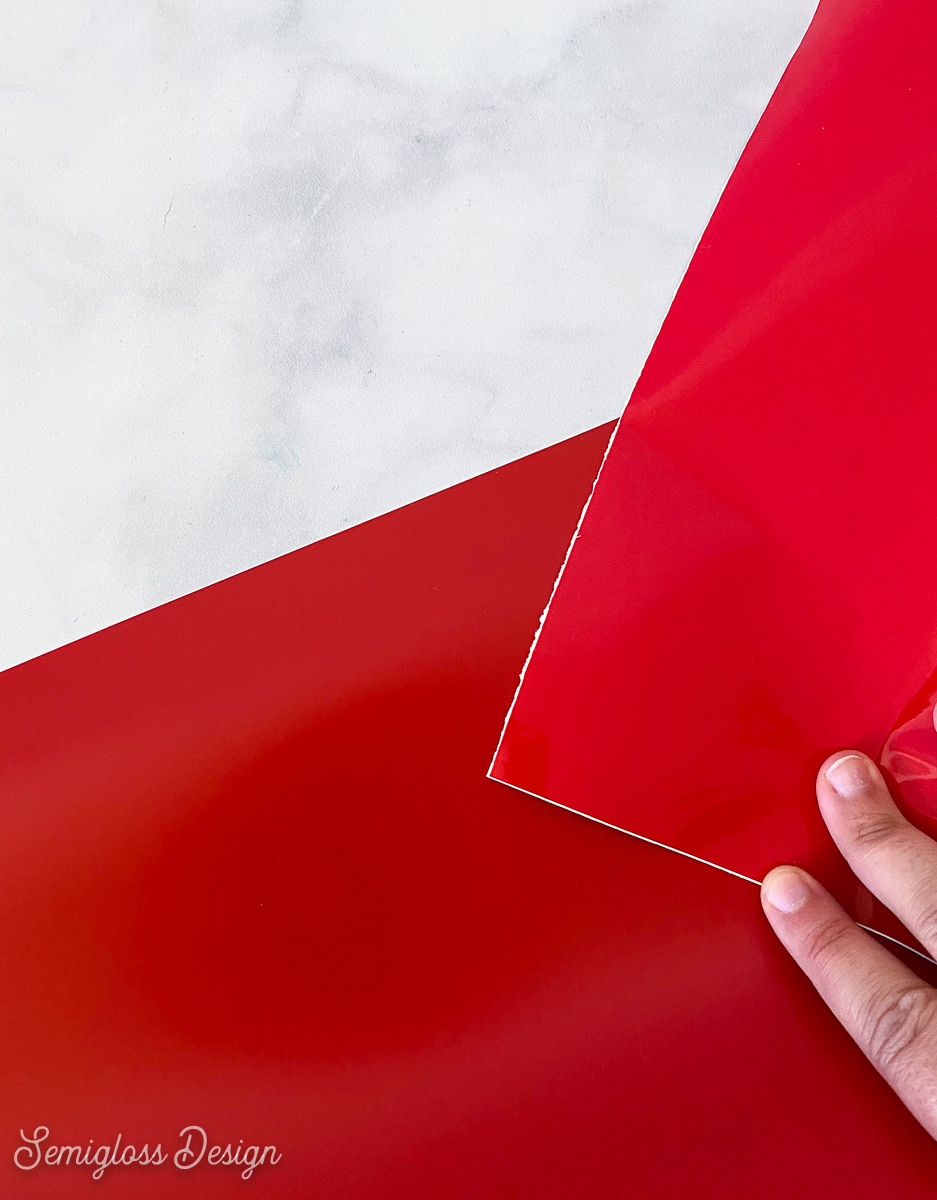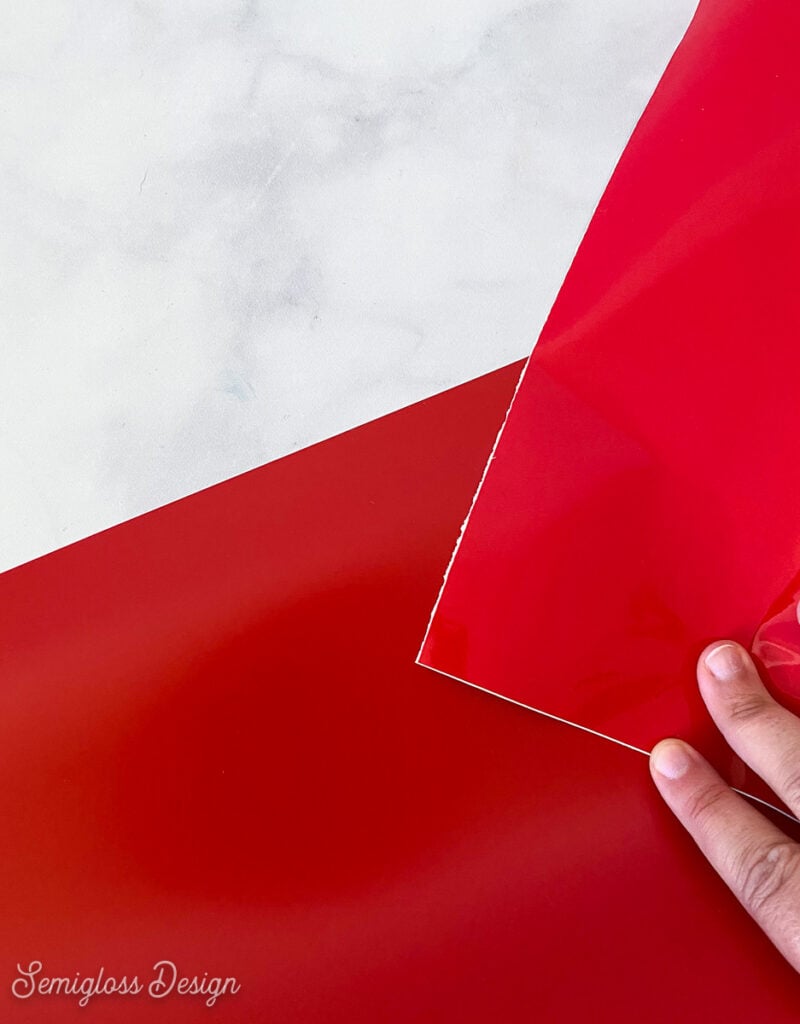 Other brands are usually labeled as well. One brand that I've used uses a number system, so you might need to look up the number to tell if it's removable or permanent.
Smart Vinyl Vs Smart Iron-on Vinyl
There are two types of smart vinyl: smart vinyl and smart iron-on vinyl.
Use smart vinyl on hard, smooth surfaces like mugs, coasters, tumblers, signs, etc.
It works kind of like a sticker. The adhesive backing sticks to the surface.
Use iron-on vinyl on soft surfaces (mostly fabric), like pillow covers, clothing, and tote bags.
Applying heat fuses the vinyl to the surface. You can use an iron or you can use the Easy Press for better results.
Other brands call iron-on "heat transfer vinyl" or HTV.
Smart Iron-on vs. Everyday Iron-On
Use smart iron-on vinyl without a mat in the Cricut Maker 3, Cricut Explore 3, and the Cricut Joy.
Everyday iron-on is the default iron-on and can be used with any machine.
What is Smart Paper?
Use smart paper without a mat in the Cricut Maker 3, Cricut Explore 3, and Cricut Joy.
It also has a sticker backing, which makes paper crafting easier than ever.
What are Smart Labels?
Smart labels are used with Cricut Joy to make labels or stickers.
You can either cut shapes and write on them by hand or use Cricut Joy markers with the machine.
Smart Materials FAQ
Can you use smart vinyl with a Cricut Maker (or other Machines)
Yes, you can use smart vinyl with older machines like the original Cricut Maker, or the older Cricut Explore machines.
It will need to be trimmed to fit the mat. Use the settings for everyday vinyl or premium iron-on vinyl.
Can you use smart vinyl with a mat?
Make sure that you trim the extra inch from the width of the vinyl before placing it on the mat.
The Cricut paper trimmer makes this so quick and easy!
You might also like:
Pin for Later!