Add Outlets with a Retractable Extension Cord for Your Garage
Learn how to add a retractable extension cord to your garage.
Our garage does not have a ton of outlets in it. In fact, it has 1 wall outlet and the 2 for the garage door openers. While the rest of our home is up to code with outlets every 4 feet, our garage does not have this feature.
Being a DIYer who loves power tools, this is kind of a bummer. Sure, I love battery powered tools, but some only come with plugs. If you have the same problem in your garage, your mind is about to be blown. Learn how to add an outlet with a retractable extension cord for your garage. Make use of those outlets on your ceiling!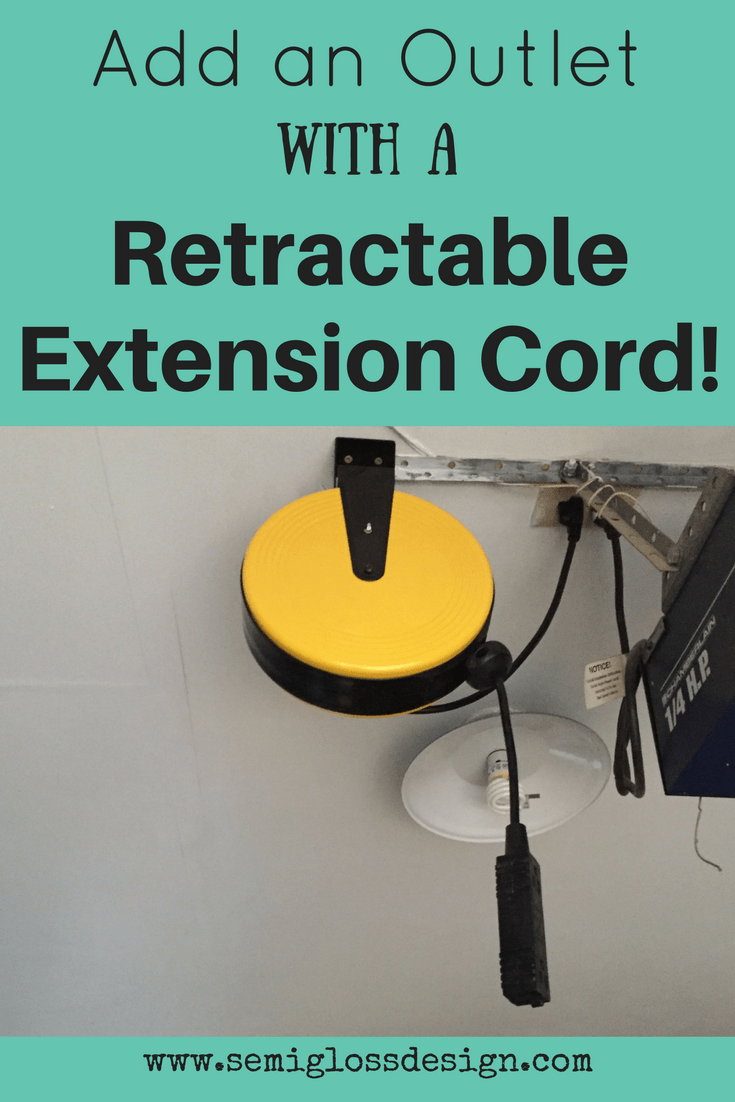 It's week 6 of the One Room Challenge. Normally this week would be our reveal week, but we were given another week due to natural disasters. I'm joining Linda at Calling It Home as a linking participant to redesign a room in my home in just 7 (normally 6) weeks. Although we have tons of rooms that need to be finished, our garage was chosen so that we could get more done.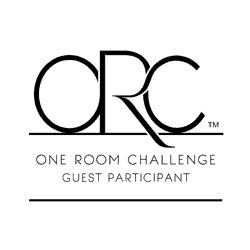 Week 3 | Build a Sturdy Pegboard
Bonus | How to Paint Wood Grain Pattern
This post contains affiliate links. By purchasing an item through an affiliate link, I earn a small commission at no extra cost to you.
We used to just use an extension cord plugged into the garage door opener. Yep, an ugly orange cord snaked it's way from the ceiling. I may or may not have tripped on it a few times. I've never claimed to be graceful. Fun fact: I once broke my toes when a champagne bottle fell on my foot from the top of the refrigerator. Lesson learned: don't store heavy bottles on top of the fridge.
So the extension cord was ugly and dangerous. It was also short. So we had to work pretty close to where it was plugged in at. #garageproblems amiright?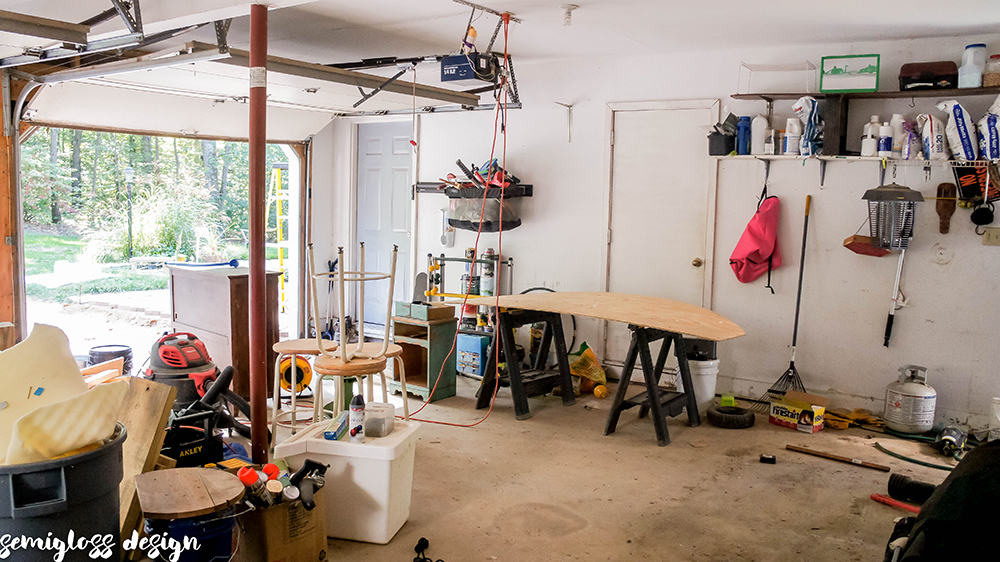 When we were talking about our dream garage, my husband told me about a few things that he dreamed of adding: a retractable extension cord and a retractable pneumatic air hose. Basically, it would attach to the ceiling and you could pull it down when you needed it. Pull again and it would wind back up! By itself. Magic right?
We bought both items, but I'm really loving the retractable extension cord. They had 2 lengths at the store: 30 ft and 50 ft. We bought the 30 ft because we're cheap it seemed like it was plenty long.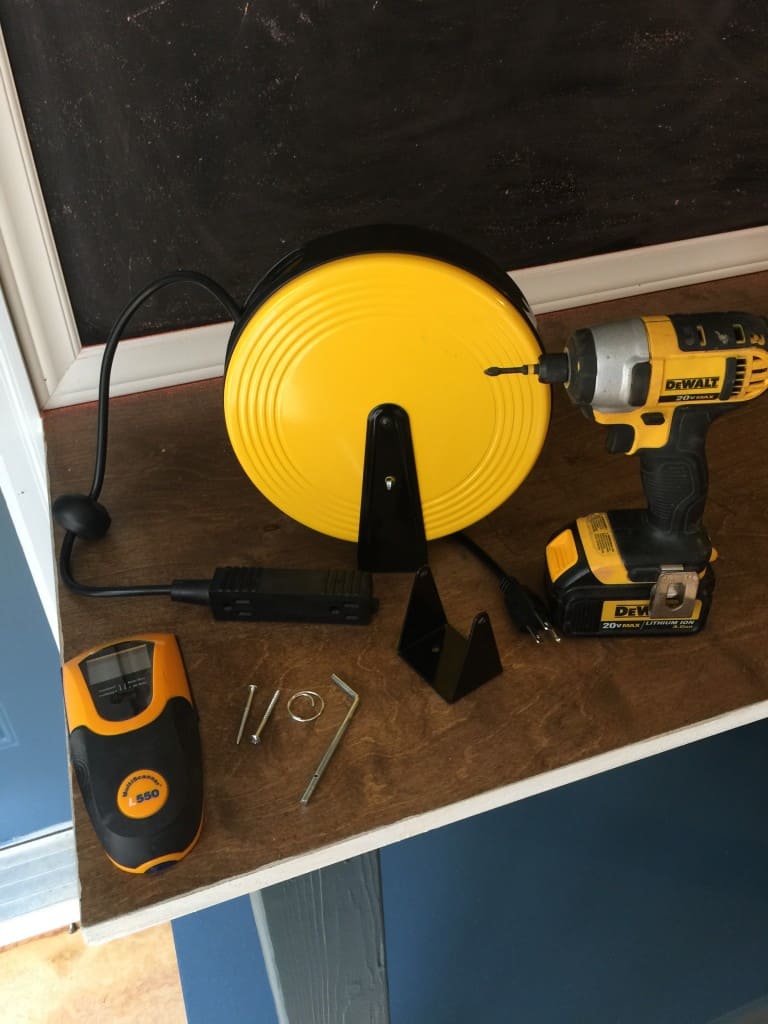 Using it is a dream. I can pull it down and use it in the space under the outlet or I can pull out enough length to take it outside. This past weekend, I used it for sanding and it was so nice to be able to take the mess outside. I love that is has more than one outlet, since I often use both of our sanders for projects.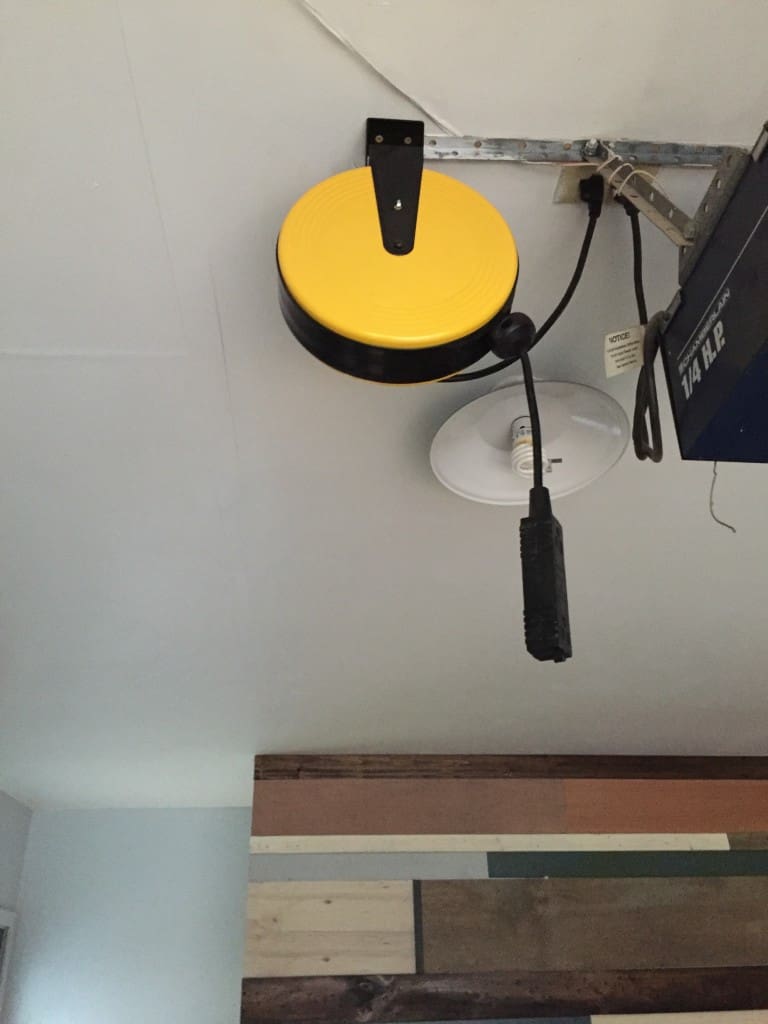 The best thing about it is how easy it rolls itself up. Ugh, I hate winding up cords. I have a perpetual knot of headphones in my pocket at all times, so it's no surprise that after I use an extension cord, it's a giant knot too. Two things I suck at: folding fitted sheets and winding up cords into knot-free loops. A retractable extension cord is a game changer for me.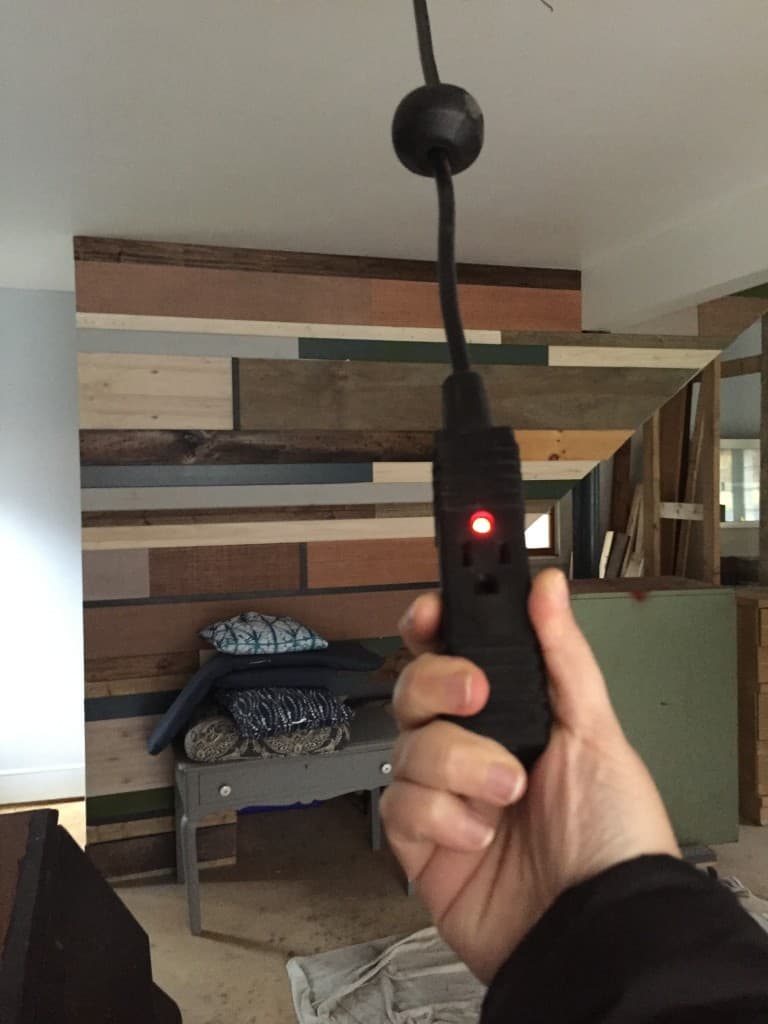 The retractable pneumatic hose holds promise, but it still scares me at the moment. Since the cord is so long, it holds a lot of pressure, making it hard to switch between tools easily. (Yes, we know you're supposed to let the air out first. We're in a hurry sometimes. Use caution, blah blah blah.) However, it is nice not to have hoses and cords everywhere anymore!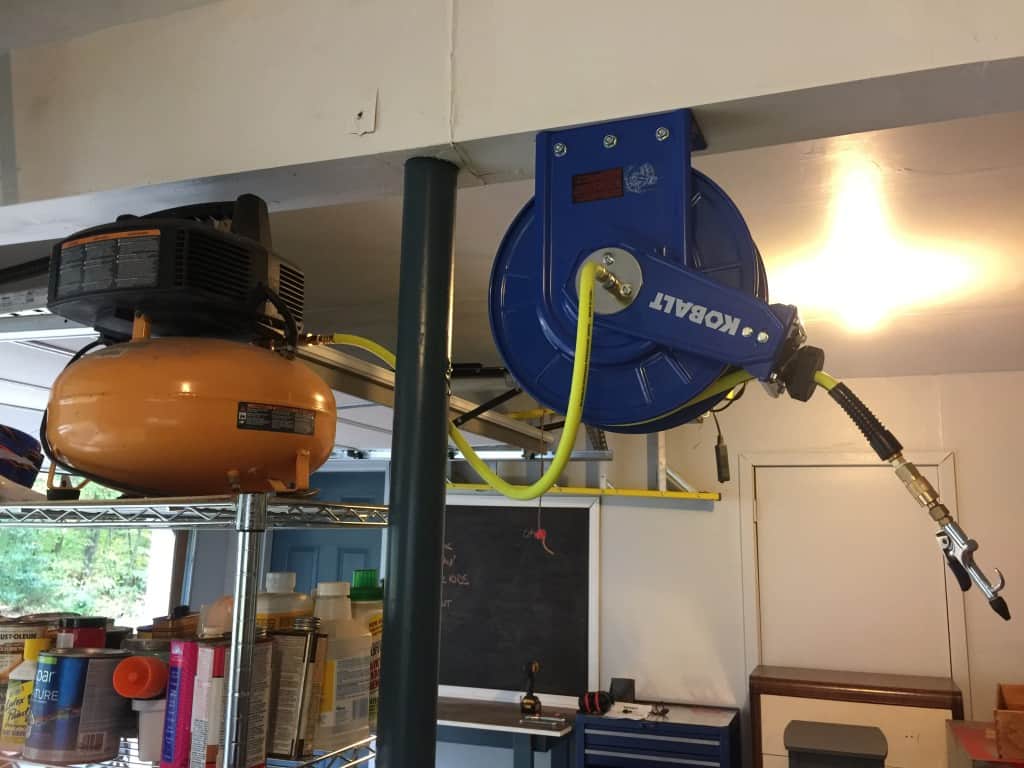 Tips for Installing a Retractable Extension Cord
Use a stud finder to screw it into. You're going to be pulling on it, so it needs to be sturdy.
The orientation of the cord depends on which way your studs run. Hubby preferred it going the other way, but the it needed to be screwed into the stud.
Luckily you don't have to hold the whole thing up while attaching it. Just attach the bracket first and then mount the cord reel.
Does your garage need more outlets?
Come back next week for the reveal. To be honest, we've been using our garage a lot and it's filled with vintage furniture waiting makeovers. I'll have to move everything out this weekend to take pretty pics.
Pin for Later!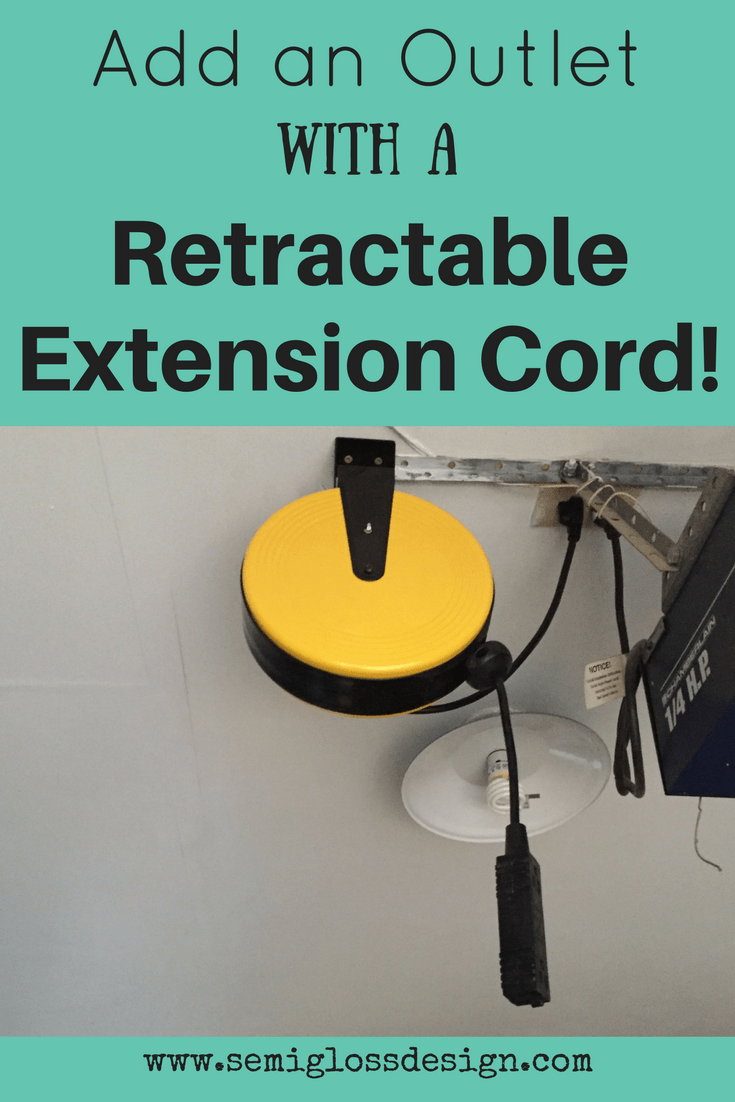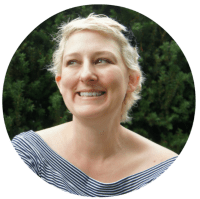 Emy is a vintage obsessed mama of 2 DIYer who loves sharing affordable solutions for common home problems. You don't need a giant budget to create a lovely home. Read more…