These DIY Halloween signs are so easy to make! If you're looking for more sign inspo, check out my carved signs or my stenciled signs.
Signs are a lot of fun to make and these are pretty easy. Minimal tools are required for this easy DIY! I made almost 15 in one day, so yeah, they are that easy. By the way, if you're looking for a craft to sell at craft fairs, these things sold like hot cakes.
How to Make Halloween Signs
Supplies Needed
This post contains affiliate links. By purchasing an item through an affiliate link, I earn a small commission at no extra cost to you.
Scrap wood or 1×6's cut to length
Miter saw
Paint in Black and White
Chalk paste spreader (you can use an old credit card)
Building the Halloween wooden Sign Frames
Don't want to make your own sign frame? Buy one here!
Cut your wood to the right length. I wanted to make a variety of sizes, so I cut them between 8″ and 12″. For other signs, I used pieces of plywood as well since the edges will be covered.
Cut your frame wood to the right length. I cut my horizontal pieces first by lining up the wood next to the scrap wood and marking. Cut at that mark using a miter saw.
The vertical length for the frame was held up the corresponding side and marked as well. Then I also marked the width of 2 pieces and cut using a miter saw. No math or measuring necessary. It tends to be more accurate when I "measure" this way as well.
Stain your frame pieces. Get the edges too!
Paint your scrap wood. Or vice versa. I did a nice mixture so that I could have a variety of colors.
When your paint and stain are dry, apply a thin line of glue along the side of your scrap wood. Place your frame wood against the glue.
Do this for the other side. Use a clamp to squeeze the frame to the wood. (You will only be able to clamp 2 sides at a time.)
Let the glue dry for a few hours before removing the clamp. Then repeat gluing the frame to the wood on the remaining sides.
Let dry.
Stenciling Your Halloween Signs
*Please note: the stencil I used has been discontinued.
Figure out your word placement. I love how the words look in the bottom right corner.
If I'm centering my word, I start with the middle letter. Otherwise, I start at the beginning. (If you're making a lot of signs, you can stencil all of that letter at once to save time.)
Apply the stencil.
Scoop out a bit of chalk paste with the spreader and scrape it against the stencil. Excess chalk paste can be placed back into the container.Cover the entire letter with chalk paste.
Remove the stencil and you have a letter!
Try to let each letter dry before working on the next letter. The chalk art dries pretty quickly.
For the next letter, you can use the letter next to it to help you align and space it properly. Sit the stencil on top of the previous letter to do this. I'm using the "c" on top of the existing "o" to align the "b."
If you mess up, you can wipe away your mistakes. It's harder to remove the chalk art from stain, but it is do-able. For small smudges, I use a damp q-tip.
The chalk art won't smear when it's dry, but it's not permanent. To make it permanent, use a roller and matte sealer on top of your image.
When you're done, wash your stencil with water and dish soap. Let it dry flat. If you're doing a ton of signs, you might need to wash your stencil several times during the process.
Phrase Ideas for Halloween Signs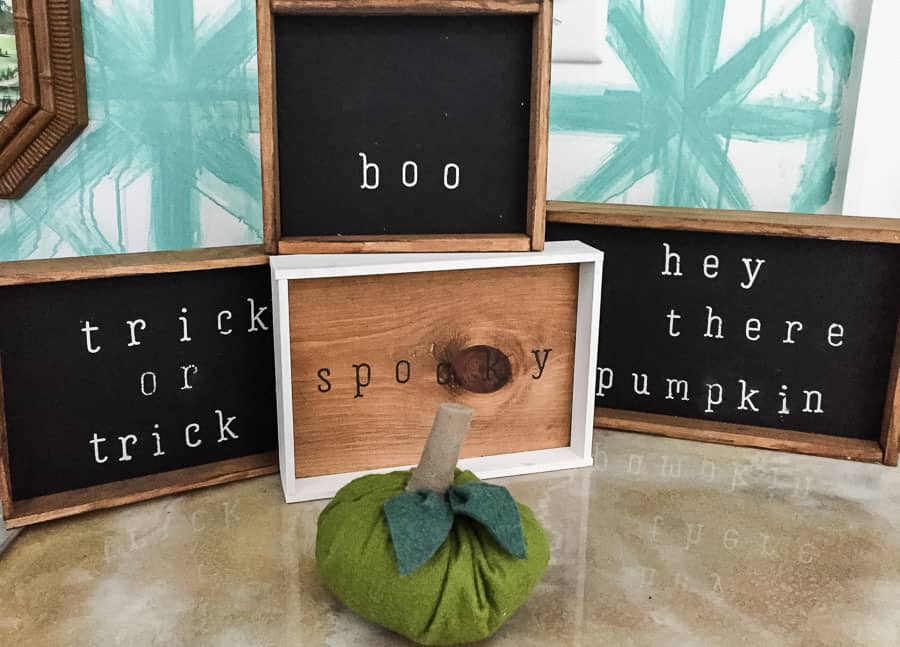 Shorter words and phrases are the easiest to stencil.
Boo
Eek
Spooky
Trick or treat
Candy
Happy Halloween
Hocus pocus
Beware
31
Broom Parking
Looking for more Halloween projects?
Pin for Later!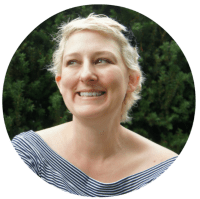 Emy is a vintage obsessed mama of 2 DIYer who loves sharing affordable solutions for common home problems. You don't need a giant budget to create a lovely home. Read more…