Easy to Make Hand Carved Signs
Learn how to make hand carved signs! DIY signs make great wall decor and these typographic wood signs are no exception.
I fell in love over the summer. Not with a person. With a tool.
When I attended a blogging conference, I was given a Dremel Stylo and it was love at first sight. My mind was immediately filled with thoughts of all of the amazing projects that I wanted to make with it. These DIY typographic hand carved signs are the first project that I attempted.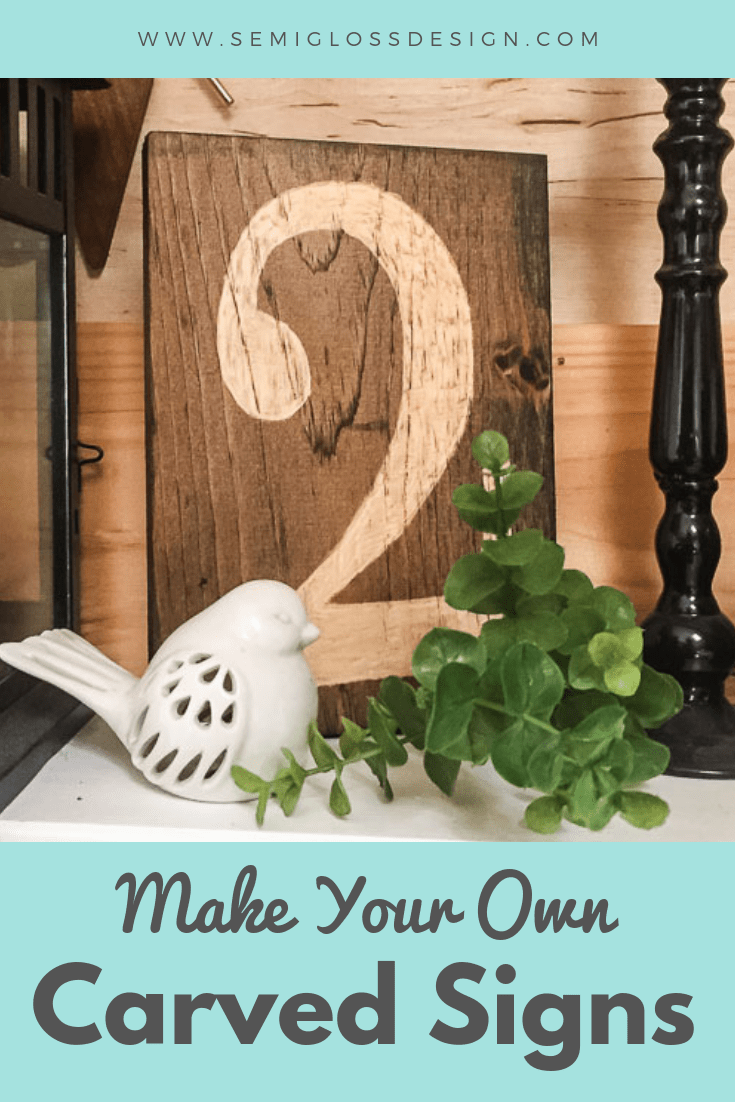 Dremel provided me with a Dremel Stylo+, but all thoughts and opinions are my own. I would never recommend products that I wouldn't buy or use on my own. Your support helps me make more projects like this one!
Using the Dremel Stylo+ to Carve Wood Signs
Tools are like children: it's hard to pick a favorite. But the Dremel Stylo+ is the kid who doesn't argue back, brings home straight A's and eats everything you cook without complaining. I'm obsessed with this guy and find myself looking for excuses to use it.
Light weight and small. I'm absolutely not in the camp that ladies need light weight, small tools, but I do love how light it is. The Stylo+ fits in my hand almost like a pen, which is really handy for carving.
Relaxing to use. Making stuff is relaxing to me anyways, but there's something about using the Stylo+ for carving that is almost hypnotic. It's probably the soft hum that it makes when you're working. Working with this tool is addicting.
Quiet. Like I said, it emits a soft hum. No ear protection needed. This means that you can use it after the kids go to bed or during nap time without disturbing them.
Versatile. It comes with accessories to make it useful for so many projects. I used the sanding drum when I made my gift wrap organizer. It was perfect for sanding those tiny grooves! There are accessories for polishing, sharpening and even drilling (my normal drill breaks all the tiny drill bits.)
Carved Wood Signs Ideas
These hand carved signs can be customized so easily.
Special Days: I have some displayed as 31 in my Halloween display in my booth at Sweet Clover this month.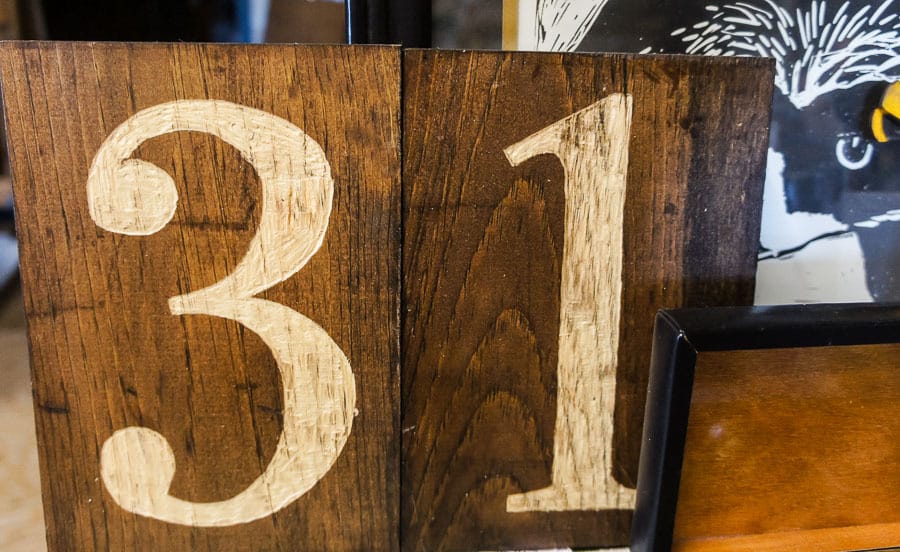 25 would be cute for Christmas.
Your anniversary
The number of people in your family (4 for us!)
Initials or monograms
House address number
Short words like "Home" or "Eat"
How many signs is too many signs? Asking for a friend…
How to Make Hand Carved Signs
Supplies Needed
This post contains affiliate links. By purchasing an item through an affiliate link, I earn a small commission at no extra cost to you.
Scrap Wood (or 1 x 6 cut to about 8″ long)
Stain
Print outs of numbers
Chalk
Print Your Numbers
Choose a font. I chose a serif font with ball terminals. That means that the font has little legs at the end that sometimes end in balls. I used Times New Roman because the font I actually want doesn't exist I guess. Try to use a thicker font for best results.
Enlarge the numbers to fit the size of your wood with about 1/2″ to 1″ left around the edge. It's okay to stretch out the number to fit. I used Adobe Illustrator, but you can also use canva.
Turn the numbers to fit more than one on a piece of paper. Make sure that about 1/2″ is left around the edge of the paper.

Print it out at 100% scale.
Cut your numbers out. They don't have to be exactly perfect.
Prepare Your Wood
If you're not using scrap wood, cut your wood to size.Sand the edges to remove any splinters.
Stain the wood or paint it black. (I used previously stained scrap wood.) Don't forget about the edges.
After the stain is dry, trace the number onto the wood with chalk.
How to Carve Signs
Use the engraving cutter bit and start with a speed of 4 on the Dremel Stylo.
Trace around the edge, going slowly. Don't press too hard. Let the dremel do the work.

Continue to fill in the number, letting the lighter wood show through. You can speed it up to 6 when you feel comfortable with the tool.

When the number has been completely carved, it's going to look a bit rough. Clean up any areas that need more work.
Change the bit to a sanding drum and lightly sand the carved wood areas.
The process is pretty forgiving, but if you hand slips while carving, add a bit of stain the area that you messed up.
Finish Your Hand Carved Signs
When you're finished, add a coat or 2 of polycrylic to protect your work and bring out the color of the stain.
Flip your sign over and add your hanger. I prefer D-ring picture hangers because they are so easy to install. Just screw them in. It really goes fast when you have 12 signs to add hangers to. Plus, they're very strong.
These signs would look great as part of a gallery wall.
I love how the grain shows through the number!
Check out how to use a dremel to carve a pumpkin for Halloween!
You Might Also Like:
Pin for Later!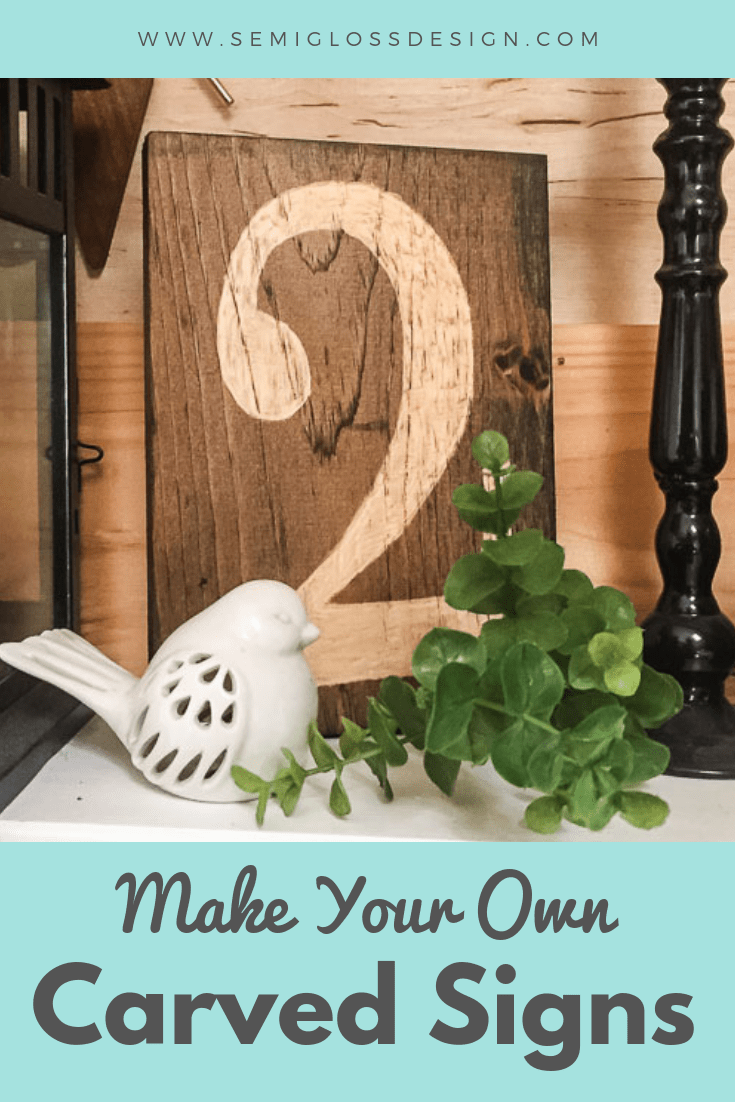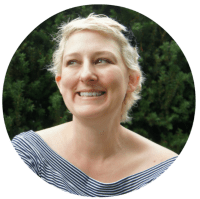 Emy is a vintage obsessed mama of 2 DIYer who loves sharing affordable solutions for common home problems. You don't need a giant budget to create a lovely home. Read more…