How to Get Your House Ready to Sell
Looking for tips to get your house ready to sell? This easy guide will help you get started preparing to sell your home.
You might also like my guide for decluttering when you don't know where to start.
This post contains affiliate links. By purchasing an item through an affiliate link, I earn a small commission at no extra cost to you. As an Amazon Associate I earn from qualifying purchases.
We spent several months preparing for the sale of our home and it paid off. After only 3 days, our house was under contract. (Check out the before photos of our new house here.)
We sold during a housing boom, but these tips will help you no matter what.
You want your house to look its best for buyers so preparing for the sale is an important part that shouldn't be overlooked.
How to Get Your House Ready to Sell
Getting your house ready to sell can feel very overwhelming. There's so much to do and it's hard to know what's important.
Here are my tips to get organized and prioritize what needs to be done.
Declutter
Decluttering should always be the first step in getting your house ready to sell. Not only will you have less to move, but staging your home will be easier.
Decluttering helps to show your house at its best. Your home will look bigger and look like it has plenty of storage space.
If you're downsizing like we are, getting rid of excess stuff is a necessary step.
However, if you're moving to a house of the same size or bigger, you might want to keep your stuff. Consider renting a storage unit to hold the excess items.
The listing photos are the first contact that a buyer will have with your home. When I'm looking for our new house, I'm seeing so many houses that are so over-decorated that it's hard to see the home. Make it easy for the buyer.
I have a post with specific tips about decluttering here.
If you have a ton of stuff, you might want to rent a dumpster. We ended up filling this thing and wishing we had gotten the larger one.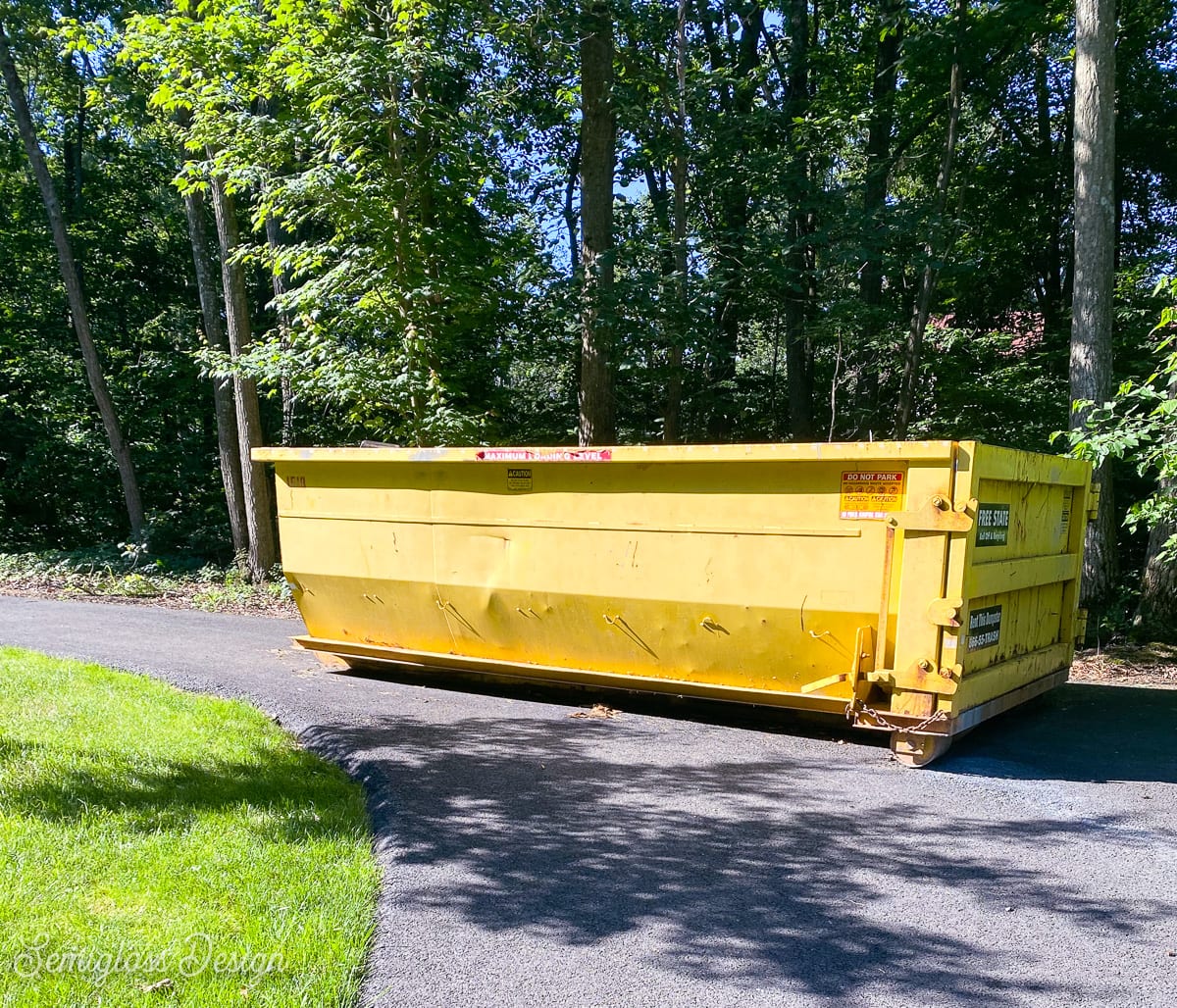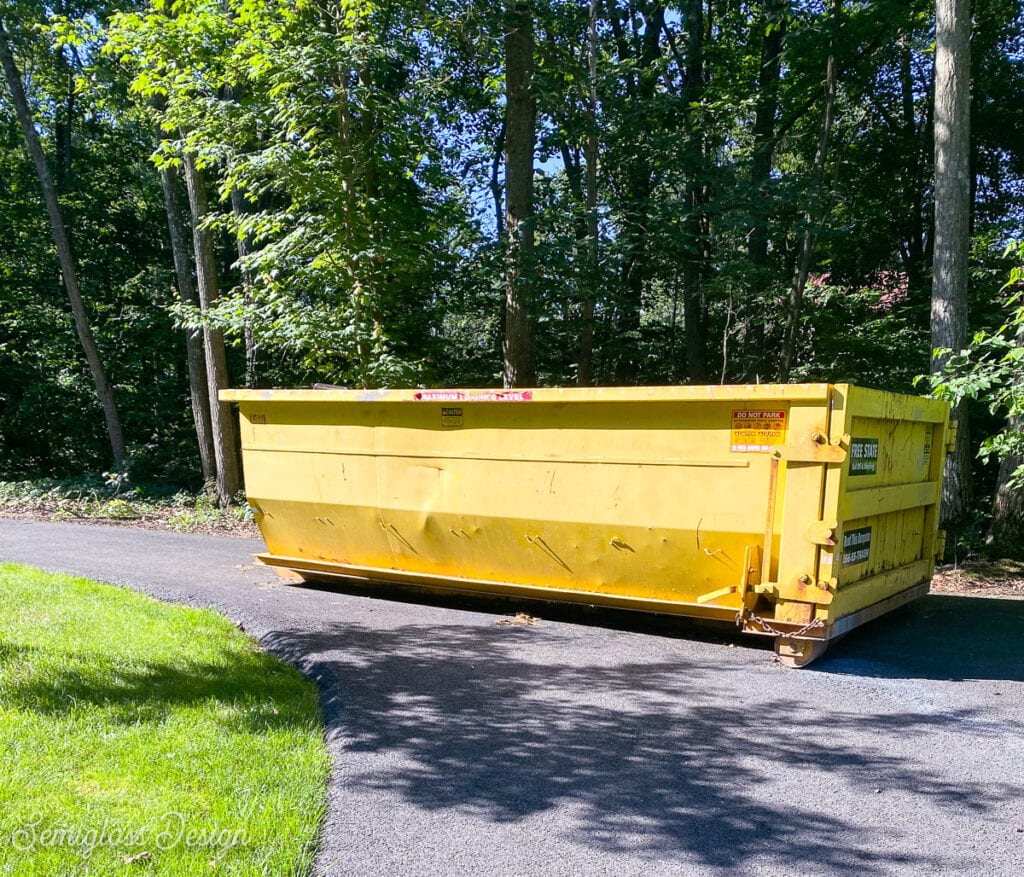 De-personalize
You also want to start de-personalizing and neutralizing as you declutter. Personal items like family photos, diplomas, and signs with your name on them need to be put away.
It's very important for potential buyers to be able to envision themselves in the house. Pack those things away. Everything needs to be packed anyway.
We bought our packing boxes from this shop and saved a ton of money. The boxes arrived at our house 2 days after I ordered them, so I highly recommend them.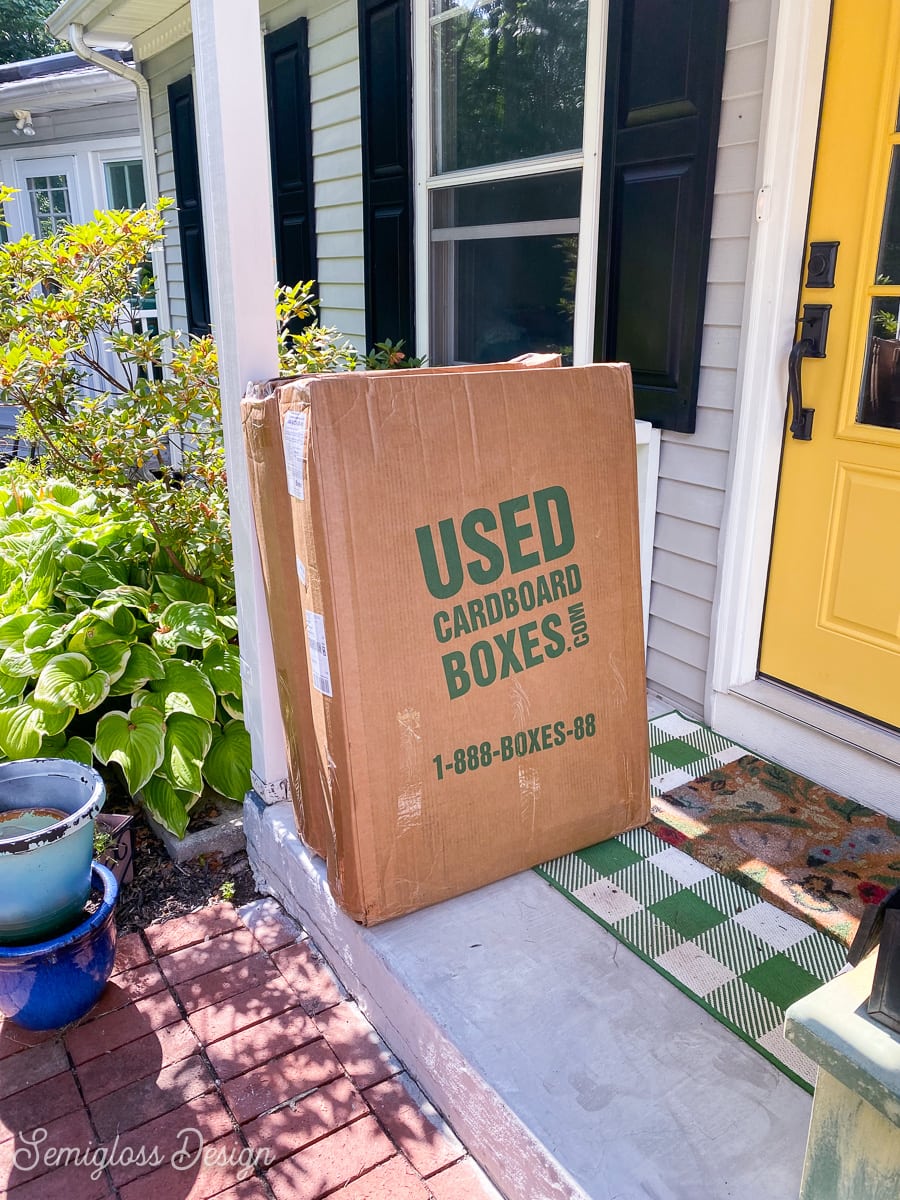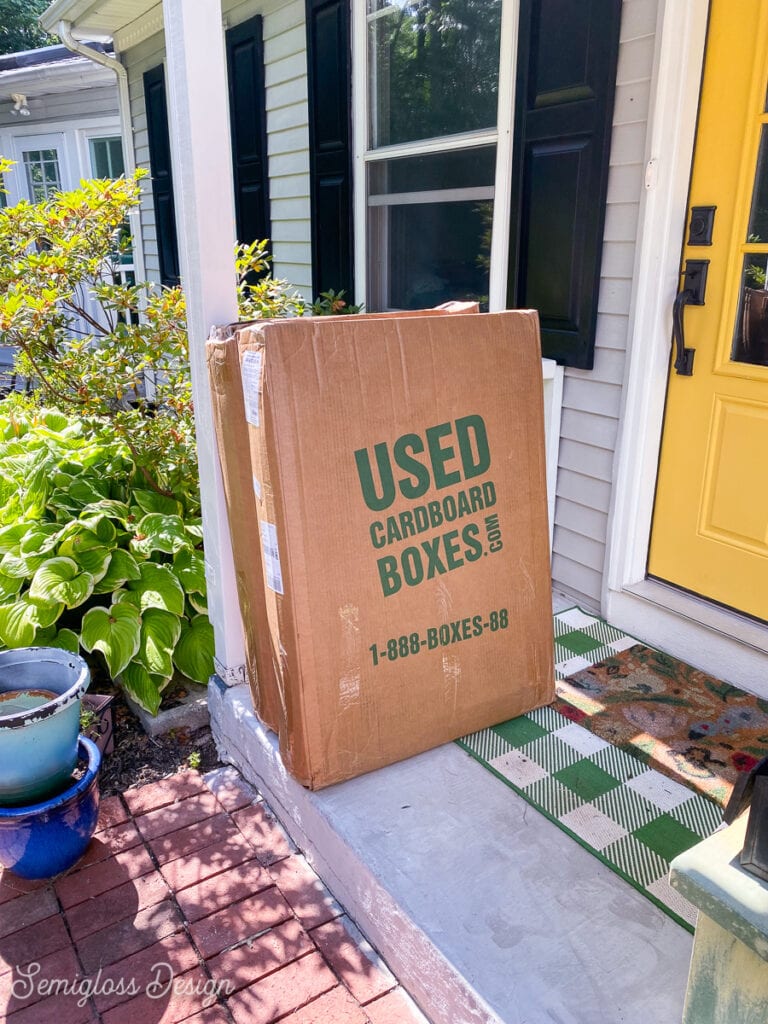 The same goes for very specific decor. If it's weird, put it away. (I saw a house for sale with a coffin in the living room. It was hard to see the actual house because of the coffin…)
You probably don't have a coffin in your living room, but your collection of antique globes might distract buyers. If in doubt, pack it up.
Neutralize
If you're a fan of bold colors like I am, it's a good idea to neutralize your wall colors and decor.
I love color, but even I look at homes with crazy colors and think about how I'll have to repaint those walls as soon as we close on the house. Besides, I want to choose my own crazy colors.
Even though the stencil in the bathroom was neutral, we sanded it down and painted over it too.
If you have bold wallpaper, it's a good idea to remove it.
(I say this, but even though I toned my decor WAAAAYYYY down and neutralized, I received a lot of feedback about my decor being "interesting" and "funky", which we all know actually means "weird.) Do what you can.
Talk to a Realtor
Talking to a listing agent can save you time and money. They can tell you exactly where to spend your time and efforts preparing your home for sale.
They will have insight into your specific area and what the selling market is like. Talking to a realtor can also help you get an idea of the timeline to shoot for.
Make a Plan
It's so important to make a plan when selling your house. I like to break my to-do list down by room or area.
We walked room to room and listed everything that needs to be done to sell our house.
After we made the list, we added a few other things to consider for each room.
Need help making a plan? I sell a printable house selling checklist to help you plan.
Here are some of the things that I have on my plan.
Prioritize Tasks (or Rooms)
Our list was long, so prioritizing was a must for us. I was super worried about not having enough time and ran out of time for a lot of the things that I wanted to do. Luckily we prioritized the important ones (like the kitchen.)
Concentrating on the important rooms and projects first ensured that they were finished.
Figure Out Your Timeline
When we started this process, we didn't have a set timeline. So I made one up to ensure that we get stuff done.
I gave us 3 months to declutter and start repainting the house and fixing things.
Most likely, you have a set deadline if you're reading this post. Try and give yourself a few extra days for catching up if you fall behind.
I estimated how long each room will take and unfortunately I tend to be wildly optimistic. So I had to go back and add an extra day for each room.
Make a List of Repairs
In every room, we noted repairs that need to be made. They ranged from filling in nail holes to fixing the tile grout.
We removed the carpet in our master bedroom with the intention of eventually adding hardwood flooring. That wasn't going to happen, so we ended up replacing the carpet.
Exterior paint was refreshed where needed. It made the outside look a lot nicer.
All of these things matter when selling your home. You don't want to give the new owners your to-do list. They don't want to buy a house with a leaky faucet or chipping paint.
Plus, fixing these small things make your home look well cared for.
Make a Shopping List
Our list contained things like rollers, paint, updated lighting for the kitchen and dining room, and carpet for our bedroom.
When buying stuff to sell your house, keep your selections neutral, but modern. They should be in line with the current trends for your area.
If you have no idea what's in style, do a Pinterest search for that room and look at what comes up. Look for what the rooms have in common and this is a good indication of what normal people are looking for.
You can also look at homes in your area and see what stands out to you. When we're looking at new homes, I find that the homes with gray walls look modern and clean (even though I don't love gray walls!)
Start Thinking About Staging
I wrote an entire post with easy staging tips, but here are a few quick tips.
Err on the side of simplicity when staging. As I repainted the walls, I didn't rehang very many paintings.
I left shelves pretty bare with just a decorative item or two and a plant.
Although I need to give all of my plants away before we move, I saved them for staging.
The same for excess furniture. Everything in my sunroom has to go before we move, but for now, that room needs to show as a sunroom.
Every room needs a purpose. If you have a weird room that you've never figured out, give it some kind of purpose, even if it's just a sitting room.
Clean as You Go
As I worked on each room, I gave everything a deep clean. This saved us time when it was time to get the house ready for showings.
Get to Work!
Now that you have a plan, it's time to get to work. Break out the paint and get started. If your house is anything like mine, you're going to be spending hours painting and touching up trim.
I know that no one really wants to repaint their entire house before moving, but a coat of fresh paint can help you get top dollar for your home.
Here are some things that we did to get our house ready to sell:
Added fresh flowers to the entry area and made sure the paint still looked good on the front door
Touched up paint on trim and baseboards
Touched up paint on doors
Repainted dark or bold-colored walls with neutral colors
Replaced bedding with neutral colors where it wasn't possible to repaint walls
Ensured that our curb appeal looked good. THe yard was freshly mowed and weeded.
Removed curtains to let as much light in as possible
Made sure that every room had enough light sources and that the light bulbs matched in temperature (Soft white bulbs are the best)
Removed excess furniture
Packed excess items from closets and storage items
Caulked any cracks on trim and baseboards
Replaced missing trim
Deep cleaned the house, which it needed after repairing walls and painting everything
Made sure that there are no weird smells. Pay attention to damp areas like basements or pet smells.
My Final Advice
You can make a million lists a day and not everything is going to get done. And that's okay. Do what you can. Someone will love your home despite its flaws.
Good luck selling your house!
You might also like:
Pin for Later!