How to Paint an Exterior Door for Instant Curb Appeal
Learn how to paint exterior doors without removing them. Painting your front door is a quick way to improve your curb appeal without a lot of effort.
Instantly make your home more inviting with a little paint and a few hours.
You might also like this post on painting shutters.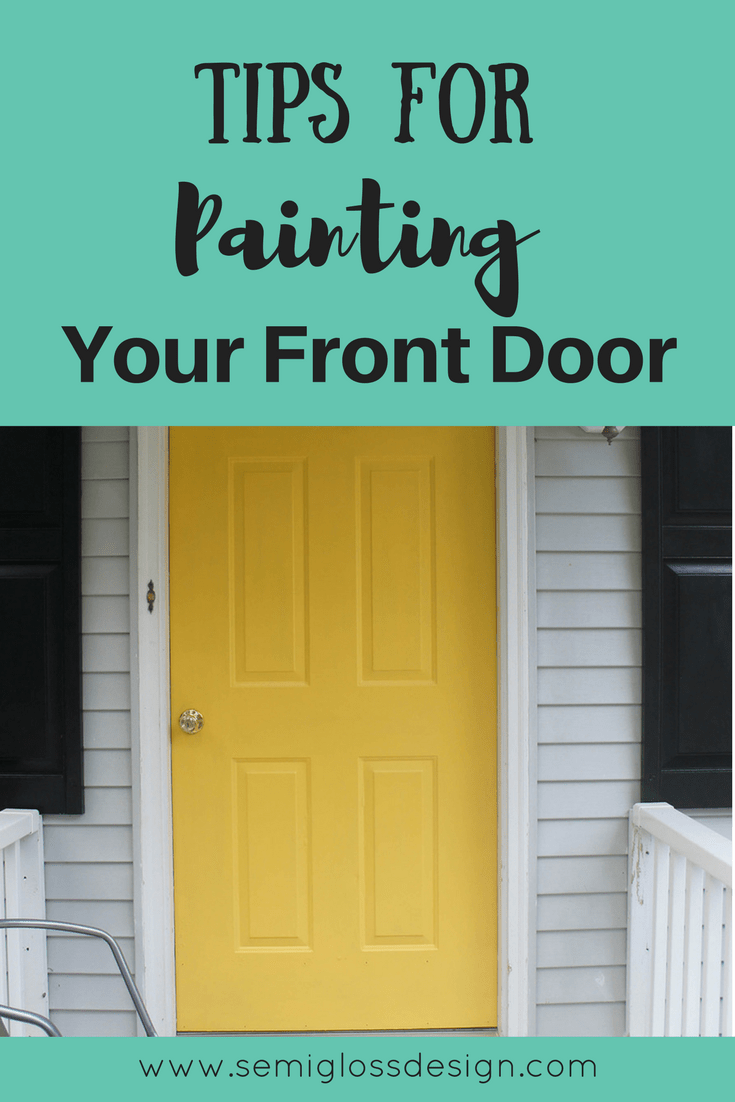 In our last home, we lived in a neighborhood with an HOA. We were only allowed to use 1 of 8 approved front door colors, which we still had to get permission to change a month in advance.
When we moved, I vowed to paint my front door whatever color I wanted, when I wanted. Well, in 3 years, I've only painted it once and it was a bit of a failure.
Today, I'm sharing some tips on how to paint an exterior door to add instant curb appeal. In less than a day, your house will look updated!
I keep remarking that it looks like a new house! Although my daughter keeps saying that it looks like a bumblebee. 😉
Nothing was wrong with the existing color (gray), but I really wanted to try out blue. So I painted my doors and garage blue and didn't love it. It just felt lackluster to me.
Our home is surrounded by trees, so those dark blue doors just felt like black holes. Plus, we have 3 doors on the front of our house. This is great for a lazy girl like me, but a bit confusing for a focal point.
If you have a door with glass panes, be sure to check out this post on the easy way to paint French doors! It works for all windows!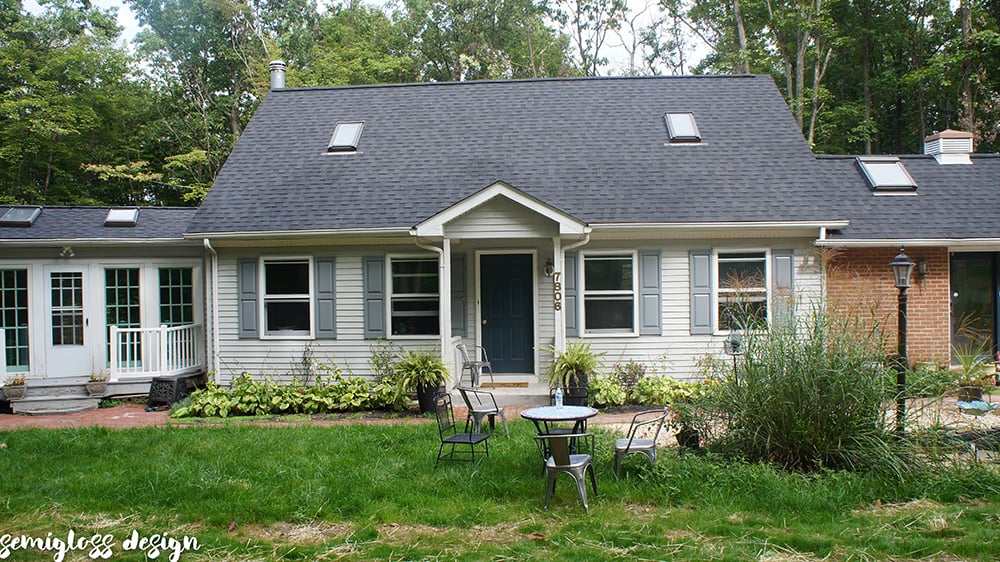 My door wasn't in the best shape and the dark color called more attention to this, rather than disguising it. I removed the brass panel at the bottom when we first moved it because a cardinal was terrorizing us by knocking on it constantly.
I also removed the door knocker and promptly lost all of the pieces. (Our door is being replaced next month, so I'm not fixing these spots.) However, you will see that painting the door does a great job of disguising the ugly spots!
Painting an Exterior Door FAQs
What kind of paint do you use to paint a door?
Exterior house paint should be used to paint your front door. The paint is formulated to withstand fading.
Since doors are small, a quart of paint will be plenty of paint.
Do you paint the inside of your front door?
I love a painted interior door! Mine are currently painted a medium gray tone because it adds interest but hides dirt as well.
Now that my walls are white, I'm considering repainting them with a nice aqua color. 
Can you paint a door without removing it?
Yes! I've never removed a door to paint it, unless it needs other work, like sanding down the edges to close better.
Just be sure to paint at a time when it's okay to leave your door cracked for a few hours while the paint is drying. 
How to Paint an Exterior Door
Supplies Needed
This post contains affiliate links. By purchasing an item through an affiliate link, I earn a small commission at no extra cost to you.
Exterior latex house paint
Step ladder
The paint I used is no longer available so I've updated the recommendation for regular exterior latex paint. Sherwin Williams Honey Bees is a similar color.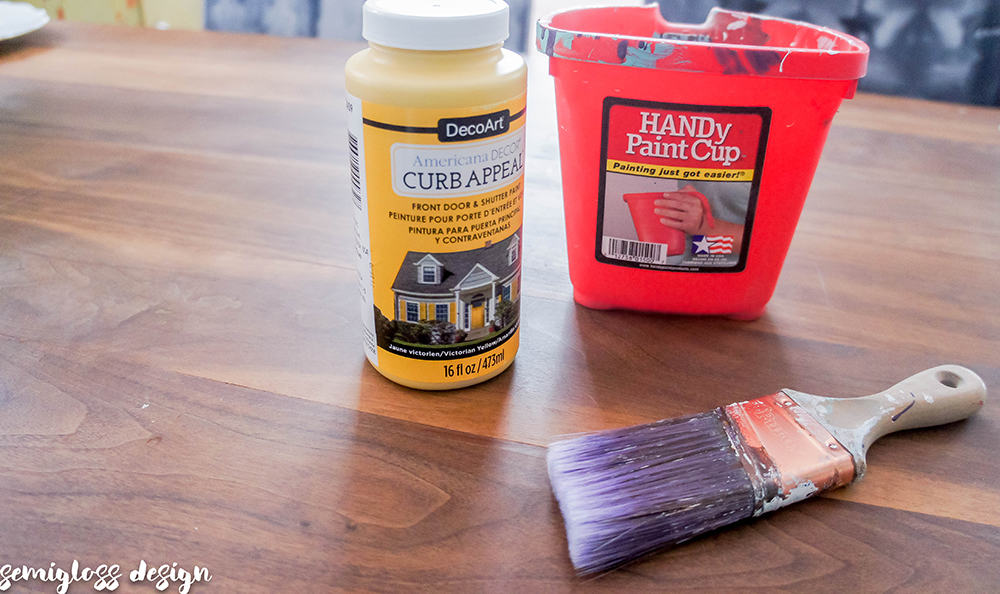 The first step for how to paint an exterior door is to start with a clean door. I used a broom to knock off all of the dirt and cobwebs.
Then, I washed it with a wet rag. Remove any hardware (I left mine because it will be replaced soon.) Once the door is dry, it's ready to be painted.
If your door handle is nice, I highly recommend removing it before painting your door. No amount of taping it off protects the handle from paint. (I left mine on in these photos because it was a junky door handle, but when I redid it for the new door, I removed the handle first.)
Painting an exterior door is very similar to painting an interior door. You follow the same steps and paint the recessed areas first.
Then you go back and paint the raised portions in the panels.
Then the rest of the door, vertical parts first, then horizontal. (For full instructions, see this post on painting interior doors.) Make sure you leave the door open while painting.
Repeat in the same order after 1-2 hours of letting the paint dry.
Bonus Tips for How to Paint an Exterior Door
Call attention to your door with a bright color!
I chose a bright yellow after searching on Pinterest for houses with gray siding. Pinterest is a great place to find inspiration. Just search for house exteriors similar to your color.
Style doesn't really matter for this; you're just looking for colors that work well together. Or throw caution to the wind and paint it pink because you love pink!
If you're thinking about a whole house color scheme, go bold for the door, neutral for the shutters, and white for the garage doors. You want ONE focal point, not 10.
Besides black ALWAYS looks amazing on shutters. I'm considering painting the sunroom exterior (on the left) black to make it disappear a bit more.
Also, excuse the yard. We had several trees removed and put in a drainage pipe, so the front yard is trying its hardest to grow grass again.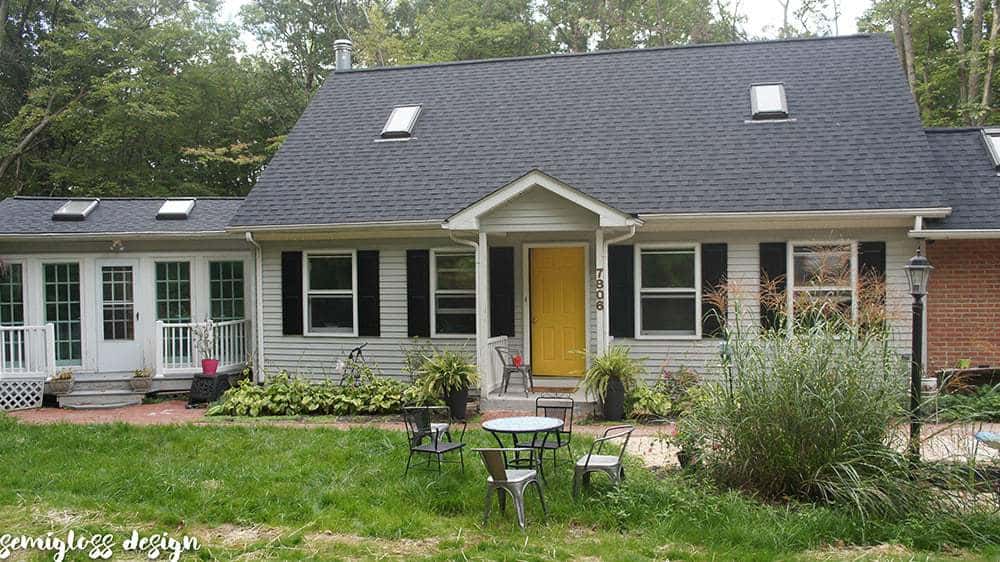 Consider primer if your door is dark.
My door needed 3 coats of paint since I was painting yellow over dark blue. I thought about priming the door beforehand but chose not to.
In the end, it might take more paint to cover dark colors. In all of my painting experience, warm colors like yellow are harder to paint with anyways. (However, I used black paint and it covered in almost 1 coat!)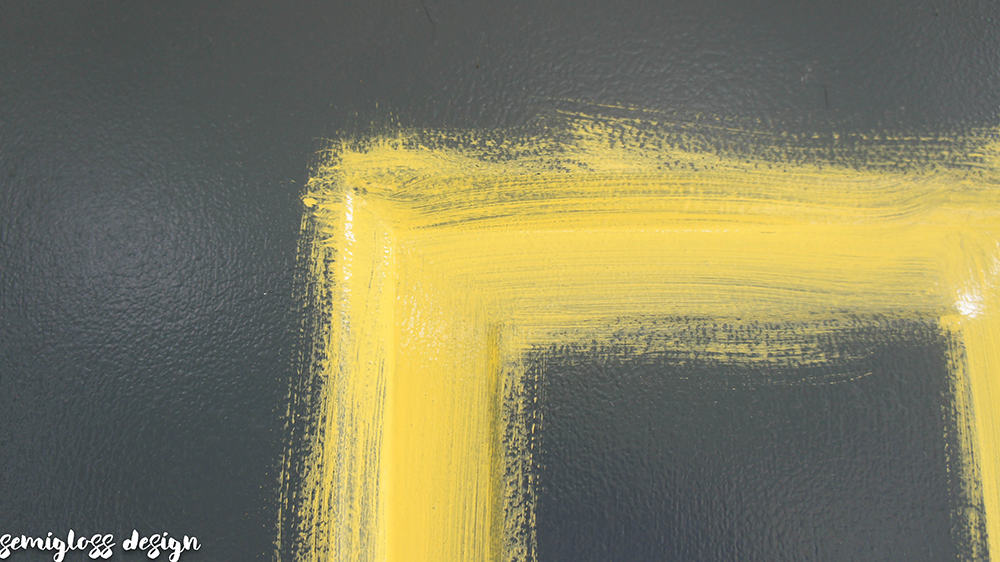 Pour the paint into another container.
I poured my paint into a handy bucket to make painting a little easier. I love the HANDy pail because it has a little magnet on the side to hold the brush when not in use.
Use an angled brush.
For interior doors, I normally use a small foam roller. I used an angled brush for this entire door per instructions. Even with a paintbrush, it took less than 30 minutes.
Let your paint dry completely between coats.
While my paint coats were drying, I also painted my shutters black. Like I said earlier, the black covered in almost 1 coat, which was amazing.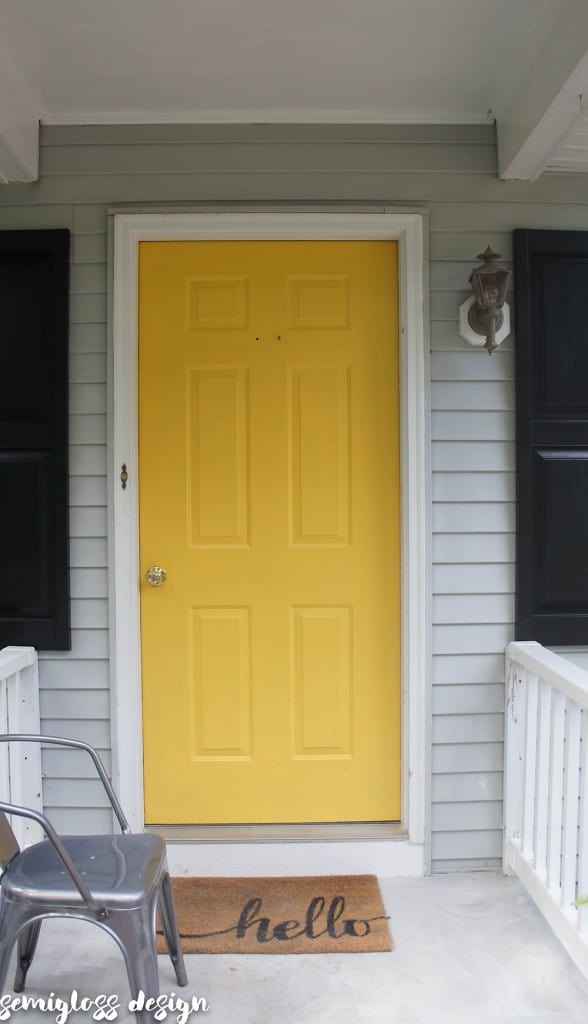 I love that I was able to change the look of my home in just a few hours.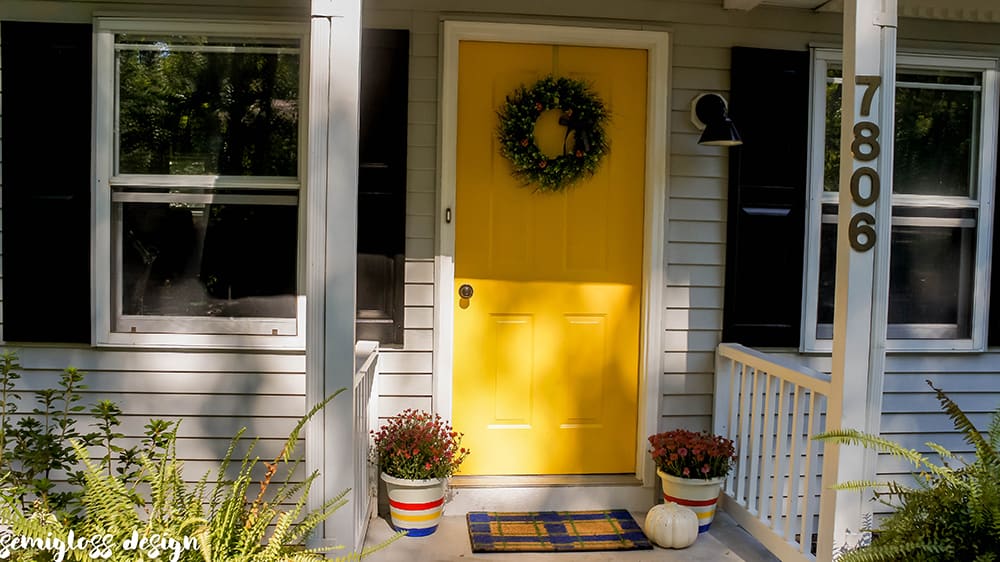 Other Posts You Might Like:
Pin for Later!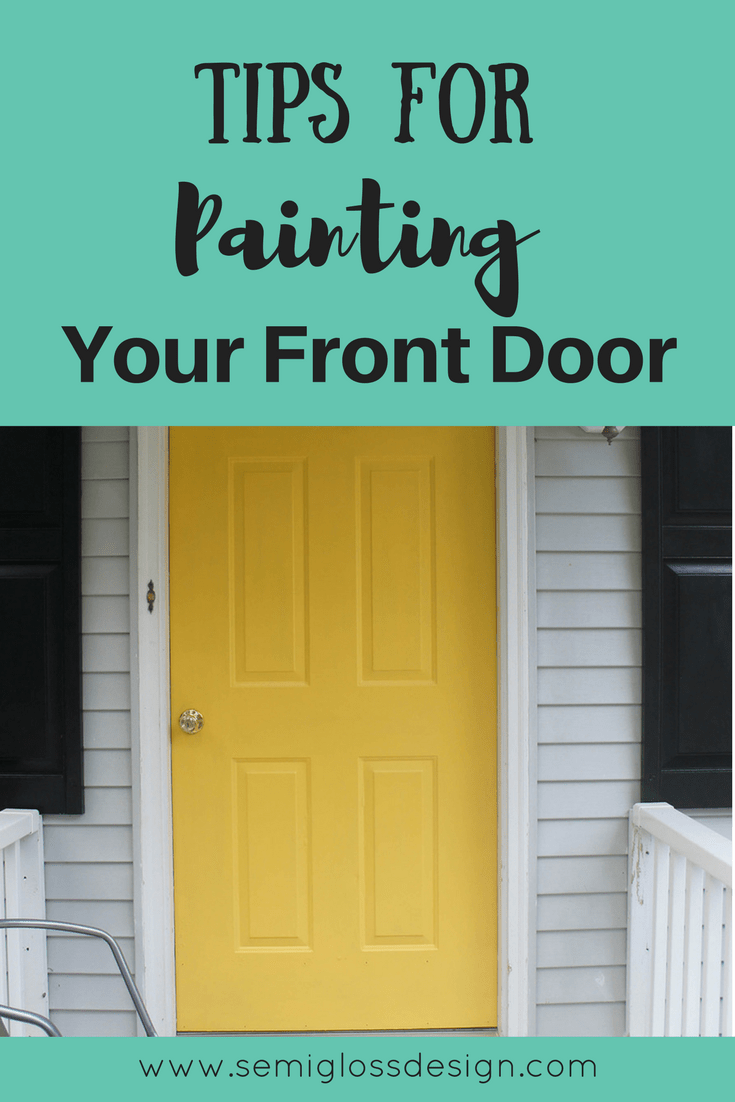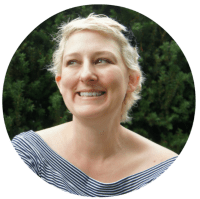 Emy is a vintage obsessed mama of 2 DIYer who loves sharing affordable solutions for common home problems. You don't need a giant budget to create a lovely home. Read more…