Adding storage in the kitchen
I've been a bit direction-less (besides working in the yard) since the One Room Challenge ended. Most of the work was outside, so the mess stayed in the garage and out of the house. That means that my house has stayed pretty clean. When you've lived through constant renovations (even minor one), the mess becomes part of life. I've been reluctant to bring the mess back, but at the same time I'm bored and ready for a new project.
This weekend a few projects fell into my lap. I've been bugging my husband for a new fridge pretty much since we moved here. Our old fridge was a stainless steel French door beauty. This one was a 20 year old side by side with a freezer that made everything taste freezer burnt. Even the ice was gross. Filter after filter was purchased to no avail. Food went bad because the fridge was so tiny that it hid stuff. The bottom produce drawer froze everything. If something spilled in the bottom, it was impossible to clean without disassembling all of the shelves and removing everything. Needless to say, that didn't happen very often. The front was littered with my daughter's drawings because she was more than willing to take advantage of the magnetic surface. There's a reason that I always crop my kitchen pictures.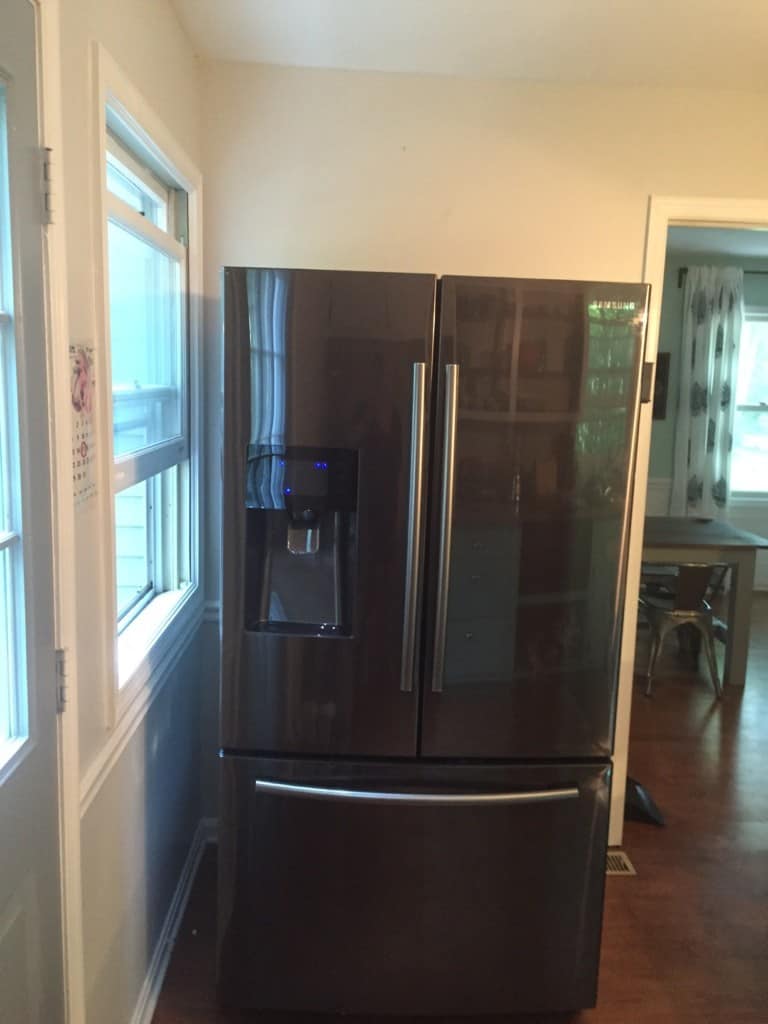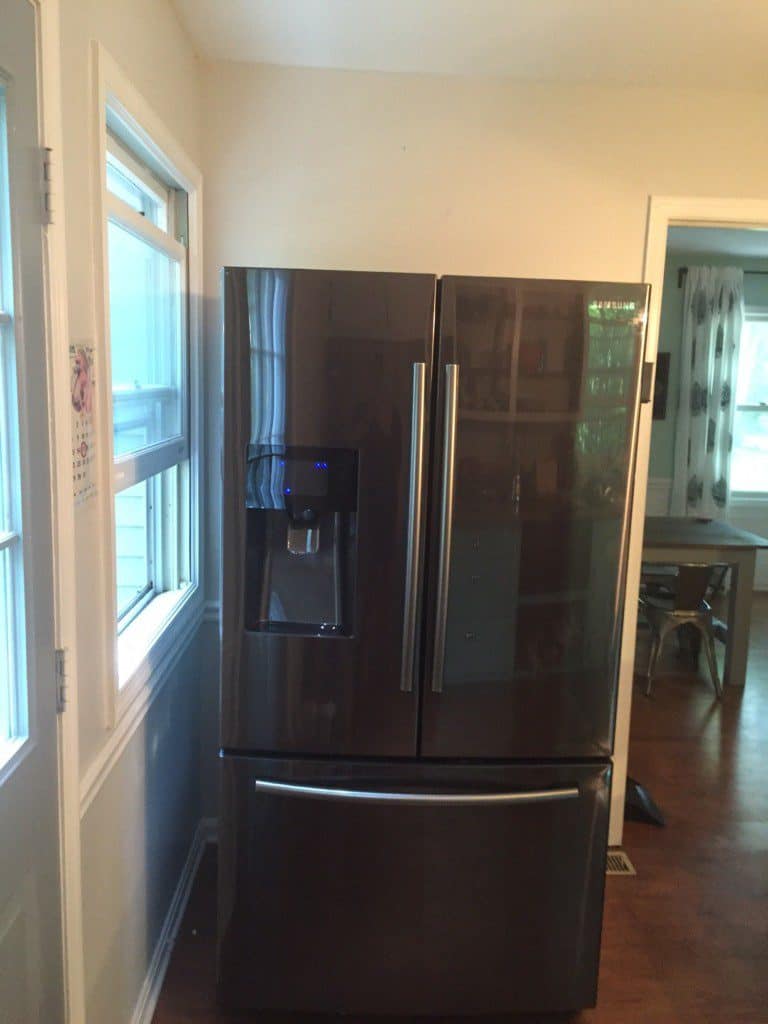 Over Memorial Day weekend, we found a great deal on a fridge and purchased it. Our last fridge was 33″ wide, which for some reason is more expensive than a 36″ wide fridge. I bought the big one. There's a wall across from the fridge that I have been itching to remove. So basically that space will become a recessed fridge space and the old fridge space will be a trash organization area and excess pantry area.
The wall that we're removing goes into the dining room and I plan on adding a small closet on that side to house the broom, mop and bucket and vacuum. I'm stupidly excited about this. So then the china cabinet has to move, which means my dresser and bar area have to move… See where this is going?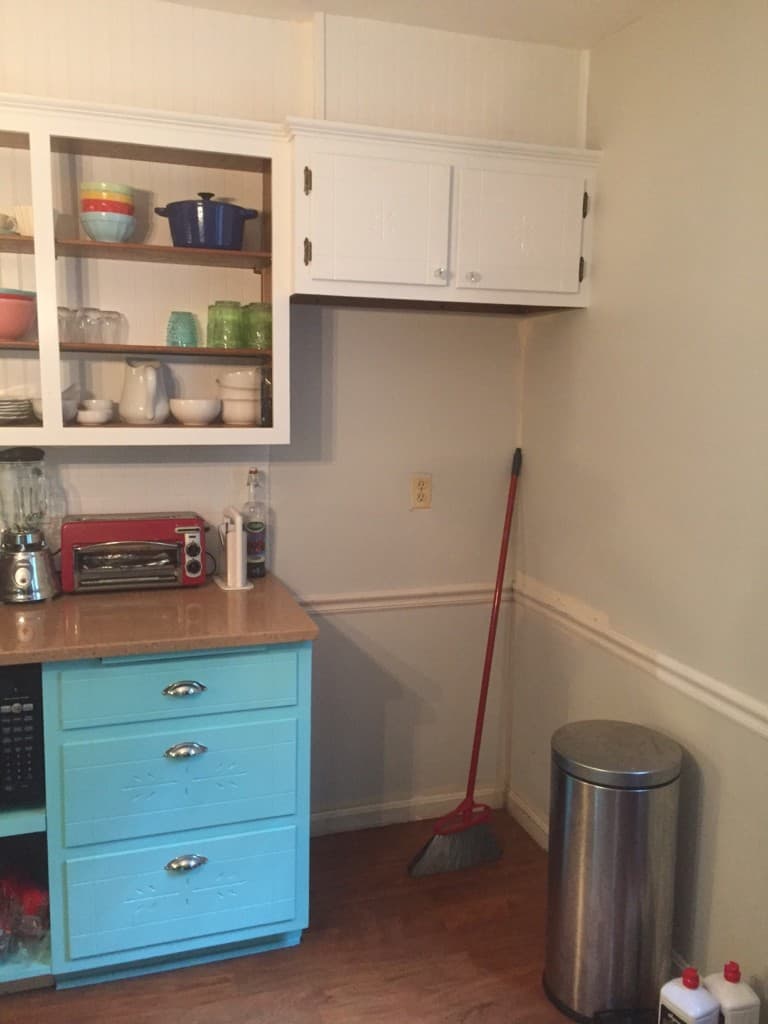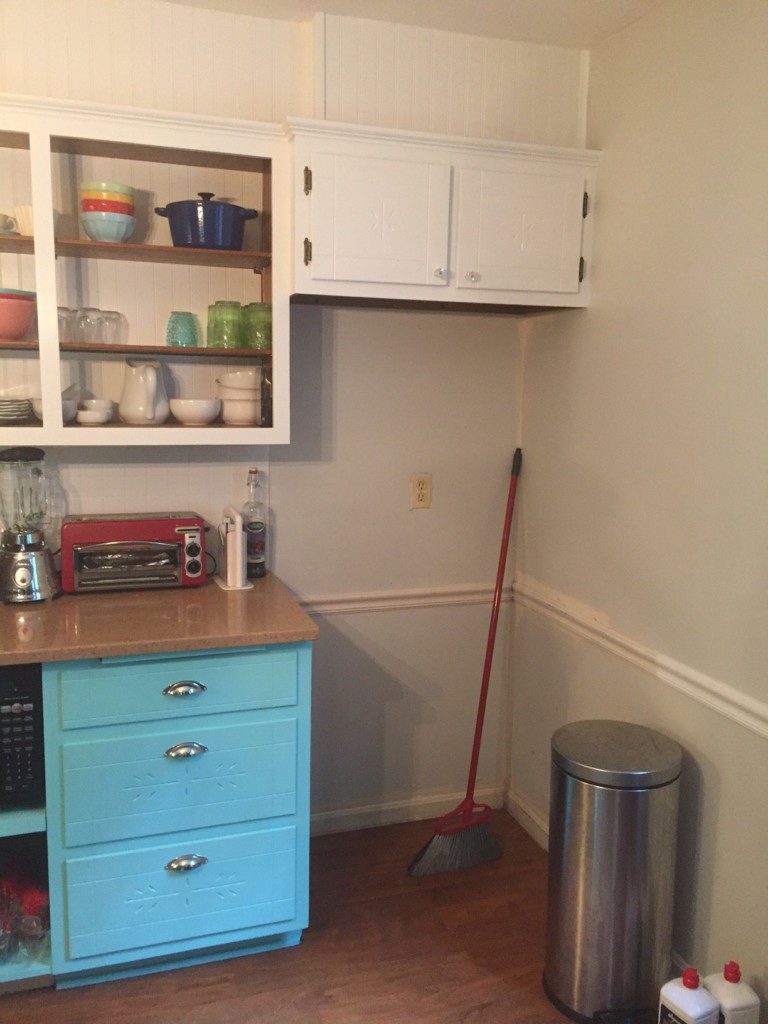 This is the area where the fridge used to live in. Apparently we half-ass painted it, not even removing the wallpaper completely. The chair molding will be removed so I can build a cabinet here. It needs to be repainted, but I've never been in love with the gray. It makes me so sad. Maybe I'll repaint the cabinets so that the walls can be a fun color. I'm not sure yet. So far, I have removed all of the moldings and repaired all of the gouges in the wall. They're primed and ready to go.
I'm trying to decide on buying a cabinet or building one from scratch. I'm leaning towards building one. The bottom part will house pull out trash and recycling bins. The top will have shelves. Doors will hide everything. I thought of adding counter space, but having a mismatched counter would drive us crazy and I doubt I can find 80's mauve. Even if I could, it would cost more than I'm willing to spend on 80's mauve solid surface. Eventually, we will redo the whole kitchen, but for now, I just want to make it function more.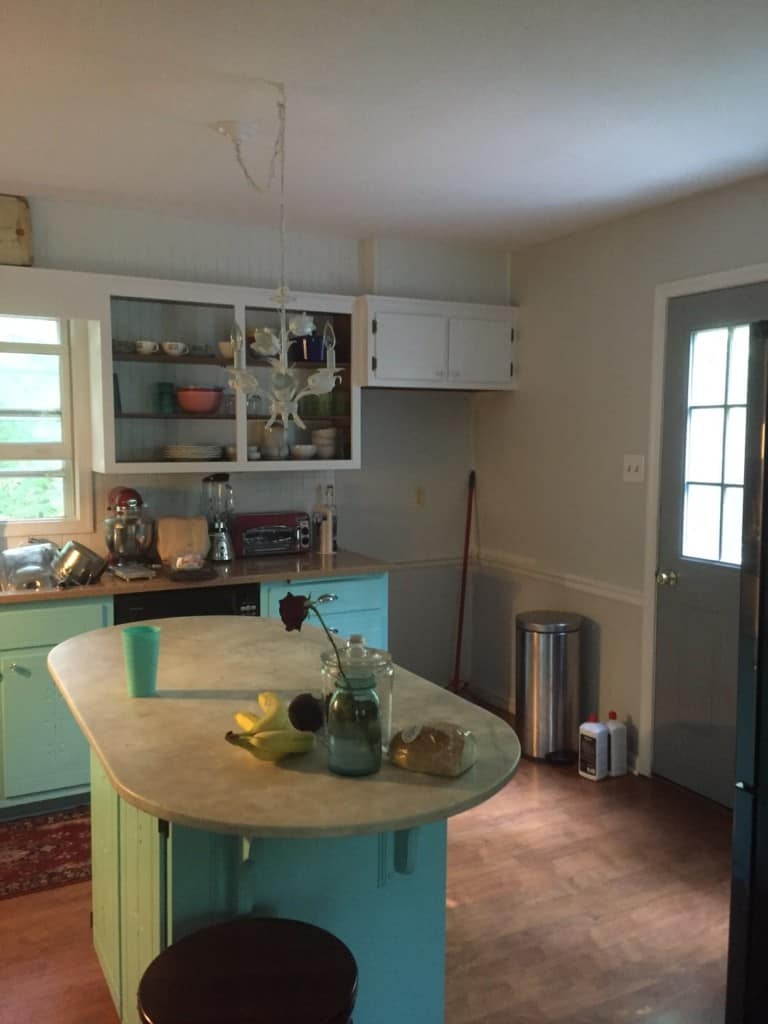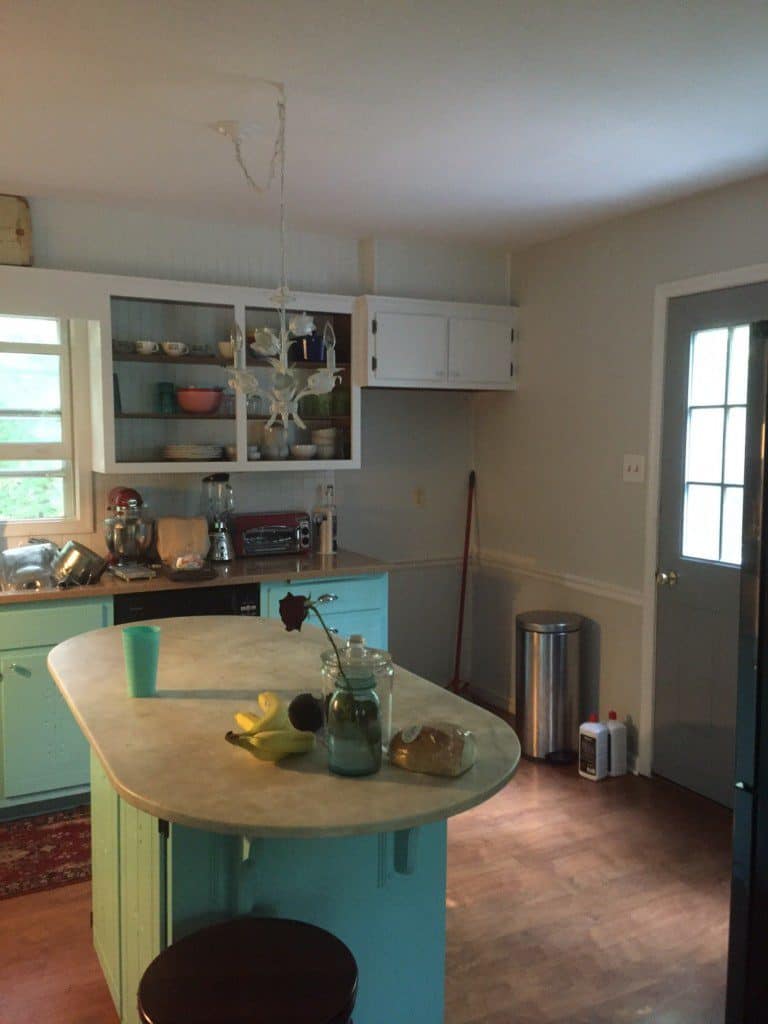 We also moved the island. It's not attached to the floor. I'm not sure it will stay like this, but it makes the room feel so much larger. It's a fun change for now.
The other project that needs to at least be started is the sun room. The dog has been living in here until she's old enough to curb her chewing habits. We're almost there. The walls have damage and need to be repaired. And since I'm painting, I should change the color, right? I started this project over the weekend as well. The room has been scrubbed clean, walls semi-repaired and it's ready to be beautiful again. Pictures to come soon.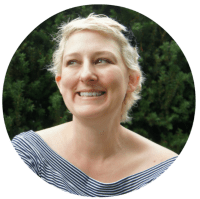 Emy is a vintage obsessed mama of 2 DIYer who loves sharing affordable solutions for common home problems. You don't need a giant budget to create a lovely home. Read more…