May Dollhouse Therapy Challenge Reveal
It's time for the May Dollhouse Therapy Challenge reveal. If you're new to this, I've teamed up with Cassie from Primitive and Proper , Alice from Thoughts from Alice, and Anu from Nalle's House to decorate a dollhouse. Every month from April to June, we'll be sharing our plans and progress.
Decorating in miniature is so much fun because nothing is impossible. I love seeing how creative everyone is and how each dollhouse reflects the creator's own personal style.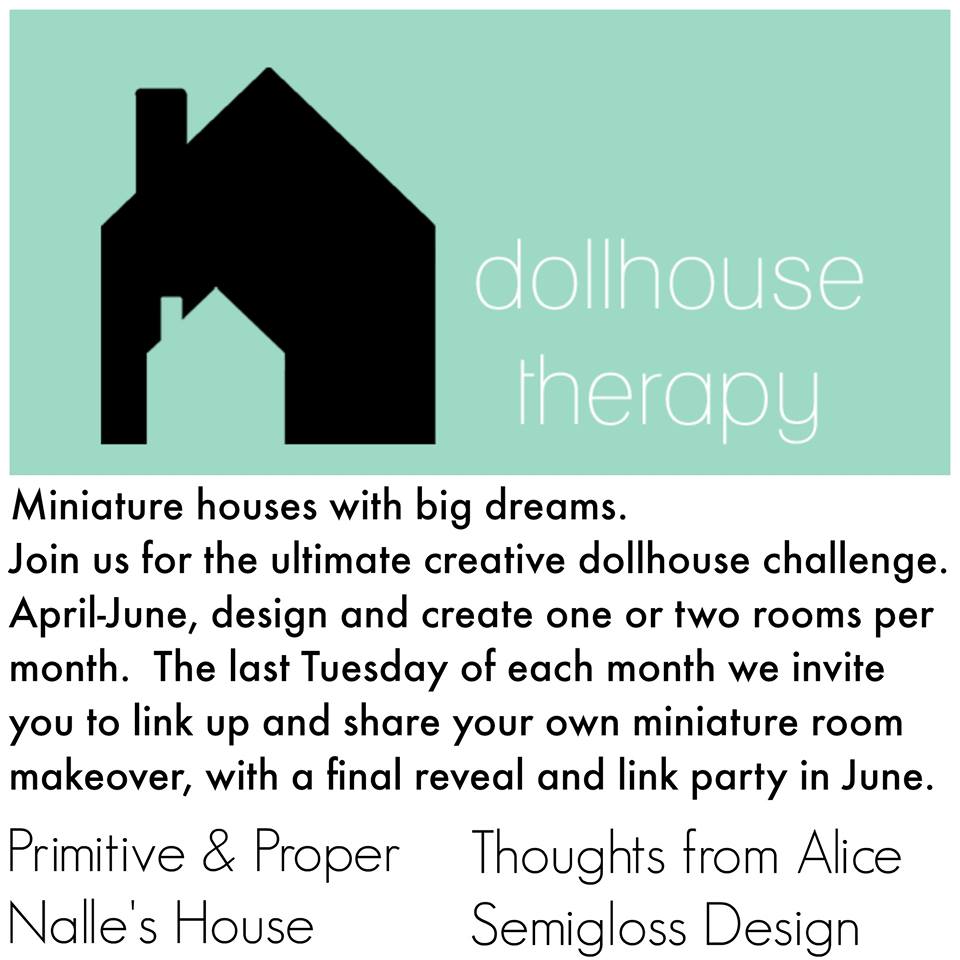 Miniatures.com provided me with products for this project, but all thoughts and opinions are my own. I would never recommend products that I wouldn't buy or use on my own.  
For May, I worked on my living room and master bedroom. In the living room, I added gingham fabric to the walls for a fun pattern. I love gingham so much. It's kind of country, but can be modern as well. The back wall was paneled with wood strips when I worked on the kitchen. The flagstone floor also continues from the kitchen. When I built the dollhouse, I created a front entry area so it made sense to continue certain details, just like a real house. I know that my real house has too many types of flooring and it drives me crazy.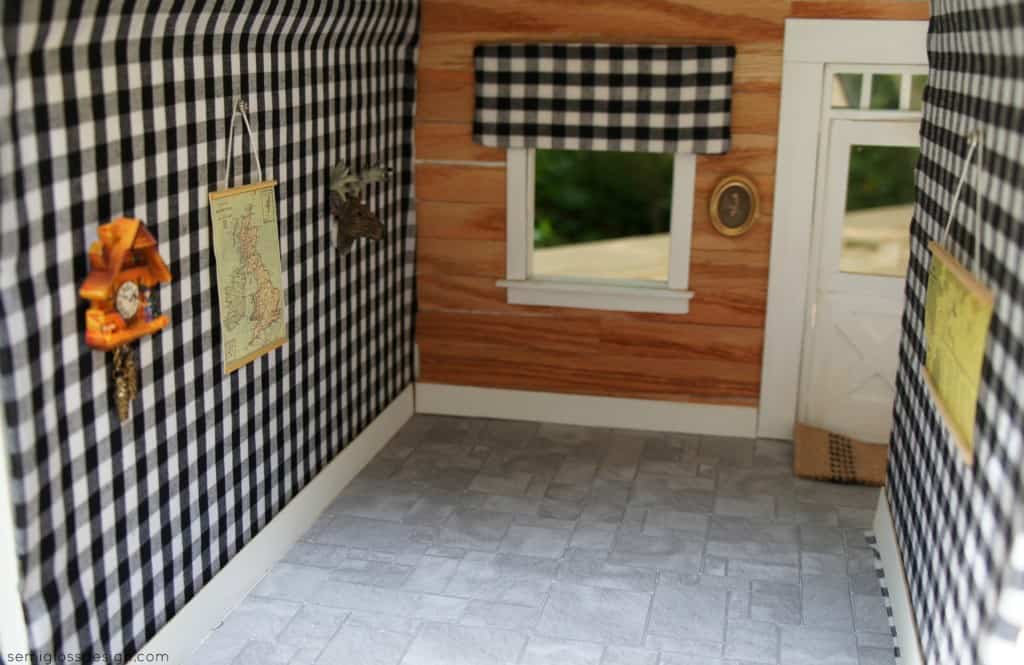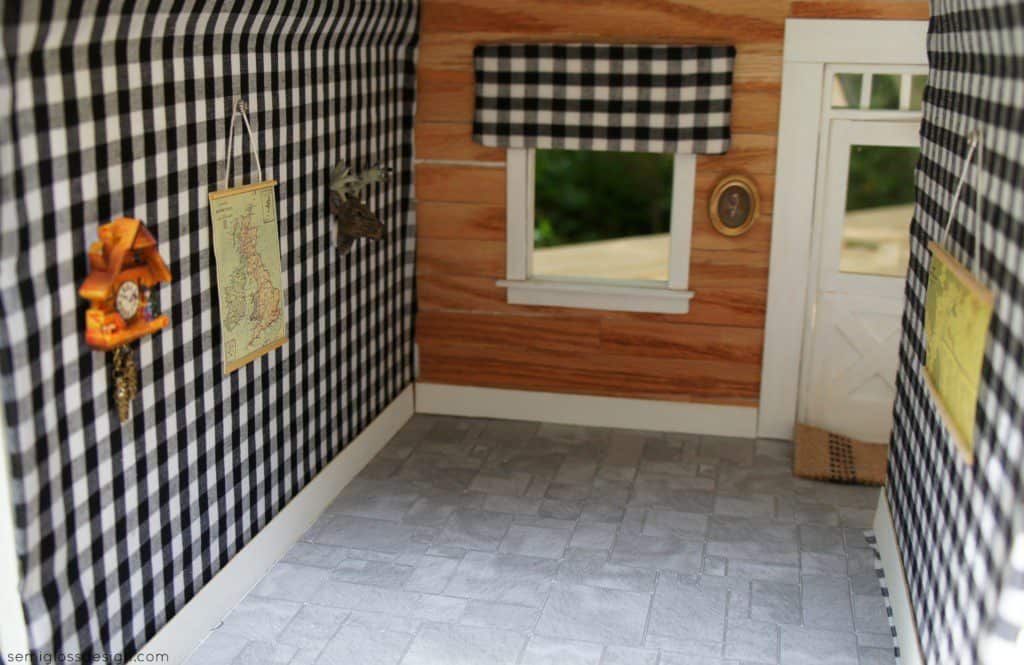 I love this living room. I kept the furniture pretty simple since the "wallpaper" is so bold.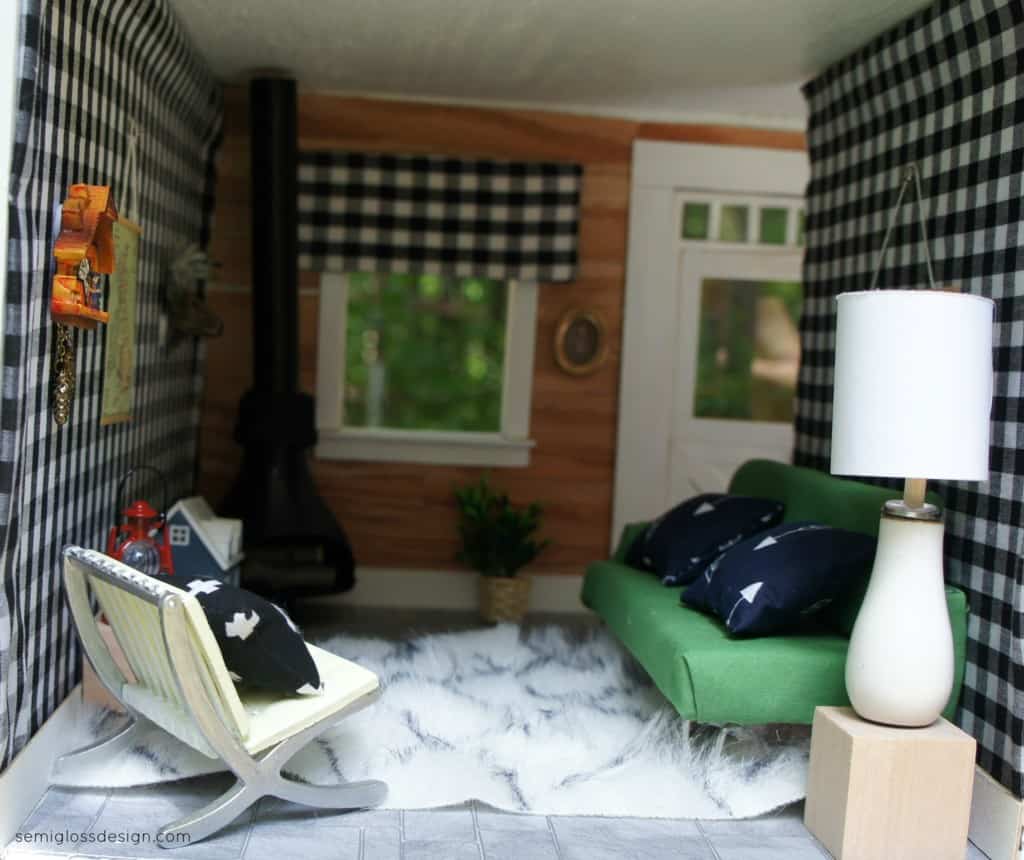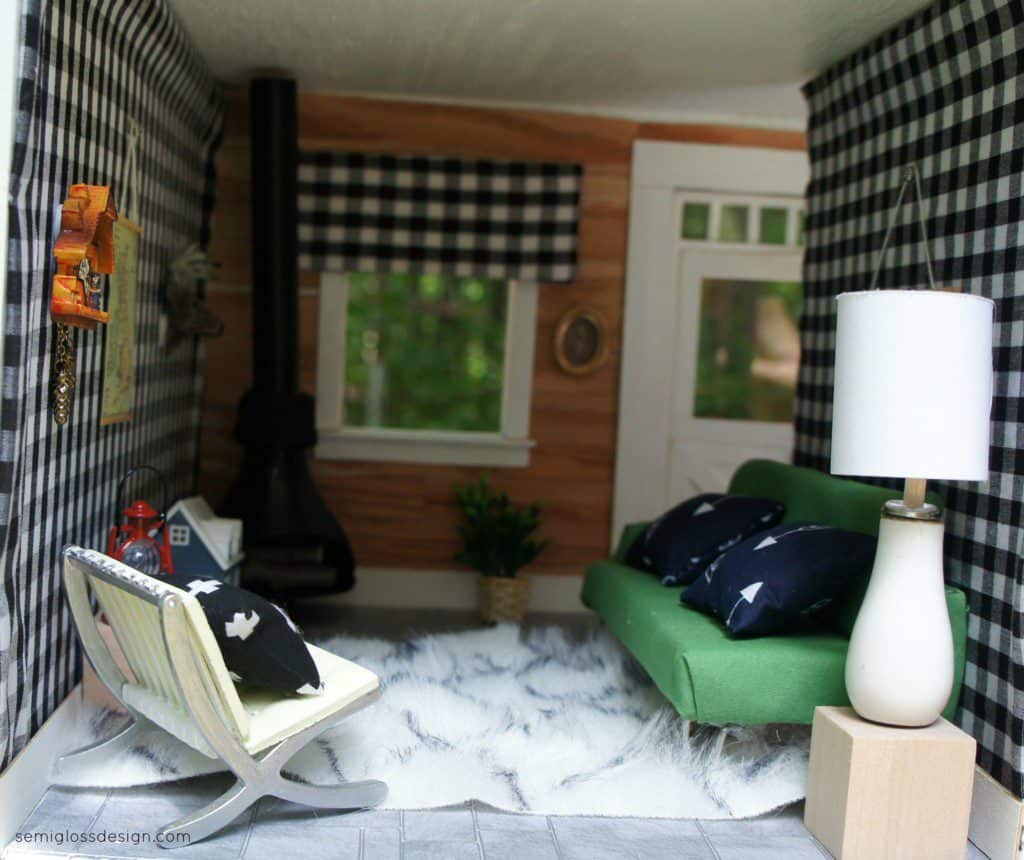 The sofa that I made pairs nicely with arrow pillows and a map wall hanging. The lamp is made from faucet parts and a cardstock and wire shade. The table is a wooden block. The rug is made from fun fur that I trimmed to be less shaggy and drew on with a sharpie.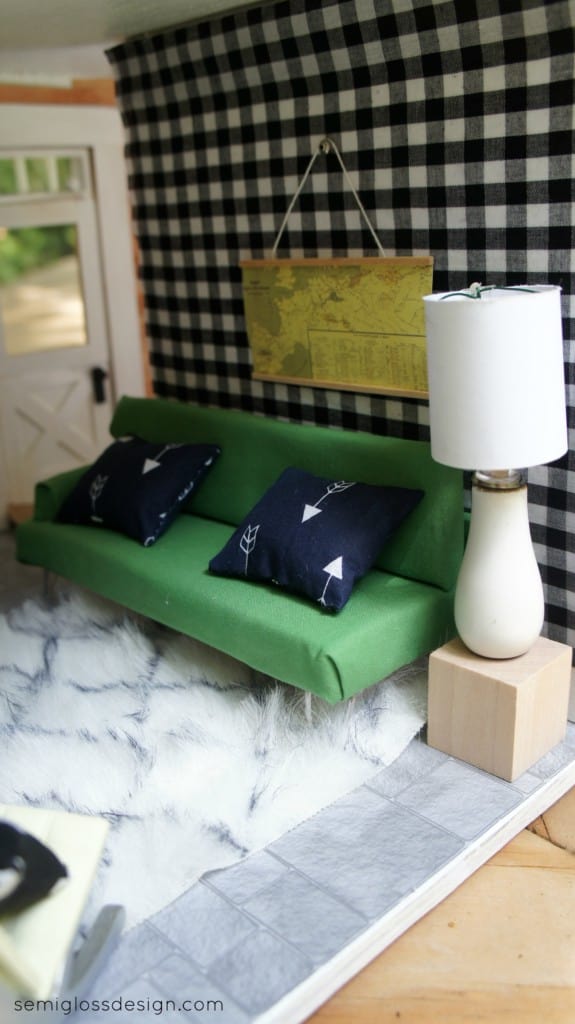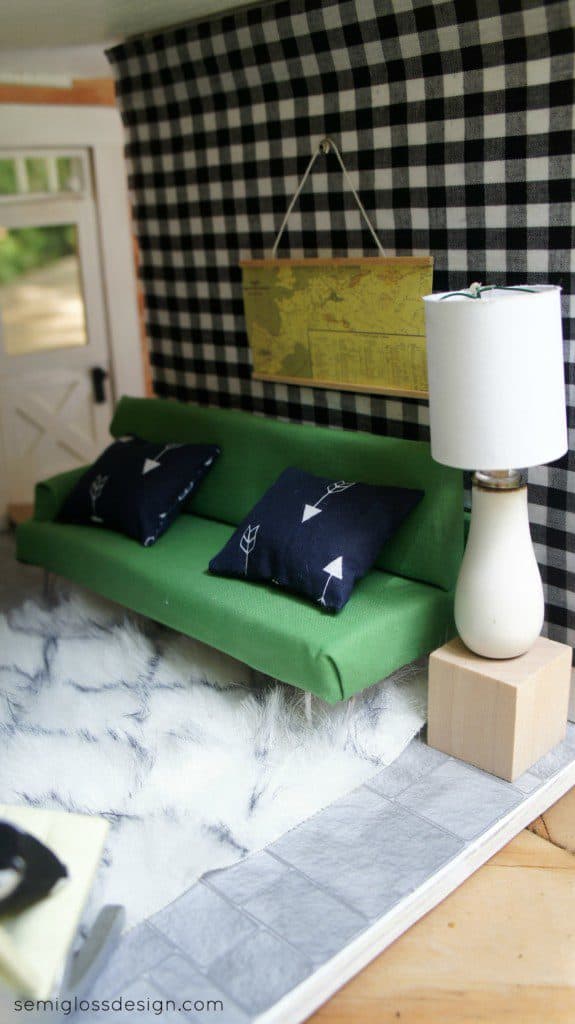 A barcelona chair sits across from the sofa. I made the plus sign pillow. Another wooden block acts as a table with a lantern as a lamp. The cuckoo clock is so amazing. The details are so beautiful and the little pinecone weights are too cute. Another map hangs beside it and a deer head to really add to the cabin feel. A dollhouse adds a place for little doll children to play near the fire. I thought it would be funny to put a dollhouse in a dollhouse. This one does not disappoint! It's probably my daughter's favorite thing.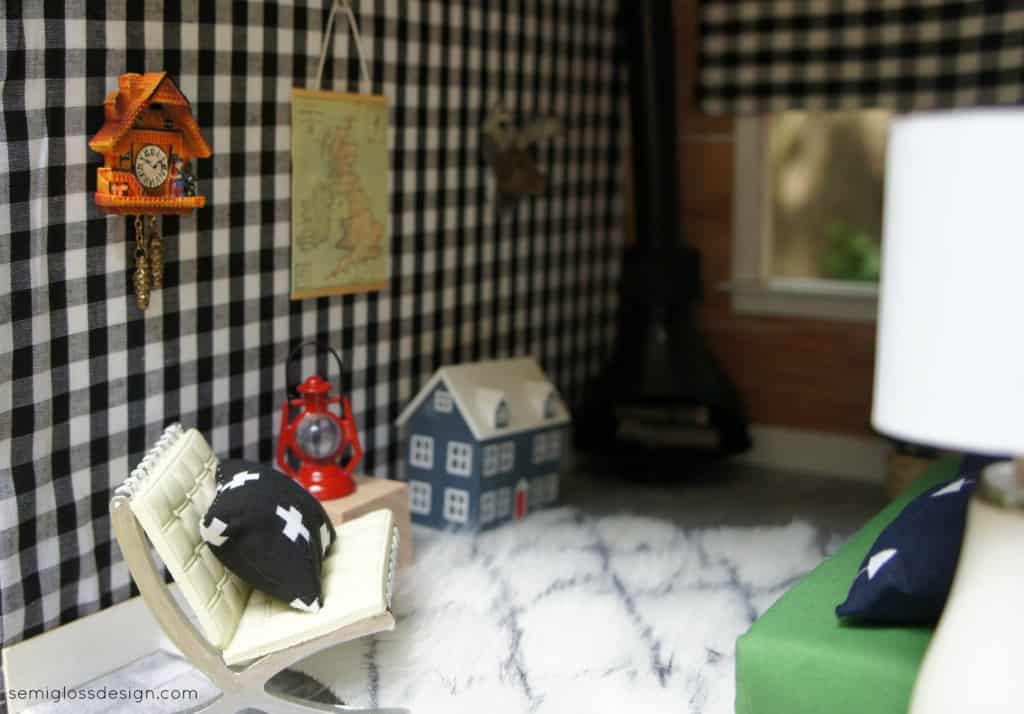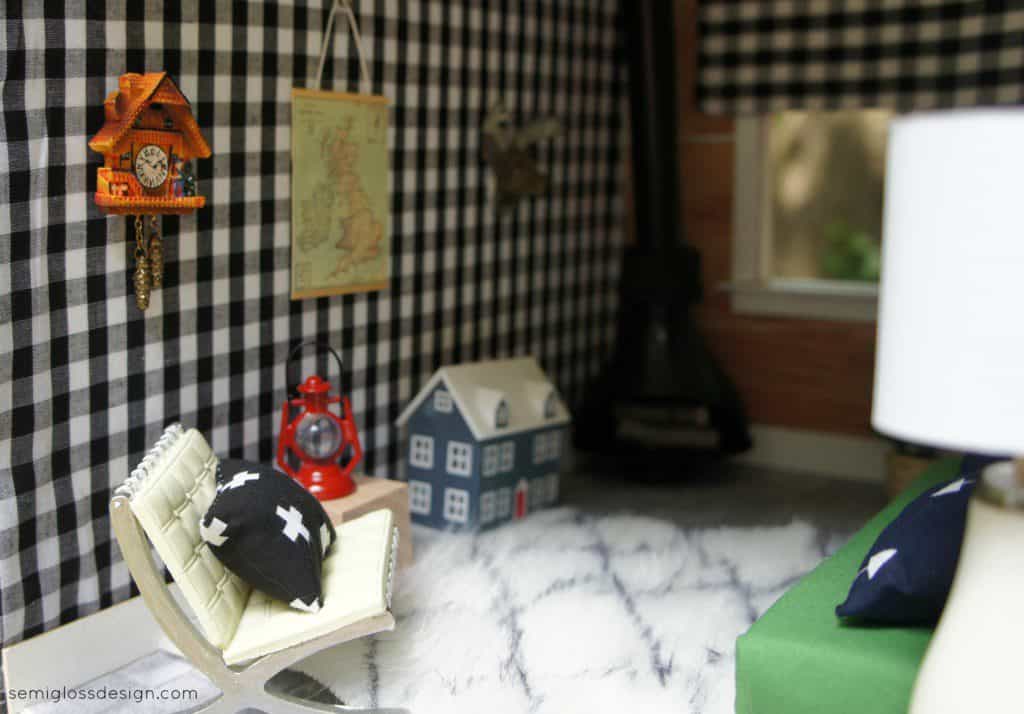 Isn't the chair amazing? I love those little buttons.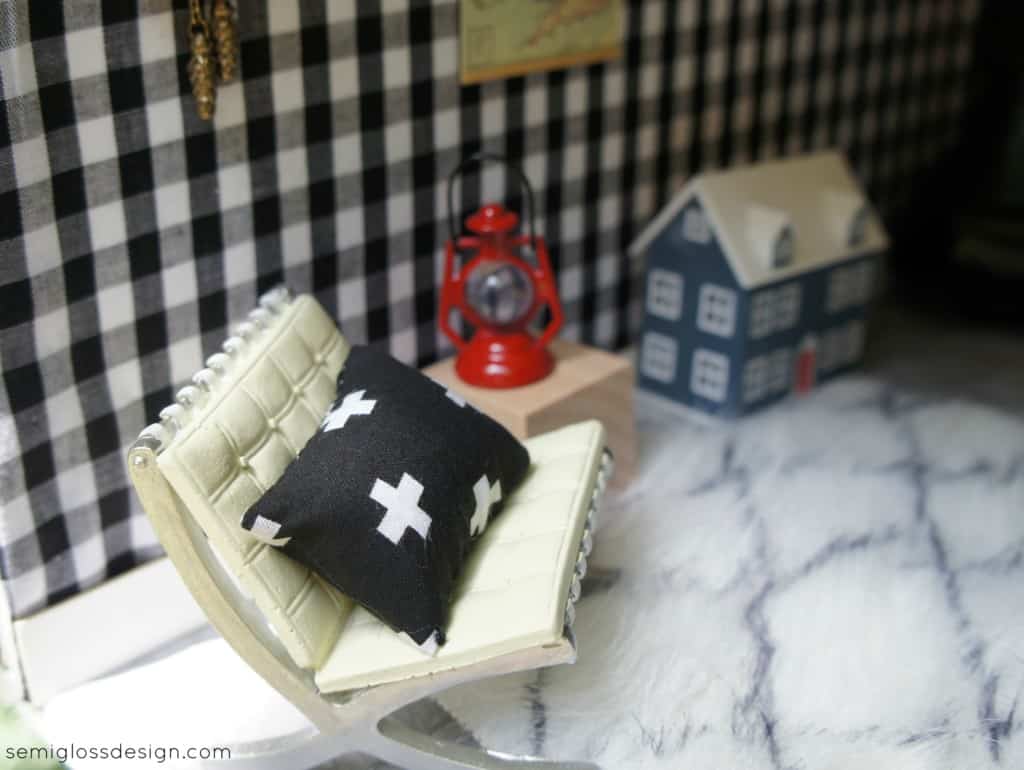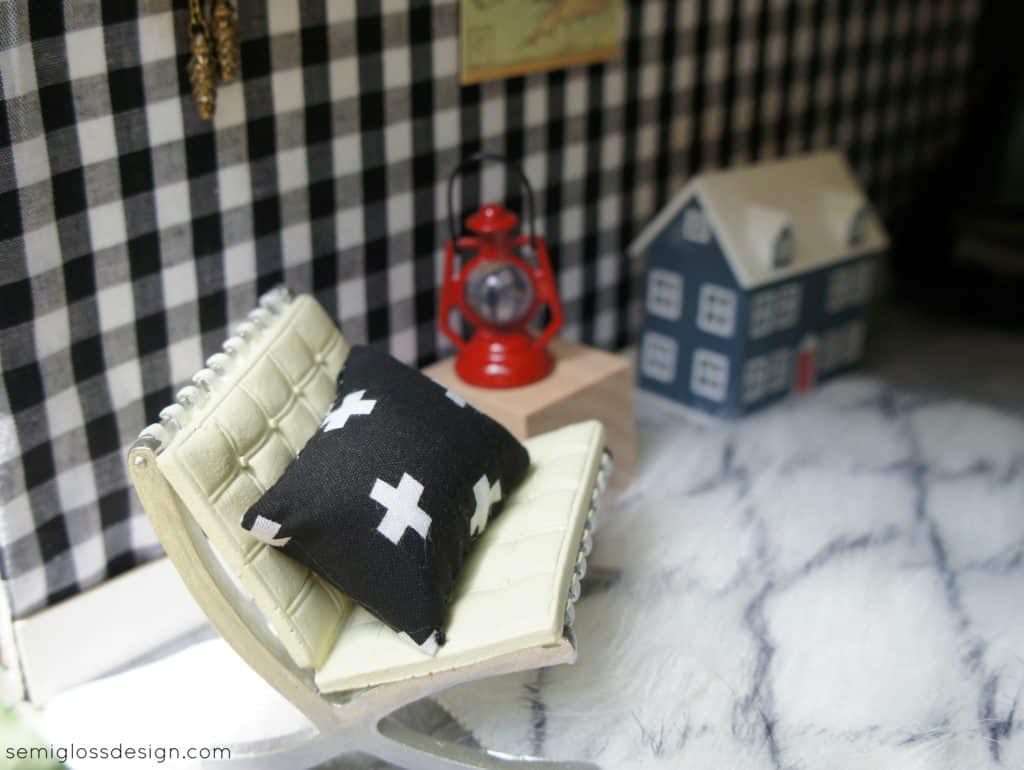 The fireplace is made from a coke bottle, a dowel, twine, wooden pieces and lots of hot glue. I spray painted the whole thing and added little wooden logs.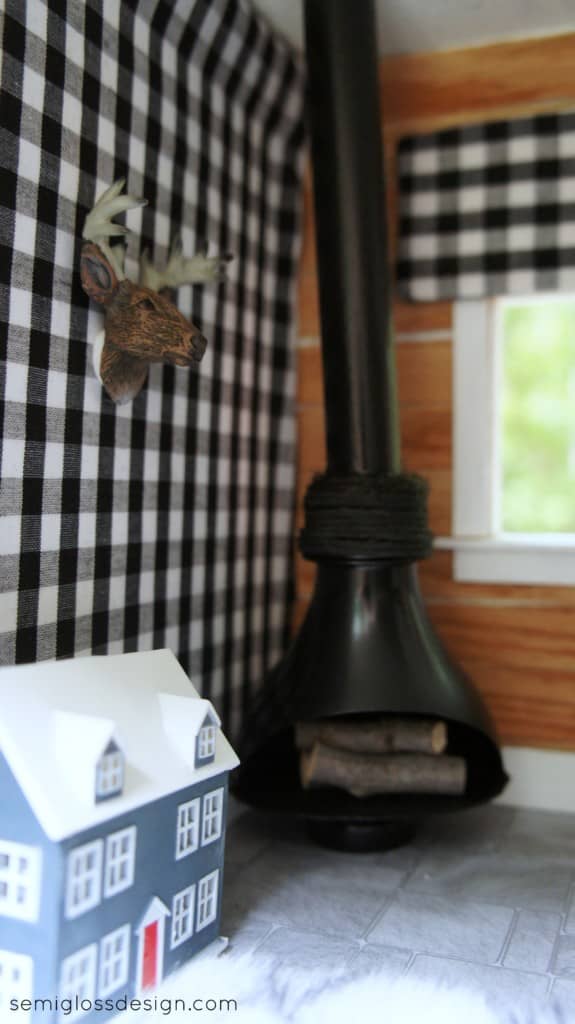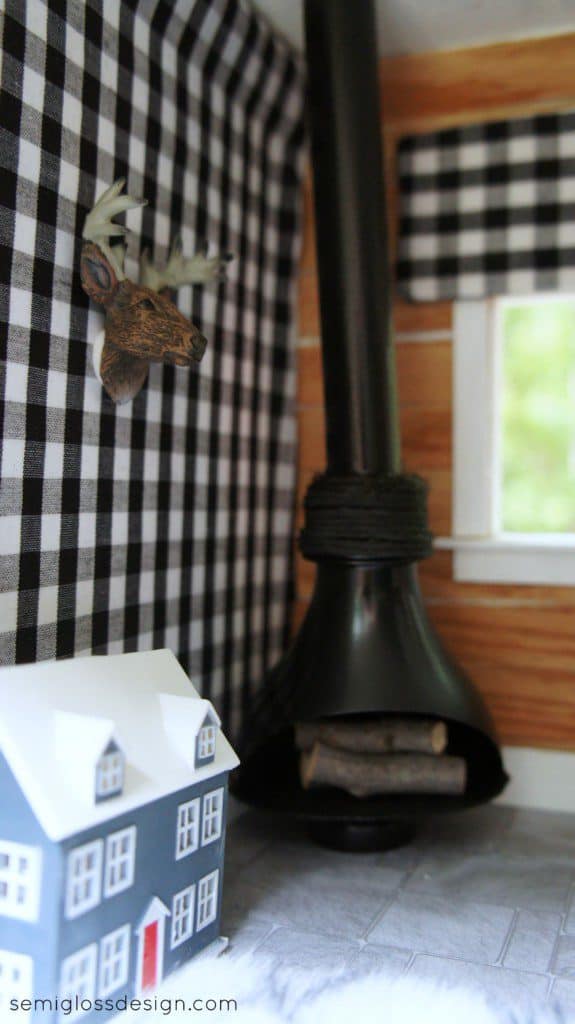 I added a cute little plant and portrait to the entry area. Both items came from Michael's.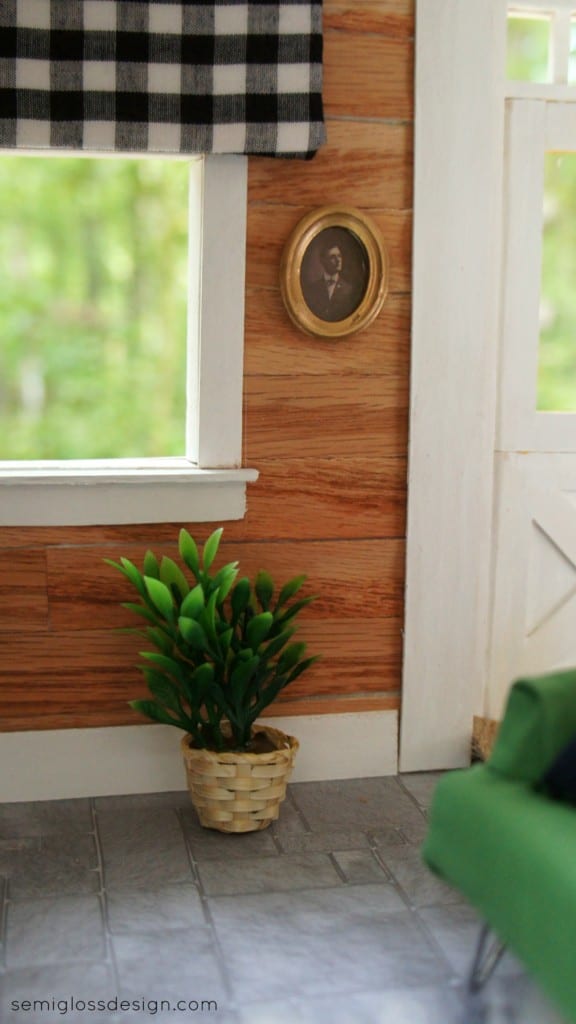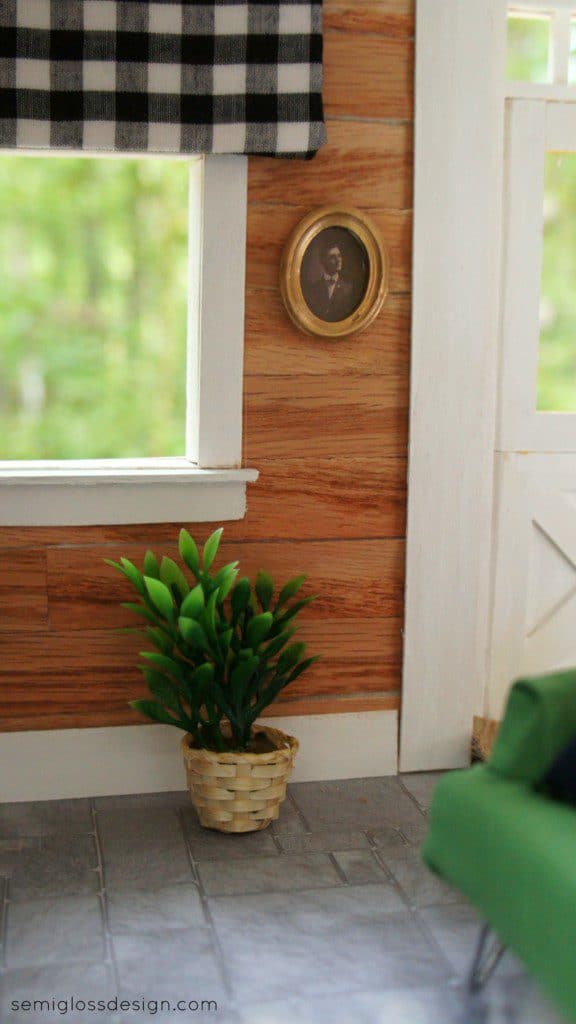 I added a piece of upholstery webbing as a doormat. It's perfect. Look at that amazing door one more time!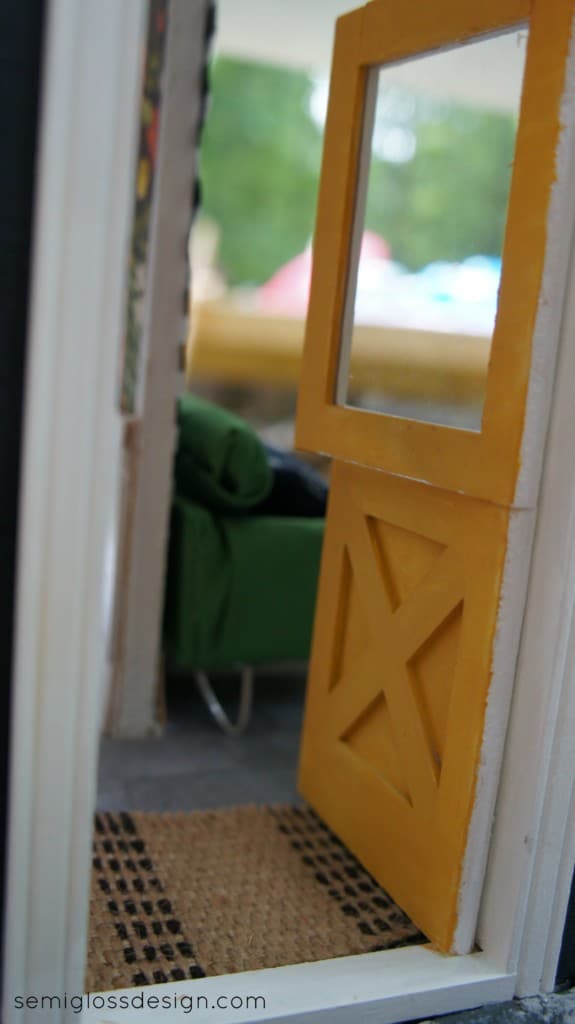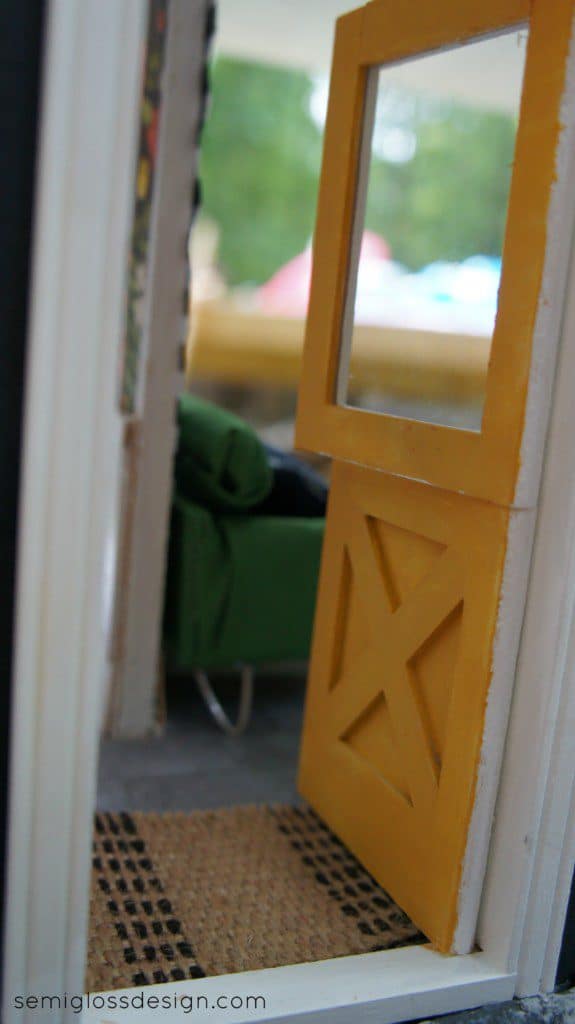 On to the master bedroom! I struggled with how to do the master bedroom walls because of the details that I wanted to stand out. In the end, I chose a shimmery blue paper for one wall and did painted white wooden strips for the other walls. The flooring is made from the same wooden strips, but I stained them to make them a tiny bit darker. I made a barn door to provide privacy into the bathroom. It's hung on a bamboo skewer glued onto nuts to provide enough space to allow it to move. The door has strips of an envelope attached to it. Whatever mailing envelopes are made out of is incredibly strong, so it is perfect for a barn door. The curtains are made from fabric and sharpies. I tried to blur it a bit to look like shibori.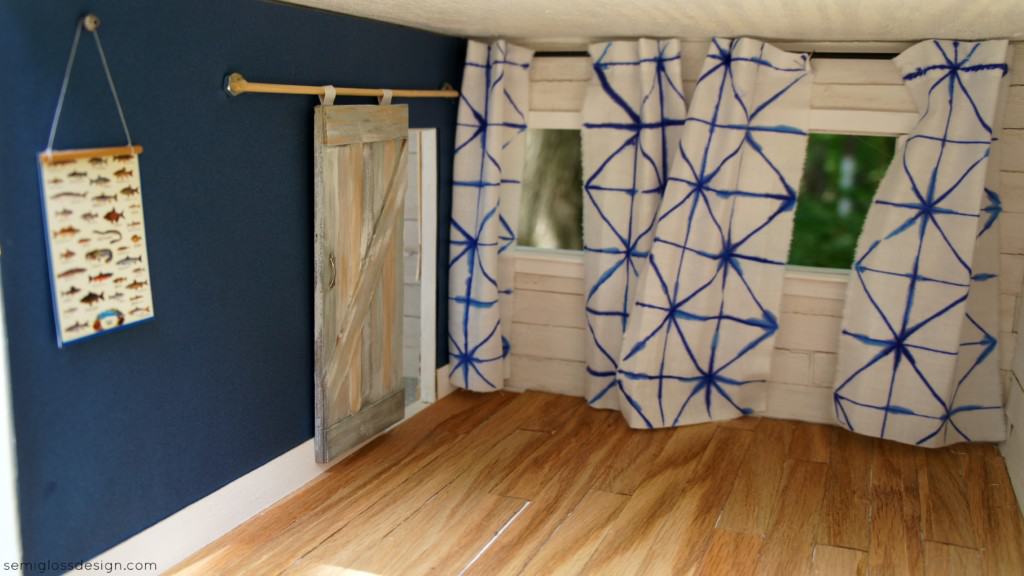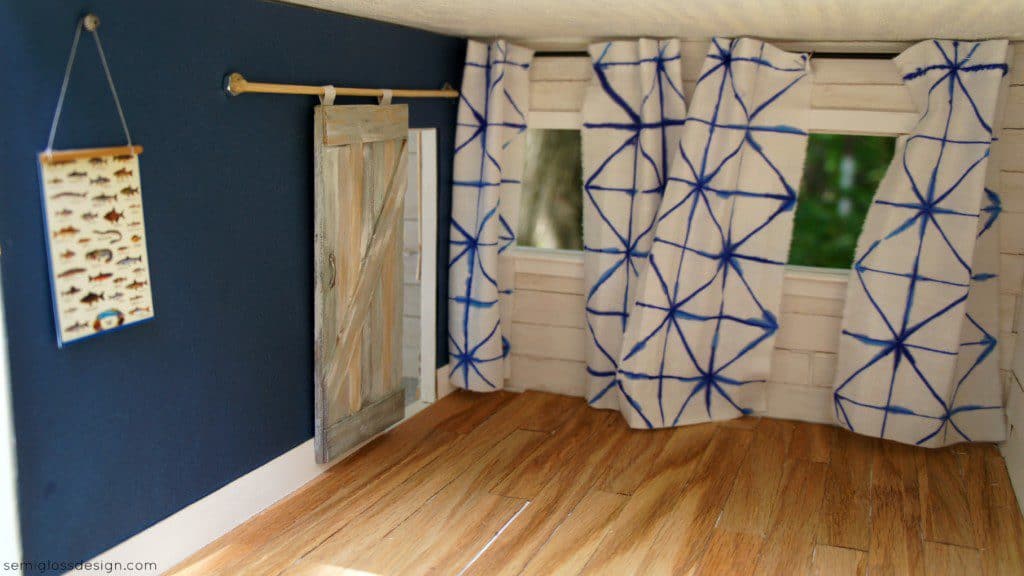 I love how the bed looks against the wooden walls. It's so fun. I added simple white bedding, cross pillows, green shams and a pendelton blanket made from felt and sharpies. Every room needs a bit of gingham and this room has it as a bedskirt.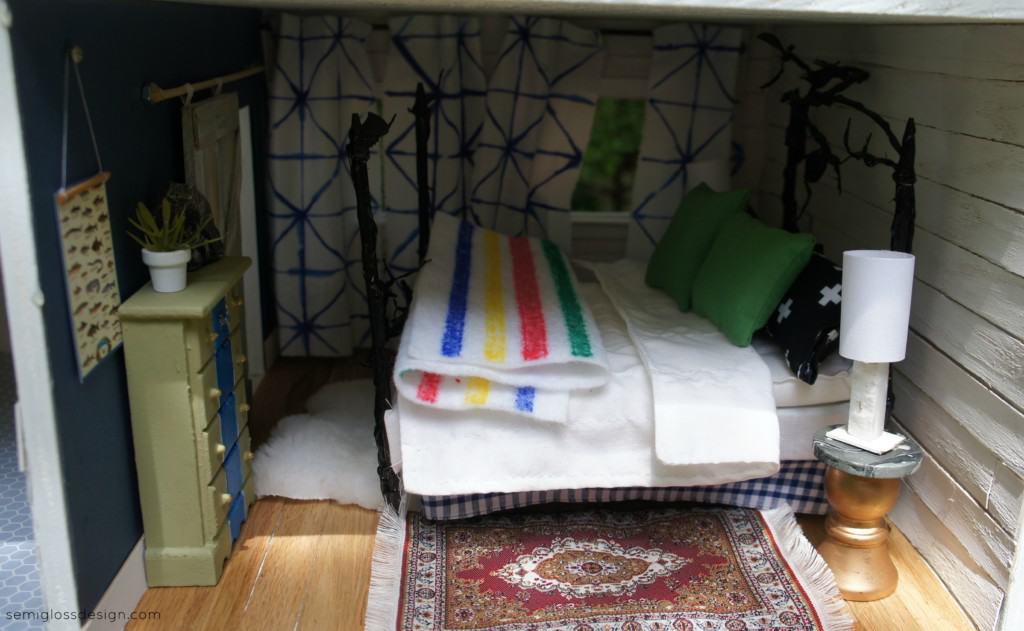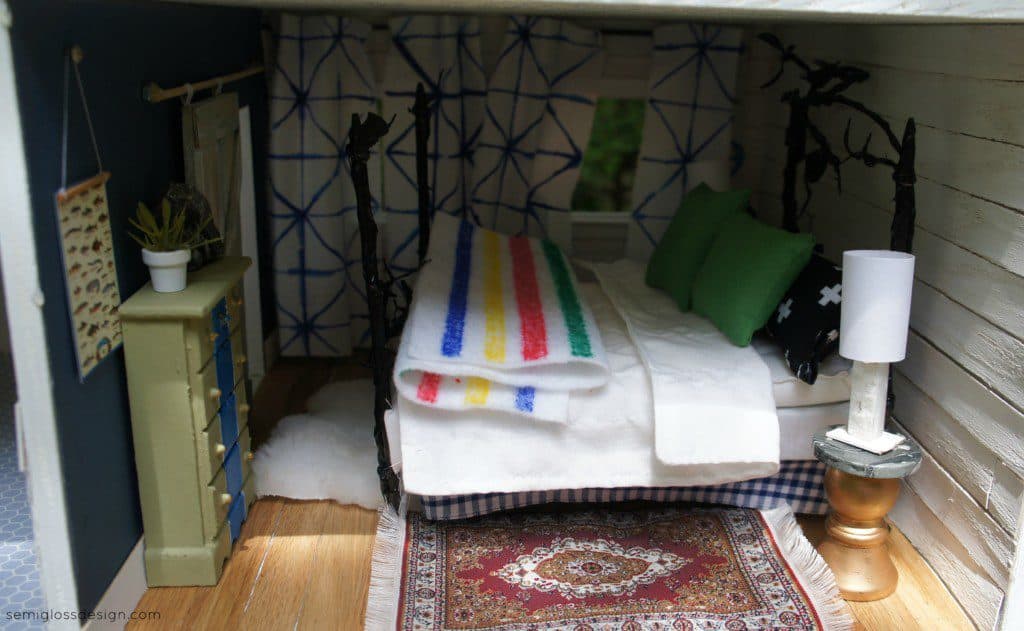 The leaves and branches on the bed look a bit sinister, but I like it.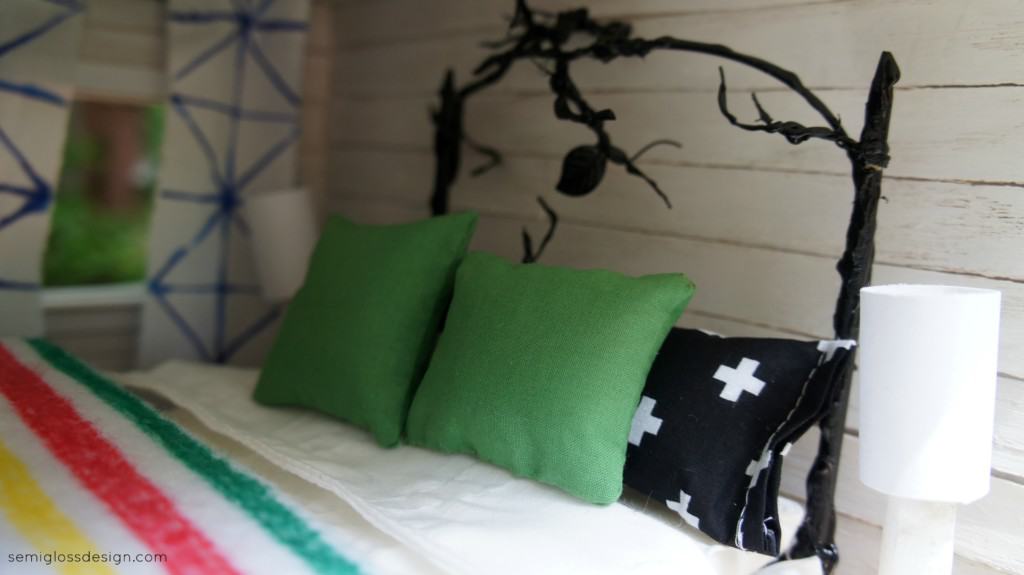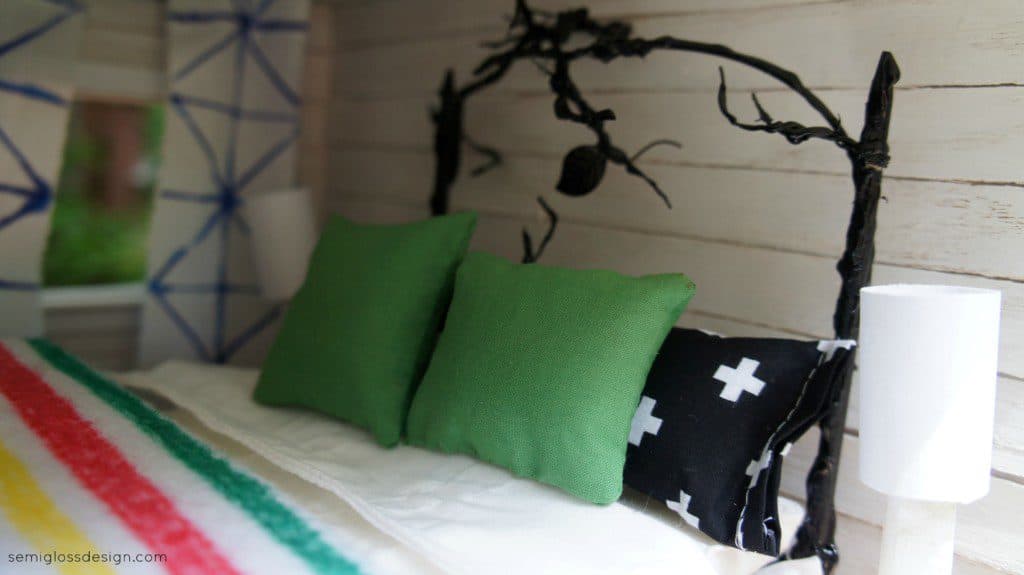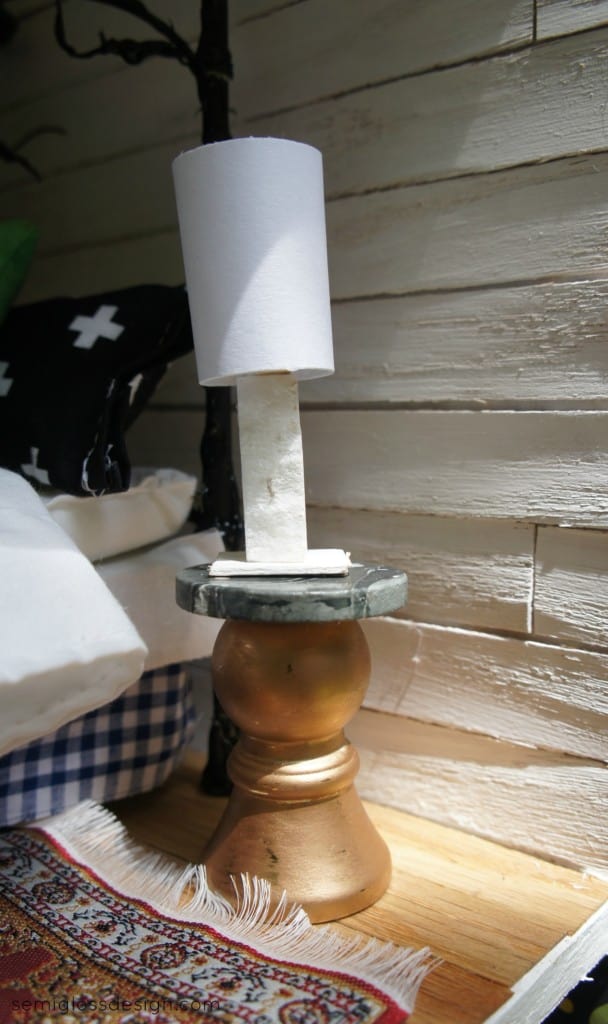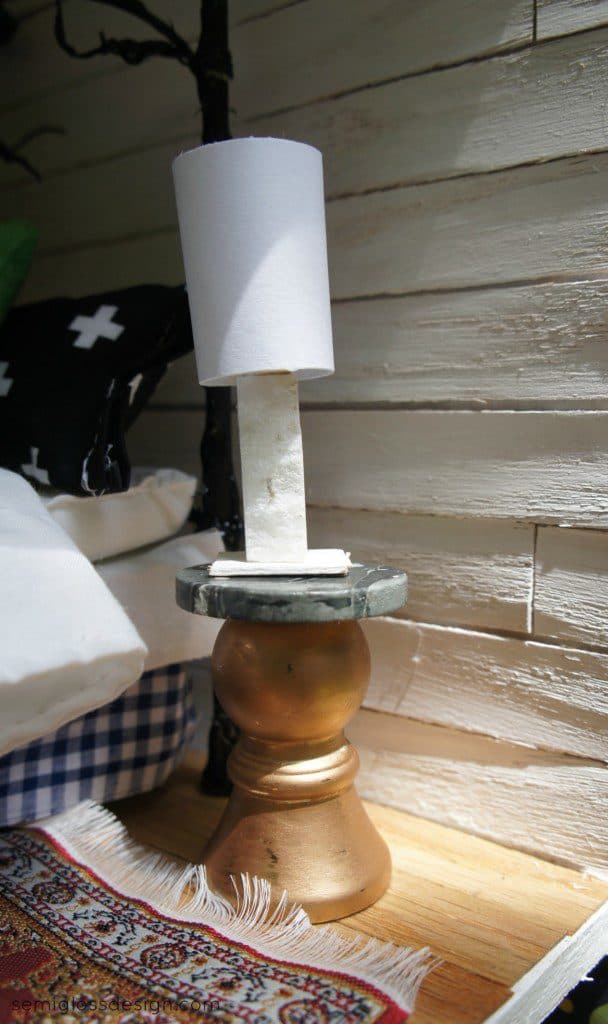 The tables are made from faucet parts and wooden discs that I marblized. The lamps are made from tile pieces that look like crystal rocks, popsicle stick pieces, and cardstock shades.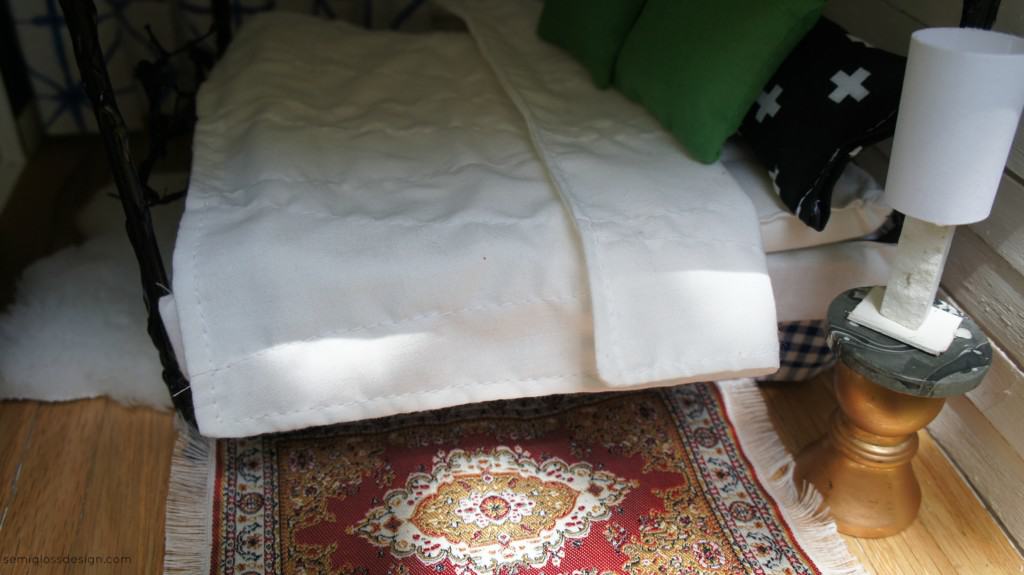 I love the bedding with the rug. The gingham bedskirt looks so pretty with it. I figured that for the price, it would just be printed, but it's woven with really pretty fringe.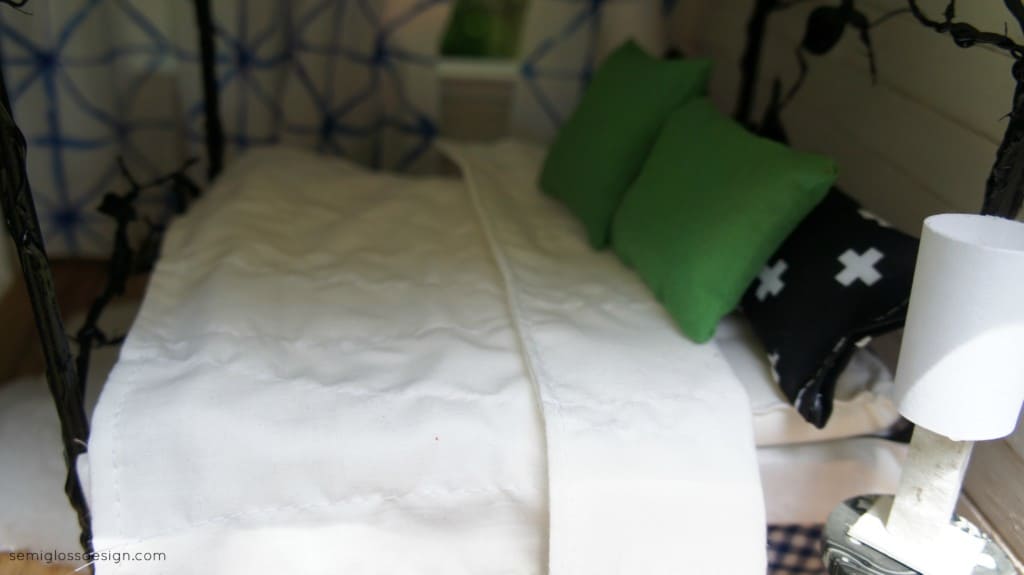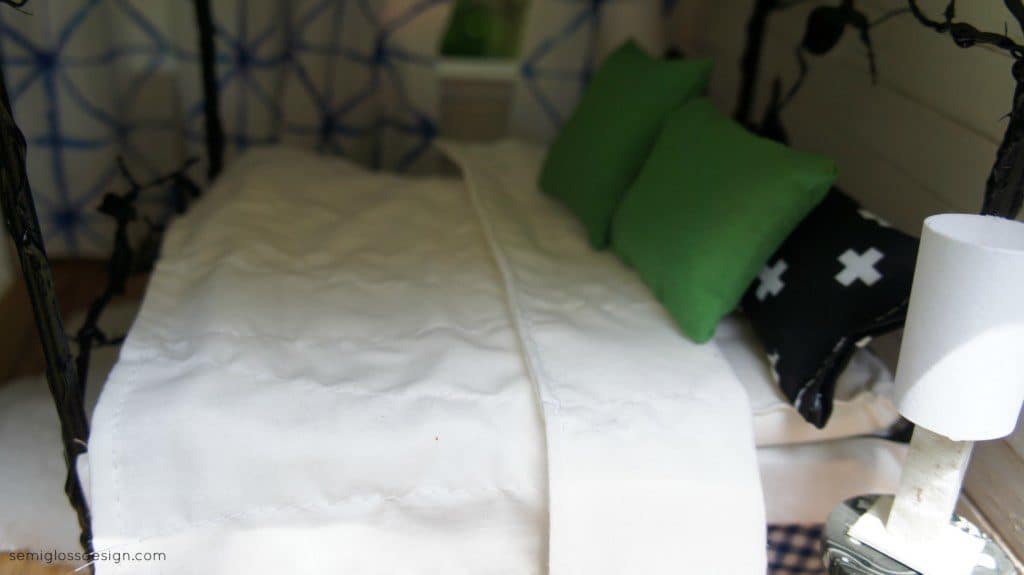 White bedding lets the other details shine.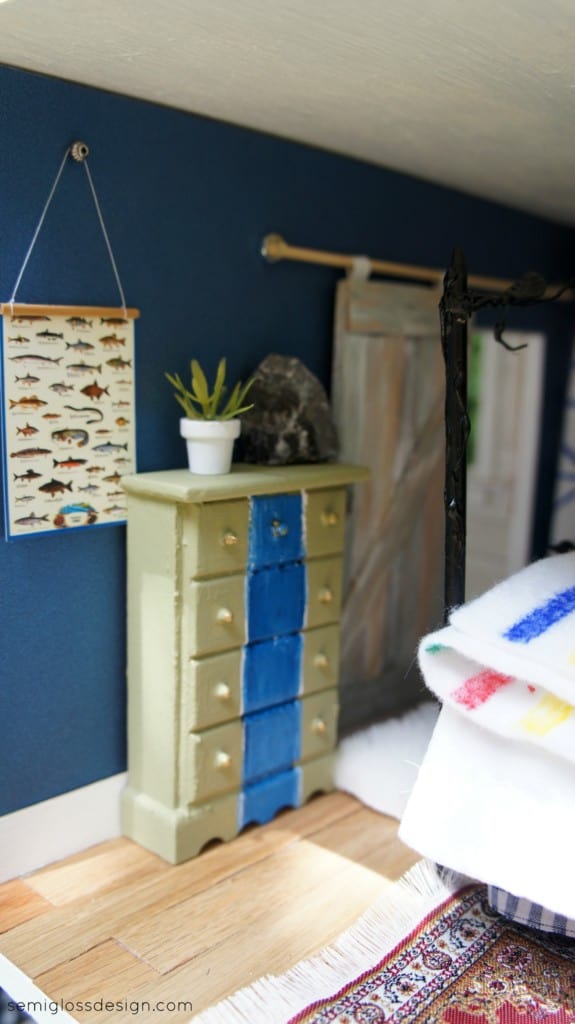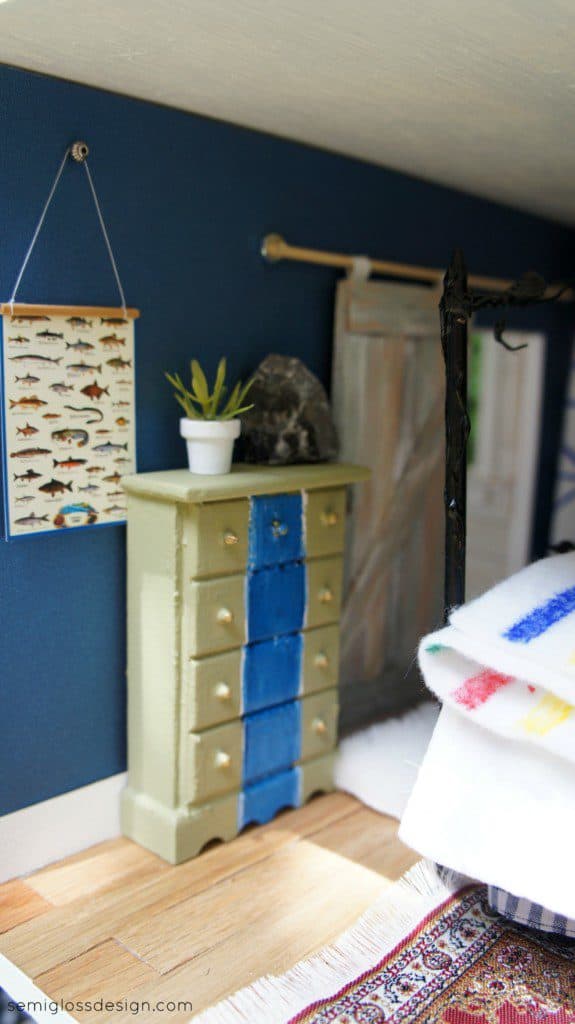 I added a painted dollar store dresser, mainly as a display spot. The rock is from the laundry (my daughter leaves all kinds of fun stuff in her pockets), the plant is from a larger fake plant that I cut up, and the fish poster is from AC Moore. The fur rug (at the foot of the bed) is from my daughter's other dollhouse.
I hope you've enjoyed my May reveal. Be sure to visit Cassie, Alice, and Anu! And join us next week for our June plans.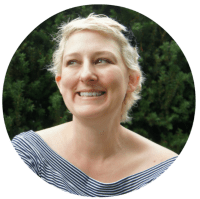 Emy is a vintage obsessed mama of 2 DIYer who loves sharing affordable solutions for common home problems. You don't need a giant budget to create a lovely home. Read more…