2018 Christmas Home Tour: Colorful and Vintage
Welcome to my 2018 Christmas Home Tour!
I'm joining some friends to share our Christmas home tours, so be sure to check out their homes as well for even more inspiration!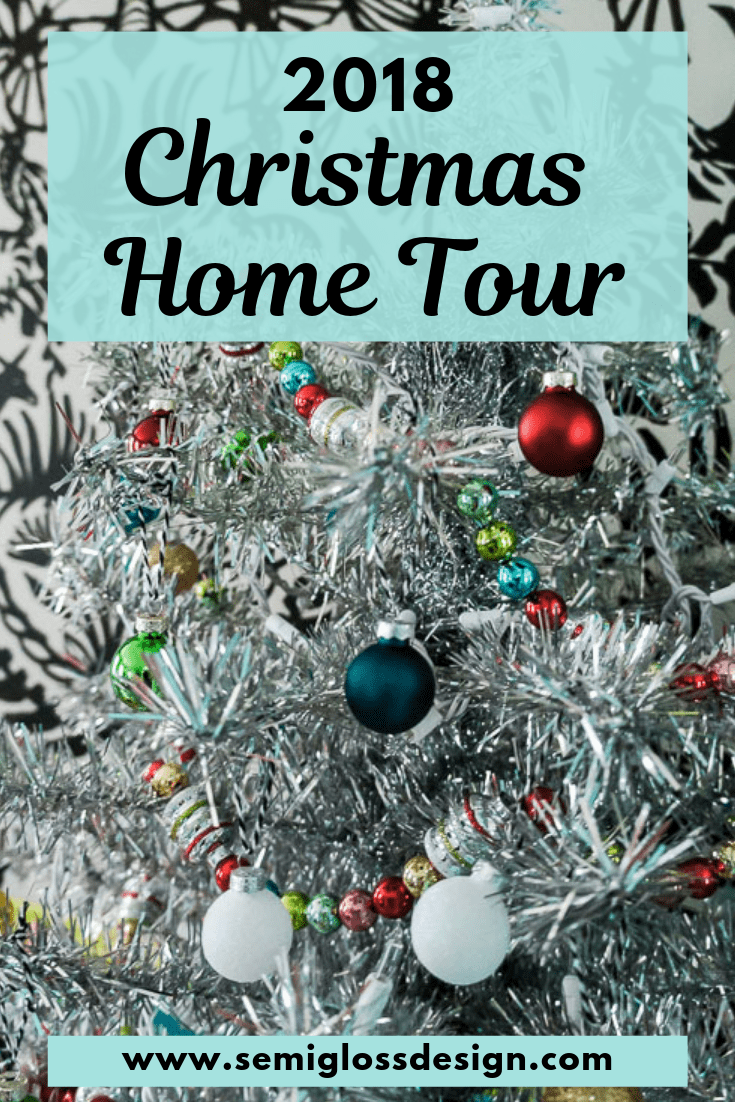 2018 Christmas Home Tour
This post contains affiliate links. By purchasing an item through an affiliate link, I earn a small commission at no extra cost to you.
Sunroom
After setting up Christmas displays 3 times already in my vintage booth, I've kept my decor fairly simple this year.
My Christmas tree is set up in my sunroom again because it's such a happy, cozy room to spend Christmas morning in. The subtle shimmer from my DIY table is perfect for Christmas.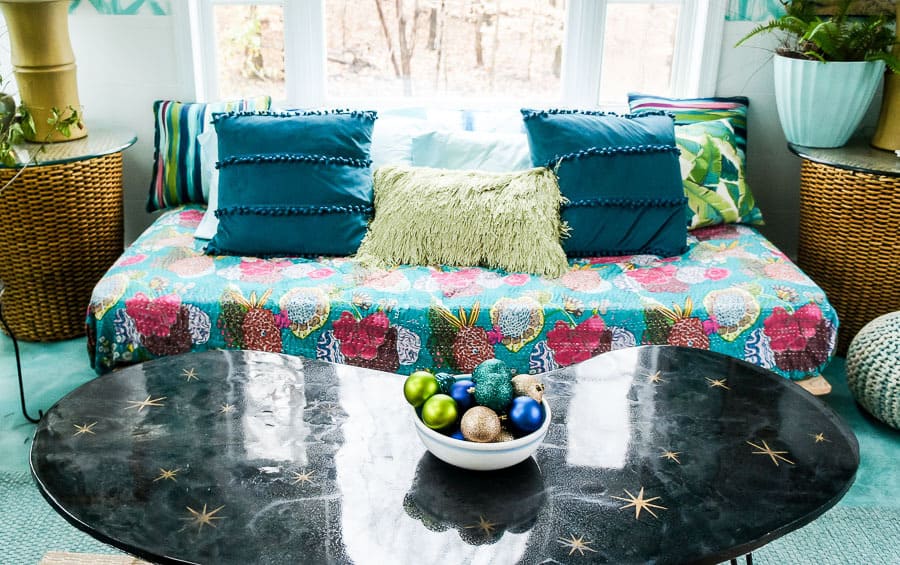 The tree is only partially decorated right now. I flocked our white tree to look super snowy and it took longer than I thought. By the time I was ready to decorate, both of my kids were with friends. So I left the special ornament decorating to when they can join in on the fun. 
Normally, our tree is filled with handmade ornaments and ones that the kids picked out. It's so much fun to remember years past. Like when my now 14 year old son was into Elmo. For now, it just has bulbs and tinsel. I love these disco balls too!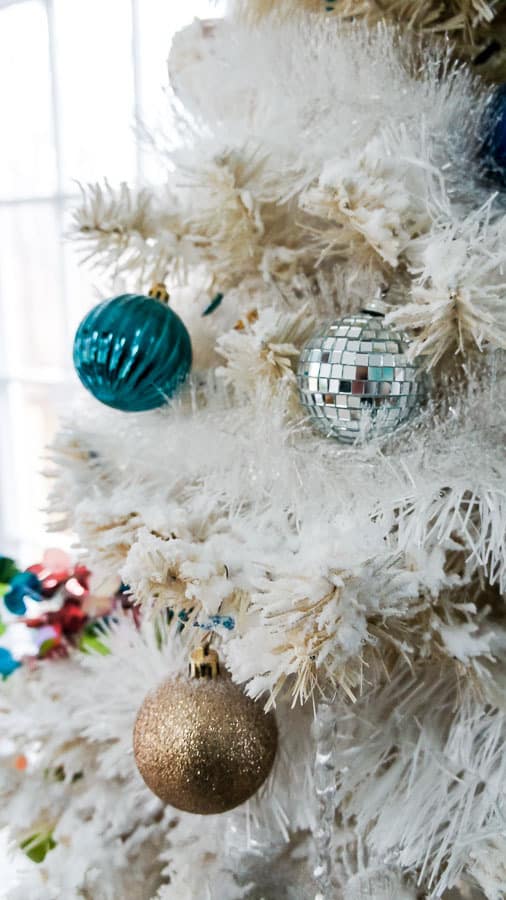 The bar is ready for hot cocoa in my super cute reindeer mugs. I tried to find vintage Santa mugs, but none in usable shape. So I bought new ones.  I added a chindi rag runner to add a bit more color to this space.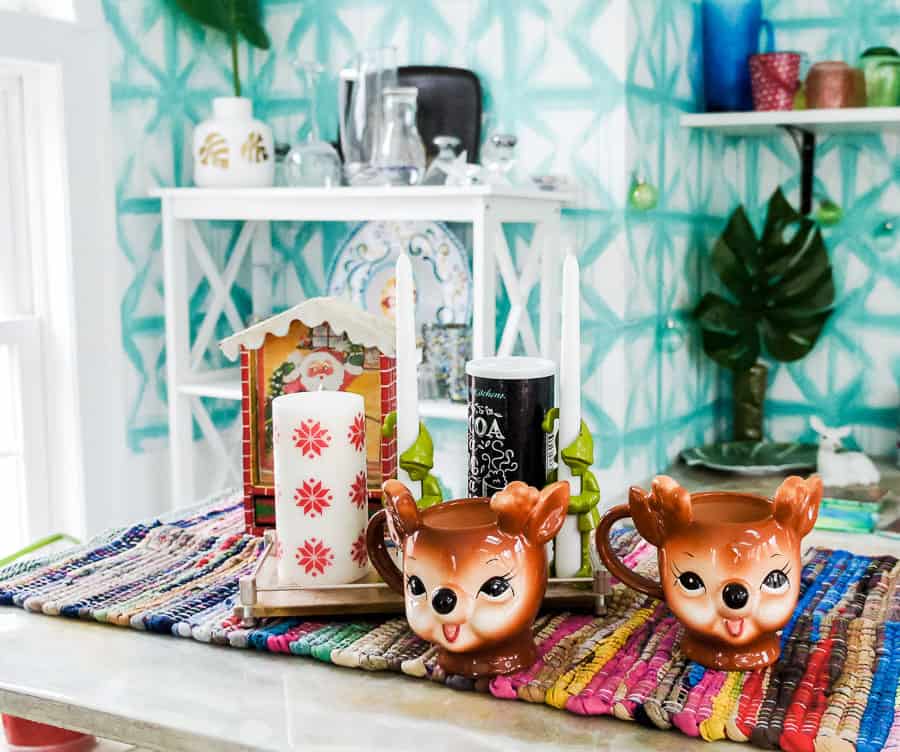 My kids begged me not to sell this Dancing Santa. They're right. He's worth keeping. Santa dances when you wind it up and he's just too cute. Here's a similar one.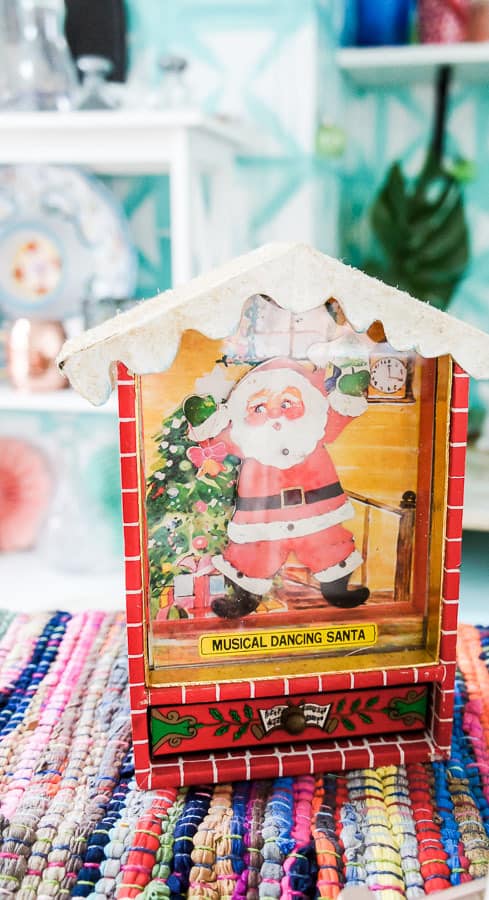 DIY stockings are hung and waiting to be filled with goodies.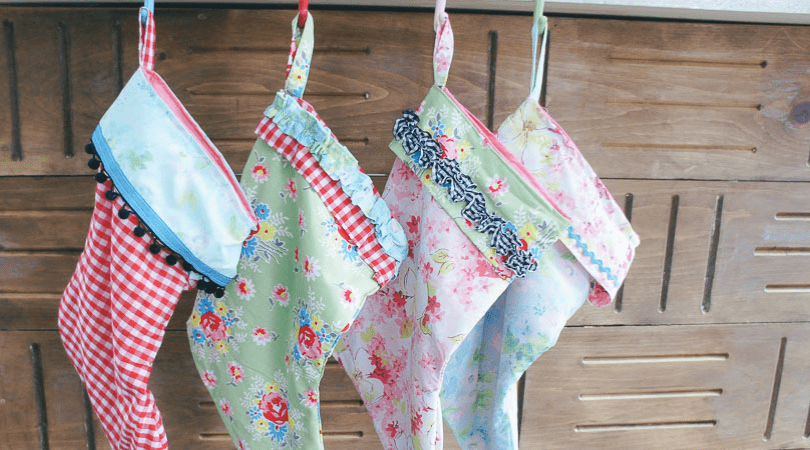 Bottle brush trees are perfect for any space.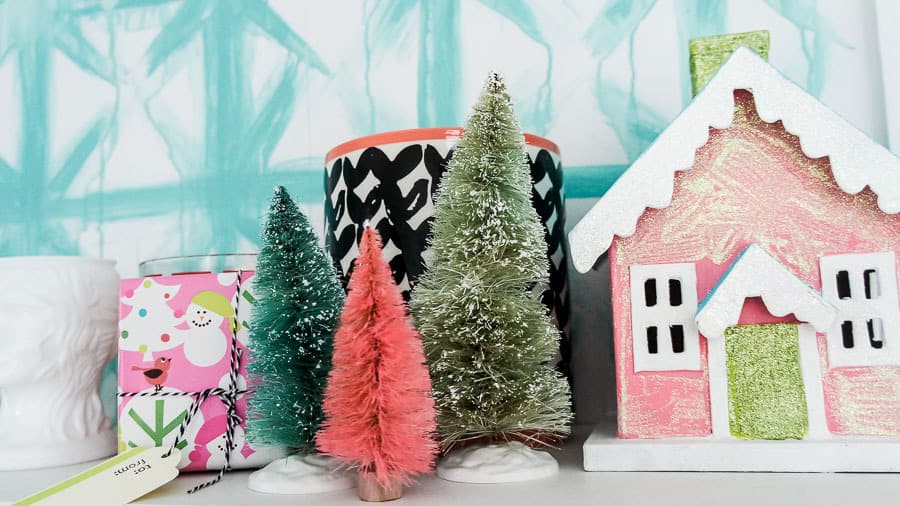 Including the bar area.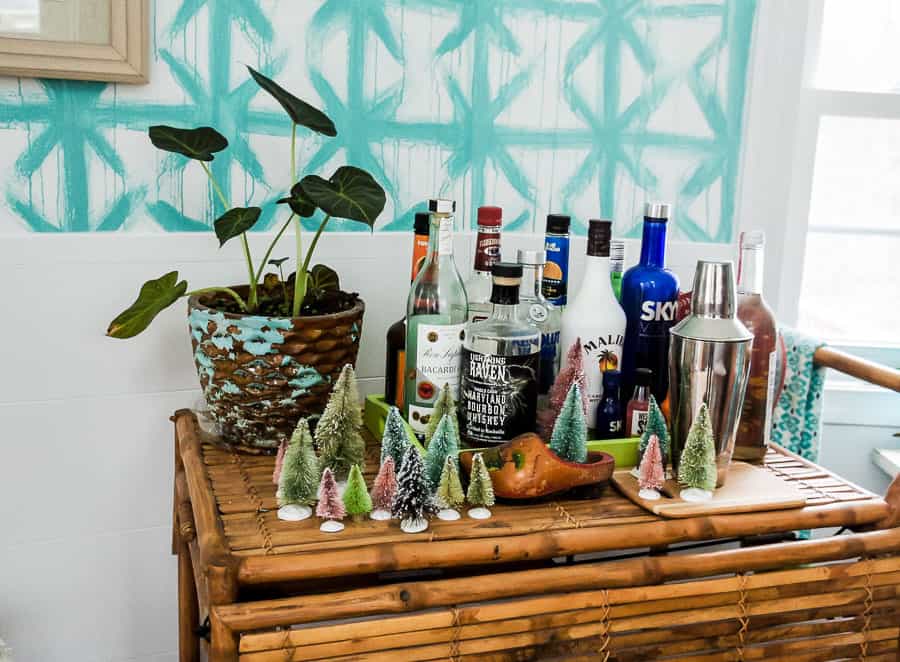 And the final touch in the room is this felt Advent calendar that I made years ago.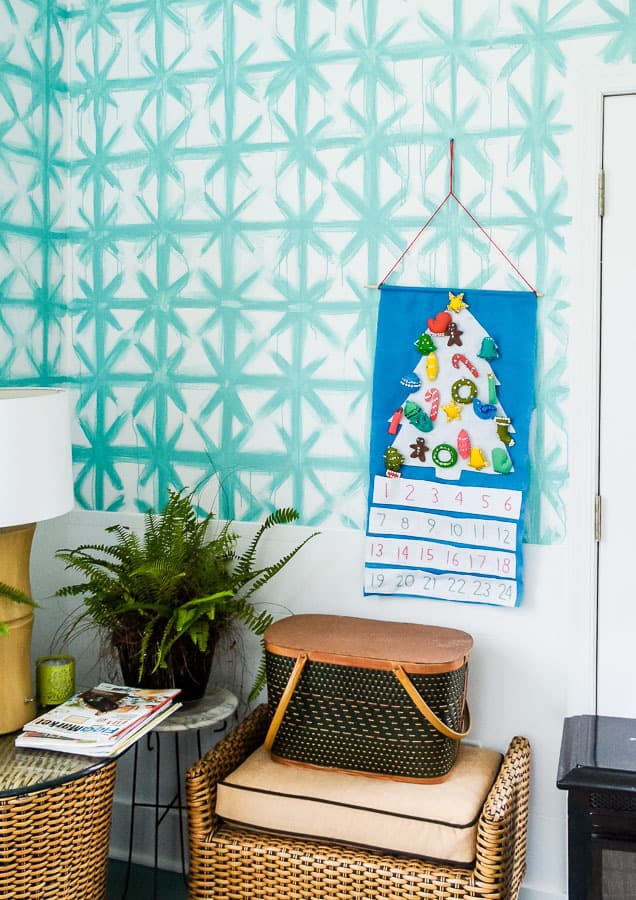 I love how festive the sunroom feels!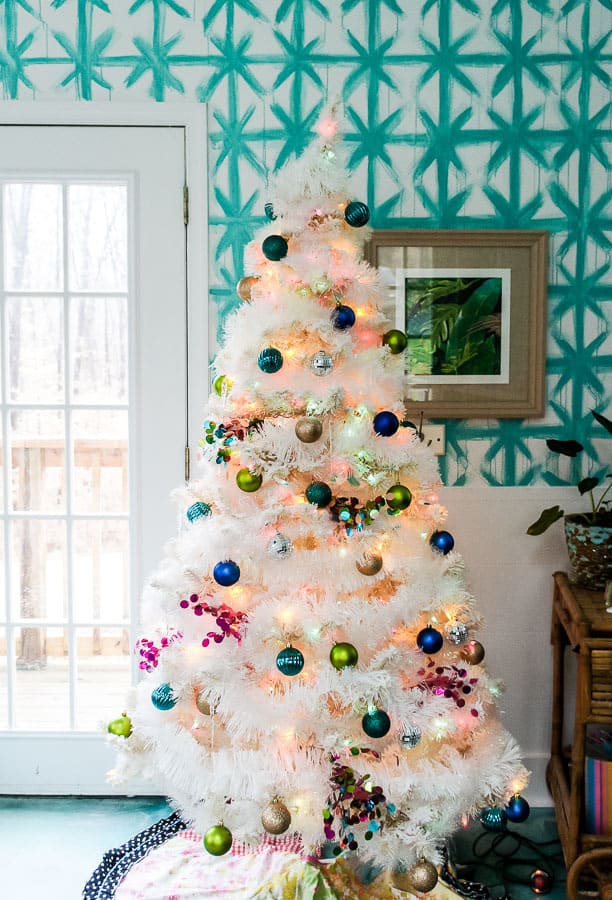 Dining Room
The dining room also got decked.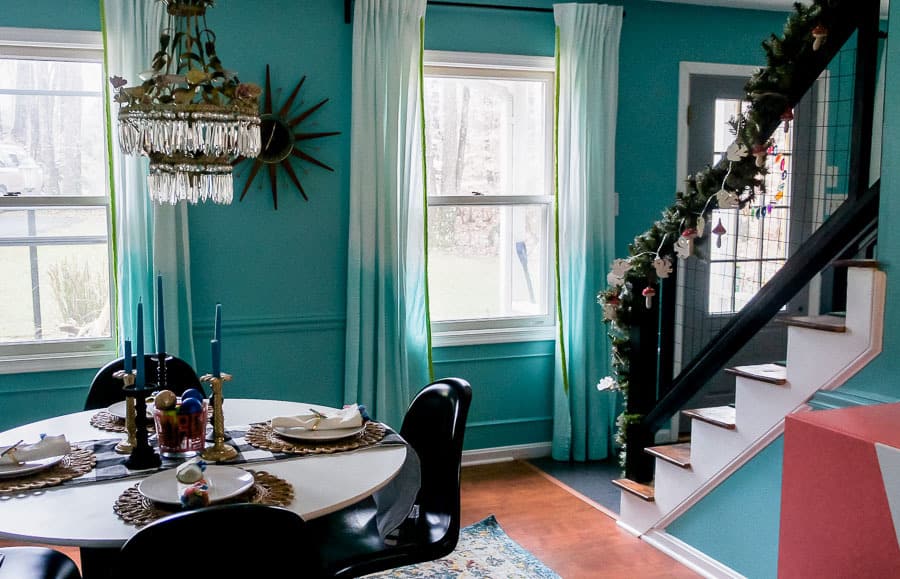 I've been dreaming of the day when I could add garland to my staircase! It's a regular garland with cute squirrel lights and mushrooms from IKEA.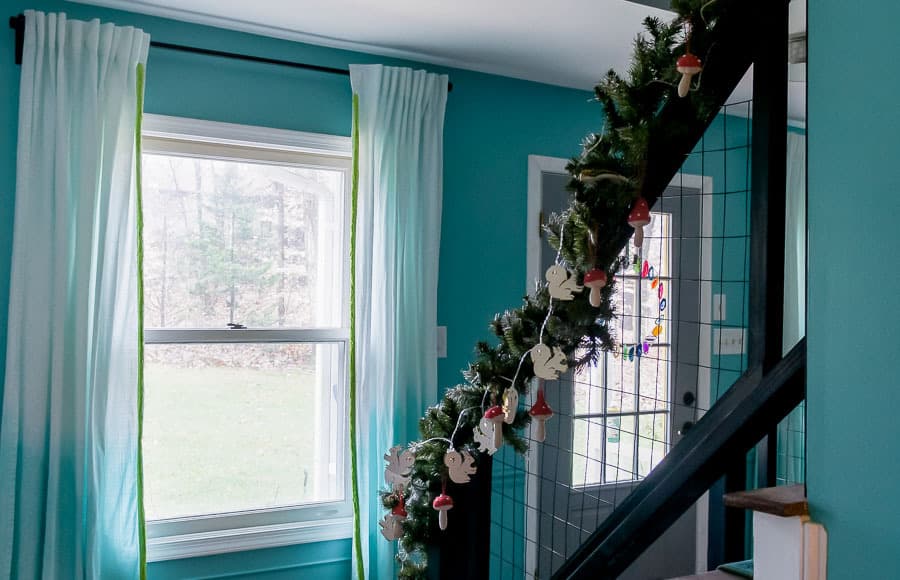 Their holiday collection is amazing this year.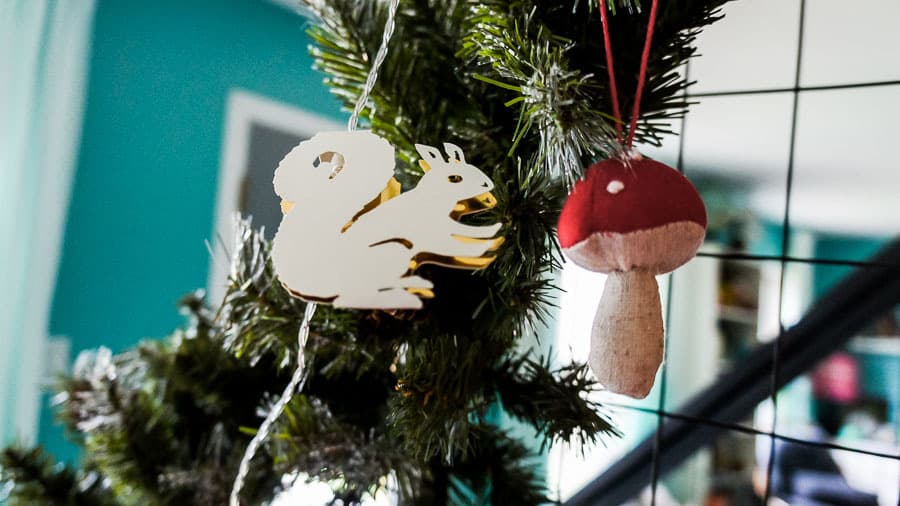 You can also see a peek at my agate wreath.
The sideboard is set with my tinsel tree decked out in repro Shiny Bright ornaments and garland that I found at Home Goods.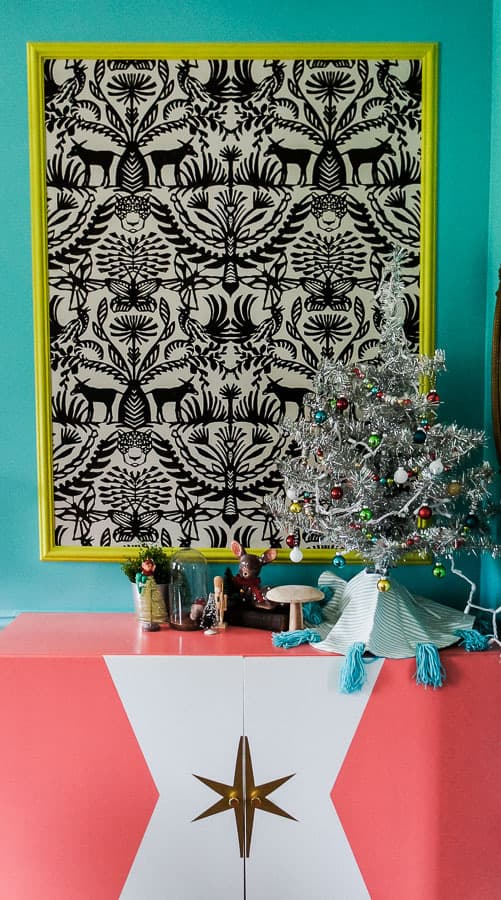 I love the retro feel of this room!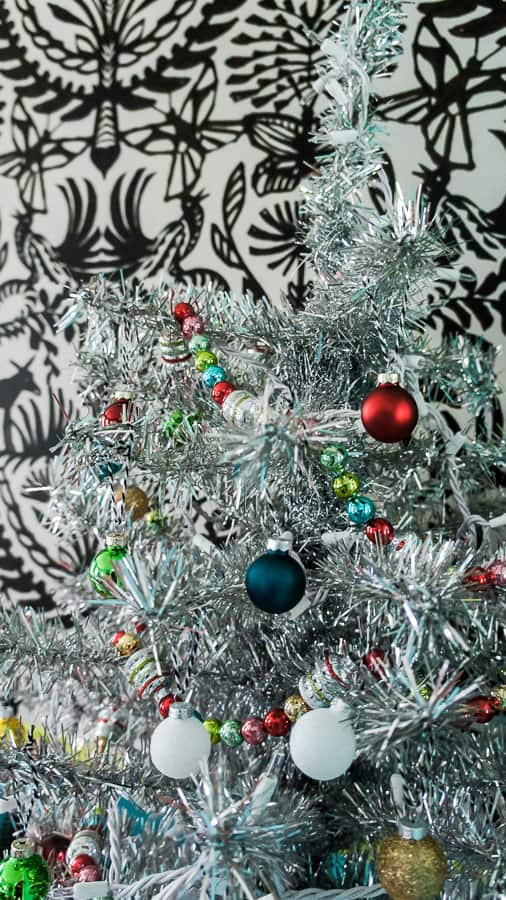 Bottle brush trees are my favorite. I added some new trees from IKEA and a cloche to put them in. Then I added the cutest deer ever.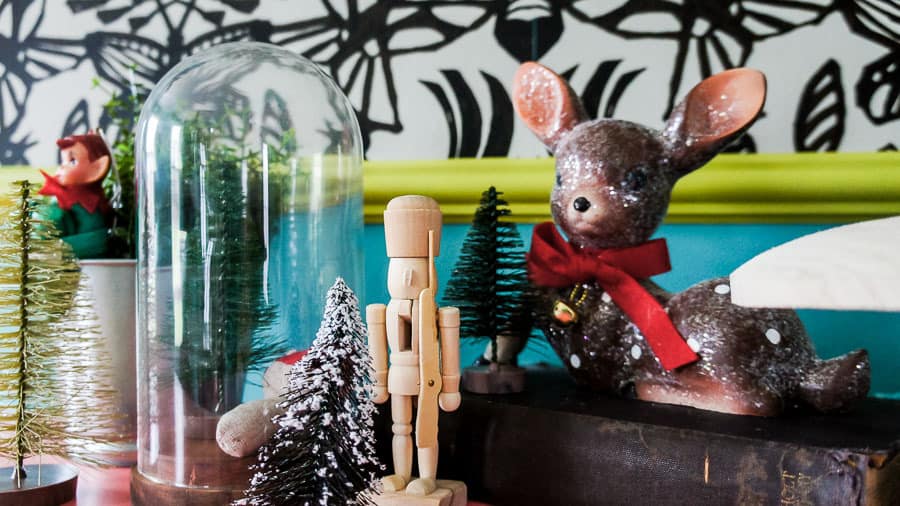 The elf is from my shop, but you can get a set here.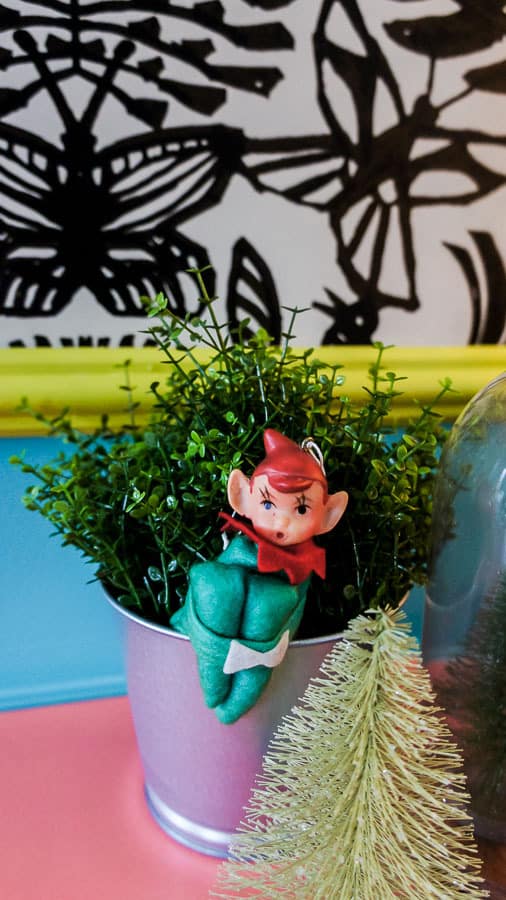 This built in cabinet got a disco ball added that looks amazing when the sun hits it. Unfortunately, we haven't see a lot of sunshine lately.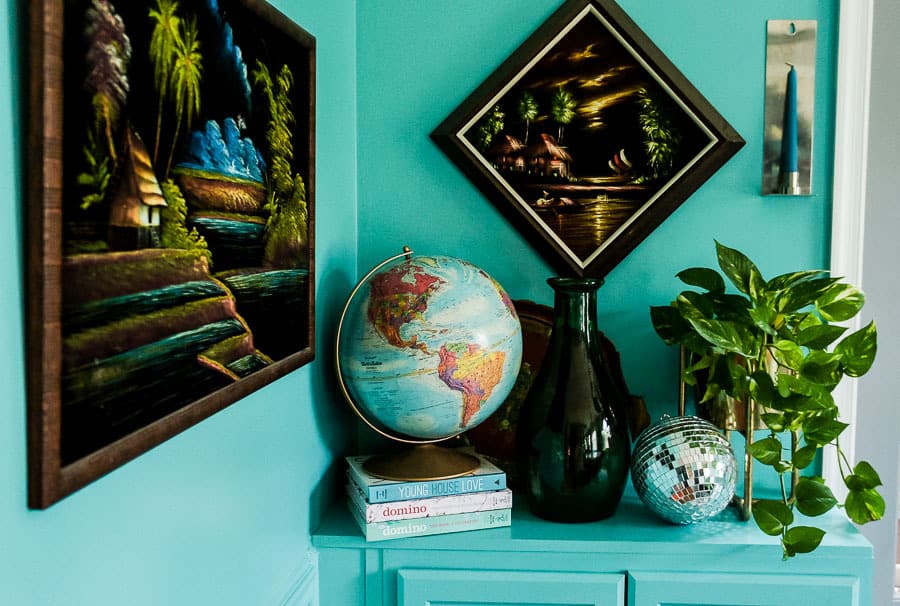 The table was set with a DIY table runner. (My son's friends asked if we were having people over. Haha. Nope. Just for photos.)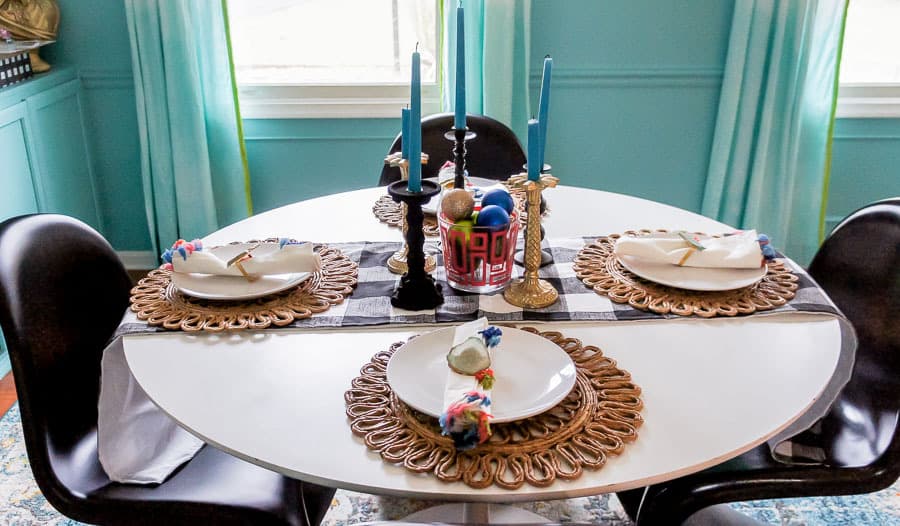 Woven placemats add a boho touch to the table. I used my favorite agate napkin holders and fringe napkins.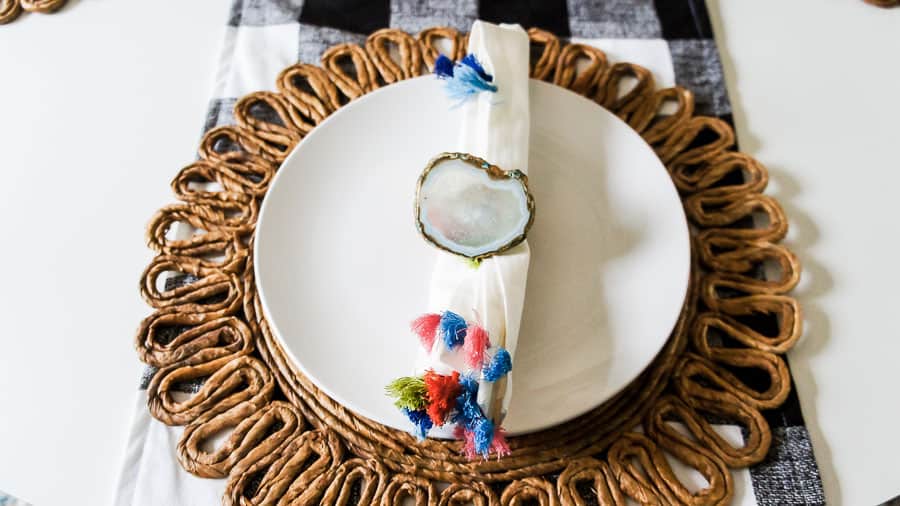 Finally, a cluster of candlesticks and a bowl of ornaments make a fun centerpiece that's low enough to see through.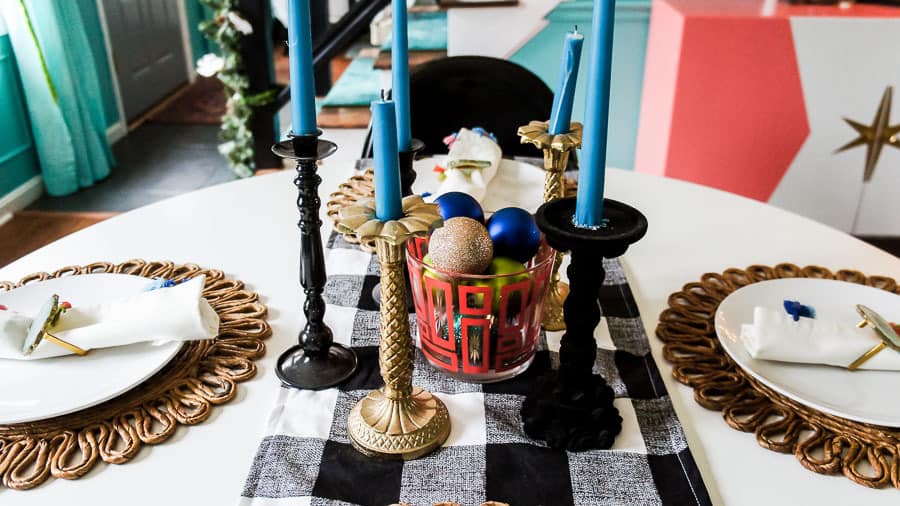 Hope you've enjoyed my 2018 Christmas home tour!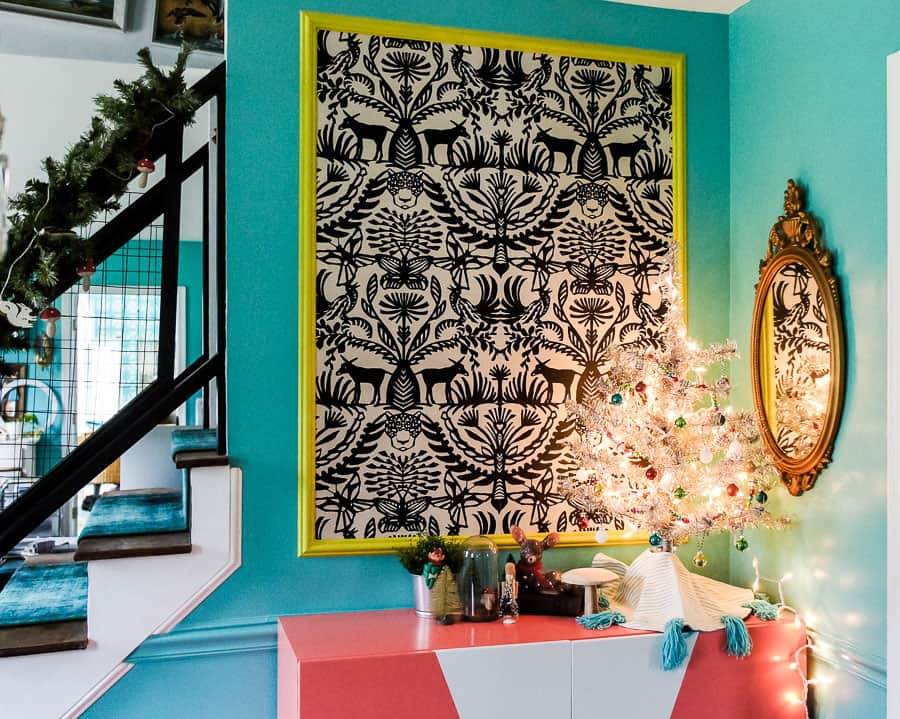 Be sure to check out all of the other Christmas home tours: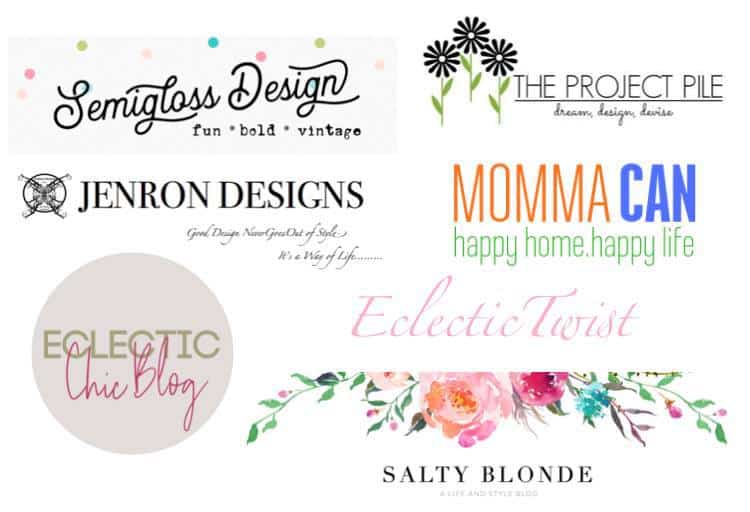 The Project Pile | Jenron Designs | Momma Can
Eclectic Twist | Eclectic Chic Blog | Salty Blonde
Looking for more Christmas posts?
Pin for Later!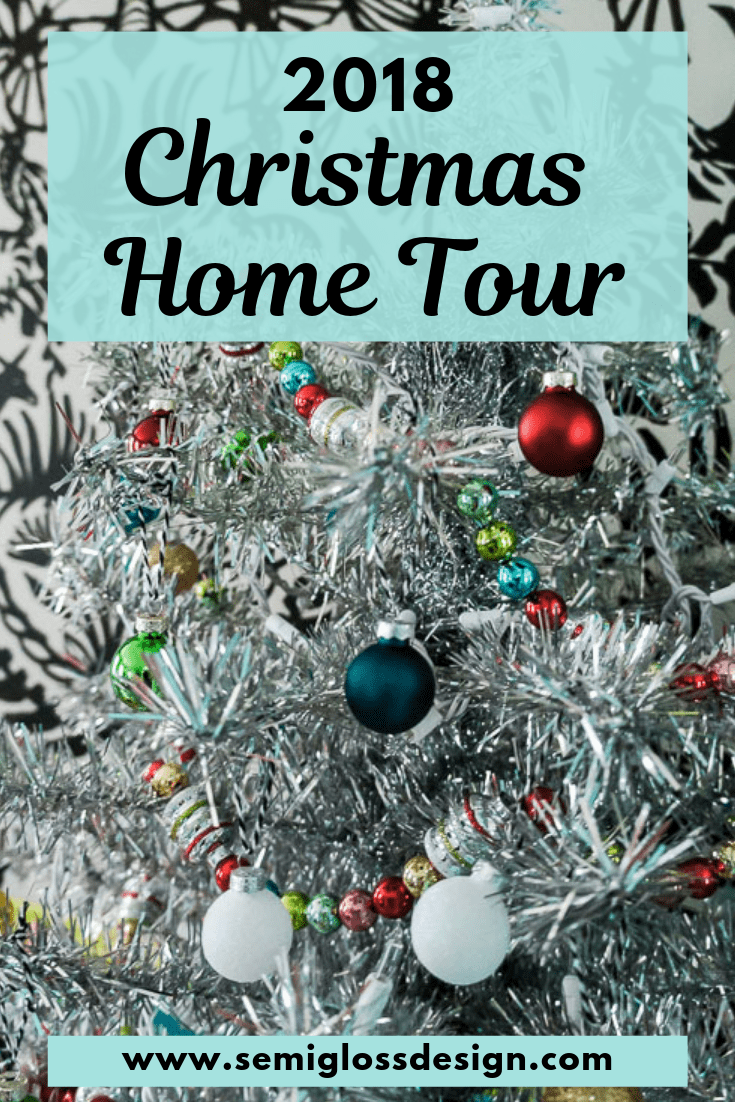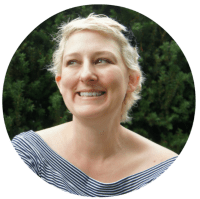 Emy is a vintage obsessed mama of 2 DIYer who loves sharing affordable solutions for common home problems. You don't need a giant budget to create a lovely home. Read more…