Revamp a Lampshade with Fringe
Welcome to this month's installment of Inspired by DIY. Inspired by DIY is a monthly challenge hosted by Jes at Domicile 37 and Kathy at Up to Date Interiors. Each month, we find inspiration from an icon. This month we are finding inspiration from the fabulous Iris Apfel.
If you don't know who Iris Apfel is, she's a 90 year old fashion icon known for her more is more approach to dressing. My favorite thing about Iris is her use of accessories. From her signature glasses to her love of costume jewelry, this lady is a fan of accessories. I decided to give some of my home accessories an upgrade inspired by Iris.
My dresser in my living room has been feeling a bit sad, so I've been trying to figure out how to add more color to this area. I decided to revamp a lampshade with fringe and update the vignette.
"More is more, and less is a bore." – Iris Apfel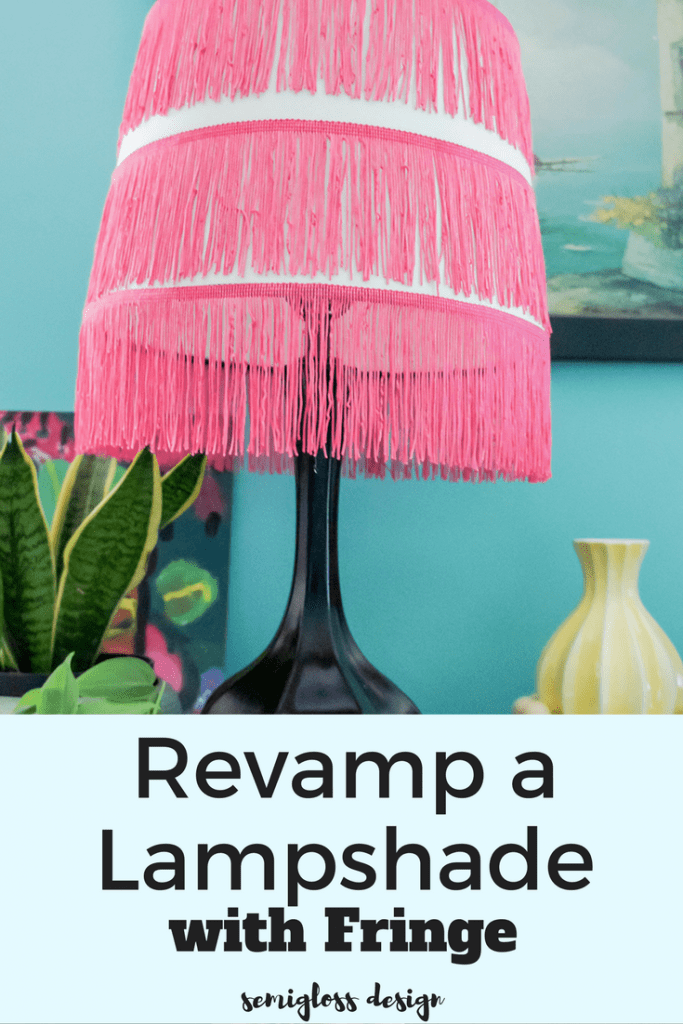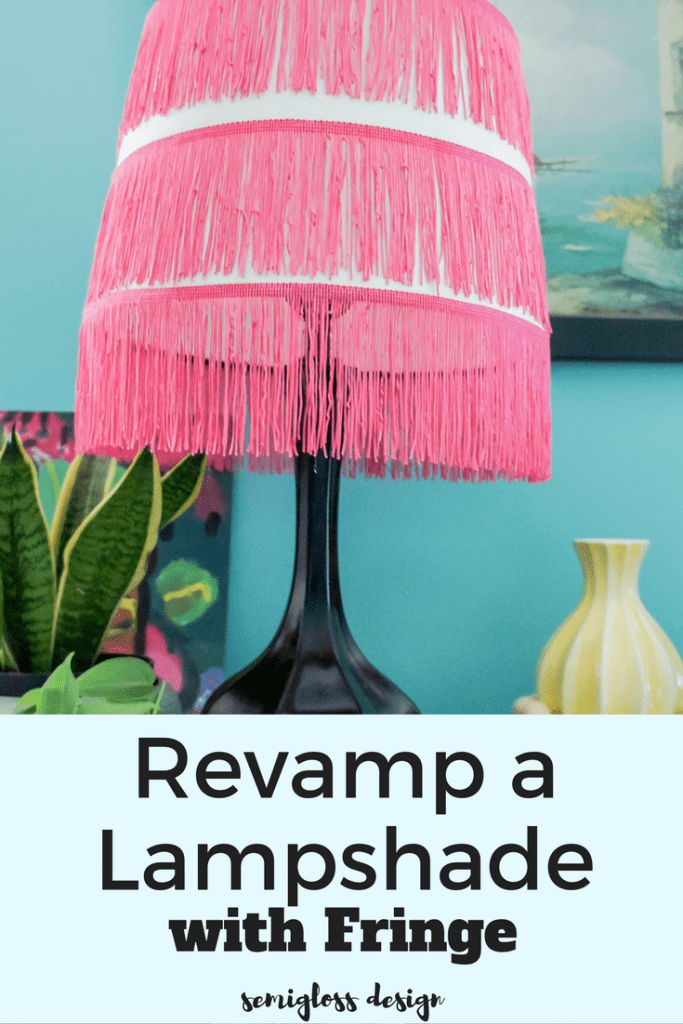 Adding fringe to a lampshade is one of those stupidly easy DIY projects that are good for instant gratification. I completed this project in half an hour while I was supposed to be cleaning out the garage. Crafting always wins over cleaning. 😉
How to Revamp a Lampshade with Fringe
This post contains affiliate links. By purchasing an item through an affiliate link, I earn a small commission at no extra cost to you.
Supplies
*I prefer using a cool temp glue gun versus a hot glue gun. It's safer, but the glue doesn't stick as well. This means that it dries much faster as well. However, it also is easy to remove if you decided you hate it!
Start at the back seam. Apply about 3 inches of glue and press the fringe against the glue.
Continue along the bottom edge.
When you reach where you began, cut the fringe 1/2″ longer and fold it over when you glue it down.
Continue gluing the fringe on the lampshade where desired. I added another layer at the top.
Then I added one last layer in the middle, trying to keep the spacing even from the top layer.
Enjoy!
I love this corner of my home now! It's so colorful and happy now. Everything needs a bit of fringe!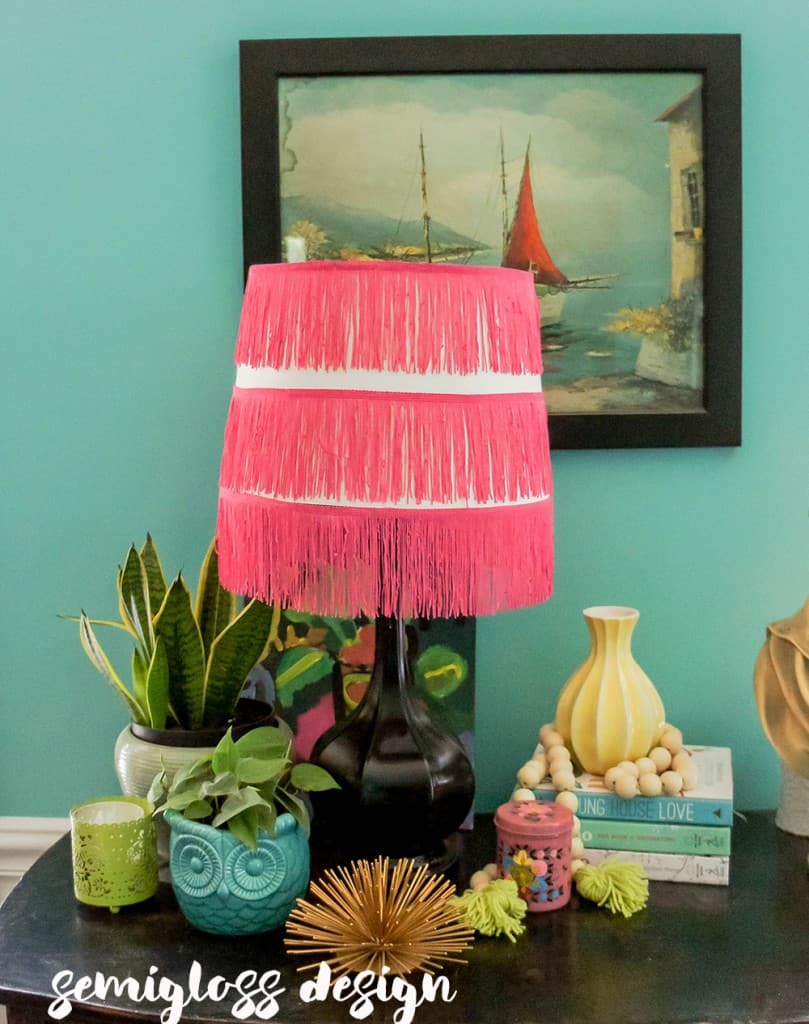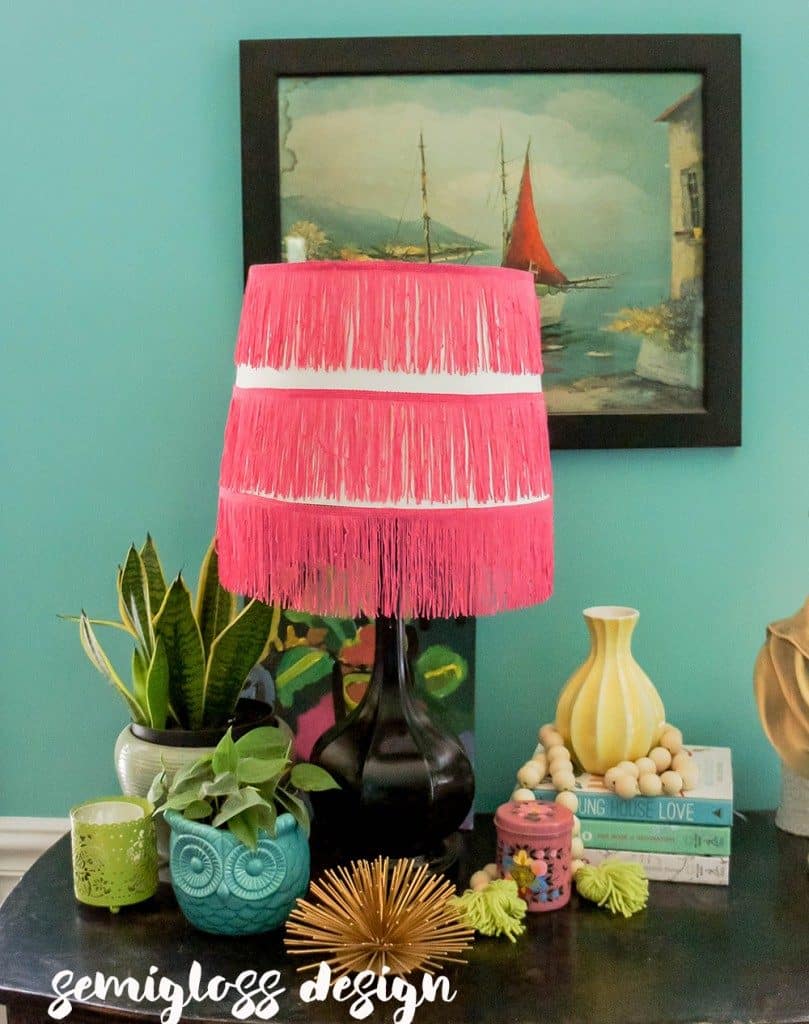 A string of beads with yarn tassels is another nod to Iris. She loves her beads!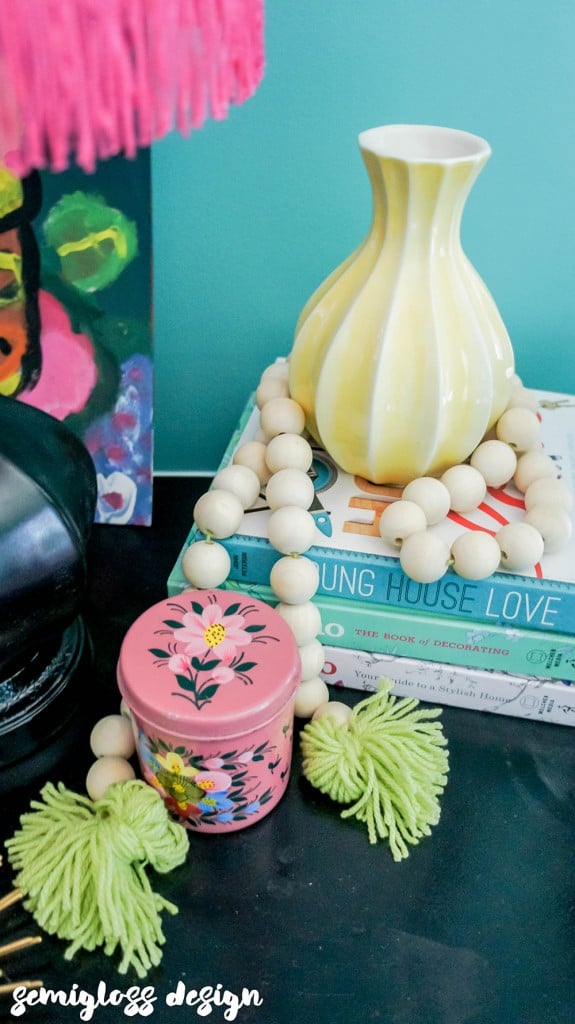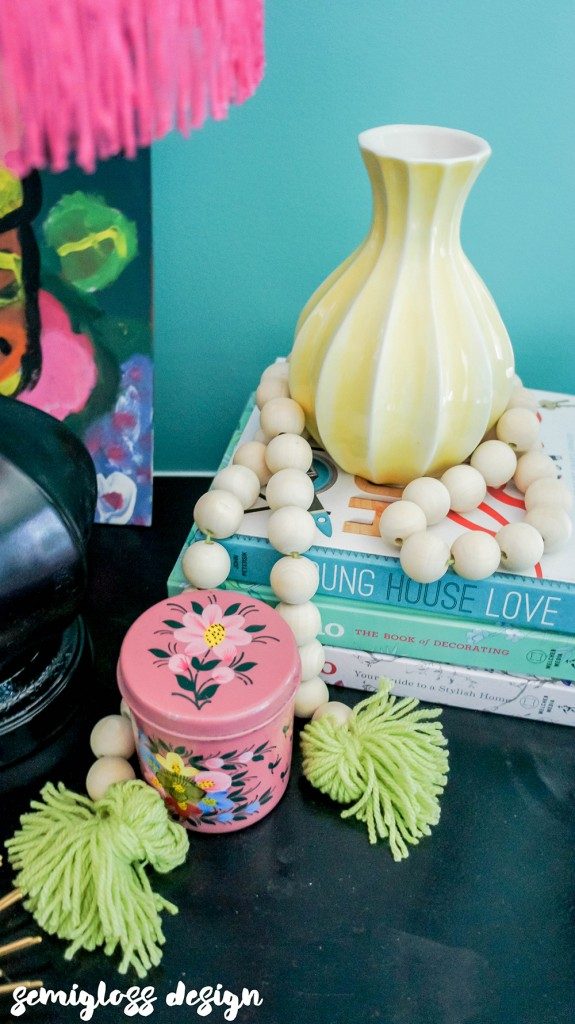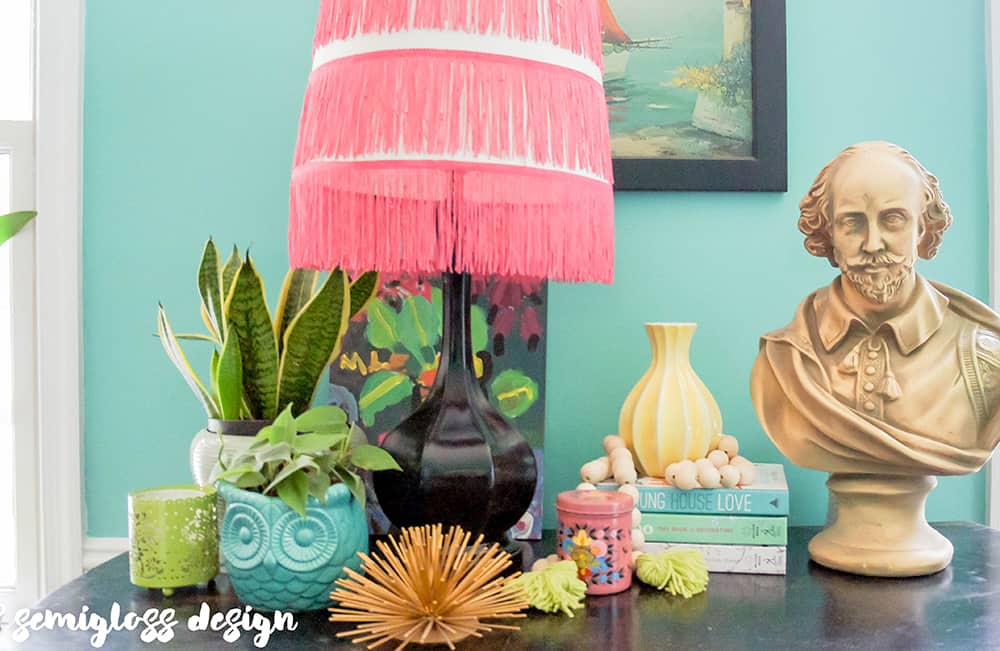 A vignette in my home is never complete without Willie. He really makes a room. Plus, he's an instant friend! Willie is the best. 😉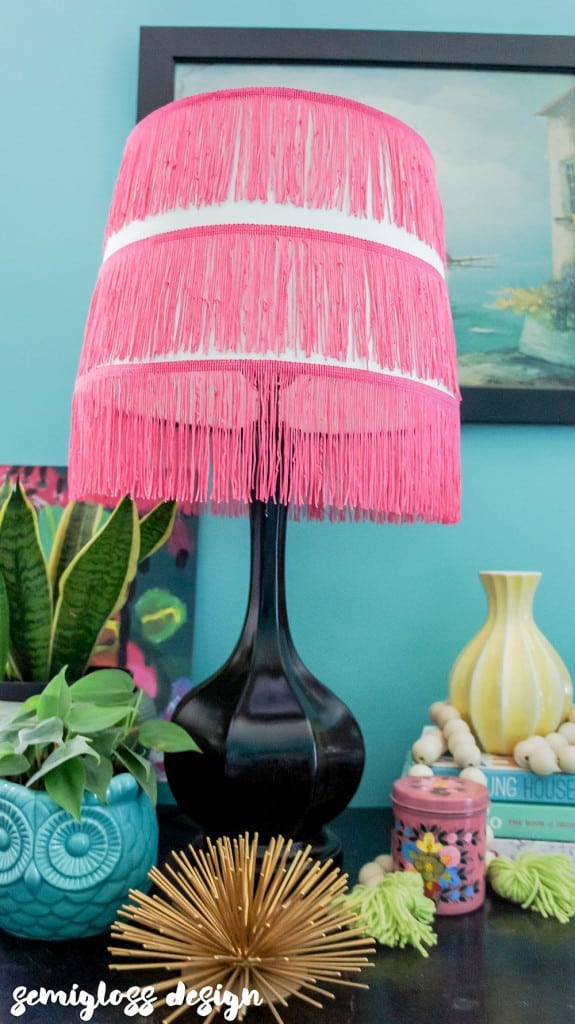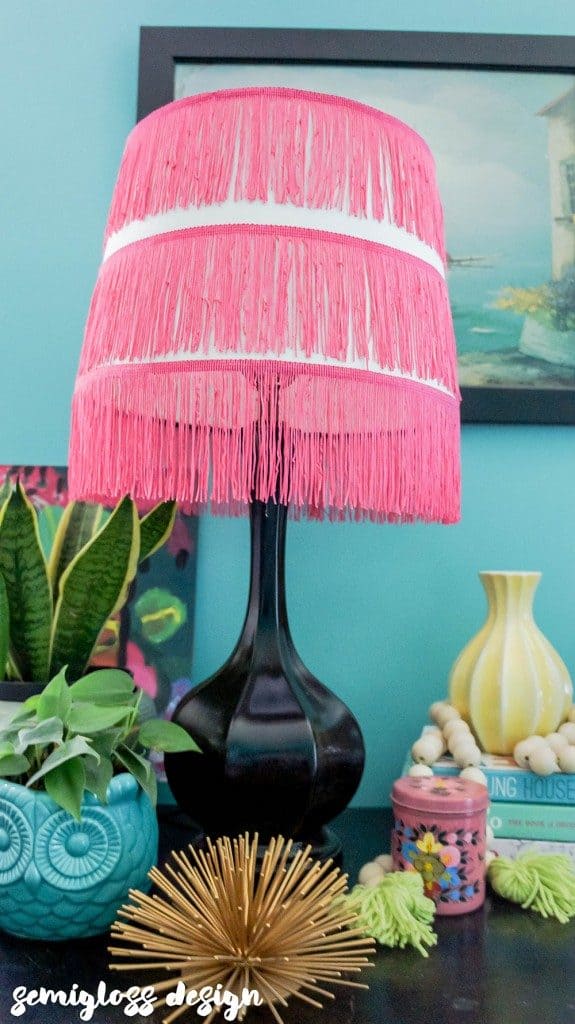 What do you think about my revamped lamp?
Inspired by DIY
I can't wait to check out all of the other fun DIY projects inspired by Iris Apfel!
Up to Date Interiors | Domicile 37 | The Gathered Home | Semigloss Design | Jest Cafe | PMQ for Two | The Rath Project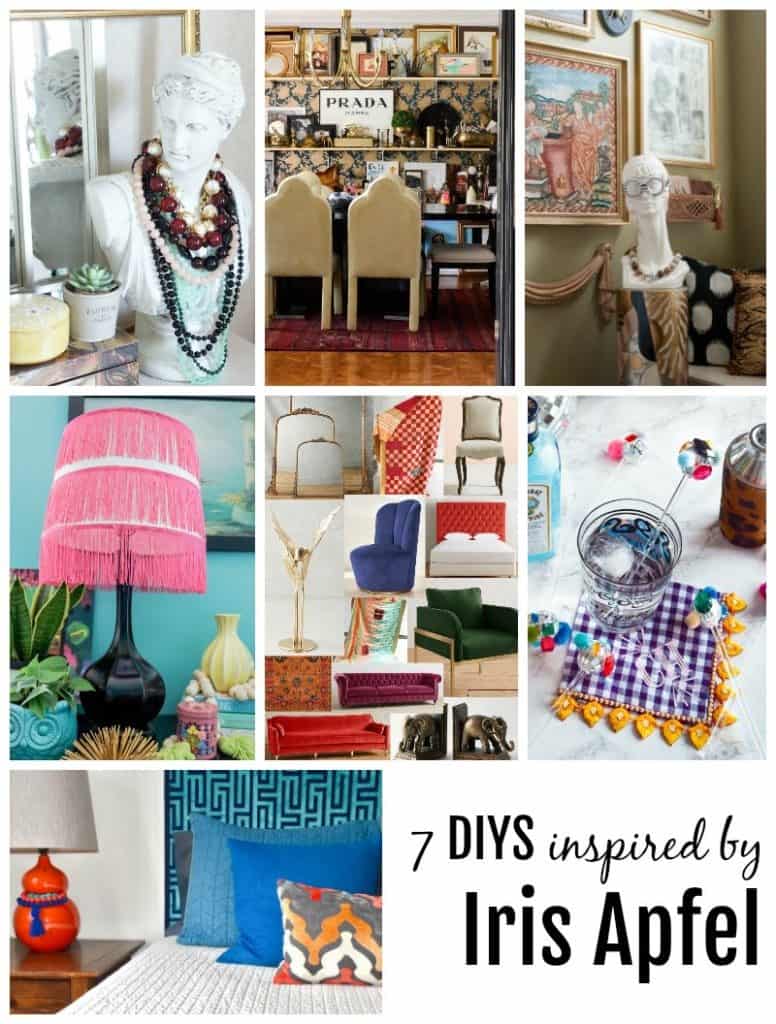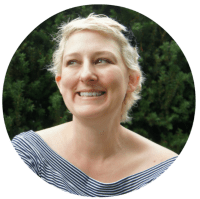 Emy is a vintage obsessed mama of 2 DIYer who loves sharing affordable solutions for common home problems. You don't need a giant budget to create a lovely home. Read more…