How to Apply Gold Leaf to Glass: Easy DIY Candle Holder
Learn how to apply gold leaf to glass to make these super easy candle holders. These gold leaf candle holders look amazing when lit with the glow of a candle.
If you like using gold leaf, you might also like gold foil art!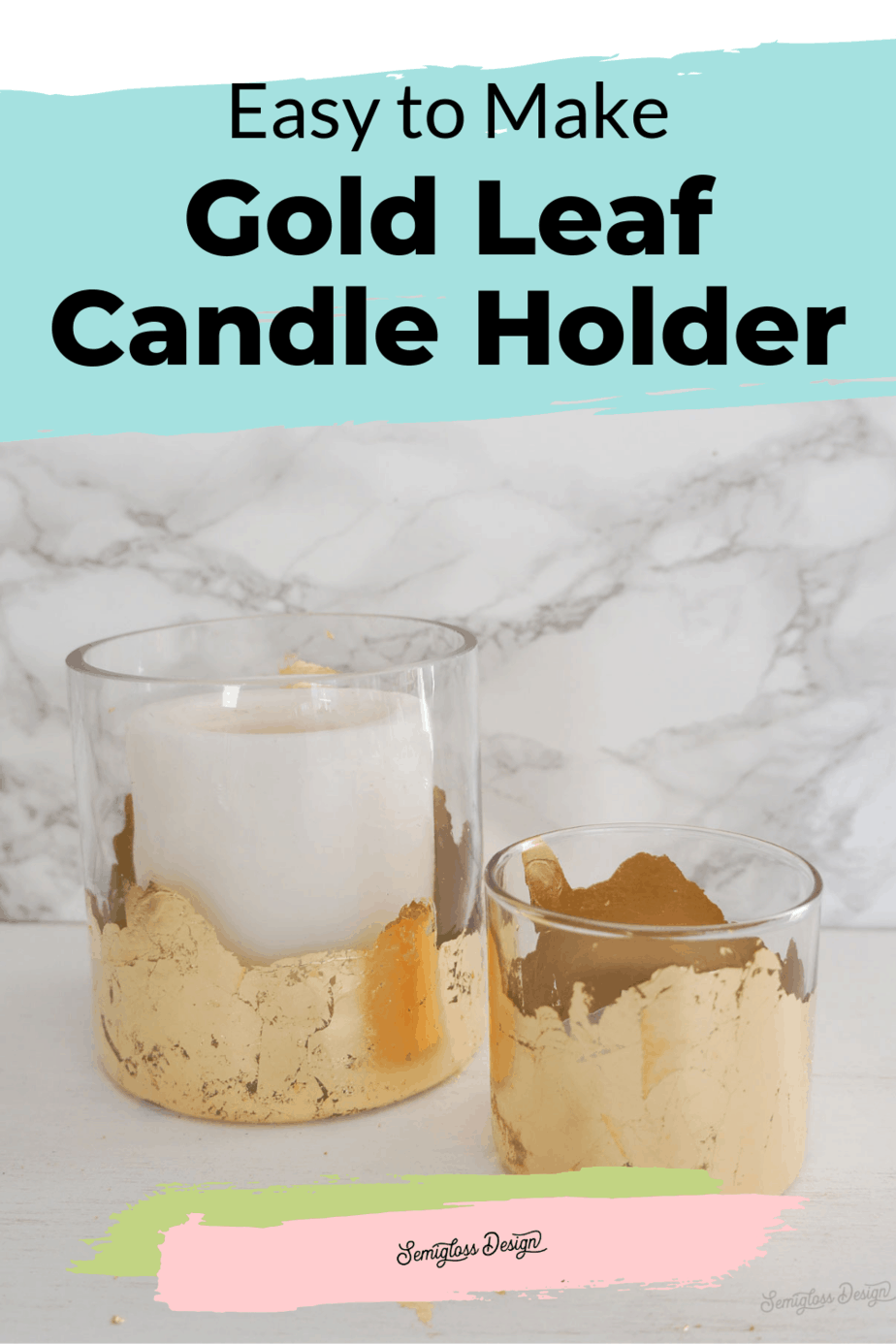 One of the things that gets me through the winter is lighting a candle. Theres something so soothing about the flickering light of a candle on a cold day.
To make it even more fun, I made some cute DIY candle holders. This process could be used on so many things. Wouldn't a gold leaf vase be gorgeous?
Gold Leaf FAQs
What is gold leaf?
Gold leaf is very thin sheets of gold that can be used for decorative purposes.
Imitation gold leaf will be less expensive and state it clearly on the package.
Real gold leaf is much easier to work with because it crumbles and sticks to the surface much better than the imitation version. The texture is also more beautiful.
How do you use gold leaf?
Clean the surface, apply gold leaf adhesive, let it sit until it gets sticky, then apply sheets of gold leaf. Brush away the excess.
Detailed instructions are listed below.
Do you need to seal gold leaf?
It's not necessary to seal gold leaf.
The only time I've ever sealed gold leaf was when it didn't cure all the way, so the glue remained sticky. You can use polycrylic to seal in any stickiness.
Polycrylic can also be used if you're going to handle the object a lot. Use the spray variety for the best results.
Can you apply gold leaf to metal?
Yes. I've also used it on wood. It's really pretty on picture frames.
How to Apply Gold Leaf to Glass: DIY Candle Holder
Supplies Needed
This post contains affiliate links. By purchasing an item through an affiliate link, I earn a small commission at no extra cost to you.
*If you don't like gold, there are other metals you can use!
Metal leaf comes in so many pretty colors, so if gold isn't your thing, try a different color.
Prep Work
When working with gold leaf, it is very important to work in a room with no visible airflow. So turn off fans, work away from air vents. Close windows. Gold leaf is incredibly lightweight and you don't want it to blow away as you're working.
Clean the glass with rubbing alcohol to remove any oils that will prevent the adhesive from sticking.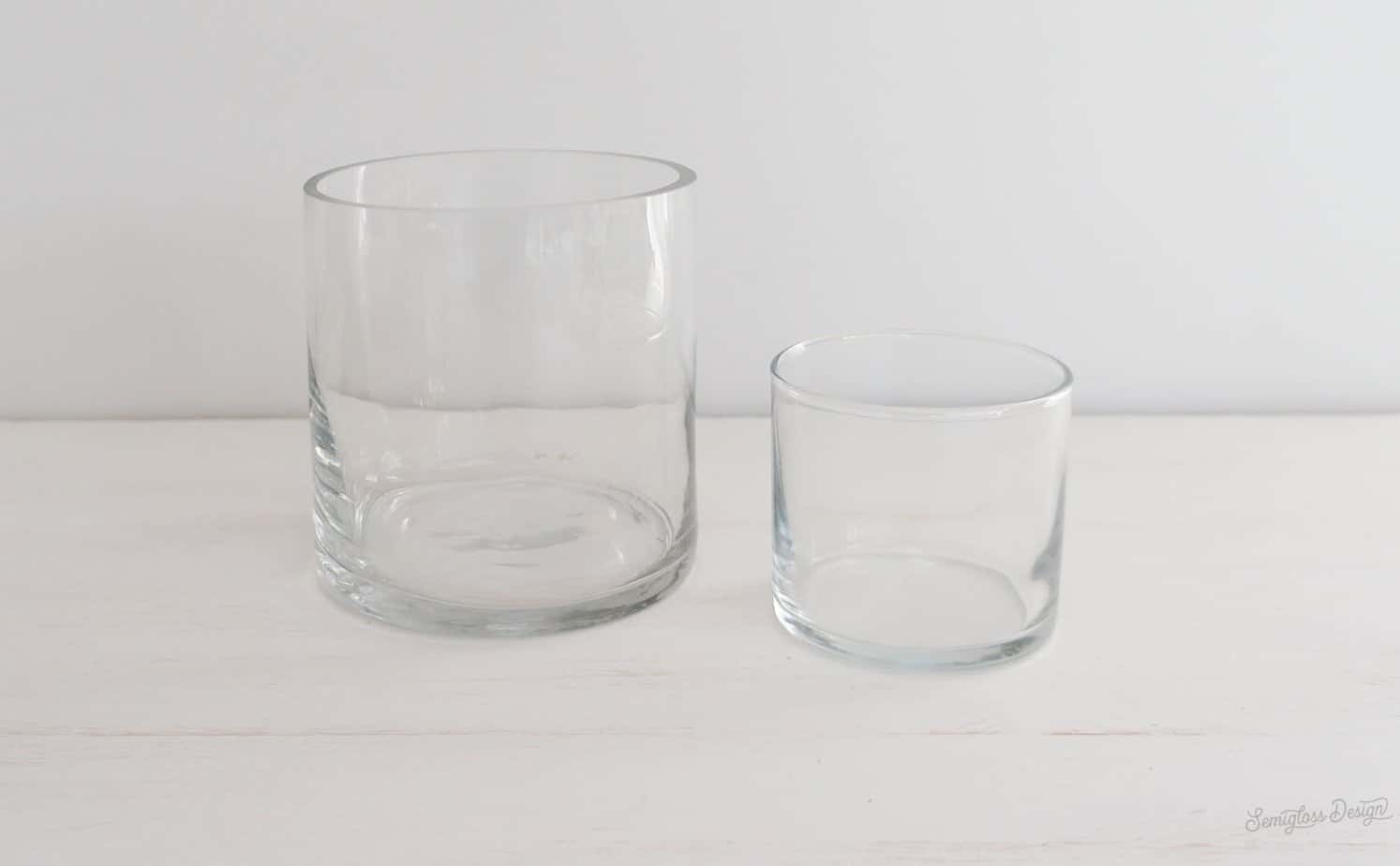 Applying the Gold Leaf to the Glass
Paint a thin layer of adhesive size onto the glass.

Keep the edges pretty random. Tipping it upside down makes the edge more organic. Keep in mind that the gold leaf will stick to any place the adhesive sits.

Let the adhesive dry until it is clear. It should feel slightly sticky.

Carefully take a sheet of gold leaf and place it on the glass over the glue.

Break off the excess pieces and cover the rest of the adhesive until the glass is covered. You might need more than 1 sheet.

Once your candleholder is sufficiently covered, take the chip brush and start brushing the gold leaf to remove the excess. The gold leaf sticks to the adhesive, but it also becomes burnished and beautiful.

Continue brushing away the excess gold leaf and burnishing the vase until you're happy. I love how textured it becomes.

The small DIY candle holder holds a tea light, but a votive would work as well.
You might also like:
Pin for Later!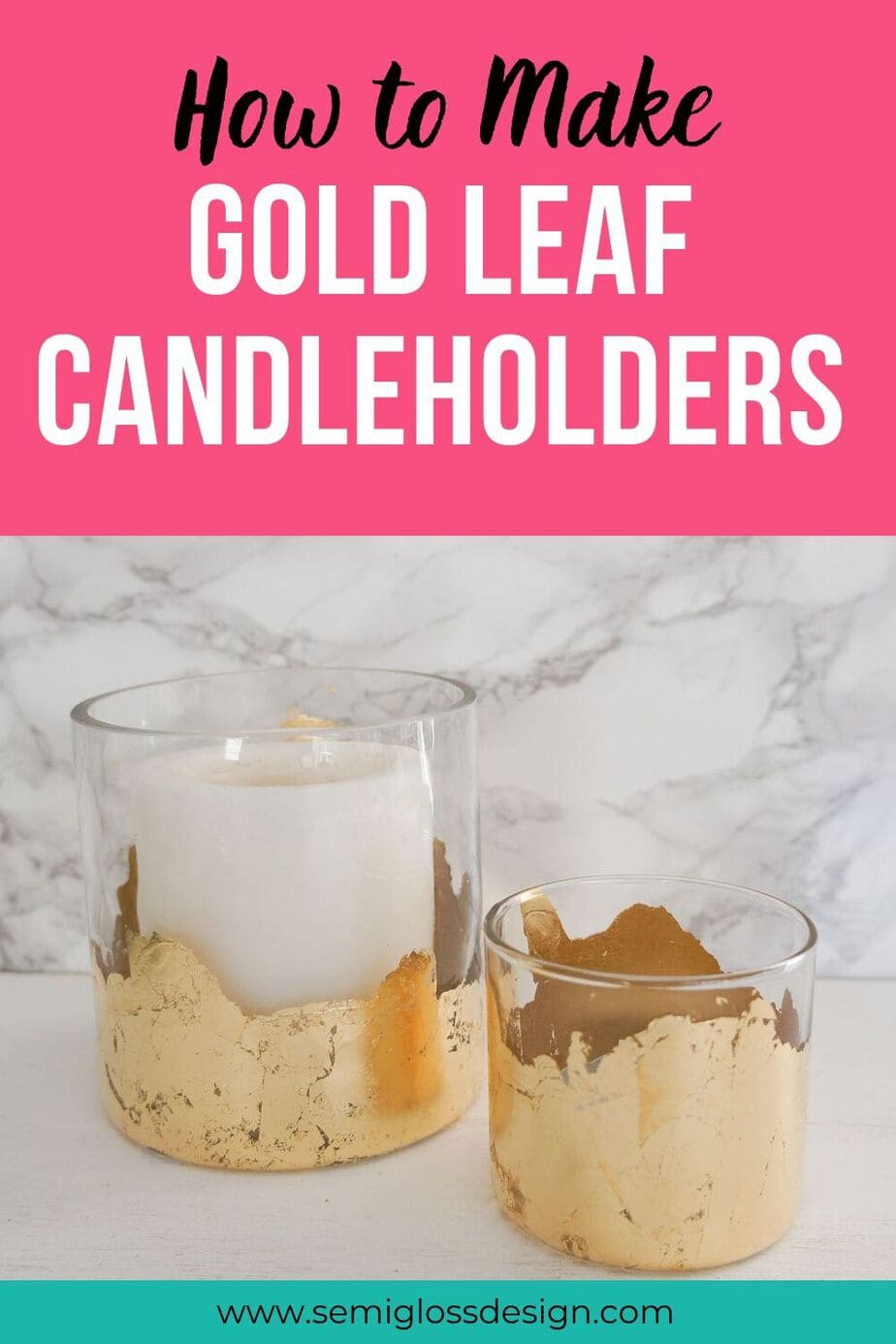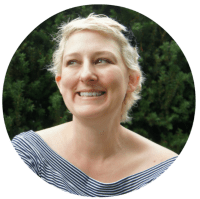 Emy is a vintage obsessed mama of 2 DIYer who loves sharing affordable solutions for common home problems. You don't need a giant budget to create a lovely home. Read more…