Easy Secretary Desk Makeover
This secretary desk makeover is pretty simple, but sometimes simple is the best. Furniture makeovers can be simple, like this green painted dresser or more complex, like this ombre dresser.
This vintage secretary desk is simple, but since this piece is large and has tons of details, it felt like a more complex project.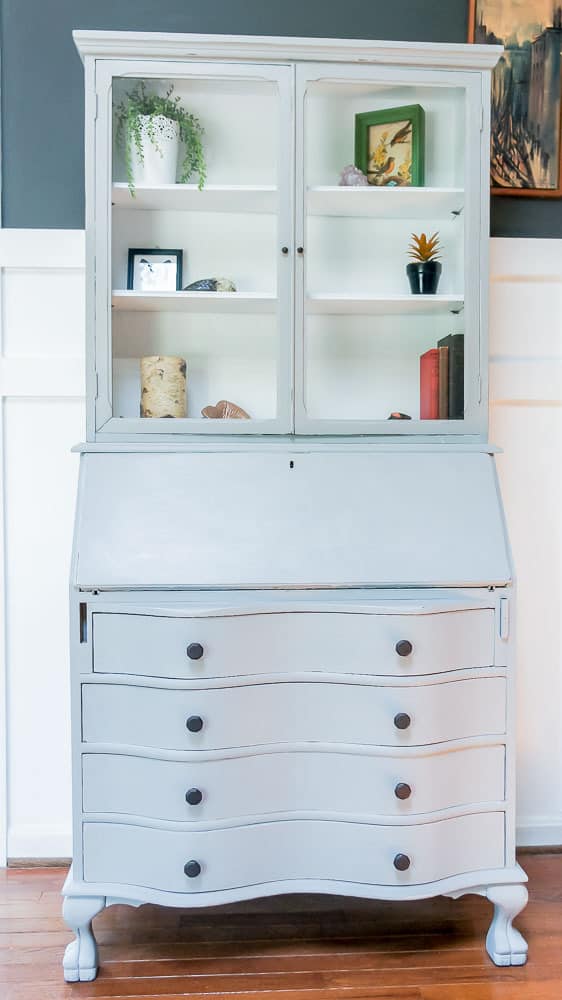 This post contains affiliate links. By purchasing an item through an affiliate link, I earn a small commission at no extra cost to you. As an Amazon Associate I earn from qualifying purchases.
Today I'm sharing a furniture makeover that I've been working on for months! Months ago I brought home a vintage secretary desk to paint and sell. It's gorgeous and has so many amazing little cubbies.
But the thought of painting all of those adorable cubbies pushed it to the back burner for a while. I'm happy to say that my secretary desk makeover is complete now and has gorgeous new hardware!
In all of my furniture makeovers, this is the only one that I regret selling.
How to Paint a Secretary Desk (without Losing Your Mind)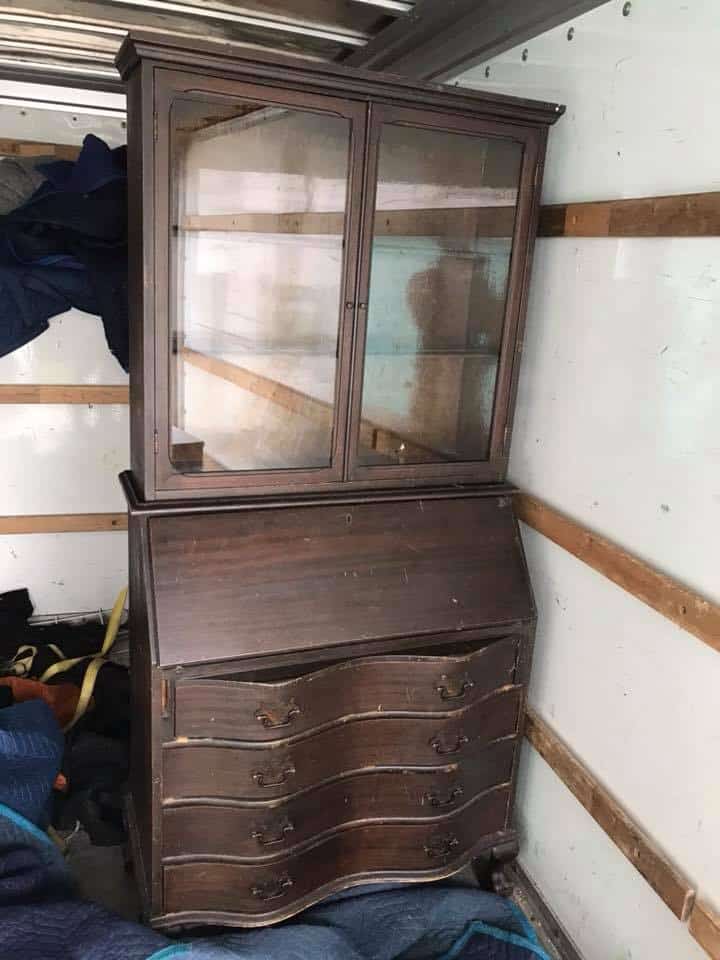 This secretary desk had great bones but needed some love.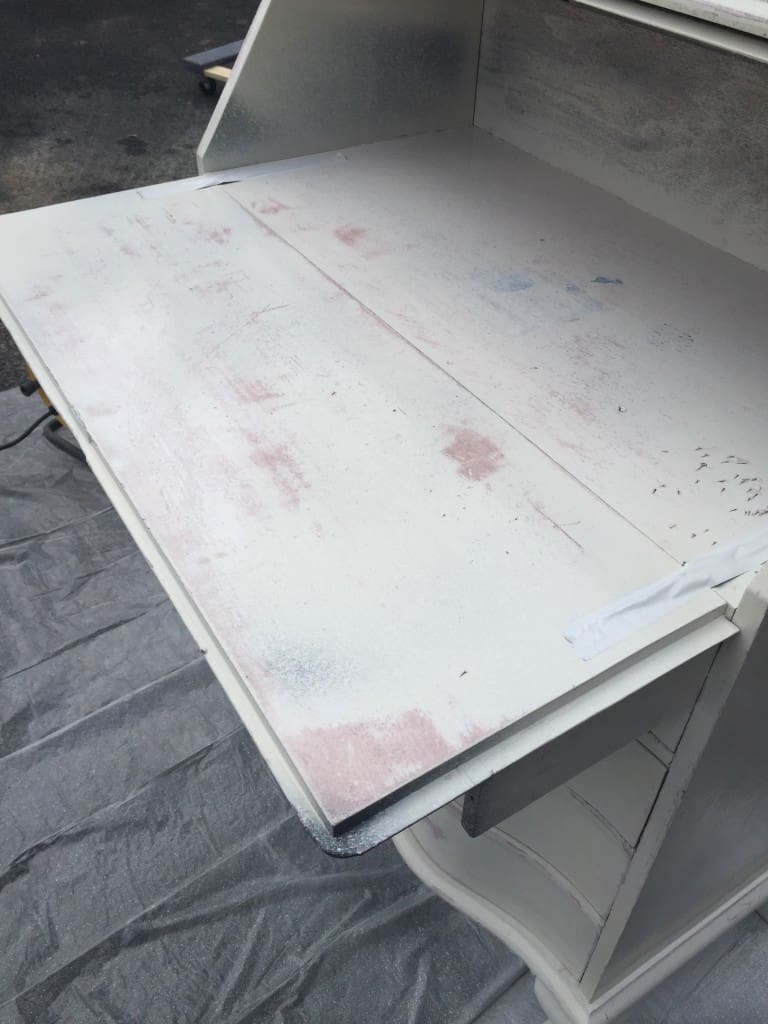 Seal with Shellac When Painting Light Colors
My husband primed this piece for me using a sprayer and the wood tannins bled through. This shows the importance of using a shellac-based primer to seal those tannins in!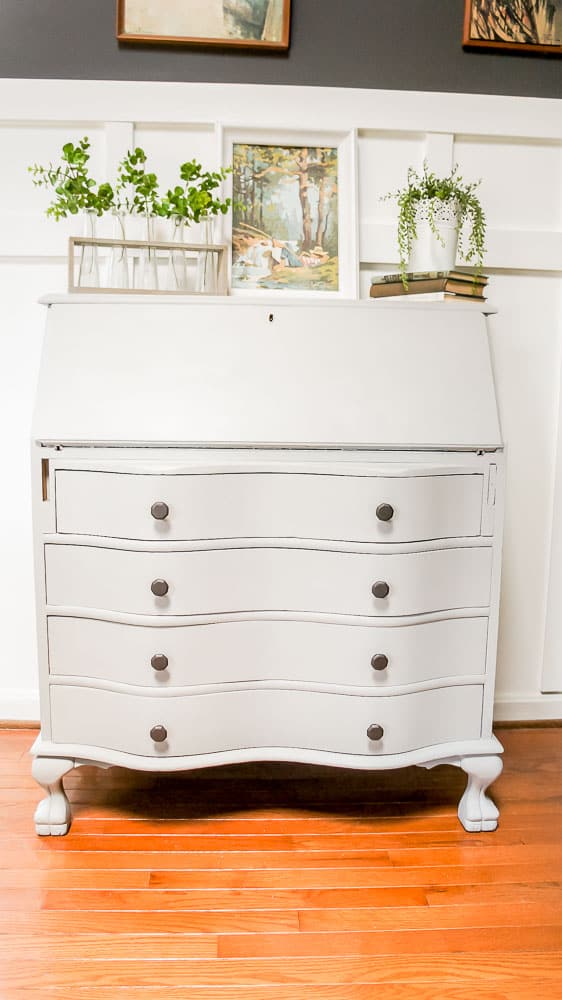 Primer Helps When Painting a Dark Piece a Lighter Color
This vintage secretary desk was a dark cherry color before. Painting it with primer first made it easier to cover with light gray chalk paint.
I love the details on this piece.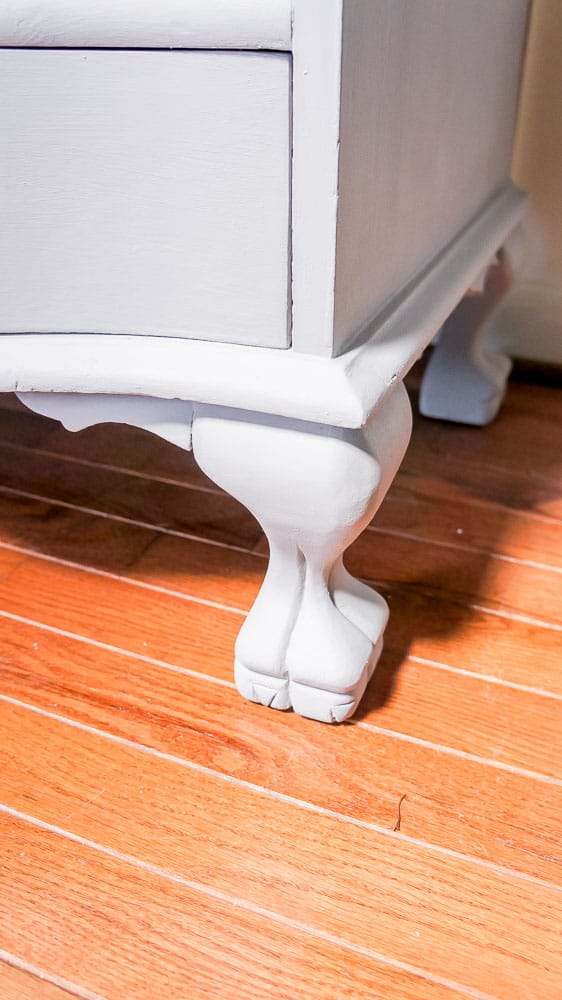 Like these feet! So cute, right?
Consider Modernized Hardware
The desk received new hardware from D. Lawless Hardware. I'm a huge fan of D. Lawless and buy from them often.
Their selection is incredible and so are their prices. I used their glass knobs and cup pulls in my kitchen, as well as many other furniture makeovers.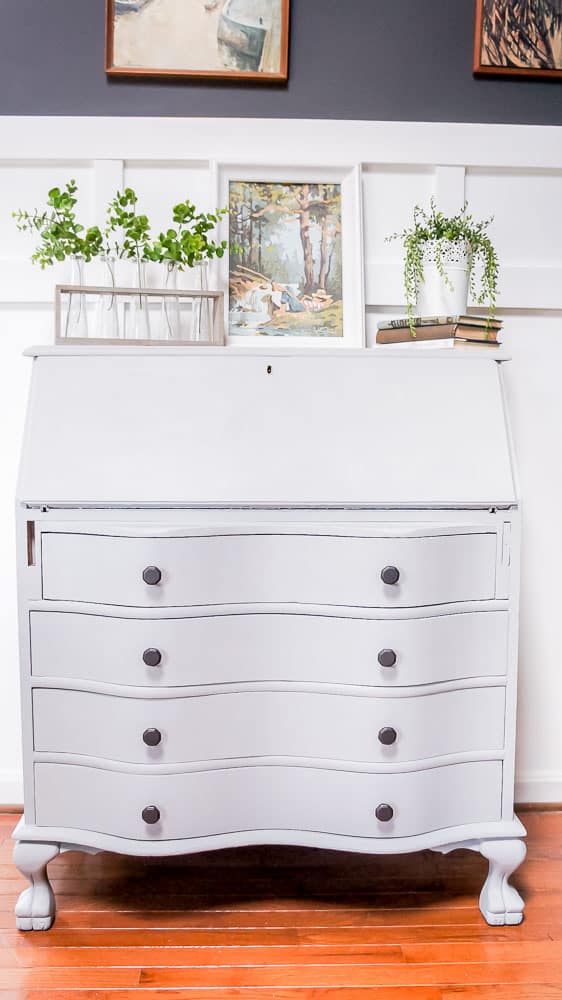 Change out Handles for Knobs
This secretary desk has serpentine curves, which made new hardware tricky. It had the typical gold pulls on it, but to be honest, those are my least favorite look ever.
If I'm going to spend the time redoing a piece of furniture, I want it to look completely updated, hardware included.
So I filled the holes with Bondo and sanded them well. I like Bondo better than wood filler because it's so much smoother.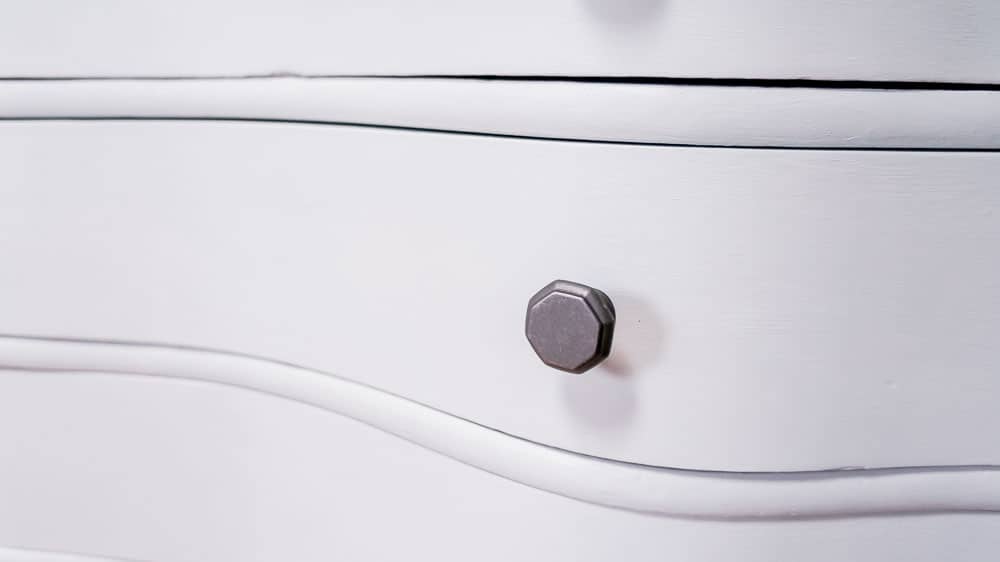 Then I drilled new holes at the front of the curves of each drawer for the new knobs. I chose these oil rubbed bronze octagon knobs because I like how classic, yet modern they are.
I love how the octagon shape feels modern and the way the oil rubbed bronze contrasts with the gray paint.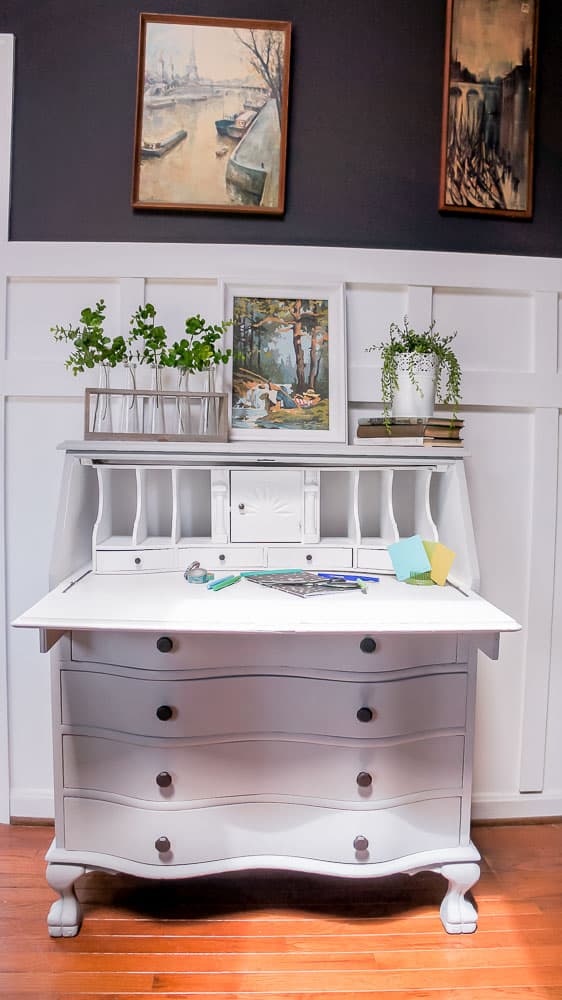 Use a Smaller Paintbrush for the Cubbies
The inside was painted white to contrast with the gray. It took several coats of paint, but was worth it.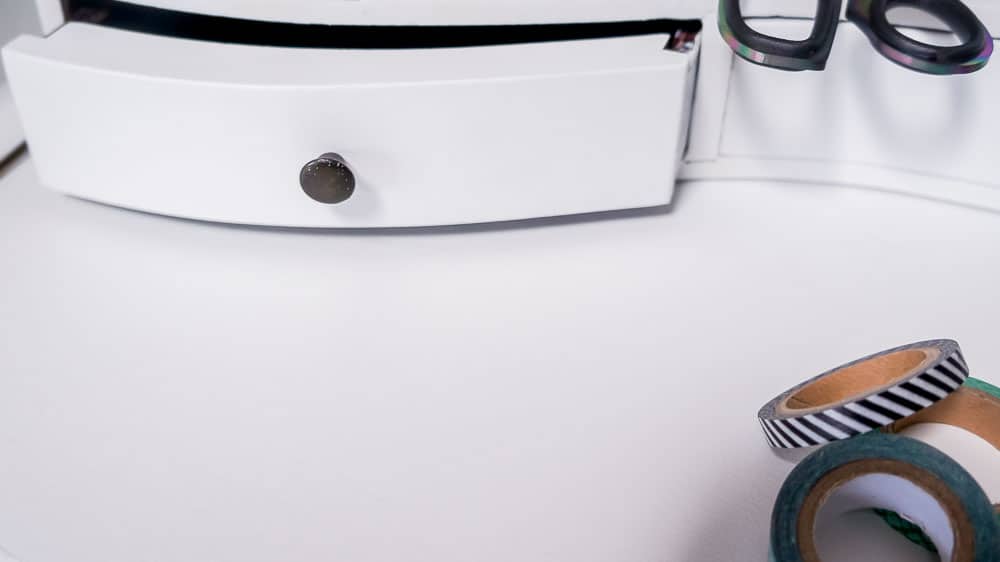 I love the tiny drawers so much. The knobs are original to the piece and look pretty cute with the new knobs!
Use a Scraper to Remove Paint on Glass
I've never found tape to be much help when painting around glass. I would rather just paint and remove the dried paint later. Rubbing alcohol or windex helps with the parts that won't scrape up easily.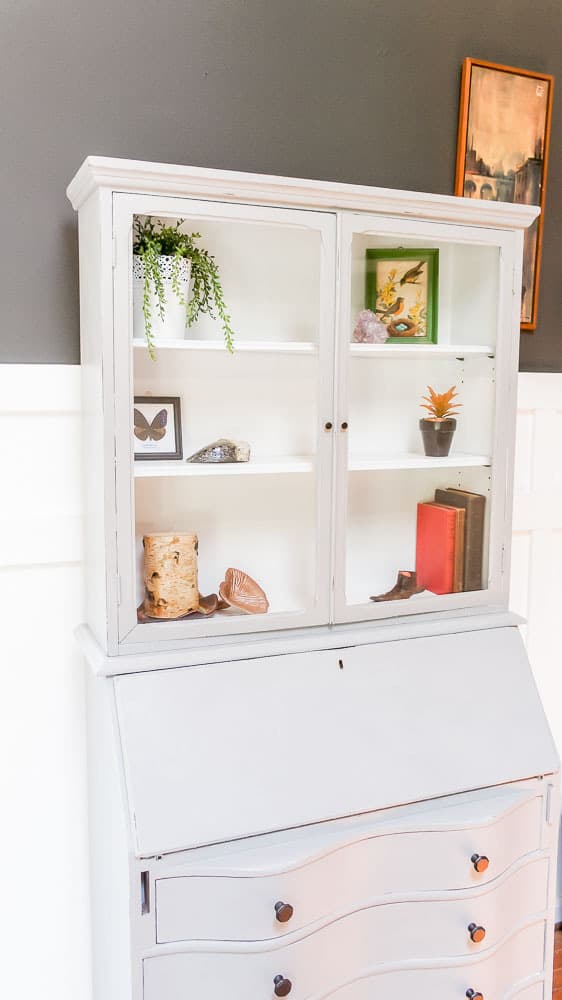 I love how versatile this piece is. It can be used with or without the shelf at the top!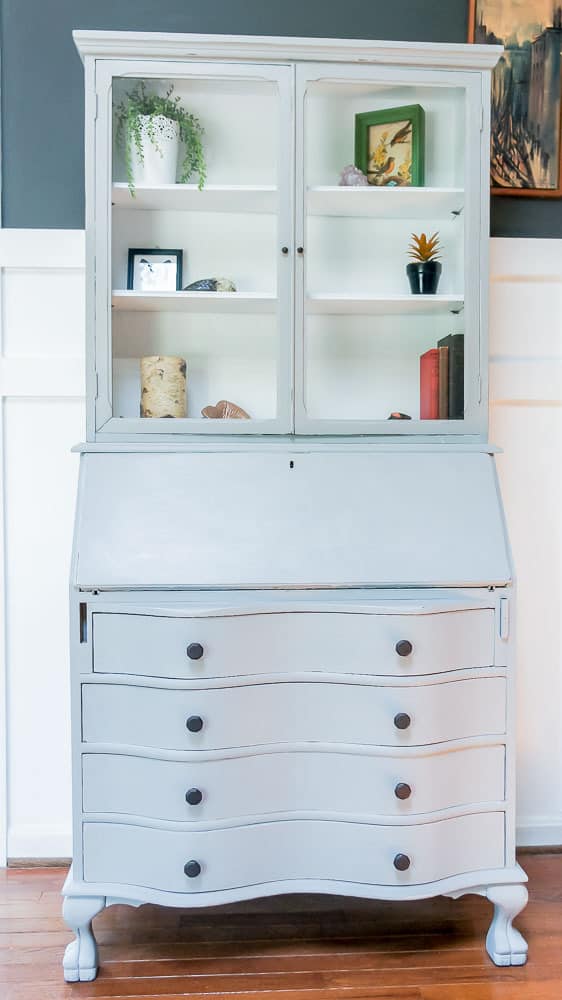 Yield: 1
How to Paint a Secretary Desk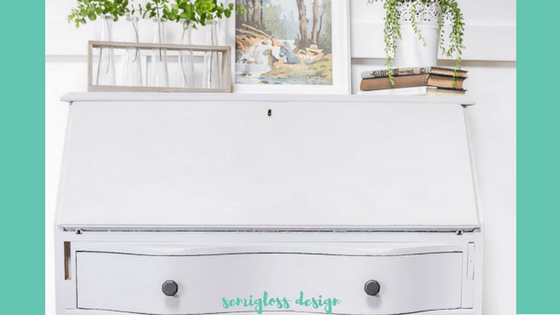 Learn how to paint a secretary desk without losing your mind. This complicated piece of furniture doesn't have to be so hard to paint.
Total Time
4 hours
30 minutes
Materials
Shellac-based primer
Paintbrushes
Paint
New knobs
Bondo (to fill old knob holes)
Tools
Paint sprayer
Sandpaper and sander
Paint scraper
Instructions
Remove any hardware.
Tape off any hardware that you can't remove.
Remove the inner cubbies. They slide out of the grooves.
Remove the drawers.
Remove the hutch from the main desk part if possible.
Clean the furniture well. Clean the insides and outside of the furniture.
Lightly sand surfaces that are too shiny.
If you're replacing the drawer pulls with a different size, fill the holes with Bondo.
Prime the entire piece with a shellac-based primer. This will seal in all of the red-tone of the wood.
If possible use a paint sprayer for this part. (It will save time on the cubbies!)
Apply paint to the body of the desk.
Paint the drawers.
For the hutch, it's easier to remove the shelves and paint them separately.
When painting the doors with glass, it's easier to paint and scrape away the paint once it's dry.
The cubbies can be painted with a small craft paintbrush.
Apply a topcoat if needed.
Install new hardware.
Notes
It's easier to tackle a large project like this in smaller portions. I painted this desk in sections: the main part of the desk and drawers, the shelves, the hutch, and then the cubbies inside the desk.
Recommended Products
As an Amazon Associate and member of other affiliate programs, I earn from qualifying purchases.
Pin for Later!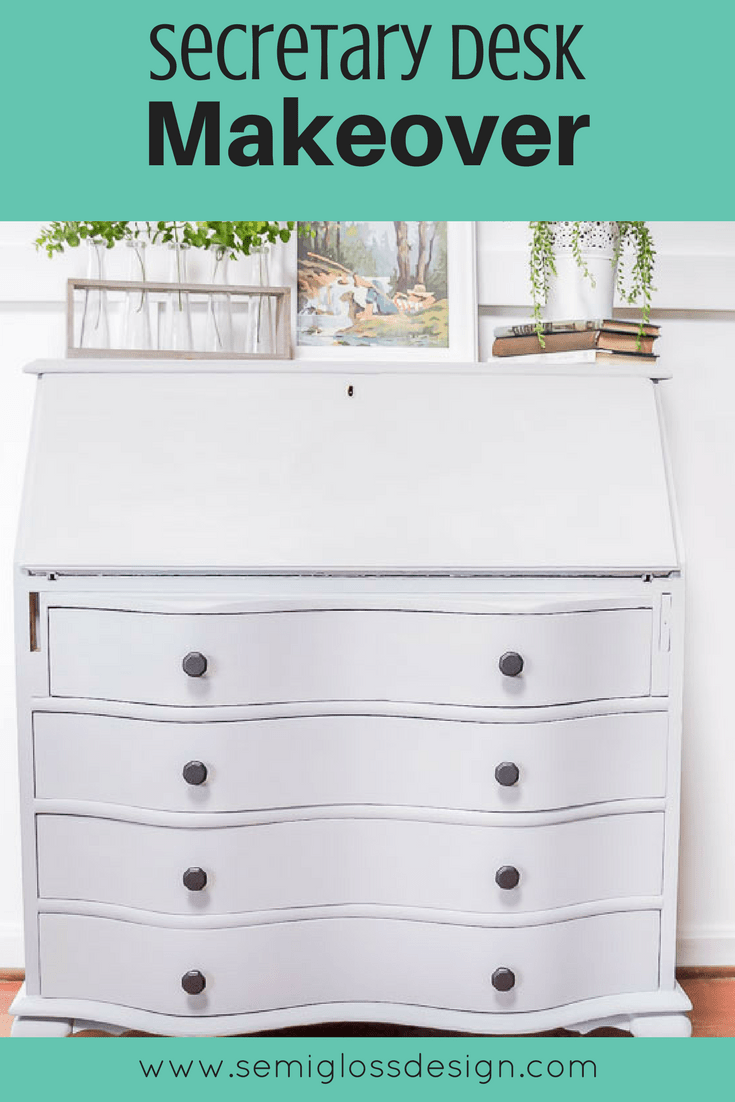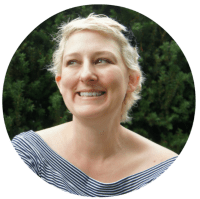 Emy is a vintage obsessed mama of 2 DIYer who loves sharing affordable solutions for common home problems. You don't need a giant budget to create a lovely home. Read more…