Starting a Cricut Business: Places to Sell Cricut Crafts
There are so many places to sell Cricut crafts! Learn the pros and cons of selling in both local and online venues, plus things to consider before getting started.
If you need ideas for Cricut projects to sell, I've got you covered.
This post is sponsored by Cricut. All thoughts and opinions are my own. Thank you for supporting the brands that make Semigloss Design possible.
This post contains affiliate links. By purchasing an item through an affiliate link, I earn a small commission at no extra cost to you. As an Amazon Associate I earn from qualifying purchases.
I've been making money selling Cricut projects for a few years now.
A few years ago, I had a booth in a local boutique where I sold furniture and home decor items, I've sold on Facebook Marketplace, and I still run an Etsy shop and a Shopify shop (selling SVG designs.)
Today, I'm sharing my experiences with selling items, both online and locally.
Getting Started Selling Cricut Crafts
Here are some things you will need to get started selling your Cricut projects.
Machine
Cricut offers a variety of machines at different price points. The machine you choose will depend on your specific needs.
The Cricut Maker 3 cuts over 300 materials. You can use this machine to cut smart materials without a mat.
I have this machine and I love the versatility.
The Cricut Explore 3 cuts over 100 materials and is great for basic use like cutting vinyl, iron-on vinyl, and cardstock. It also cuts smart materials without a mat.
Opt for a Cricut Joy if you want to make custom decals on the spot. It's a small, portable machine that is easy to learn to use.
Blades
The Cricut Maker 3 comes with a fine point blade, but there are a ton of other blades available.
I really love the rotary blade for cutting fabric. There are also blades for engraving metal and scoring paper.
Mats
The Cricut Maker 3, Cricut Explore 3, and Cricut Joy can all work without mats, but you might find yourself needing mats for materials that are not Smart materials.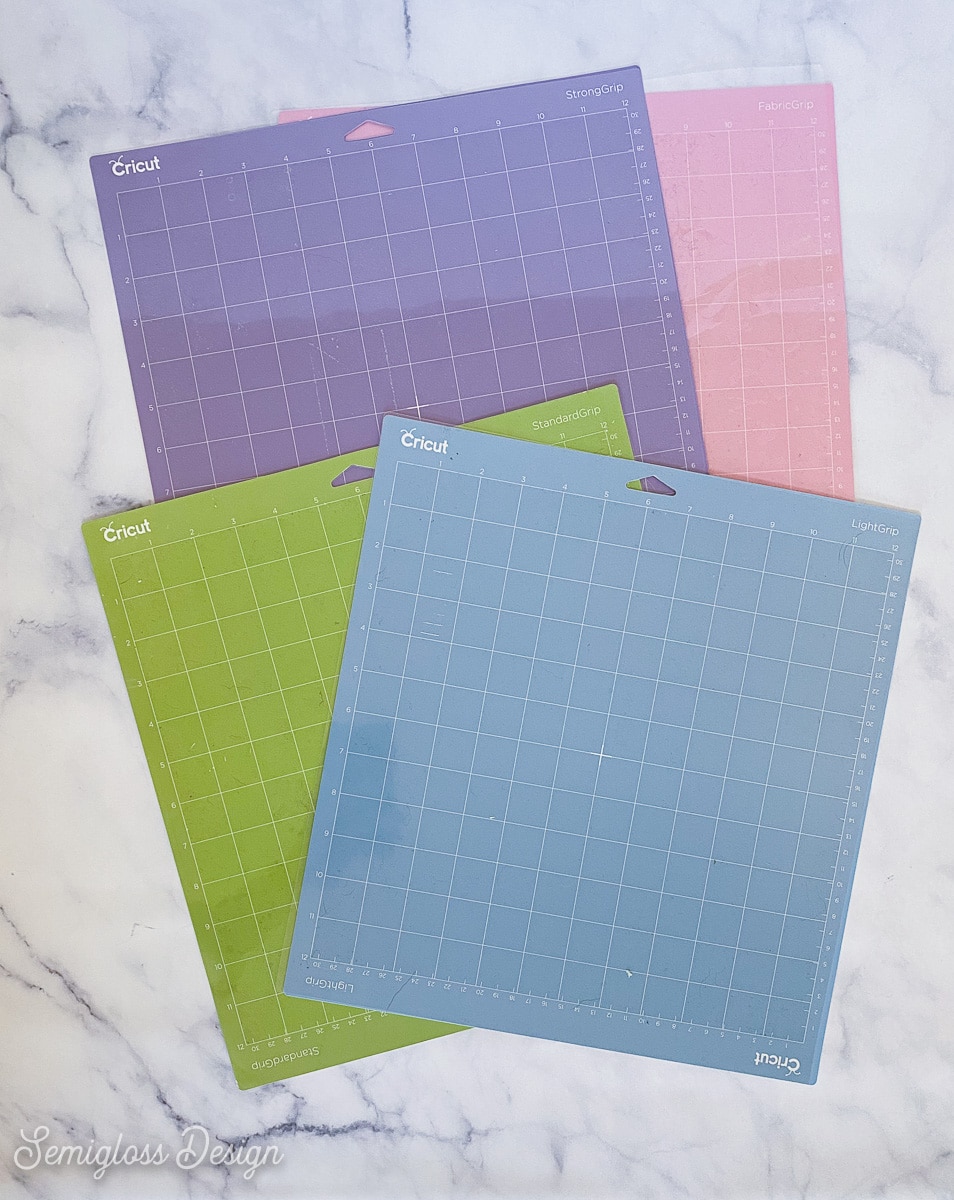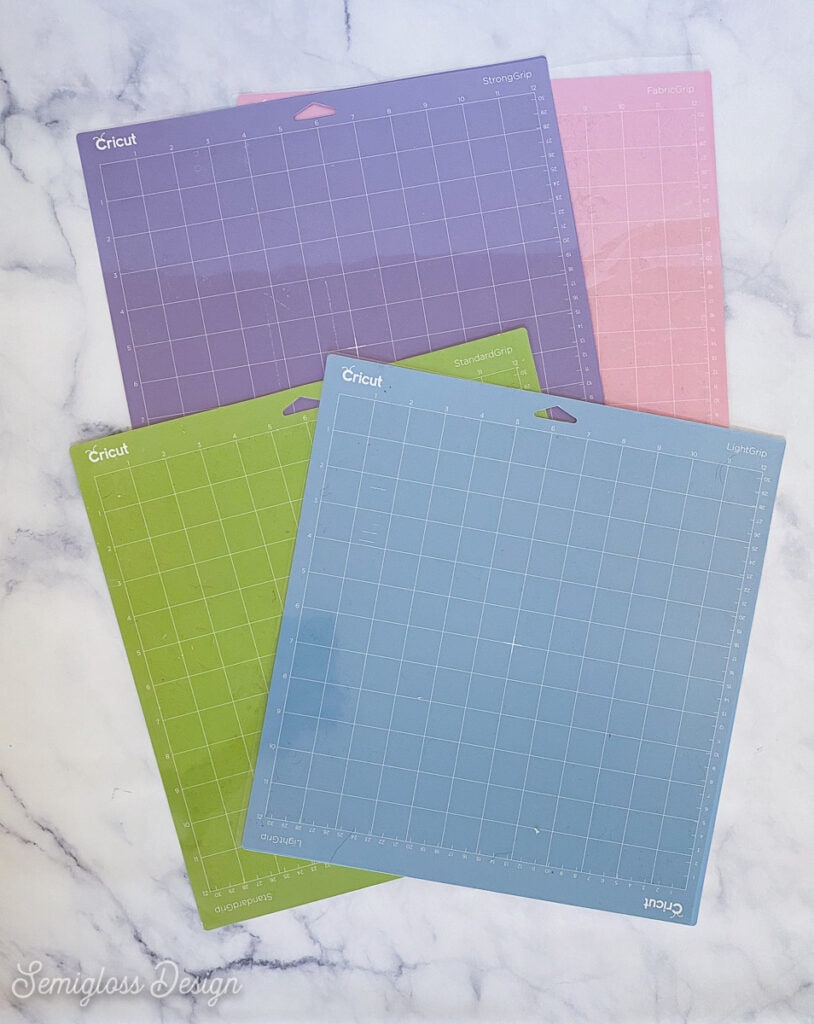 I use my Fabric Grip mat all the time for cutting felt and fabric.
Vinyl or Iron-on Vinyl
You will probably need vinyl or iron-on vinyl depending on what you make. Cricut carries a vast array of colors, textures, and patterns.
Learn more about which vinyl type to use for your projects.
Weeding Tools
Weeding away the excess vinyl is so much easier with a toolset.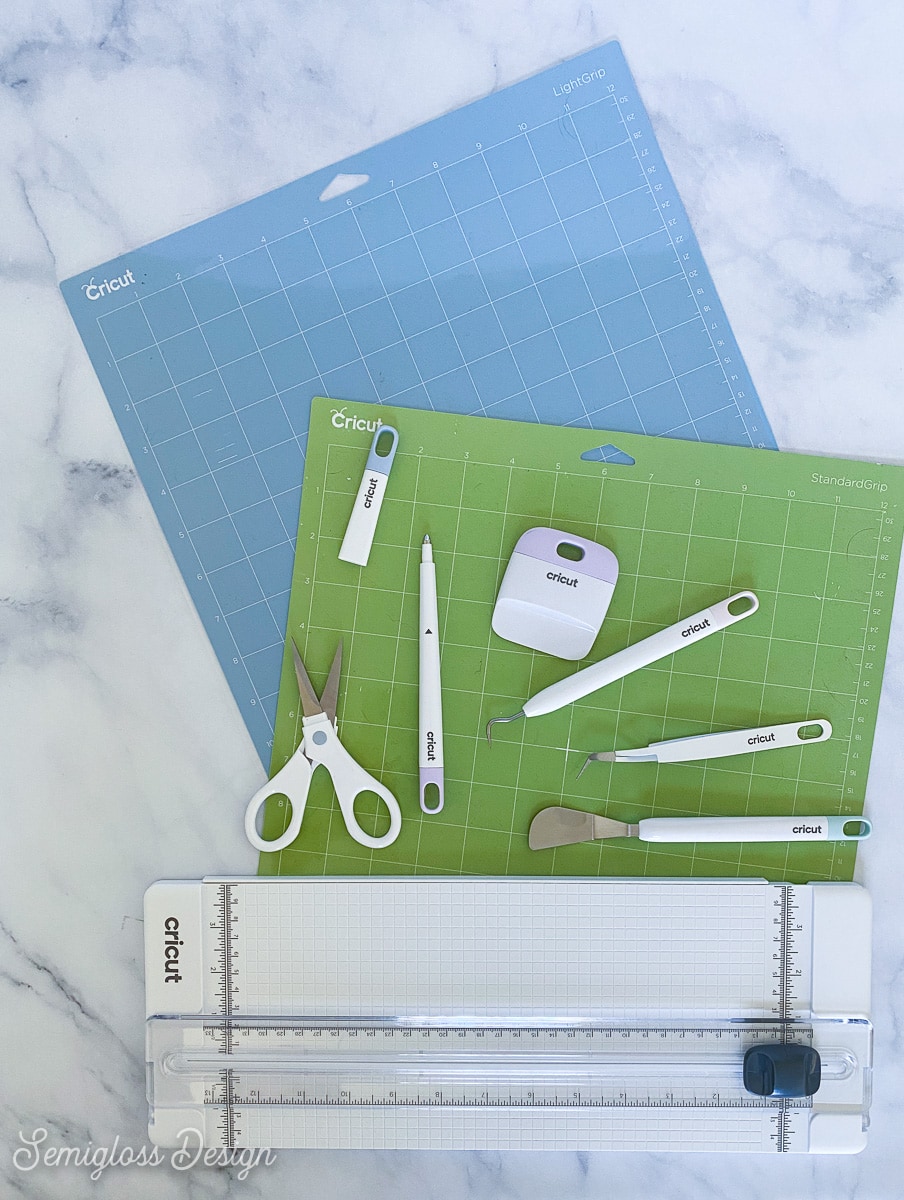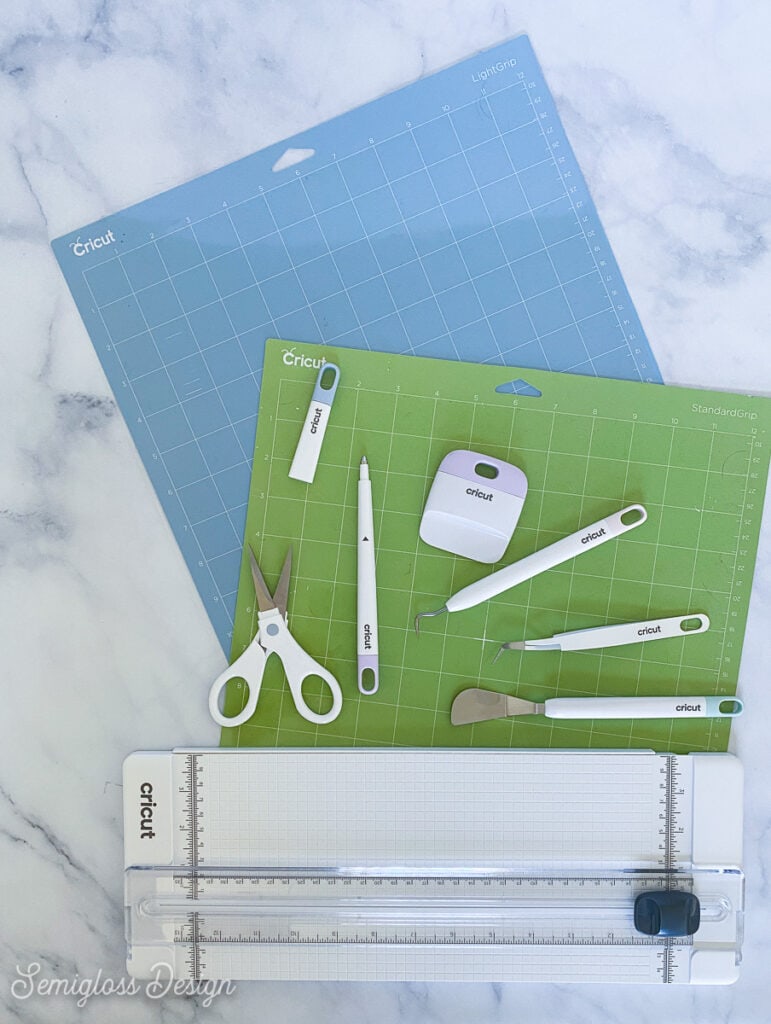 I just got the tool kit with the paper cutter and it saves me so much time when trimming vinyl to fit my cuts.
Cardstock (for Packaging and Tags)
Save money by making your own packaging and tags with cardstock.
It's easy to customize your labeling by choosing colors that match your brand.
You can even use Cricut pens to draw your logos on the tags.
Blanks
You will need items to place your decals on. Cricut offers a variety of items that are compatible with their Infusible Ink.
Cricut Access Membership
If you don't know how to use design software like Adobe Illustrator, you might be interested in the Cricut Access membership.
Cricut Access allows you to use premade designs. Most of the designs fall under the Angel policy, which means that you can sell items made with them.
Be sure to read the policy for all of the details.
Pricing Your Handmade Items
Throughout the rest of this post, I'm going to be talking about pricing, so it's best if we talk about it a bit in-depth first. Pricing could be its own post, so I'll try to keep it brief.
Pricing your handmade items is pretty difficult because most of us don't value our time and work enough.
So I'm here to say, value your time.
The cost of your item needs to cover the cost of supplies, your time, any fees to sell items, plus the cost for incidentals such as packaging or advertising.
Before you even get started making something, do research and see what similar items sell for on Etsy or Amazon Handmade.
Ask yourself these questions:
Can you buy the supplies and pay yourself if you sell for that price?
Is there anything you can do to make the value of your item worth more without increasing the supply cost or the time it takes to make something?
Can you buy in bulk to decrease the price of supplies?
Places to Sell Cricut Crafts
Whether you sell locally or online will depend on a lot of factors.
Selling Locally
There are many options for selling your handmade items locally.
Things to Consider
Here are some considerations to think about when selling items locally.
Rent or fees
Most locations charge rent or some kind of fee. Some also take a percentage of what you make.
It's important to think about whether you can make enough money to cover these fees and still make a profit.
Figure out how many items you would need to sell to cover the fees. Do you think that you can sell that many items?
Payment options
Some places take care of the payments for you. (These places normally take a percentage of your sales too.)
If they don't, what kind of payments will you accept?
Cash payments require you to have plenty of cash available to give change back to customers.
If you take credit cards, make sure that you're adding the credit card fee into your pricing.
You will also need to learn and set up the software for taking credit card payments.
Customer Base
The customer base will vary depending on the venue. This matters for a few different reasons.
Customer style may be different in a rural location versus an urban location. Does your style fit in with the style of the place where you want to sell?
Pricing will also vary depending on the customer base and location. You can charge way more in a boutique location than in a flea market where everyone is wanting to get a good deal.
Size of Table/ Booth (if Applicable)
Do you have the time to make and adequately stock items for a booth or table?
Can you decorate it and make it look cohesive to your brand?
Local Places to Sell Cricut Crafts
Boutique Shops
Boutiques are one of the best places to sell items, but it can be difficult to get into them because there's usually a waitlist.
Boutiques allow you to sell at a slightly higher price because their customers are willing to pay more.
You will be charged rent and/or a percentage of the sale. Some places also require you to work at the shop as well.
Depending on where you live though, this might not be an option. (As far as I can tell, the new town that I moved to doesn't have any cute boutiques.)
Flea Market
Flea markets are much easier to get into. Simply pay the fee and set up your table or booth.
You will be in charge of taking payments and working your booth or table. This means that your weekends are probably taken for the foreseeable future.
Be aware that customers at a flea market are likely to be more budget-minded and will try to haggle with you.
Craft Shows
Craft shows are a great option for selling your items. You will be charged a fee and be in charge of your own payments.
You will have to work your own booth, but they generally only last one weekend or a few days.
Before signing up for a craft show, find out what kind of traffic it gets.
Make sure that the overall style of the craft show matches your own style. (If your style is super preppy, does it fit in with a rustic country-style craft show?)
It's fine to be different, but that style might attract a crowd that isn't into what you're selling.
For example, there was a fall festival craft show where I used to live. They sold a lot of rustic country decor, so my colorful boho style would have never worked there.
Facebook Marketplace
Facebook Marketplace is one of the easiest ways to sell items. It's free and easy to use.
If I were you, I would only accept cash (or Venmo for larger purchases.)
The time required is far less, but you will waste time on no-shows and messaging back and forth with people who don't end up buying your items.
If desired, you can pay for ads, but if you don't know what you're doing, it's probably not the best idea. I've rarely bought ads and then I only did it for high-ticket items (like furniture.)
Customers will try to haggle with you. Remember to keep your prices firm and value your work.
The other downside is that meeting strangers can be a bit scary. Always meet in a public place or take someone with you. (In my experience, I've only met nice people, but it's always better to be safe.)
Word of Mouth/ Friends
This is a great option if you do custom work. You can post some of your work on your personal social media pages and have your friends share the posts.
This method can be more difficult to make consistent sales.
It's also difficult if you're an introvert like me and feel sleazy sharing your work all the time.
Pop Up Shops
Pop Up Shops are another option. You can do them at your home or through other locations.
The boutique that I used to sell at offered several pop-up opportunities for vendors to set up tents to sell outside the store.
Selling Online
Selling online is another option to consider.
Things to Consider
The learning curve for selling online is a bit higher than for selling locally, but it's still a great option.
Here are some things to consider.
Fees
Depending on the platform you use, you will have to pay fees.
You might pay a monthly fee that also covers credit card payments like with Shopify, or you might pay per transaction, like with Etsy.
Payment Options
Just like selling locally, there are different payment options to consider.
These will vary depending on the platform you use. Some, like Shopify, allow you to offer a variety of payments.
Others might require you to sign up for specific accounts to accept credit card payments.
Ease of Use
Some platforms are easier to learn than others. Etsy is one of the easiest platforms to use and requires no website knowledge.
Shopify can get complicated and overwhelming. WooCommerce is the most difficult and is best if you're comfortable with web design and coding (or paying someone to do it for you.)
Shipping
Unless you're selling digital items like SVGs, you will need to figure out shipping. You will also need a place to store your shipping supplies.
Inventory
You will need to figure out how much inventory to keep in stock and a place to store it.
If you're doing custom work, you might just need to store supplies and blanks.
You will also need to figure out a good way to keep track of your inventory.
Photography
This could be its own post, so I'm going to keep it simple.
Good photography is easier than you think.
Here are a few things to keep in mind:
Photograph is natural light. This doesn't mean in direct sunlight. In front of a large window is fine.
Keep the photograph simple. It can confuse customers if you use too many props.
A plain background is best. Don't distract from your item!
Zoom in close on the item.
Provide plenty of photos that show the size and use of the item.
Look at other similar best-selling items to see how they are photographed. How can you stand out?
Editing can fix really bad photos. I use Adobe Lightroom, which can be intimidating to learn, but saves me so much time now that I know how to use it. And it's worth every penny!
Online Places to Sell Cricut Crafts
There are so many places to sell online. Here are a few of the most popular places.
Etsy
Etsy is my favorite place to sell online. It's pretty easy to learn and they already have a huge customer base.
They charge $.20 to list an item. For each sale, they take 5% of the price, and 3%, plus $.25 for each sale to cover credit card processing fees.
It sounds more confusing than it is.
The downside to Etsy is that you can't email your customers and they can shut your shop down if you violate their terms. (It's pretty easy to stay within their guidelines though.)
If you're interested in setting up an Etsy shop, I've written a ton of articles to get you started on my other website.
Amazon Handmade
Amazon Handmade might be difficult to get into. (I don't have personal experience with it, but I have experience with one of their similar services and it took 3 months to be accepted.)
Amazon has a huge customer base, but the handmade items are in their own section on the website, so customers have to specifically look for them.
They take 15% of each sale and charge a fee of $39.99 a month to open a seller account. The $39.99 a month fee is waived after getting approved after the first month.
Your Own Website
You can sell on your own website through a few platforms.
Shopify
Shopify offers a few different options for starting an online shop. They will host your shop for you or you can host it on its own domain.
I prefer to have mine on a sub-domain for my website because the URL is cleaner and easier to remember.
Shopify gives you a professional-looking shop without having to know how to code or design websites.
They offer a ton of different payment options, which means that you are more likely to make sales.
It also integrates with Pinterest, which is great for driving traffic.
I use the $29 a month option on a sub-domain for my shop.
The Shopify Lite option costs $9 a month and works best with an existing website or for selling locally.
The downside to Shopify is that you have to drive the traffic to your shop yourself, which can be complicated and take time.
WooCommerce
WooCommerce is free, but it requires you to be tech-savvy (or to pay an expert.
You must use WordPress to use WooCommerce, so it works best with existing websites.
WooCommerce runs on a website domain that you own and ideally should be run on a subdomain.
If you don't know what those words mean, this is not the best option for you.
I've never used WooCommerce because it seems too intimidating to learn. Coding is not my favorite thing to do.
You will also be responsible for driving traffic to your shop.
Facebook Page
Creating a Facebook page is free and easy. They allow you to add a shop to business pages.
This is a great option if you already have a Facebook page for your business and have a following.
Your shop shows up in Facebook Marketplace, so it's possible to make local sales as well. (Although you still have the option to ship if you're more comfortable with that.)
What is your favorite place to sell your Cricut crafts?
You might also like:
Pin for Later!