Moody Green Boho Office Makeover Reveal
This boho office makeover features moody green walls, a bold floral wallpaper with peacocks, and rattan accents.
Check out the plans for the office makeover here.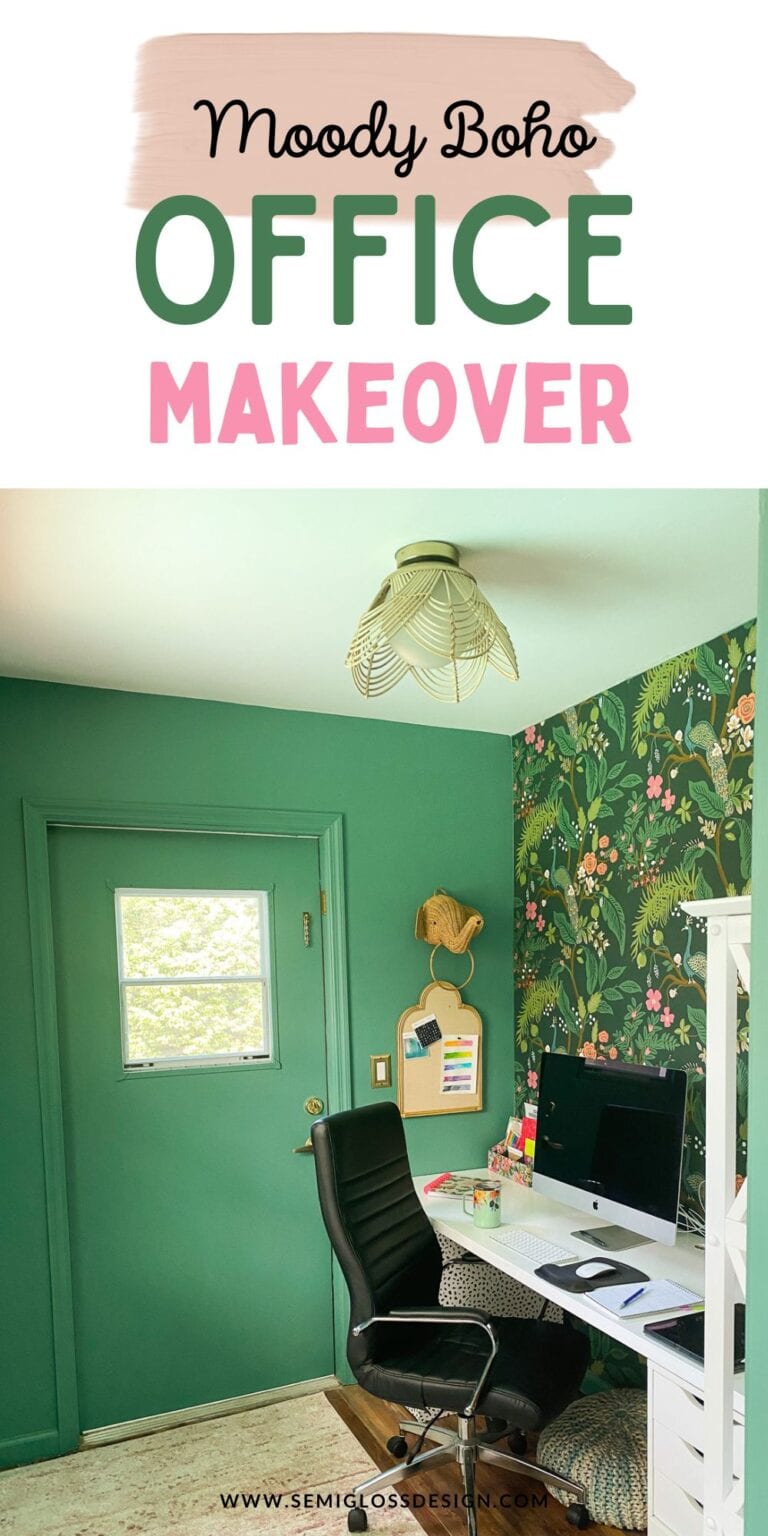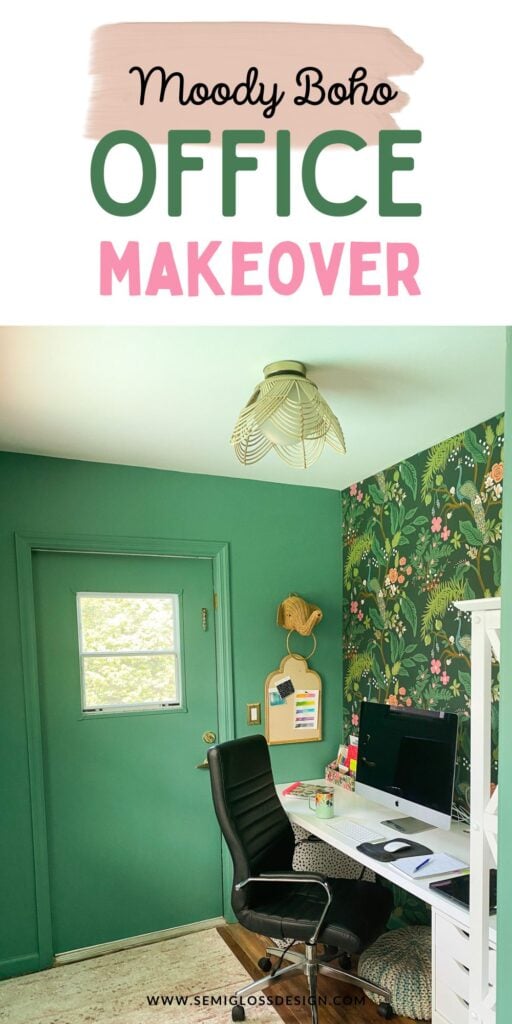 This post contains affiliate links. By purchasing an item through an affiliate link, I earn a small commission at no extra cost to you. As an Amazon Associate I earn from qualifying purchases.
When I started this office makeover, I was looking to create an inspiring place to write.
My husband works from home and my kids are homeschooled so I needed a place away from the distractions.
We had a little pink room at the back of the house that was probably supposed to be used as a laundry room. We were just using it for storage, but I knew that it would make the perfect office.
Before, it had cabinets and a blue laminate countertop, as well as very damaged pink walls.
Now it has green walls, a fun peacock wallpaper, and a modern desk.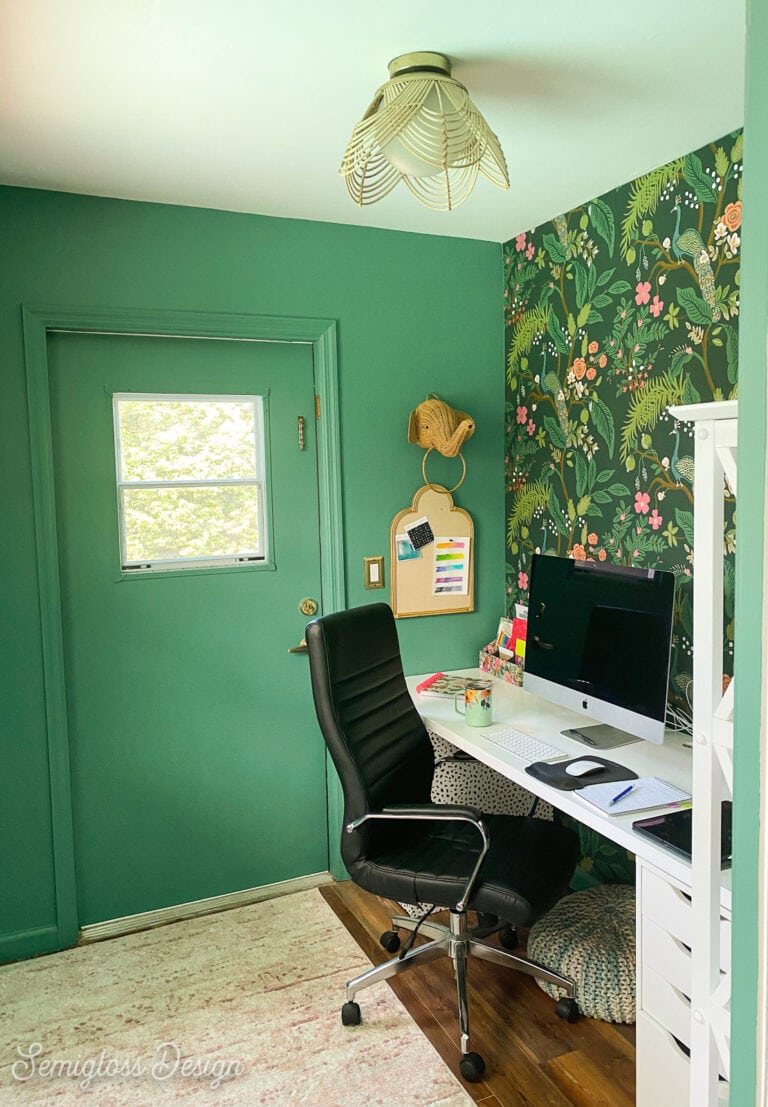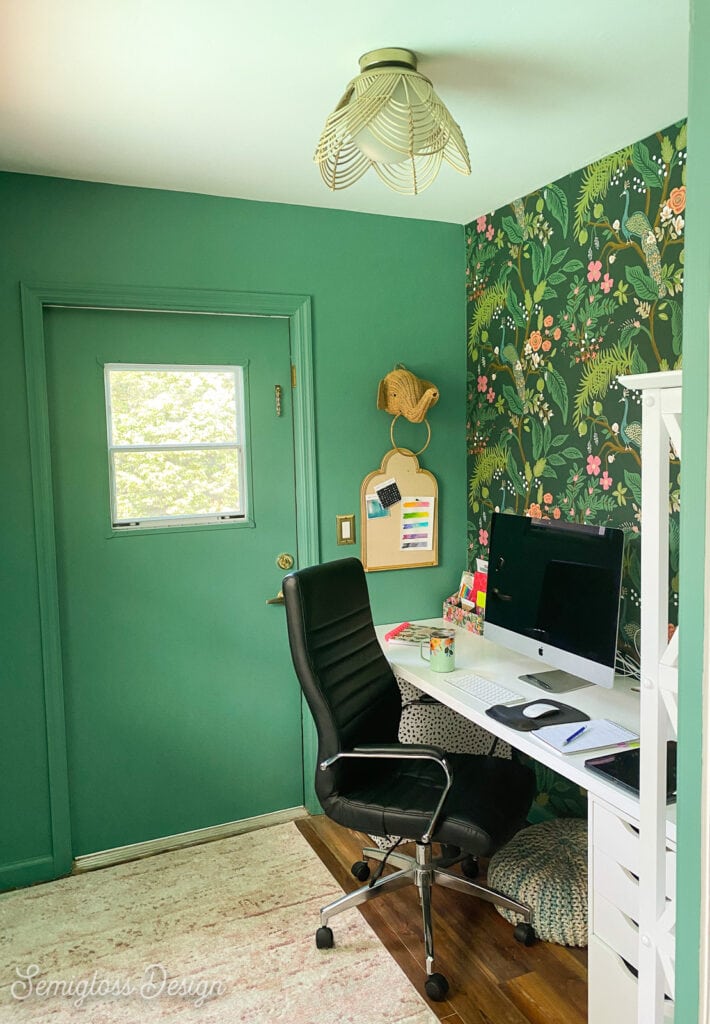 I'm in love with the way it turned out. It's the perfect room to hide out in. And it's much easier to get stuff done now without the distractions.
Boho Office Makeover
The room is painted in Mattasaurus Rex by HGTV for Sherwin Williams paint.
This color is the perfect greenish-blue color and is really gentle on my eyes. (My desk used to be in a room with white walls and way too much sunlight, so my eyes hurt all the time.)
I painted the entire room, trim, and the doors in this color. White trim looked weird, so this was my solution.
I removed the popcorn ceiling and we added a pretty rattan light, which gives the room that boho look that I wanted.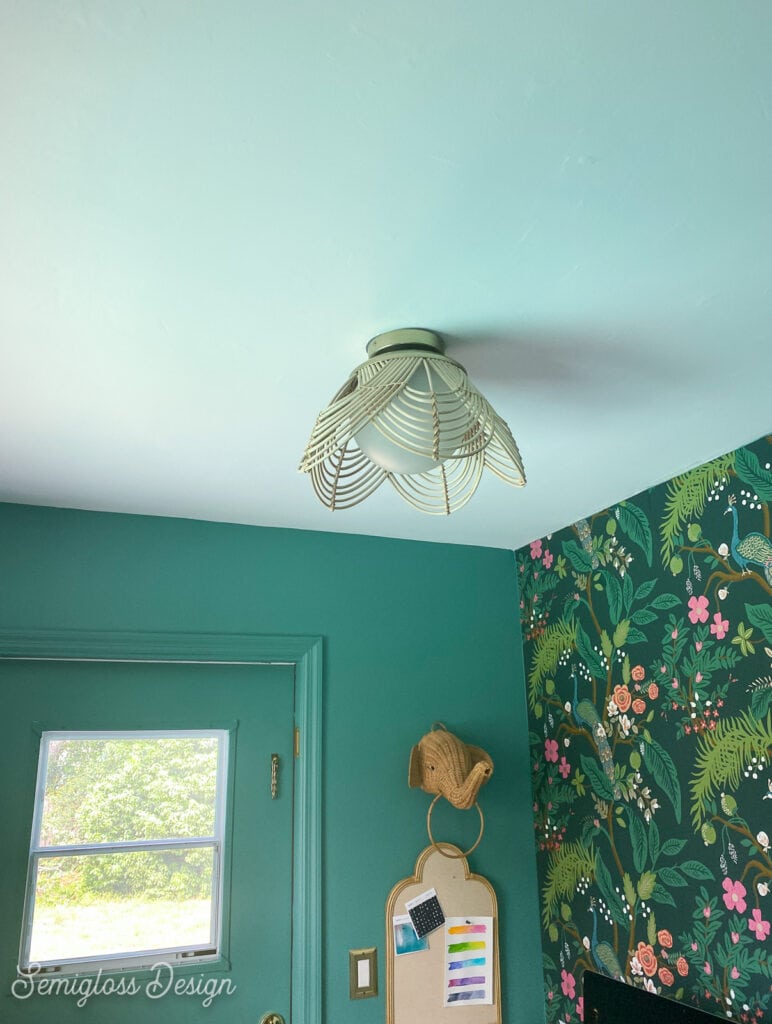 We wallpapered the wall behind the desk with this peacock wallpaper. It's so delightful in person.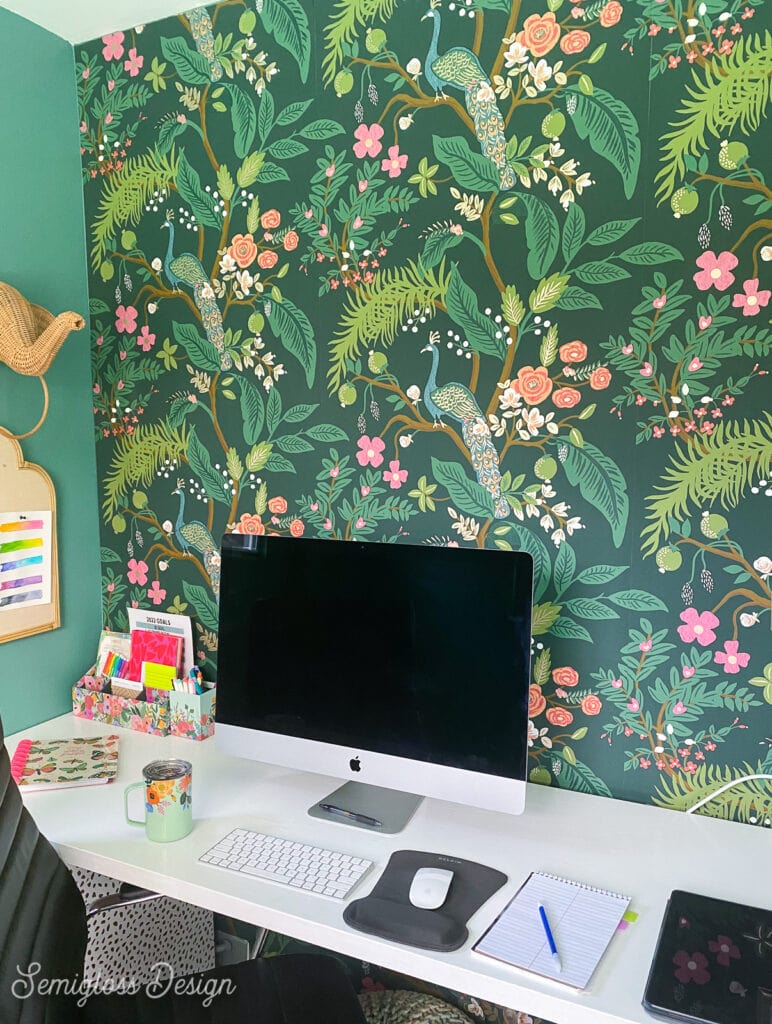 The desk was created with 2 Alex drawer units and a hollow core door that I painted white. I really didn't want to pay a ton of money for the desktop, so this was an affordable option.
A large desktop was necessary because my old one felt too cramped. Now I can work on my iPad at my desk if I want. I can also spread out my notes as needed.
I wallpapered one of the Alex drawers because I accidentally bought the wood color instead of white.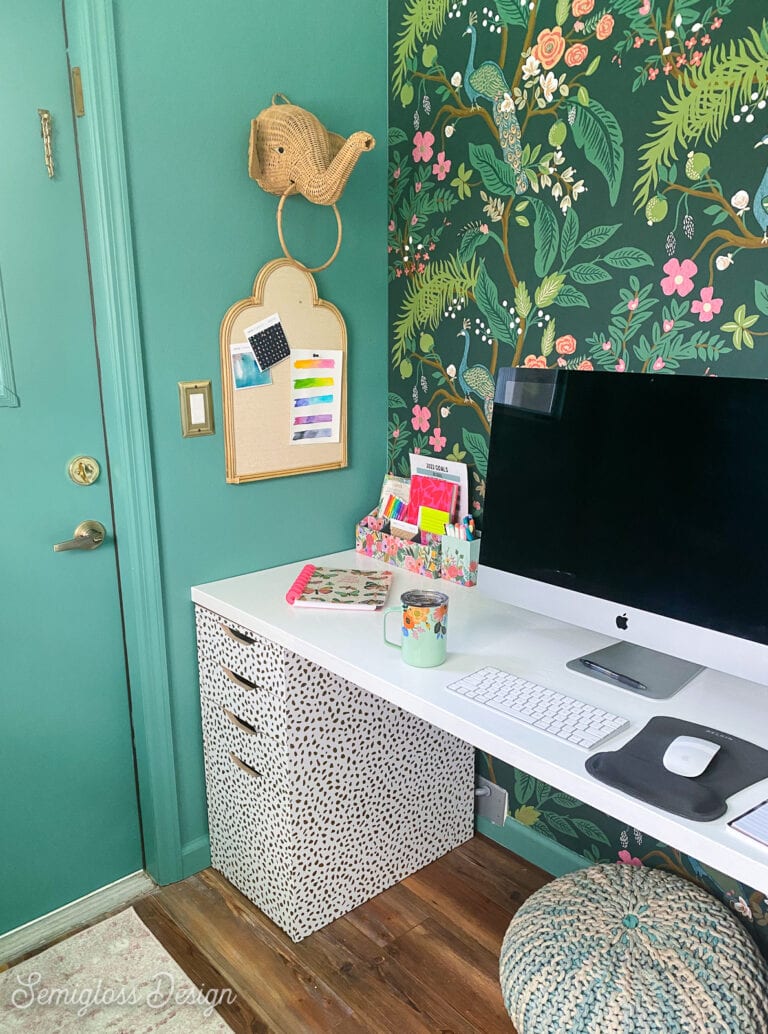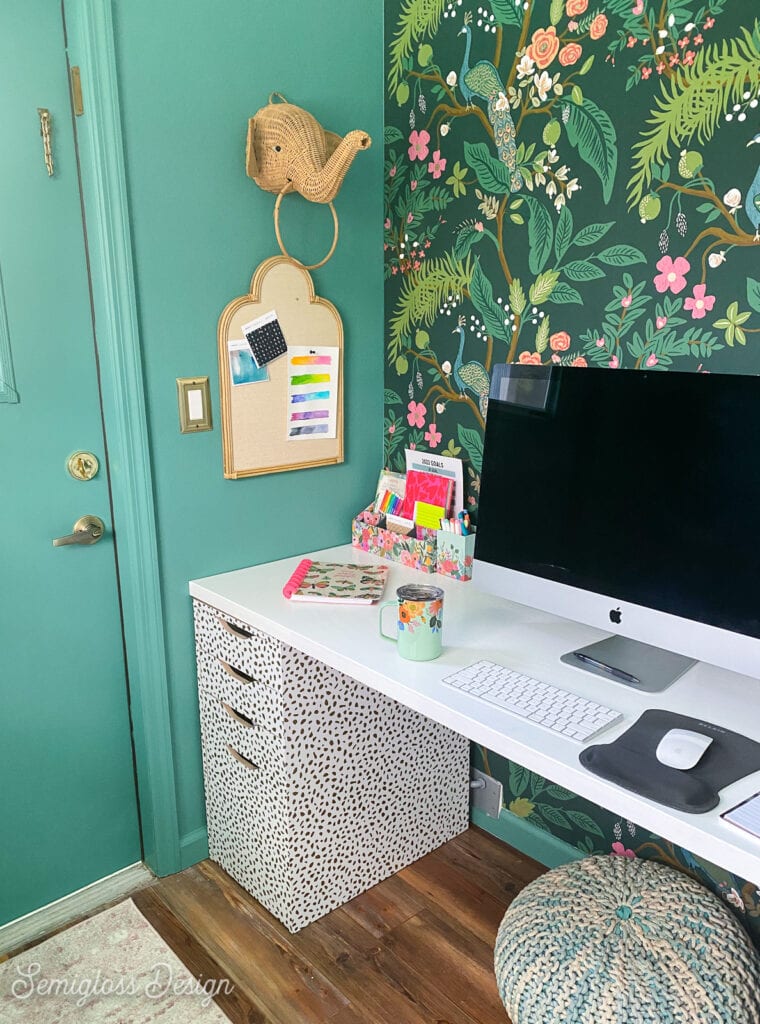 The desk chair is still going strong after several years. I spend a ton of time in here, so a cute chair doesn't cut it, unfortunately. I need a desk chair with back support.
The knitted pouf has been around for years. It makes sitting in my chair even comfier.
A narrow shelf provides a home for my printer and a Cricut. I use my scanner a lot, so I needed it to be near my computer.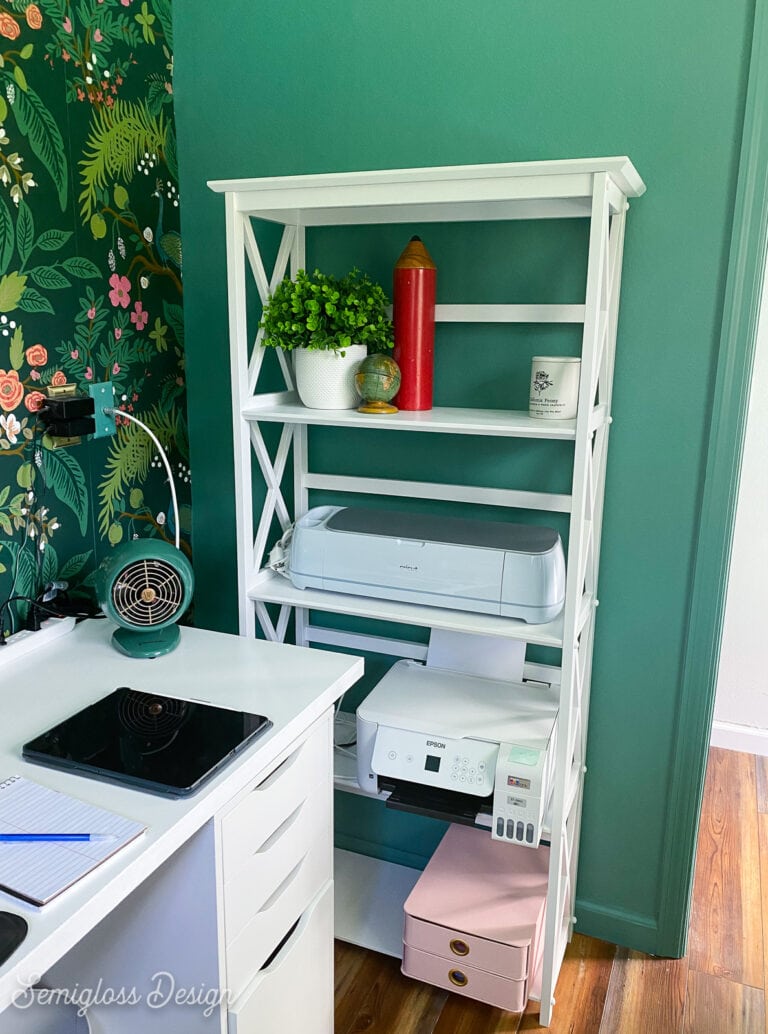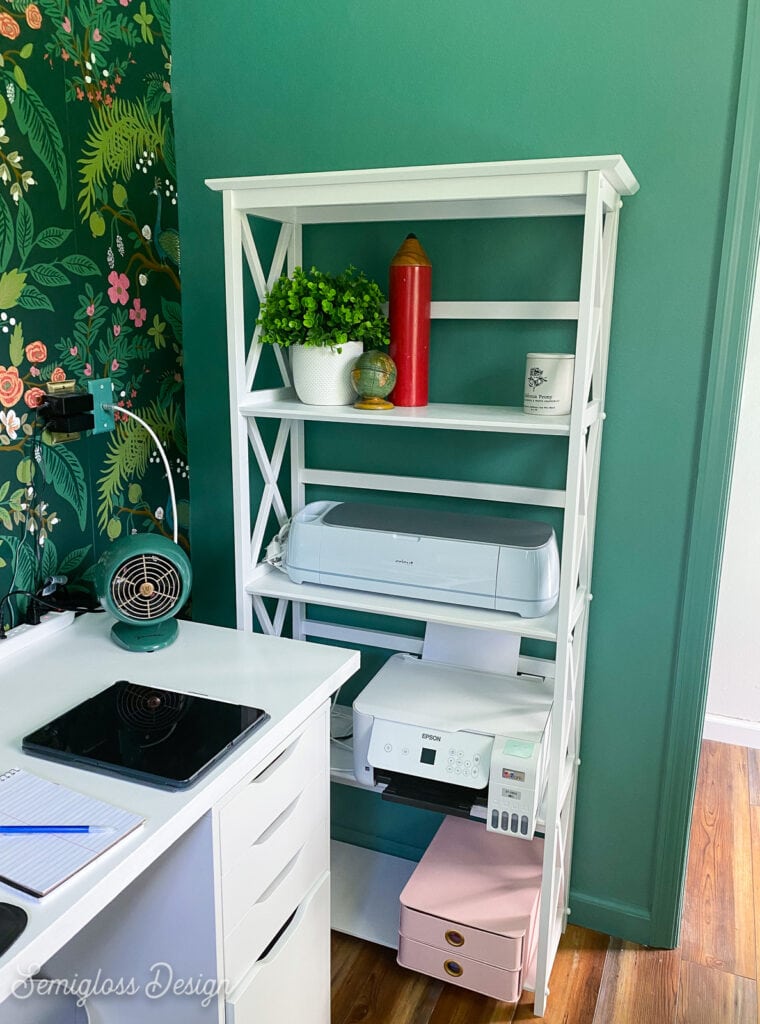 The pink drawers hold extra printer paper.
I'm not sure if I will use my Cricut here yet, but it fits if I decide to.
Other Details
I just bought the red wooden pencil on the shelf at a vintage shop.
This room gets a bit warm, so I added a cute vintage-style fan. It's small, but it works really well.
The plugs being in the middle of the wall aren't ideal, but it is what it is. I replaced the covers with these cute brass ones.
Check out the gorgeous painted pocket door! I haven't had to use it yet, but it's nice to know that I have some privacy now.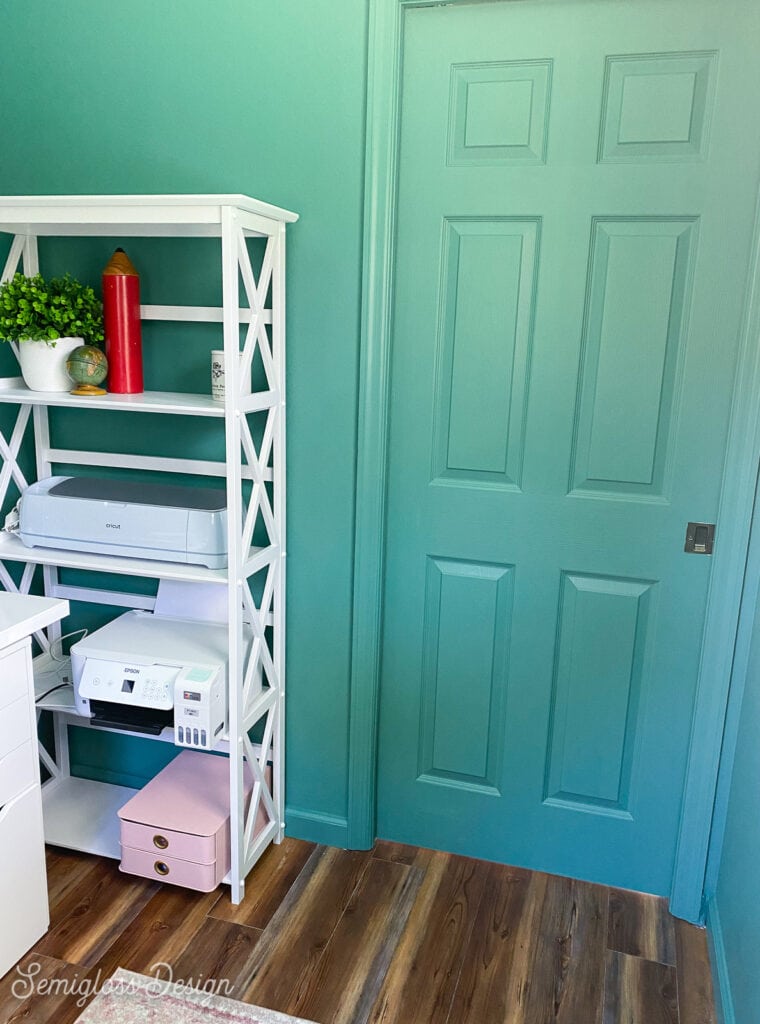 The desk organizer and pencil cup are from Rifle paper company, as well as the coffee cup. I love this coffee cup so much. It keeps my tea hot for hours.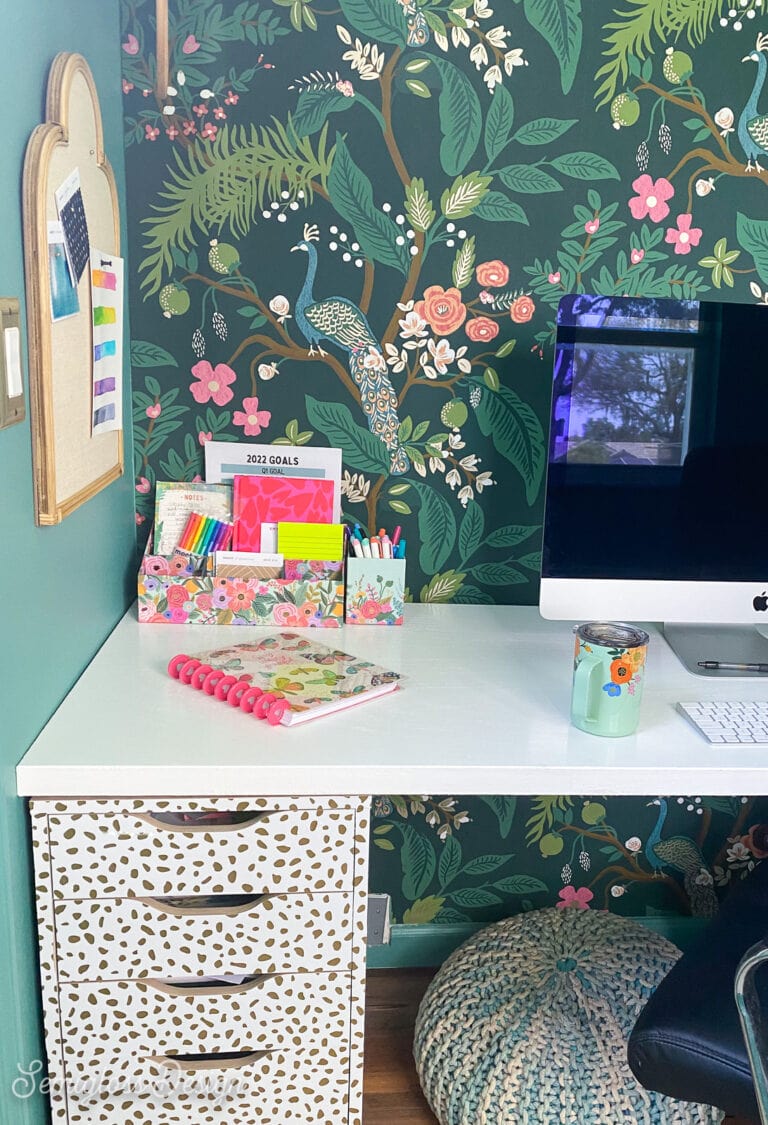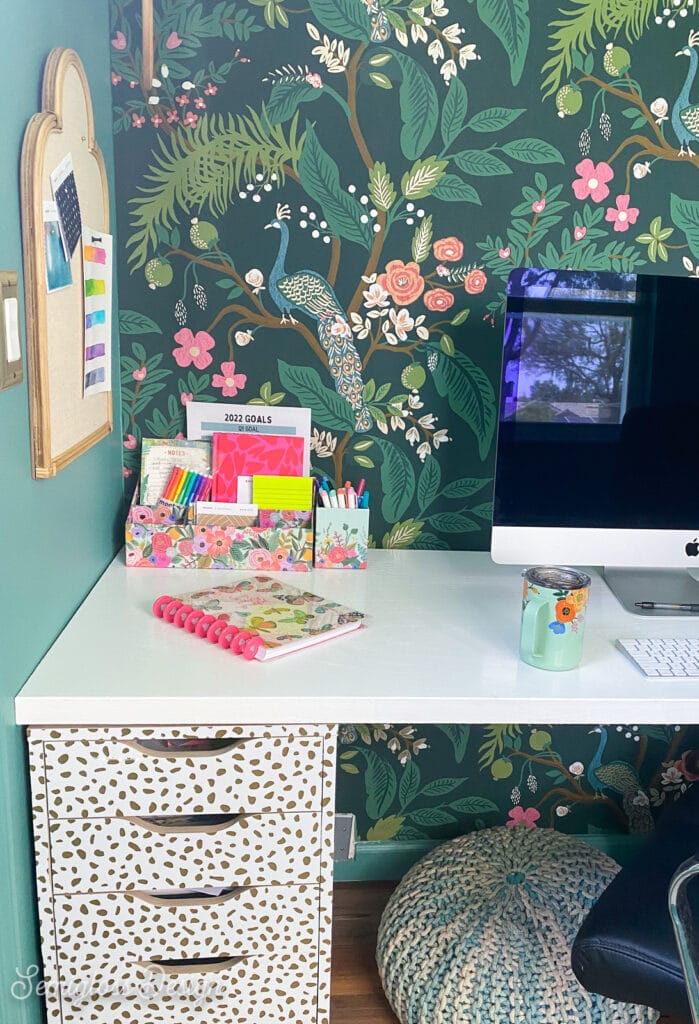 The wicker elephant head is vintage. It's probably for towels, but I love it took much and need to look at it daily, so it's in here.
I also added a rattan pinboard. Why aren't there more beautiful pinboards in the world?
The pink rug is probably a bit too large for the room but it was needed because this room is a bit echoey. I also added it so that my dog can hang out with me. She's the important thing here.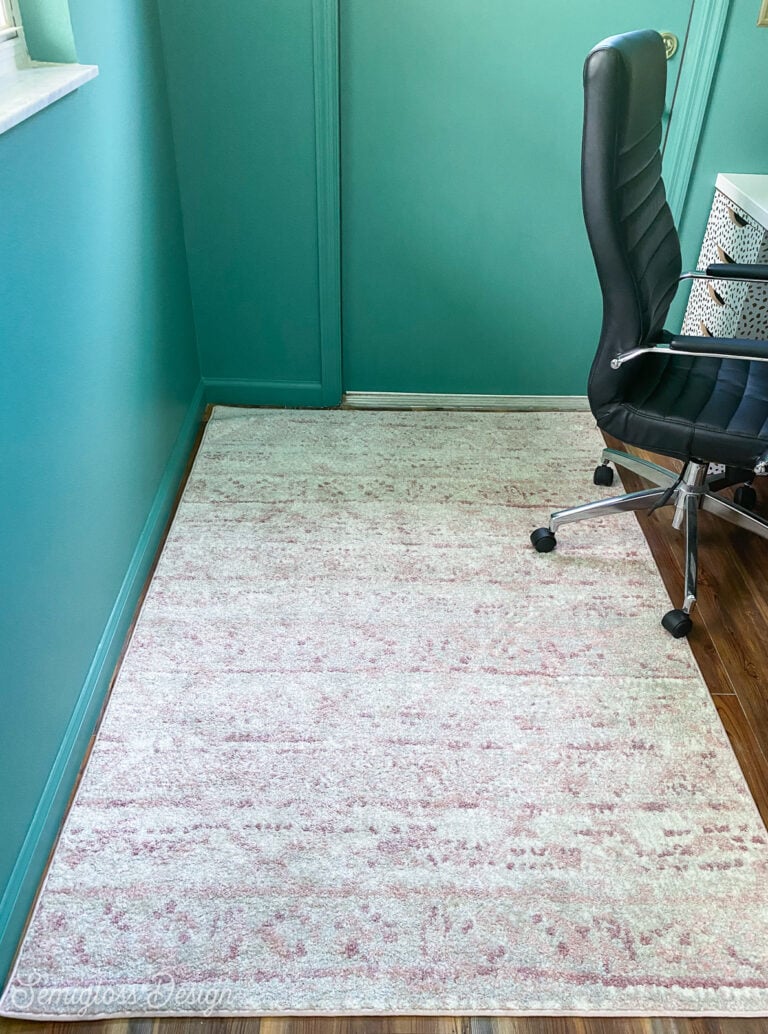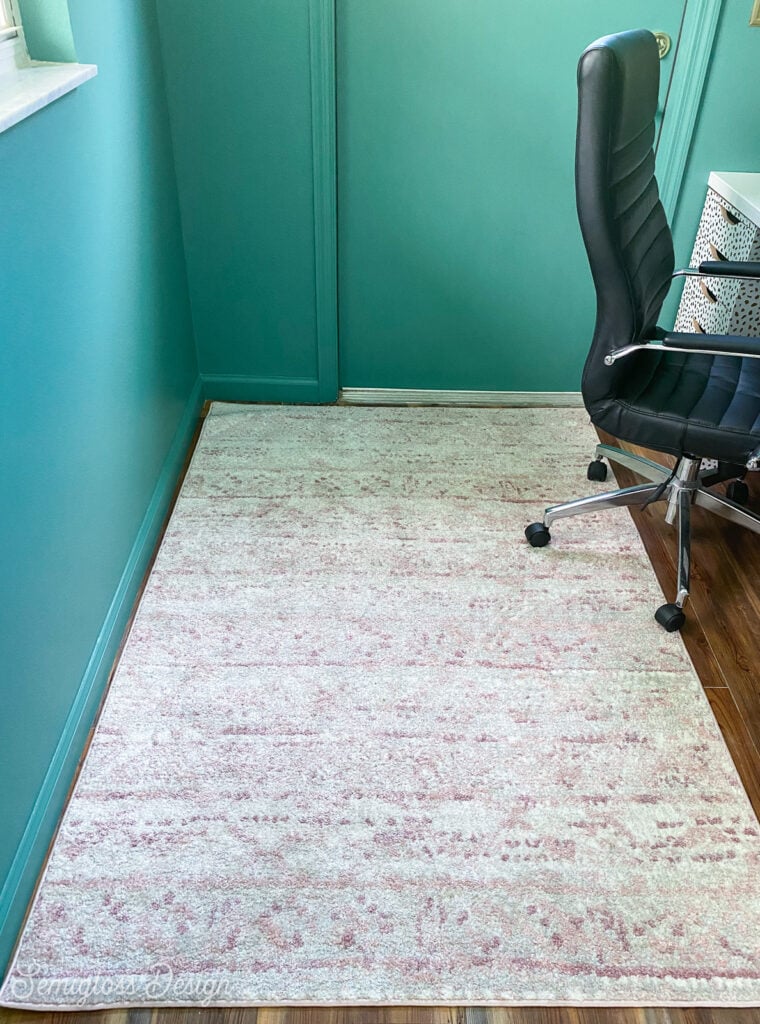 The only thing left to do is add a blind to the window because it's still a bit brighter in here than I want.
This might be my favorite room that I've ever designed.
Sources

Pin for Later!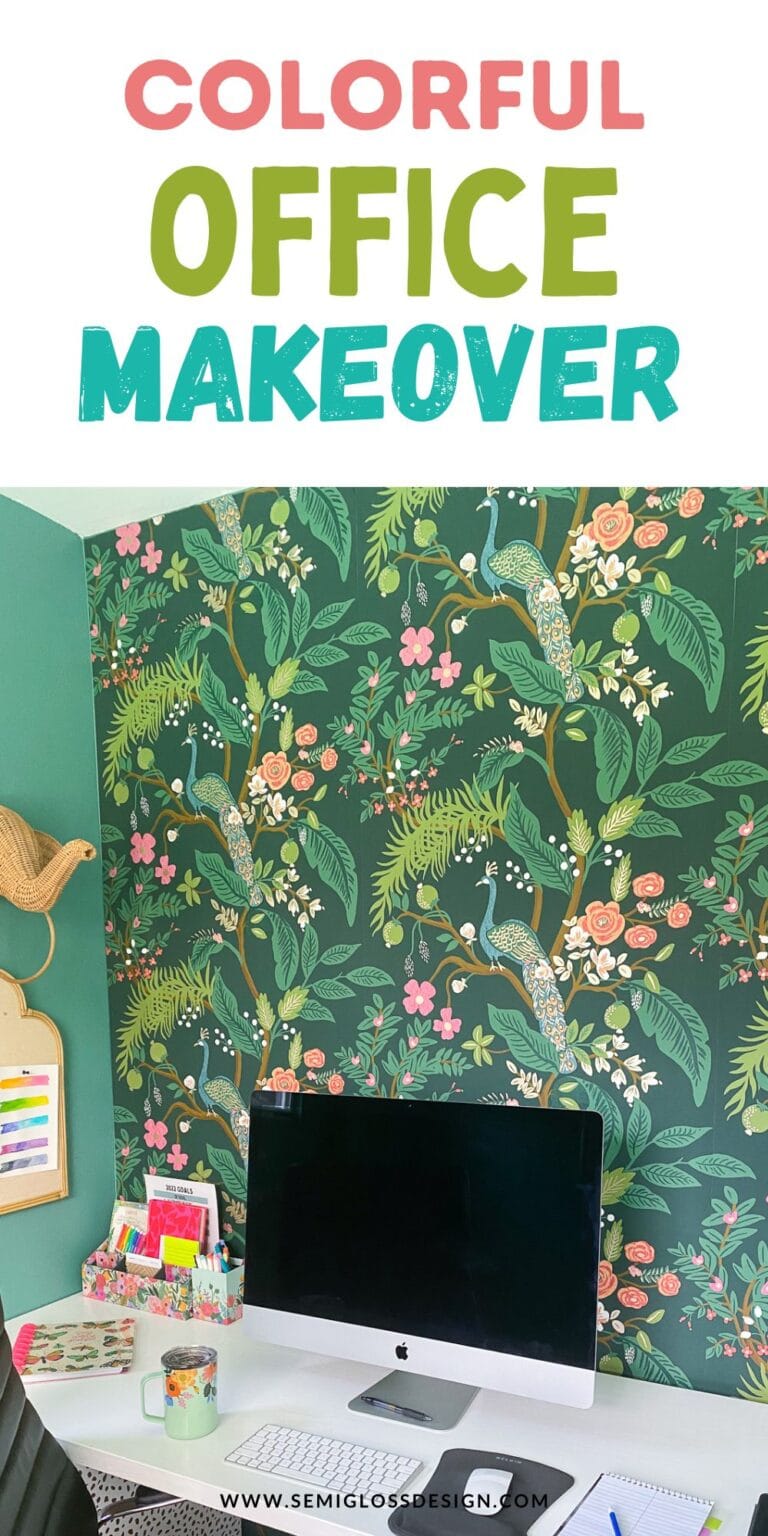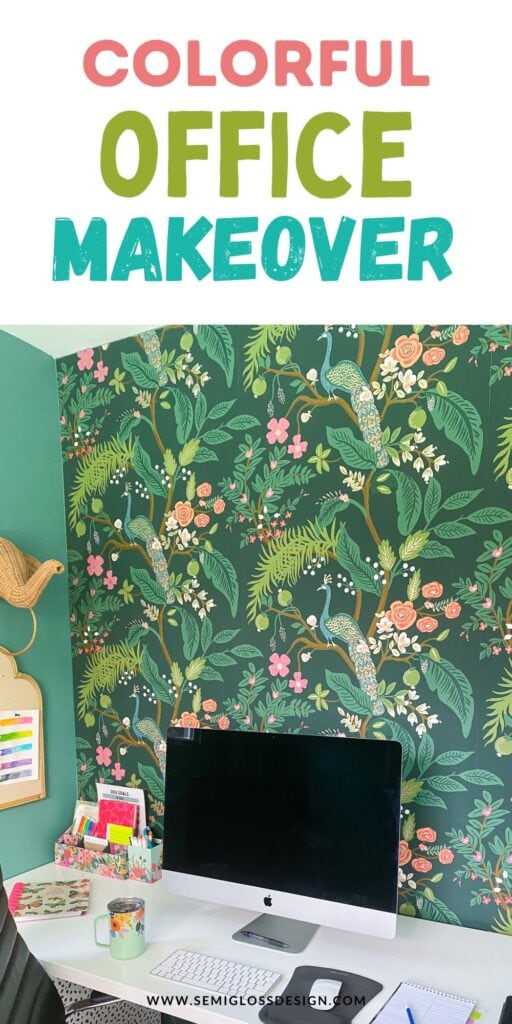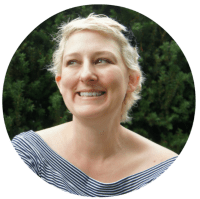 Emy is a vintage obsessed mama of 2 DIYer who loves sharing affordable solutions for common home problems. You don't need a giant budget to create a lovely home. Read more…