Easy Gift Idea: How to Stamp Metal Jewelry
Learn how to stamp metal jewelry. Stamped metal jewelry is one of my favorite things to make because you can make so many in a short amount of time.
Plus, stamped jewelry makes a perfect gift.
It took me a while to get the process down, so today I'm sharing how to get started making hand stamped jewelry, plus my tips for beginners.
You might also be interested in this tutorial on making leather earrings with a Cricut.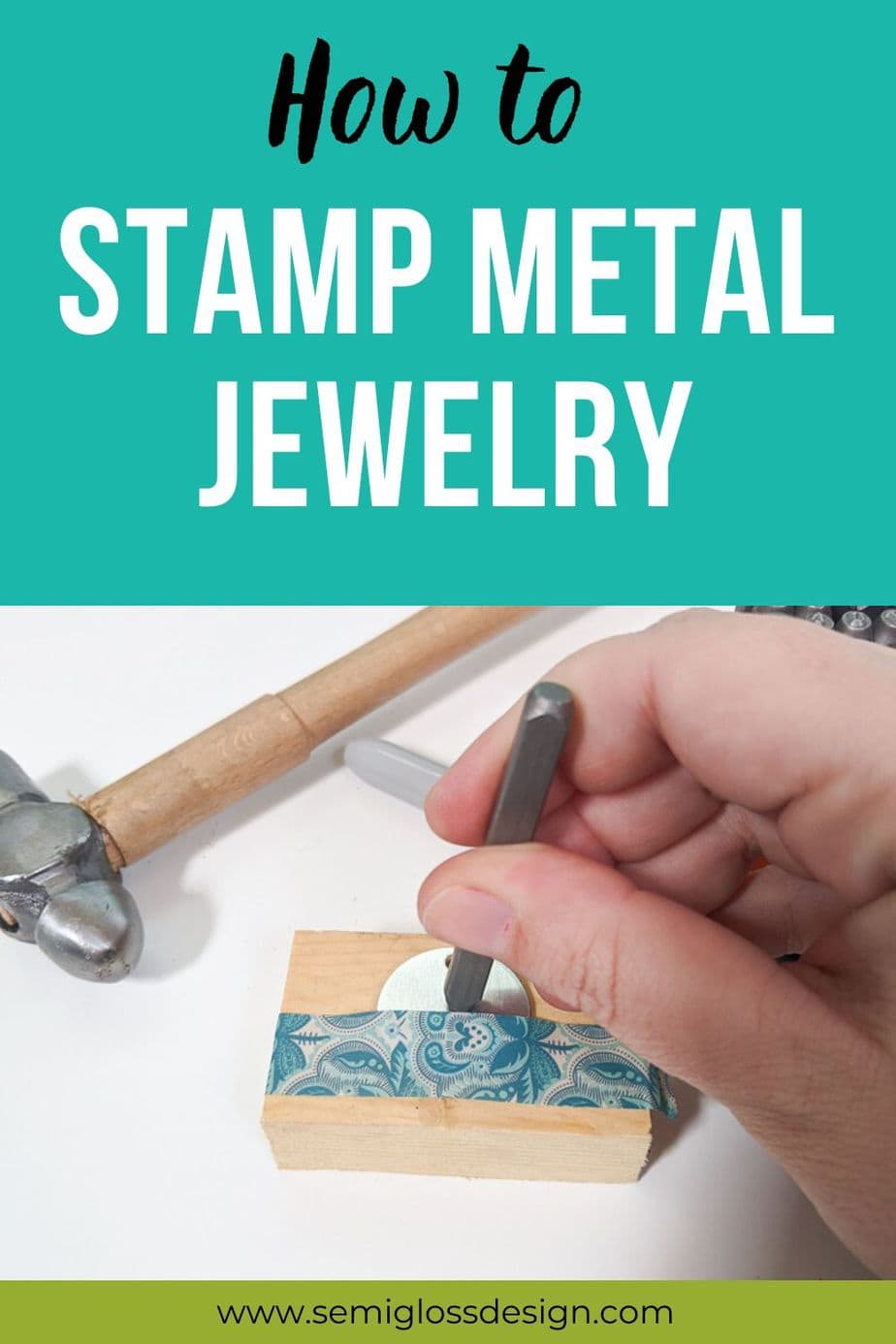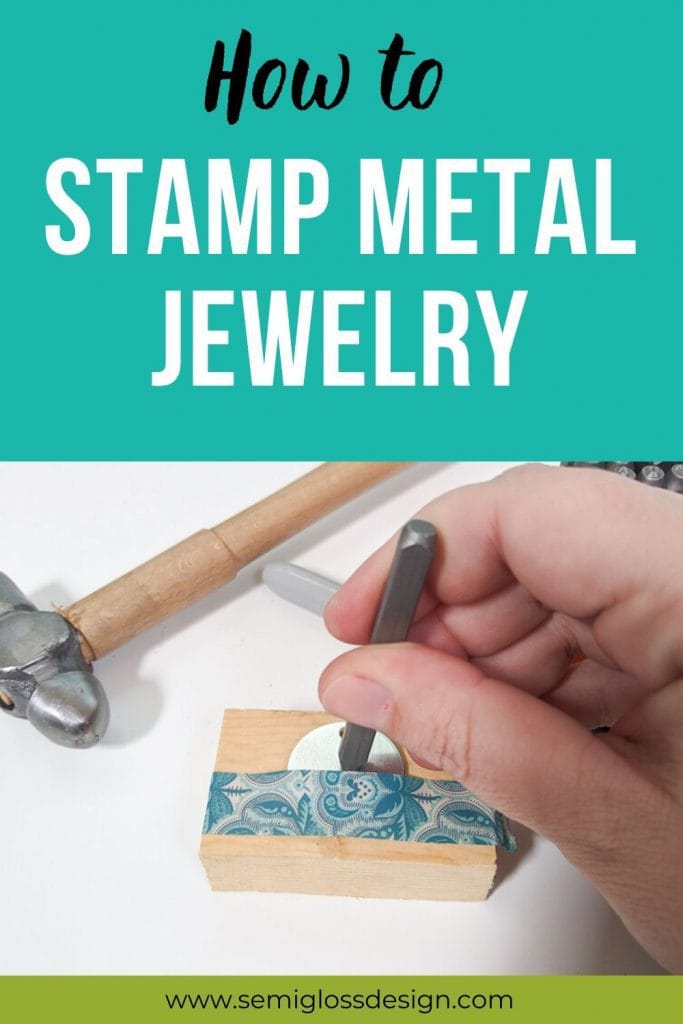 This post contains affiliate links. By purchasing an item through an affiliate link, I earn a small commission at no extra cost to you. As an Amazon Associate I earn from qualifying purchases.
Stamped Metal Jewelry FAQ's
What is the best metal for stamping jewelry?
Softer metals are better for beginners. Look for copper, silver, or brass for the best results. Aluminum is easy to find, but it's a bit harder to stamp.
If you're having trouble getting your design to come out clearly, try a softer metal.
Stainless steel is not recommended because it's very hard. Unless you're buying heavy-duty stamps, avoid using stainless steel.
What is a stamping blank?
A stamping blank is a piece of metal that is used for stamping. You can buy standard pendants, ring blanks, or even bracelet blanks.
Pendant blanks can come with a hole already in them or without. Holes are easy to punch yourself using a metal hole punch. It works just like a paper hole punch.
Can I use a regular hammer for stamping metal jewelry?
You need a flat ended hammer. Most jewelry stamping experts recommend a brass-tipped hammer because it disperses the pressure evenly, resulting in an evenly stamped surface.
How do you line up a metal stamp?
It can be difficult to line up a metal stamp. I like using washi tape to make a line across the blank. This also holds it in place. You can also make little marks where each letter will go.
I use washi tape because it is easy to remove and leaves no residue. Plus, I have a ton of laying around.
Mostly, it just takes practice holding the stamps straight. I prefer to embrace the slightly wonky, handmade look though.
How to Stamp Metal Jewelry
I love making my stamped jewelry say something sassy, but you can make yours more sincere if that's your style. Names and initials are also easy to make.
You can even use this technique to make stamped metal wine charms! Just attach them to wine charm rings.
Supplies Needed
A lot of these supplies can be found at hardware stores. However, I prefer the jewelry-specific tools for a few reasons.
The pliers in particular are small and easy to use, which makes them perfect for smaller hands and small pieces of metal. They also come in shapes that I've never seen at the hardware store.
Also, your hubby is less likely to steal pink pliers.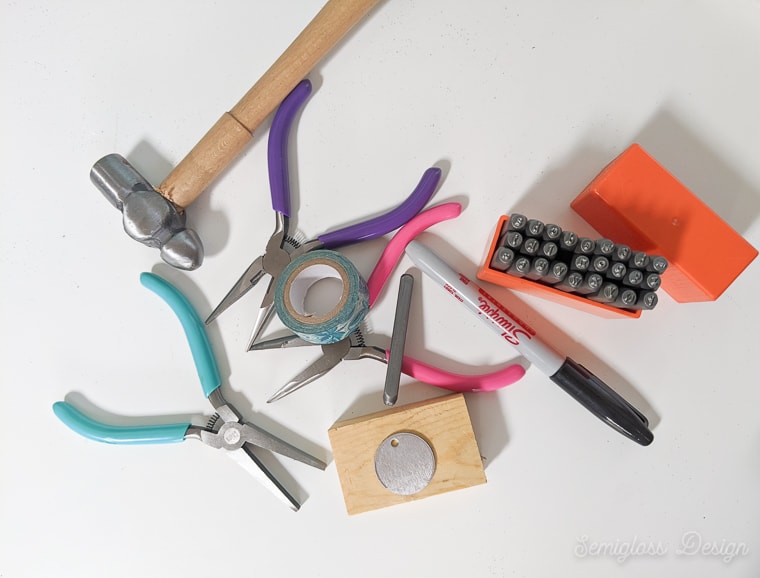 If you've never stamped jewelry, buy the biggest bag of blanks you can find. You will ruin a lot before you find the right pressure.
Place your blank on a steel block or piece of wood.
Tape it down with a piece of washi tape. This holds it in place, as well as providing a line to line up your letters.
Keep in mind that only so many letters can fit depending on the size of your blank.
Start in the middle with the middle letter. Put the stamp in place, making sure that it's faced the correct way and that it's straight.
Hit the top of the stamp hard and evenly with a hammer 2-3 times. Do not pick the stamp up during this step. Hit it hard without wiggling it.
Move the stamp away and admire your first letter. It might be faint and that's okay. We have a way to make it stand out more.
If it's not right, you may be tempted to try and re-stamp it. It will NEVER line up correctly. So either start over on a new blank or embrace its imperfections.
Continue with the rest of the letters, working your way from the center. Hit the stamp hard for best results.
Finishing The Stamped Metal Pendant
Learn how to darken hand stamped letters using a surprising technique.
To make the design stand out more, we're going to make the stamped part black.
Traditional jewelry making uses chemicals for this process, but we're going to make it a bit easier by using a sharpie.
Use an industrial sharpie to color over the stamped letters.
Use a paper towel to rub away the ink from the flat part of the blank. The stamped part will remain black.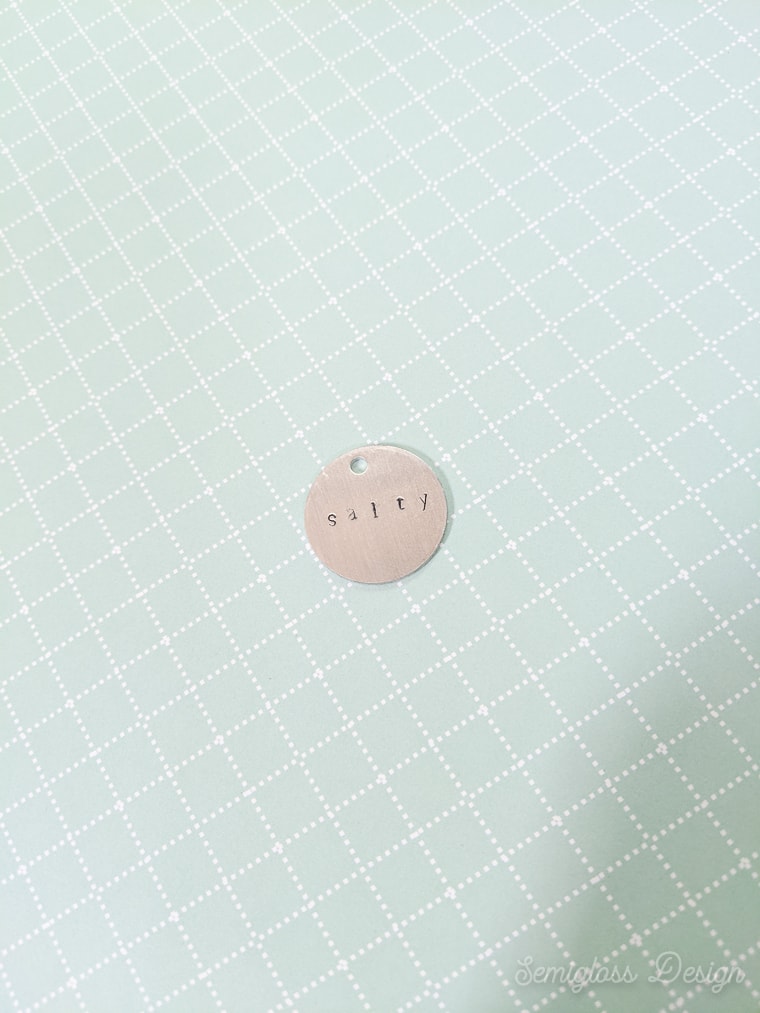 Making the Jewelry Blank into a Pendant for a Necklace
To make the blank into a pendant, you'll need to add an o-ring. Use 2 sets of pliers to open the o-ring. One set holds the o-ring and you twist with the other set.
Insert the open o-ring into the blank hole. (If your blanks don't have holes, you can use a metal hole punch – it works just like a paper hole punch.)
Close the o-ring the same way you opened it and use a set of flat pliers to clamp it shut where it meets.
Place it on a necklace.
Packaging the Necklace for a Gift (or to Sell…)
I made this batch for my shop last year. The tags are made using this technique for gift tags.
The chains are places in tiny bags and staples to the tag.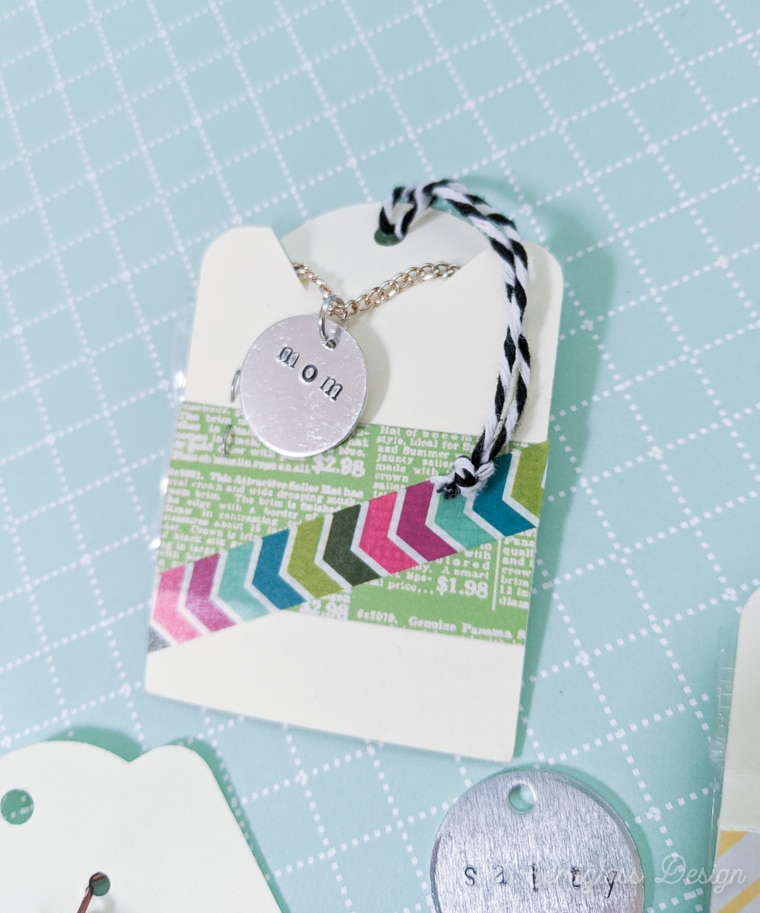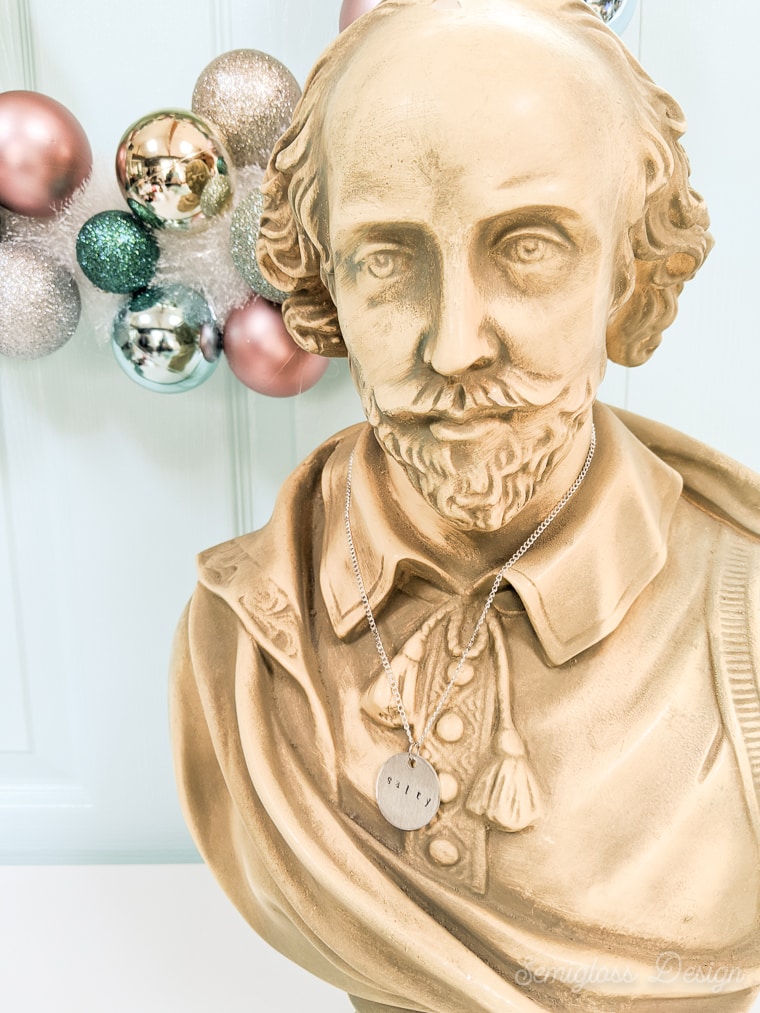 Tips for Getting Started Making Hand-Stamped Jewelry
Start with a simple design. Intricate stamps are difficult to get right.
Be okay with wonky lettering at first.
If you're going for perfection, buy the biggest bag of blanks you can find and be prepared to throw away a lot of them.
Hammer on a hard surface. It's tempting to try and work on a carpeted floor to dampen the noise, but it makes the surface too soft. Use wood on a table instead. Or even a steel block.
Softer metal blanks are easier to stamp. I know that Pinterest is filled with people stamping metal washers from the hardware store, but buying quality blanks will make your life so much easier. Plus who wants to wear galvanized metal?
Do you still want to stamp on cheaper metals? You need heavy-duty stamps and a bigger hammer.
Stamped Necklace Ideas
I love how easy it is to customize these necklaces. You can be silly or you can be loving. It's your choice!
Names
Initials
Monograms
Nicknames
Dates (birthday, anniversary, etc.)
Sentimental words
Sarcastic phrases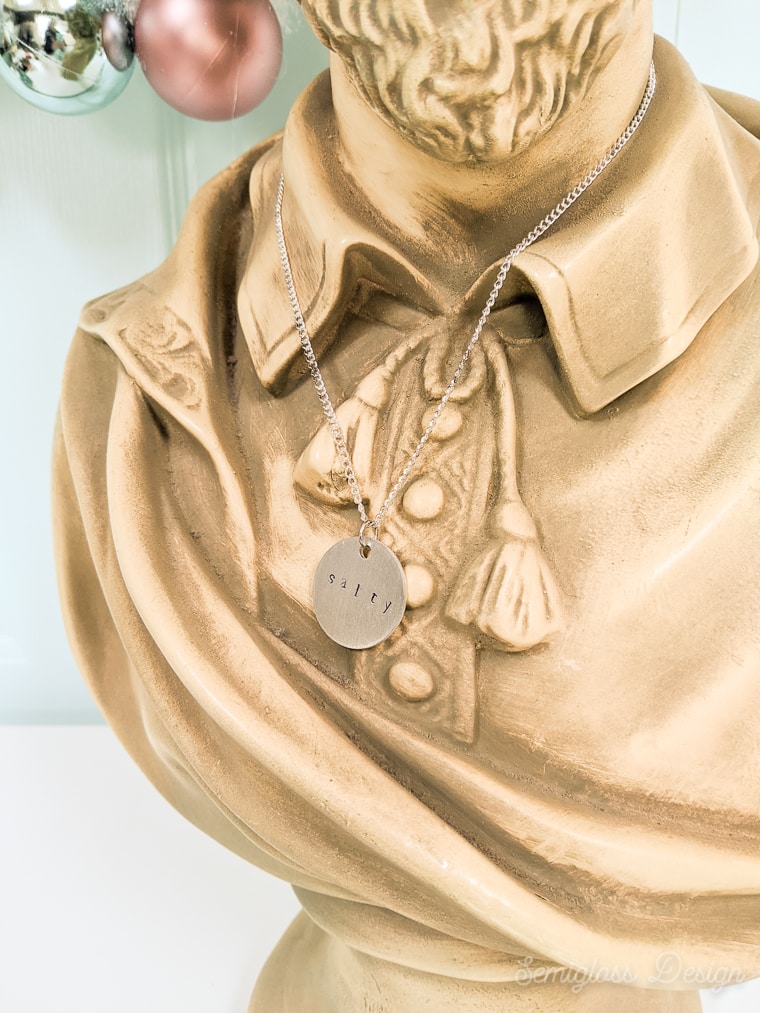 You might also like:
Pin for Later!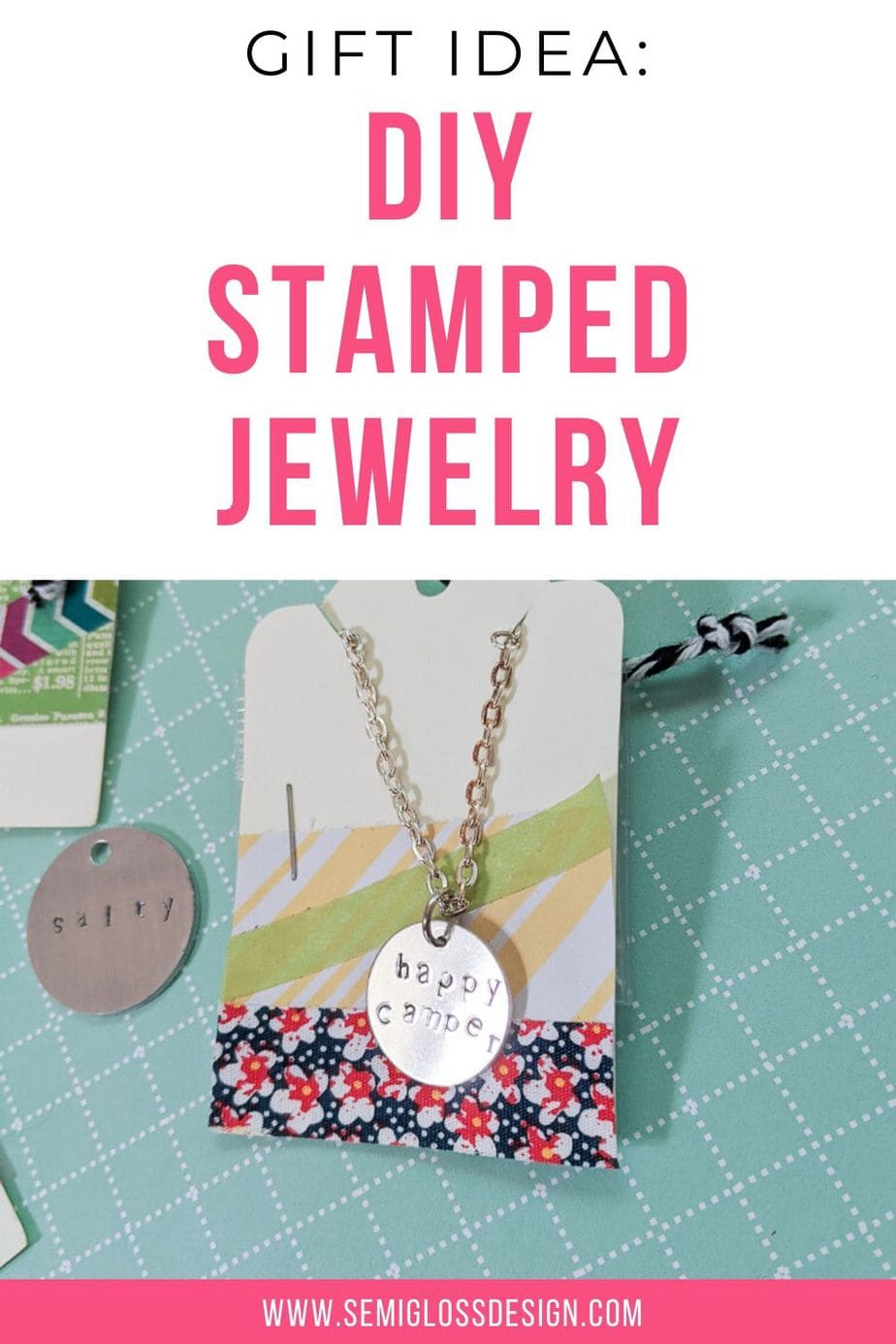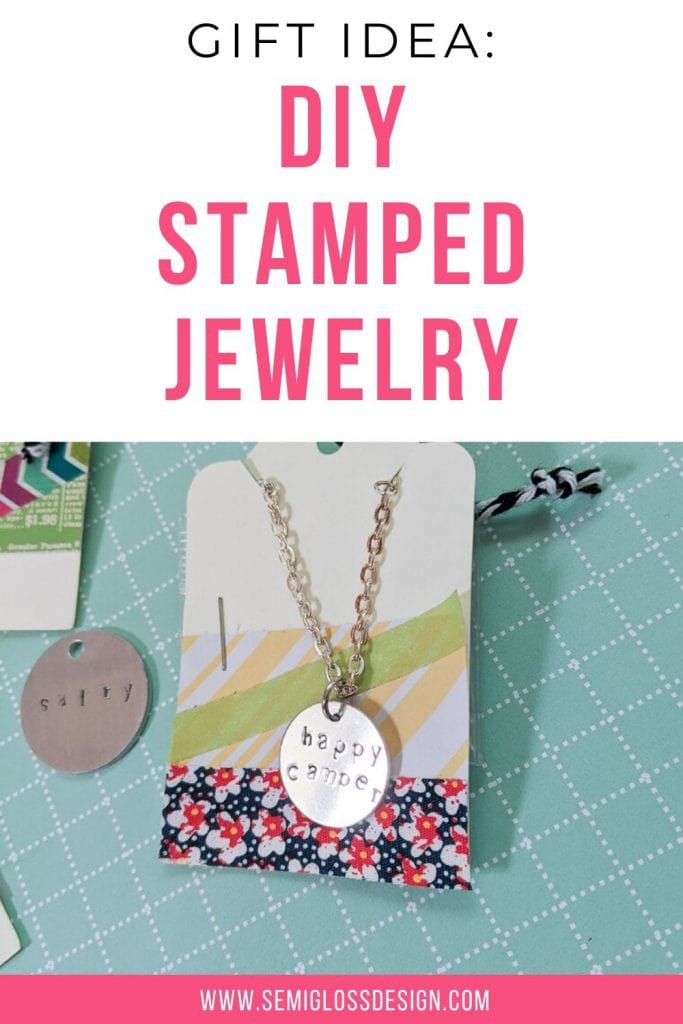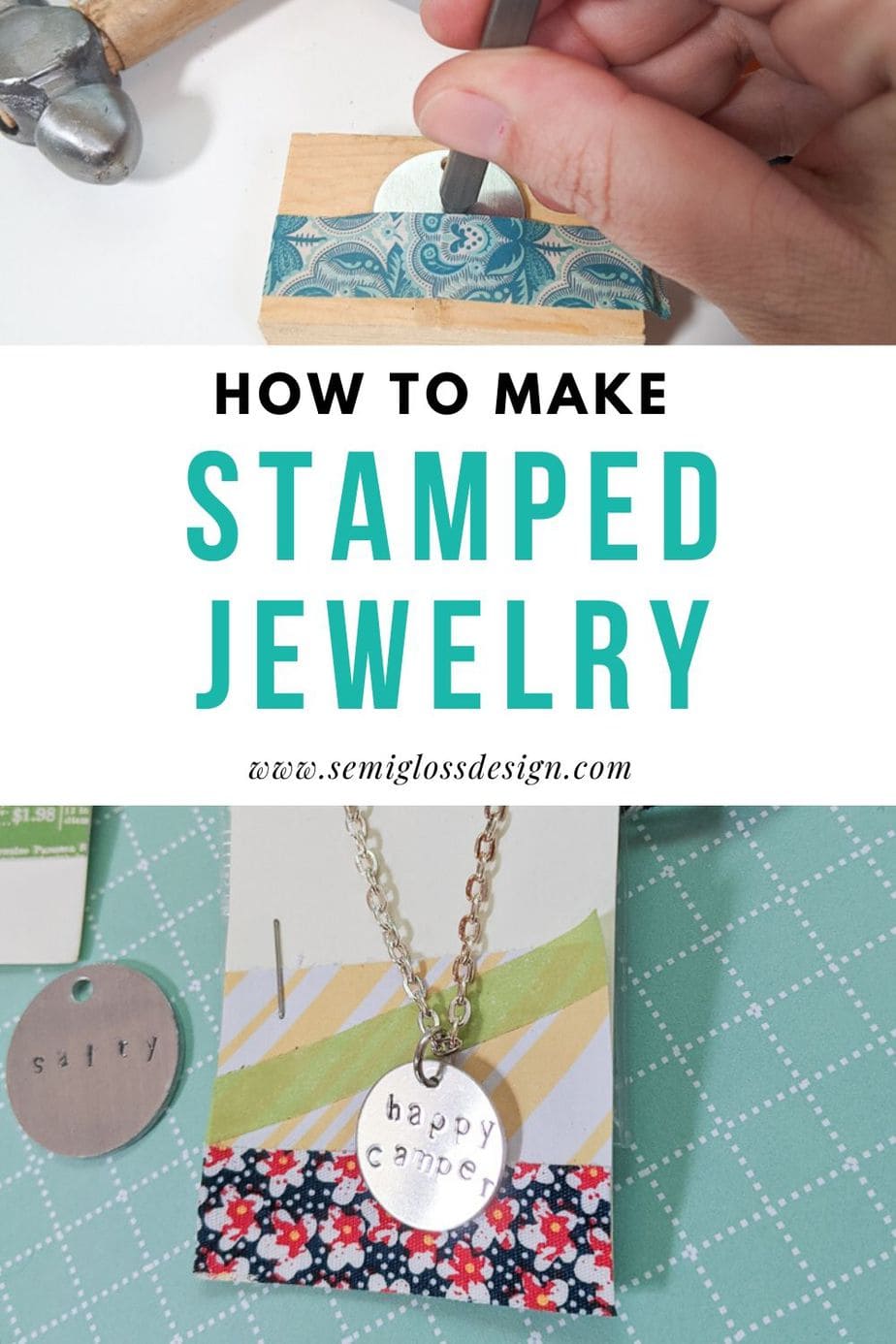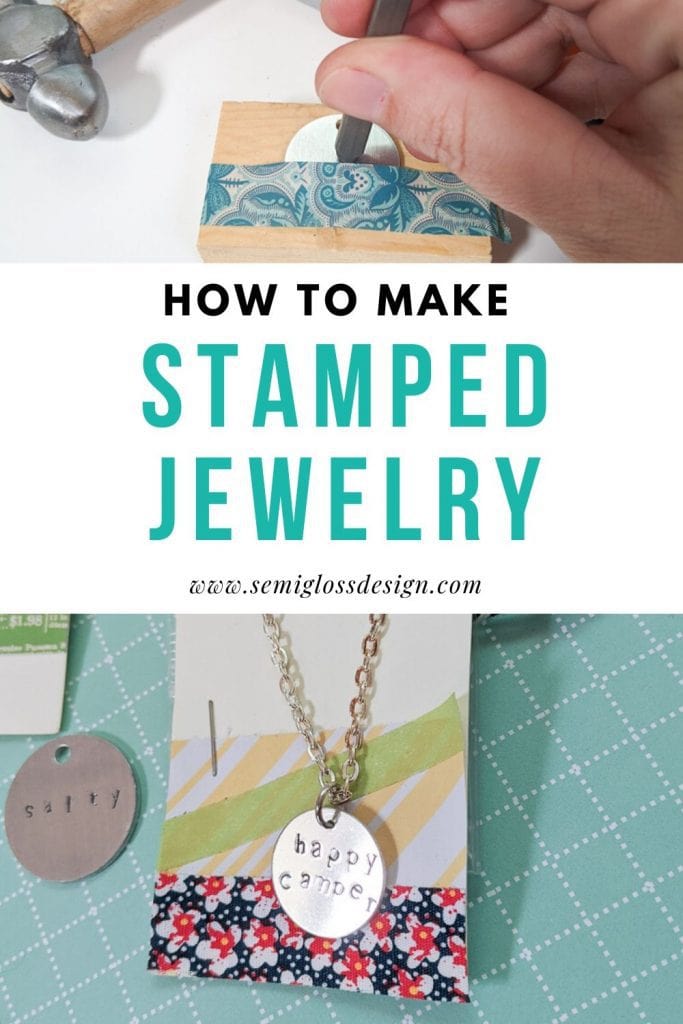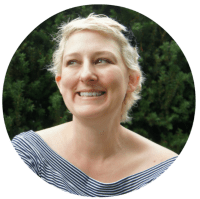 Emy is a vintage obsessed mama of 2 DIYer who loves sharing affordable solutions for common home problems. You don't need a giant budget to create a lovely home. Read more…