Over the weekend, I started working in my son's room. My son's room is much smaller than my daughter's room. I have neglected this room since we moved in to this house. I thought it would be fun to do more in-depth posts about the my thoughts behind the room makeover process. I'll post each week about where I am in the process and what's going on behind the scenes.
The room makeover process
Step 1. I posted here about the plans for my son's room. This can be done later, but I find that doing this first gets me excited about the project. I enjoy the creative process of designing a room. It's also helpful for getting other people excited about the process. My son saw the post and loved the ideas.
Step 2. Clean out the room to get closer to a blank slate. This is the hardest and least fun part of the process. It's really necessary to have more room to work and then see what you actually need to do. We knew some furniture had to go.
We spent about an hour cleaning my son's room to get it to this point. We made a donate pile and filled trash bags with garbage. His sister had a surprising amount of stuff in here, as well. We had to figure out what was staying in the room.
Our last house had even tinier bedrooms, but 15 foot tall vaulted ceilings. A loft bed was perfect in a room like that. When we moved in and put his bed in this room, I knew that it wouldn't work. Both my son and my husband were reluctant to let it go back then. I finally convinced them both to get rid of it and work with a smaller bed. The difference is immense.
Over the summer, we moved my daughter's old IKEA Malm bed in his room, making it even worse. But he decided that he really loved the bottom bed. The loft bed portion sat unused for months. The lower bed made the desk unusable. As we were cleaning, I realized that even the dresser, the one thing I thought was still working, was way too small to be useful. At almost 12 years old, he has outgrown the bed.
The white cubby shelf used to hold his toys. He hasn't actually played with toys in a while. He still has a Nerf gun stash and loves Legos, but the Legos live in his sister's room. The white cubby shelf was moved to the basement for now. The chair is another leftover piece of furniture. I'm not sure if it will stay or go yet.
The one usable bookshelf was filled to the max with books. We cleaned the room out and removed the excess furniture, listing it on craigslist.
This is where we are now. It's like a breath of fresh air. The room feels so much lighter and better now.
I haven't even gone through the bookshelves yet, but it still feels better.
Step 3: Re-evaluate plans and make alterations where necessary.
During the room makeover process, a few things became apparent.
This IKEA bed isn't going to last much longer. The placement is also bad.
He needs a dresser.
He wants a desk.
He wants a nightstand, but I think the shelves might work instead.
The top ledge along that connects the shelves is not a shelf. So it either needs to go, or needs to be fixed.
The bookcases need more trim to make them look a little nicer and more finished.
The room is small and even though it feels much bigger now, these pieces of furniture need to pull double duty. Like the bed needs storage or the desk does. Suddenly, this small update has become much larger.
For the bed, I'm thinking of something similar to the IKEA Hemnes Daybed with drawers with an upholstered back part and shorter arms. I'll be making the bed, so now I turn to pinterest for inspiration. There are so many amazing building plans available. I'll probably combine a few to get exactly what I need. I've made a pinterest board to keep all relevant ideas for this project. This is helpful for showing him what I have in mind, so that he can veto anything that he doesn't like. His opinions also help me choose between different options.
I like the idea of a daybed, because it will use the room space better. The built-ins, windows, and closet make the room a bit awkward for furniture placement. A daybed can be put against the wall, but in the middle, so that the bookcases aren't blocked. I still need to play around with it once I get the measurements.
The drawers under the bed will make use of space that is normally not used. I tried to talk him into a hanging bed, but he wasn't interested.
The next step is to go to polyvore and combine some options to get a good look at how stuff works together. I'll continue at this point next week and update where I am in the room makeover process.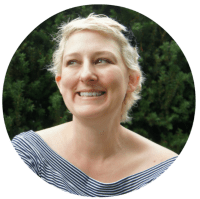 Emy is a vintage obsessed mama of 2 DIYer who loves sharing affordable solutions for common home problems. You don't need a giant budget to create a lovely home. Read more…