Last backsplash post, I promise! Everyone knows that a major kitchen makeover takes some planning and sacrifices, but small makeovers take planning as well! Today, I just want to sum up a few things that I wish had known and planned for before starting this mini kitchen refresh. The tile backsplash ended up taking much longer than I had hoped, so here are a few tips in case you are planning a mini kitchen refresh as well!
Tips for a kitchen makeover
A kitchen makeover will take longer than you think. Take the amount of time you think, multiply it by 3, then add a week. That might get you close to how long it take. Even a small renovation takes time. It takes time to shop, it takes time to paint, it takes time for paint to dry. Illnesses happen. Life happens. Sometimes, you're just not up to working.
Make a makeshift kitchen area. Yes even for a small kitchen refresh! I never realized how much I used my toaster until it wasn't plugged in anymore. Also, plan easy meals or lots of eating out. I live in an area with very limited delivery options, so we ate out a lot. I wish I had bought plenty of easy meals and made a temporary kitchen in the dining room. Also, buy paper plates. You can be eco-conscious when you're done.
For a larger kitchen reno, I would suggest having it done AFTER the outdoor kitchen that you've been dreaming of. Maybe we're alone in desiring an outdoor kitchen, but we want one really bad. We want this house to be the dreamiest, most lovely house ever because we spend tons of time outside so it makes sense for us. We realized that when we eventually do a major kitchen reno, we would want our outdoor kitchen done first so that we would have a place to cook and eat. Also, a summer time-frame makes this idea work better. Grilling in the snow does not sound fun.
Stock up on coffee and wine. You'll need the coffee in the morning and the wine in the evening. You've deserved it!
Even the nicest couples will hate each other at least once. Renovations are exhausting and add eating crappy foods to that and people lose their tempers. You'll survive. Try to keep your murder-y thoughts to yourself.
Just when you think you're done, you'll realize that you're not. Because every tiny project snowballs into bigger projects! Better buy more wine!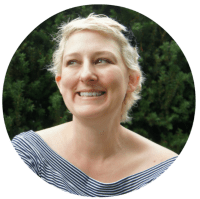 Emy is a vintage obsessed mama of 2 DIYer who loves sharing affordable solutions for common home problems. You don't need a giant budget to create a lovely home. Read more…