The Best Stocking Stuffers for Adults
These stocking stuffers for adults will help make your Christmas shopping easier. I also wrote a post about stocking stuffers for teen boys (who are a bit geeky.)
Just when you think you have Christmas shopping all finished, you remember about stocking stuffers.
This year, I'm trying to think outside my usual go-to items of hats and warm socks. Here are some fun ideas for stocking stuffers for adults.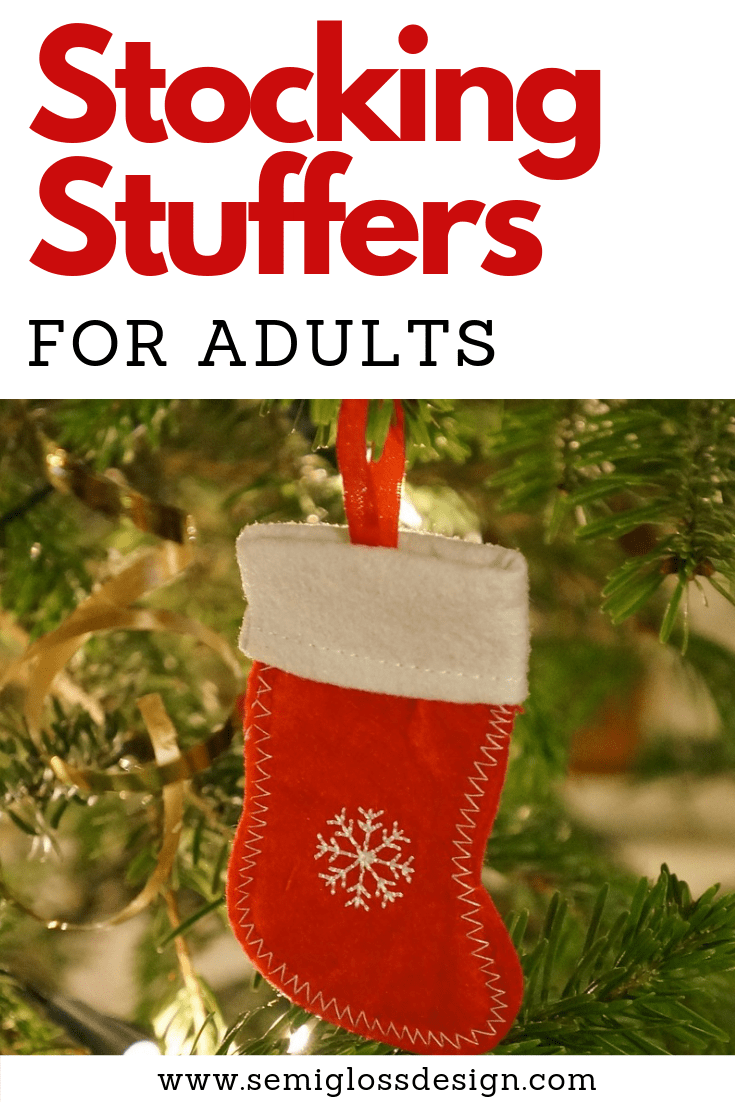 Stocking Stuffers for Adults
This post contains affiliate links. By purchasing an item through an affiliate link, I earn a small commission at no extra cost to you.
Stocking Stuffers for Men
Dad jokes are the best. Almost as good as mom jokes…
I love the retro feel of this insulated cup. It's perfect for keeping coffee warm on his long commute or when he's just settling in for a long video game session.
This bottle opener is amazing. And adorable. Plus, you can never have too many bottle openers.
We are obsessed with these small measuring tapes. They're so handy to have around for quick measuring. I like to use them for small projects because they size makes them easier to use. If you've ever tried to measure something tiny with a normal 30′ measuring tape that weighs 5 pounds, you know what I'm talking about.
We have several different versions of these games and each one is different. You can change the rules of the game by playing different cards. Best of all, they have versions for all kinds of fandoms.
This magnetic wristband is perfect for handy people. This would be perfect when changing out light fixtures! (It would also be perfect for sewing to stash pins and needles!)
I love these mutli-tools because they're so useful. But this Bigfoot one is the coolest that I've ever seen. Who doesn't love Bigfoot?
Sasquathttps://amzn.to/35fX0XNch Soap
Speaking of Bigfoot…. This Sasquatch soap was specifically asked for in my house, so I literally just added this to my cart. Who doesn't want to smell like a sasquatch? 😉 Dreams do come true.
The Echo Dot is the perfect size to fit in a stocking! We use ours as a Bluetooth speak to stream from Amazon Prime Music and Spotify, but you can also stream podcasts, ask questions, get Alexa to sing to you and even have her tell you jokes.
Stocking Stuffers for Women
I like to buy these from our Korean grocery store. I"m not going to lie: you look like a weirdo with it on. A weirdo who is treating herself. So it's a good gift for someone with a good sense of humor. Her skin will feel amazing after using one.
I really want one of these. It's insulated to keep beverages hot or cold. But I would only use it for wine which I like to keep at a solid room temperature. And a lid means no spilling! Read my reviews on the best insulated tumblers!
It's no secret that I'm a bit obsessed with agate. These coasters are gorgeous!
I'm a list maker, so I always have a notebook handy for jotting down ideas. Notebooks also come in handy in a restaurant when you have bored kids.
I love the retro packaging on these lip balms!
My kids are obsessed with these. Apparently they make holding your phone easier. Now you can be like the cool kids…
I just bought myself some lip scrub because the winter is brutal on my skin. No more chapped lips.
I bought myself one of these for my laptop and everyone in my house has stolen it. Apparently it's fantastic (I wouldn't know because I haven't gotten to use it yet.) This wireless mouse comes in a ton of colors. I bought myself an aqua one.
Other Stocking Stuffer Ideas for Adults
Small games. We really enjoy this game.
Small bottles of liquor or wine.
Candy. I love giving these chocolate oranges.
Earphones
Craft supplies
Candles
Gloves
Scarves
Bath bombs
Lotion
Looking for more gift ideas?
Pin for Later!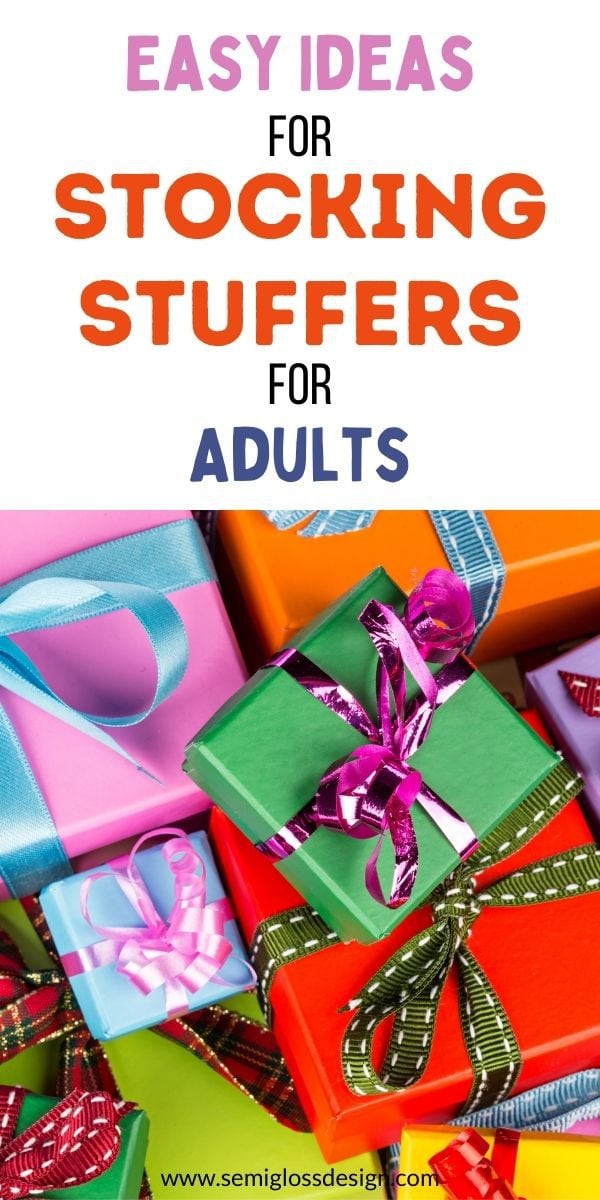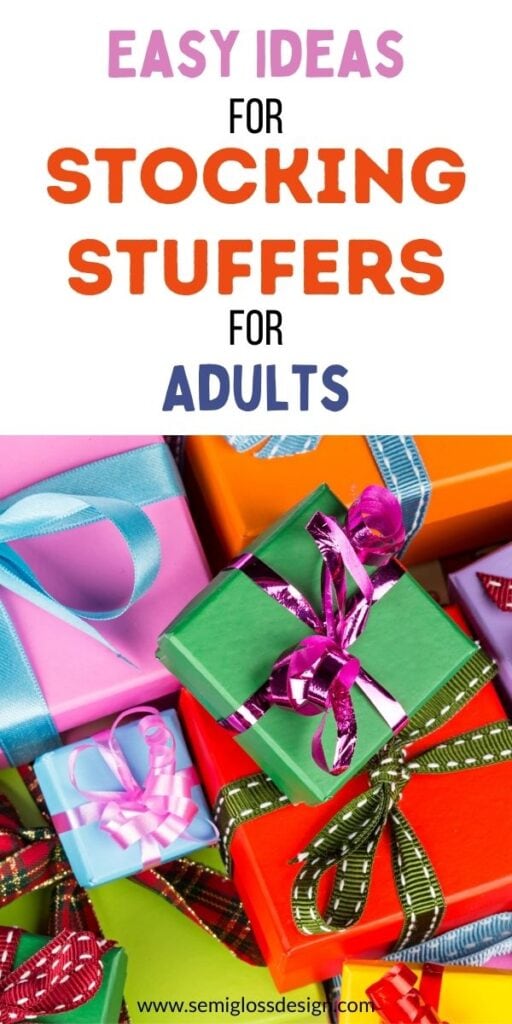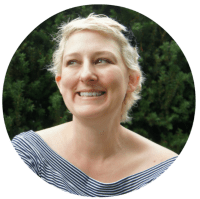 Emy is a vintage obsessed mama of 2 DIYer who loves sharing affordable solutions for common home problems. You don't need a giant budget to create a lovely home. Read more…