Inspiration comes from everywhere. Sometimes, it's quite literal and is design specific. Sometimes it's more about actions. I have a new friend who is a kindred spirit, who inspires me constantly and probably doesn't know it. One of the things that I love about her is that she places a high value on self-care. It has made me realize that I've let that slide. I didn't even realize it. She wrote about a bubble bath after a stressful week which seems simple, right? I love baths, but I haven't really taken many since we moved here. My last house had an amazing corner two person bath that I really loved. This house has normal bathrooms. Plus we have a hot tub outside, but it's not the same. I need that quiet time all to myself. So I took a bubble bath and I realized that I needed to do a quick bathroom update.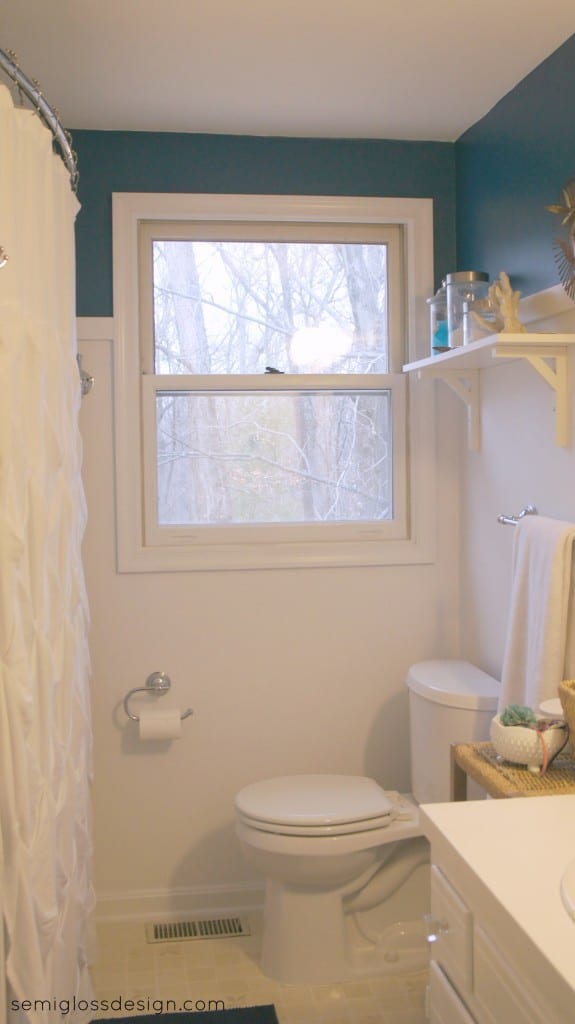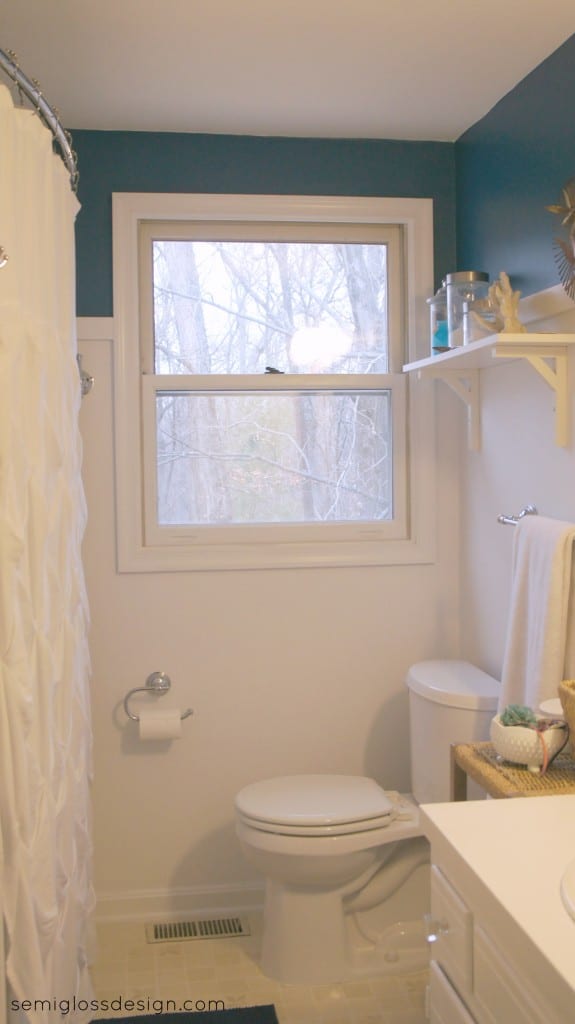 Bathroom problems:
There is nowhere to set a glass of wine. Because wine and bubbles go hand in hand. In my hand that is…
My bathroom is not a relaxing place. Too many to-do's staring me in the face. I've done what I can with paint, but there is still a whole lot of ugly.
OR I just need to add mood lighting instead to hide the uglies.
We've always said that we will remodel this bathroom to have a giant shower, but now I realize that I need a decent bathtub somewhere in this house. Five inches of water doesn't really cut it.
Some of these things are easy. A better bathtub will have to wait. But I can do numbers 1-3 pretty easily.
My first item to address was finding a solution to my wine glass conundrum. I went to Home Goods and tried to find either a small stool or side table to use. My bathroom has plenty of extra space to store it, plus a closet to stash it in case it gets annoying. I walked out empty handed because I was being cheap. So on Friday, I headed out to the barn sales and got lucky. They had a ton of them, in affordable prices. Because who really needs a tiny stool besides me? I bought this one for $10. She's a beaut, right? 😉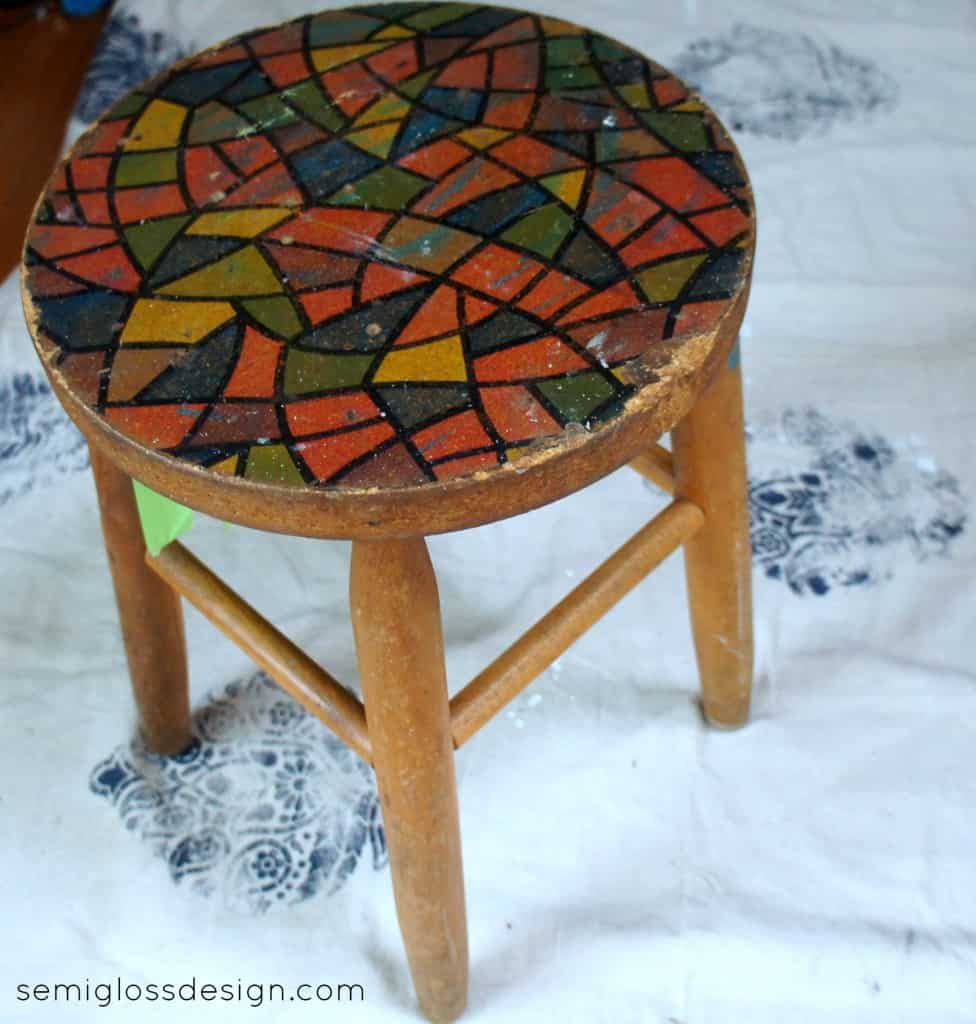 I also picked up a pint of General Finishes Milk Paint in Coastal Blue. This paint should come with a warning: goes on hideous, dries just how you hoped. Seriously, it was like crayon blue and dried a lovely dark blue with a hint of green. The coverage was lovely, but where it seems to excel is the way that it feels! I'm sure that it needs a top coat, but it doesn't feel that way! It's smooth like silk.
The question of where to set my wine was solved. It's even large enough to set a book!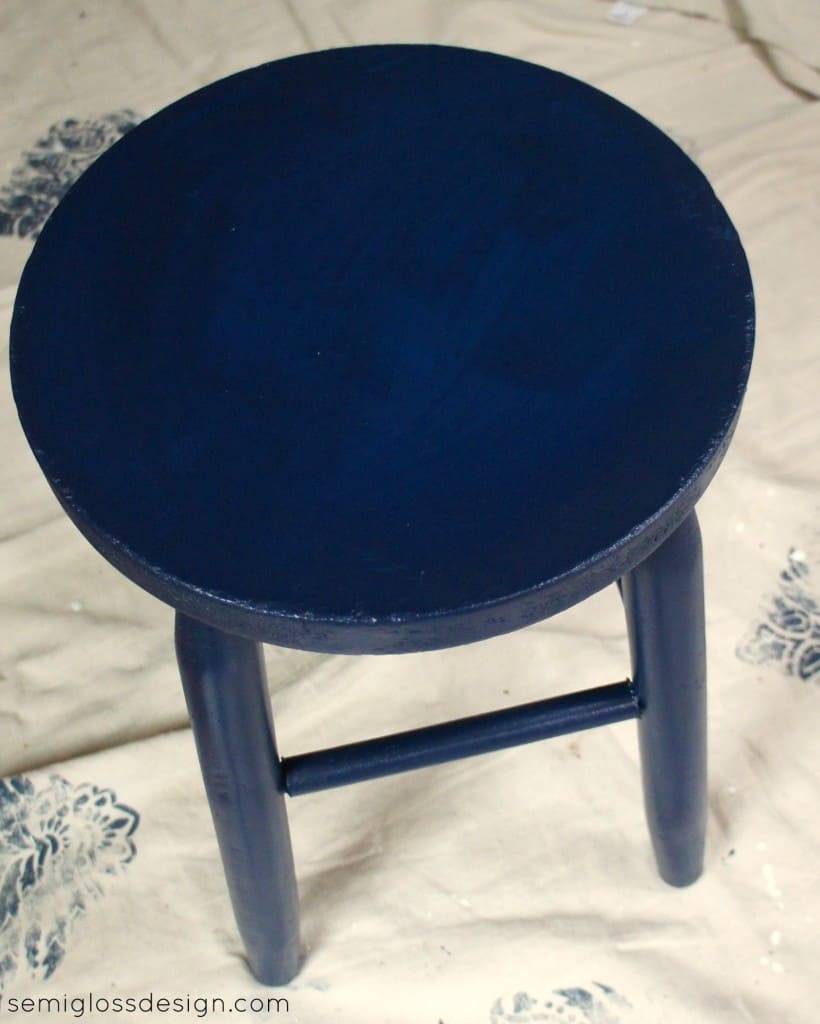 Addressing problem 2 meant clearing out the clutter. I barely use most of these items so they could be put away.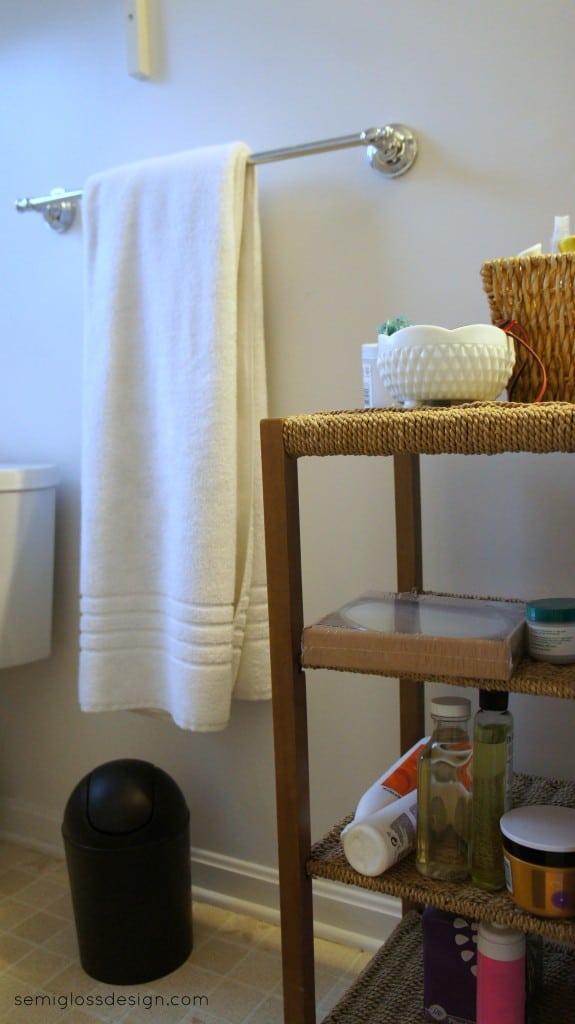 This is the view from the tub, so it needed to change. Pictures are hard to take in tiny bathrooms.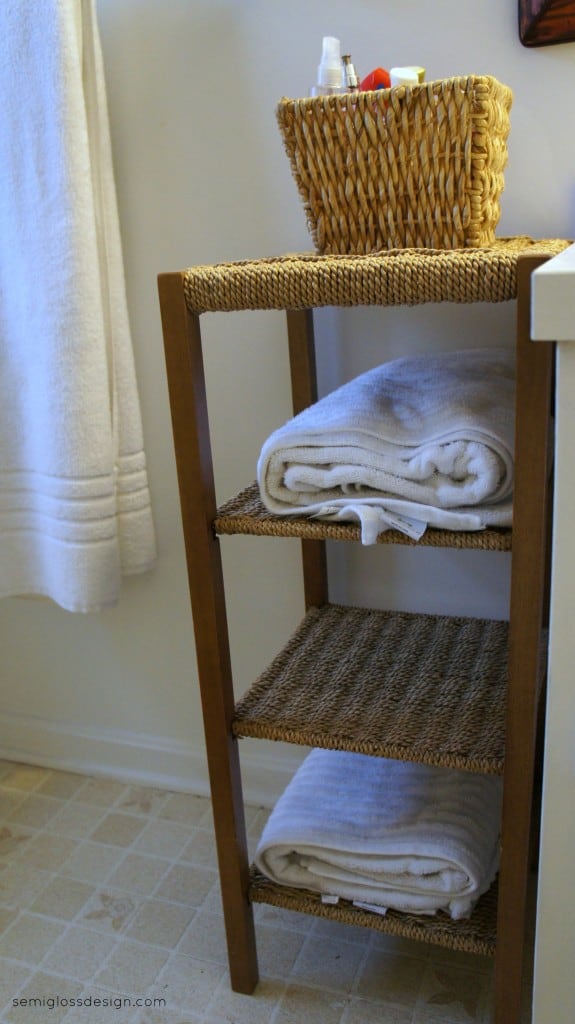 I put pretty much everything in the bathroom closet (including the trash can) and placed a few white towels on the shelves instead. My floor is really ugly (glittery tan flowers). But from the bath, I can't see it. This room needs a real bathroom update, but until we can figure out a new floor plan, it will remain "good enough". Sometimes that's all you can do. Camouflage the ugly. (Maybe I should buy some floor paint and make those glittery flowers disappear…)
Number 3 was as simple as adding candles and flowers of course! I like to buy fresh flowers when I grocery shop. They're like a present to myself. And mouthwash looks much prettier in a decanter.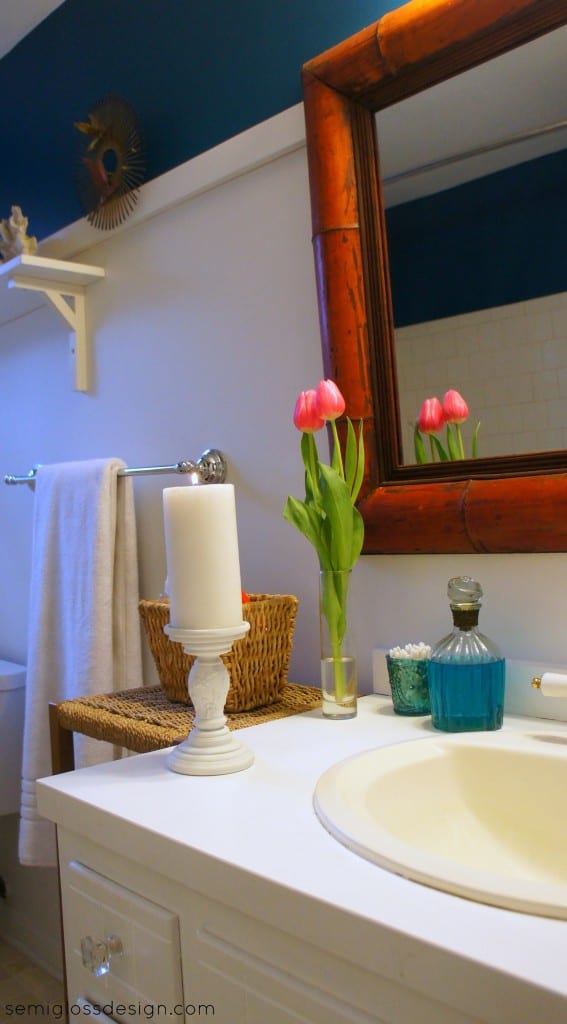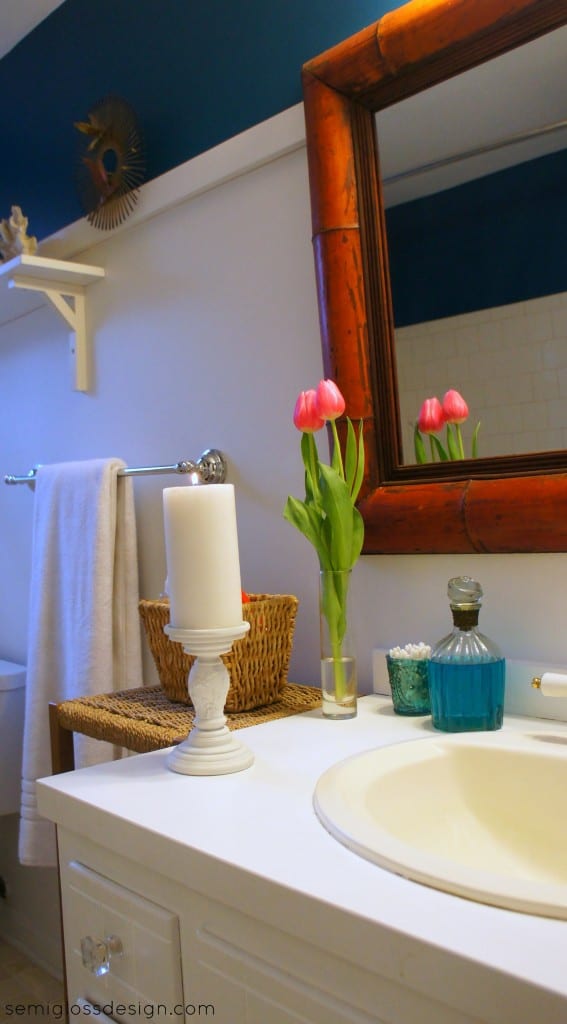 A simple bathroom update makes my bathroom a much prettier place to hang out in. My muscles are thanking me and so is my dry skin. I'm even warm again. Baths are way better than showers in the winter. Does anyone else think that showers are a form of torture in the winter? Plus, it's nice to relax in peace.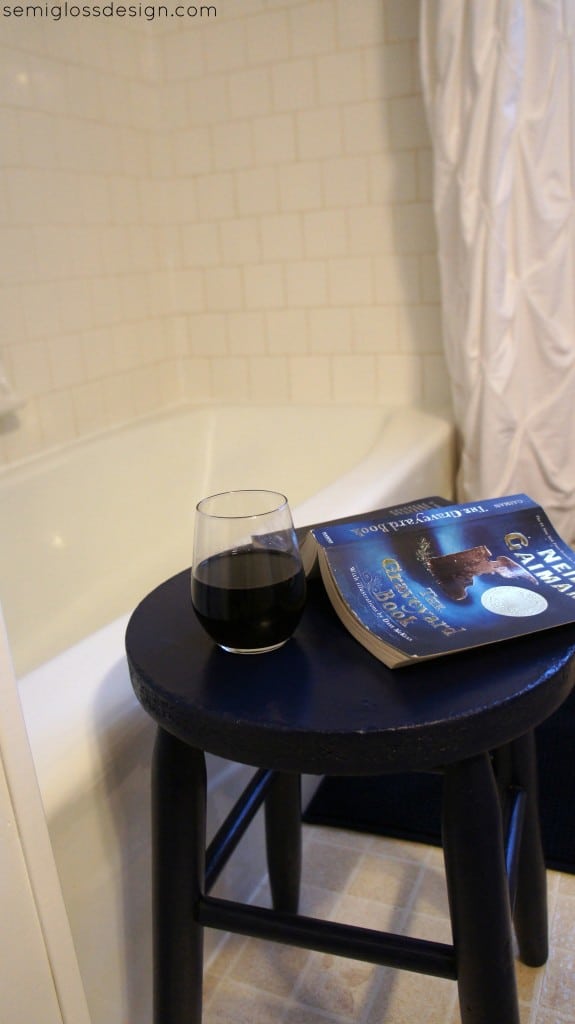 Oh wine, is there anything you can't fix? Sometimes all you need for a simple bathroom update is to clear the clutter so that you can see the pretty stuff instead.
Thanks for inspiring me, R!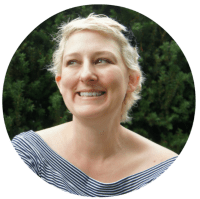 Emy is a vintage obsessed mama of 2 DIYer who loves sharing affordable solutions for common home problems. You don't need a giant budget to create a lovely home. Read more…