I haven't made much progress working on my son's room. We have had lots of beautiful weather, but I've spent much of it playing with the kids and dog instead of working. Also, I had a dollhouse to build.
I did score an amazing mid-century modern dresser and nightstand set from Craigslist. There's also a low-boy (not pictured.) They're a bit scratched up, but I can work some magic with teak oil and Howard Feed and Wax. I really want them for my own bedroom, but that would necessitate a new bed for our room because the nightstands are about 6 inches too short for our bed. Maybe I'll switch them out later on. I love the lines on these beauties. Look at them legs!
I also found my son an awesome lamp at Home Goods for his room. He's been eyeing this type of lamp for a while, so I was happy to buy him one. Now he can lay in bed and read in style. This was seriously the stack of books by his bed.
There are still a lot of details to figure out in here. The paint needs to be touched up, but I would love to change the color instead. I think it would look cool if it was the color of old green chalkboards instead. He told me that he really liked my friend's living room color, a bright turquoise.
I also ran across a really amazing desk at Marshall's one day. I passed it up, thinking that I could make it for cheaper, but those hairpin legs aren't cheap at all! I'm still figuring out a solution. I might just go with standard tapered legs instead.
I'm hoping to get into IKEA this weekend and buy a few things that I need for his room. I'm buying bed slats there instead of making them because they cost $30 and making them was going to cost $60. Maybe I'll get some building time this weekend, too. Next week looks amazing for building with temps in the 70's!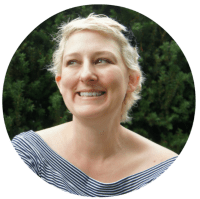 Emy is a vintage obsessed mama of 2 DIYer who loves sharing affordable solutions for common home problems. You don't need a giant budget to create a lovely home. Read more…