It's week 5 of the ORC and I can barely feel my right index fingertip. It's not a challenge without a minor injury, right? I'm feeling the challenge part this week! To recap, I'm working on transforming my kid's treehouse into an amazing place to hang out. Both for them and for adults, because it's awesome out there. This is week 5 of 6. Come back to see the reveal next week! It's going to be awesome.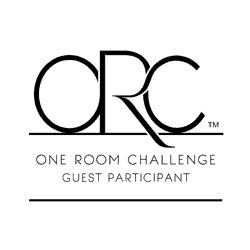 I'll be honest. I didn't get a whole lot done. Gray skies and rainy days are not very conducive for happily working outside. That was mother nature being productive for the One Room Challenge, I guess. The trees are full and green and gorgeous! I did do a whole lot of shopping, though. I hit the flea market and bought the cute vintage patio set that I had spotted weeks before. I didn't get a before shot, but here's a picture of it as I was stripping the paint off.
Stripping paint is fun. Especially if you're a bit OCD or a picker. It was so hard to know when to stop. My fingers were nice and blistered before long, so I let that be the deciding factor of being done. Also, getting hit in the eye with a glob of chemical covered paint ends the day as well.
I got the set primed and painted with one coat of spray paint before the rain returned. Between the blisters from the stripping and the spraying 3 cans of spray paint, my index finger has no feeling anymore. I guess I should have walked downstairs to get the trigger thing. #hindsight #lazy
Maybe it'll dry up soon and I can get it finished. This set is so cute, I can't stand it! I need a similar set for my front yard. I hope I can find another one so I can paint it a fun color. This will sit on the treehouse deck so that my husband and I can enjoy coffee or cocktails out there.
Shopping has been so much fun. My stuff-for-the-treehouse pile is getting pretty large. Lots of stuff still to do. Important decisions. Knowing that some of the stuff won't be done in time and trying to be okay with that. Apple-tini's or Mai-tais? Important stuff.
Fingers crossed for the sun shining again!
Be sure to check out the ORC featured designers and the guest participants. Big smoochy kisses to Linda of Calling It Home for inspiring us all to be insane.
Linking up: Calling It Home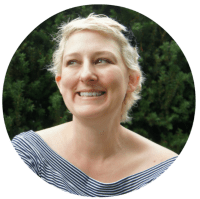 Emy is a vintage obsessed mama of 2 DIYer who loves sharing affordable solutions for common home problems. You don't need a giant budget to create a lovely home. Read more…