I am slacking a bit this week. I wish I had a good excuse, but to be honest, my routine is off and it messes up my whole day week. But I wanted to share a quick and easy idea today on what to do with kid's art.
My daughter is a prolific artist. She can create 25 masterpieces in an hour. She brings home stacks of art from school and papers pile up. We take pictures of all of it and put it in Artkive, but she takes pride in her work. Plus, I want to encourage her creativity, so I want to display it somehow. Framing that much artwork just isn't going to happen, even if I re-use the same frames over and over. I'm far too lazy for that. Plus, we're starting to run out of wall space.
So one day, that pile of artwork was staring me in the face, AKA sitting on my dining room table. I recalled an idea that I used years ago when I hung a line of string and used clothespins to hold post cards on the wall. That display brought me so much joy, so, why not use it again, but for kid's art?
What To Do With Kid's Art
This post contains affiliate links. By purchasing an item through an affiliate link, I earn a small commission at no extra cost to you.
*The craft store sells mini spools of twine, but the hardware store has it for much cheaper in a larger quantity.
I cut the twine to the right length, adding a few inches for tying. Then I tied the string to a tack on each end and tacked it to the wall.
Then I added artwork with clothespins. Now, I can switch out her art as I wish, even throwing away old art (*GASP*) as new art comes in. She never notices and feels special for having a prominent display of her talents. It's a win-win situation. And it's so easy to add new art, even clipping it over old art if I'm *real* lazy.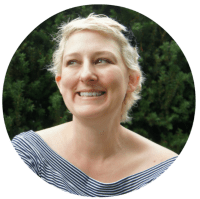 Emy is a vintage obsessed mama of 2 DIYer who loves sharing affordable solutions for common home problems. You don't need a giant budget to create a lovely home. Read more…