June Dollhouse Therapy Challenge Reveal
It's the last Tuesday in June and that means that it's time for the Dollhouse Therapy Challenge reveal! I am so excited to be co-hosting with Cassie, Alice, and Anu. We have worked hard these last 3 months to decorate our dollhouses. It's been a fun experience and I was honored to be included with these talented ladies!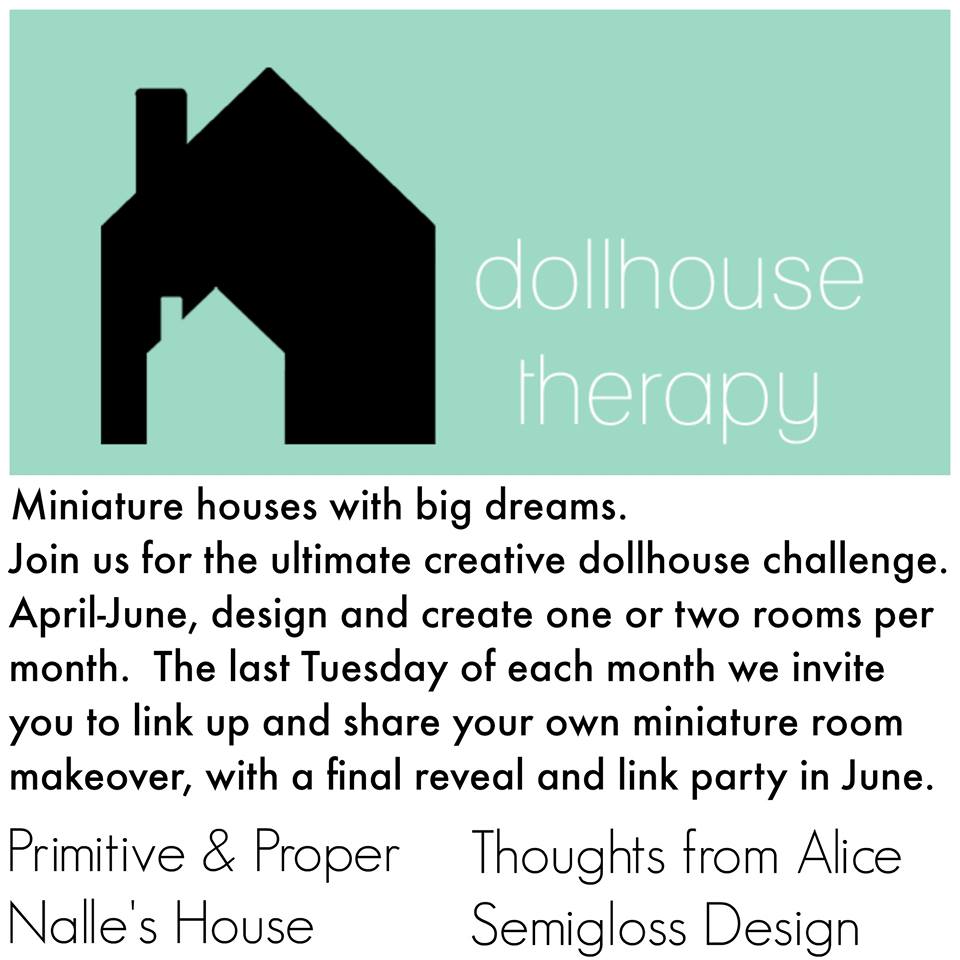 We've come a long way! I started with a plain house that I built from plywood and primed.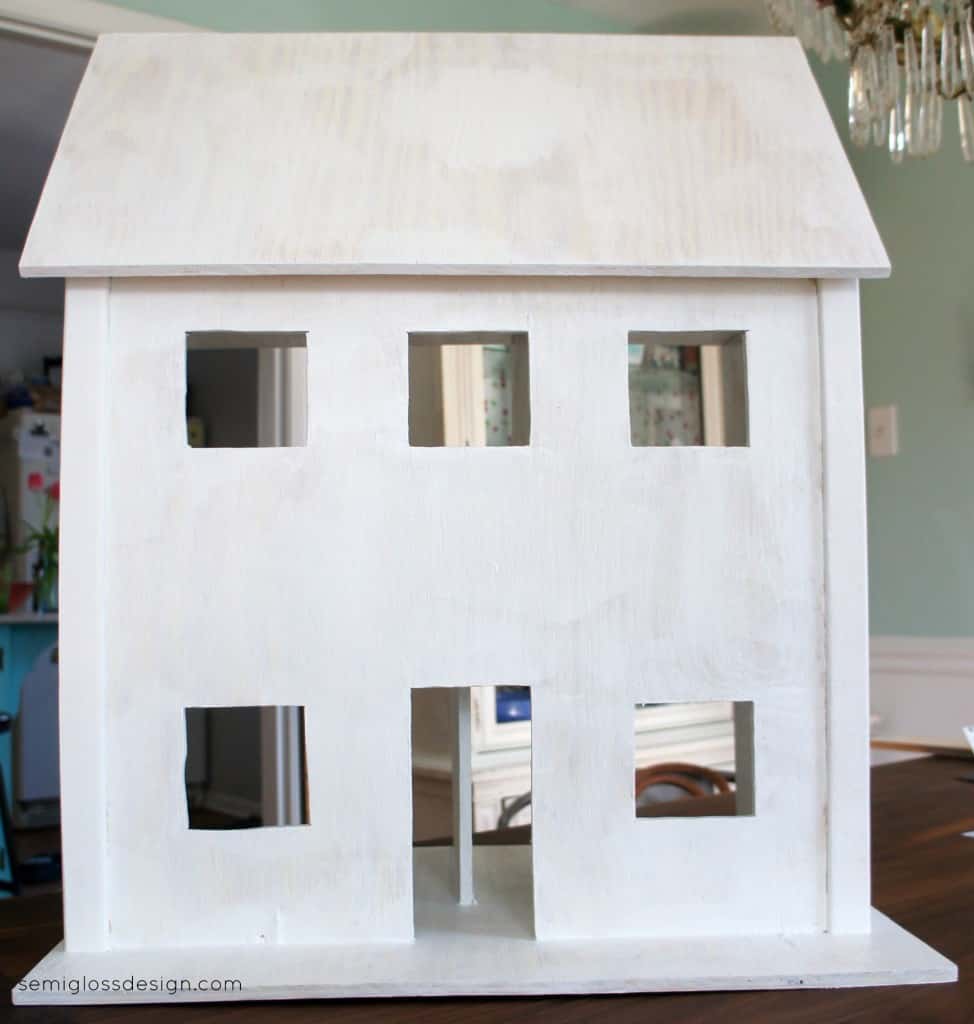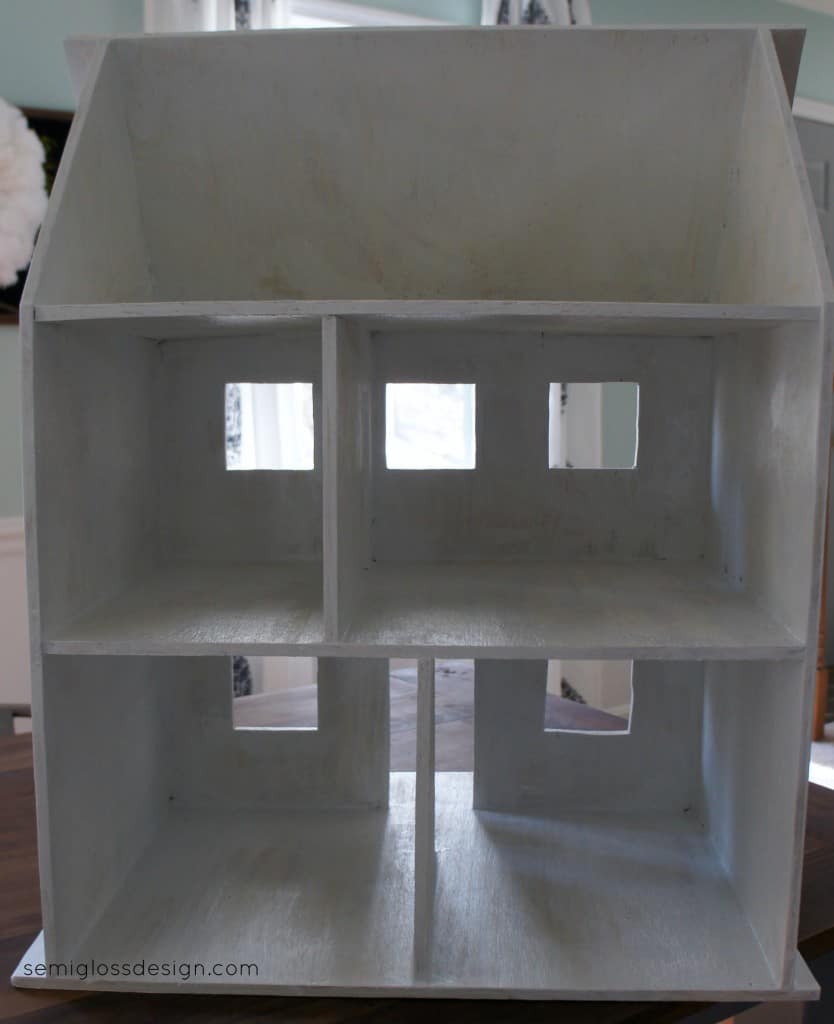 Today, the house is all done and beautiful, if I must say so myself.
Front porch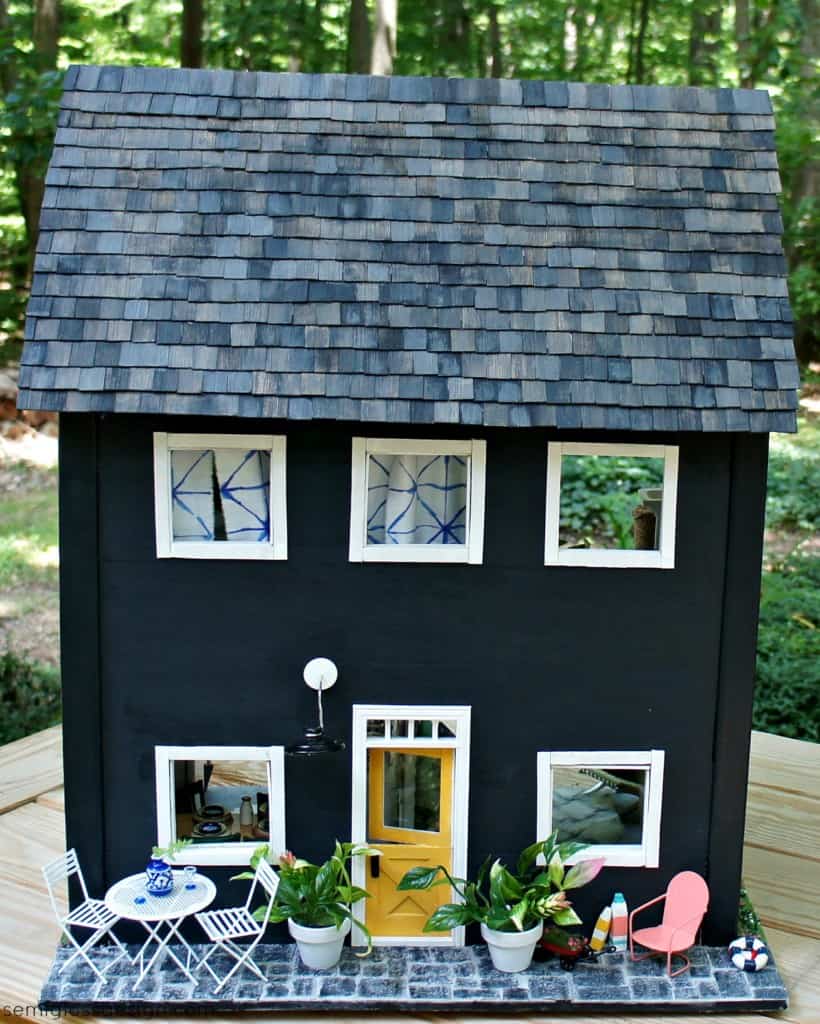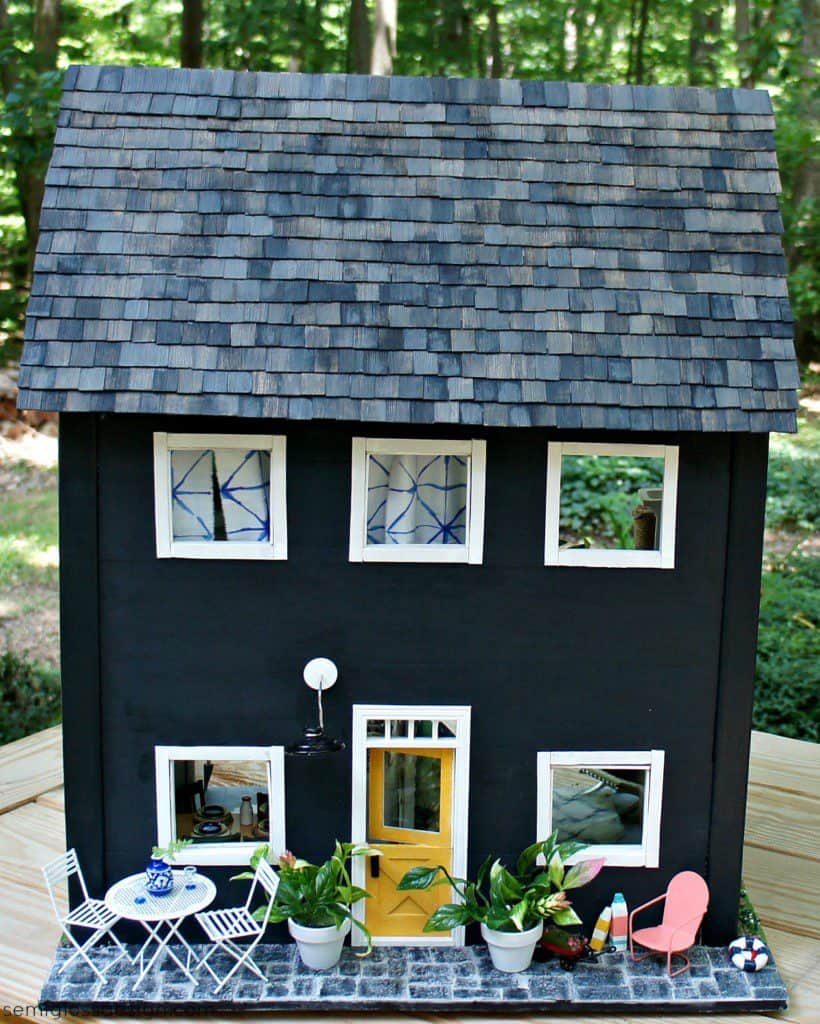 The house received siding that I painted a dark navy blue, shingles, trim, a "stone" patio made from egg cartons, and a lovely Dutch door. I decorated the porch to make it feel homey.
Tutorial Posts: How to Paint Dollhouse Roof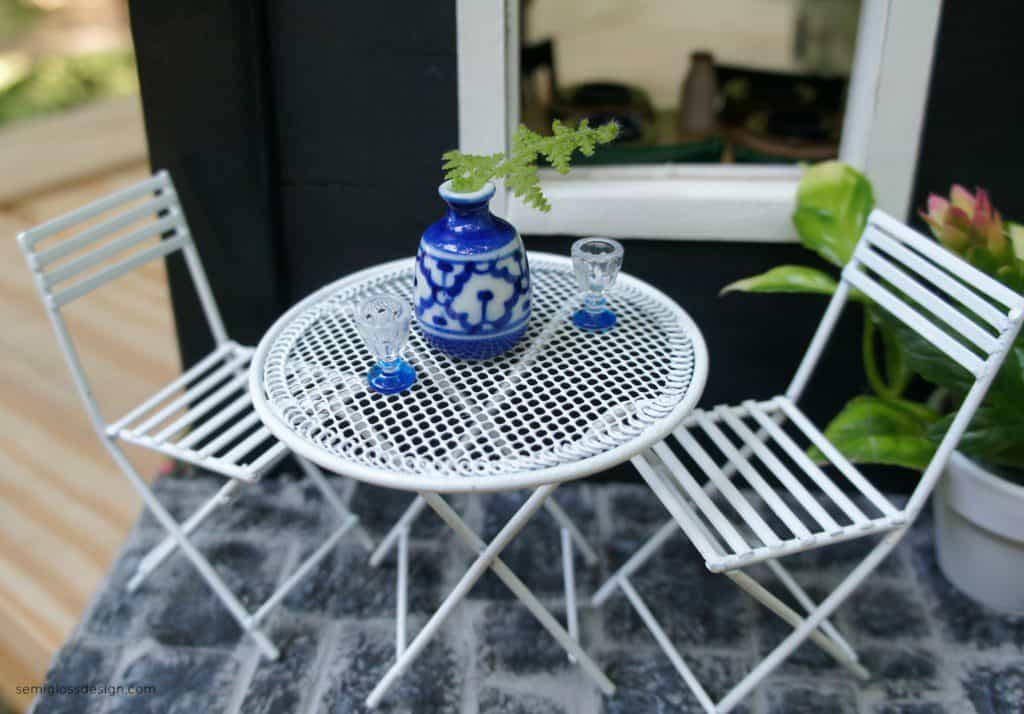 A sweet bistro table and chair set provide a nice place to sit and enjoy a cold beverage. I added a tiny piece of a fern that was growing in my backyard for the vase.
One of my favorite parts of this challenge is finding the tiniest plants possible to add to the pictures. I love mixing in real plants with fake ones.
Bistro table | Vase | Glasses (set of 4)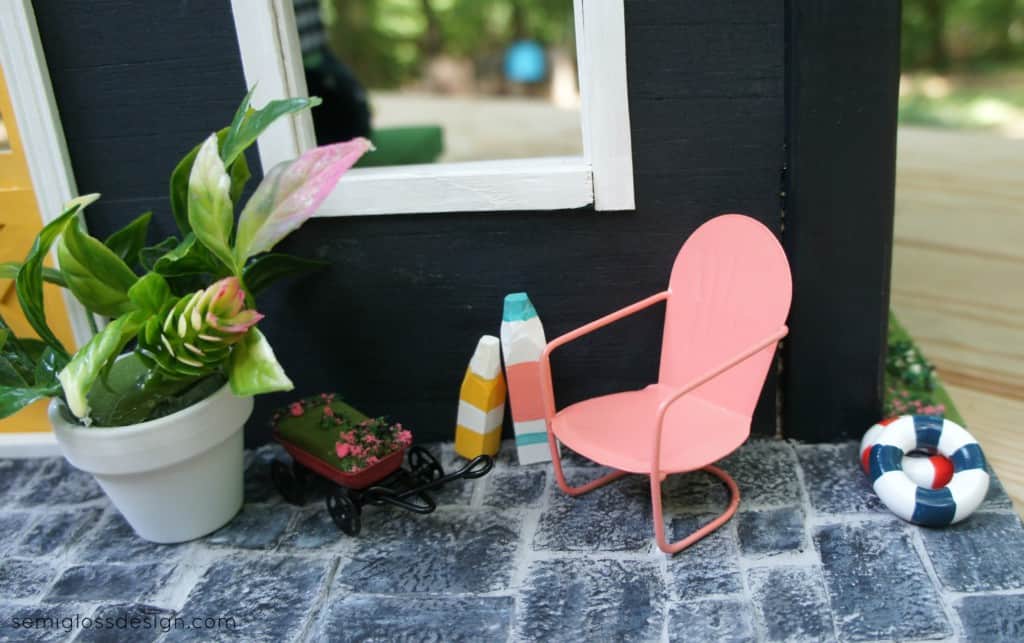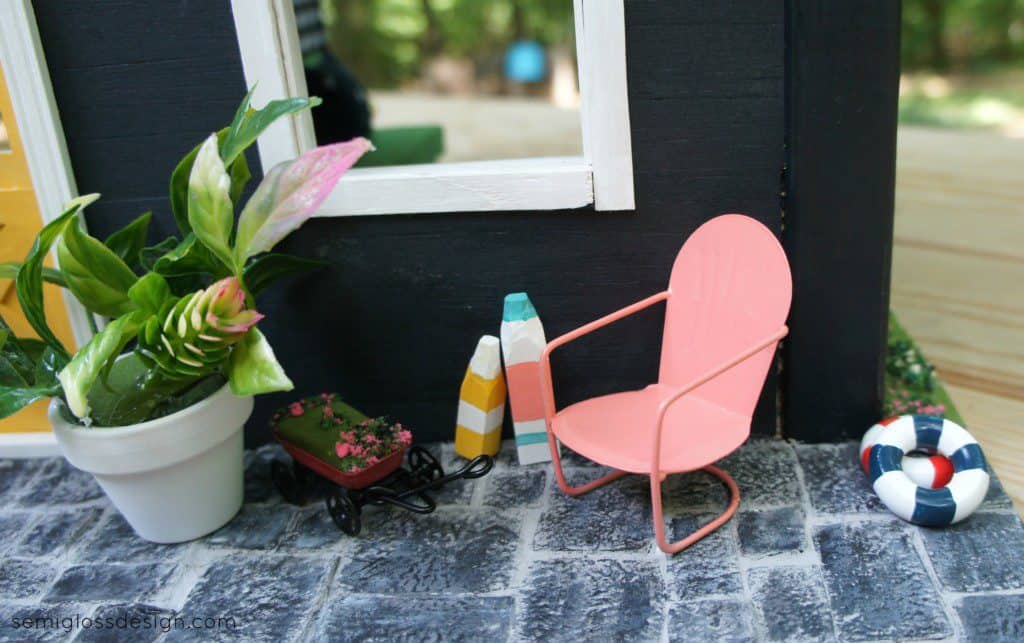 A pink metal chair sits on the other side of the patio near a wagon that is filled with plants. Buoys and life rings provide decoration and a nod to the cabin feel of the dollhouse.
I made the buoys by carving wood pieces and painting them.
Wagon | Grass | Garden growies (flowers) | Life rings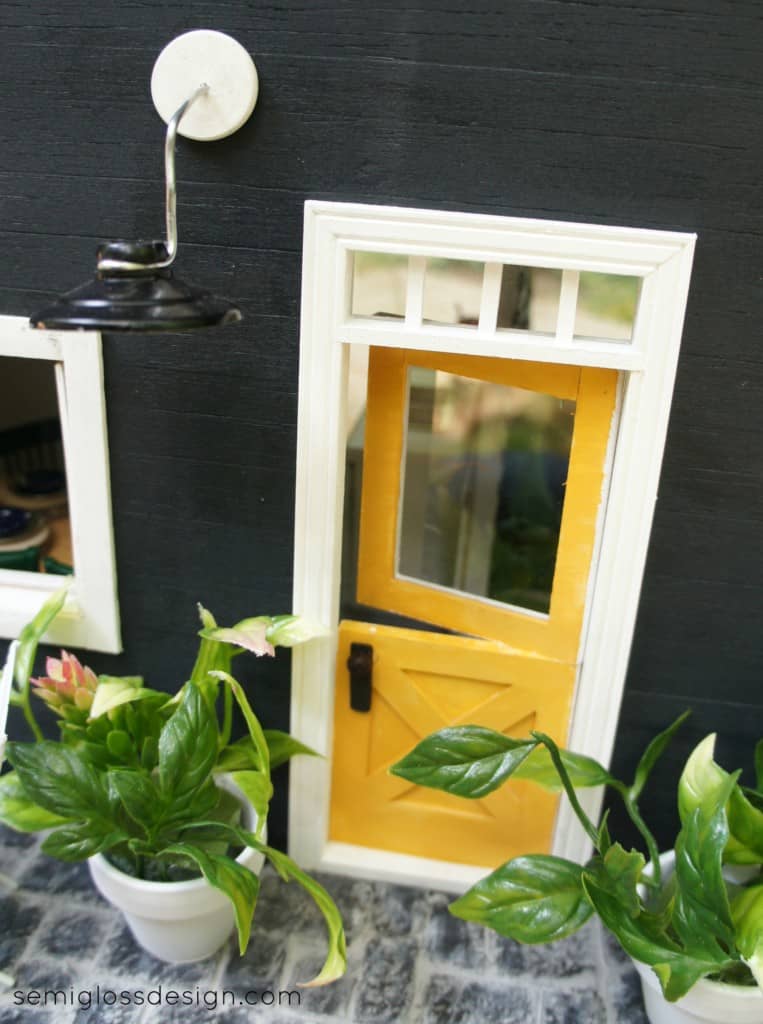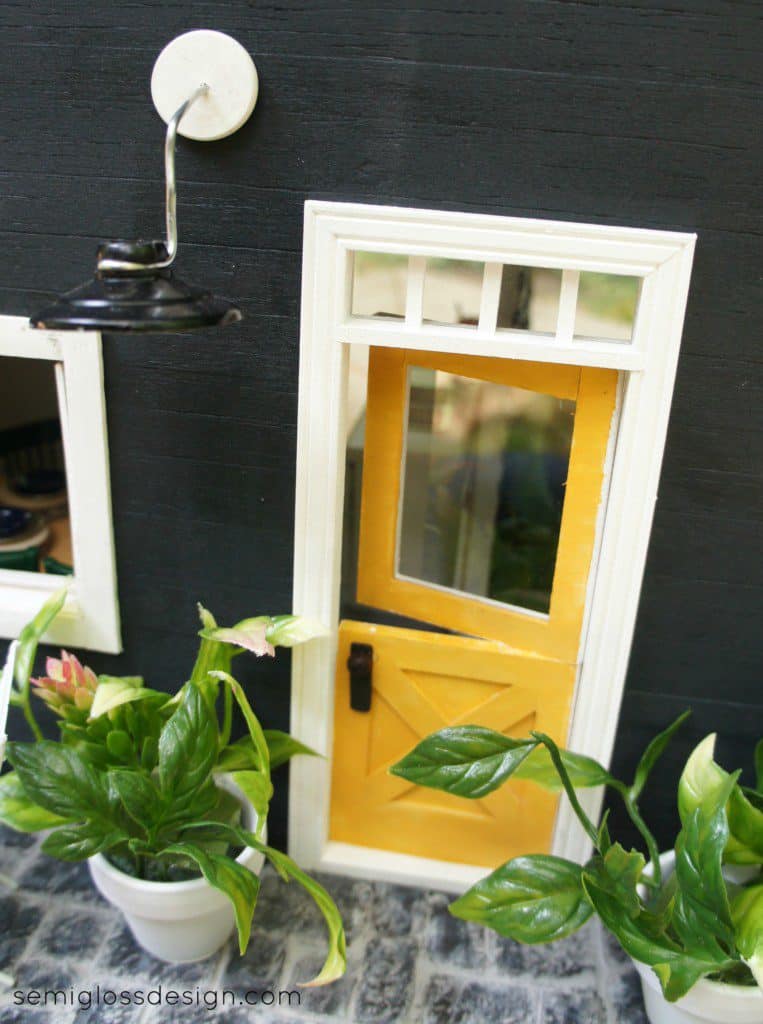 Plants flank each side of the door. I made the light fixture from a suction cup, wire, and a wooden round piece.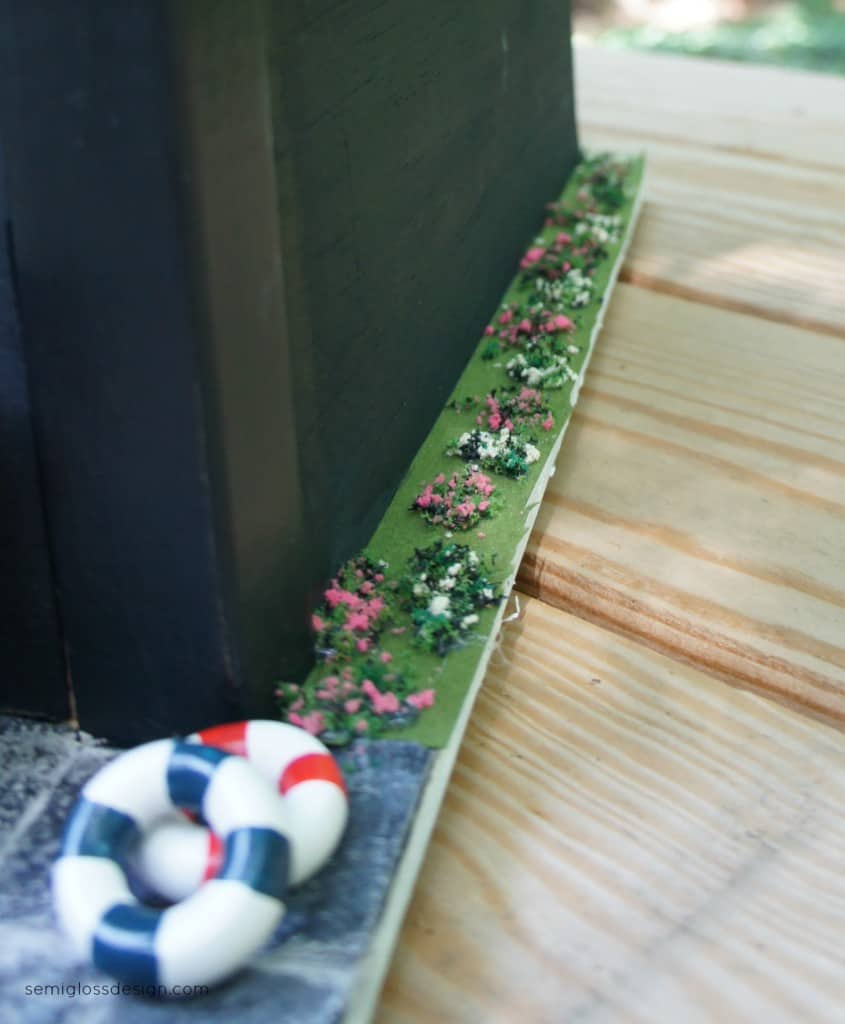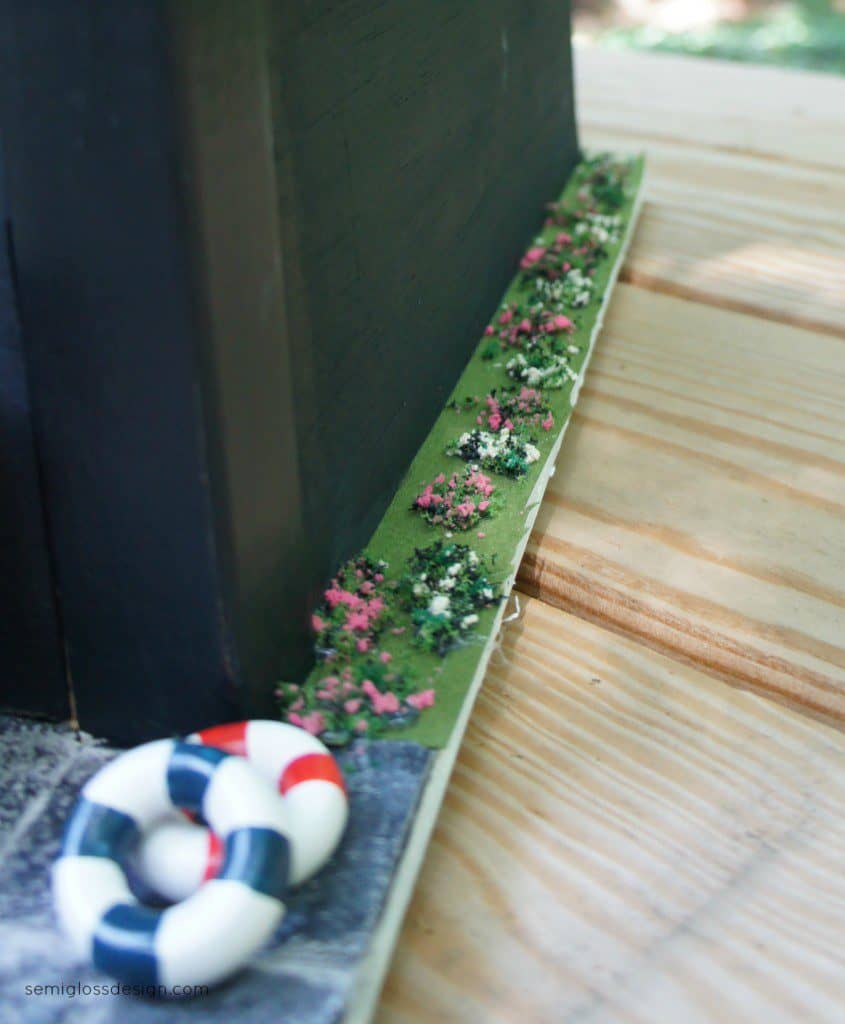 The sides of the house received some landscaping with a sheet of grass. Garden growies add color and look like flowers.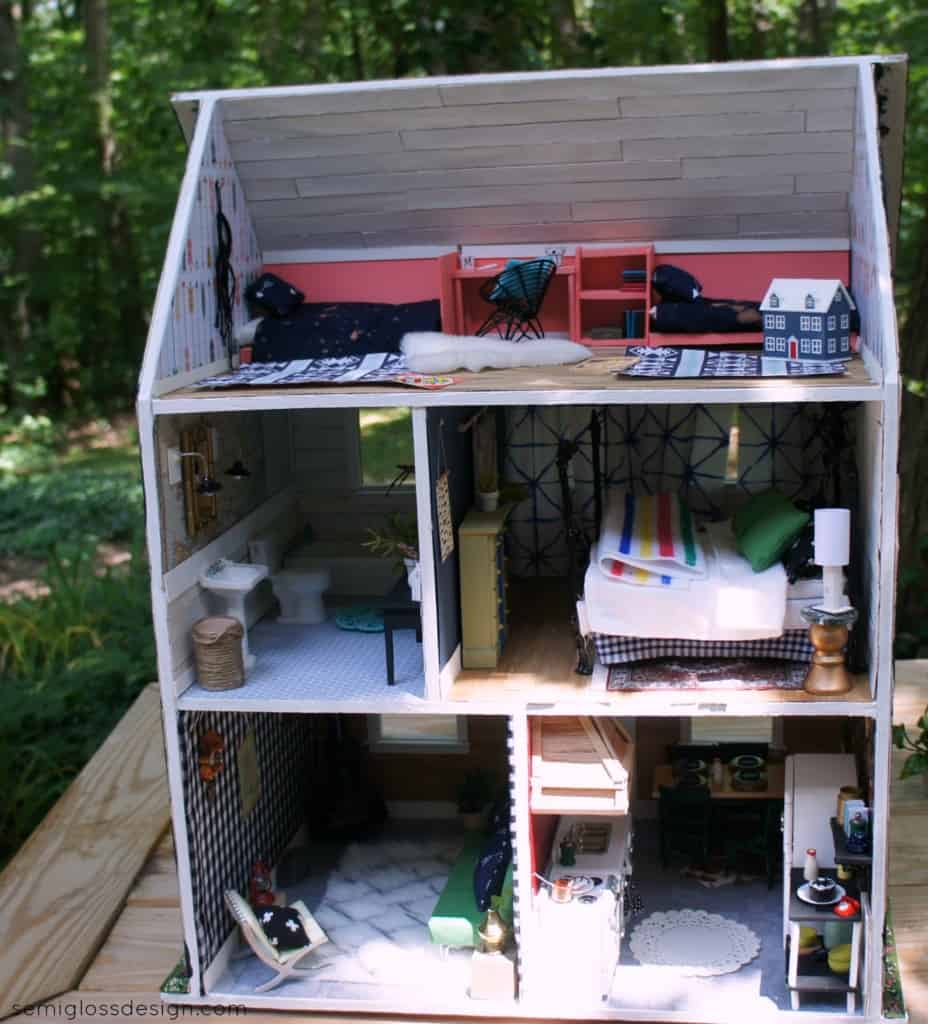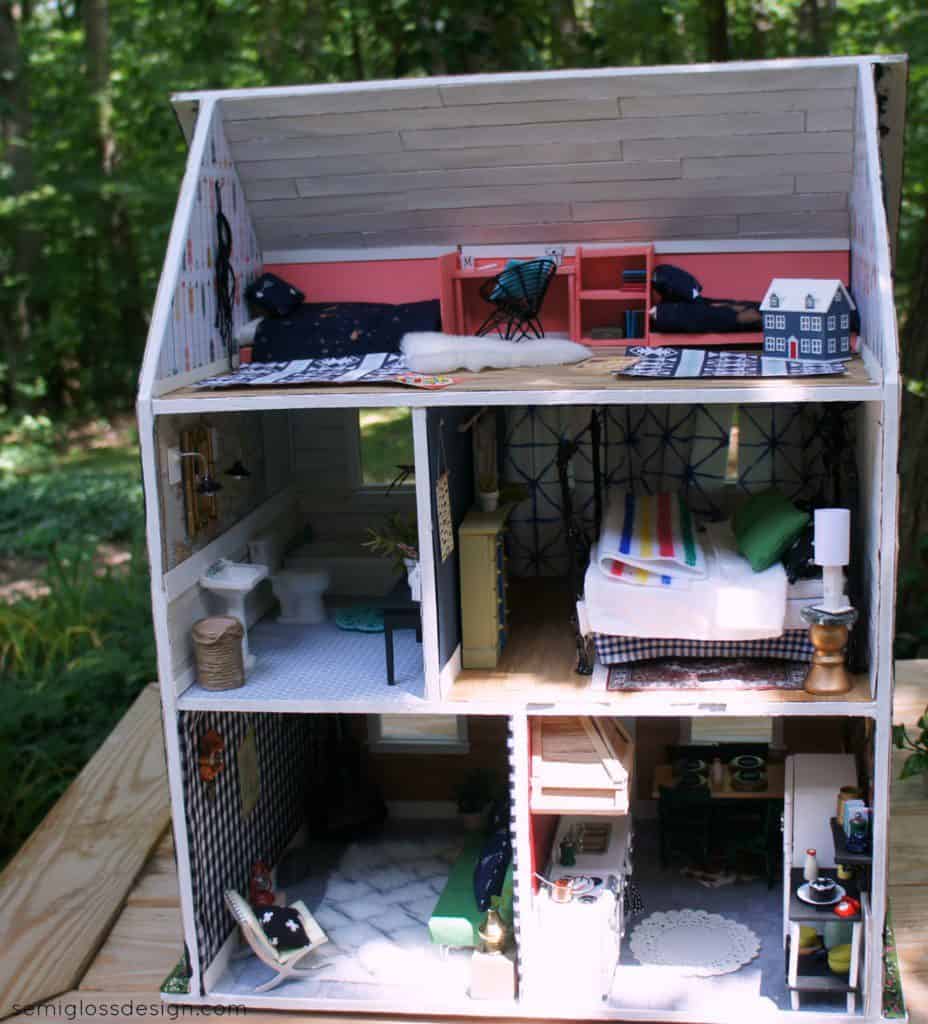 The inside is completely finished now as well. Putting the house on a turntable makes it easy to work on both sides of the house! It's going to make playing with both sides really easy for my daughter.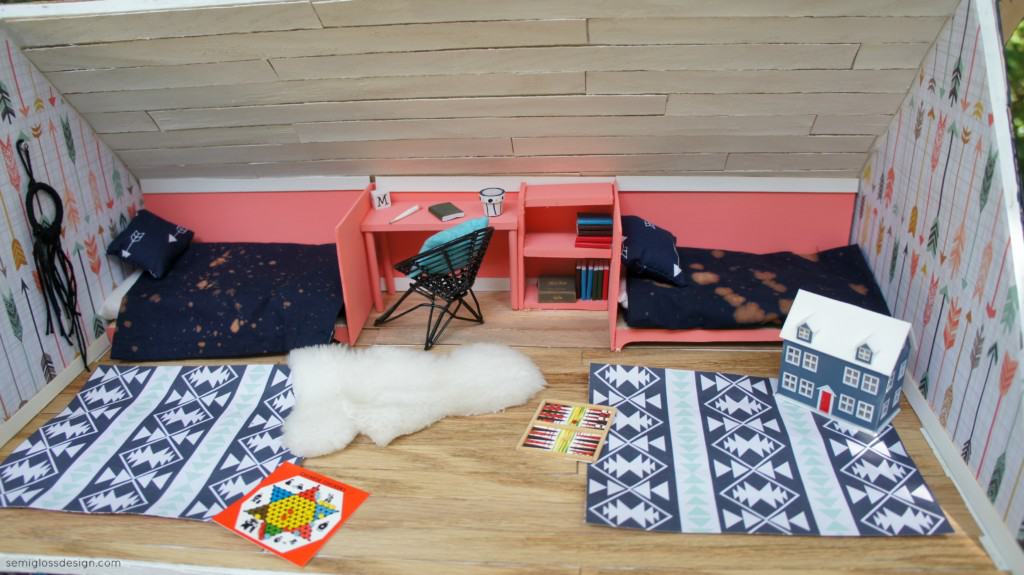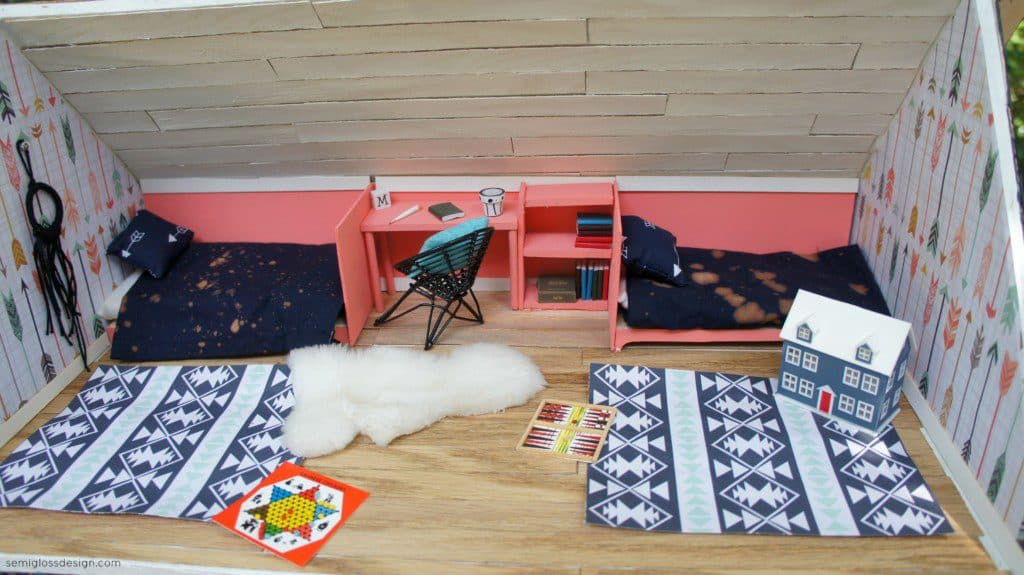 Attic Bunk Room
For the attic space, I wanted to create a bunk room for kids, so I added a false wall to create space for the built in beds. The beds, desk, and shelf are painted pink because it's my daughter's favorite color. This dollhouse will be going in her room, so I wanted to add a really special touch for her with the pink paint.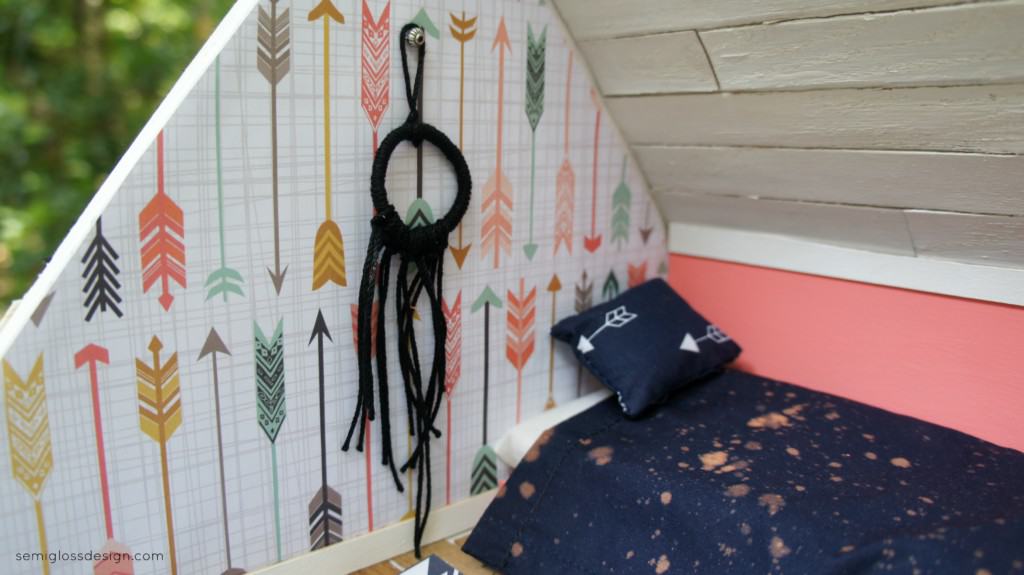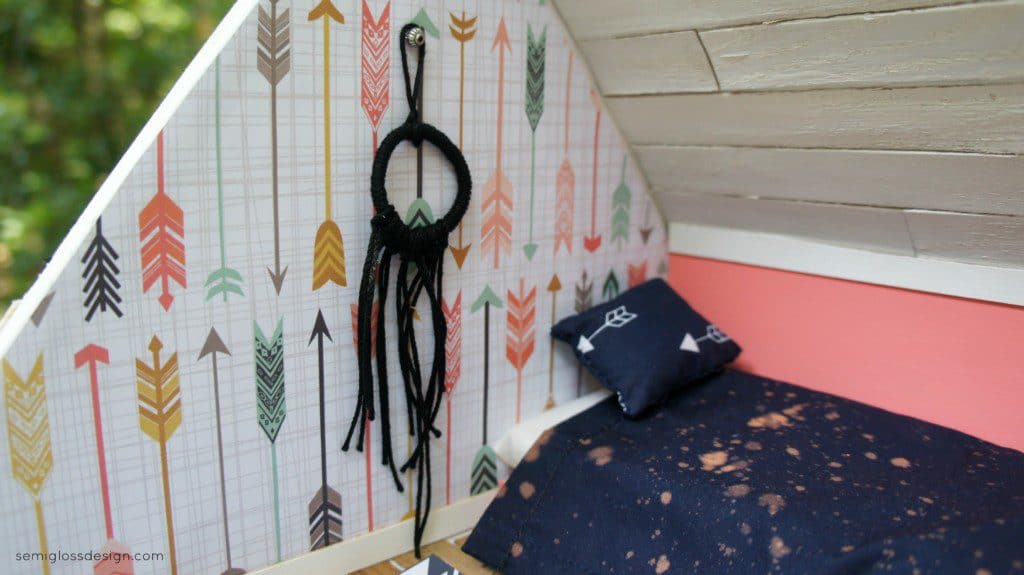 I used scrapbook paper for the wallpaper. I love how it's modern, but it still has a vintage vibe as well. I made the wall hanging with yarn and wire. The bedding was made by splattering bleach on fabric. The slanted walls are planked with more wooden pieces that I painted white.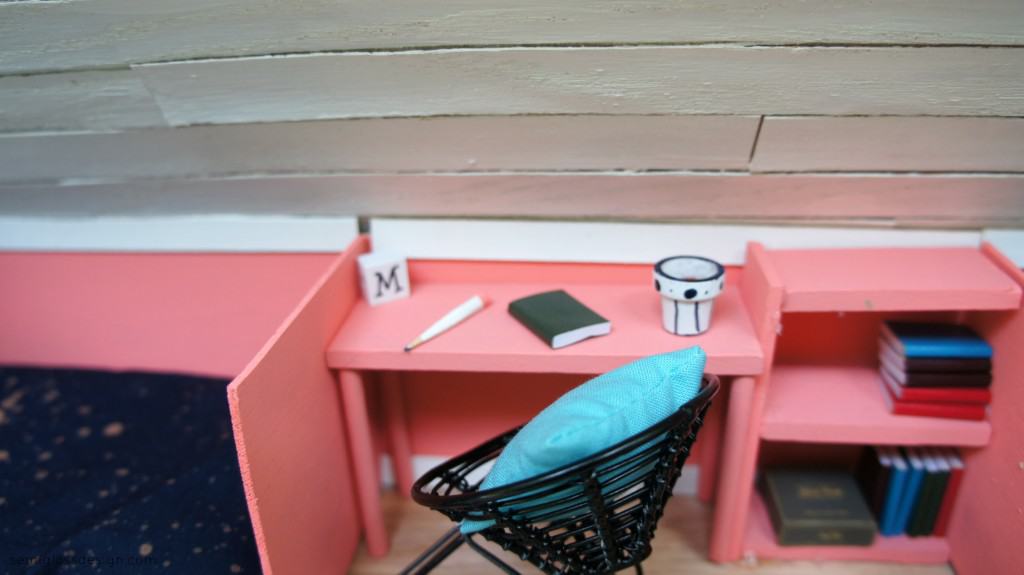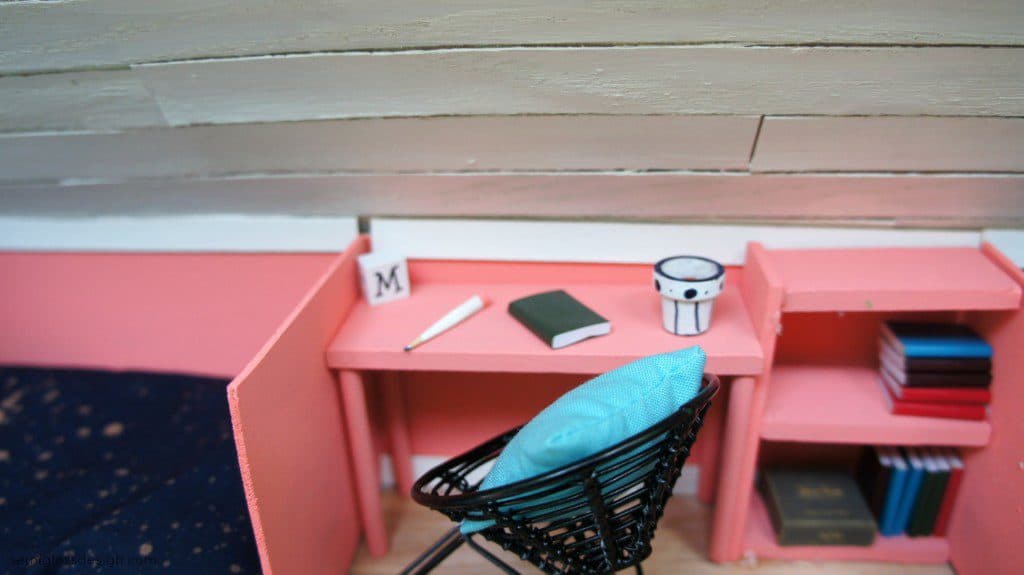 The desk area turned out so cute. Do you see that tiny pencil? It's made from a bamboo skewer that I painted. The "M" paperweight is a bead. The pot is on the desk to hold more pencils. I bought the wire chair years ago from CB2 and I updated it with spraypaint and a pillow. Those tiny books have little blank pages in them! The box on the bottom shelf is a Trivial Pursuit game.
Wood strips | Books | Board Games (set of 3) | Wallpaper mucilage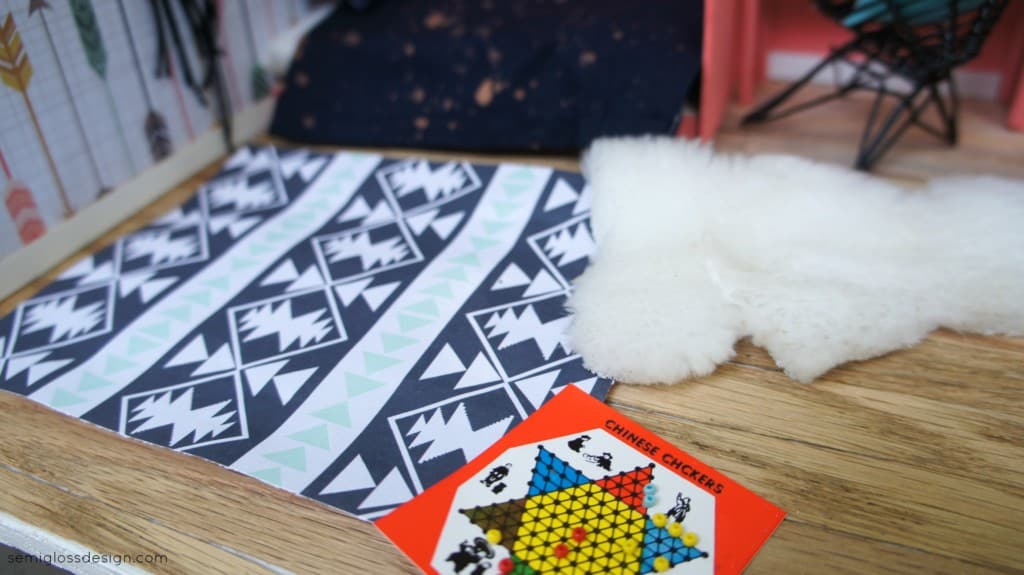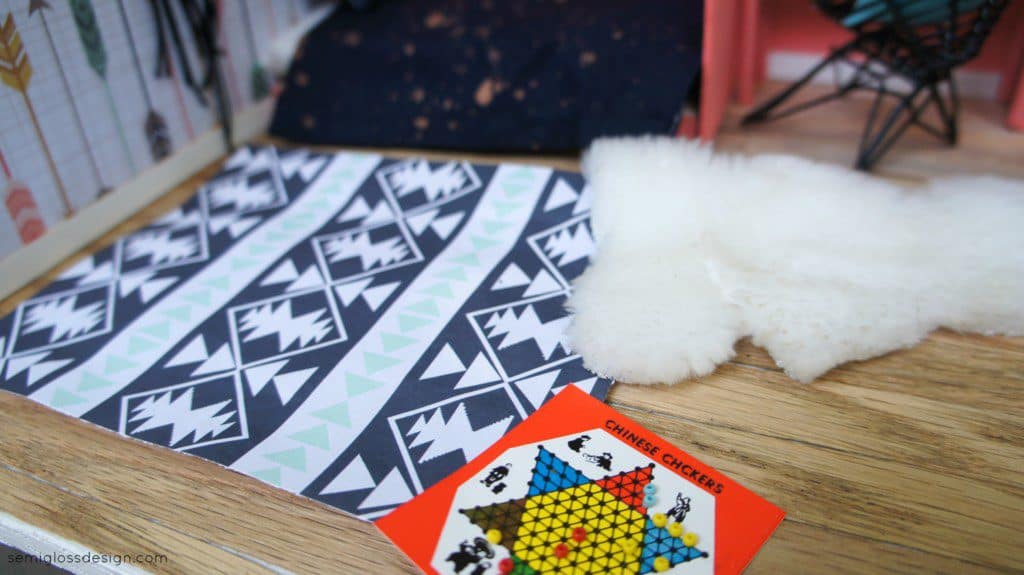 The tribal rugs are made from scrapbook paper. I loved the pattern too much, so I made the paper work. Everything is fair game in dollhouses. A paper rug in real life would be a disaster, but in a dollhouse, it works.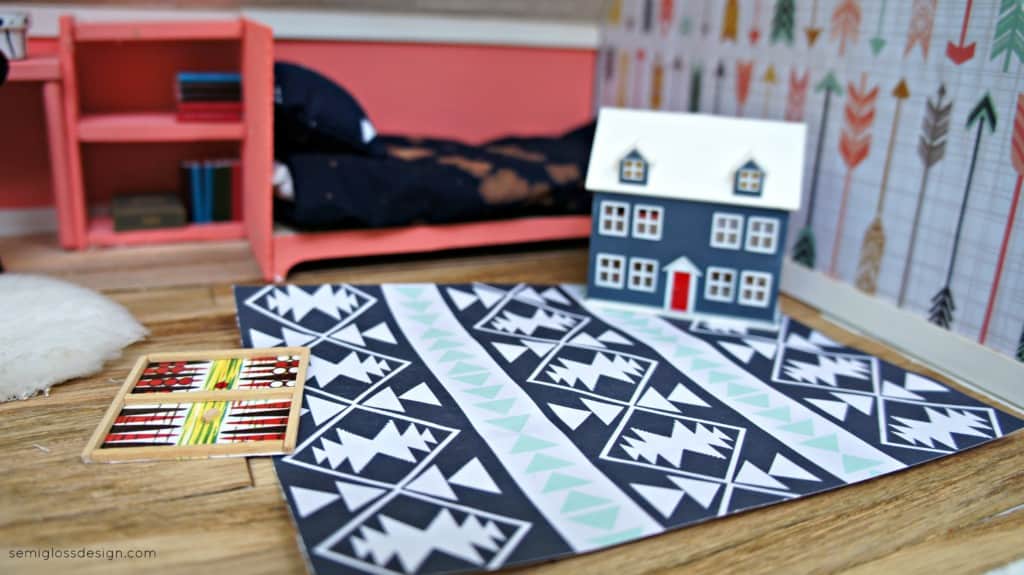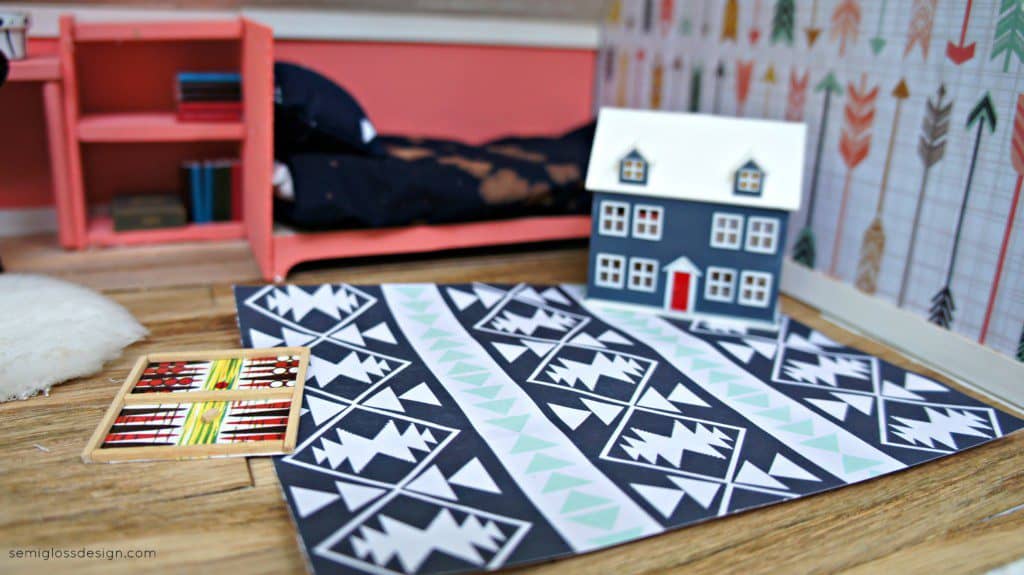 Another rug provides more playing space for the doll inhabitants. The mini games are so cute.
Be sure to check out the final reveal for Cassie at Primitive and Proper, Anu at Nalle's House, and Alice at Thoughts from Alice. They have been killing it every month!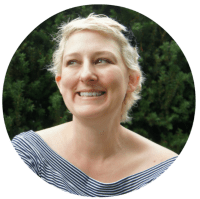 Emy is a vintage obsessed mama of 2 DIYer who loves sharing affordable solutions for common home problems. You don't need a giant budget to create a lovely home. Read more…