There's a room in my house that I've rarely talked about. It's one of the best rooms in my house. In fact, it's the first room that I entered when house hunting. I was instantly smitten. The sunroom is truly lovely with it's huge windows, vaulted ceiling and skylights.
In a house surrounded by trees, it stays pretty bright. It's my favorite place to hang out in the winter when it's snowing. I won't even pretend that it's finished, but it makes me pretty happy right now. A Target clearance rug pulls the room together and makes me feel that the room is a bit safer for wet feet coming in from the pool (though you can still hear me yell to be careful every single time someone enters the house.)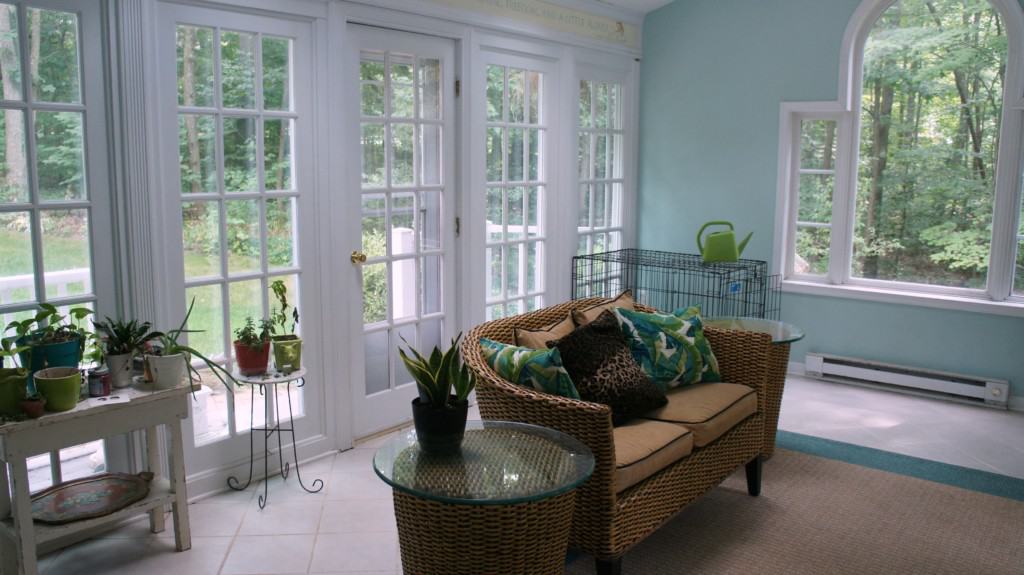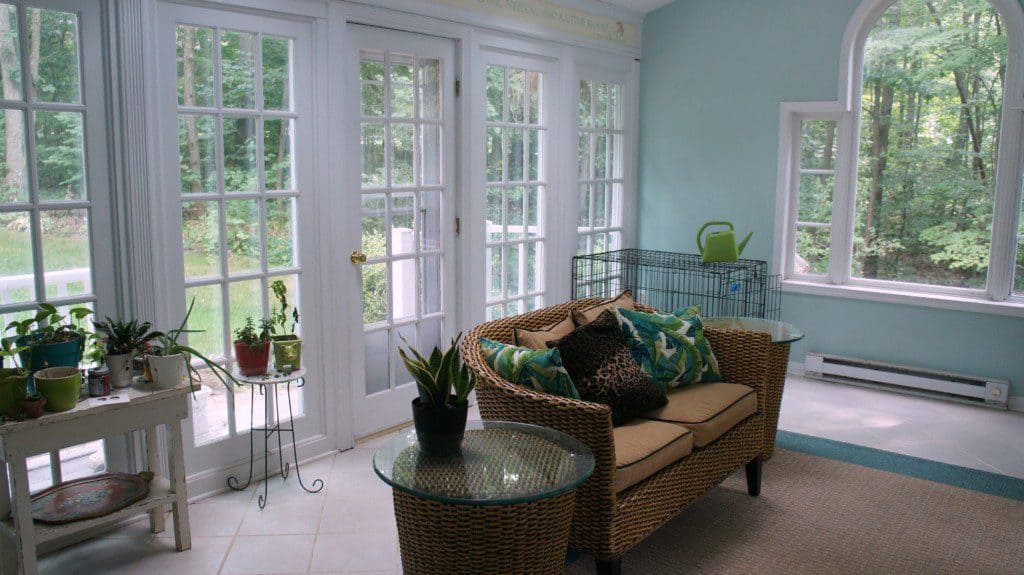 The dog spent a lot of unsupervised time in here so the walls need to be repaired and I might eventually repaint them as well. The dog crate still lives in here for now. Most of my plants spend the summer in here because there is so much light. I want to add more plants until it's a jungle.
The seating came from craigslist and is great in this room. There is also a chair that is currently in the basement because I haven't brought it back up yet. The cushions don't bother me, but I can't get over how much I love the swingasan cushion that is currently in there, just chilling (I can't leave it outside in a forest or it would be ruined.) The swingasan will probably move in here too.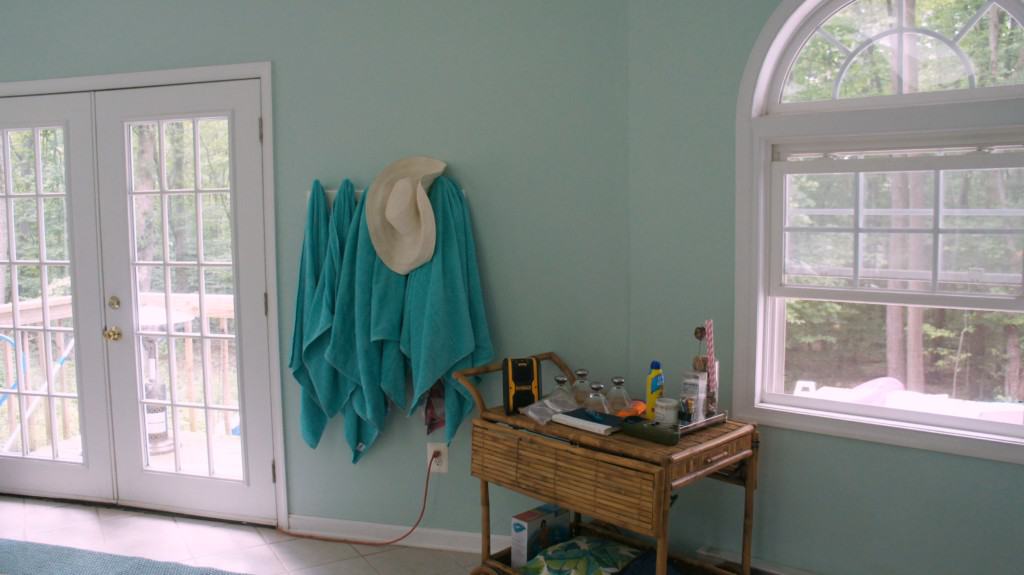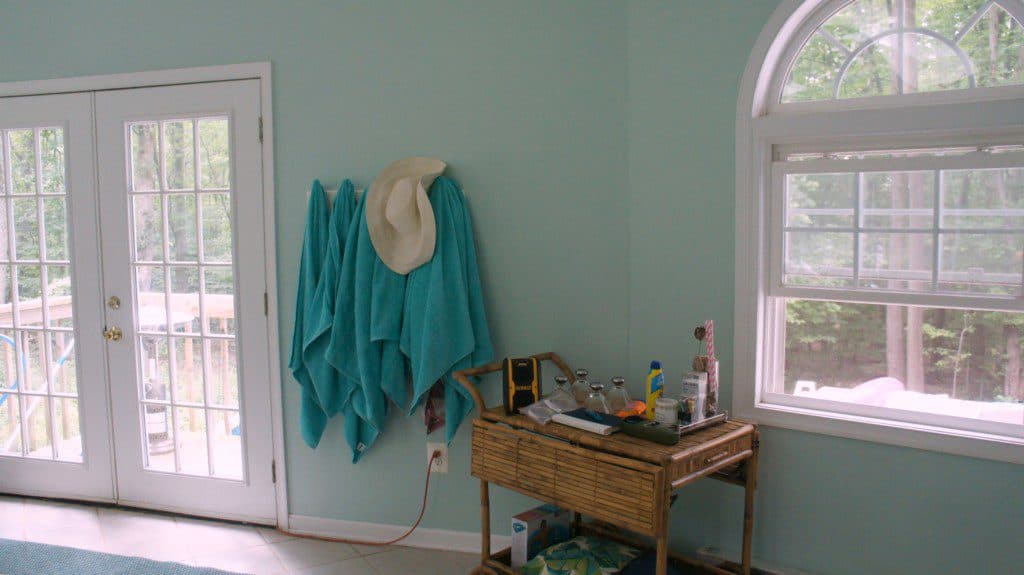 The bar cart came from my favorite flea market. It looks great in the sunroom, but it's a little inconvenient for mixing drinks so I don't keep my liquor in this room. It's great for a party or for storing pool necessities. The hooks are so necessary for hats and towels.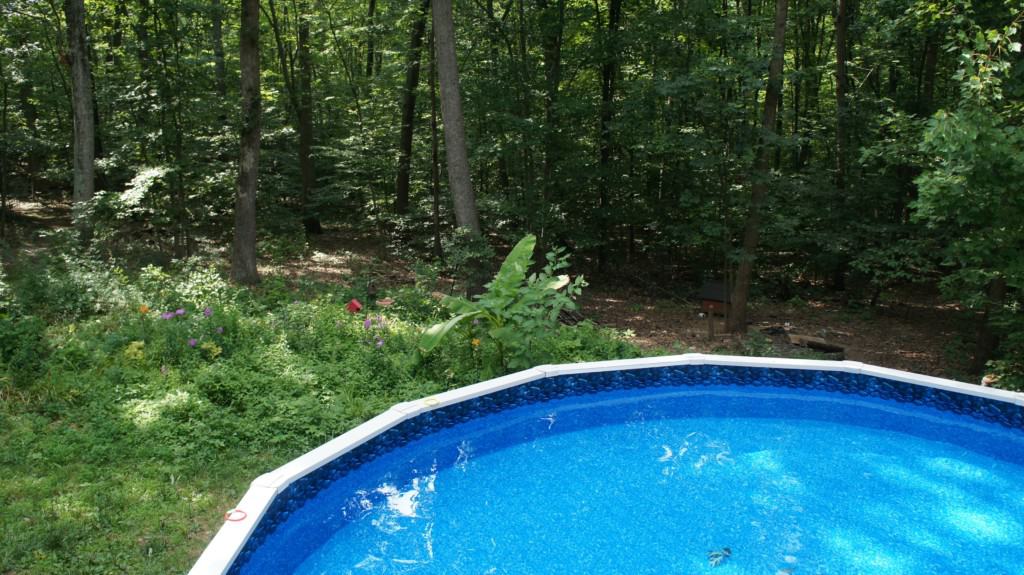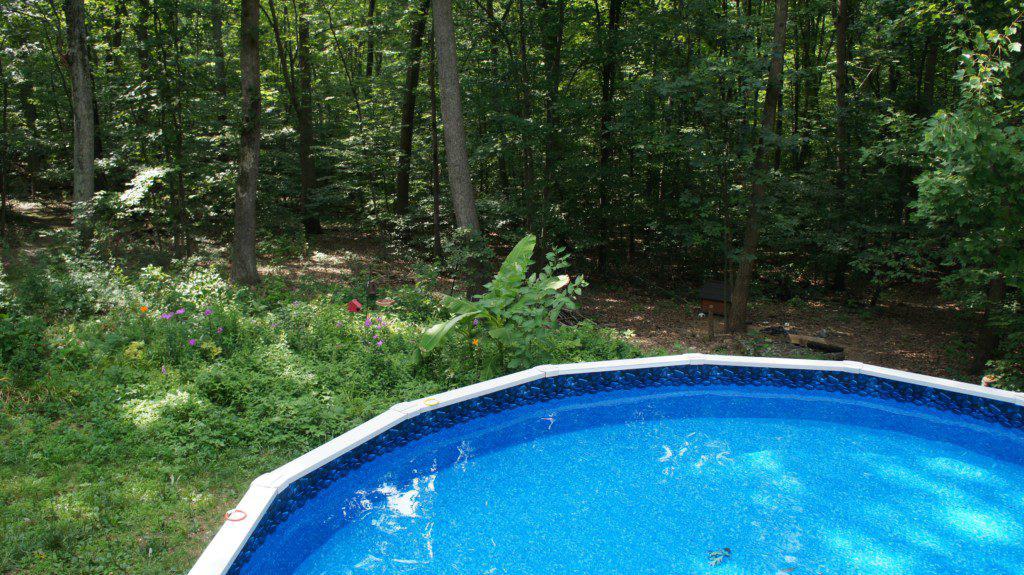 The pool is outside this room, accessed by the deck. Eventually the overgrown green area will be my garden. We have a few more trees to remove. This area was really cute over the past few years, but our neglect has finally just made it overwhelming. The pool is nice though. An in-ground pool would never work with our hills, plus I'm not sure that it would be worth the cost in a place where swimming can only occur 3-4 months of the year. We love our above ground pool. It was a craigslist buy and worth every single penny that we spent. Lately, we've been able to spend evenings in it as well and there are bats that visit it nightly. After spending so much time last year slaving over building the deck, it feels really magical to enjoy it.
The unseen wall of the sunroom is home to a semi-plumbed sink with the world's longest garden hose attached to it. It was really useful for watering plants, but when we replaced the sprayer, it was too powerful for the plants. Eventually, I want to rip it all out in a rage and replace it with a wet bar.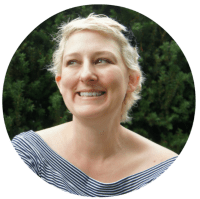 Emy is a vintage obsessed mama of 2 DIYer who loves sharing affordable solutions for common home problems. You don't need a giant budget to create a lovely home. Read more…