Confession time: I have serious project ADD. The kitchen isn't finished and I'm already dreaming of other projects. I may have done a mini bathroom project as well.
 Another confession: I'm addicted to buying furniture. My kids tease me about this all the time. "Another chair? Really Mom, we're just going to have rooms full of chairs." I bought 3 chairs in the past few weeks. (It would have been 7 but I lost an online auction.) All of them were inexpensive and need love. That's why I love them. They're like orphan chairs that need a bath and some new clothes. Today, I'd like to introduce you to my orphan chairs and my plans for re-upholstery.
French chair
This is the 1st chair that I bought and the last that will be reupholstered. All of those nail heads look intimidating and scary! This lovely French chair will be covered in ticking. I'm thinking of doing either a ruched cushion or a French mattress cushion. I love traditional pieces mixed with mid century.
This lovely lady chair will go in my bedroom, probably to be covered in clothes. And maybe occasionally to be used for reading or watching netflix.
Hotel Pair of Chairs
This pair may not be the prettiest now, but they have potential. They're like the nerdy girl in glasses on a teen rom-com. Remove the glasses (dated upholstery), put her in a sexy dress (pretty fabric) and they're the prettiest girl(s) in the school (room.) My son and his friend were joking that these chairs were stolen from a hotel room and I kind of agree. Well, I think they were sold from a hotel or lobby somewhere. These chairs will go in my family room, flanking the fireplace. I love the scale and shape of them, but the current upholstery is faded and could be a lot cuter. Bye bye 90's fabric.
For upholstery, I'm still undecided. I'm thinking about black and white, but nothing with too much white. I love this chair from Anthropologie, so perhaps a similar idea. How amazing would mudcloth be on the backs and sides of the chairs?
That 70's chair
And this baby right here will be the first to be reupholstered, mainly out of need. It will go in my living room to replace a white Ektorp chair. I'm considering vinyl that looks like buttery leather, but I'm afraid that it will be hard to work with. I've sewn with oilcloth and ultrasuede before, even leather, so I know what I'm up against. The vinyl is so soft and it seems like it would withstand our crazy life and crazier puppy.
The piping will go away, leaving a much cleaner look. I love the velvet, but it looks like a dog hair magnet. This chair is stapled together in the back, which means that it can only get better from here.
I might be crazy for deciding to reupholster 4 chairs. Send wine.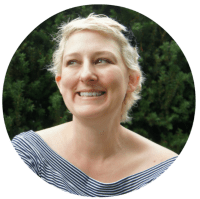 Emy is a vintage obsessed mama of 2 DIYer who loves sharing affordable solutions for common home problems. You don't need a giant budget to create a lovely home. Read more…