Last weekend, my husband had a leadership dinner with his company at an amazing location, Antrim 1844 Country House Hotel. I knew that I wanted to blog about it because it's beautiful, but I wanted it to be more than, "Hey, look at this cool place that I went." As I was wandering around, I noticed that I was inspired for simple changes that I could add to my own house, so I want to share some ideas from a mansion to use in your own home.
I've been to my share of hotels around the world, and Antrim 1844 Country House Hotel was probably the most romantic place that we've ever been. Unfortunately, we were there to hang out with my husband's co-workers. We want to go back to spend time together soon. Luckily we have a big anniversary coming up in February and Antrim 1844 isn't too far from us. It's located in Taneytown, MD, which is about 1 hour from Baltimore and a little over an hour from Washington, DC.
It's funny, because every time I think I'm over living in Maryland, I discover some new reason to fall back in love with this state. Antrim 1844 was my newest find that made me love Maryland again. It consists of a mansion, plus 10 other houses on the property. Every room is more beautiful than the next, lavishly appointed in period decor that is somehow modern and comfortable. The gardens are so beautiful and every spot invites you to stay for a while.
Antrim 1844 thinks of everything to provide a memorable stay, from the chocolate mints with the turn down service, to the rose scented bath soap and salts. Each room has a comfy king sized bed and jacuzzi tub. There's also gas fireplaces that come on with a push of a button. We stayed in the Abraham Lincoln room in the Sloanaker House, which was such a beautiful room. The red wallpaper was so much softer than I was expecting. Wallpaper seems to have that effect, it seems. I especially loved the swan chaise by the fireplace. I was afraid that since it was an old house, we would hear everyone else staying in the house with us, but if it anything, it was a little too quiet.
The food was amazing and the wine kept coming. (I'm not sure if it's included or if my husband's company was paying for that part.) The waitress was so helpful and helped to accommodate the 3 vegetarians at the table without making us feel like weirdos. We ate meals in various rooms in the mansion, each one beautifully decorated. A wedding party was also there and it somehow always felt private despite all of the other guests.
Exterior Ideas from a Mansion
Frame your doorknocker with a wreath.
Simple boxwood wreaths are so welcoming.
Try a vertical planter.
Vertical planters take up less space and give more impact! They also help to make your front door the focal point on the house.
Hide stuff with flowers
Flower boxes are helpful to disguise ugly elements. These were disguising air conditioners. Your eyes are drawn to the pretty flowers instead of wondering what is behind the fence.
Take a chance with your exterior paint color!
Pink is a great color for a house. I was so delighted to stay in this house, just because it's pink. The trick with pink is to go for more of a peachy pink than bubblegum pink.
Add decorative elements to utilitarian spaces.
This used to be the ice house, but it is now a room to stay in. But how cute would it be to treat a shed in the same manner? Add a patio and make it pretty! The lights matched the rest of the house. I loved the giant mail box which is most likely where the breakfast tray is left.
Add seating areas everywhere!
There were so many lovely seating areas around the property that looked so inviting. I kept wishing that I had a picnic blanket (and more time!) to hang out in all of the pretty spots. All of the chairs said "Antrim 1844" on them, which I thought was a lovely touch.
Don't underestimate a hidden garden.
Hide a park bench behind some bushes and plant some flowers. This needs to happen at my house ASAP! It was so dreamy. A spot to sit on the side of the house would feel private as well!
Add a sheltered spot from the sun or rain.
Gazebos are so charming. I was amazed that this one had electricity run out it to power a fan. Once, again, this was an area where I could have spent hours. I can build a gazebo, right?
Symmetry is wonderful.
I loved the straight lines going to everything. It really leads your eye to the focal point: the pond and the house. This is the Smith House.
Gravel makes a great surface!
We often overthink patios thinking of decking or pavers which can be expensive, but there's so much beauty in simple gravel! I know it's silly, but I am in love with it.
Gardens can be laid in interesting shapes.
This is how I want my vegetable garden to be laid out, with a central point in the middle. Next year is THE year! The beds are just big enough, but not so large that you can't reach everything.
Hedges make a great fence for a pool.
It felt so private and like another secret garden. Each end had a gate. Once again the straight pathway leading to the pool was so beautiful. (I don't know that hedges constitute a fence in every city, so check with local authorities before getting in trouble.)
Color in the garden can still feel peaceful.
I often err on the side of simplicity in the garden because I like the greenery to be the focal point, but the color from the zinnias made me so happy. It made me want to add more color to our gardens.
Add a water feature.
There were 2 of these fountains and they're lit up at night. So beautiful. Obviously, most of us don't live in a mansion, so giant fountains would be ridiculous at a normal sized house. But a small one would be nice. I have 2 ponds in my yard and the trickling water sound is so relaxing. I want to add more water features.
Interior Ideas from a Mansion
Have weird nooks?
Why not add doors and make them liquor cabinets?
Paint a small room in a dark color.
In a house full of giant rooms, the smallest room was my favorite. It was dark, cozy and sexy. I wanted to hang out by the fire and sip on cognac. And check out that plaid wallpaper! I love it. The leather chesterfield sofas were so beautiful.
Ceiling medallions should be roughly the same size of your chandelier.
It makes them that much more impressive! These were original to the house.
More is more!
Don't shy away from patterns. This house mixed them with wild abandon, varying the scale for each piece. Nothing matches perfectly, but they all go together nicely. This room was enormous, but the patterns made it feel cozier.
Need more than 1 rug in a space?
In this room, there are 4 different rugs, but they all go together because they're all in varying shades of red. I struggle with this in my own house and this was such an eye opening lesson to me!
Hallways deserve to be special too!
This area was basically a hallway although unless you live in a mansion, you probably don't have a scray ladder that leads you to the widow's walk. The walls are covered in a blue paisley wallpaper that really made this area feel special.
Windows are even better when there's a beautiful vista!
So not everyone has multiple houses on their property, but if you wouldn't a bird bath or pretty planter make standing at the sink to wash dishes more enjoyable? (My husband braved the scary ladder to take pictures for me.)
Small details are important!
This was probably a closet, but the door knob was so gorgeous. Do you have any doors that could use a special knob?
Add labels to doors.
I loved the door labels. This is a hotel, so of course the doors needed to be labelled, but I think it would be fun in a home as well. I always see old name signs at vintage shops and it would be so much fun to attach them to doors.
Blue walls + gold frames = love forever.
I will never tire of this combination.
More nooks?
Fill them with giant vases with a down light. A lot of houses from the 1990's are built with nooks for old style tv's. Flat screens make those spaces redundant. Imagine them filled with a big vase or large sculpture instead! Now they have purpose again!
Blue walls forever!
The blue walls with the white trim and the dark railing was very beautiful. You know I love some blue walls.
Unstained floors are classic.
I couldn't get over the floors. I want to sand mine down and just put a clear coat on them.
Go big or go home!
The use of wallpaper in Antrim 1844 was inspiring. Despite the patterns, the rooms still felt quiet. I especially love the painting of my buddy, Willy.
Hang a shadowbox with a special piece of clothing.
Have a lovely vintage piece that is too precious to wear? What about those baby clothes that you can't bear to get rid of? Display it!
Art can have a sense of humor.
This portrait cracked me up. It reminds me of a grumpy old man dressed like a baby.
Add something unexpected.
Every single guy who used this restroom came out laughing about the deer "watching them." I love that! (Note that wallpaper. Antrim 1844 loves wallpaper!)
Which one of these ideas from a mansion do you want to use in your own home?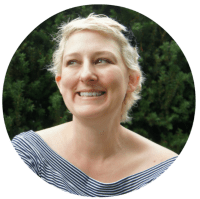 Emy is a vintage obsessed mama of 2 DIYer who loves sharing affordable solutions for common home problems. You don't need a giant budget to create a lovely home. Read more…