I have a love/hate relationship with the hardware store. I love it because it contains all of the necessary supplies to make my DIY dreams come true. I love the energy of the people in the store. I find it inspiring to be surrounded by kindred spirits. I love the smell of lumber. I love the wall of paint chips. I love the shiny tile displays. I love that they play the same crappy music every time I'm there. But I still find navigating the lumber aisles by myself to be a bit intimidating. I often visit the hardware store on a Friday so that we can spend the weekend working instead of shopping. I am usually by myself, but during the summer, my kids are with me for these trips. Today for my I Love DIY series, I'm going to share how I make each trip a success without crying, even once!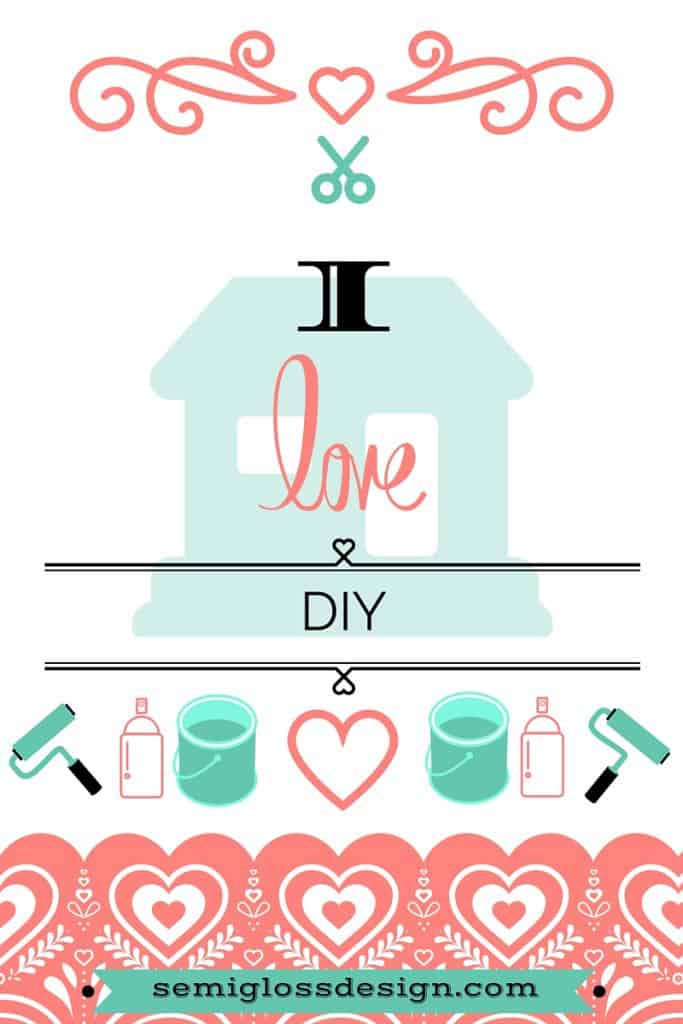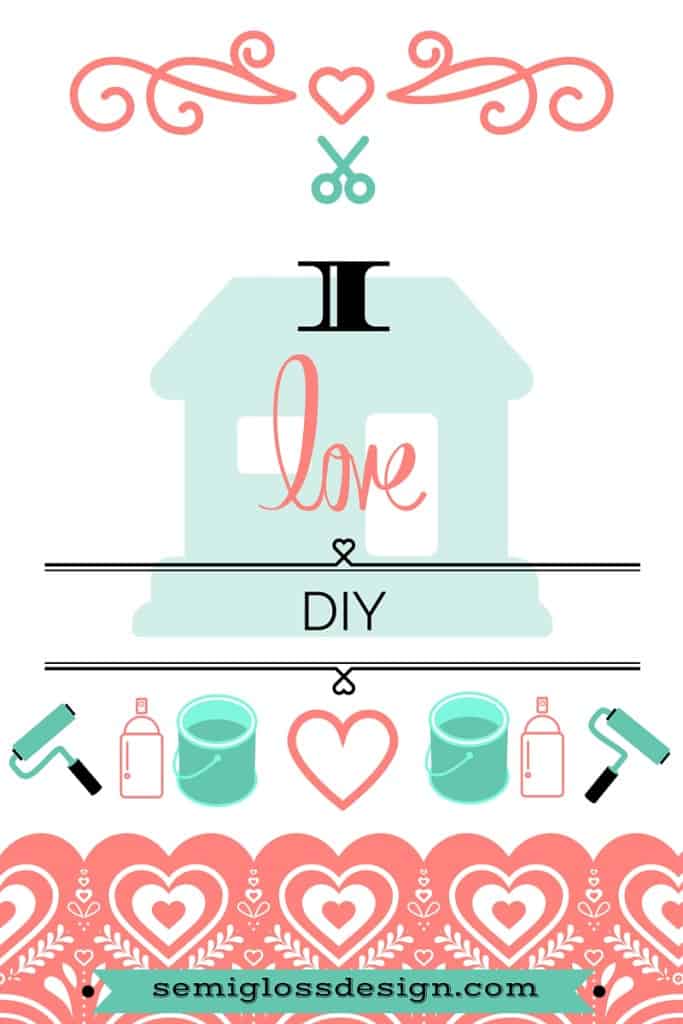 I would like to start out by saying that I have no preference for either of the big box stores. The blue one happens to be the closest to my house. My old house was closer to the orange store. We use them both if we are closer to one than the other. I also know that the orange store has a better tile selection, while our blue store has much better lumber. Your stores may vary. 
Tips for surviving the hardware store
Full bellies = happiness. Either eat before you go or plan on buying a snack in the store. This goes for both you and your children. Being hangry is REAL! You will be in a better mood and make better decisions if you're not starving. Bring snacks from home if you want, but I find that good old fashioned junk food is the best motivation, especially when it's of the orange cheese powdery kind. When my kids were younger, I would give them a snack so I didn't have to listen to them crying. They don't love the hardware store. But, a mouth full of food can't complain! Don't think of it as a bribe. Think of it as an incentive. Now, I will sometimes offer fro-yo at the end of the trip if they behave. Then they have to get through the whole trip without complaining. And I get ice cream, too. Win-win. Besides, frozen yogurt is practically health food!
Park near the contractor entrance, not the main entrance. It will be much easier to get your lumber to your car. Also, do NOT back in or pull all the way through to the next space. You need to be able to get to the back of your car. Ask me how I know this. 
Bring your biggest car. We have a truck with a short bed and a minivan. The minivan is almost always the better choice because it fits longer cuts of wood. I have fit an insane amount of stuff in the back.
Be prepared. Have your wood list with all the measurements. A calculator is also handy in case you have to figure out how many pieces of wood you need on the fly. Sometimes the lengths available are different than what you had figured out. A measuring tape and a multi-tool are also helpful to keep in your purse. I use mine all the time. Who cares that all of my friends laugh at me when I pull them out? Sometimes, the wood is in bound stacks and I have to use my multi-tool to cut them apart so that I can get what I need. Gloves are also useful. Both of are cars are stocked with gloves, measuring tapes, and ratchet straps for typing stuff down. A tarp or blanket would also be helpful if you're worried about messing your car up.
Timing tip: Go when it's not busy. Lunch time is usually quiet, as are evenings. My reason: the aisles are long and wide. There is plenty of room to play and run (within reason). Also, it's easier to think in the quiet.
Shopping tip: Find your small stuff first. Then you won't have to push your lumber cart through the smaller aisles to find the smaller items. I put my tiny cart on the bigger cart if I'm alone.
If you're buying paint, do this first, so that you can shop and come back when it's already mixed.
Do NOT use the giant cart with the racecar on the front of it. It's a pain to maneuver through the store. My hardware store provides smaller baskets that have handles that you pull around. My kids fight over who gets to pull it. Let them all grab one, if they want. It's like pulling a tiny stroller for them, a tiny stroller filled with baby paint cans. Pikachu (or whatever stuffie has joined us) also gets a ride.
Let the kids pick out paint color cards. For some reason, my kids love this. They're free and make great craft paper once they get home. They also make good bookmarks.
The cabinet knob and door handle aisle makes for a fun distraction for the kids while they open and close them all. Even my son who is older loves it.
The warmer months are a nice time to visit, because they have a section of seating. Try out each piece as if you're contemplating buying them. It's a great place to think. Also, my kids like this. Something about bouncing from seat to seat makes their day. (Can you tell that they've spent a lot of time at IKEA?)
I let them bring books and/or electronics as well. They grab seats on the lower racks of lumber or on my cart while I'm thinking. (I do A LOT of thinking at the hardware store. I wish they had coffee bars like the ones in Italy had.)
Now it's time for the fun part. Go grab a lumber cart (shown above) You want the kind with slats, not the flat kind (unless you are only buying sheets of lumber.) These carts make great jungle gyms when empty. My kids love them. Yes, I'm that lady…
The  hardware store has the lumber arranged into different sections: trim, 1x's, 2x's, pressure treated (for outdoors) and sheets.
Trim is nice for wall molding or creating detail on your work. It's also good for filling gaps. 
1x's are nicer wood. They have straight edges that can be butted up against each other without creating a bevel.
2x's are thicker and rounded on all 4 edges. I didn't get a picture of these, but everyone knows what a 2×4 looks like.
Pressure treated is for outside. It looks gray or in some cases greenish. Unless you are working on a project for outdoors, do NOT buy this. It takes 6 months to a year to fully cure so that you can paint or stain it. Paint will bead up on it and not stick. Don't do that to yourself.
Sheet lumber comes in 4×8 sheets. There are many thicknesses and quality levels. They include everything from plywood to beadboard panels. The beadboard panels are on a different aisle. There is also a section with smaller sheets of plywood, which is nice because then you don't have to get them cut to size. 
Picking nice wood. Pick it up and hold it like a gun. You might feel stupid doing this, but it LOOKS like you know what you're doing! Yeah! You are looking for any part that curves as you look down it. Think about how you will be placing the wood for your design. Some curves are okay, because you can just nail it in place. Others are bad. flaws, such as gouges and ugly knots also make it a bad piece. Some things can be fixed. Knots can be filled, rough wood can be sanded. Many flaws can't be fixed. Choose the best pieces only. Be picky.

Almost all of this wood is too warped.

Try to place all lumber on the cart so that the stickers face one end. Make sure they have stickers. This will make the cashiers not hate you. I always fail at this.
If you need help, don't be afraid to ask, especially when getting sheets cut. Some pieces are light enough to handle by yourself, but most you will need help with.
Every store will cut wood for you. My store limits it to 12″ width, but I've heard of other stores that will do 6″. 
When it's time to pay, go to the cashier near the lumber section. Yes, it says "contractor", but it's only a suggestion. It's hard to maneuver the cart through the rest of the store. Everyone else in the store will appreciate not getting hit by your cart of wood that you can probably barely see around.
One last thing, I want to talk about misogynist comments. They happen. It sucks. There is a certain employee at the hardware store I go to who makes ugly comments. Maybe I'm taking them wrong, but I'm fully aware that there are "dangerous items" in the store. Also, I don't need every item placed in a separate bag so that it's "light enough." (Seriously, each bag weighed under 1 pound!) Who the heck do you think loaded all of this wood on this cart? Who the heck do you think is going to unload it all? What the heck is a woman doing in the lumber section? I've decided to use those comments as fuel to be awesome. I normally just smile and then vent on social media about the jerk. Kill him with kindness. Most employees are incredibly nice and helpful. Don't let the one jerk ruin your day.
Now go get the fro yo like you promised your kids (or self) and go be awesome. You deserve it. You've just survived the hardware store!