It's the happiest time of the year! The halls are officially decked at Casa de Semigloss! I've joined up with some ladies to share our holiday homes, so get ready for a ton of holiday inspiration!
My original plans fell apart after selling some furniture on craigslist and being left with an empty room. So I have to move on Plan B, which might be even better. Looks like Christmas will be in the sunroom this year!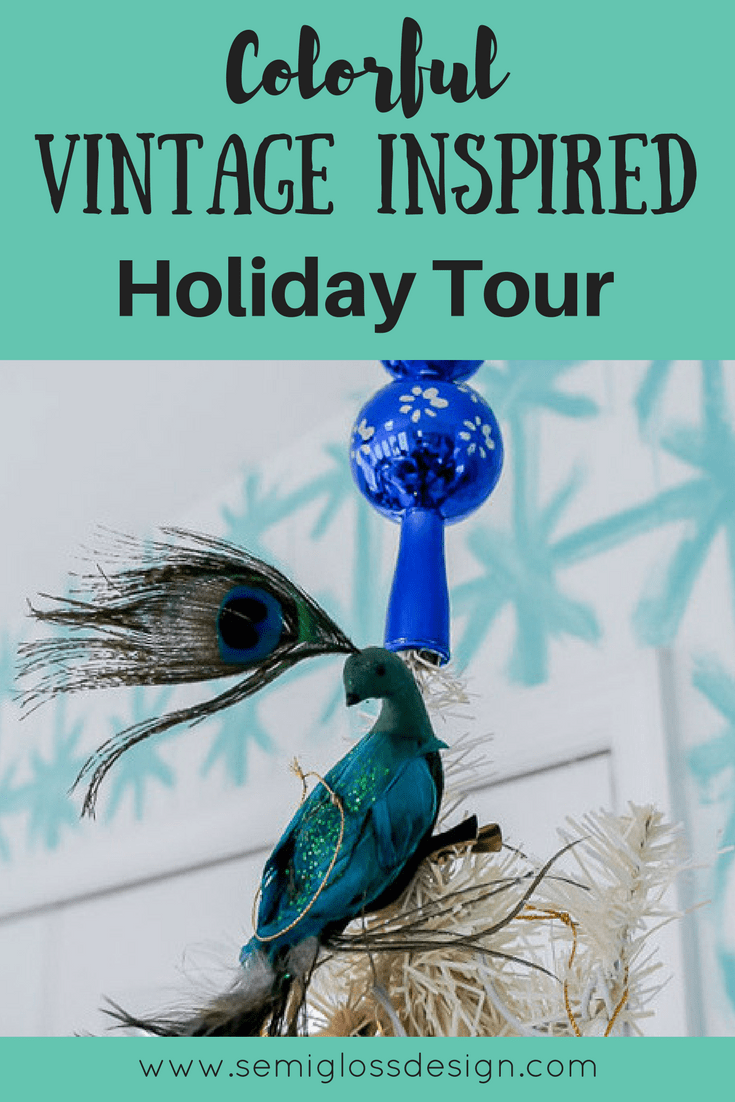 This post contains affiliate links. By purchasing an item through an affiliate link, I earn a small commission at no extra cost to you. 
In case you're new here, I'm Emy and I live in central Maryland with my husband, son, daughter and crazy dog. We've been in our home for 3 years and are working on making it our dream home. Since our last fall tour, we replaced the front door. It was finally warm enough to paint it this week, so hooray for a new yellow door!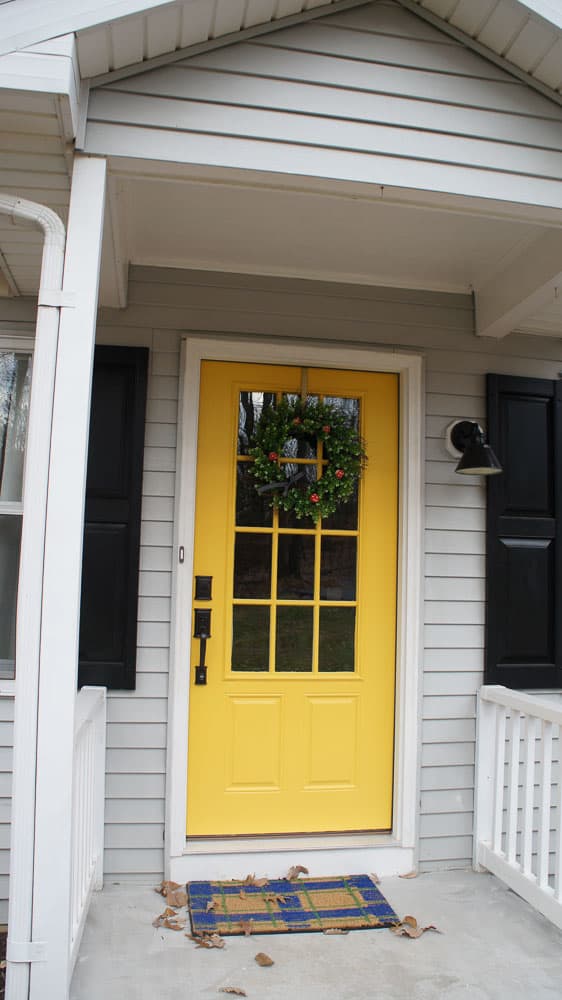 In the spring, I made over my sunroom for the One Room Challenge. It's obviously great in the summer, but in the winter, it's pretty special too. It's a very tropical room which is the perfect antidote to our cold winters. 😉 (I'm sure that if you're from somewhere colder, you're laughing at me. This is the coldest place I have every lived.)
Mushroom wreath | How to paint a door | Plaid Doormat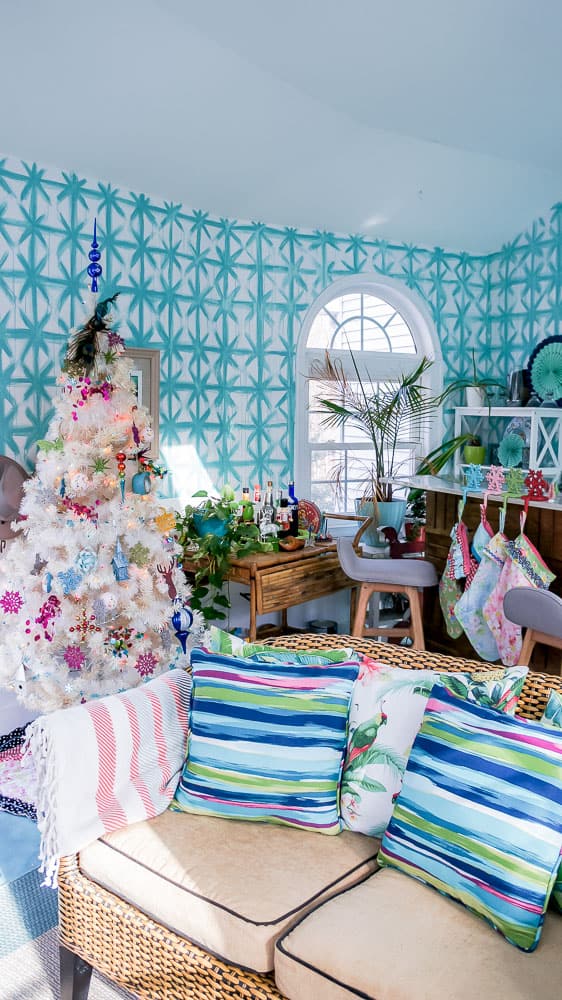 This has always been my favorite room to sit in while it's snowing. The large windows and doors on 3 sides allow us to have an amazing view of our forest. Now imagine those views with a fruity drink in hand. Sounds like perfection to me! The plants are a bit out of control in here at the moment. Most of them normally live outside.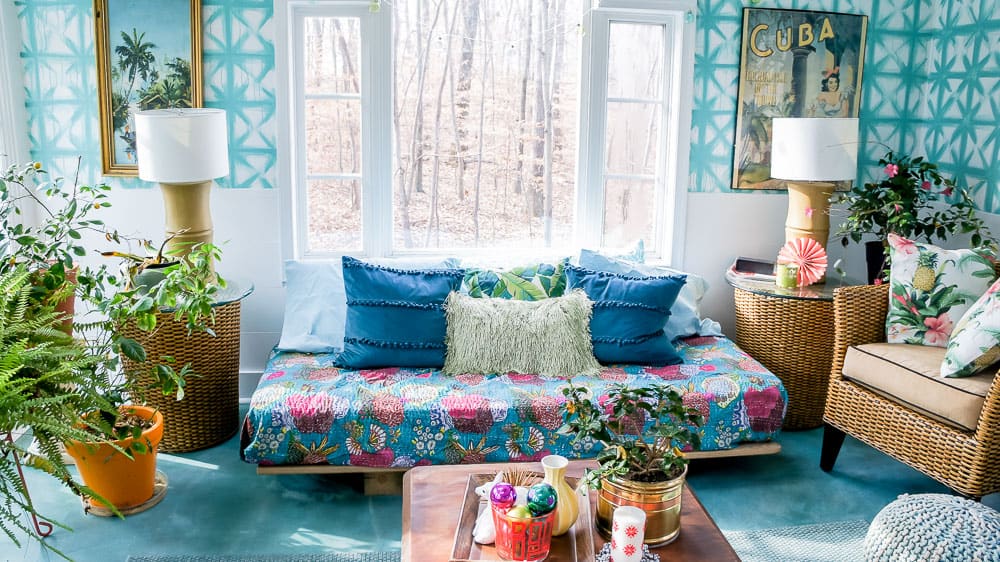 There's no mantle in here, but the bar works just as well.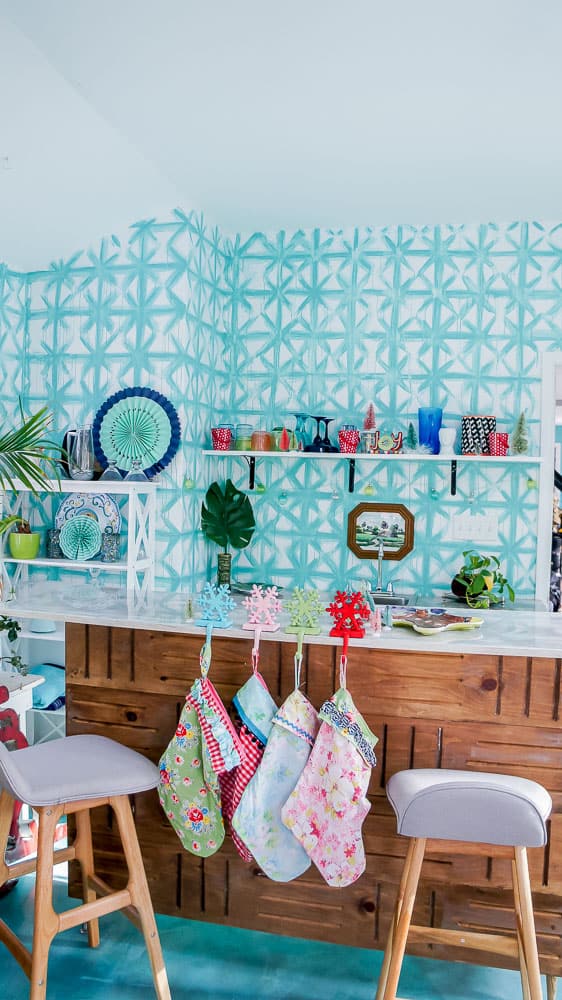 It's also a handy spot to leave milk and cookies for Santa. Although, I have it on good authority that Santa prefers cabernet and dark chocolate… (My daughter made me this plate when she was a wee one.)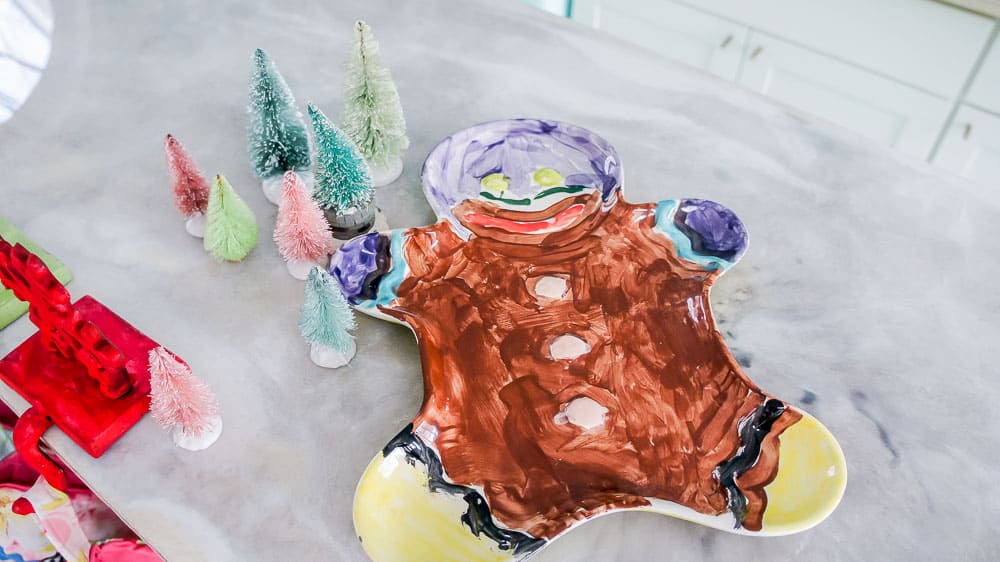 I had to decorate the tree by myself and I felt so sad about it. Normally, we let the kids do it, but we ran out of time. I only partially decorated it for now. In a few days, it will be filled with paper and popsicle stick delights that the kids have made.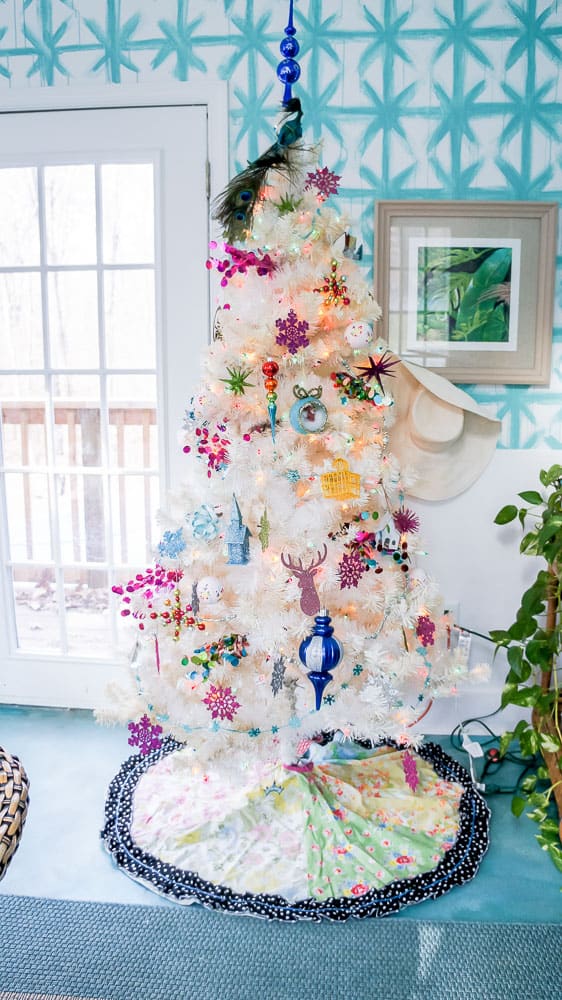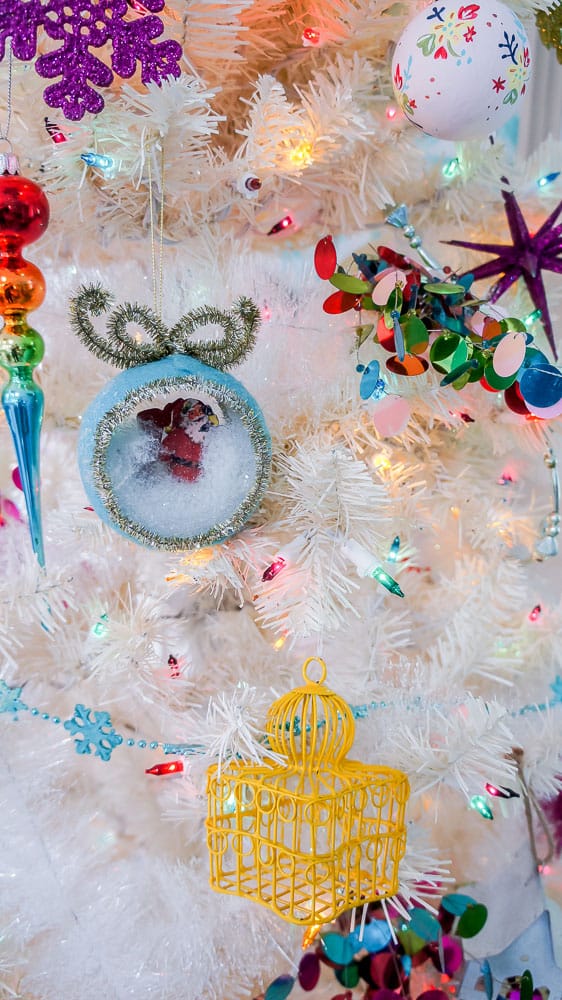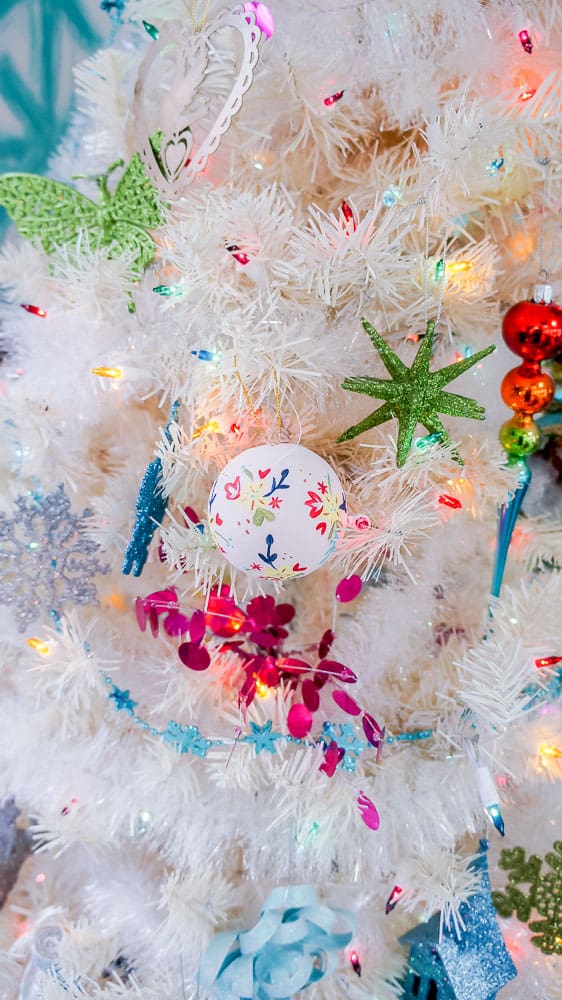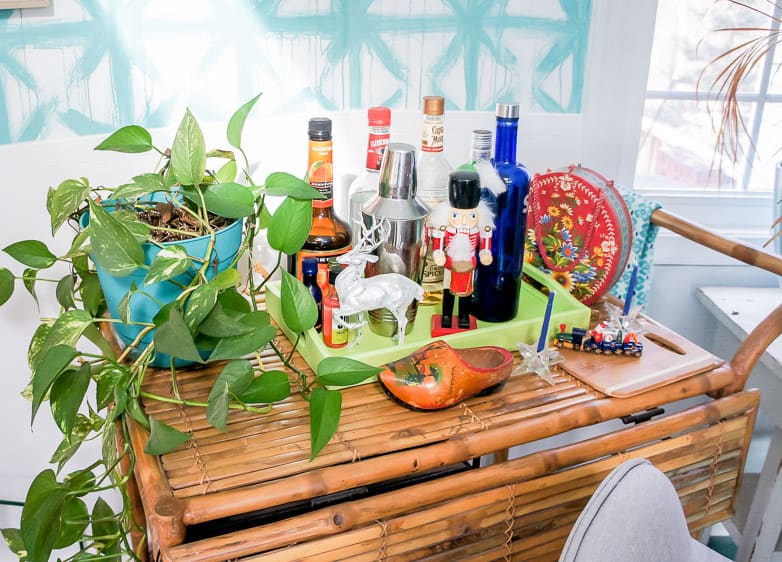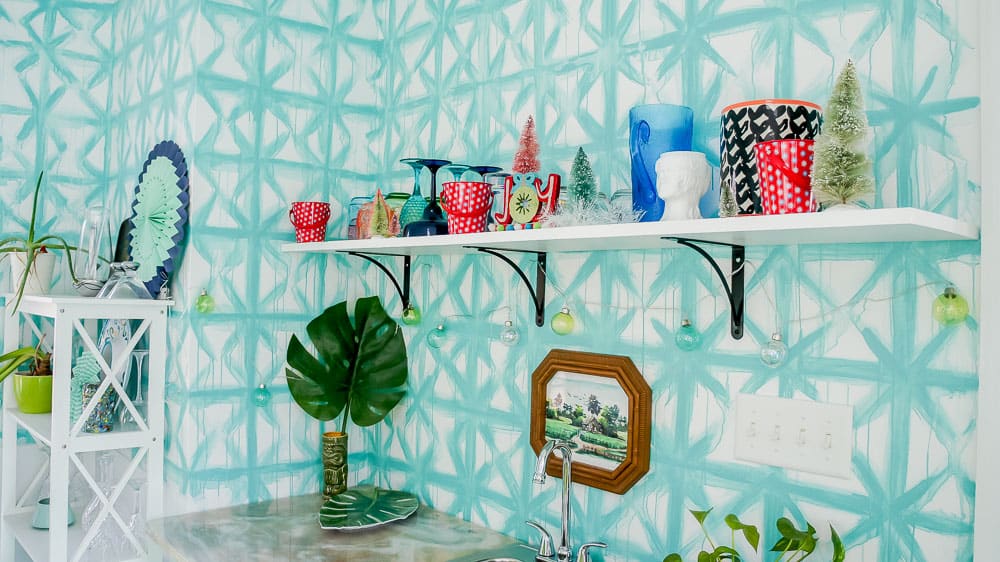 I had a lot of fun sprinkling Christmas decor into this room.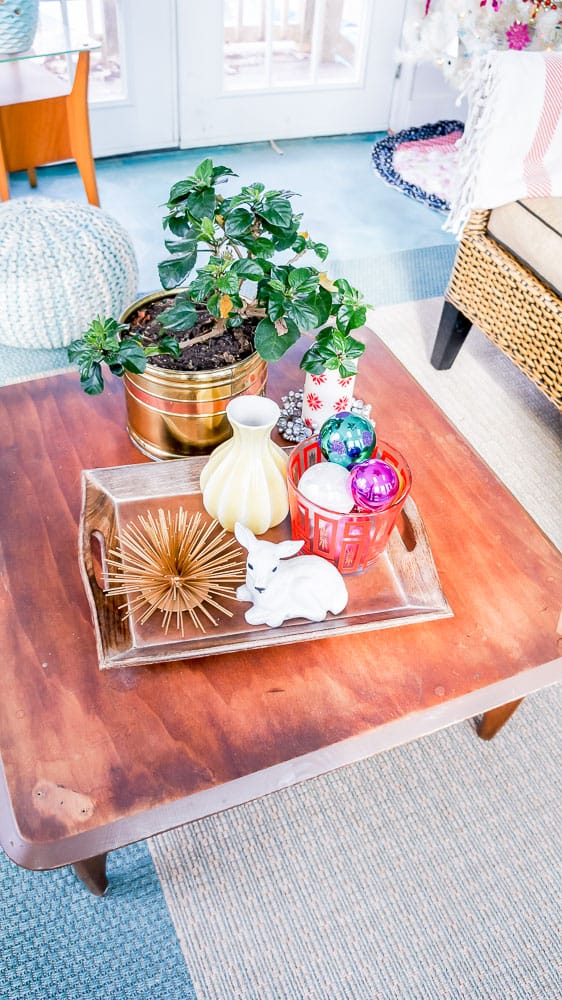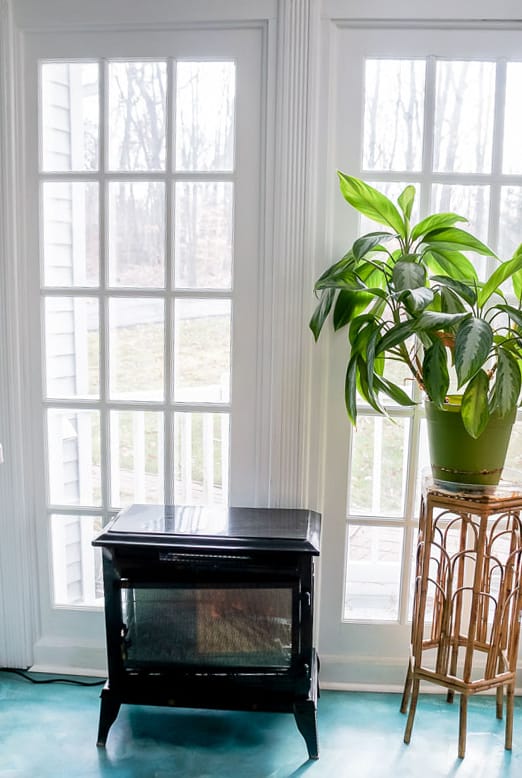 We picked up this electric heater last year on clearance. It keeps the room warm enough to use, even on cold days.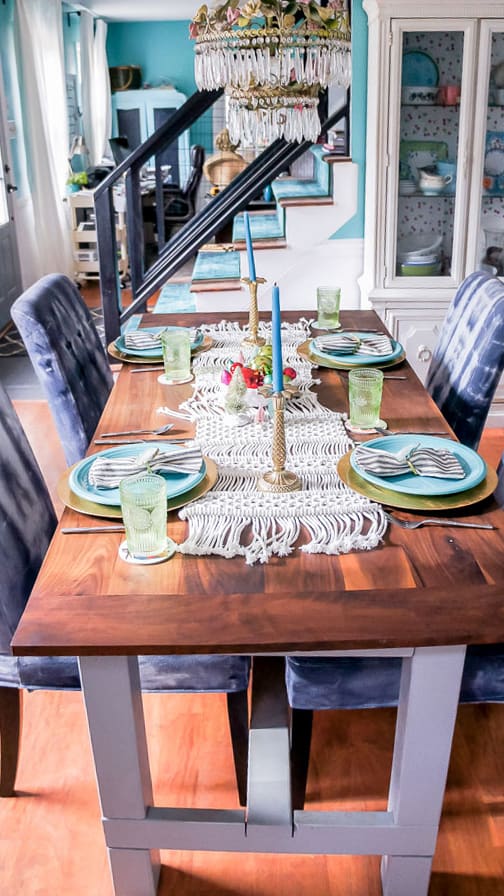 The table is set for dinner. I picked up 2 macrame placemats to use as a runner. To be honest, they're a bit wide for the plates, but I like it well enough for now.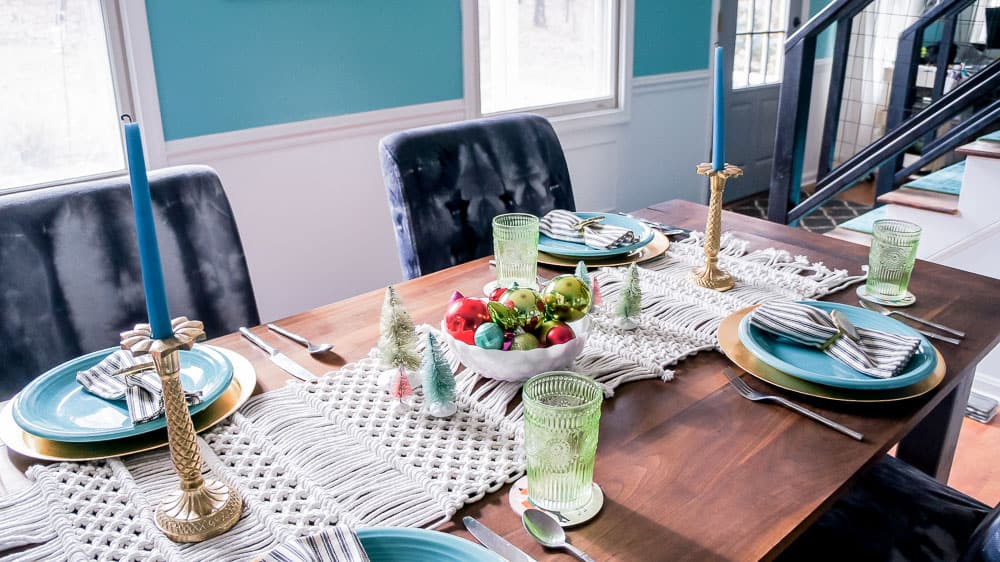 I kept the display nice and low. Just a bowl of ornaments and some bottle brush trees flanked with candlesticks.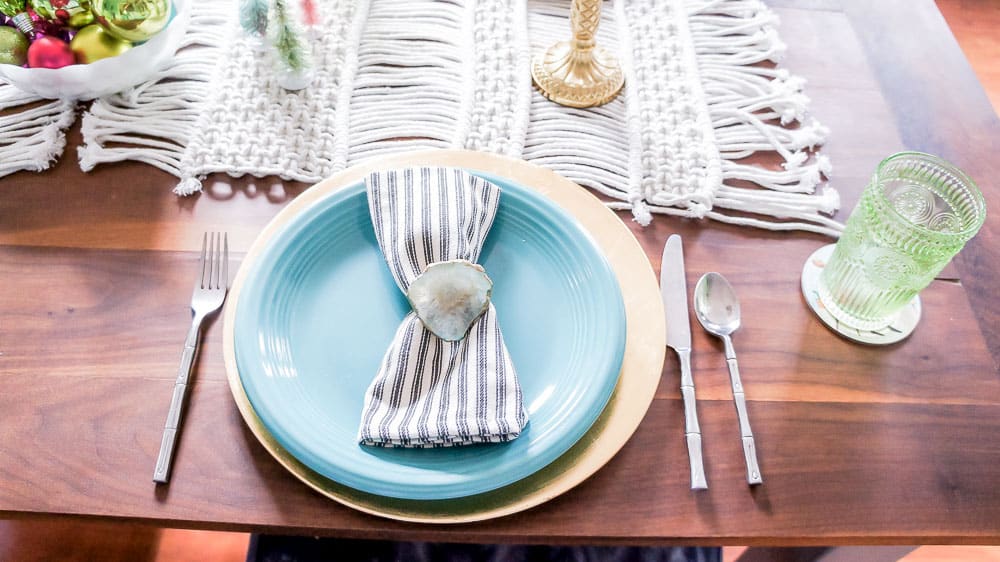 I used my old turquoise plates instead of my normal white dishes.
Agate napkin rings | Ticking napkins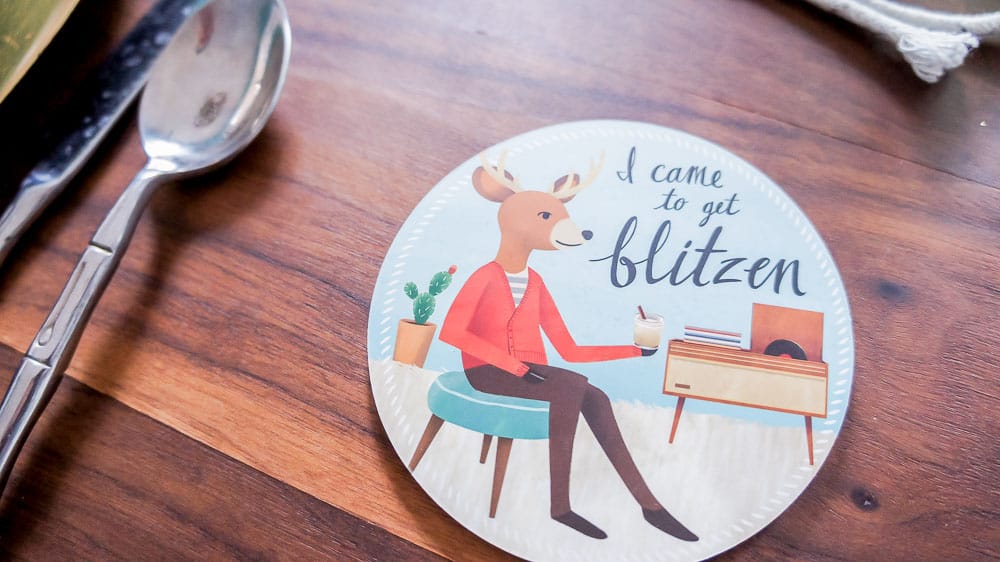 I bought these coasters last year from Home Goods. Love them!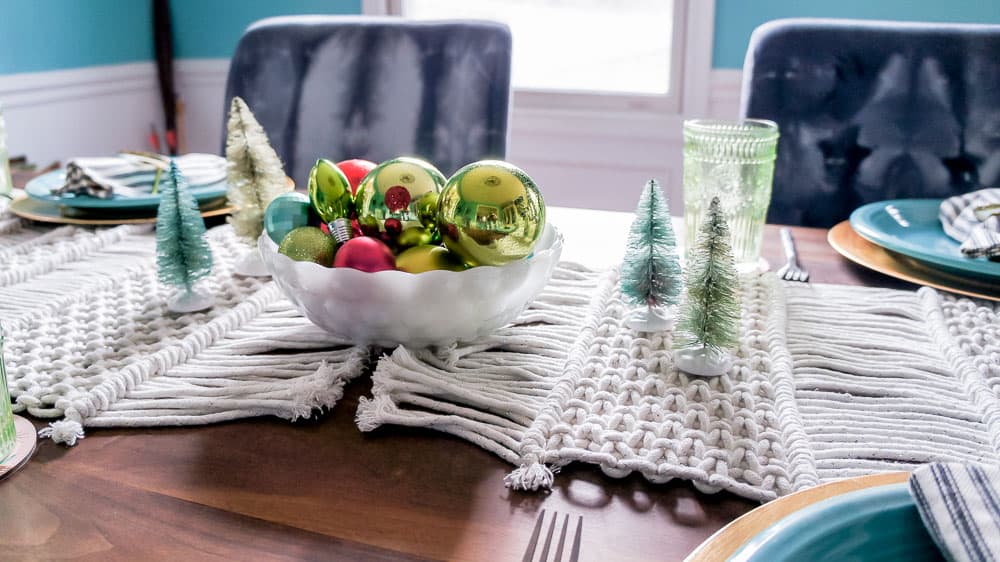 The kitchen is about to get a mini makeover, so I didn't bother getting a whole shot of it. We've slowly been finishing our pantry cabinet and the aqua cabinets will be repainted.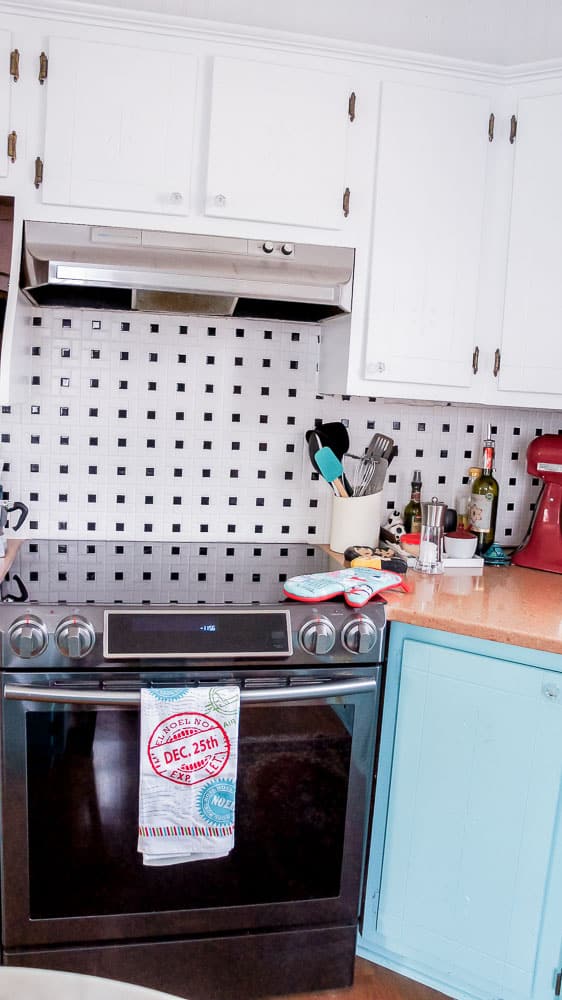 I have secret plans to rip down a few cabinets too. Just in time for holiday baking!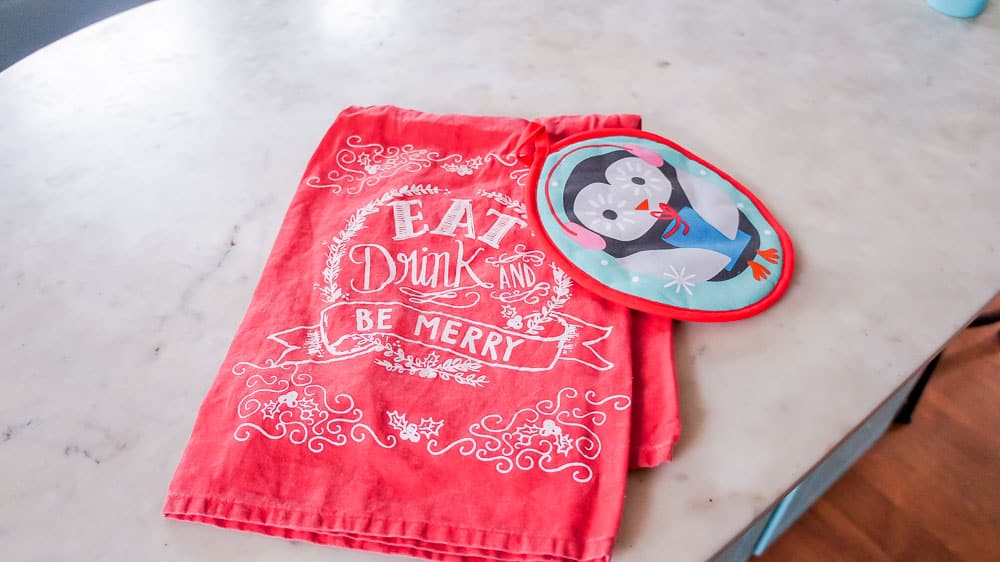 Isn't this tea towel the cutest? I'll have to threaten my husband not to actually use it. 😉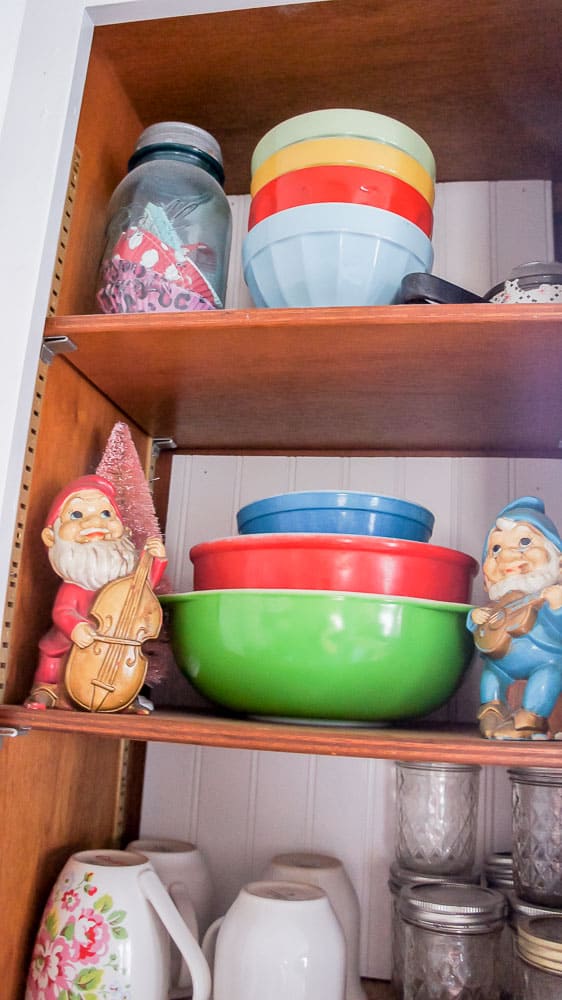 I love switching out my bowls to match the season. All those years of hoarding pyrex and fireking paid off!
Vintage aprons are ready to be donned for our cookie making extravaganza. I'm equal parts nervous and excited because it's my first Christmas gluten-free, so what if I can't make my favorites anymore?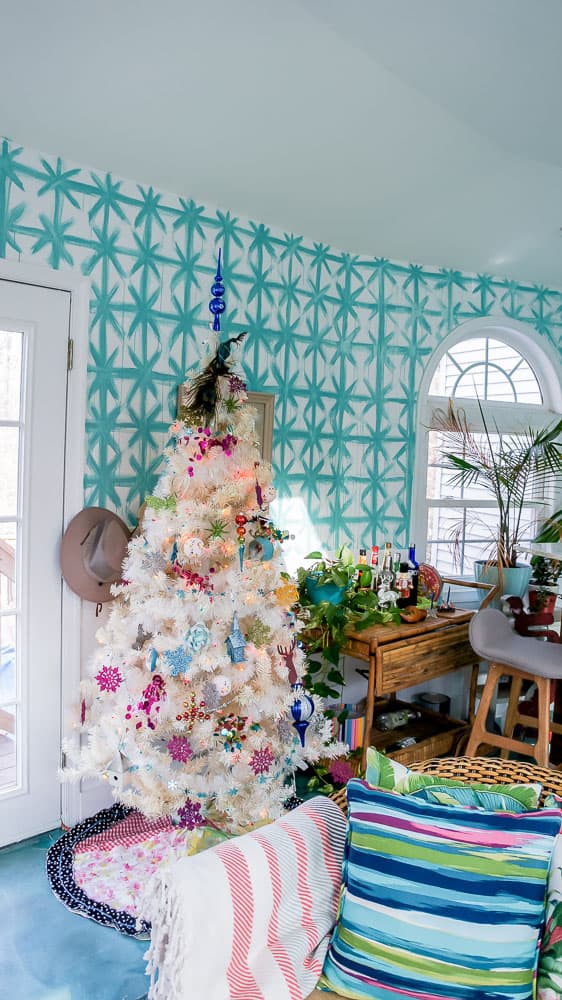 Hope you enjoyed the tour! Be sure to check out the other Christmas tours for lots of decorating inspiration.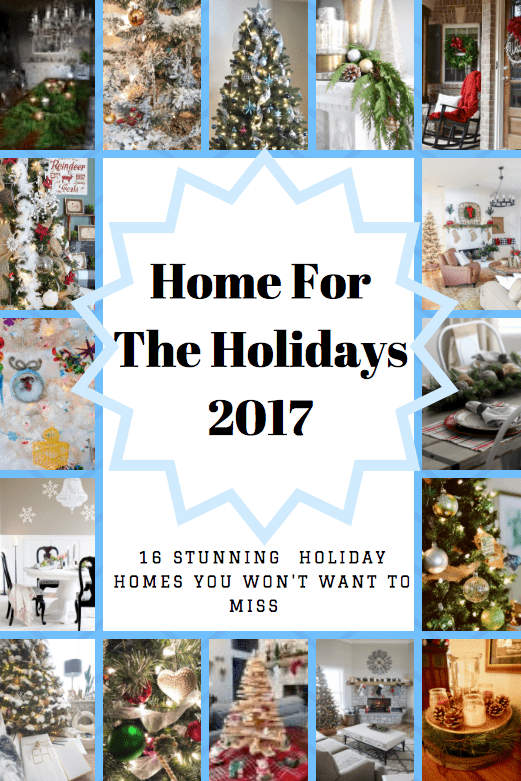 Shining on Design| Home with Keki | What a Difference a Day Makes | The Project Pile
Lisa Designs Life | The Farmhouse Addict | Pearl Street Designs | EH Design
An Eclectic Twist | Momma Can | The Holtz House | Franc & Eli
Semigloss Design | Beauty For Ashes | Jenron Designs | At Lane and High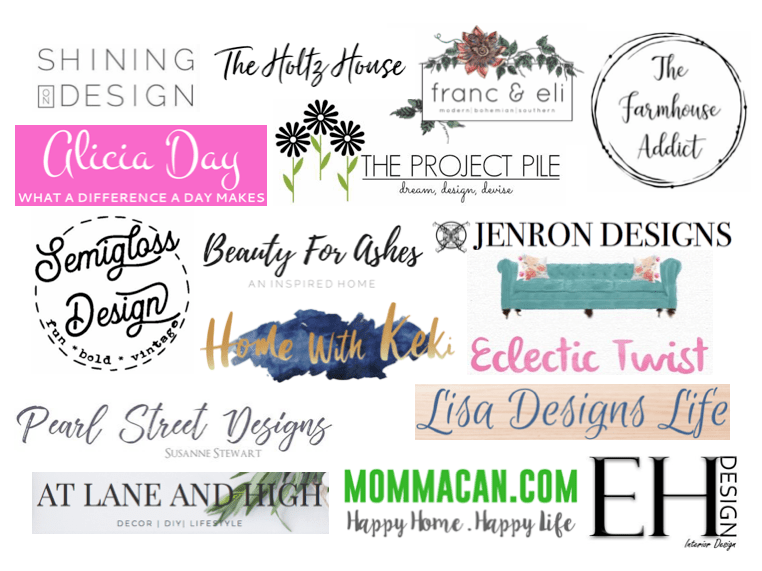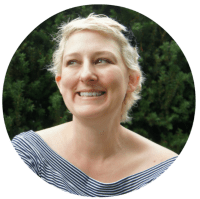 Emy is a vintage obsessed mama of 2 DIYer who loves sharing affordable solutions for common home problems. You don't need a giant budget to create a lovely home. Read more…