Gifts for Handyman Dad (or Mom): Cool Tools Gift Guide
These gifts for handyman dad (or mom) are great for the handy person in your life.
Tools make great gifts. For tool lovers, they're useful and fun! I use our tools almost every single day, so they're my equivalent of diamonds. Today, I'm sharing some of my favorite tools that would make great gifts, plus a few tools that are on my wish list.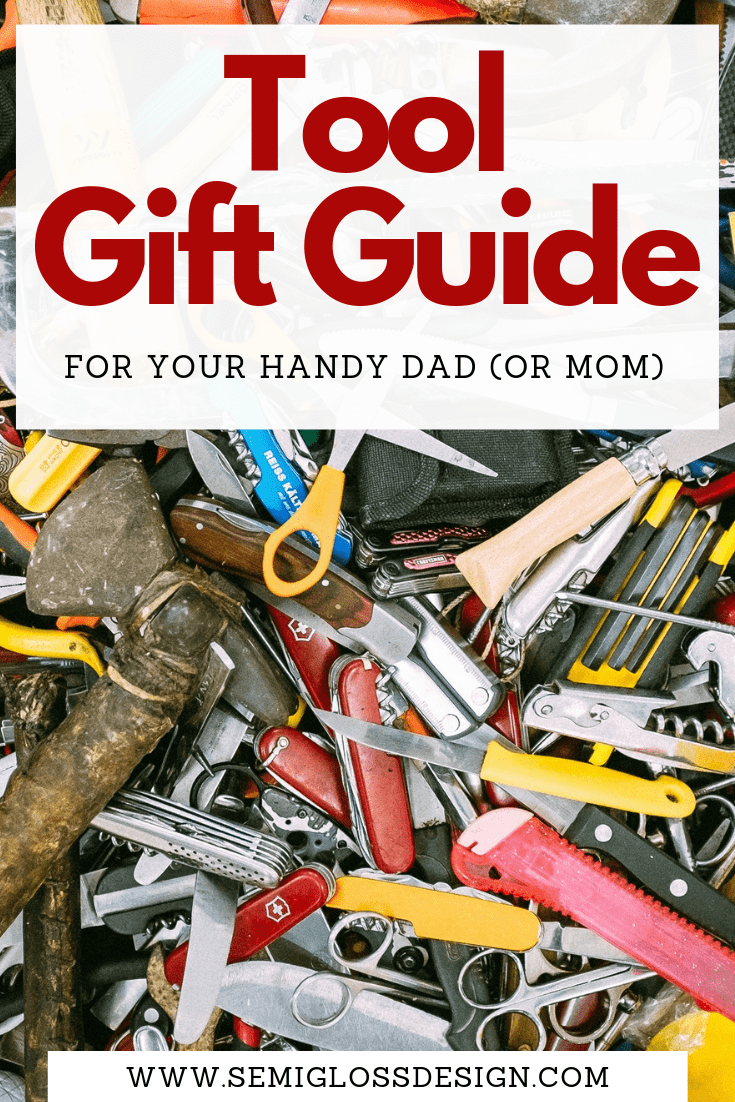 You'll probably notice that most of my recommendations are for more expensive brands. Nicer tools are worth it. The batteries last longer and they're more powerful. They've made me into a confident builder because they work well. My first drill could barely penetrate the drywall. And my first sander lasted forever, but the quality on my newer sander is far superior! It sands so much quicker. 
Good tools are worth every penny!
Gifts for Handyman Dad or (Mom)
Cool Tools for Your Dad
This post contains affiliate links. By purchasing an item through an affiliate link, I earn a small commission at no extra cost to you.
Dewalt Drill and Driver Combo Set
I don't mean to be dramatic, but this driver is life-changing. It's lightweight but powerful! We have the combo kit, but I find myself reaching for the driver more than anything because I love how easy it is to change out bits, even while wearing gloves.
Since the driver is my favorite tool, I really love the drill bits for them. They snap in and out with little effort. That comes in handy when you're in the middle of a project!
Bostitch Air Compressor Combo Kit
I love how versatile this kit is. We use it for everything! It comes with 2 nail guns and stapler, which we use a lot, but you can also use it to air up tires, basket balls and pool floats, as well as use like canned air for cleaning stuff quickly.
This was another game changer for me. I love this sander so much because it doesn't make a huge mess. The dust collector does a pretty good job of collecting the saw dust! It's powerful enough to remove stain from paint, but it also works well for finishing work when you switch the sandpaper out to a gentler grit.
I love our miter saw. It's easy to use and way less scary than a circular saw. It's perfect for cutting trim or 2×4's!
Dremels are useful for so many things. So far, I've only used mine to carve signs and smooth rough edges. You can also use them to sharpen knives and scissors, etch glass and polish.
I love my kreg jig so much. It allows me to attach wood together without any visible screws, like in this wooden countertop and table top. Don't know how to use a kreg jig? I've got you covered! No handyman dad should be without a kreg jig!
You can never have enough kreg jig screws. I always need a size that I don't have, so this assorted screw pack would come in handy! I legit want this for myself.
We use our retractable extension cord all the time. Just pull down the cord, plug in your tool and get to work. I can sand several pieces of furniture without having to unplug my sander each time! Plus, the cord is long enough to reach outside, so I can sand outside on nice days. You can read more about my retractable extension cord here.
There's never enough clamps around. I find these 12″ clamps to be very handy, but I also love corner clamps for squaring up builds with no effort.
I love this my Dewalt speaker. It runs off of normal Dewalt batteries, so it lasts forever. It's heavy duty, so saw dust isn't going to kill it. And best of all, it can even charge your phone while you're using it. We've gone through a ton of other bluetooth speakers around the house and none work as well as this thing. It connects effortlessly every single time.
We have this heater that runs on kerosene and I love it so much. As a furniture painter, I need a warm place to work in the winter. This heater keeps my garage toasty in the winter. I've used it in single digit degree days and while it goes through more kerosene, it still keeps the room warm. It is a bit loud and it freaks my dog out when it kicks on.
We use the kerosene version because it uses less electricity and our garage electrical breaker can't handle too much power without flipping. Kerosene is a bit stinky, but it's worth it to stay warm while working.
My Tool Wish List
I hate our current saw horses with a passion, so I'm dying for this Kreg Work Table. It's sturdy enough to clamp to, but folds up when you don't need it. I always end up making our saw horses into a table with scrap wood, so this would be a better solution.
Right now, we either get our large wood panels cut at the store or we use this xxx with our circular saw. A table saw would be much more convenient for large cuts and ripping down wood. I like that this table saw can be folded down and stored when not in use.
RIP belt sander. Our last belt sander suffered a horrible death and we haven't replaced it yet. Belt sanders are so powerful and I love using them when I make table tops to get them perfectly smooth.
Smaller Handyman Dad Tool Gifts (Great Stocking Stuffers!)
What kind of gifts do you like to give your handyman dad?
Looking for More Gift Guides?
Pin for Later!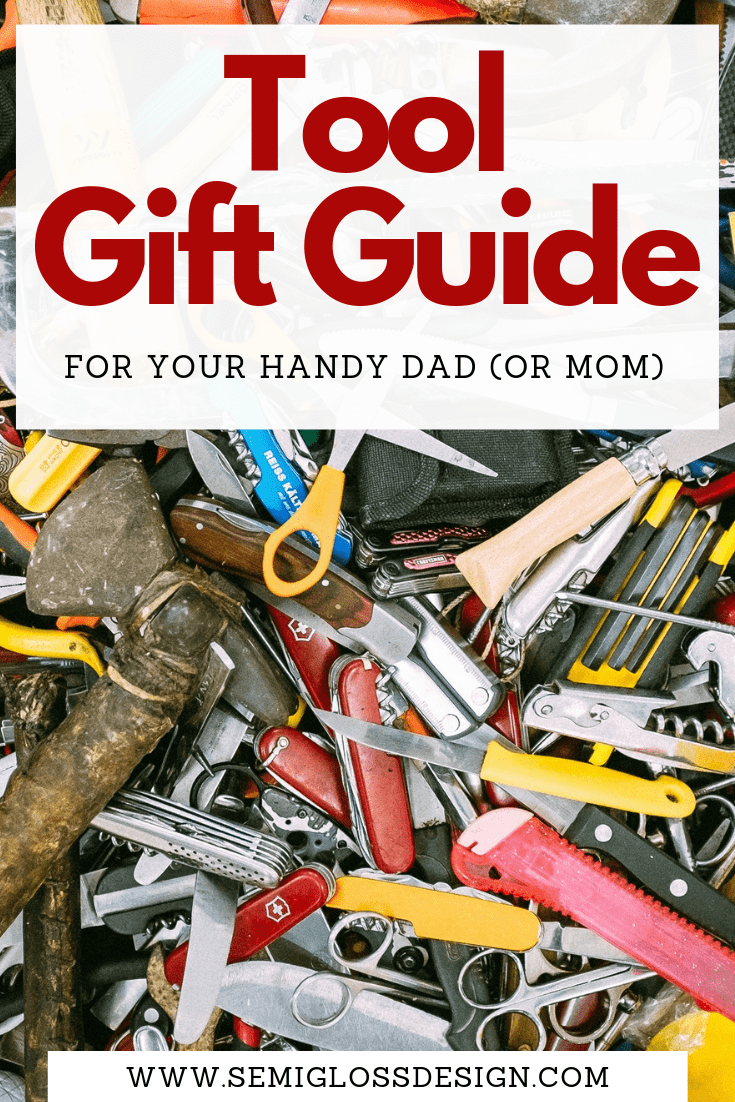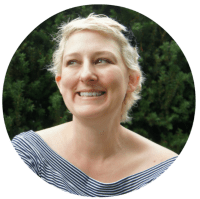 Emy is a vintage obsessed mama of 2 DIYer who loves sharing affordable solutions for common home problems. You don't need a giant budget to create a lovely home. Read more…