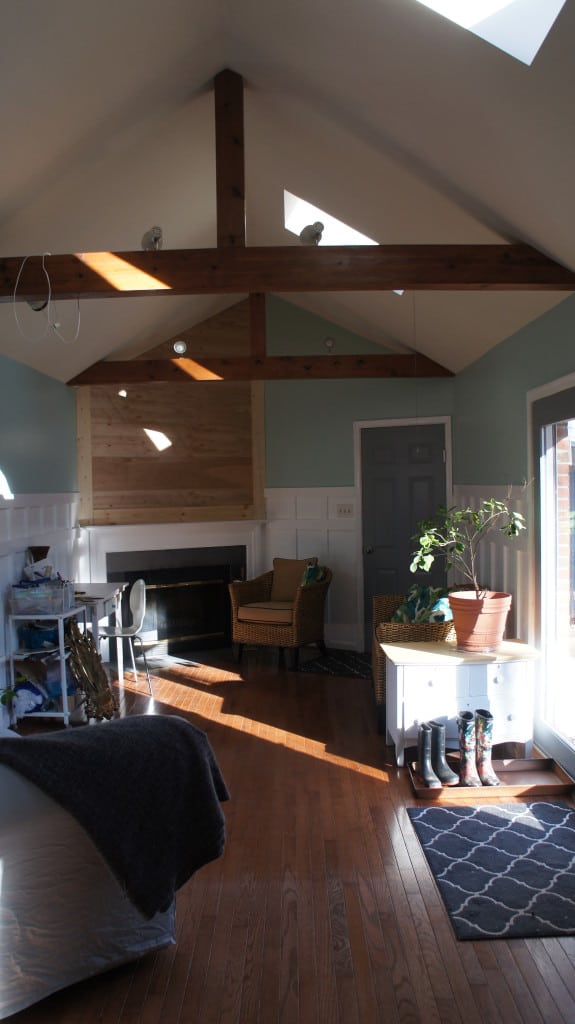 Actually, I'm not sure that family room is the best name for this room. This room sits between the garage and the dining room. It's a long, narrow room with 4 doorways that create a cross-cross traffic pattern. Our home is a typical Cape Cod style home with no real foyer, so this acts as our entry. The fireplace in the corner of the room dictates that it should be more than just a mudroom, though! The previous owner used it as a music room. I plan on using it as a mudroom/sitting room.
Since we moved in, it has been a place where we store stuff. My son called it the hoarder's room. I have cleaned it out, but it is still filled with furniture that belongs elsewhere. Since we use it as an entry, it needed to be prettier. It has pretty bones, featuring vaulted ceilings with skylights and a view into our wooded backyard. My goal is to make it a place to use as a mud room and the area near the fireplace a nice, cozy spot to curl up with a good book.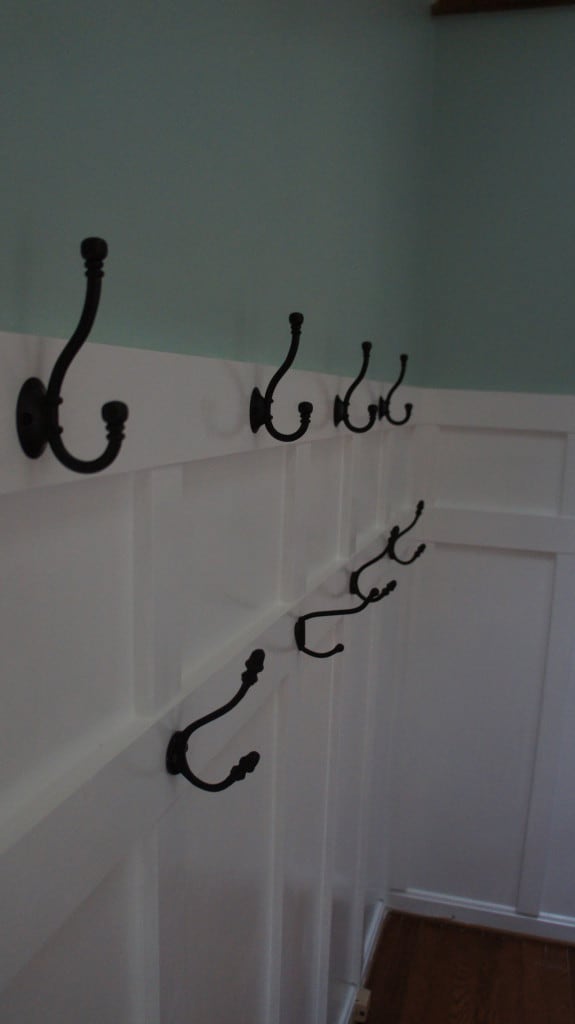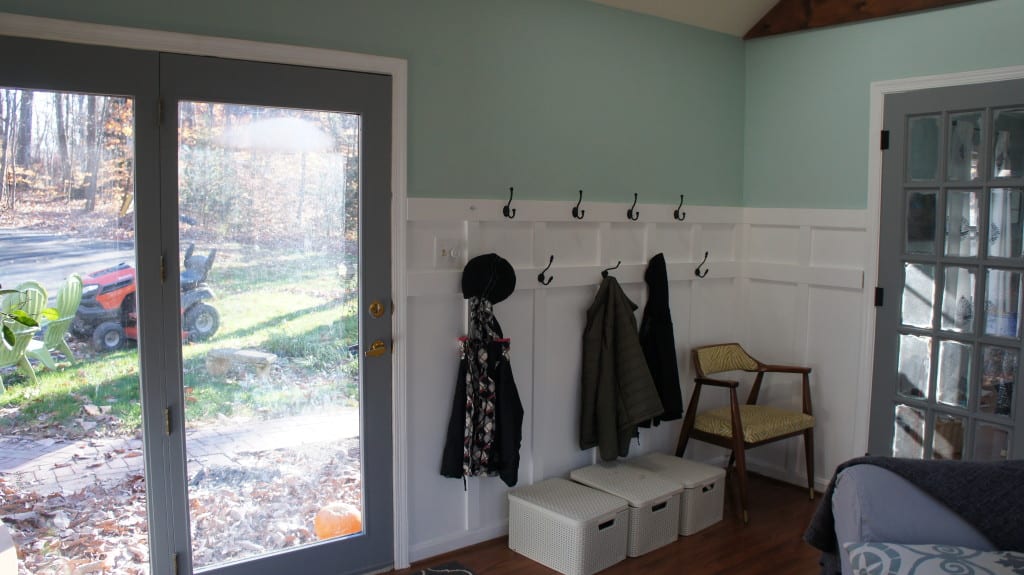 I recently added board and batting wainscoting to the walls. Hooks were added to the mud room area.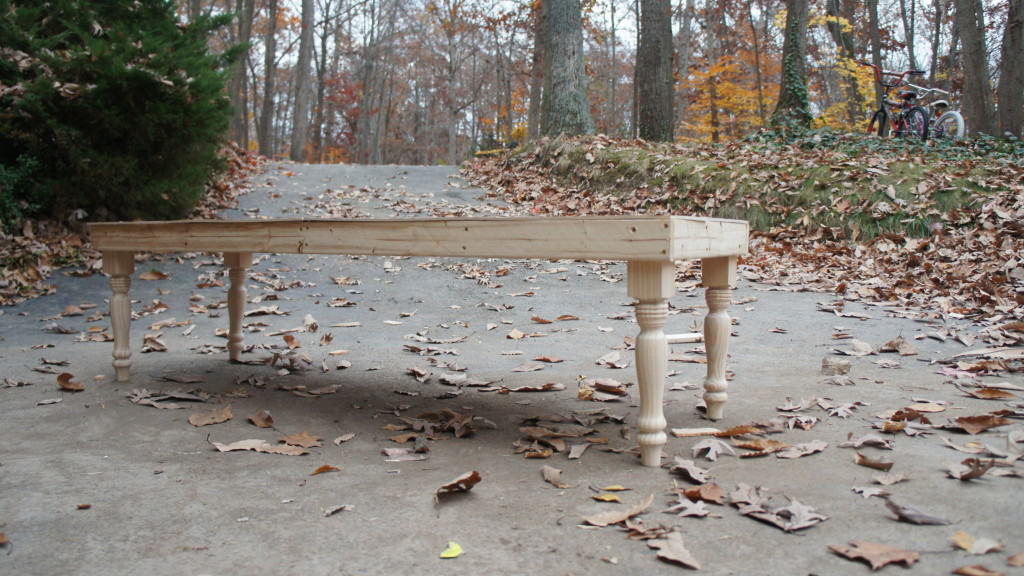 A bench is being built to provide seating while putting on shoes. I bought legs from Lowes and built the base from scrap wood. It will be upholstered, so everything will be covered except the legs, which will be painted or stained.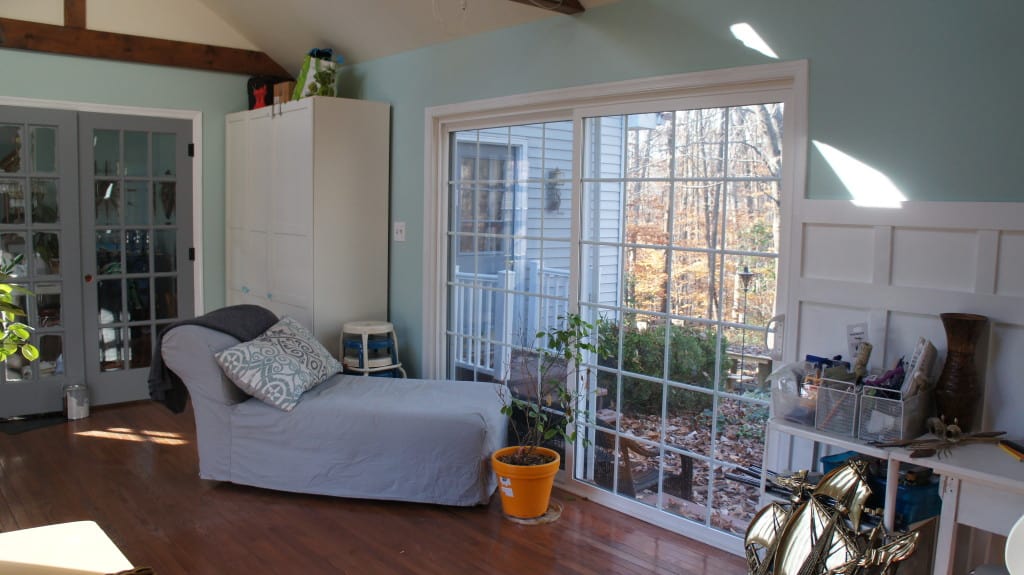 I currently have a chaise lounge in here that has seen better days. It's still comfy, but the slipcover that I made for it has a wine stain and highlighter marker stain. I plan on removing the upholstery and removing the curvy part on the back. I have never done a project this big, but I have confidence. It cost me $20 on craigslist about 5 years ago. I have been dying to take a sawzall to a piece of furniture and change the shape. The French doors go into the dining room. We removed them when we moved it, but have decided to put them back up. I still have to finish scraping the glass and replace the hardware and door handles. The white cabinet behind the chaise is an IKEA wardrobe that we use to store coats because we don't have a coat closet. The stools that are stacked actually belong in the kids' tree house. The gold ship in the right bottom corner will go above the fireplace. I love that thing so much. Best flea market find ever!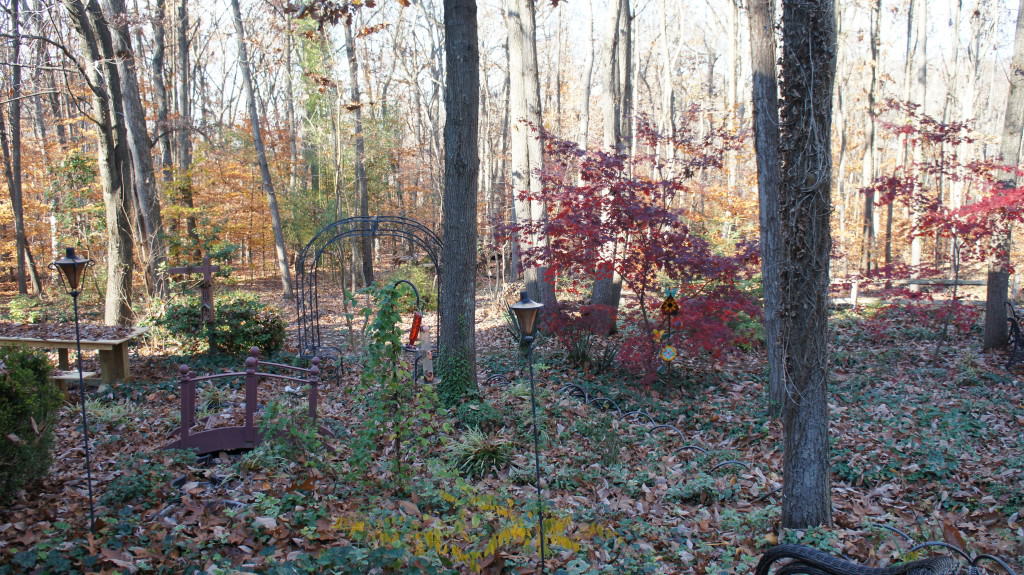 The view into our backyard. This is the only reason that the chaise would stay. It's so pretty all year round.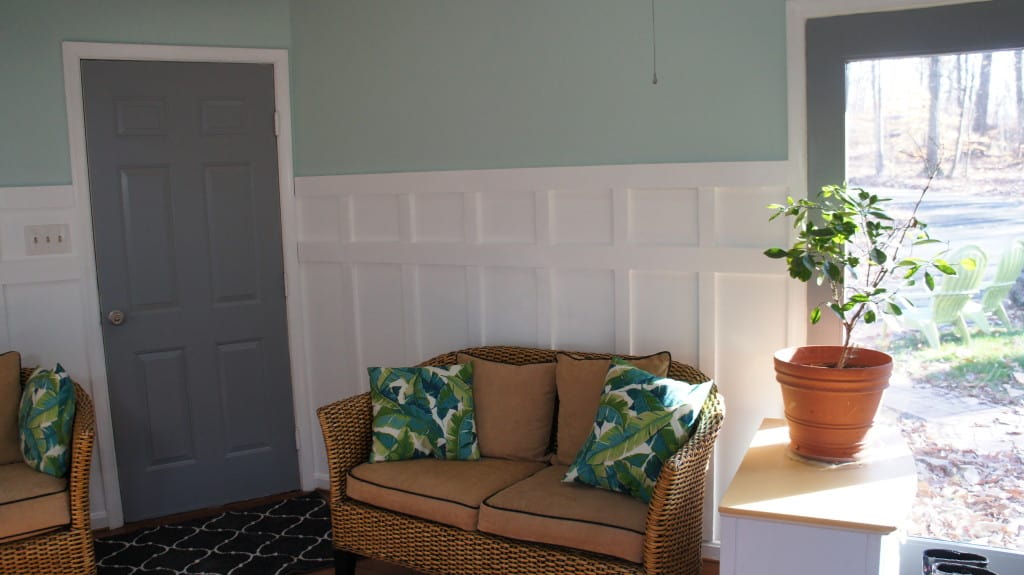 Our sun room furniture is in the room right now. We have a very chewy puppy whose crate lives in our sun room right now. We hope that once she is past the chewing stage, we can move the furniture back in there.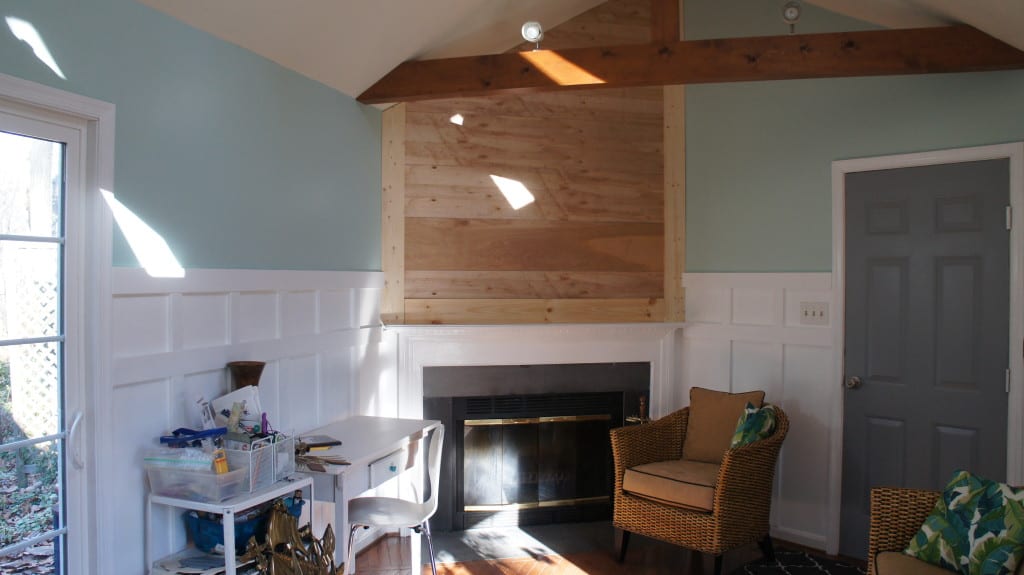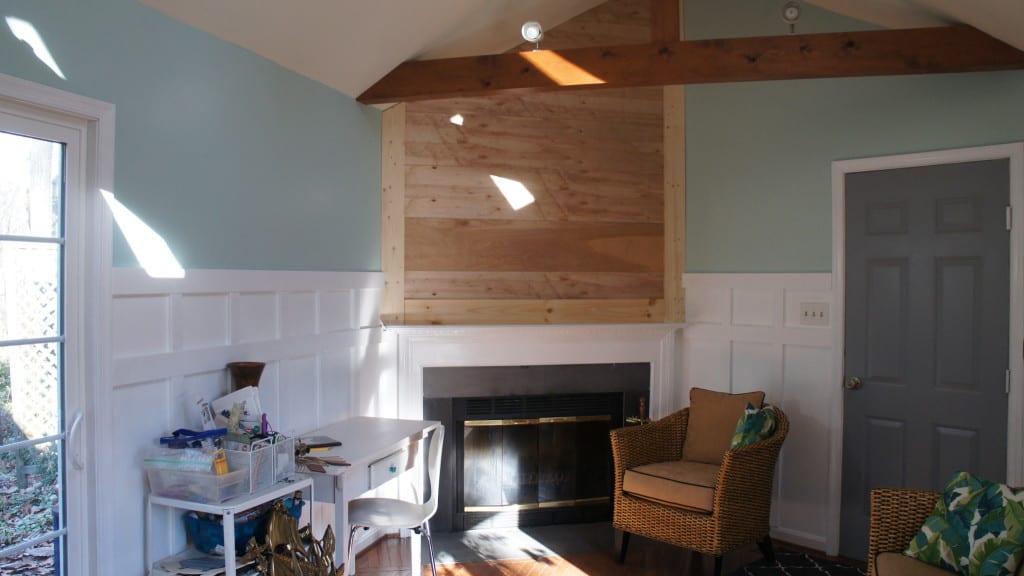 I made myself a makeshift craft area because my craft room is not climate controlled yet. I didn't want my paint to freeze, but I also wanted an area to use when I want to craft during the winter. It will be staying for the next few months at least, unless I come up with another solution.
The fireplace still needs work. I added shiplap paneling above it and framed it out. It still needs the top board added (it was about 1/2″ too short and very noticeable.) I had planned on painting it white, so I bought the cheapest panel of wood possible. Once it was up, my husband and I both decided that we love the warmth that it brings to the room. I might change my mind and paint it in a few months, but for now, I like it. The tile still needs to be replaced. It's just slate, but it looks dirty and the colors vary too much from piece to piece. I like the way that the gray looks with the gray doors.
I hope you will stay around and see the progress as I get this room done!